Going green is a huge topic in the world today, so naturally the trends in wedding planning are following suit. We're really excited here at Junebug because we're seeing more and more of the talented professionals we work with adopting eco-friendly practices and ensuring that green wedding planning is not just a trend, but a lifestyle that's here to stay! Just this week we were interviewed by KIRO News Radio for a segment about green weddings (fun!) and we received an overwhelming response from our Junebug professionals when we reached out to them for their input. From caterers to invitation designers, dress designers, and florists, everyone is finding their own way to get involved and make "going green" easy and fun. Look for our downloadable article "10 Easy Ways to Plan a Green Wedding" next week, and until then enjoy this idea for a fun green wedding favor or thank you gift possibility…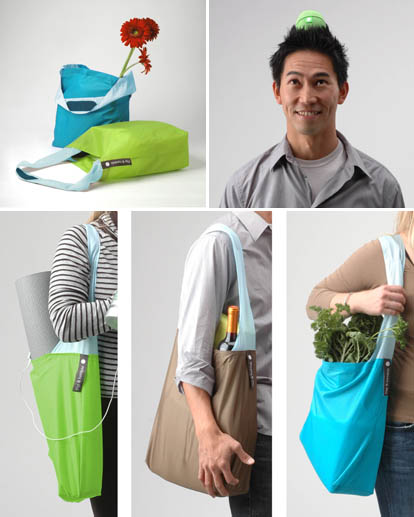 Cute reusable bags by Flip and Tumble! These bags come in great color combinations, for those of us who like to coordinate. Made of recyclable ripstop nylon, you can roll yours up into a tiny ball so you can take it with you and always have a reusable bag at the ready. I learned about these eco-chic bags from Junebug reader Eva, who had hers custom printed to give away as a gift at her wedding. What a great idea, thanks Eva!
Planning on going green for your wedding? Contact us, we would love to find out what you're up to!