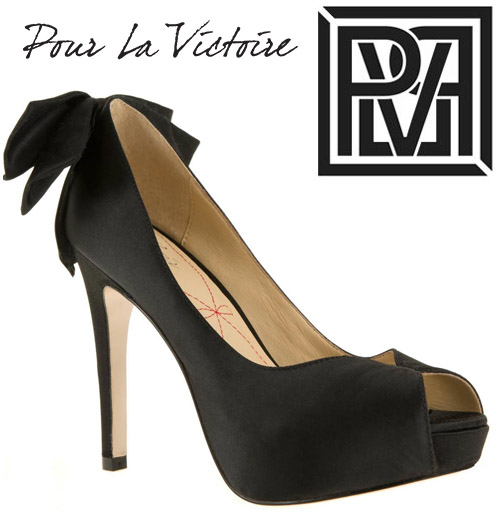 Pour La Victoire is a shoe line known for it's edgy, fashion forward style, so when I learned that they recently launched a bridal collection as well, my heart skipped a beat. When a sample pair of heels arrived in the mail (the gorgeous black Cristella2s above) I was thrilled to see that they are well made, well fitting, and just as cute in person as they are online. When PLV offered to give a pair away to one of our readers, I immediately said YES!!! and gave a little jump for joy. I must say this is a rather fun part of my job – shoe reviewing and giving away. Thanks Pour La Victoire!
So this means that one of you lucky Junebug readers will soon be the proud owners of a pair of shoes from the Pour La Victoire bridal collection! Will it be the royal blue Joyas? The wedge heeled Evelias? The extra bling-y Giadas? That's up to you! All you have to do to enter to win is to take a look at all the lovely bridal shoes at www.PourLaVictoire.com and then leave a comment here letting us know which style you'd like to wear and why. We'll accept entries all week long and randomly chose a winner next Tuesday, September 13, 2011.
Much luck and happy window a shopping to each and every one of you!