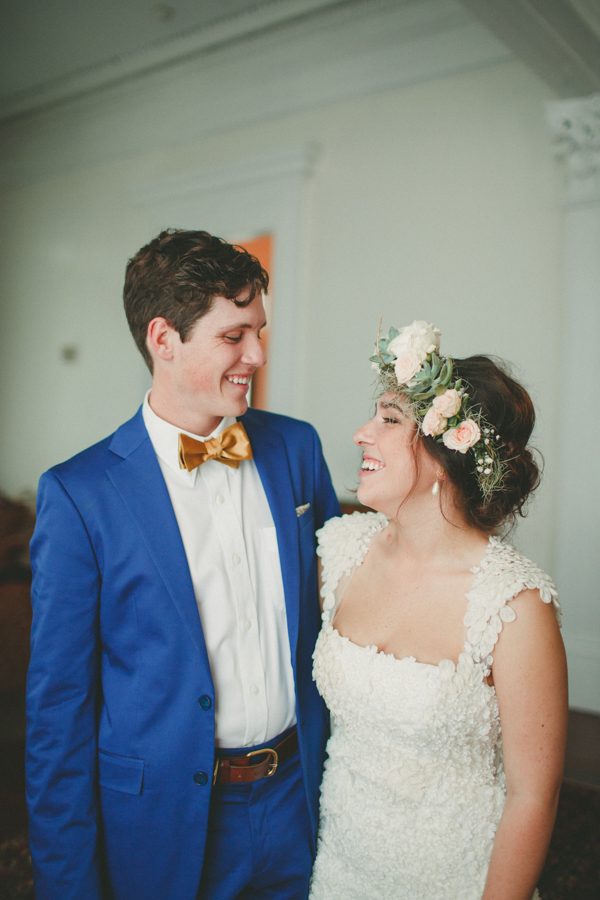 While Alexa and David were preparing their caps and gowns for their college graduation, they were also perfecting the fab bride and groom styles for their own wedding! The couple set out to have their dream garden party wedding at The Columns Hotel, which offered a beautiful balance of antique French style and lush garden vibes. Alexa and David's soft color palette of blush, sage green, and gold foil was a delicate touch of color and texture that perfectly complemented their early Spring wedding. Wanting to treat their guests to their fave NOLA cuisine, the couple treated their guests to a unique dining experience of several courses and macaron favors from their favorite bakery, Sucre. Photographer Sharon Pye captured every detail of Alexa and David's day beautifully, including an emotional first look!
The Couple:
Alexa and David
The Wedding:
The Columns Hotel, New Orleans, Louisiana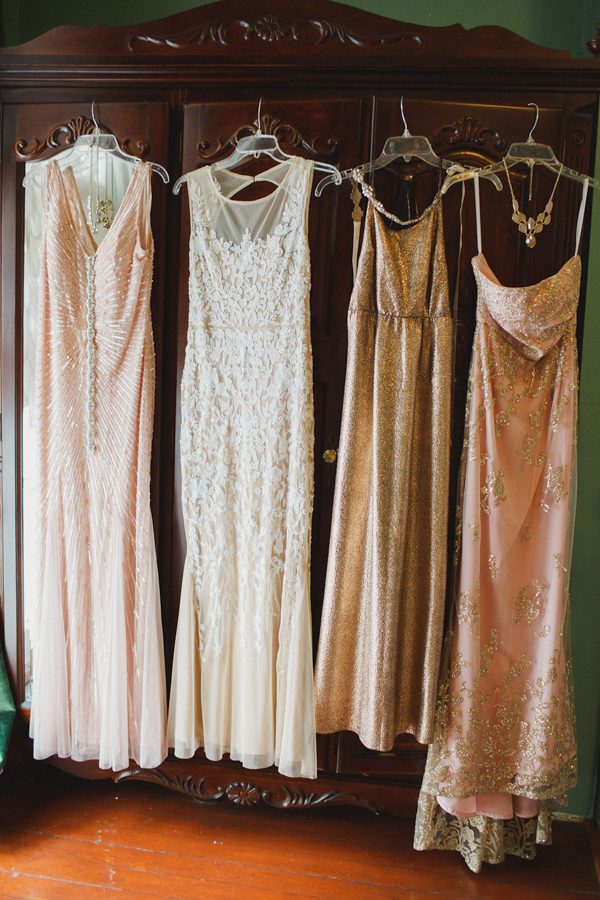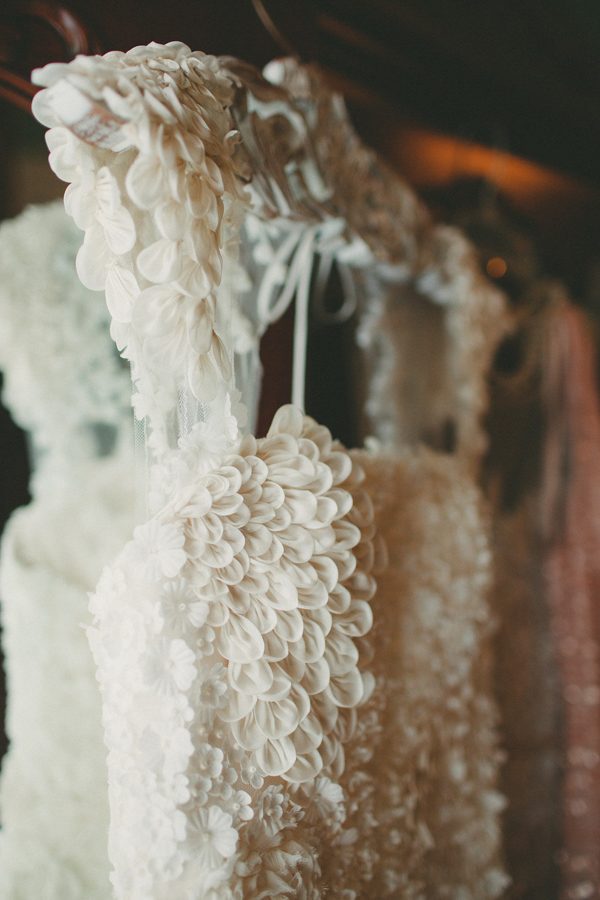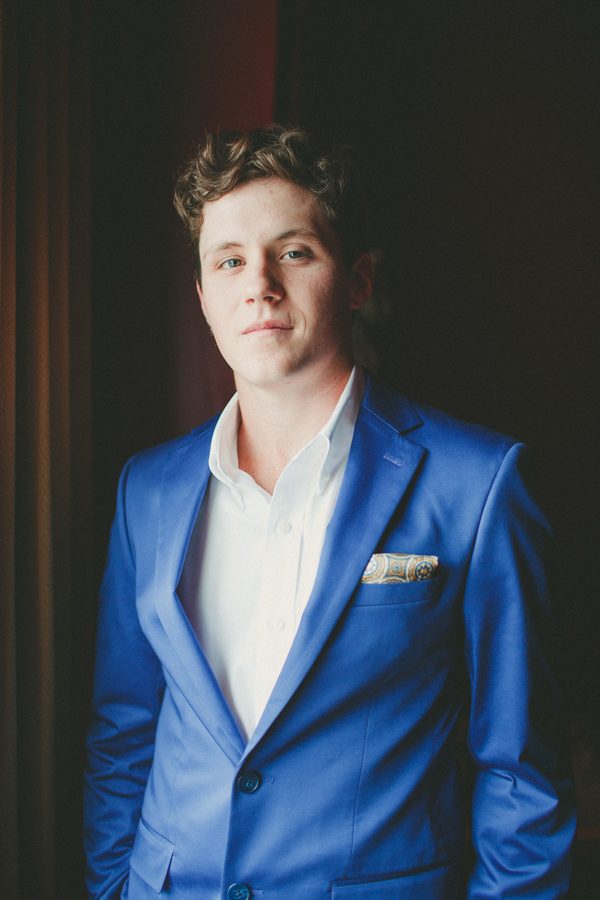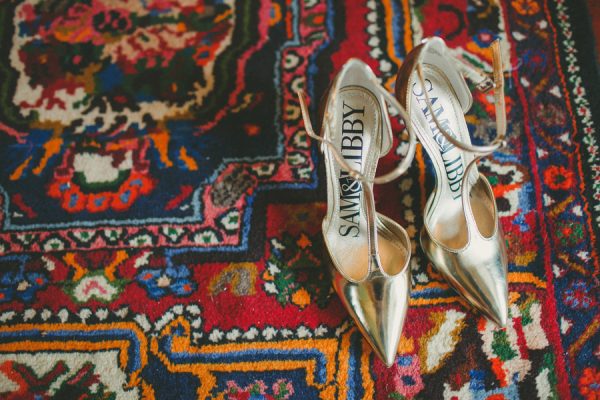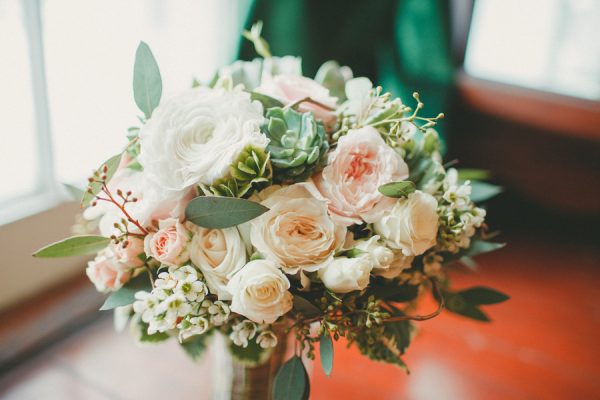 Our wedding fell on the first day of spring so we chose to focus heavily on flowers, greenery, and soft tones. I wore a petal-embellished gown by BHLDN, my mother's wedding earrings, gold shoes with soles painted by my sister, and a living-flower crown. My cousin, who happens to be a makeup artist and hair specialist, was my beautician for the day. Her, along with my mother and sisters as my bridesmaids made for a family affair!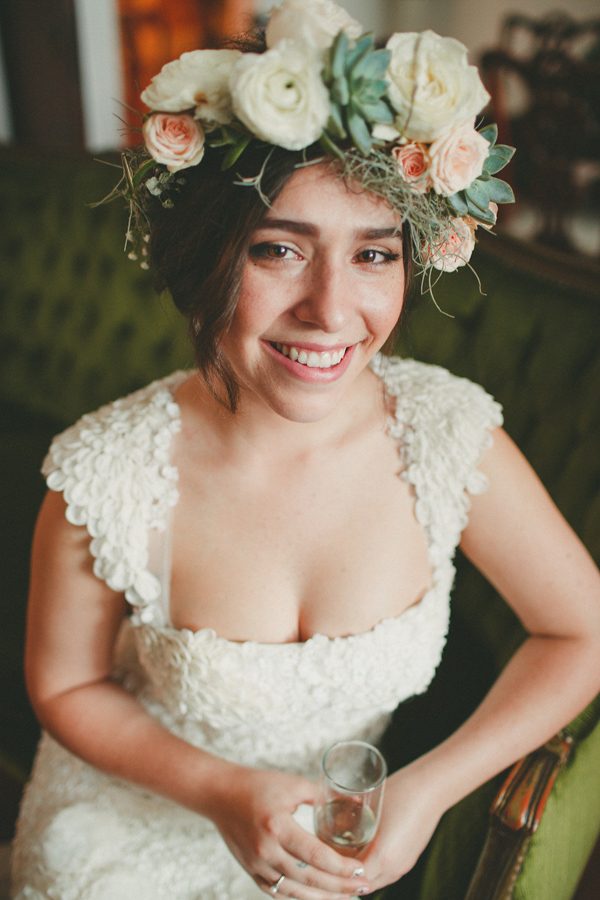 As students finishing our senior year of college, we were busy working on thesis projects, applying to graduate school, and preparing to move to a new city. Due to our hectic schedules, time and simplicity were incredibly important factors. New Orleans has a wide variety of venues but the desire for a stress-free wedding lead us to The Columns Hotel. It was a wedding one-stop-shop providing ceremony and reception locations, linens, chairs, food, alcohol, and more. The beauty of the wedding was not compromised by this simplicity but enhanced by making it stress free. Most importantly, we valued ease as our most desired outcome both while planning the wedding and enjoying our special day.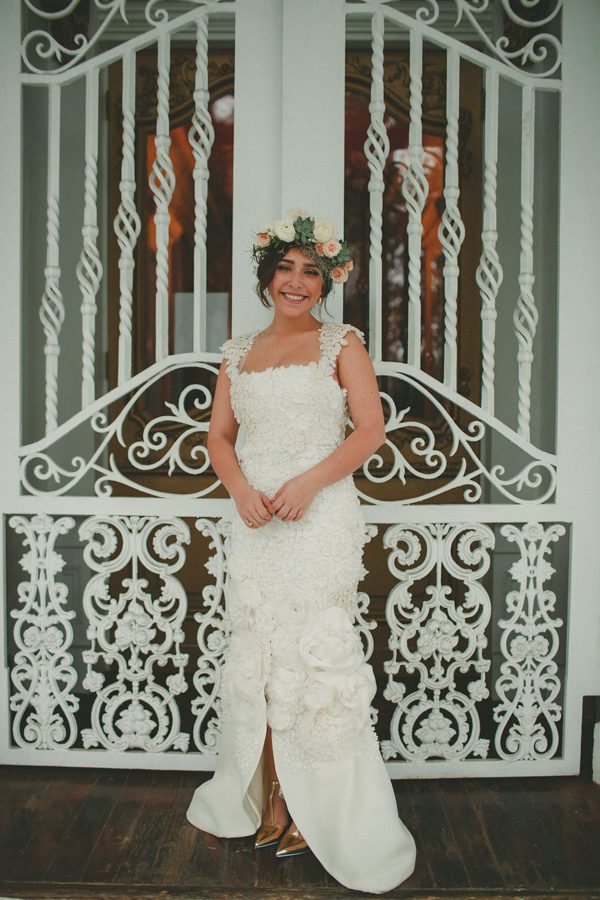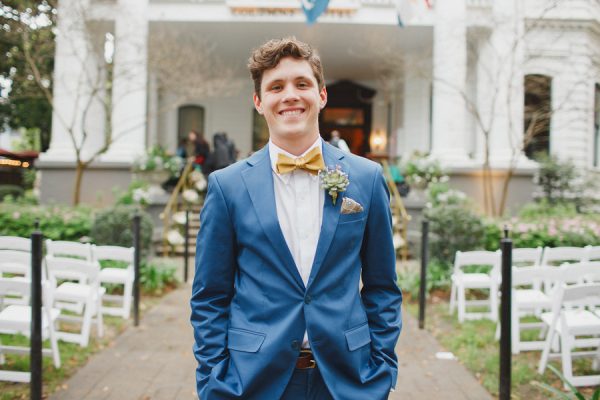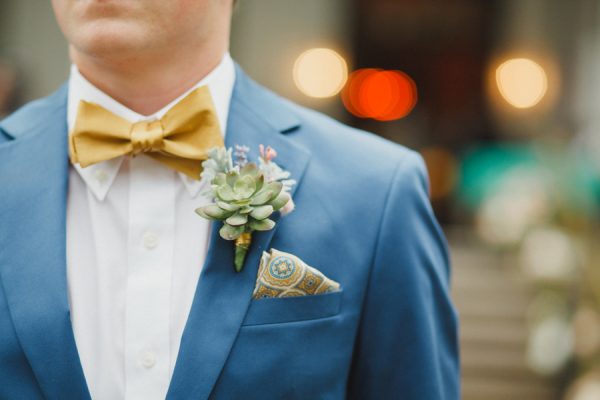 Thinking about our wedding day sends us through a whole reel of moments and emotions. Each was unique in its own way, passing too quickly before you could truly take it in and the next began. However, the one moment when time seemed to slow down was our first look. It was as if all of our nerves and worries were forgotten by the deep comfort we felt in sharing a moment alone that we came so far to arrive in. We both often think of our wedding day and the amazing amount of happiness we felt. However, we think mostly of returning to that unique moment that was ours and special beyond belief.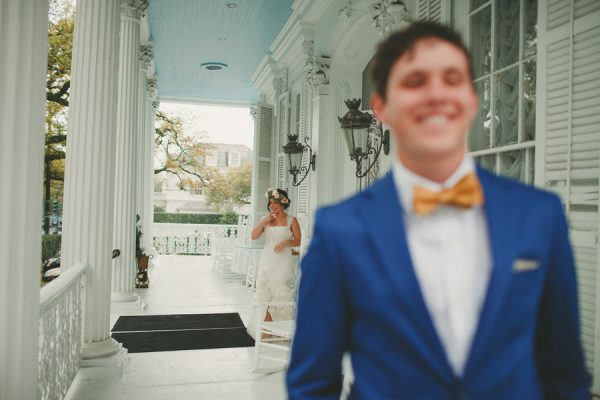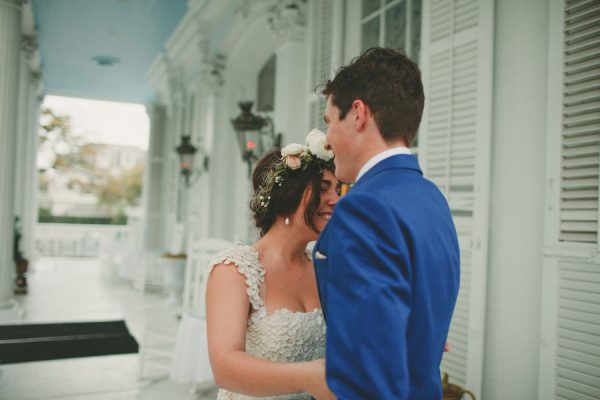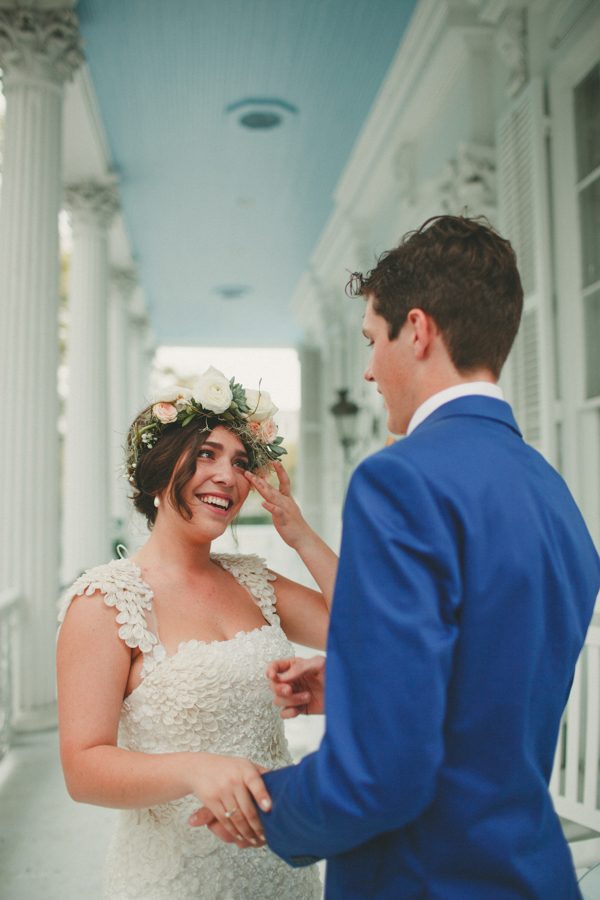 Again, we wanted simplicity so I encouraged my bridesmaids to chose their own gowns and accessories. This freedom was fun and provided an element of surprise. The best element of our wedding style was the gloomy weather which was the perfect contrast to our soft tones and floral accessories. While I was worried about rain, I had no idea my pictures would be enhanced by gray skies!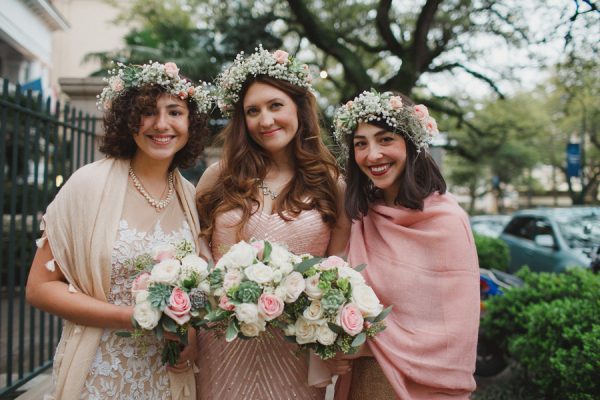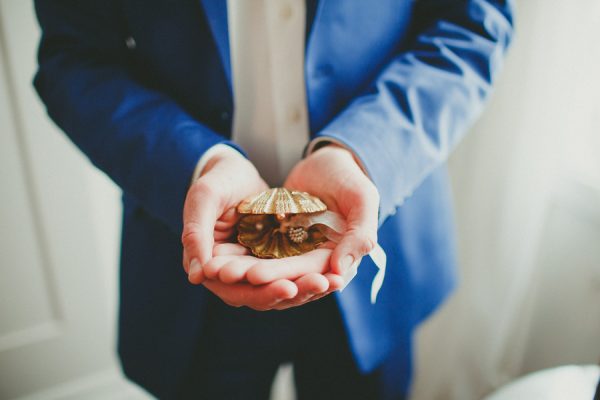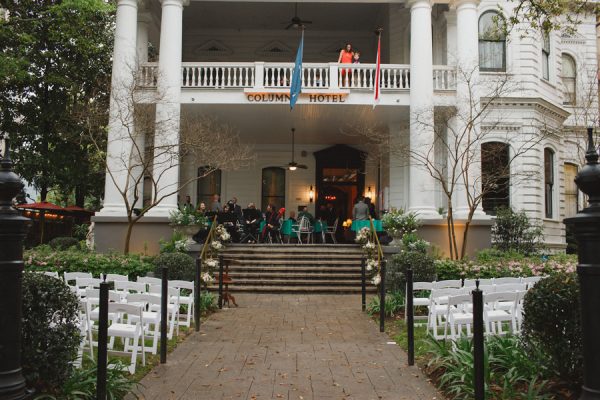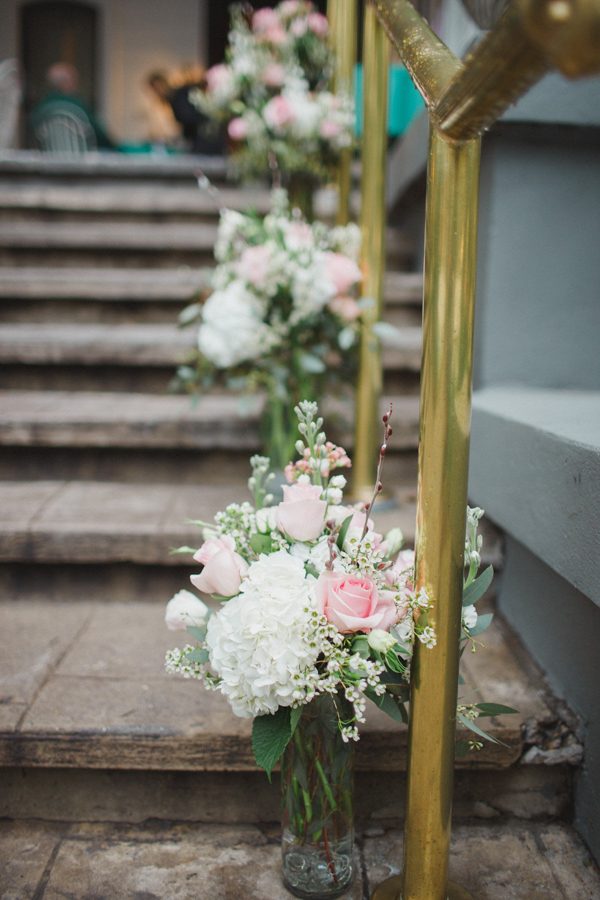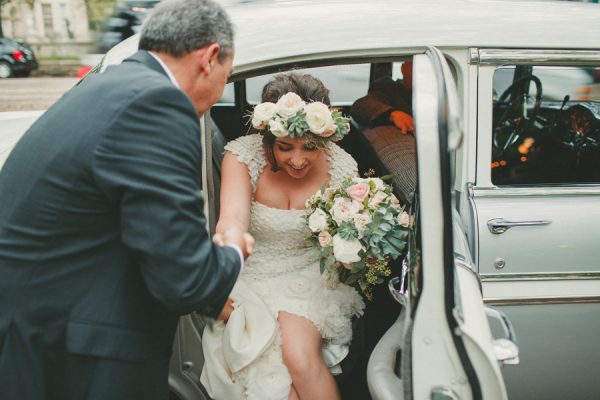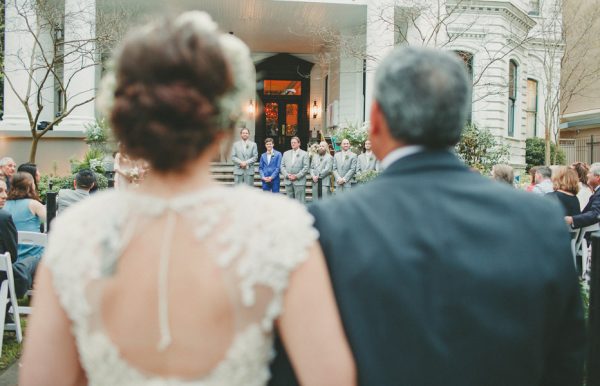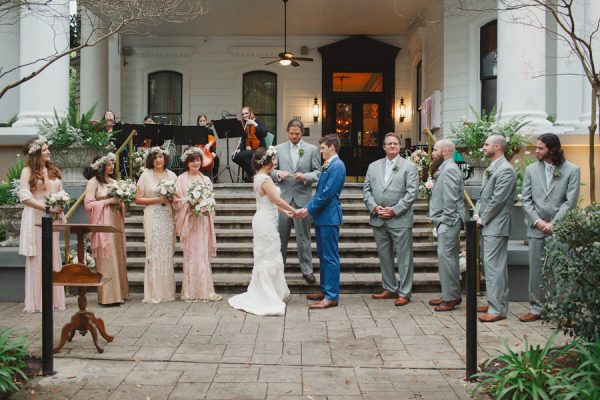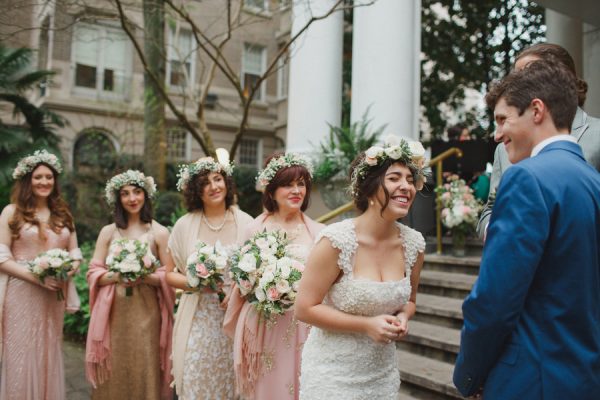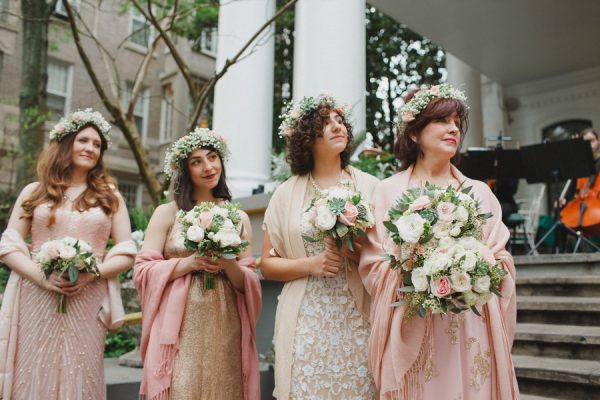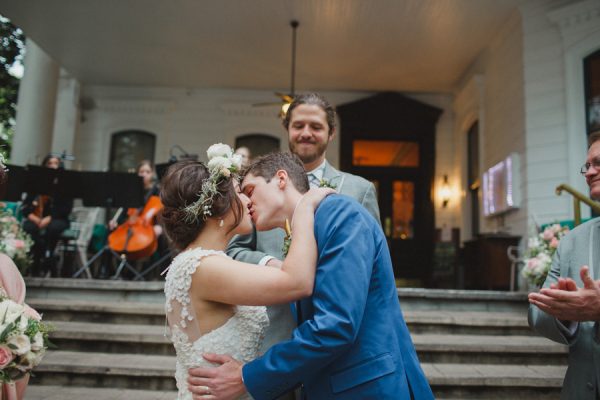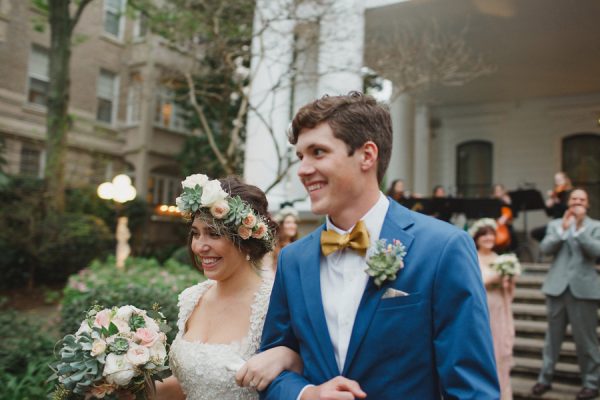 Our advice: It may seem obvious to most, although, it clearly was not obvious to us–try not to plan a wedding during your senior year of college. On top of all our typical responsibilities, it was an incredible endeavor. In the end, we felt extremely accomplished, proud of our teamwork, and in awe by the event we planned together. Overall, learn to take challenges and obstacles as gifts. Not every flaw in the planning process has to be disappointing. Allow yourself a brief moment to be upset but move forward knowing something better may be in store for a reason. We learned this lesson ourselves when the hotel we blocked failed to block the entire hotel. We ended up staying in the most magical mansion, completely transforming the look and feel of our day that was forever captured in our beautiful photos.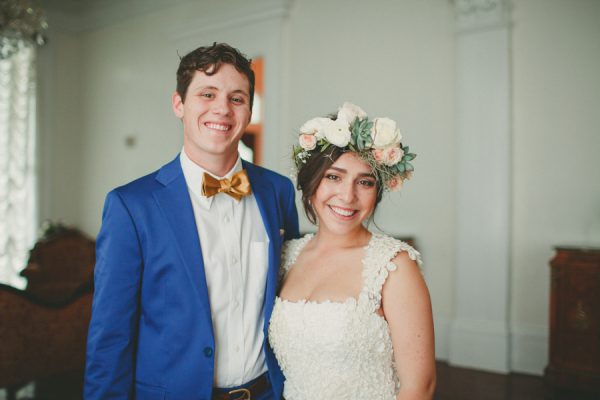 Our wedding was very much centered around food as we enjoyed a sit-down dinner with several courses in a city known for its unique culinary culture. We decided to continue the theme by sending our guests home with macaroon boxes from a New Orleans favorite, Sucre. Each box held two macaroons. One was the groom's favorite and the other the bride's. We often made late night trips to Sucre to treat ourselves to our favorite macaroons and felt it was a tradition we wanted to share with our guests. Needless to say, we made a point to order a few extra to enjoy on our own before the wedding.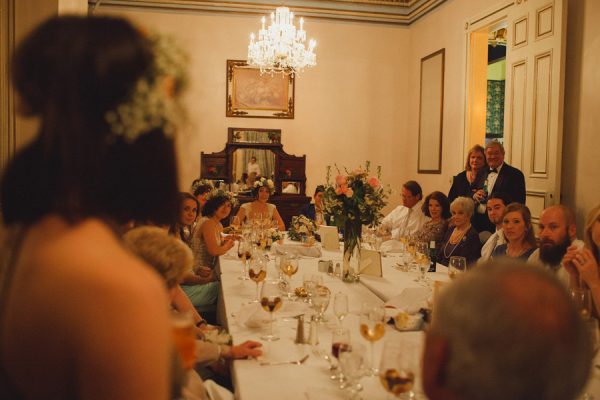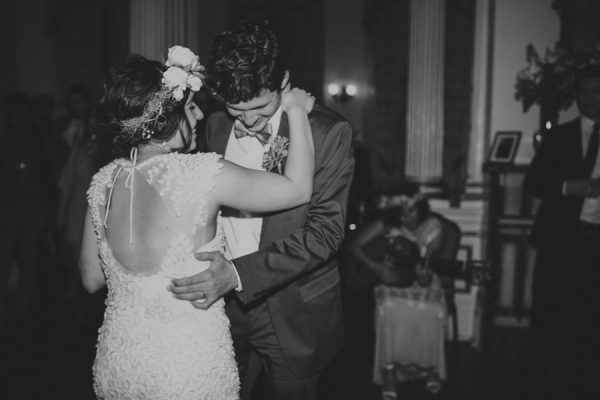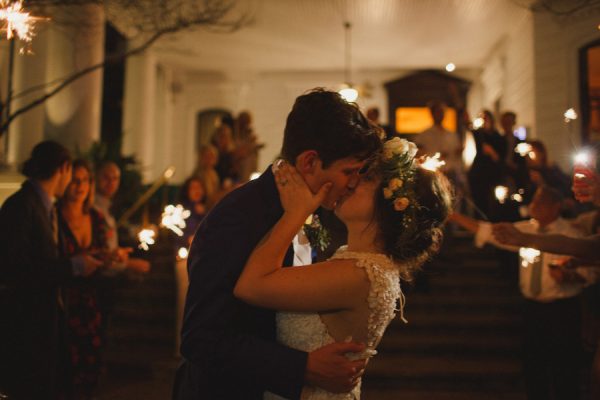 Congratulations to Alexa and David, and a huge thanks to Sharon Pye for sharing this wedding with us. Want more NOLA wedding inspiration? Then you've got to see this vintage New Orleans wedding at Audubon Park!