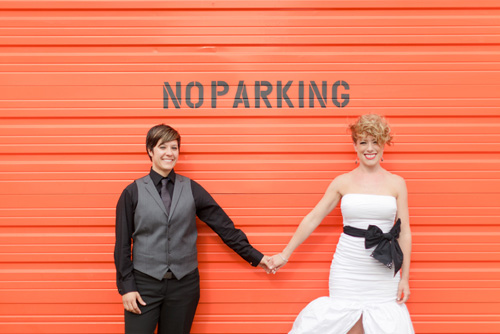 I'm completely smitten with today's Real Wedding of Detroit couple Jenna and Alaine, and after just one look at these images from Alli McWhinney Photography I'm sure you will be too! Starting with their amazing wedding fashion and decor choices, ending with their beamingly happy faces, and including every sweet personalized wedding moment in between, this amazing same-sex wedding at the Russell Industrial Center in Detroit is for sure a new favorite. Jenna and Alaine did such an incredible job describing their wedding planning experience, that I'm going to simply let them tell us all about it in their own words. Read on…

When you imagined your wedding day, what was most important to you? When we decided to have a wedding celebration locally we knew we wanted to make sure it was personalized all the way through. We have a fantastic group of fun, artistic friends that we knew would appreciate every signature detail we brought to the party. We started with planning our location by searching out everything from theaters to old worn down spaces in Detroit. It was our love for Detroit and the undying enchantment of the Russell Industrial Center that let us know it was exactly the right place for our friends and family to witness us getting married.
We planned a ceremony that was offbeat, personalized, and really comfortable for us. We also wanted the ceremony to involve our family and friends, so before it started, we invited our immediate family, our officiant, and the friends who were speaking to our "green room", where we gave a toast and prepared for the ceremony. We had our officiant, family and friends walk out of the room to one of our songs, and then as the music changed we walked out together holding hands. After the ring exchange and before the ceremony ended, we had our friends give short but sweet toasts, and that wrapped up the ceremony.
What three adjectives describe your wedding best? Funky, Offbeat, Boisterous

Tell us about your wedding colors and the design of your celebration. We really wanted a vibrant and lively feel for our wedding, so we picked bright colors. Citrus orange and lime green were the major accents to the basic black and white. Our space was a blank slate with white walls – an open studio floor plan with lots of factory windows. We actually were allowed to paint some of the walls green, which really added a punch of color. We also incorporated the greens and oranges with lighting, in the decor and the flower arrangements used limes and kumquats. We painted some tree branches lime green and used those throughout the space. The flowers themselves were oranges and greens, such as proteas, fiddleheads, trick carnations, mango calla lilies, and green hydrangeas. Our "theme" was to have simplicity meet sleek and funky.
For wedding favors we made a CD of upbeat love songs, and included the two songs involved in our ceremony on the disc. We also burned a design into one side of the disc and we purchased recycled cardboard sleeves and stamped "a+j" on each case.
For a wedding cake we opted to go for cupcakes! Our food was all tapas finger foods, so it made sense to stick with that theme. We had a mixture of regular size and mini cupcakes. We also really wanted to play up the sweet and savory idea, so half the cupcakes were carrot orange and the other half were french toast flavor.
A few other fun extras… The studio space had a pool table and video game that we incorporated. It ended up being such a fun area for people that didn't want to dance, where they could grab a beer and relax. Because the event was in August in a studio loft without air conditioning, we decided to incorporate lime green hand fans for our guests to use. Our food was tapas, so we decided to also have a midnight snack of pizzas delivered at 10:00, and they were quickly devoured. For our open bar, we had a keg from a local brewery, a signature cocktail, and champagne for the night. The signature cocktail was a big hit – we called it the Detroit Gimlet. The lighting was a really crucial part of the event. We hired a light-tech to run the lights all night so they changed colors throughout the evening and throughout every song. This was one of the things that really made the dance floor feel like a party and club! The candy bar was gorgeously designed too. At the end of the night people were taking candy grab-bags home with them!
What was your personal bridal style like and what inspired it? Well since there are technically two brides here, we'll describe one at a time!
Jenna: I wasn't sure exactly what I wanted to do, but I didn't stress out to find it. I found a basic dress, and decided to make it more "me" with the help of a dress designer. I am a big shoe girl so it was important for me that the dress showed them off, and this was one of the things that I had my dress designer help me with. Altering the dress also added more of a couture edge, and that was important because of the space we were going to celebrate in.
Alaine: I like to blur lines, so I wanted attire that could flow into both men's and women's wear. It's often hard to find clothing that fits just right, so I ended up purchasing a suit and have all pieces of it altered. I often wear vests without a jacket, so I knew that I wanted to go that route. And since Jenna was wearing a white dress, I wanted to contrast her with black. And because I was wearing all dark colors, I chose to wear flashy shoes so I picked out some white Penguin loafers.
We loved the contrast between the white dress with darker shoes, and the black suit with white shoes. We also loved that everything we wore was completely "us" and fit our styles, and that nothing looked like traditional wedding attire.

What moments stand out to you most when you look back on the day?
1. Walking into the space and seeing all of work our friend and event planner had done to make this day one that would never be forgotten.
2. Also when we walking out of our green-room and headed to the front of the ceremony, it was amazing to see so many warm, smiling and beautiful faces standing there supporting us.
3. On the night of our wedding, the cosmos were up in a roar. Before sunset a massive lightening and thunder storm came in, and then departed just in time to watch the orange sunset. And after the sunset you could see the full moon and venus beaming in the stars. Our event space had two full walls of windows, so the storm and sunset really became part of the backdrop!
4. We also couldn't have been happier with the toasts that our friends gave. Their words were powerful, funny, eloquent and memorable.
Two of the most romantic moments we remember were taking a moment away from everyone and realizing that we did it! As well as looking out across the studio and seeing in our guests faces that this event really did bring out incredible love, hope and happiness in everyone. The whole room was alive and beaming!
The most sentimental moments came when four of our friends spoke at the end of our ceremony. The words they said about us, about love and even about the politics surrounding gay marriage, were tender and passionate. One of our friends said that she actually boycotted marriage because it was not equal for all, but that our courage has made her reevaluate what it all really means. The event as a whole was so much bigger than just two people exchanging vows. We wanted to be visible in our community, to show others that a wedding is about love and support and not about whether or not it's legal.
The Pros: To learn about about Jenna and Alaine's full team of talented wedding professionals, be sure to visit their page in our Real Wedding Library!

Thank you so much for telling us your wedding story Jenna and Alaine! What a fun celebration!
Readers, to plan your own Southern California or Seattle area wedding, check out our Plan Your Wedding Hotlists, and to find a dream wedding photographer for your wedding anywhere in the world, don't miss our World's Best Wedding Photographers Hotlist!