French Polynesia has all the ingredients that tropical dreams are made of; sugar white sand beaches, fragrant flowers, exotic birds, abundant marine life, and crystalline blue lagoons. Encompassing literally hundreds of hypnotically beautiful islands, it can be a seriously overwhelming task to decide exactly where to lay back and put your feet up. That's why we called on Junebug Weddings member and Polynesian travel expert, Amanda Luce from
All About Honeymoons
, to bring you the scoop on planning a stress-free Polynesian honeymoon with memories to last a lifetime. Here's the low down straight from Amanda on her top three favorite islands, so you can kick back and travel easy!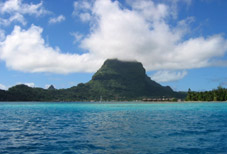 This is the place that cast a spell on artist Paul Gaugin, and that author James Michener called so stunning, there are no words to describe it. The island, with its glorious lagoon and towering black rock mountains, is arguably the single most famous and gorgeous tropical destination on earth.
Top places to stay:
Bora Bora Nui
– Located off the main island on Motu Toopua, this opulent resort has the longest white sand beach of any resort on Bora Bora. You'll love waking up in your sumptuous over-water-bungalow to a delicious breakfast served to you from an outrigger canoe. Seriously! The
Mandara Spa
at the Nui is built at the top of the hillside with breathtaking panoramas of the resort and the endless blue horizon. Settle into your private jacuzzi for two before and after your spa treatments and you'll think you've gone directly to heaven. Later grab a cocktail at beachfront
Le Tamure Grill
where the infinity pool seems to disappear into the lagoon.
Sofitel Motu Bora Bora
– Intimate, unpretentious, and located on its own private island! Situated off the southeast tip of Bora Bora, its the perfect spot for couples looking for romantic seclusion, amazing coral garden snorkeling, and stunning views. Guests enjoy full access to the amenities at its sister property
Sofitel Bora Bora Beach Resort
, while still being able to return to the serenity of their private retreat. The best views are from over-water-bungalows #128 and #129.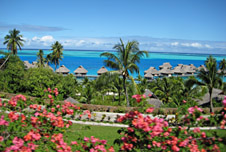 Best places to eat:
Bloody Marys
– This legendary grill is simply not to be missed. Grab a coconut palm table under the large thatched roof and kick your shoes off. You'll definitely want to wiggle your toes in the soft white sand floor! Choose from an extensive array of fresh fish, seafood, and meat, and the chef will prepare it exactly the way you like. Bloody Marys is world famous, so reservations are strongly recommended. Tel: 689-67-72-86
La Villa Mahana
– A few lucky couples manage to secure reservations at one of the six tables gracing this Italian-style villa, where Chef Damien Rinaldi prepares internationally influenced cuisine that is as beautiful as it is delicious. Nothing can compare to sharing this sumptuous experience with your sweetheart. E-mail Damien and let him know you're coming for your honeymoon:
[email protected]
Fun things to Do:

Picnic on your own private island
– Set up a gourmet picnic on one of the many private islands (motu) surrounding Bora Bora through
Moana Tours
. You'll enjoy stellar snorkeling, soaking up the sun, and sharing a delicious champagne lunch beachside with your sweetie. Paradise found!
Get adventurous
– Head out on an exciting 4×4 trip into the interior of the island with
Tupuna Mountain Safari
. Bora Boras mountainous landscape and lush vegetation-lined roads lead to spectacular views and fascinating historical sites.
#2 Moorea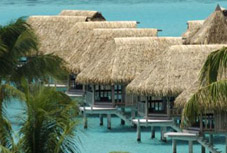 Mooreas breathtaking vistas, idyllic white and black sand beaches, and exquisite marine life make it a favorite destination for travelers around the world. Just a 25-minute ferry ride from the hustle and bustle of Tahiti, this is where you'll find rest and relaxation that's only available in paradise.
Top Places to Stay:

Sofitel Moorea Beach Resort
– This is the most luxurious resort on the island of Moorea. Step directly out of your Beachfront Deluxe Bungalow onto the warm sand and take in views of the island of Tahiti off in the distance. Let the remaining stress of your wedding preparations melt away with a trip to
Le Spa
for a fabulous couples massage.
Moorea Pearl Resort
– This is one of Amanda's very favorite places. Its the only resort within walking distance to town, so you can explore lots of options for dining and shopping. The Pearls Garden Pool Bungalows are uniquely sublime, each with a secluded plunge pool nestled in a private garden area! Ah, so romantic!
Best Places to Eat:

Carmelines
– Start your day with a great light breakfast, just a short ten-minute walk from the Moorea Pearl. Treat yourself to French crepes or a tasty omelet. Grab a couple of mouth watering pastries or flaky croissants to go for a yummy snack later on! If you decide to swing by at lunch on your drive around the island, Carmelines serves traditional lunch fare like burgers, paninis, pizza and delicious sandwiches.
Alfredos
– Located in the Cooks Bay area, Alfredos specializes in traditional Italian cuisine including pastas and pizza. You'll want to head over on Thursday nights for a treat of local live music. Call for reservations and pick-up from your hotel. Alfredos is open for lunch and dinner.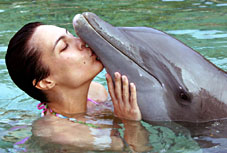 Fun Things to Do:
Explore
– When on Moorea you simply MUST rent a car or scooters for the day. Dont worry about booking in advance, your hotels concierge will be able to assist with your rental. There is just one road on the island that winds around in a complete circle, so its simply impossible to get lost. When you reach Le Belvedere Outlook Point, you'll see down into both Opunohu and Cooks Bays, the vista is absolutely jaw-dropping! While on your self-directed excursion, stop at the
Moorea Fruit Juice Factory
to sample mouth-watering fruit juices and indulge in exotic fruit liqueurs.
Swim with the Dolphins
– The Intercontinental Resort is home to the
Moorea Dolphin Center
. Reserve ahead of time, and one of your stops on your way around the island can be to play and swim with the dolphins.
Scuba Dive
– Don't miss this unforgettable treat! The underwater landscape on Moorea is as varied and gorgeous as it is at the surface, featuring stunning canyons and endless coral reefs. You'll be sure to witness the best French Polynesia has to offer below sea level.
Bathys Diving
, located at the Intercontinental Resort, is a top-notch dive operation for honeymooners, ranging from novice to expert. For couples looking to jump into to a fabulous new experience Bathys offers a Blue Honeymoon introductory scuba package, which includes an intro scuba class, dive time and a DVD of the dive. Bathys recently added two new dive boats and offers Nitrox tank fills for Nitrox certified divers. Give them a call and they'll pick you up from any resort on the island.
Tel: (689) 56-31-44
#3 Huahine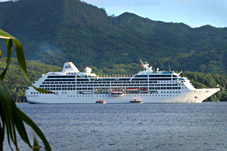 Known by savvy travelers as the Garden of Eden, Huahine is secluded, quiet, and blessed with gorgeous flora and fauna, fragrant vanilla farms, and a rich cultural heritage.
The Place to stay:
Te Tiare Beach Resort
– Intimate, rustic, and wildly beautiful. This is the ultimate get away from it all destination, perfect for a three or four night stay.
Best places to Eat:
Te Marara
in the village of Fare is just a quick shuttle boat ride away from the Te Tiare resort. Enjoy a Hinano, Tahitis locally brewed beer, while gazing out on the serenely beautiful lagoon.

Fun Things to Do:
Explore Maeva
Take a circle tour of the island and find insight into the culture as it existed 1000 years ago at this restored archaeological dig.
See Huahine by Boat
Traveling to Huahine on the luxurious
Eden Martin
is Amanda's very favorite way to see the beauty of this incomparable island.

Traveling Tips: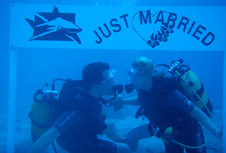 Your trip to French Polynesia will take 11 to 14 hours depending on where you're traveling from in the U.S. You'll need current passports, bathing suits, sunglasses, lots of sunscreen, and Amandas 'phone number to ensure its the best time you've ever spent traveling. Call Amanda at 253-588-4808 or
visit her website
, and remember to drop us a line when you get back, we would love to hear how it went. Bon voyage and happy honeymoon!