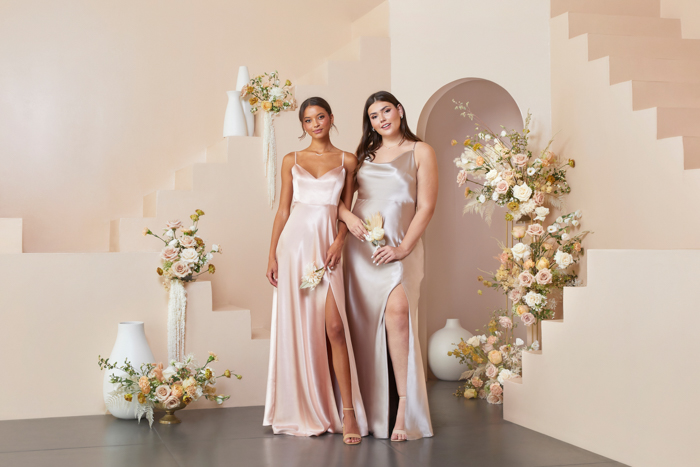 It's a lot of pressure to choose bridesmaid dresses that match your wedding party's personalities, your wedding theme, and their budgets. Thanks to Birdy Grey, you don't need to worry about the price tags on bridesmaid gowns or convincing your friends that they'll definitely wear their dresses again.
Their gowns are affordable—seriously, they're $99 each—and so stunning that your crew will want to wear them again. They'll especially love Birdy Grey's new floor length satin gown collection that perfectly mixes and matches their other available colors and cuts.
So whether you've determined your color scheme and you're looking for a variety of styles or you're just looking for gorgeous bridesmaid inspiration, look no further than this new collection.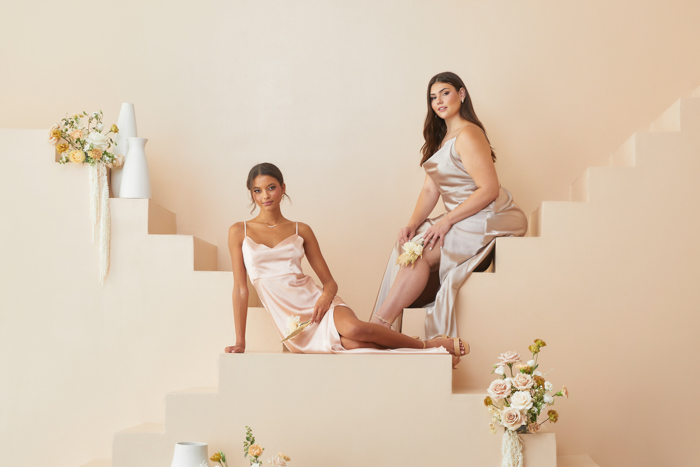 Who Is Birdy Grey
The team behind Birdy Grey works tirelessly to create gowns that are perfect for everyone in your wedding party. Whether you've got three bridesmaids or 13, Birdy Grey's commitment to value, fun, and inclusive sizing will keep your bridesmaids and you happy on your wedding day. All for $99 a gown.
Birdy Grey just gets bridesmaid dresses. Their focus on an easy and fun shopping experience makes them amazing for shopping online. You can tell it's going to be easy when you visit their website and see their different color options, and how easy they make it to mix and match.
Built for Bridesmaids by Brides and Bridesmaids
We love that Birdy Grey is a female-founded company with a majority female team behind the founder. Because of their experience as brides and bridesmaids, they understand the experience of choosing bridal party outfits can be tough. They're here to change that.
Their All New Floor Length Satin Gown Collection
Birdy Grey is launching a new collection of floor-length satin gowns—each cost $99, just like every other gown they offer. These dresses are shinier and more luxurious than their previous satin capsule collection. Give your bridesmaids the gift of a dress that will make them feel as fabulous as possible while standing next to you on your big day.
We love the opulent look and feel of the four different styles in five color variations. Each of the following styles in the floor length satin gown collection are available for preorder now and will ship at the end of January 2022.
The Monica Satin Dress
With a sexy Grecian twist-front halter style, this will transform any bridesmaid into a goddess standing by your side. The high-neck bow tie in the back is an elegant touch that will help keep jewelry and accessories minimal for bridesmaids. The floor length skirt with a slit is just a bonus.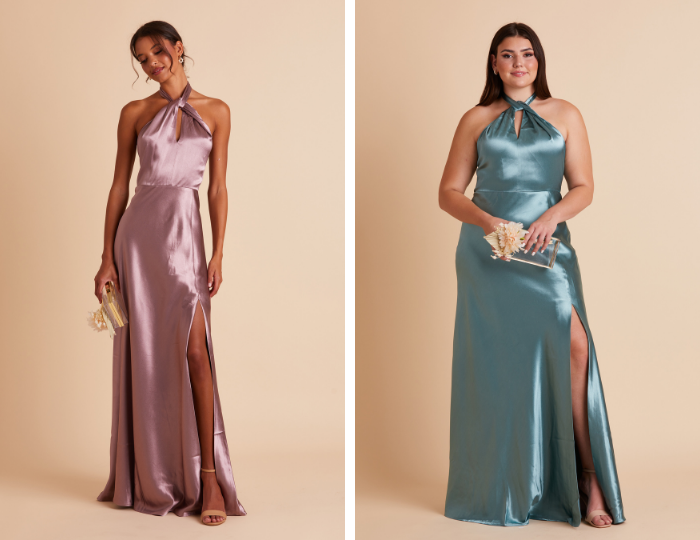 The Jesse Satin Dress
The Jesse Satin dress boasts butterfly kimono sleeves with a deep front V-neck. Your bridesmaids will feel elegant, dainty, and beautiful in this dress. This gown also has a floor-length skirt with a gorgeous slit so she can still break it down on the dance floor.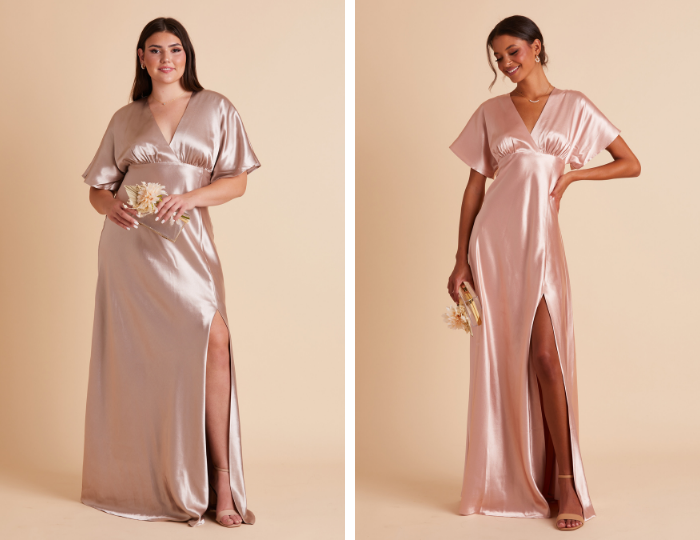 The Jay Satin Dress
This simple spaghetti strap V-neck dress with a slit skirt is perfect for your pals who want to stay cool, sexy, and sleek.
You might recognize this gown as a sister to the crepe Jay dress, which is a fabulous option for bridesmaids if you're looking to mismatch fabrics.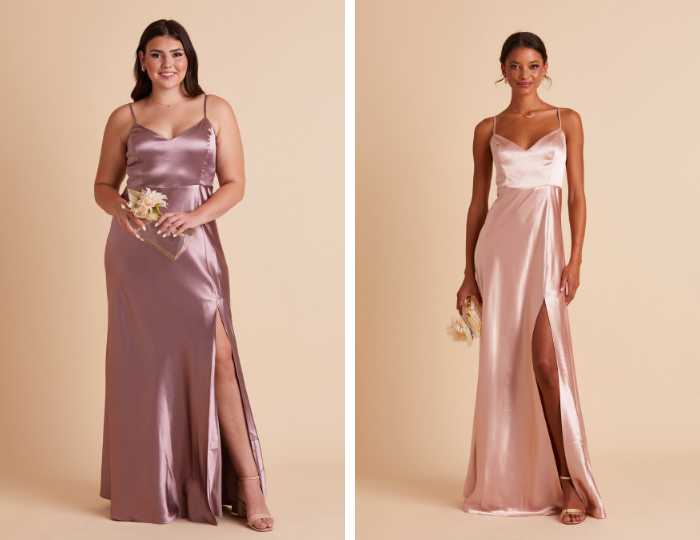 The Lisa Long Satin Dress
Similar to the Lisa Satin midi dress, this gown is accented with a signature 90s cowl neckline. The difference is in the floor length skirt with a slit and much shinier fabric.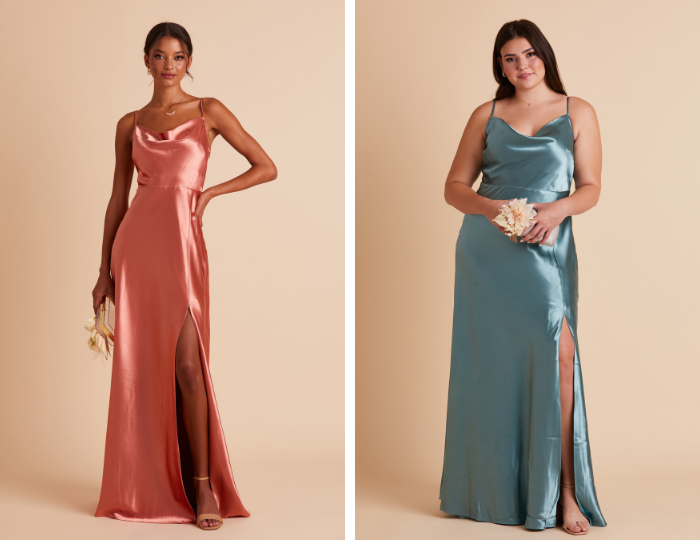 Satin Dresses Perfect For Every Wedding Style
The Birdy Grey floor length satin gown collection is available in rose gold, taupe, dark mauve, terracotta, and sea glass. These color options will fit perfectly into nearly every wedding palette—seriously. These gowns work with every wedding style from modern to boho to rustic and any style in between.
If you're looking for a bridal party style to match your wedding vibe, look no further. The shiny fabric of these satin dresses will complement the dazzling smiles and memories from your wedding day.
How to Purchase
These floor length satin gowns are available for preorder now and will ship at the end of January 2022. Don't miss out on the preorders! Order now to have your bridal party in the ultimate satin dresses for your wedding.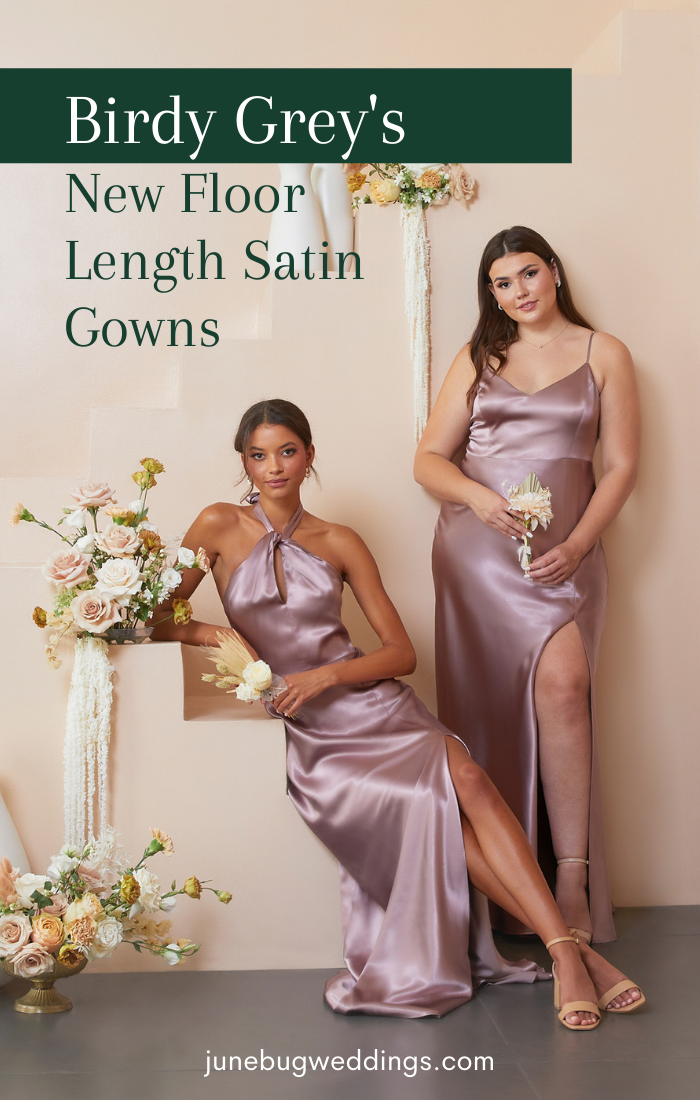 all images provided by Birdy Grey