Editor's Note: The first time we published this NYC wedding, I gushed and gushed about its style and personality. Well, let me assure you right now that nothing has changed! I'm still mad about couple Barbara and Carl's modern celebration, and I hope you will be too!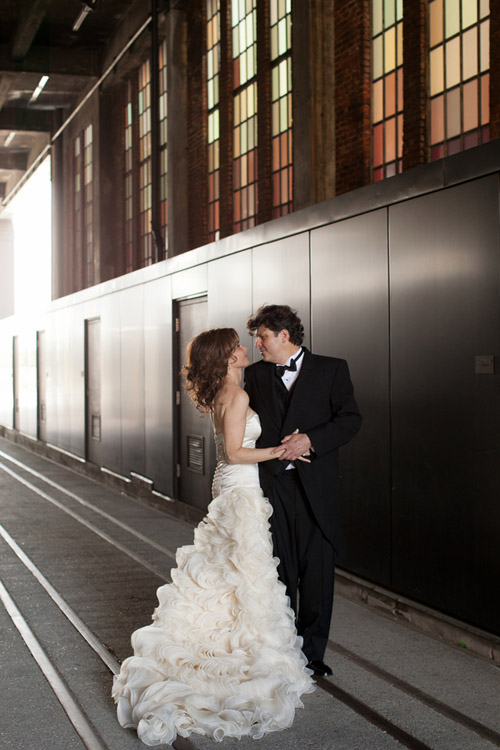 The Couple: Barbara and Carl
The Wedding: 5.1.11 – Studio 450 – New York, NY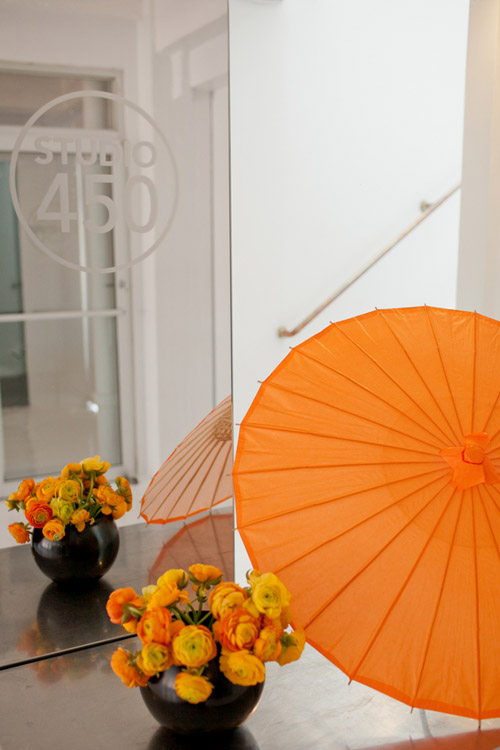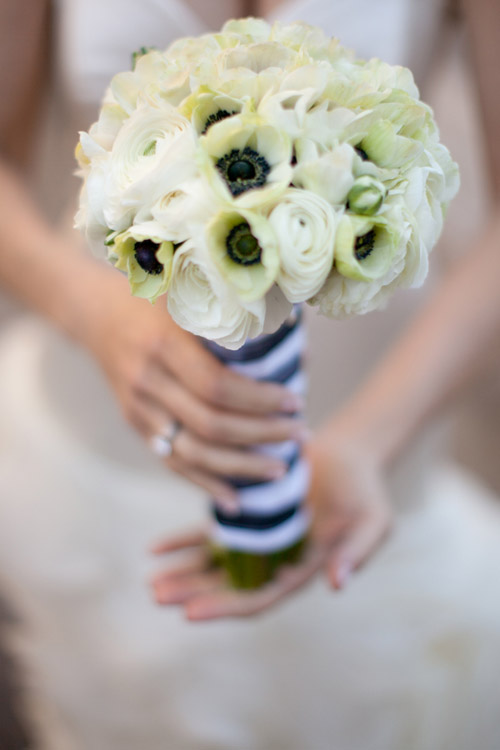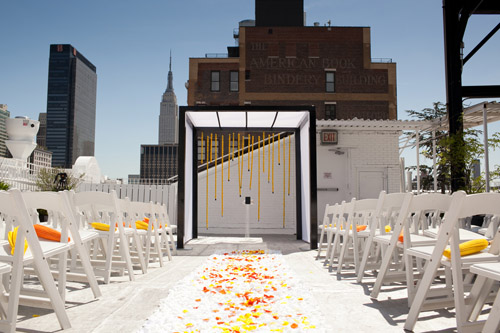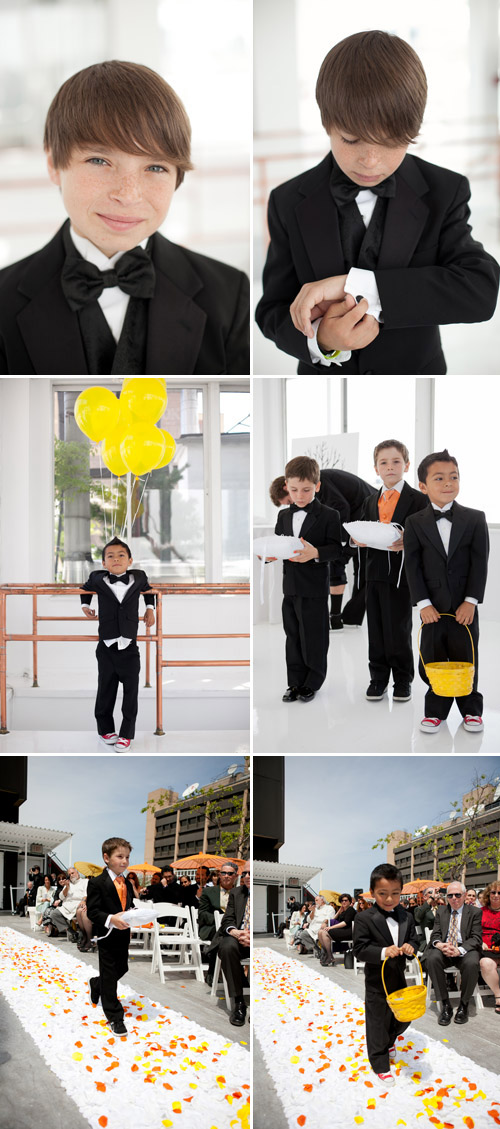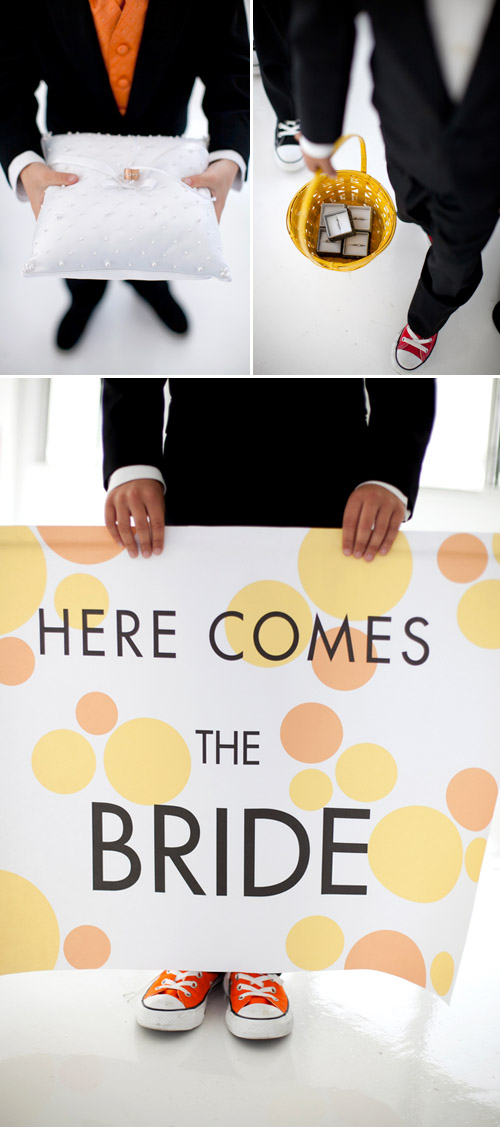 What three adjectives best describe your wedding day? Love, family, the magic of NYC.
Was there a decor theme that ran through your wedding? What was the inspiration for that particular idea and how did it reflect you as a couple?
From Event Designer Maya Kalman of SWANK Productions: Barb and Carl were joining two families with 5 children ranging from 6 – 14. This wedding was both a declaration of love and romance, and a celebration of the sacred bond of the new family. This family loves to laugh, loves to spend time together, and is very expressive. They wanted this wedding to feel bright, casual, but still chic. The colors were inspired by the California poppy. They also wanted it to be family friendly so they decided on a Sunday brunch wedding.
Barbara and Carl both grew up in New York and have lived in Northern California for years. They still feel a strong emotional connection to their NYC roots; many family members still live in the NY Metro area.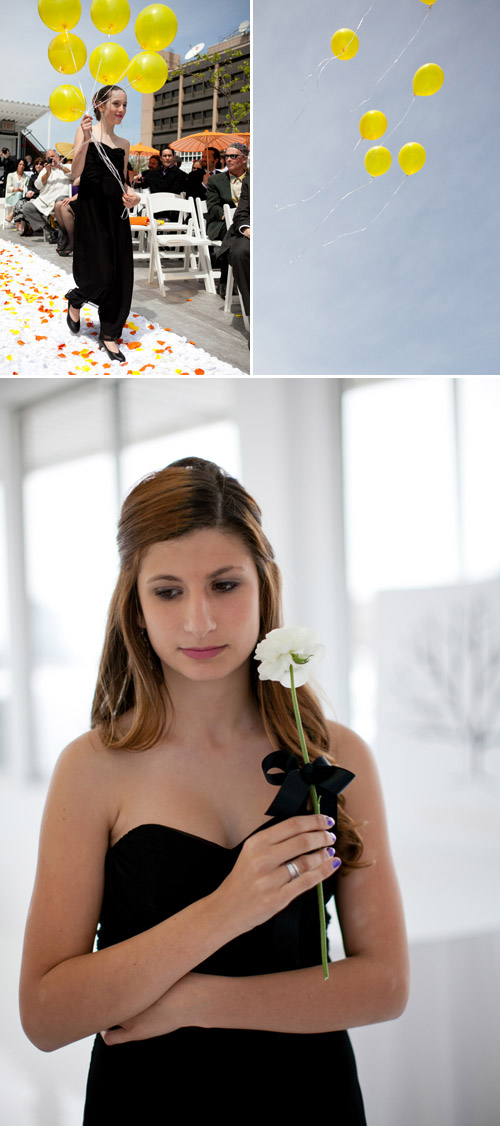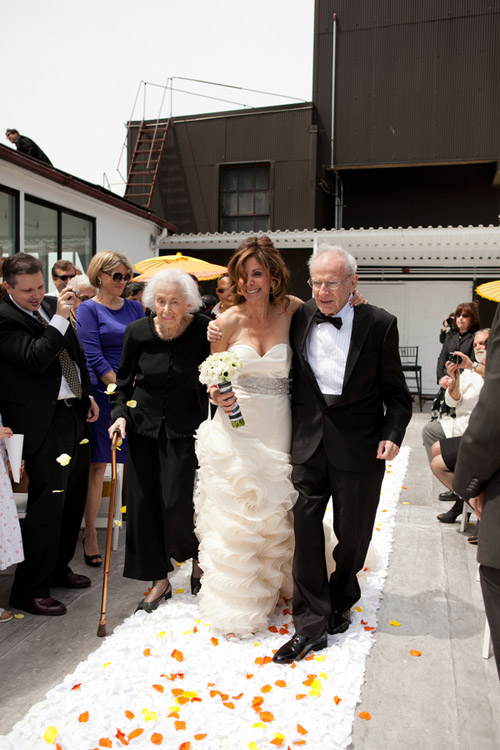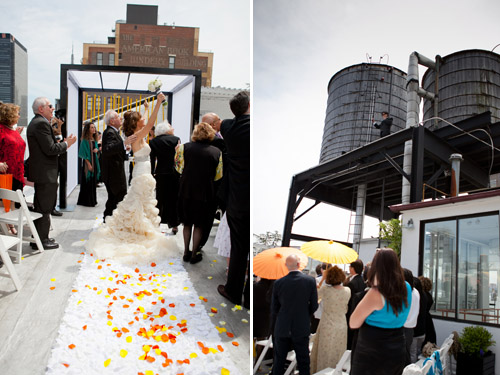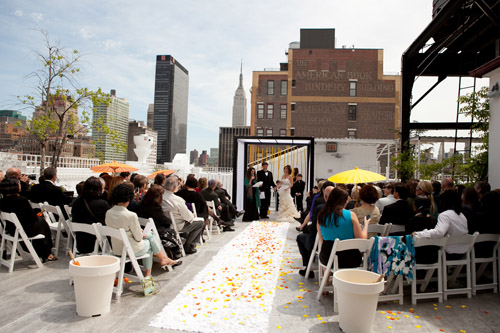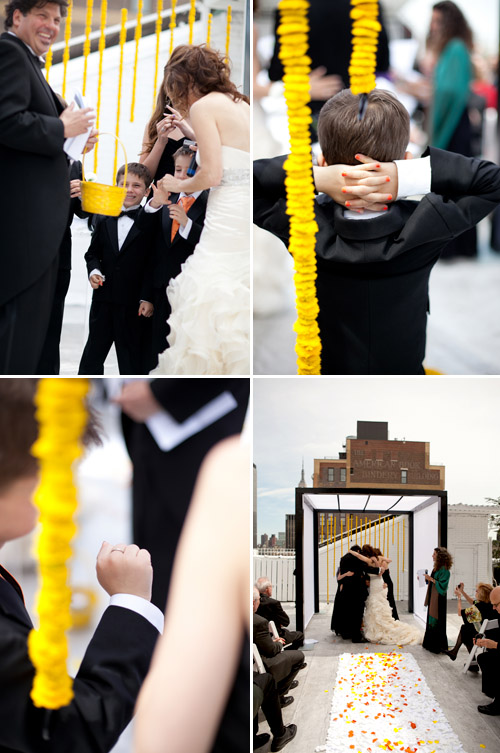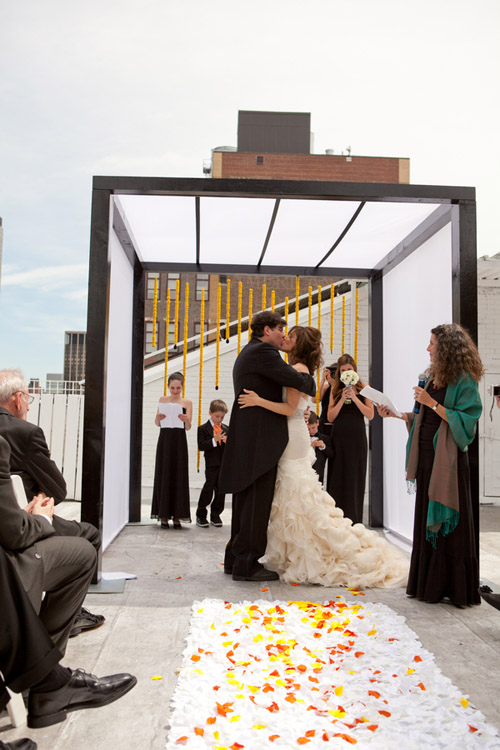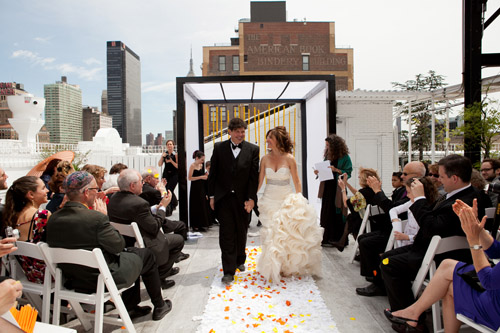 What were some of the different ways you used decor elements to create the beautiful, cohesive event you were envisioning?
From Barbara and Carl: We wanted something light, bright, creative, and bold, so we emphasized yellows and oranges. Our appetizers were designed to reflect the neighborhoods and flavors of New York: mini sausage heroes from Little Italy, street vendor hot dogs, etc. Our wedding invitation drew on a NY Times headline theme, in which we were the featured article.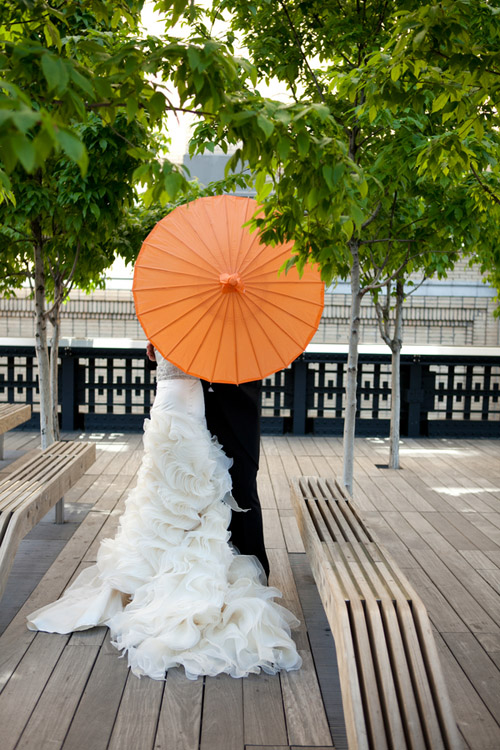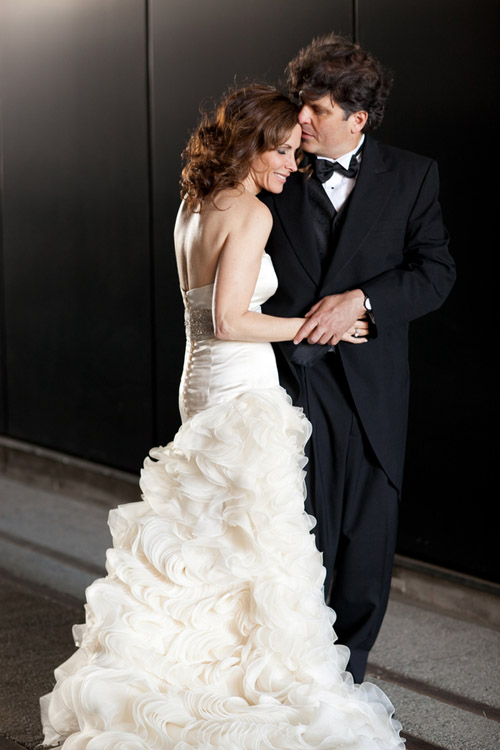 From Event Designer Maya Kalman: We started the "NYC experience" with the couples invitations which we designed as the cover of the New York Times. The wedding's design concept came from wanting the feel of a chic Sunday brunch – black, white, yellow and orange were the color story. We chose a bright white loft venue which was perfect for our Sunday brunch menu. It also had a gorgeous deck so the ceremony could be outside under the noon day sun. The bright white loft with gorgeous views of NYC was decorated with bright yellow and bright orange ranunculus flowers. The white tables were rimmed with a chic wide black and white ribbon to evoke that city chic attitude.
To continue the 'NYC experience, cocktail hour was an homage to different NYC neighborhoods. Chinatown, Lower East Side, Coney island, etc. Trays were made of subway maps of the area and the food was the local favorite.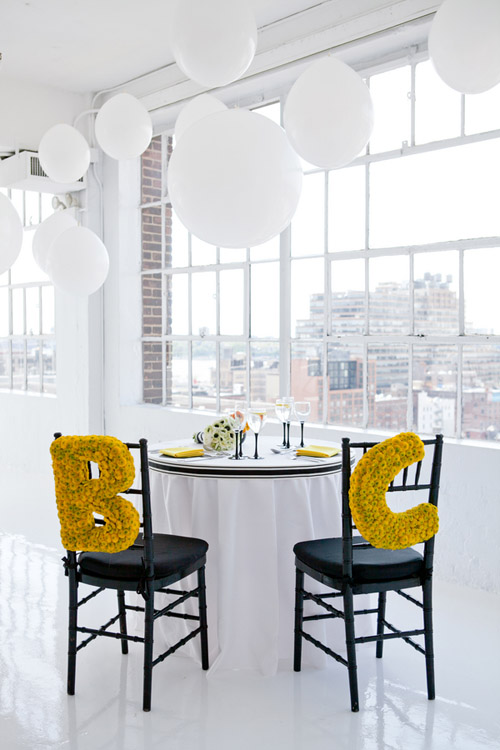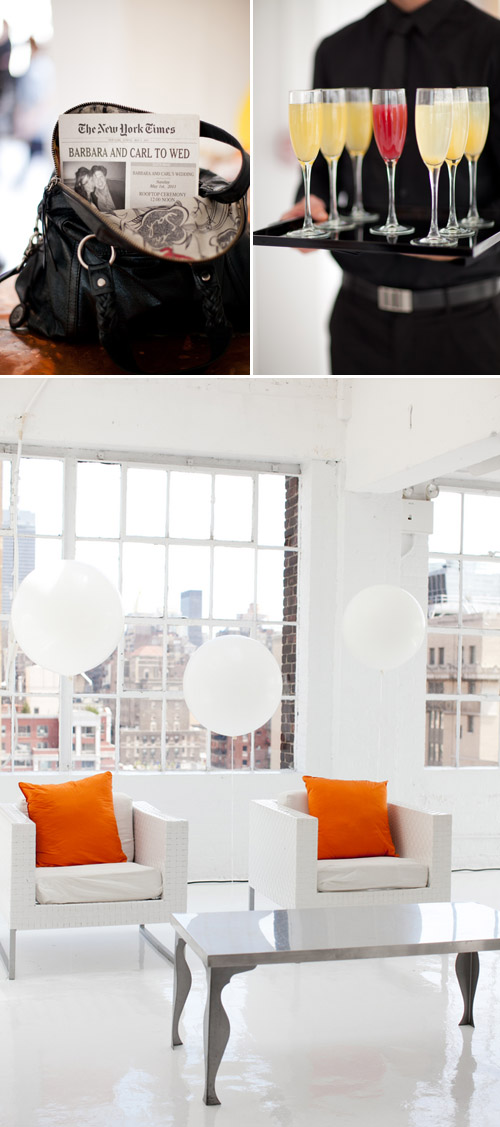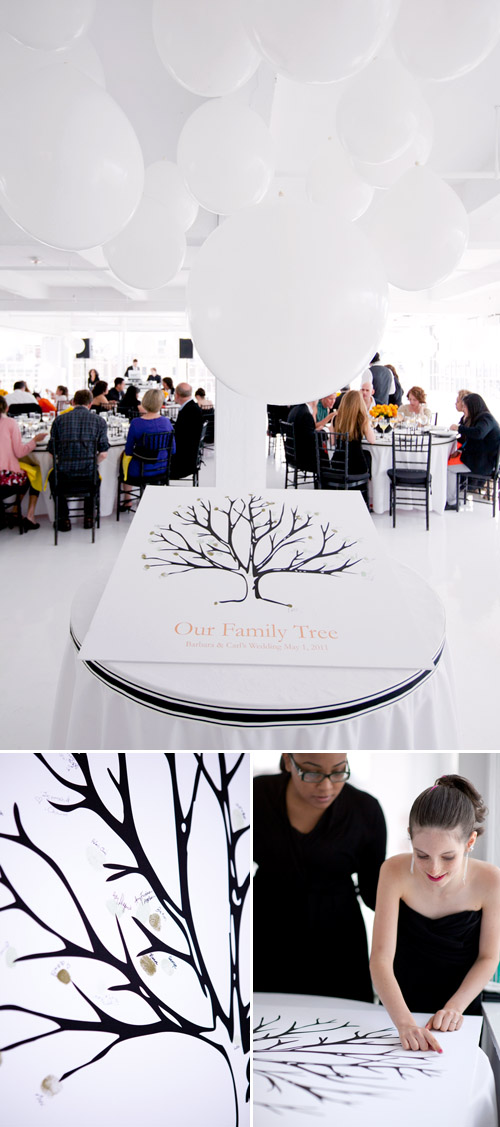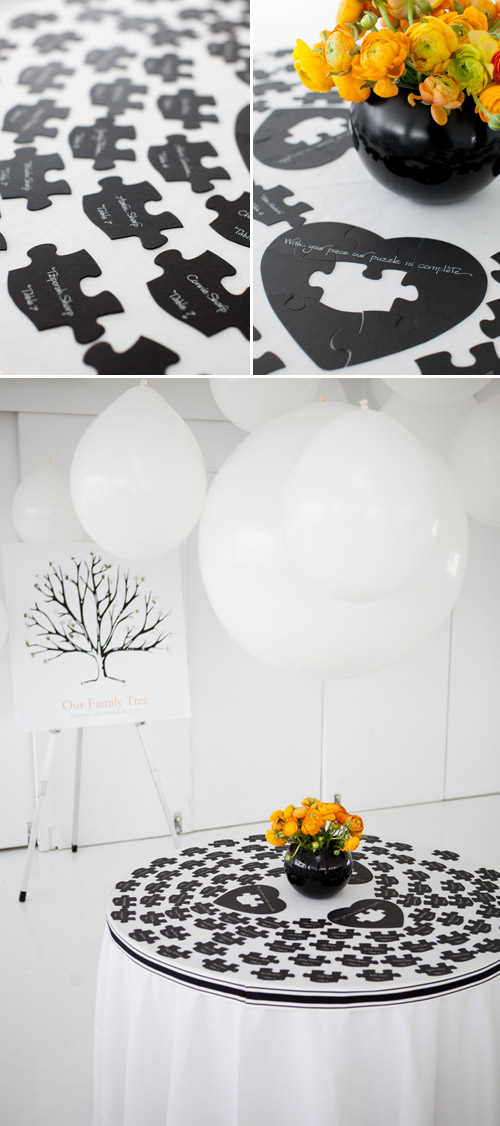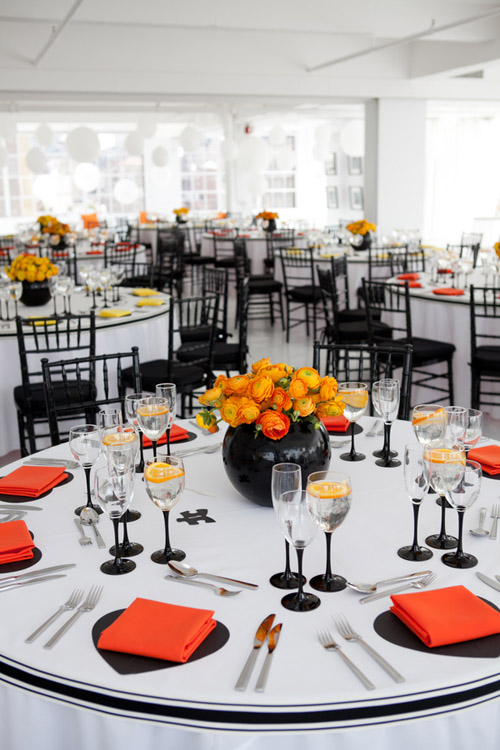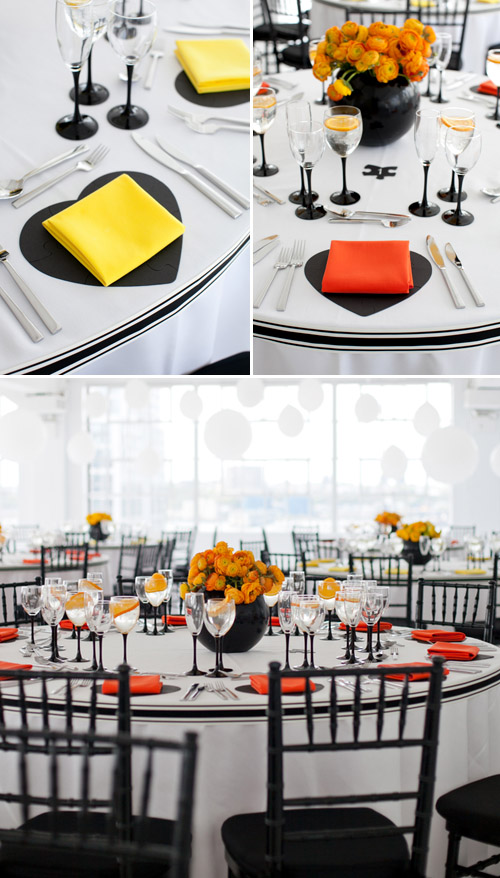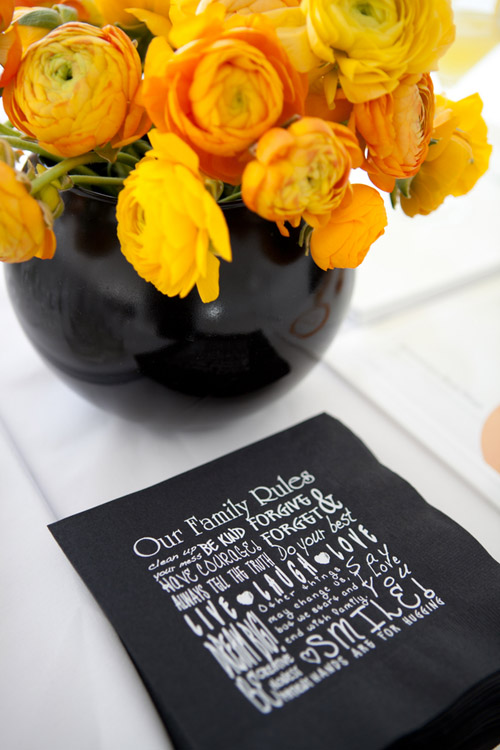 To evoke the bond of family, we created custom napkins with our Family rules printed on them. Instead of the typical guest book or sign-in area we created a family tree where each guest ink stamped their finger print as a leaf on the tree as well as their signature so that Barb and Carl would forever have the complete vision of who was at their wedding the day they started their new family tree. During the ceremony, Barb was walked down the aisle by her parents who had recently celebrated their 65th wedding anniversary, and during the reception a special anniversary cake was presented to them to cut. Barbara's father has since passed away, and they were so grateful to have been able to celebrate this special event with him, and to have the photos and video to remember him by.
To bring in the couple's love of games and fun we came up with the idea of heart shaped jigsaw puzzles. We had Carla David Design create heart shaped puzzles which we placed at each seat with one piece missing that piece was the escort card which was picked up from a table that read, "with your piece you complete our puzzle." To keep things looking light airy, the ceilings were also covered with HUGE, ROUND white balloons.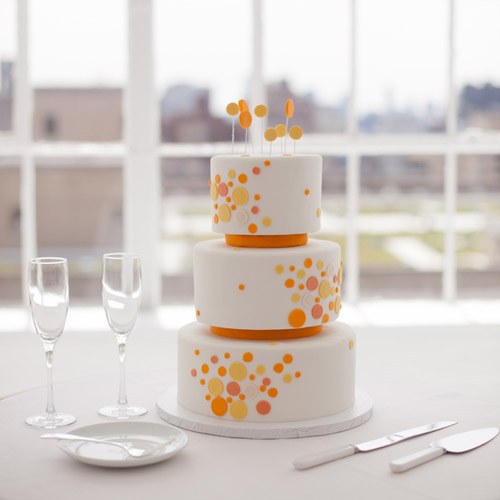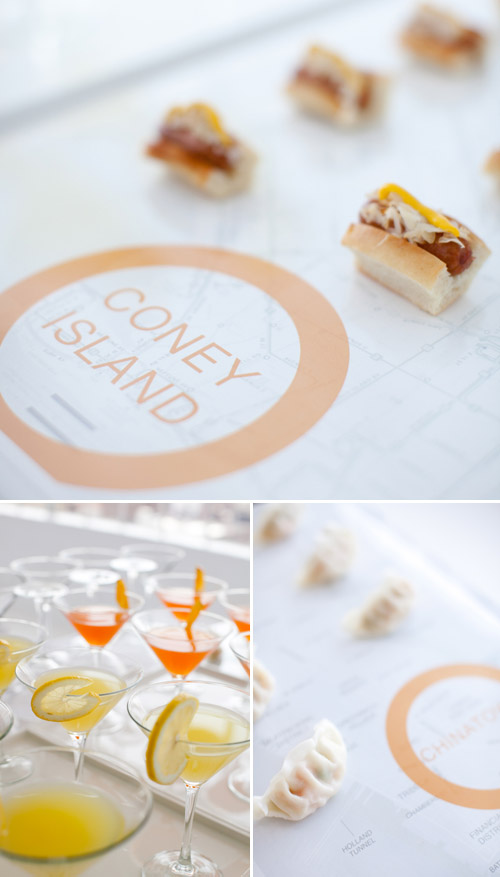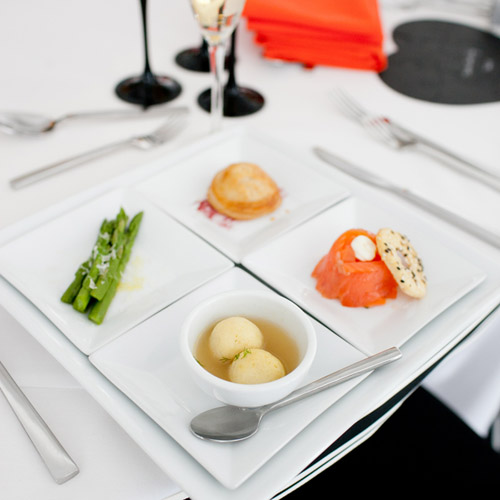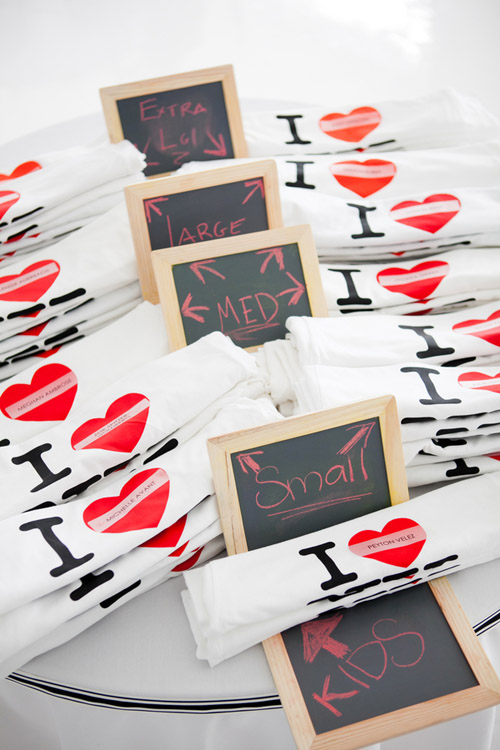 Where did you choose to hold your wedding, and how did the location influence your decor decisions?
From Barbara and Carl: We held our wedding at Studio 450. We found this site online from our Mill Valley home. We committed sight/site unseen and were thrilled! Studio 450 provided a bright white canvas, with tons of character, amazing views, and a unique rooftop space. It was at once open and intimate, like us. The open plan, white walls and floors, and wonderful, old, large windows allowed the city in as a major participant in the day.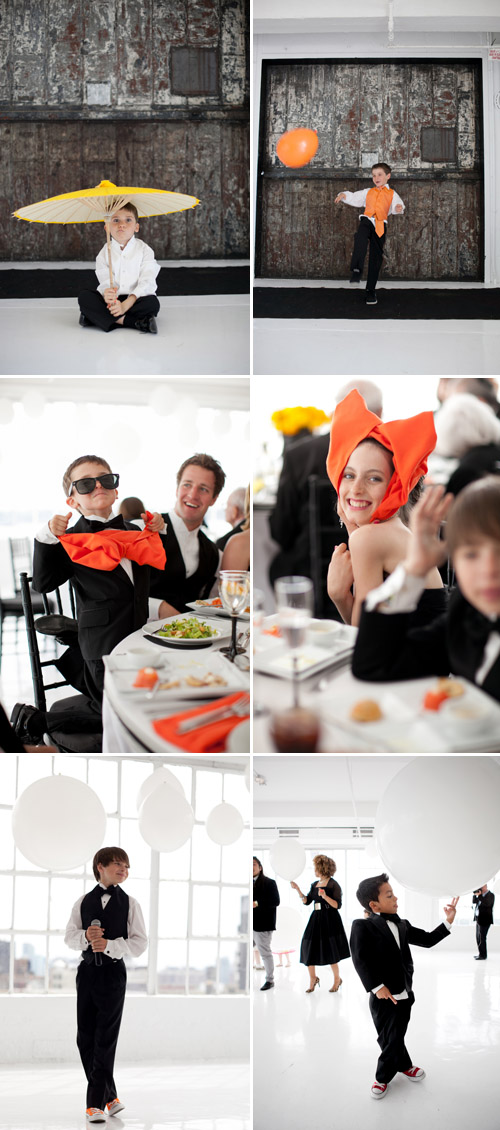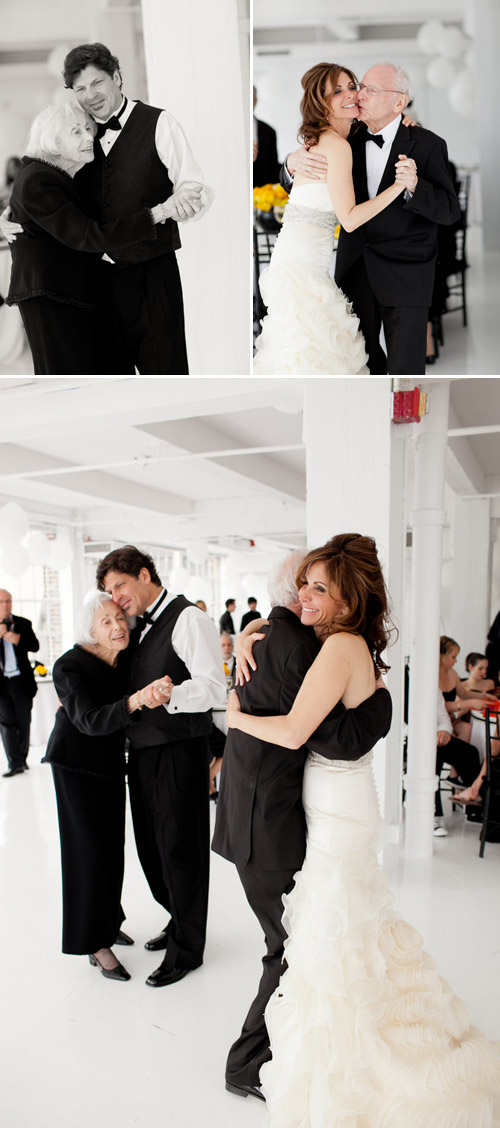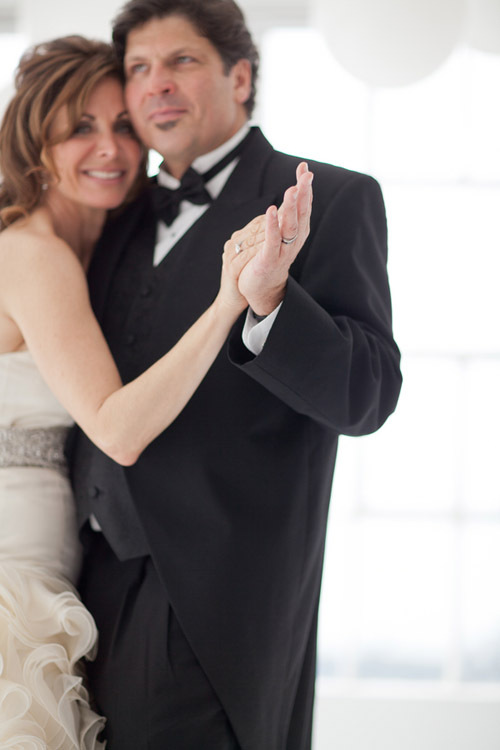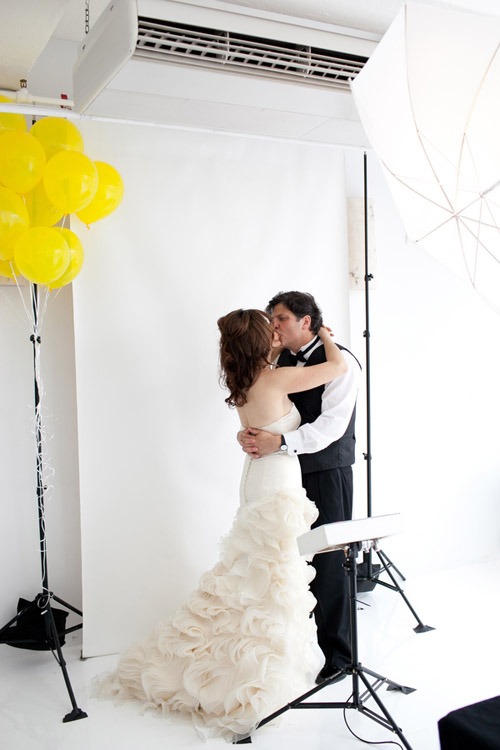 Looking back, do you have a favorite project or successful decor idea from your wedding? Tell us what you loved about it!
From Barbara and Carl: We picked unique artists to put together this wedding from the wedding planner to the photographer, the dress designer, the videographer, the caterer, etc. We chose creative individuals based largely on an intuitive sense of connection with them. We trusted their ability to help define and manifest our vision of who we are as both a couple and a family.
We crafted a unique ceremony that included not just our own personal marriage vows, but a separate "ceremony within a ceremony" in which the five children committed to their new family and were each given a simple gold band to symbolize that commitment.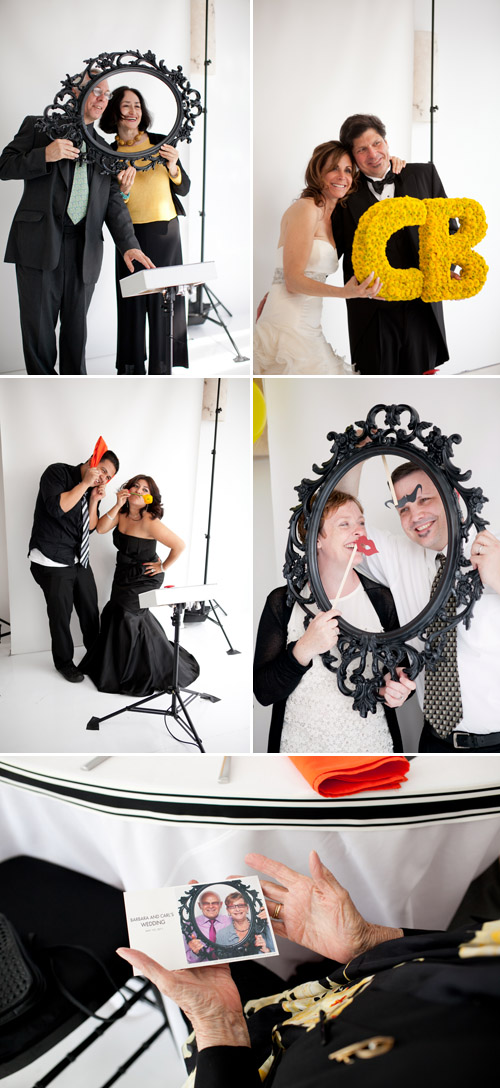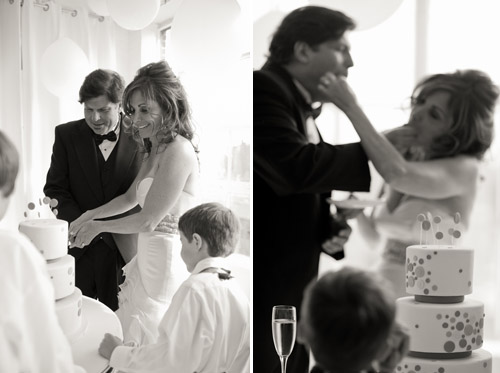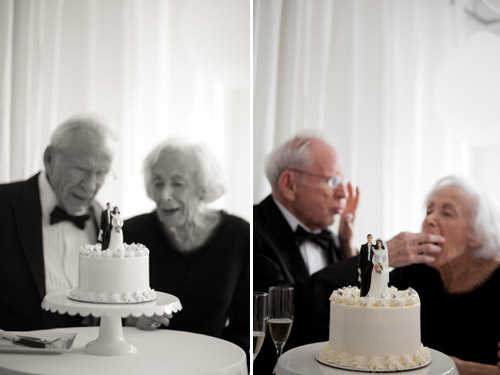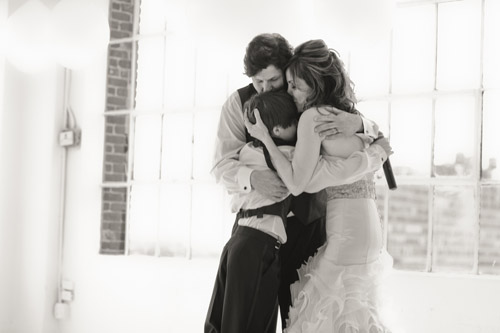 What a wedding! See more of the action in this fun wedding video from Sean T. Smith
The Wedding Team:
Photographer: Image Singulière
Event Planner & Designer: Maya Kalman of SWANK Productions
Ceremony & Reception Venue: Studio 450
Videographer/Film Maker: Sean T. Smith
Officiant: Kara (a friend of the couple)
Invitation Designer: Anne Robin
Catering: Creative Edge and Esprit Events
Florist: Barbaras Flowers
Wedding Cake: Nine Cakes
Wedding Dress: Jin Wang (Barbara and Carl collaborated with Jin to alter one of her original designs and the dress is now available as the "Barbara dress!)
Hair and Make-up: Make-up – David Maderich and Denise, Hair – Mikey Alejandrino, DiPietro Todd Salon
Hotel: The New Yorker
DJ: Generation Events
Transportation: Silver Star Limo
Favors: I Love NY T-Shirts
Escort Cards: Carla David Design
Rentals: Party Rentals and Cloth Connections Photobooth: NYC Photobooth and We Love Photobooths
Rings: Designed in San Francisco by Eric Trabert Goldsmiths
Childcare: Heidi from The Babysitters' Guild
Thank you for sharing your incredible wedding with us Barbara and Carl! And kudos to the team at Wedding Photo Gallery!