We were flown to paradise when we first laid eyes on Sara and Evan's Costa Rican wedding and wanted to share the sun and palm trees with all of you! Beautifully captured by Jessica and Jason Hill of A Brit & A Blonde, this blissful wedding had us dreaming of roaring ocean waves and coconut cocktails. Not to mention, the gold animal figurines are to die for as well!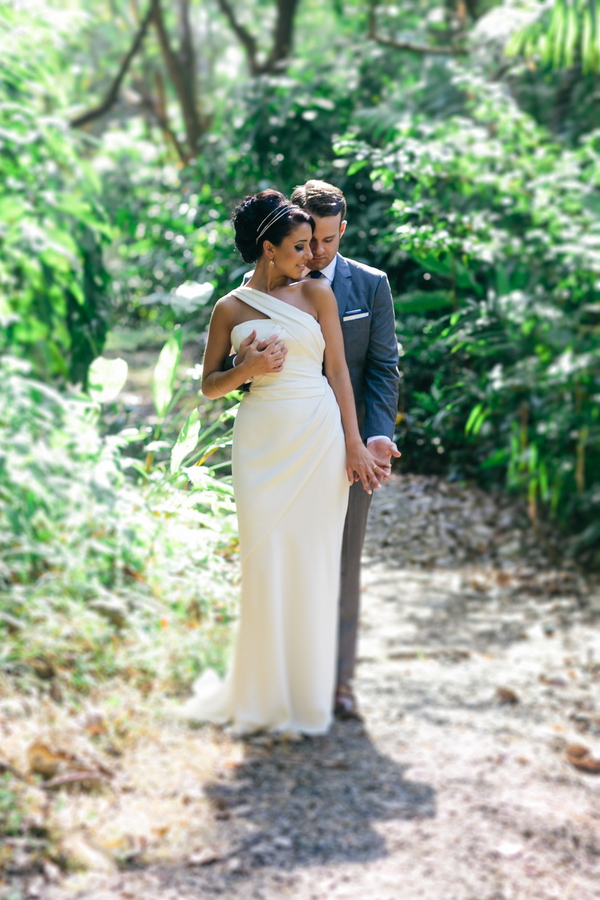 The Couple: Sara and Evan
The Wedding: 2.7.2014 – Hotel Parador, Manuel Antonio, Costa Rica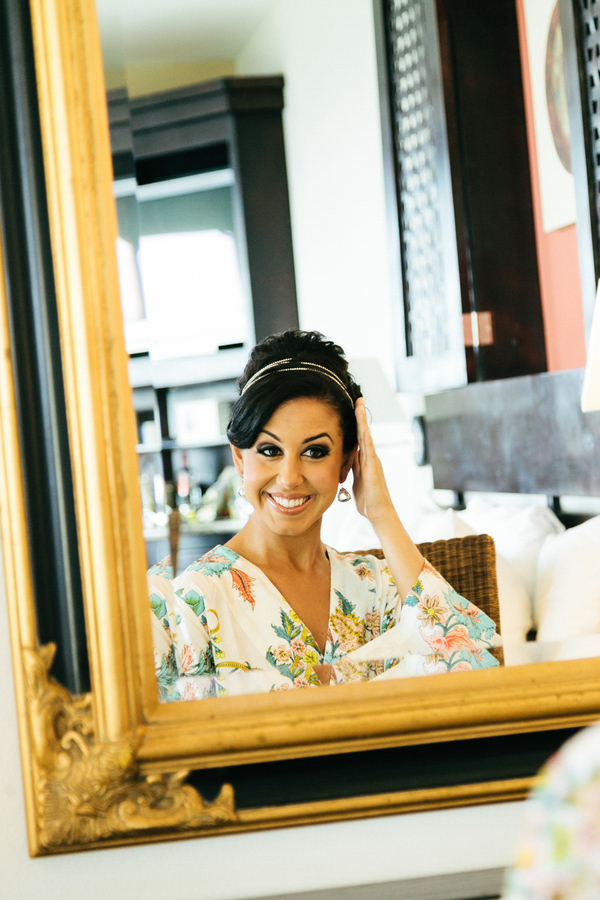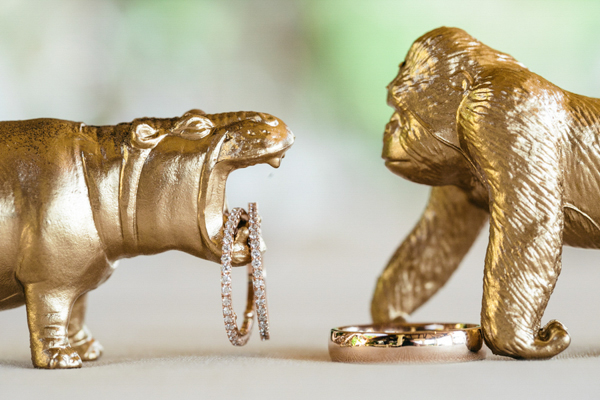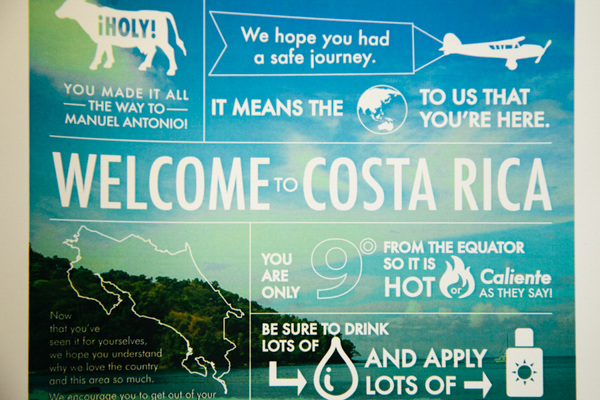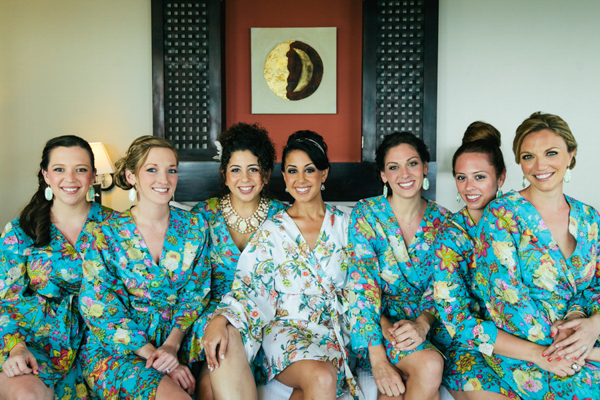 The Goals: Getting married in Costa Rica, we had two main priorities. One was to keep the intimacy, formalness and significance of a traditional wedding even though we were holding it in a tropical location. When people hear "destination wedding" we found there is a tendency to think Hawaiian shirts and a casual setting. We knew we wanted to have an elegant, cocktail affair, but in a beautiful, jungle setting where monkeys and sloths were crawling around nearby. Thankfully our fabulous wedding planners, Aimee and Karen, at Tropical Occasions, accomplished this and then some. We also wanted to keep things personal and meaningful, particularly with the marriage ceremony. To do that we flew my minister down to officiate the wedding. It ended up making the ceremony very special.
The other priority was to ensure our guests had one of the most amazing, memorable trips of a lifetime and walked away realizing why we wanted to get married in such a magical location. We realized that our guests were traveling far and wide to see us get married and we wanted to make it worth their while. We also recognized that our guests were a diverse bunch who may like to experience Costa Rica differently others (i.e. some would want to lounge by the pool/get a spa treatment and some would want to immerse themselves in the adventure and nature of Costa Rica). We put a lot of thought into picking the right venue – went on an exploratory trip a year before the actual wedding where Karen showed us multiple locations. In the end, we felt Hotel Parador was a perfect mix of luxury and nature and we couldn't have been happier with our selection. We also planned three days of amazing events for our guests, with the expert guidance and advice from Karen – a fun welcome party for all guests complete with a traditional Costa Rican meal, drinks, cigar roller, and wish lanterns; the wedding day festivities; and finally to top it all off a Catamaran Cruise the day after the wedding.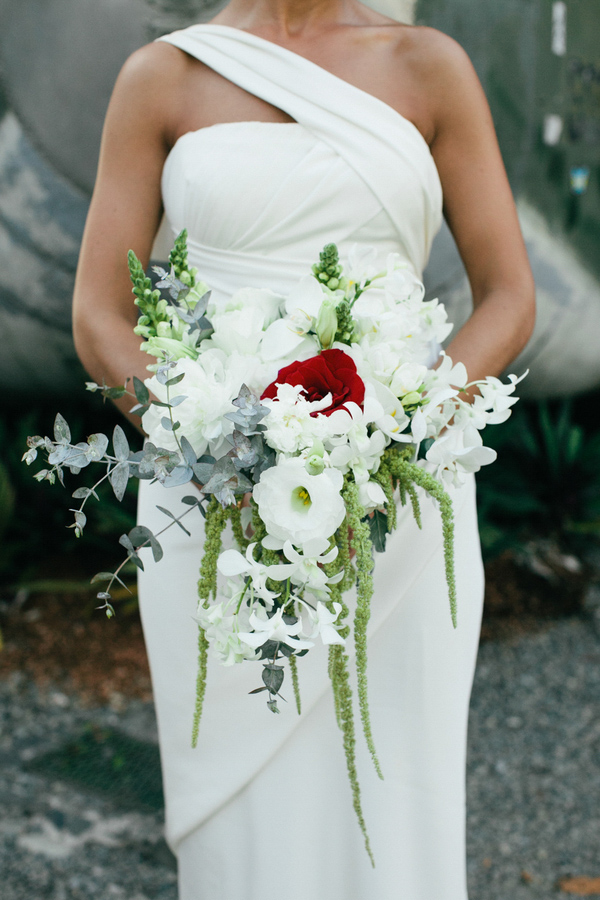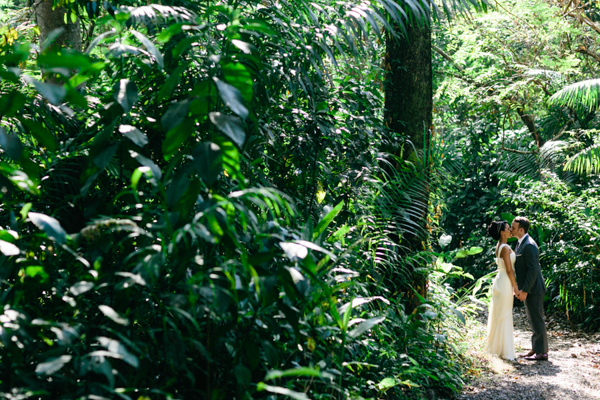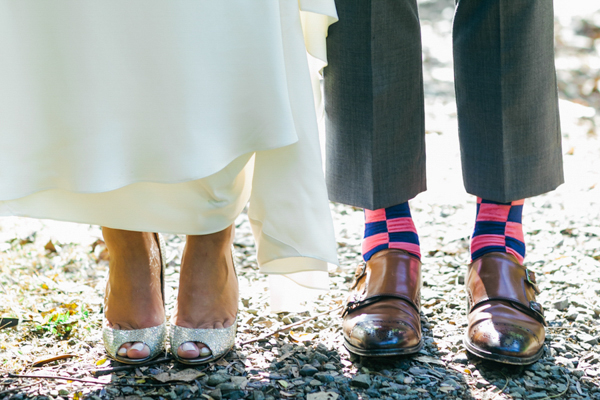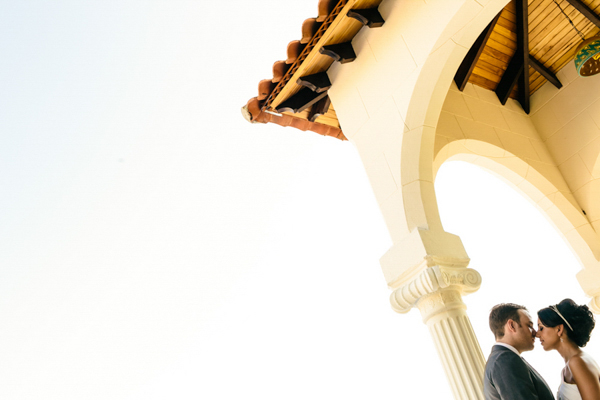 The Design: We wanted to create a very ethereal, elegant atmosphere, with lots of whites, creams and greens, and then add some fun, whimsical elements that guests would always remember. Once we started the design phase with Aimee, she suggested adding pops of blush and gold and we LOVED the idea. We also did a lot of Pinterest boards with Aimee and both ended up seeing a super creative and unique design element – the painted gold animals. Once we saw them, we knew we had to have them. We actually bought some plastic animals at Target and my sister and I spent a cold afternoon spray painting them on the balcony. It made it a fun craft and we just loved how they turned out. Our amazing photographers, Jessica and Jason really put them to good use and snapped some awesome shots with them too. Some our guests who came even took them back with them and have them displayed in their offices or homes, which we love! We also loved our cocktail napkins that said "BEST DAY EVER" and had our names and date printed. They were a fun addition!
Going along with our theme of trying to make things personal, we had one of our closest friends and superbly talented designer, Katherine Warminsky, design all of our wedding pieces – from the save the dates and invitations to the the program, menu, welcome bag insert. We loved each piece because we were all able to collaborate on the content and then let Katherine run with the design based on some of our ideas. They all turned out beautifully.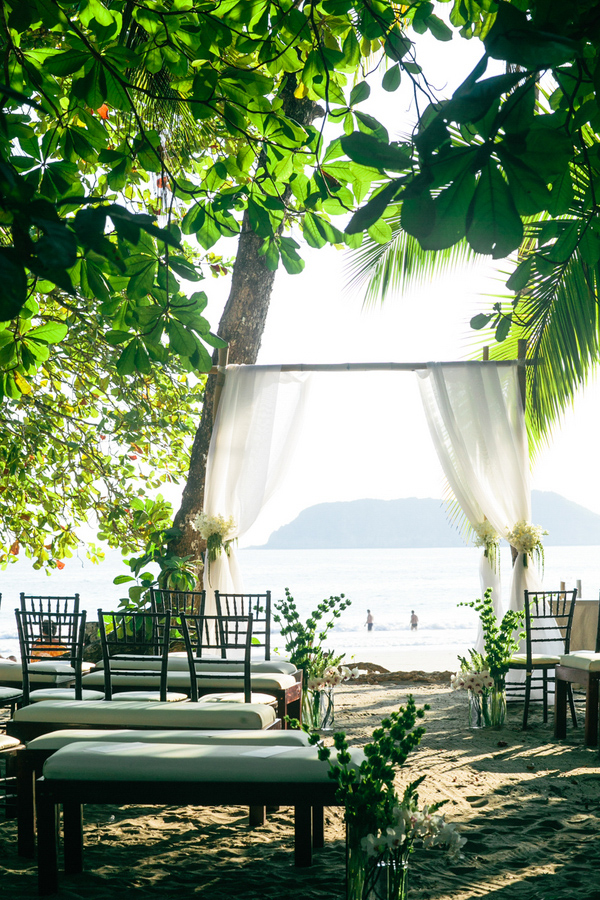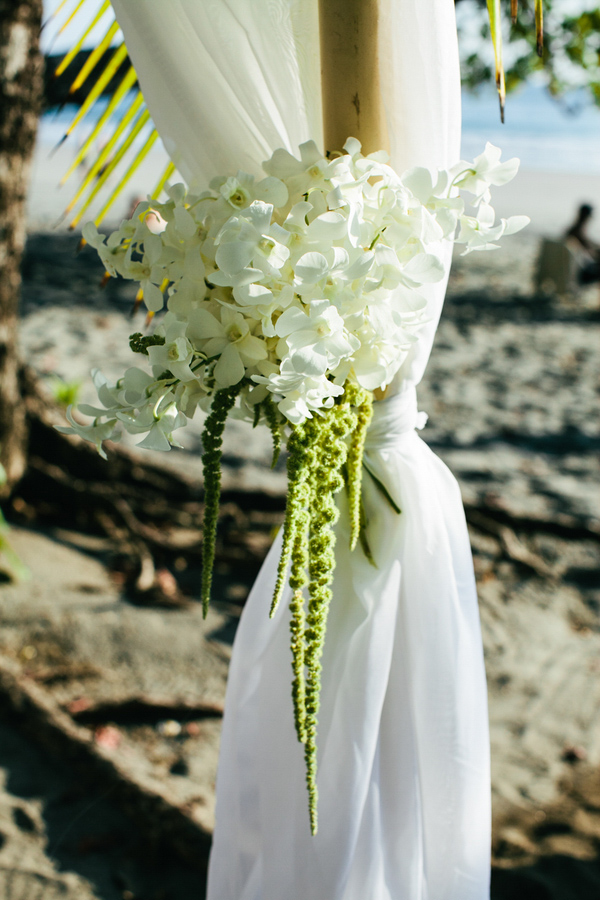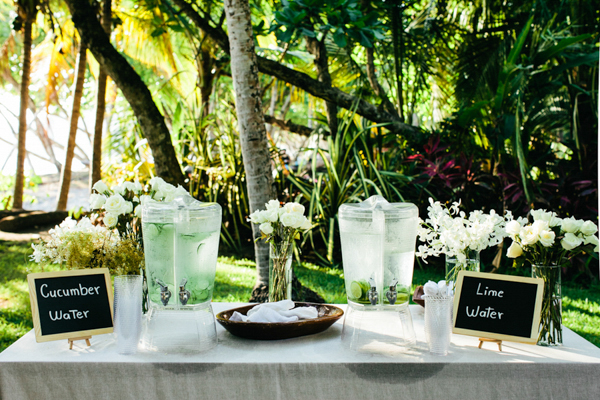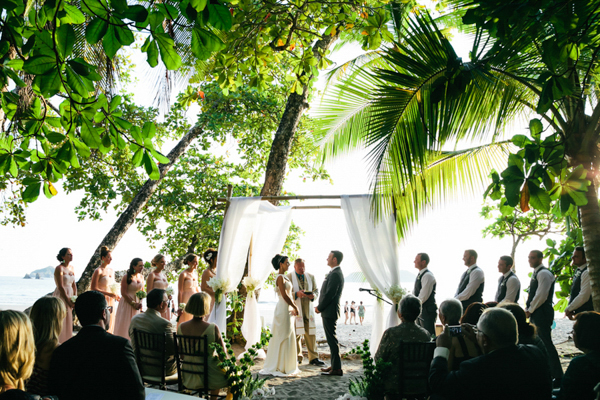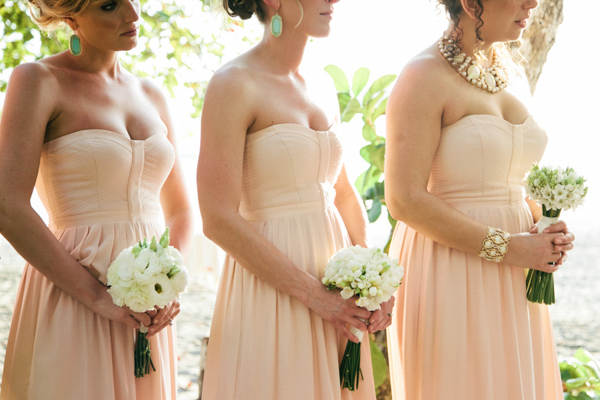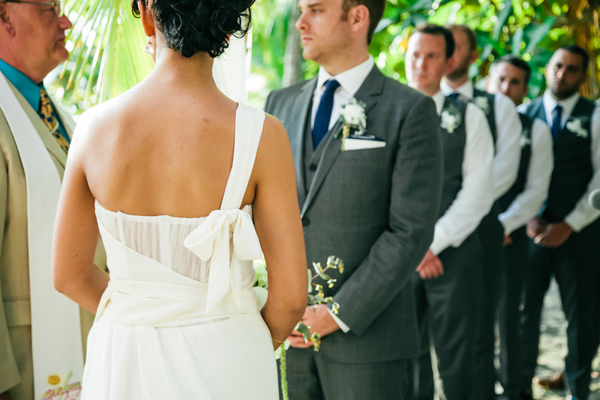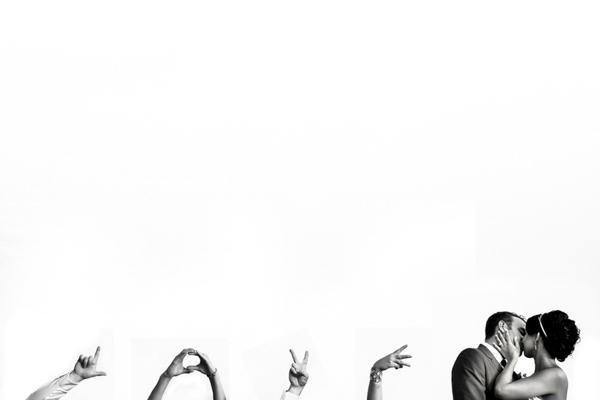 The Look: Sara – I absolutely loved my dress. I'd wear it again if I could! Going into the wedding dress shopping process, I didn't really know exactly what I wanted. I knew I wanted something classy, slightly different than the average dress, and appropriate for a beach setting. When I tried on the Vera Wang dress, I just knew I had found the right one! I actually learned after the fact that she had designed this particular dress, the Evelyn, with a destination bride in mind. It also went with our ethereal look and was very grecian looking, which I loved. I am a big accessorizer and found a hairstyle Blake Lively wore once – also very grecian – with an amazing beaded head wrap. So I went on a mission to find the perfect piece. I ended up finding one by Untamed Petals by Amanda Judge. I borrowed the earrings (Anthropologie) from one of my bridesmaids, and wore a single, 18k gold Persian bangle bracelet that my dad's mother had given to my mom as a wedding present. So all things were pretty special and unique!
As for shoes, I knew I wanted to wear a wedge. Everyone kept suggesting barefoot or sandals, but again, I wanted to remain formal even though we were on a beach. There are not many formal wedges out there, but I found the perfect pair of Jimmy Choo's that I love, love, love!
I also loved my flowers, not only because they were breathtakingly gorgeous, but because there was a special significance to them. My father passed away when I was 15, so it was so incredibly important to incorporate his memory into the day. Growing up, anytime my mom, sister or I would celebrate a birthday, my dad would always give us red roses. My mom had the perfect idea to add one red rose to my bouquet in memory of him. I still have that rose today – pressed in a book I took for the honeymoon. I also had my seamstress sew a button from a sweater my dad always wore, and a button from my mom's wedding dress into the hem of my dress. Those little details are the ones that I'll always remember.
As for the bridesmaids, I never even thought to use an actual bridesmaid dress. I wanted to find something at a stylish store, that they would absolutely be able to wear again. I saw the Parker Bayou Maxi Dress at Cusp and thought it was perfect. I didn't even have a color in mind, but the blush color of the dress was gorgeous and I thought it would look amazing in the setting. I then found some great Kendra Scott earrings, in seafoam color, that really brought the whole look together. For my sister, the maid of honor, we wanted her to stand out a bit, so she found a great cream colored statement necklace and bracelet. With the cream colored flowers, everything looked so good.
Another great element for the bridesmaids, was the robes. I knew I wanted us to all get ready in style – it also made for great pictures! One of my bridesmaids got ready in a Plum Pretty Sugar robe when she got married a few years ago, and I thought they were so cute and stylish. I decided on the turquoise colors for the girls and the white one for myself.
Evan – I knew I wanted to wear a full three-piece suit. Tuxes were never an option. Given the 90+ degree temperatures, dark suits were out of the question. I found a great gray option from Bonobos and went with it. The color pop in my outfit came with the socks, a gingham pattern from Thomas Pink (I am a big fan of bold colors and patterns with my socks so this fit perfectly). Like Sara, I loved my shoes — I had my eye on these double monk strap shoes from To Boot New York for a long time and was excited to finally get to wear them!
The groomsmen were spared from wearing jackets in the hot sun. They went with a simple, classic look — pants and vests from Bonobos. Our ties were sourced from a friend who is launching a startup called THE GROOM BOX. He was able to find us a great navy blue shade that matched well with the gray suits.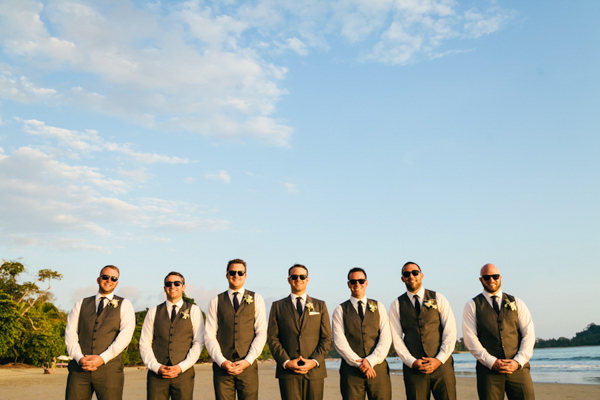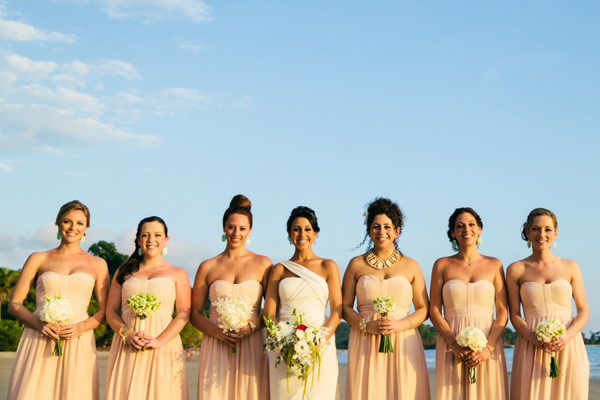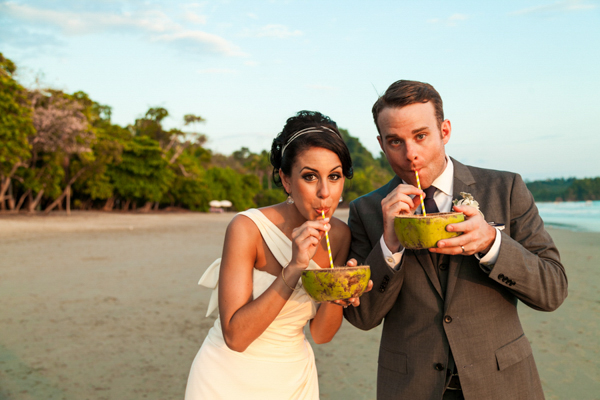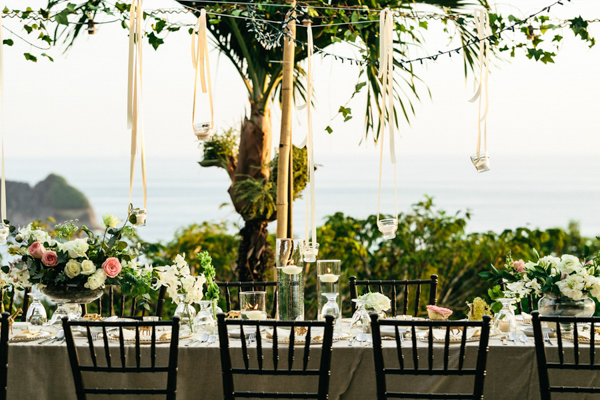 The Moments: Everything. Seriously. We had nearly 70 of our closest friends and family from all over the world travel to one of our favorite places on earth to celebrate with us. Having all of those people in one place was a dream come true.

Sara – Do I have to pick one thing!? First and foremost seeing Evan during our first look. Our photographers picked an amazing location for it and it was that moment when you realize everything is starting to happen. Plus he looked so dapper and that didn't hurt either. I also vividly remember seeing our reception set up for the first time when we arrived back at Parador after the ceremony and my jaw literally dropped. It was everything and more than I had imagined.
Evan – For me it was seeing her walk down the aisle. We had done a first look for our photos so I knew what she would look like, but there's something about a bride walking down the aisle that is so captivating. And it's a whole other ballgame when it is your bride.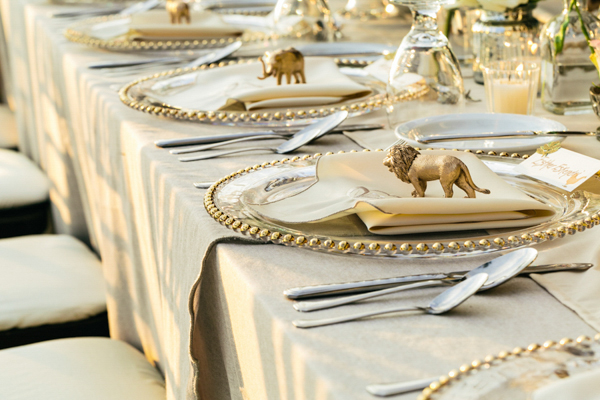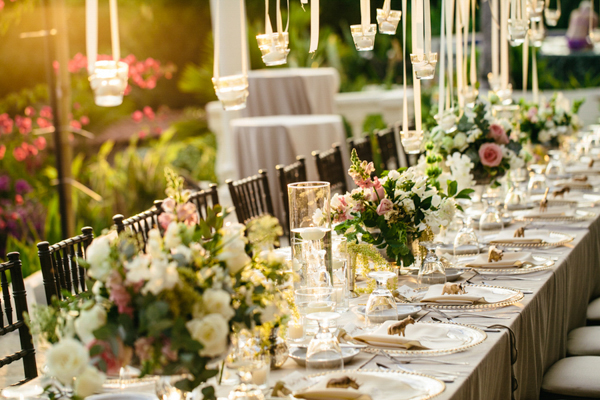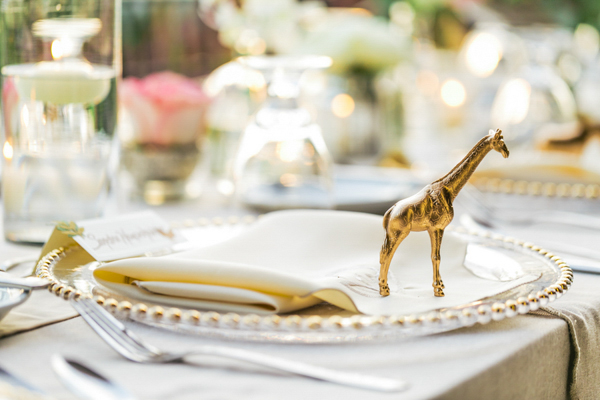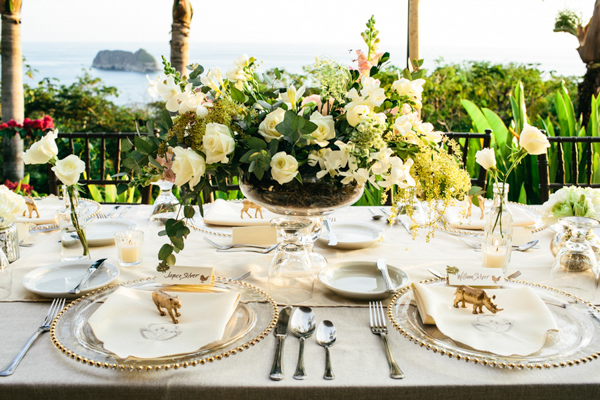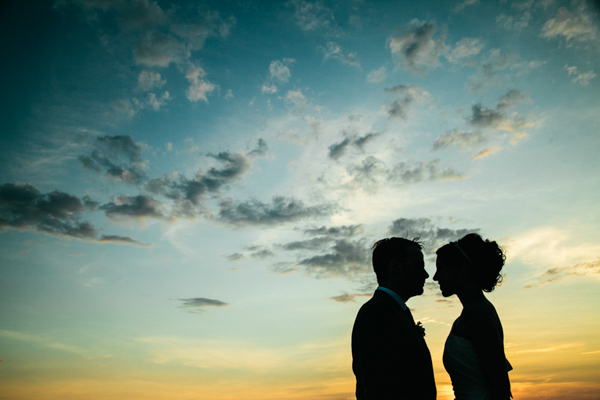 The Advice: Follow your heart and do what you've always dreamed of doing. It was the advice we gave ourselves and are so happy we followed. We fell in love with Costa Rica after we vacation there in 2012. When we got engaged, we knew that is where we wanted to have the wedding. It was a tough decision because having a wedding thousands of miles away and in a different country limits those who can attend. Every now and then we'd ask ourselves if we made the right decision and contemplate if we should just give up our vision so it would be easier for guests. But we kept telling ourselves that this was the most important moment of our lives so far and that we needed to go with our gut and follow our hearts. We are SO happy we did because we couldn't imagine getting married anywhere else. Thankfully we have the most amazing family and friends who traveled from across the globe to be with us – from San Francisco to Tehran, Iran to Bolivia and everywhere in between (Chicago, NY, PA, DC, VA). We ended up having 70 guests, which was an absolute perfect number! If we didn't follow that advice, we know we would have looked back and thought, "What if…", which you never want to do for such an important time in your lives.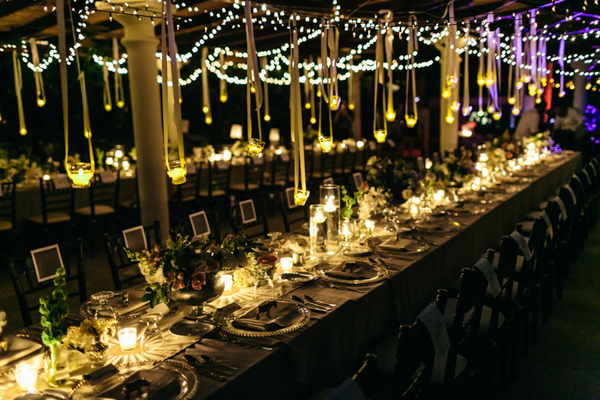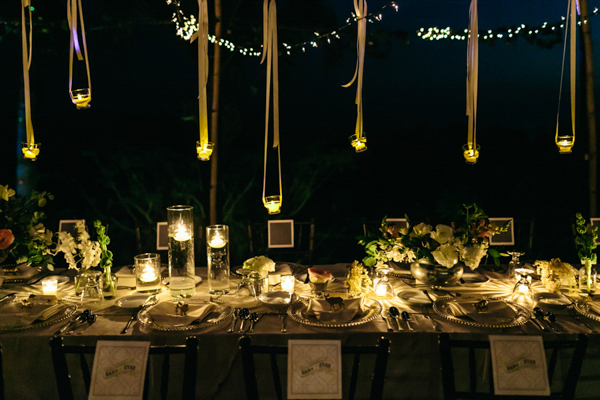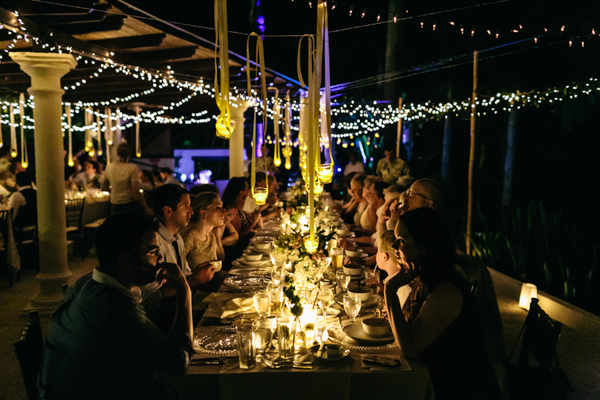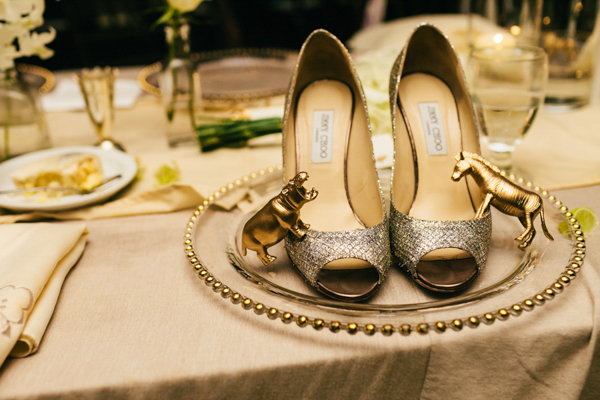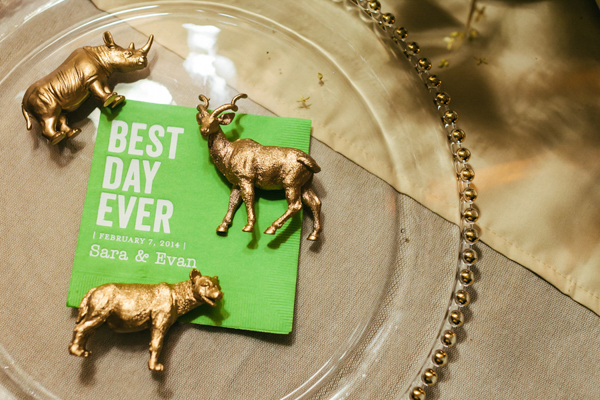 The Wedding Team:
Photographer: A Brit & A Blonde
Event Planner: Tropical Occasions
Ceremony and Reception Venue: Hotel Parador
Officiant: Dr. William Silver ThD, Bridgewater Presbyterian Church
Invitation Designer: Katherine Warminsky
Catering: Hotel Parador
Florist: Peartree
Cake: Mariposa Bakery
Wedding Dress: Vera Wang
Bridal Accessories: Jimmy Choo (shoes)
Bridesmaids' Apparel & Accessories: Cusp by Neiman Marcus (Parker Bayou Maxi Dress), Kendra Scott (jewelry)
Bridesmaids Robes: Plum Pretty Sugar
Groom's Apparel & Accessories: Bonobos (suit), THE GROOM BOX (neckties), Thomas Pink (socks), To Boot New York (shoes)
Groomsmen's Apparel & Accessories: Bonobos (suit), THE GROOM BOX (neckties), Thomas Pink (socks)
Hair & Makeup: Fernando Hidalgo Fallas
DJ: DJ Kika Arguello
Favors: Cafe Milagro
Rings: Princess Jewelers
Thank you Sara and Evan for the truly gorgeous experience!
Can't get enough of Costa Rica? Check out this intimate destination wedding in Costa Rica by davina + daniel!