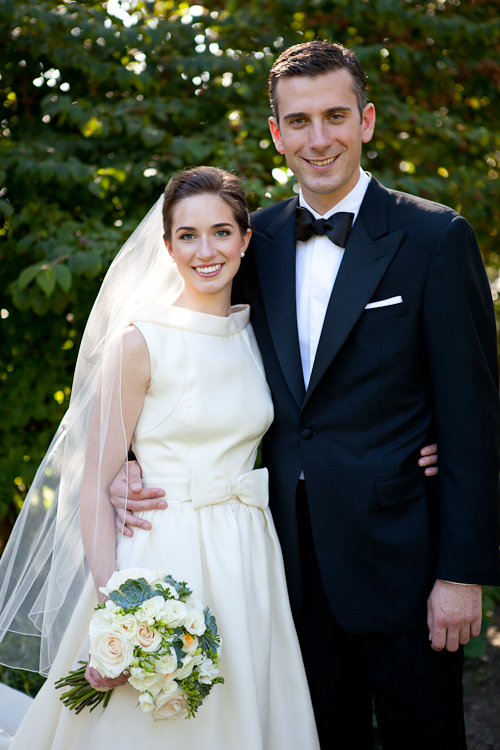 Today's Seattle real wedding of Erin and Adi is sophisticated, inviting and all about family. What fun to see a wedding that was as much about emotion and gratitude as it was visually spectacular. Love every moment, and every photo from La Vie Photography!

The Goals: Erin and Adi celebrated their marriage with eighty of their closest friends and family at the breathtakingly beautiful private Seattle venue, The Ruins. The focus of their wedding was the transformation that would take place on this important day, the joining of two separate families into one. Many guests traveled in from out of state and country, and Erin and Adi's goal was to be sure their friends and family arrived safely and happily to join in the celebration of their marriage. "We decided on a simple ceremony that allowed us to share our personal vows with one another and express the appreciation we have for all our families have done for us our entire life. We specifically wanted to highlight that our wedding was a symbol of not only us coming together to form a new family, but for both of our families to join and become one."

The Design: Erin and Adi loved the atmosphere and look of The Ruins so didn't choose an additional theme or color palette for their wedding. "We knew early on that we did not want to be contained by a single color palette, and that we did not want our wedding defined by colors. When we found the Ruins we knew that the warmth of the venue would be enough."
The Look: Erin chose a beautiful classic wedding dress from Pronovias, which complimented her personal style perfectly. I am fairly conservative in my personal style and I wanted to be sure I did not stray on my wedding day. I knew I wanted a high-waisted gown with a boatneck collar. I admire the simple elegance of clean lines and soft beauty.Adi and his groomsmen all wore dashing black tuxedos, and Erin's bridesmaids wore wonderfully simple navy strapless dresses. The most significant piece of Erins wardrobe was a family heirloom rose gold and gem bracelet that Adis mother gave to Erin on the night of their rehearsal dinner. The bracelet has been passed down on Adi's mother's side of the family for generations. During the war in Bosnia, Adi's father escaped from the city risking his life by carrying the bracelet with him and made it out alive and brought the bracelet to Adi's mother. So incredibly meaningful!

The Moments: One of the most special moments during their wedding day was when Erin and Adi first saw each other. "It became so real what the whole day was all about. Adi and I just stood together in embrace taking in our excitement and love for each other and for the day. During the reception, as Erin and Adi stood in the middle of the dance floor, they loved seeing that all eighty of their friends and family members were building friendships, dancing, and enjoying the festivities. It was exactly as they had hoped for.
The Pros: Learn about all of the professionals who participated in making Erin and Adis wedding truly one-of-a-kind in our Real Wedding Library!

Thank you so much for sharing your beautiful Seattle wedding with us Erin and Adi!
Readers, to plan your own Southern California or Seattle area wedding, check out our Plan Your Wedding Hotlists, and to find a dream wedding photographer for your wedding anywhere in the world, don't miss our World's Best Wedding Photographers Hotlist!