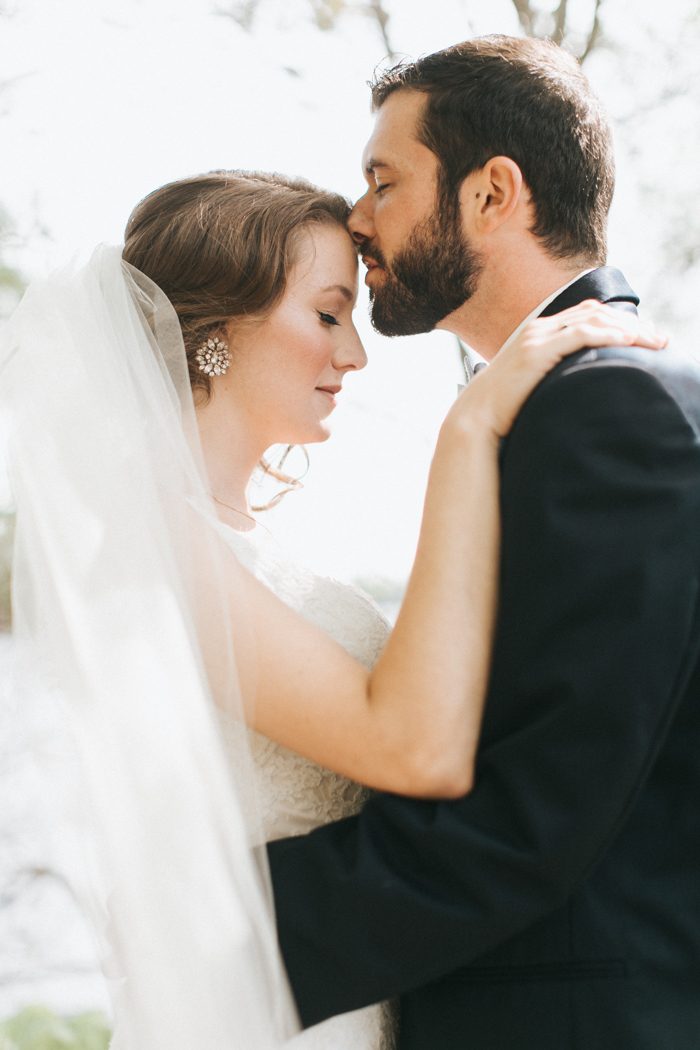 Spring has officially sprung! So, to celebrate, we've got Riana and Adam's lovely lakefront Main wedding at Migis Lodge to gush over today! Set in the woodsy, fairytale-like venue with a perfect view of the Sebago Lake, this couple nailed the rustic elegant look in both their ceremony and reception. Riana even managed to incorporate her love of antiques by bringing along vintage candle holders, boxes, and dozens of antique glass bottles from her grandmother to use throughout the decor. For a touch of spring, they chose soft blue Jenny Yoo bridesmaids dresses and a mix of vibrant purple, pink, and white floral bouquets created by Field Floral Studio — all of which was visually captivating against the woodsy landscape. Riana took the elegance factor up to 10 with a gorgeous Matthew Christopher gown and glam accessories, and Adam was equally dapper in a tailored Michael Kors suit. We're deeply in love with the emotion that Emily Delamater Photography was able to capture, and can't think of a better way to usher in Spring wedding season!
The Couple:
Riana and Adam
The Wedding:
Migis Lodge, South Casco, Maine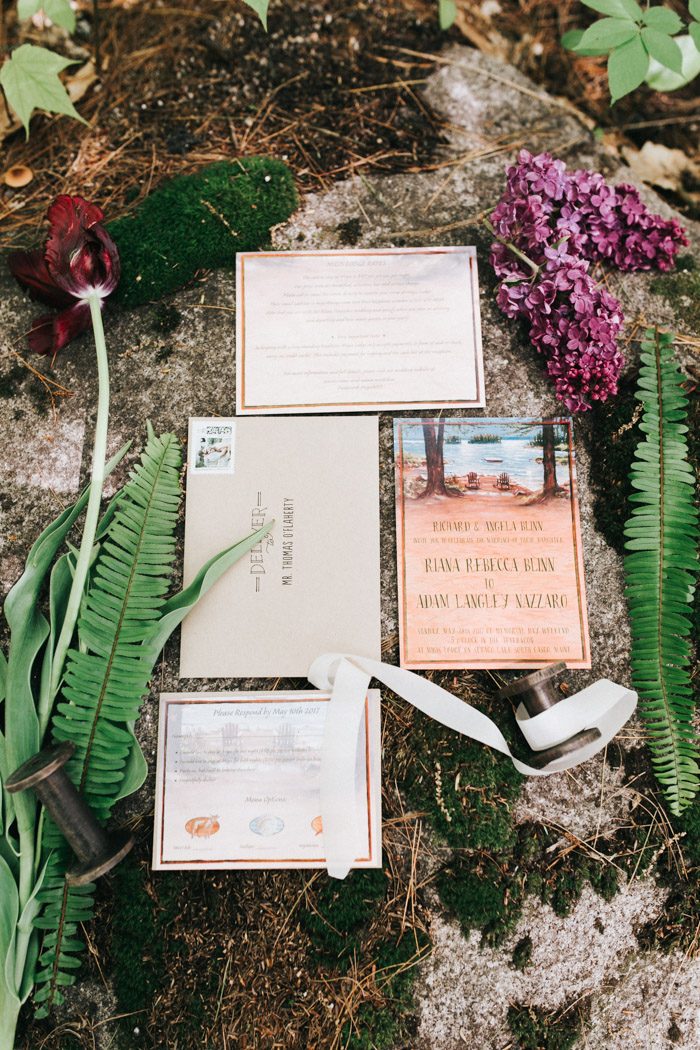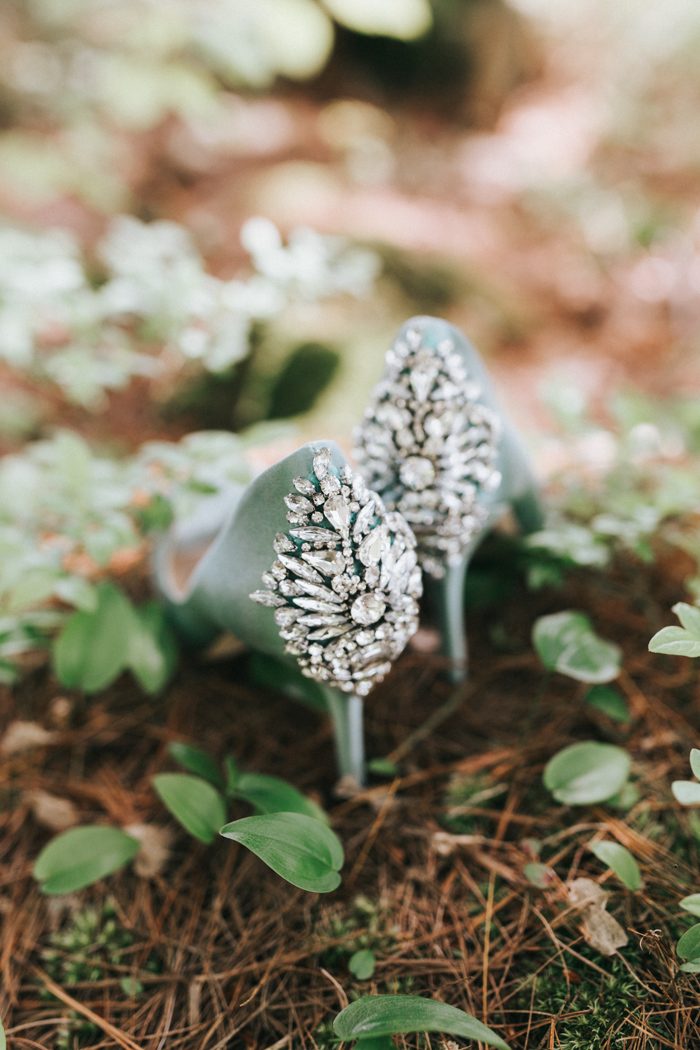 My mom and I did a lot of the shopping and designing together, which was really fun! We even brought up an old and very heavy wooden door that belonged to my Nana that we used as a tabletop — that's how crazy we are! Not to mention I put together all of the toiletry baskets for each restroom, chock full of every necessity a guest may need. And we may or may not have rented a moving truck or two to get everything up to Maine for the wedding weekend. Bringing in a lot of our personal touches meant the world to me, and was totally worth all the months of planning out every detail!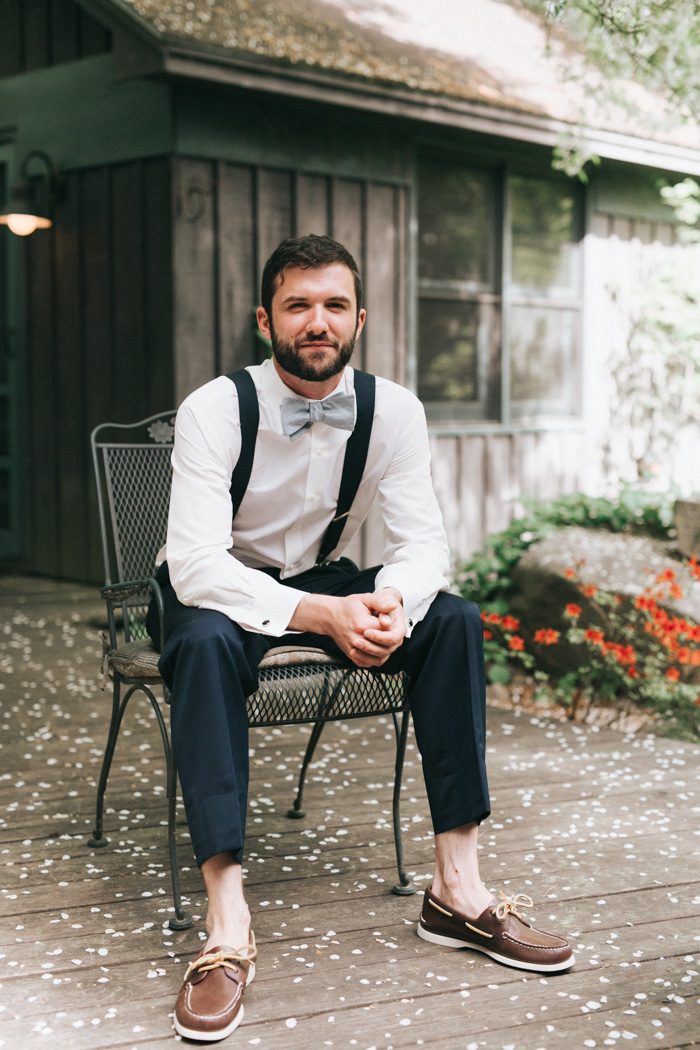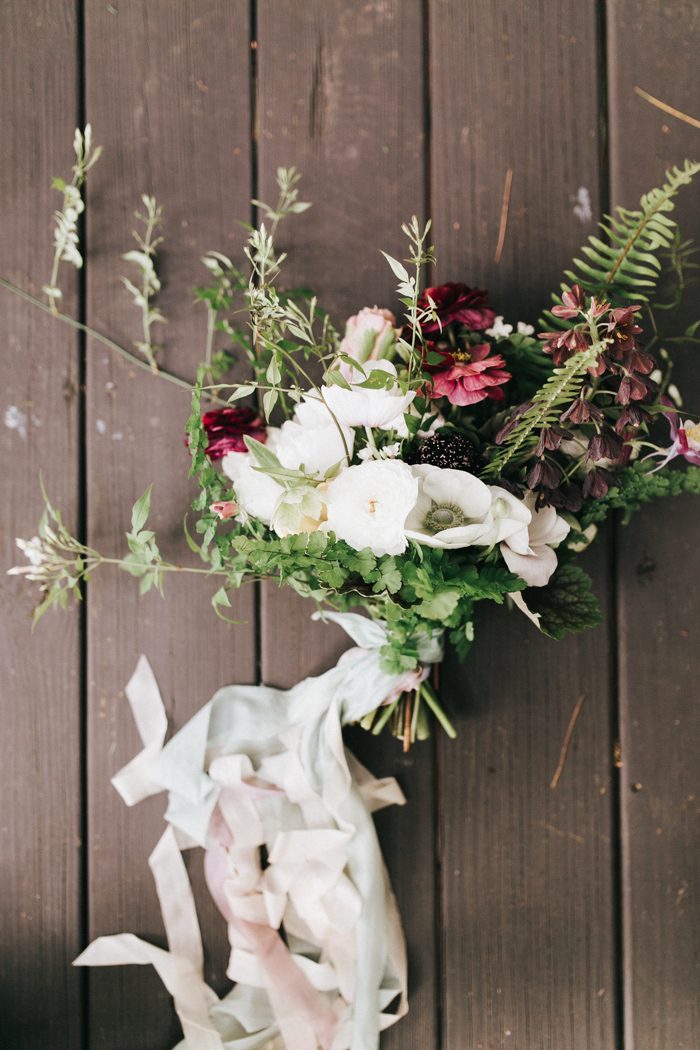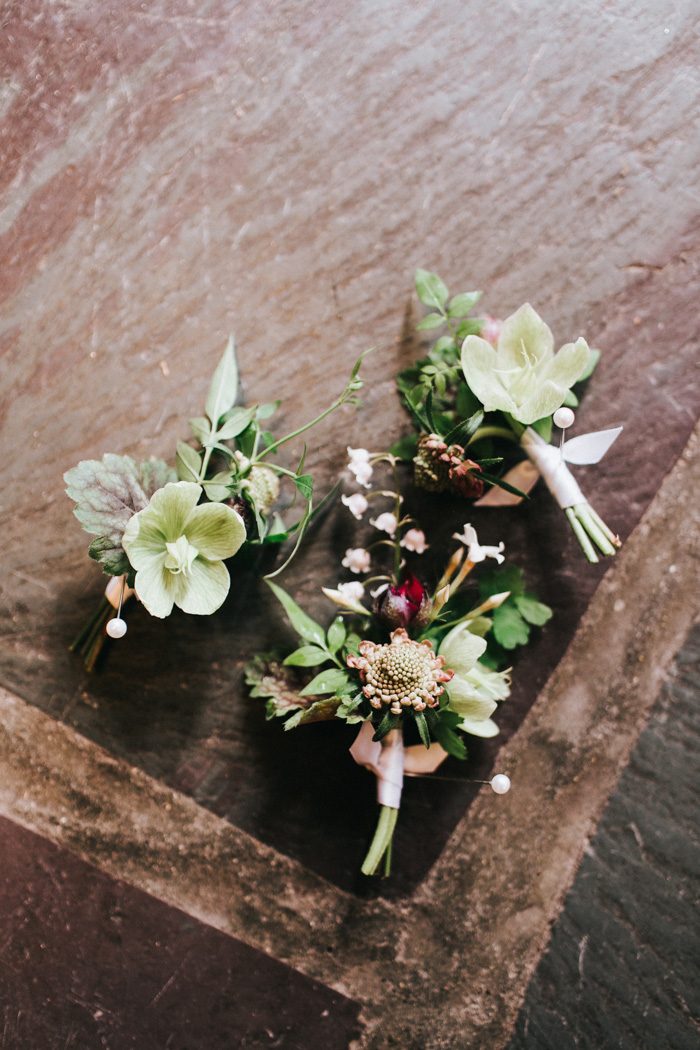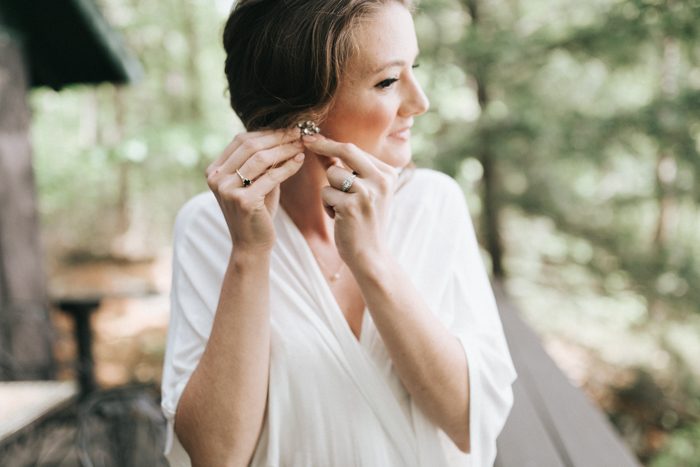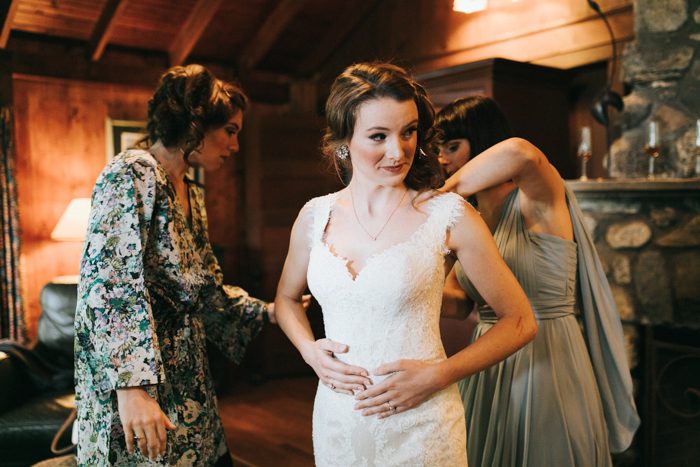 After months of searching for the perfect "rustic yet elegant" venue that could accommodate our guests and all of our wants and needs, I stumbled upon Migis Lodge on Sebago Lake on the internet. It was all inclusive in the sense that it could host our ceremony, reception, and our guests' lodging all in one place! Not to mention, they did our food and our wedding cake. Robyn and Maddy and the whole team at Migis Lodge were incredible! I remember when I first convinced Adam to drive up to Maine to take a peek at it…we were driving along 302 and I was thinking to myself…okay…and then we took a left down a winding dirt road blanketed with trees and all of a sudden it was just pure magic, like something out of a woodland fairytale! It was still in their off season and we jumped out of the car, took one look at the lake then looked at each other and said, "This is so awesome! This is so us!" When you know, you know! I remember us racing home to tell my parents about it like we were two ecstatic little kids! Maine holds a very special place in both of our hearts and, now, Migis Lodge does, too.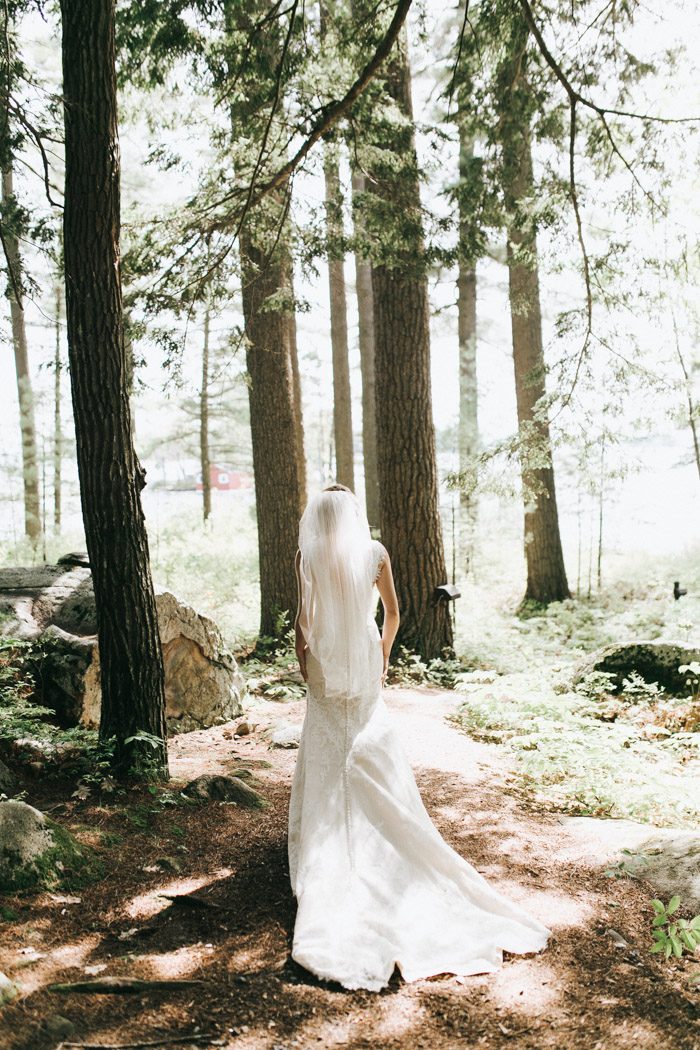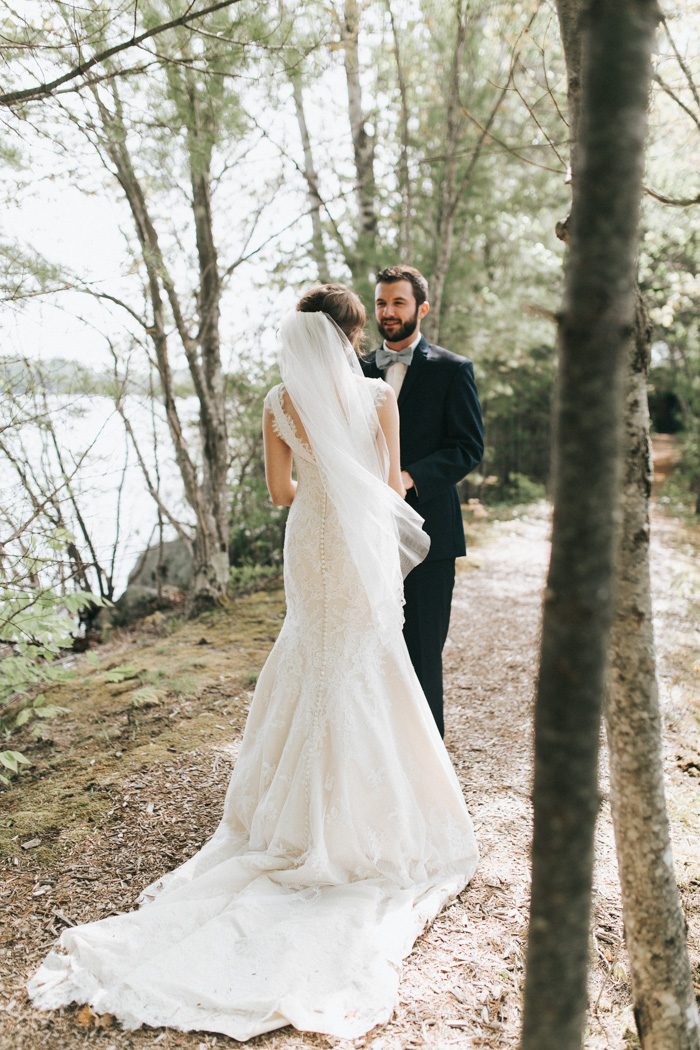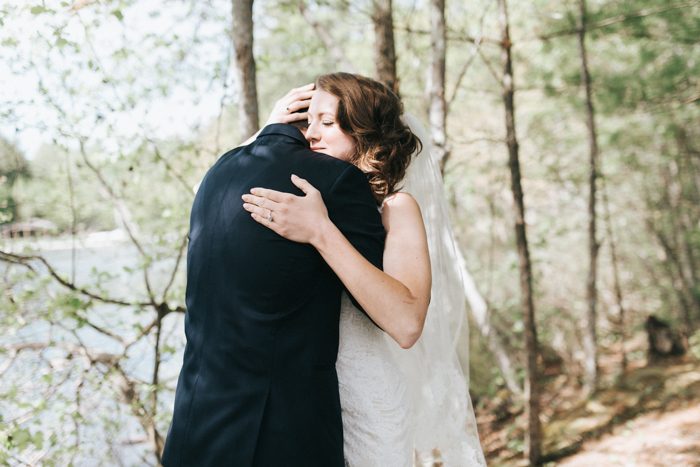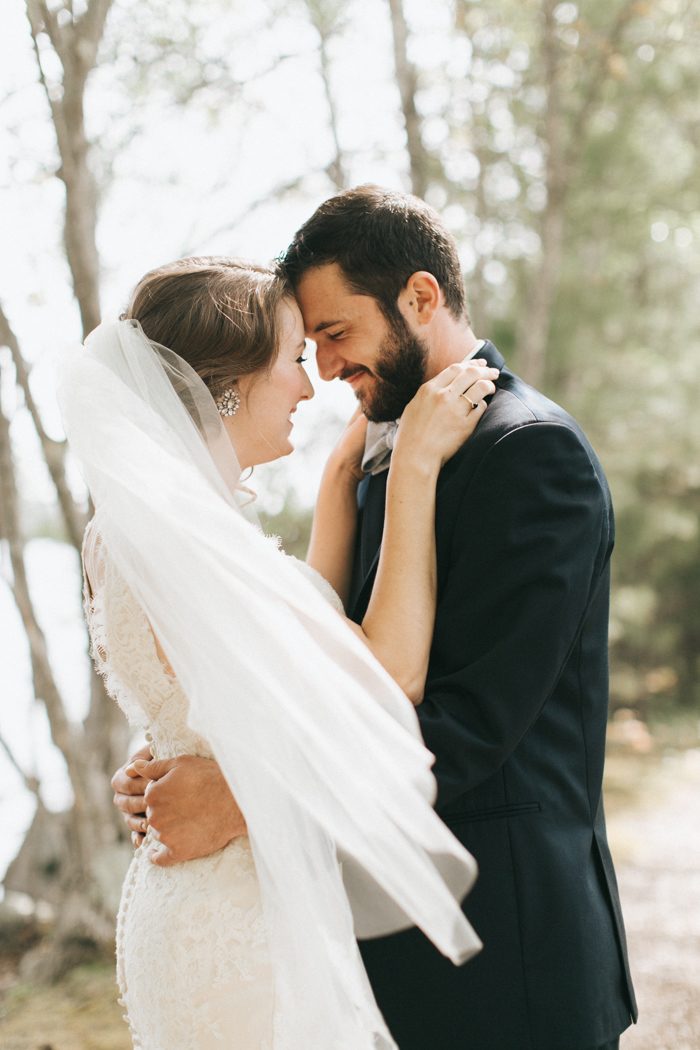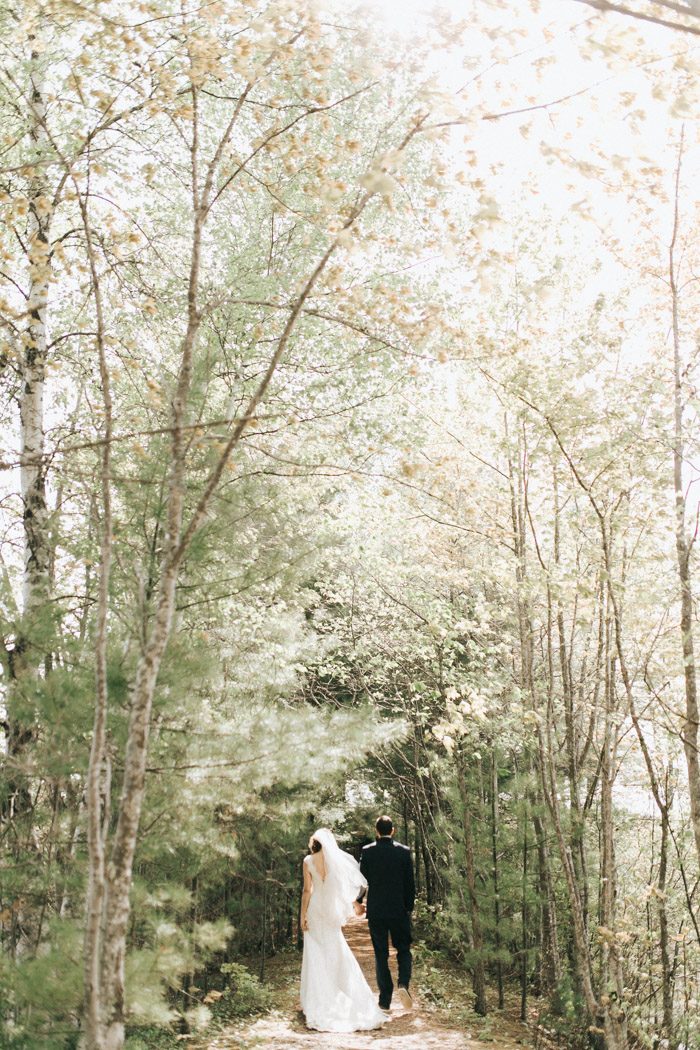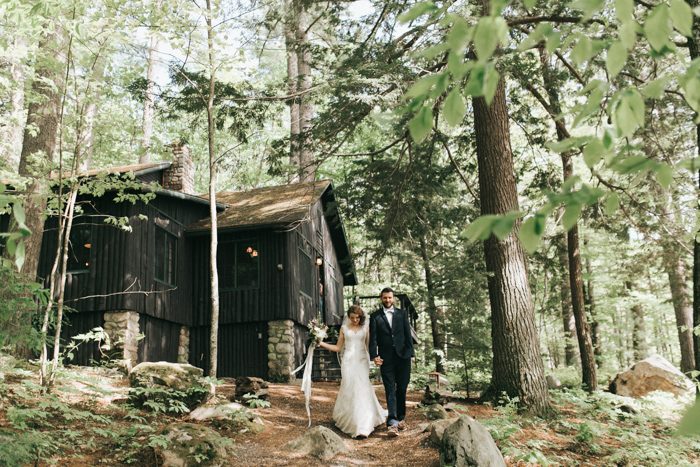 From the very beginning, we wanted our wedding to represent us. I had my dad, who is a wonderful artist, hand paint our wedding invitations, a beautiful picture of two Adirondack chairs looking out onto Sebago Lake. Between him and I, we hand painted all of our signage on reclaimed wood, burlap, and card stock.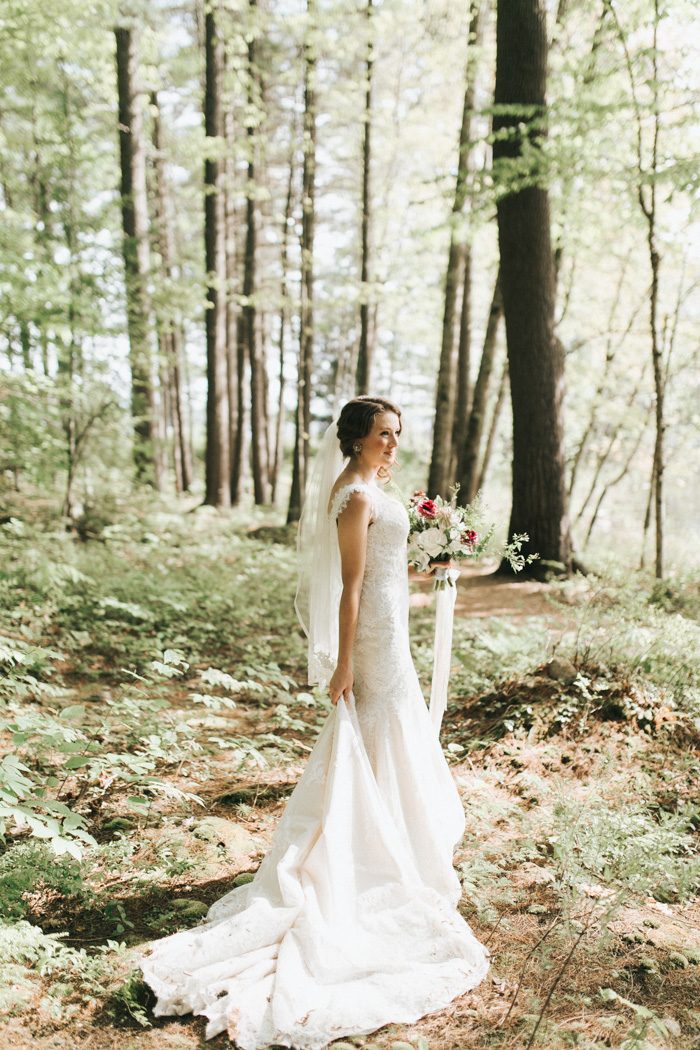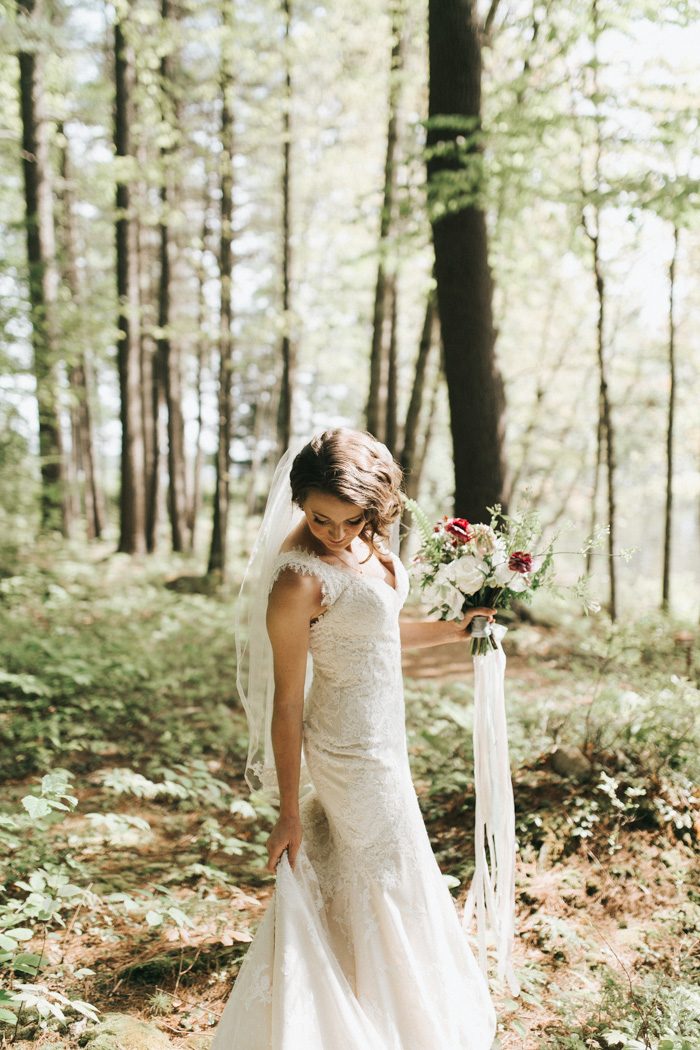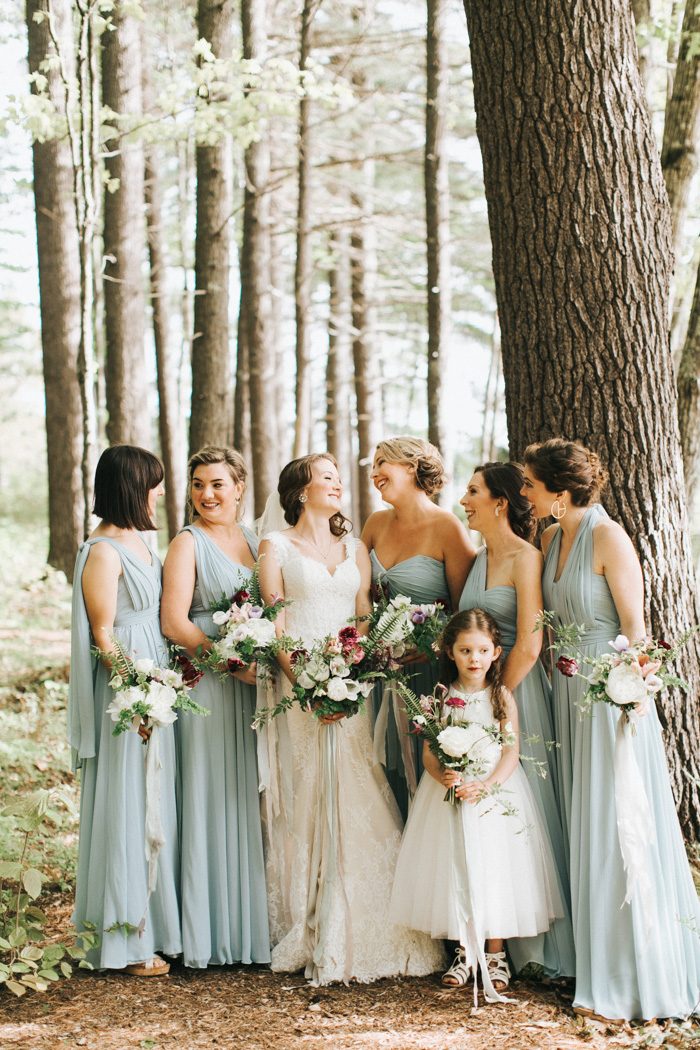 Because we got married in May over Memorial Day weekend, I wanted the color palette to evoke the magic of Spring. Aside from our whimsical flowers that incorporated whites, greens, and various shades of purple — all done by the very talented Megan from Field Floral Studio — I purchased ribbons from Silk & Willow and tono & co. to use for the bouquets and on the tablescapes. Megan did a wonderful job pulling it all together!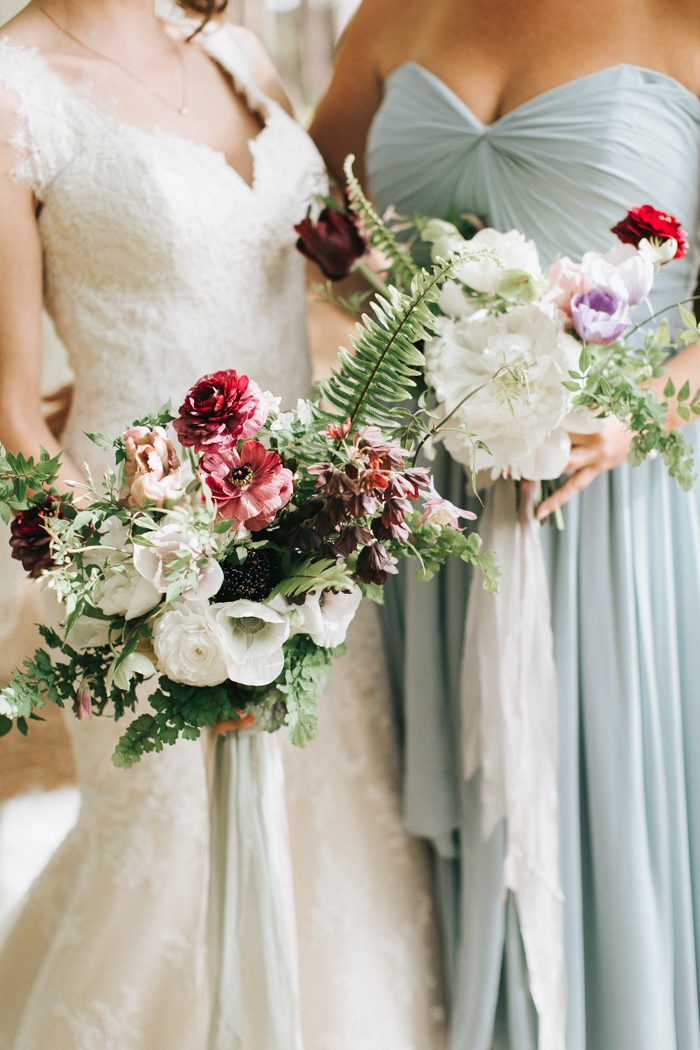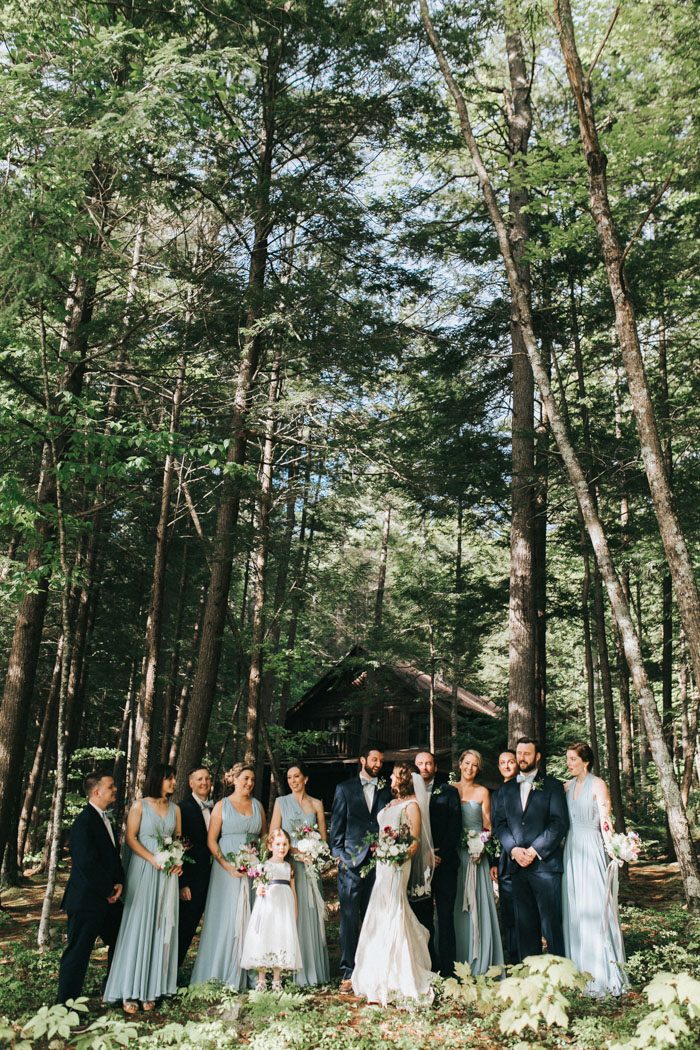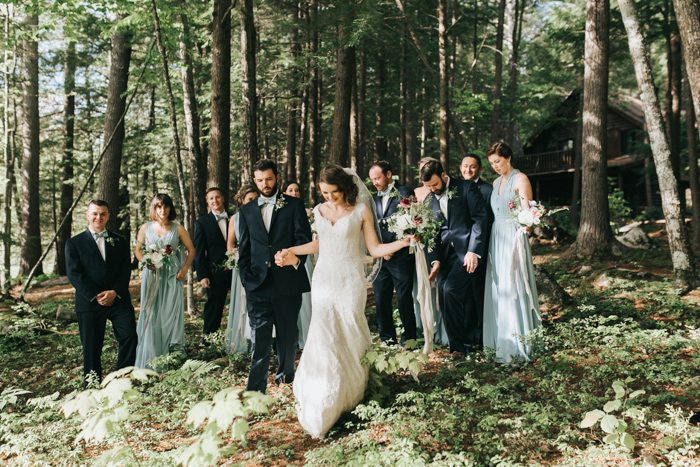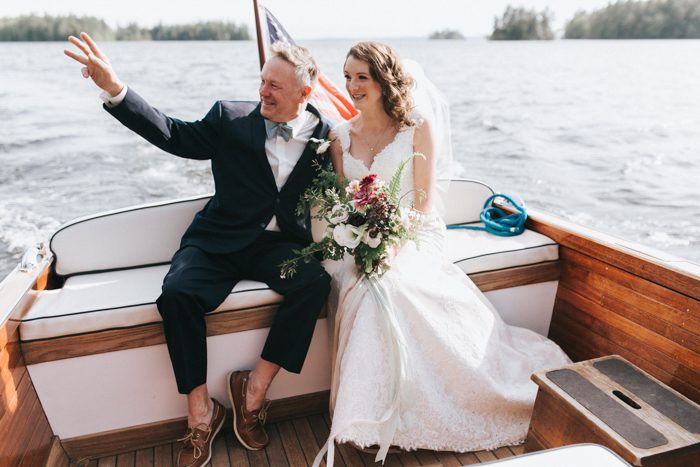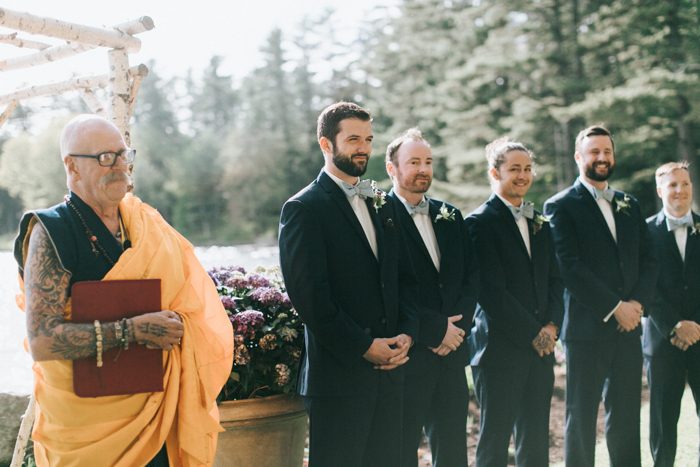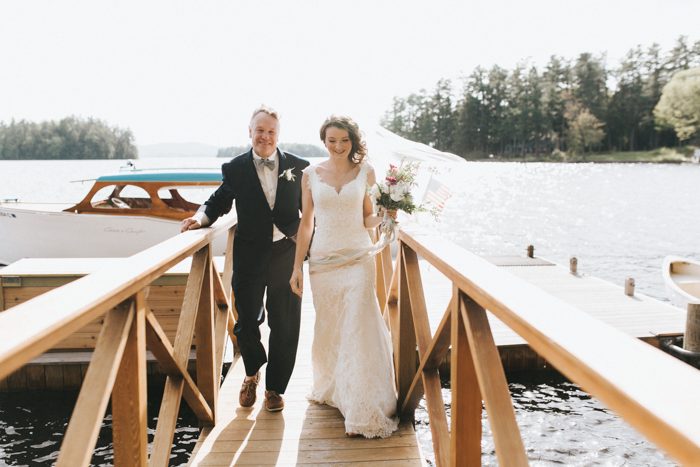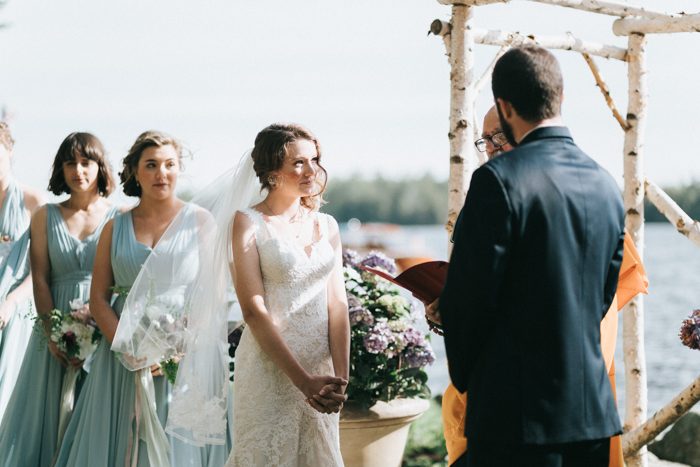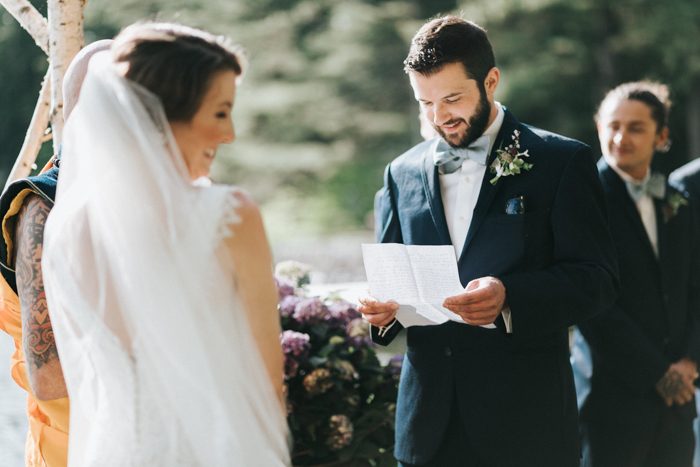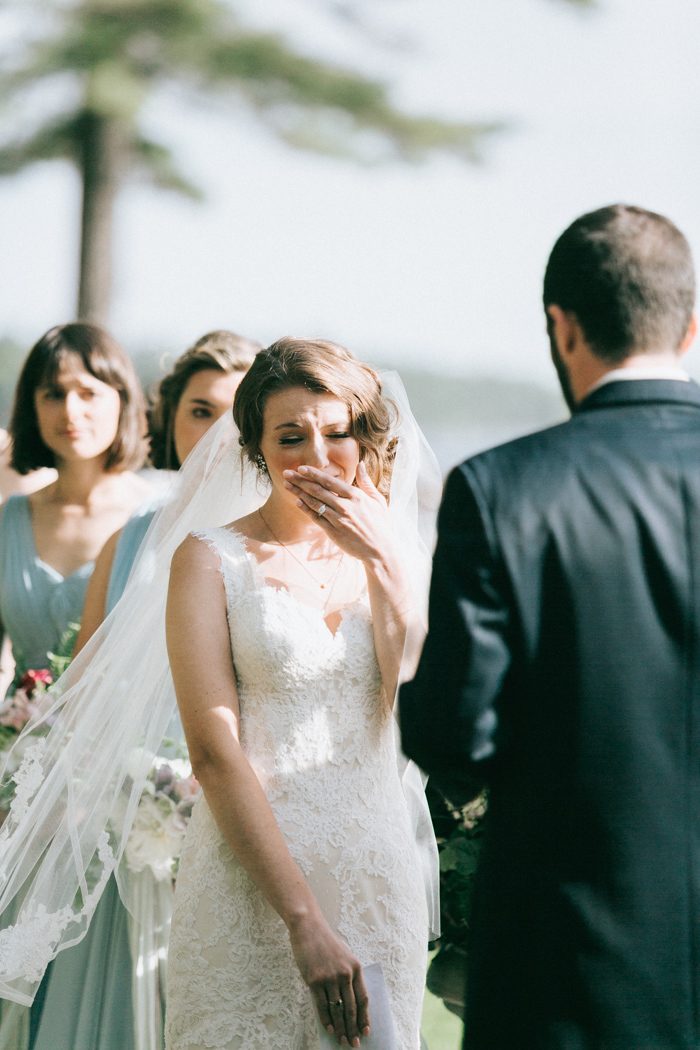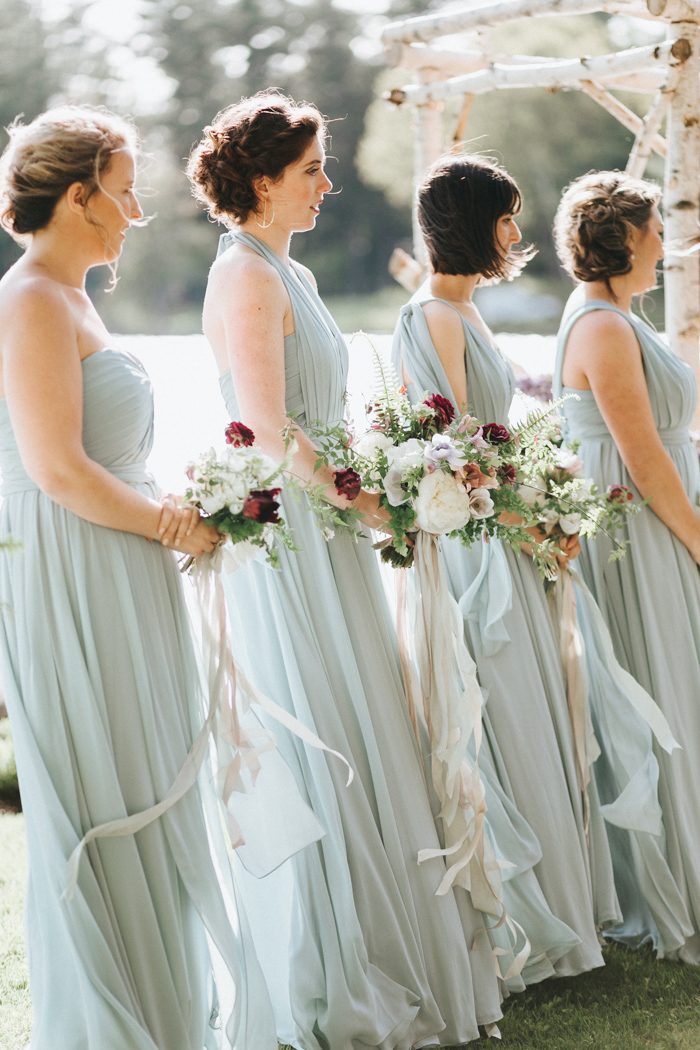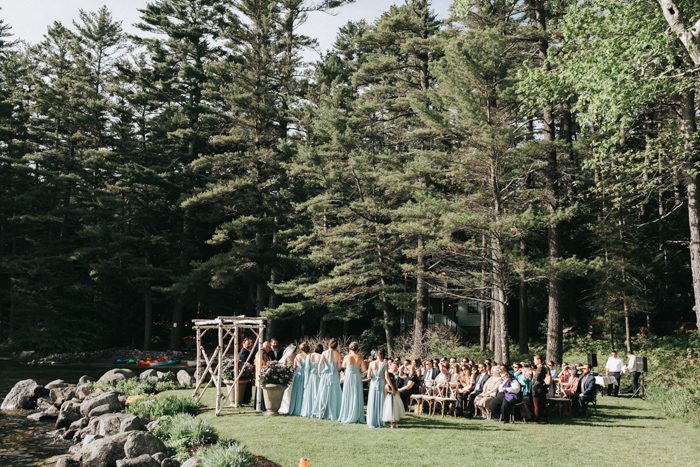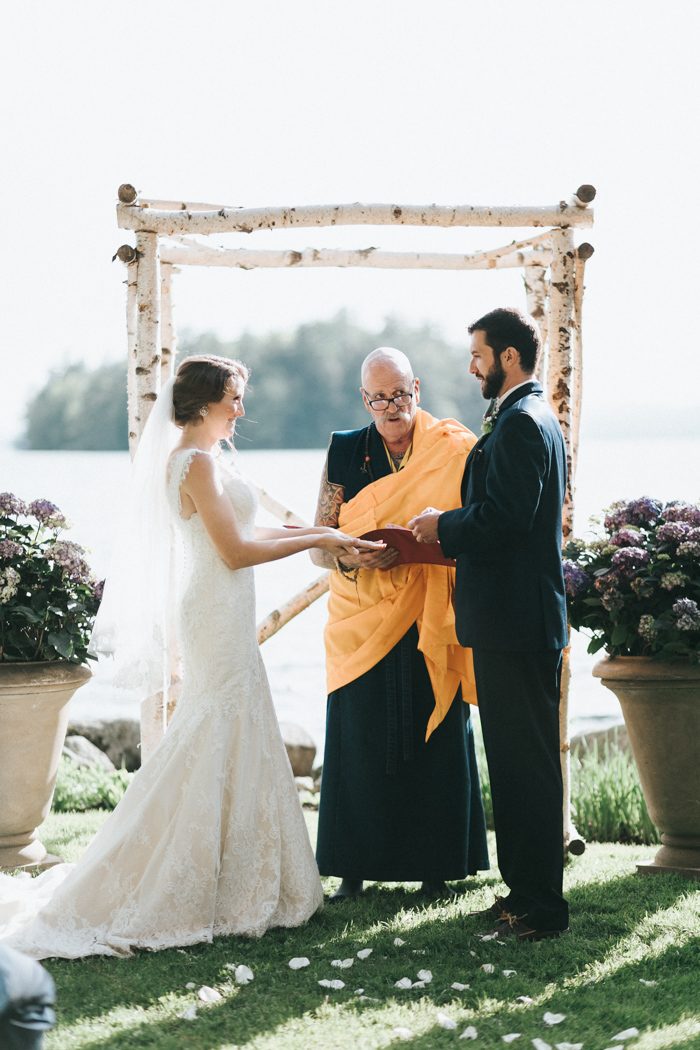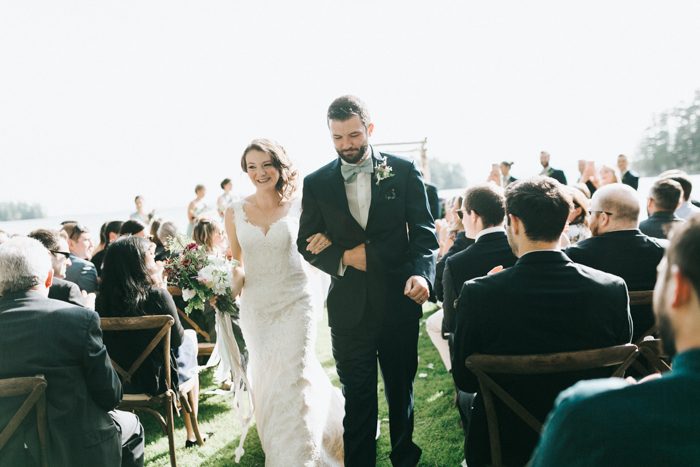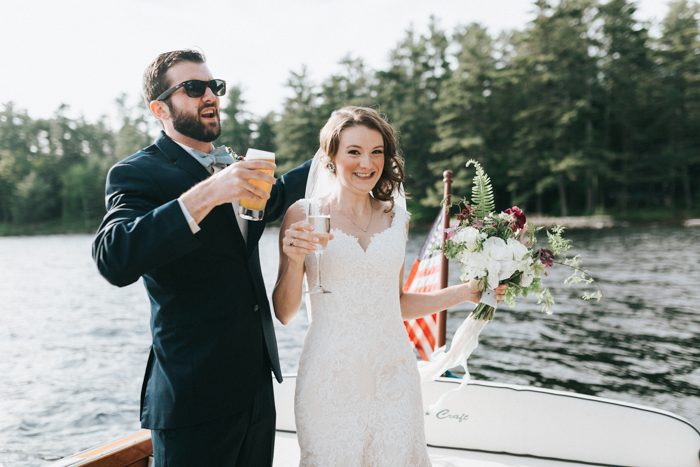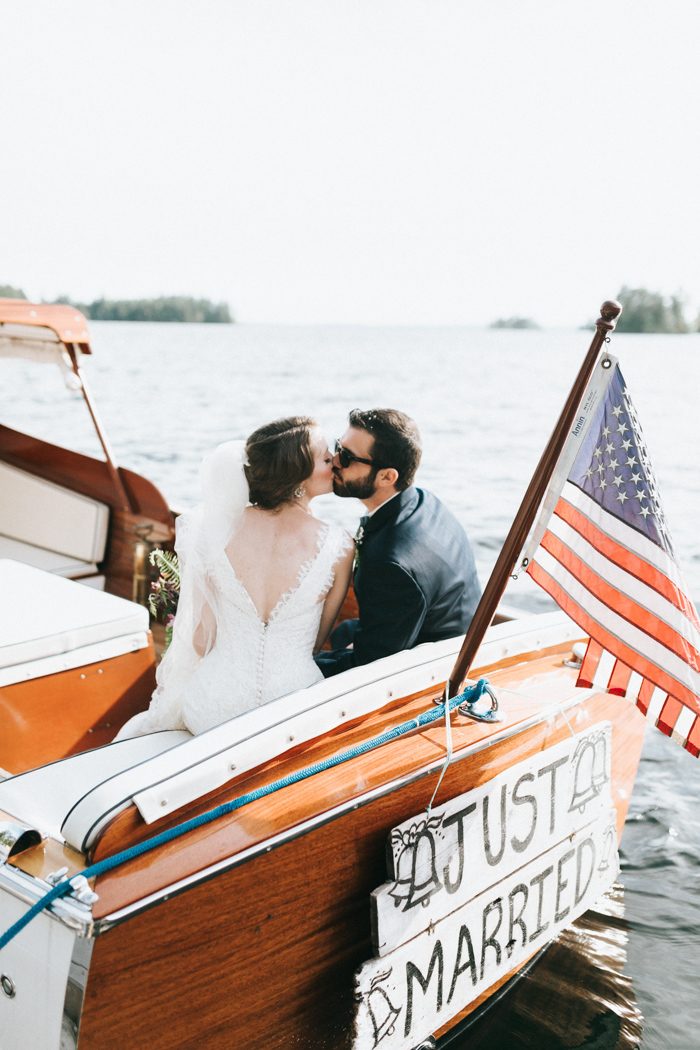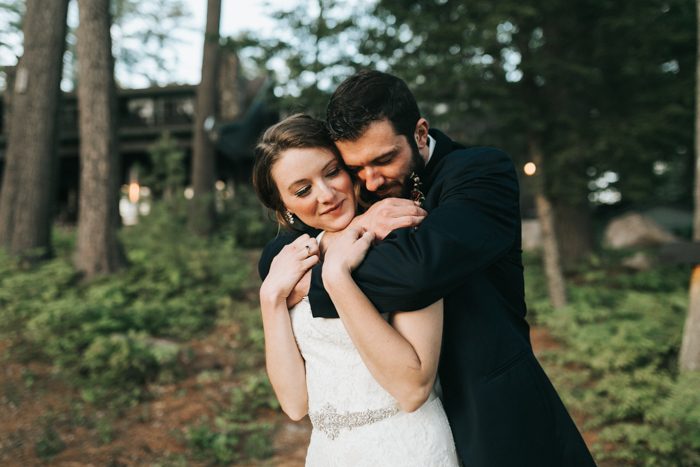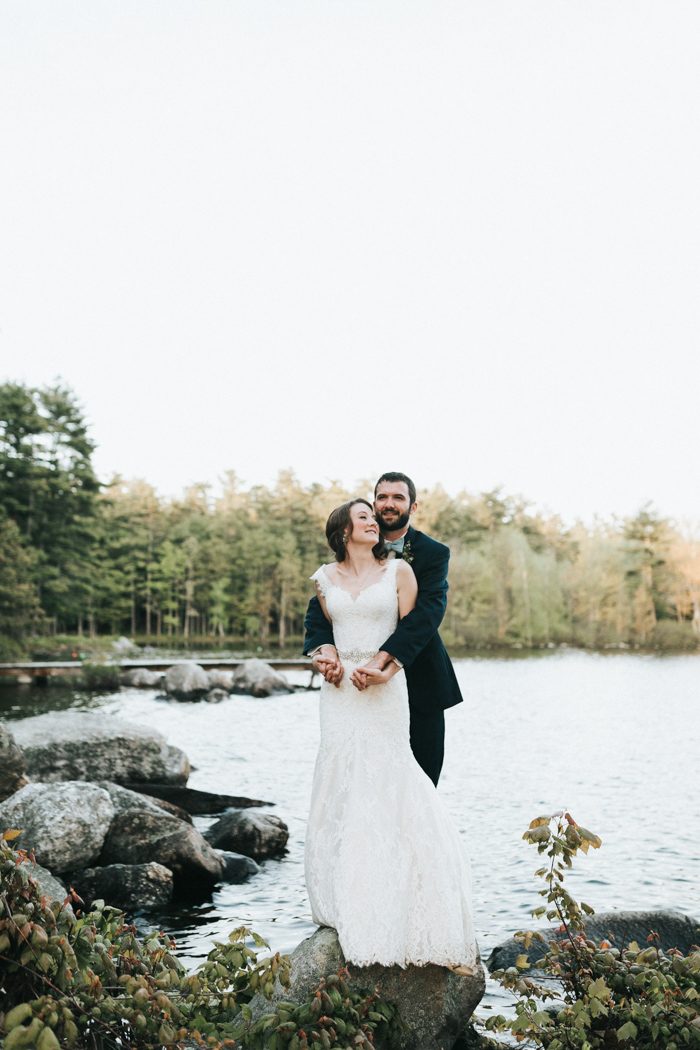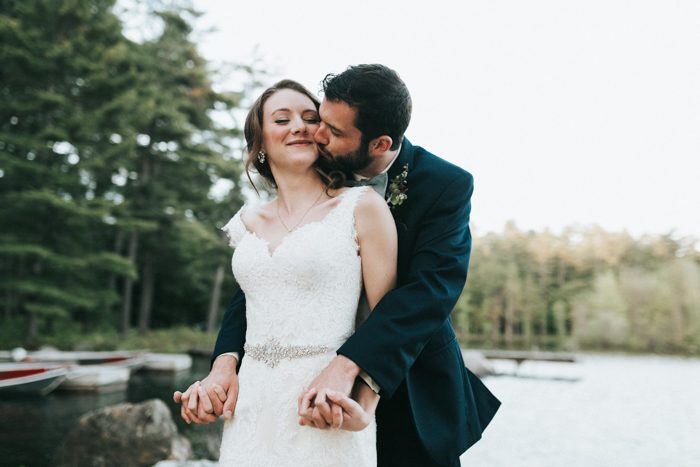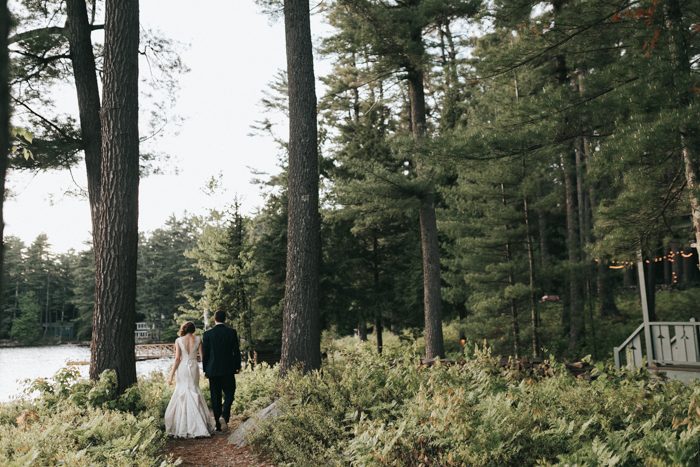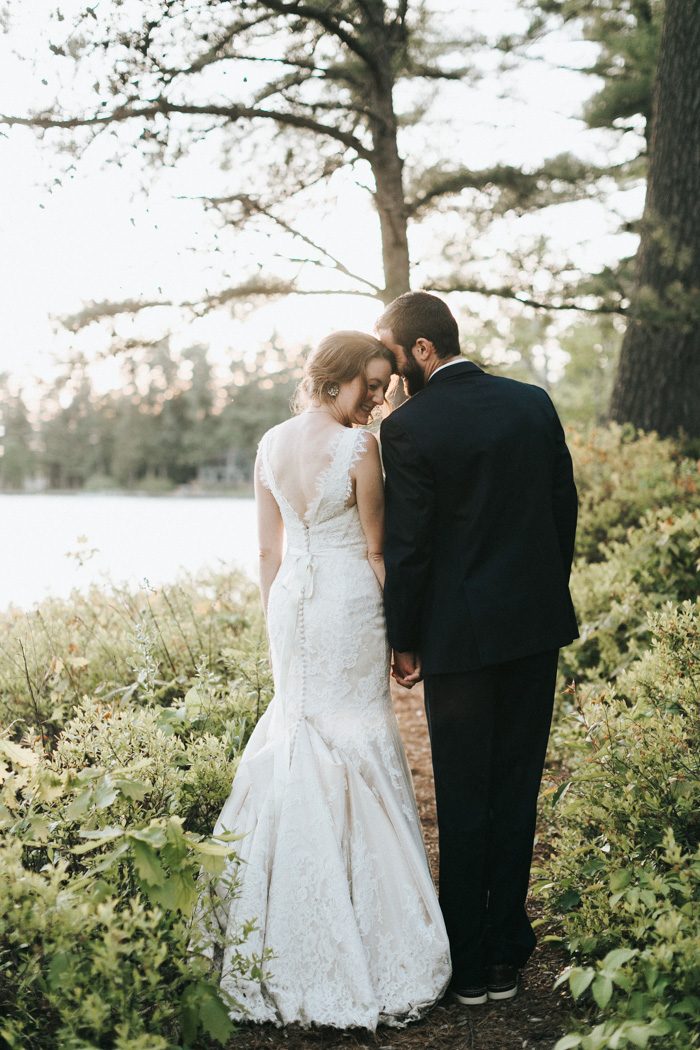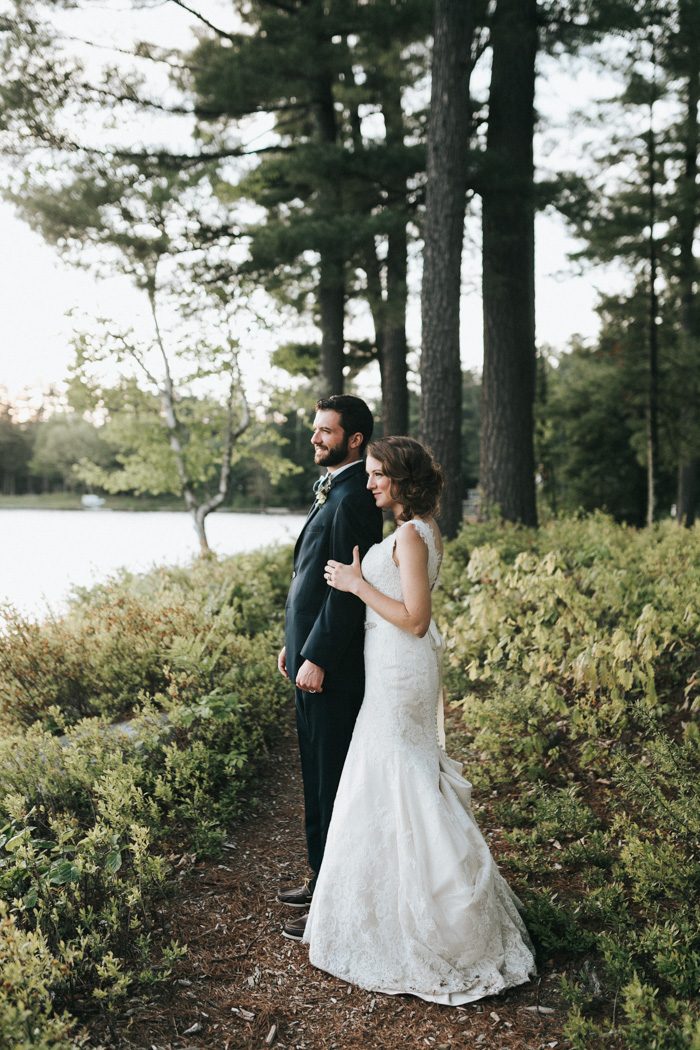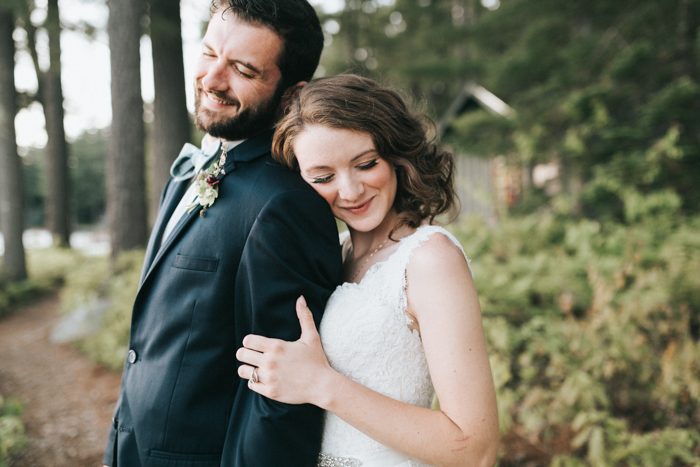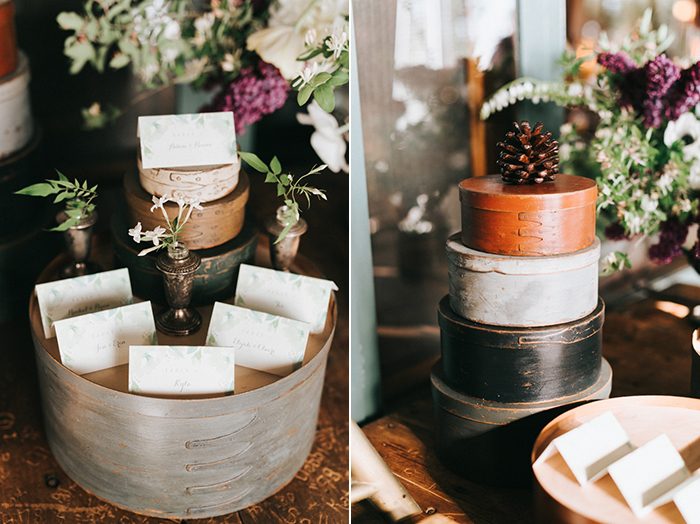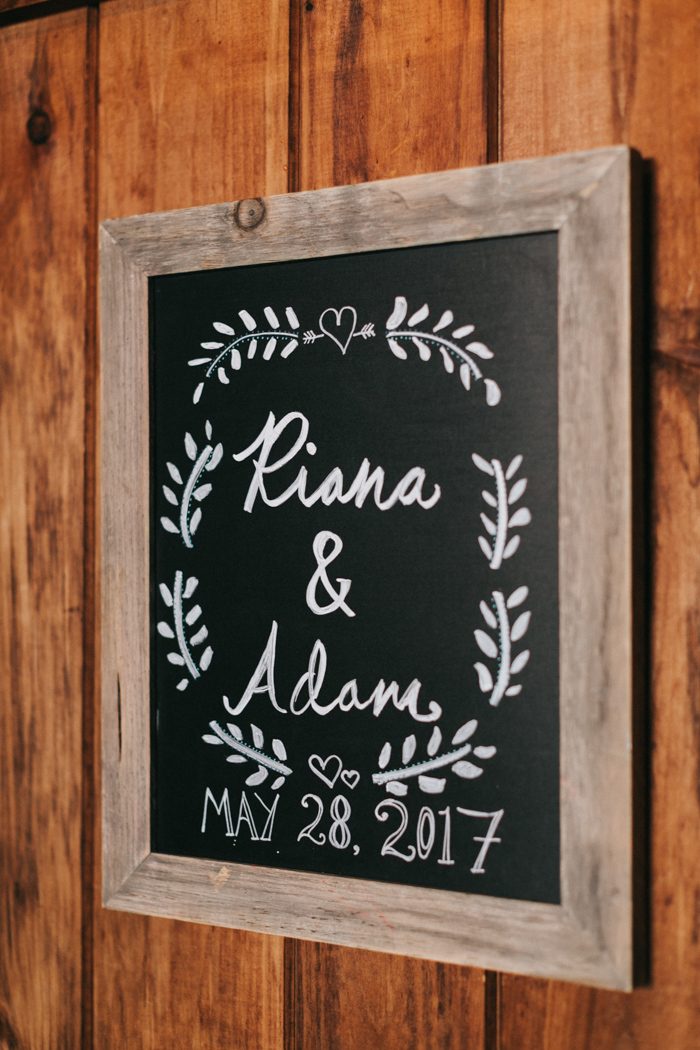 I did just about everything myself, with the help of the Migis Lodge coordinators, our vendors, and my family, of course. No wedding planner! It was months of endless lists, emails, shopping, and planning. I am, by nature, a very anxious person. All I can say is: ask for help, let the small things go (you can't be everywhere at once), and try your best to just be in the moment on the day of your wedding. Take a moment to relax and remind yourself what the day is really all about: you, your significant other, and the love between you two that has brought you here to this moment. That is what you want to share with your closest friends and family on your wedding day. Oh! And be on top of emails and communication throughout the planning process!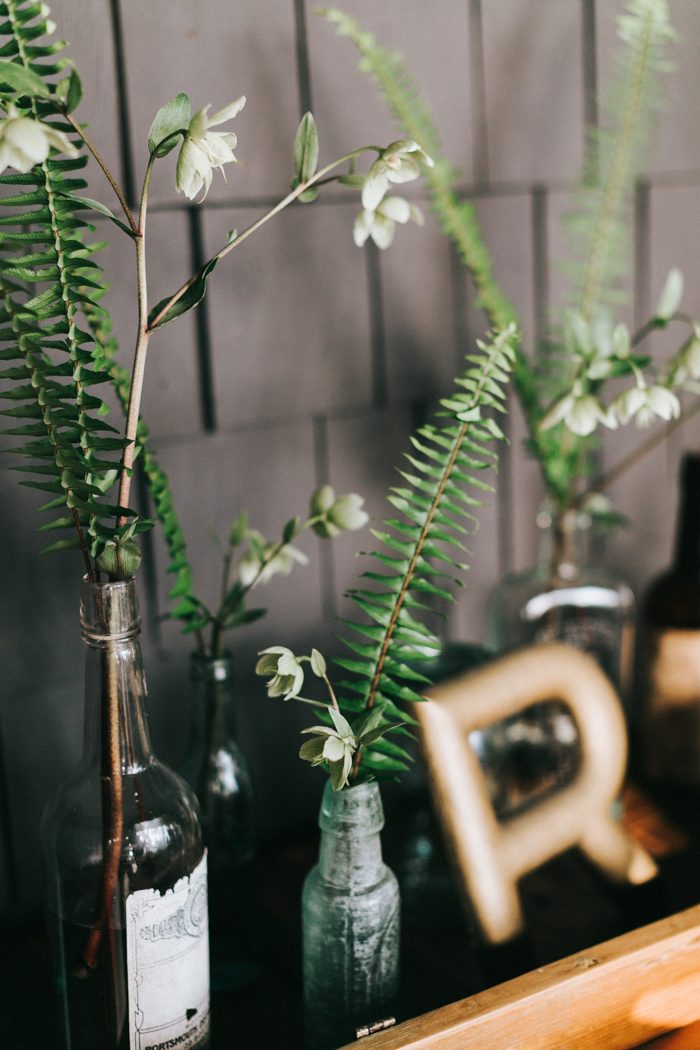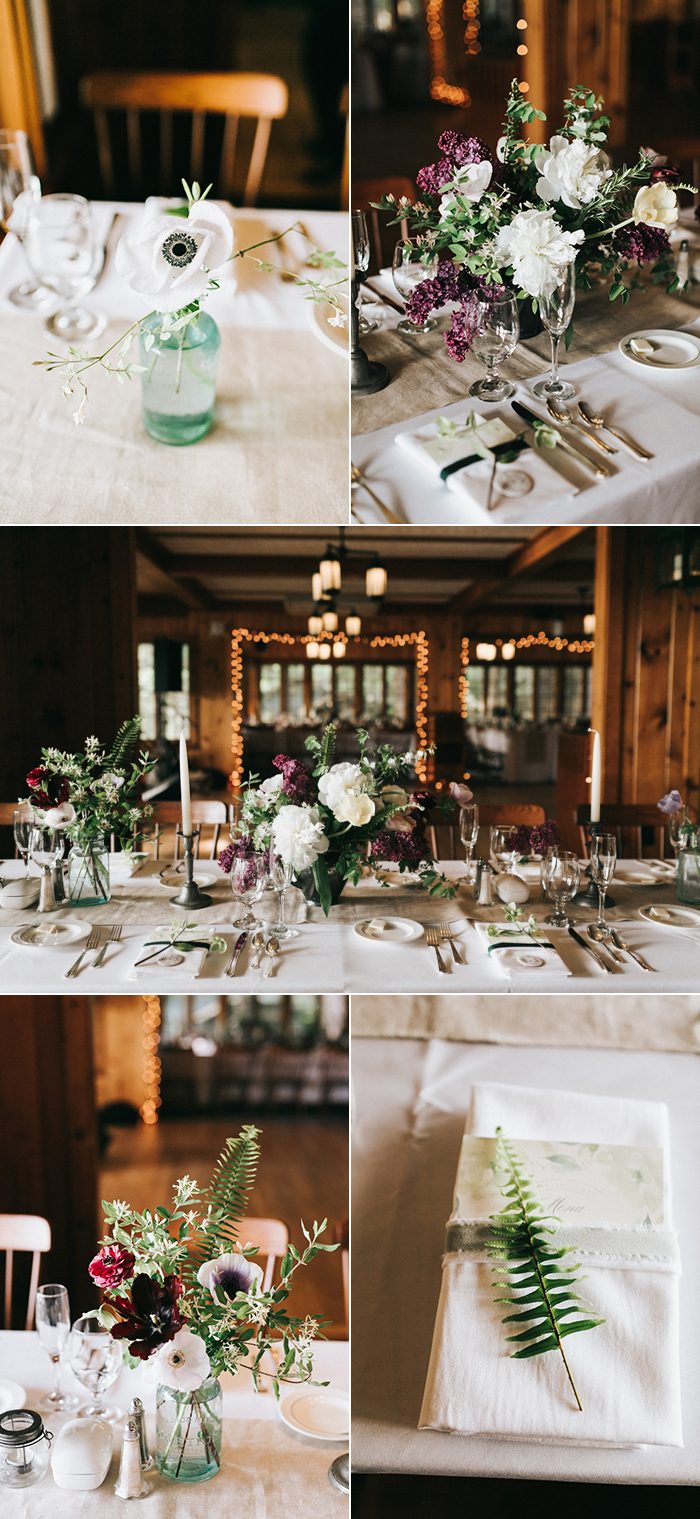 For our table runners, my mom and I hand selected the fabric and had them custom made, which was a very special touch! I'm a lover of antiques so I brought a lot of my own pieces up to Maine with us for the décor: tarnished candle holders, vintage boxes, and old silver plated vessels for the flowers. The most special thing to me was that I was able to bring up dozens of antique glass bottles that I've collected over the years to have Megan use for the flowers. Most of them came from my Nana who used to go to old dump sites and dig them up with my late grandfather back in her heyday. This meant so much to me to have that part of her there as she couldn't physically be there on our wedding day due to her health.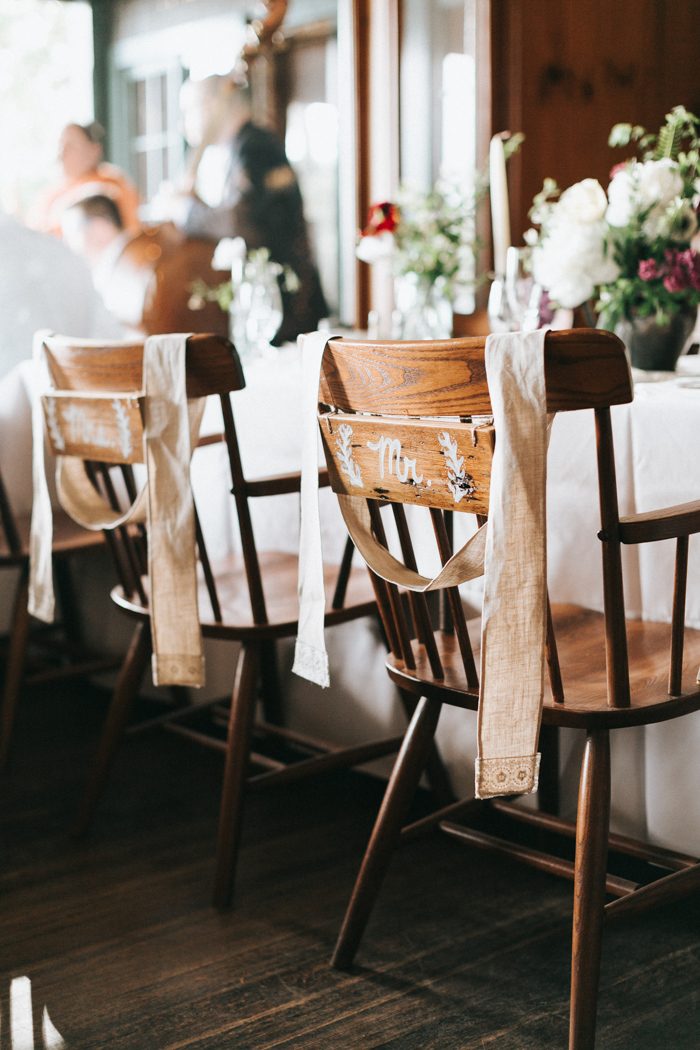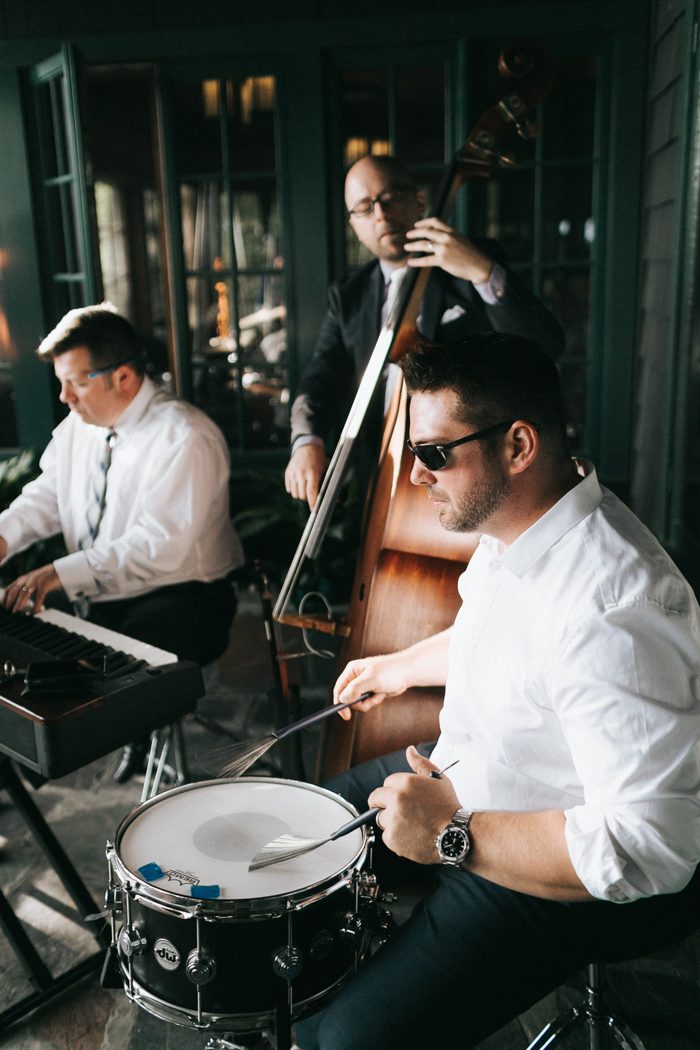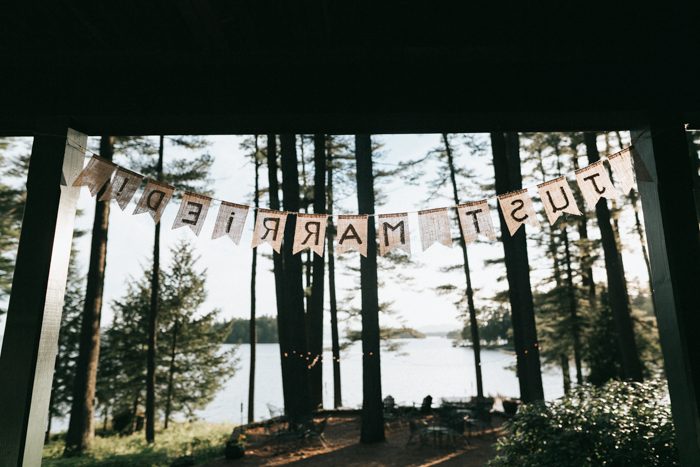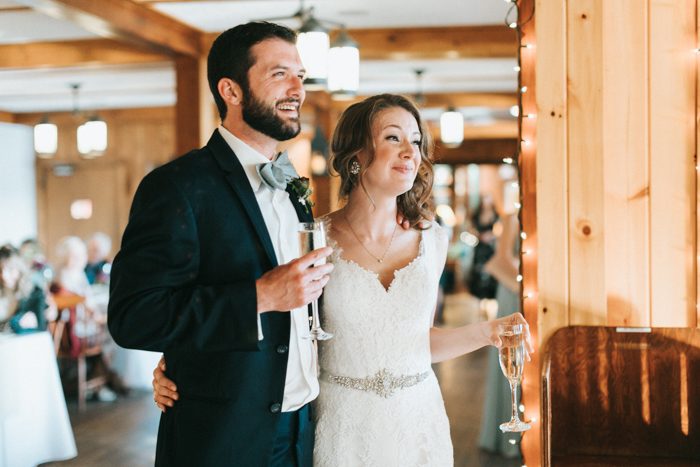 Processional – "Stand By Me" by Florence and The Machine
Recessional – "Automobile" by Kaleo
First Dance – "Ho Hey" by The Lumineers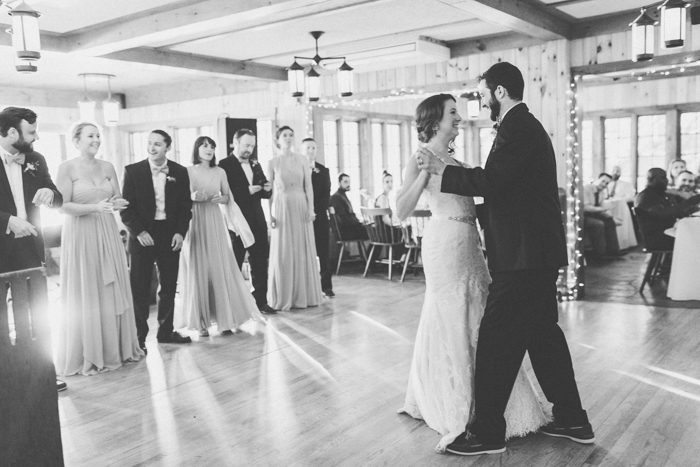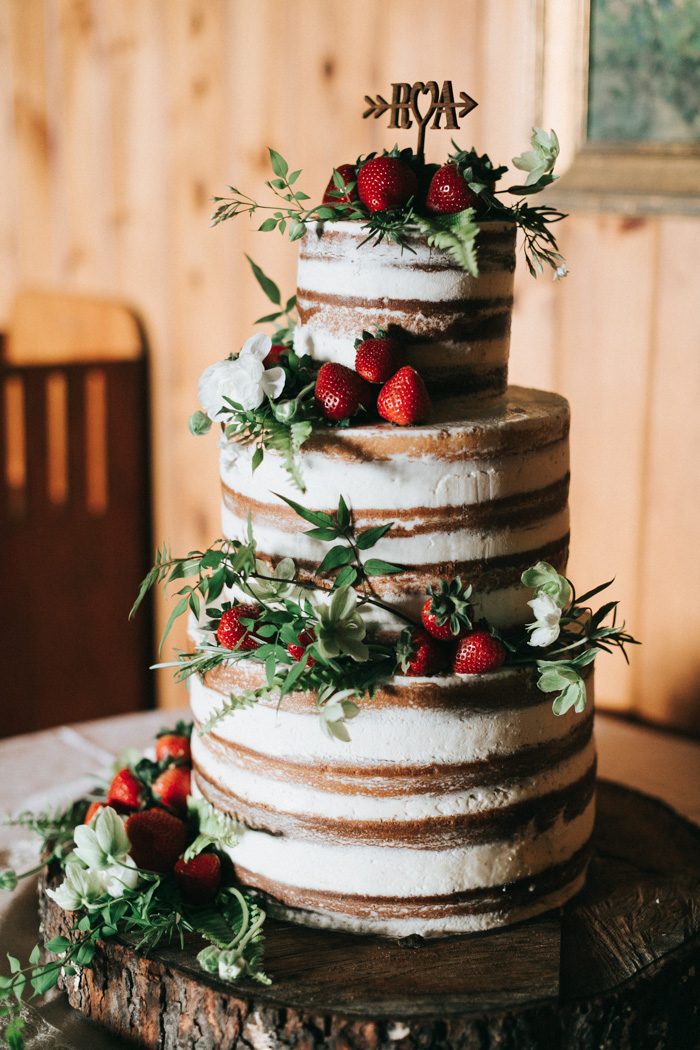 Our biggest congratulations to Riana and Adam on the beginning of your forever, and a huge thanks to Junebug member Emily Delamater Photography for sharing this gorgeous lakefront wedding with us! Looking for more unique, waterfront wedding inspiration? Take a peek at Alison and Steve's colorful waterfront San Diego elopement!