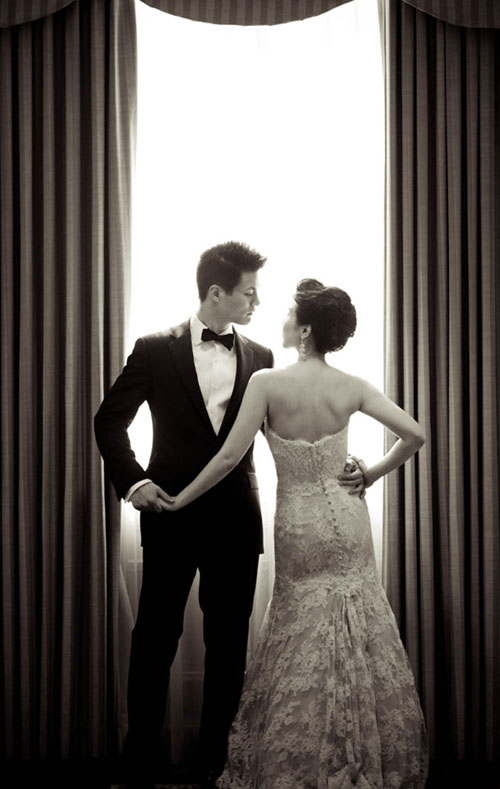 Sarah and Raymond's wedding in downtown Los Angeles was both classically elegant and super relaxed – a unique combination that fit this couple perfectly. Photographed by the amazing Caroline Tran, we love the sweet vibe and glamorous look of the bride and groom, they are simply gorgeous! Check out all the details from their special day below!

The Goals: When it came time to decide what was most important to them on their big day, Sarah and Raymond settled on incredible food and a location with gorgeous ambiance. Maguire Gardens and Cafe Pinot, in the heart of downtown Los Angeles, had both of these things in abundance. Their ceremony was held in a courtyard garden with a private, hidden feel, and the reception was held outdoors on the patio at Cafe Pinot. Surrounded by candlelight, twinkling Italian string lights and a view of the L.A. skyline, their wedding was an easy, elegant and romantic-style event with a vibrant city feel.
The Design: Planning the event themselves, Sarah and Raymond didn't use a specific color palette, instead they simply chose looks that they loved. The venue was decorated with white orchids, and lit with candles and amber light, creating a clean and natural look. The bride carried a bouquet of dark red peonies, while the bridesmaids carried bouquets of dark red garden roses. The groom and groomsmen wore boutonnieres of dark red orchids and ranunculus.
The invitations, designed by the bride's high-school age cousin and printed in Indonesia, included a booklet called "Where Are You Sitting?" with a cute seating chart, printed on heavy card stock. The bride loved this little extra because it gave the guests something to look over and talk about while they waited for the ceremony to begin.
Their three-layer wedding cake was all-white, and decorated with orchids, a fondant sash, and a swiss-dot design. The flavors were a tasty trio of red velvet, marbled chocolate and pistachio.

The Look: Sarah looked glamorous in her strapless lace dress from Monique Lhuillier, accessorized with a sophisticated up-do and floor-length veil, the perfect accompaniment to Raymond's elegant slim tuxedo from Ralph Lauren. Bridesmaids wore long black gowns by Rachel Roy, and the groomsmen, tuxedos from Elite Tuxedo. The bride's mother, and maid of honor, were distinct and lovely in long red gowns.
During the reception, Sarah changed into her grandmother's Chinese cheongsam, a traditional dress in a deep burgundy and gold, that her grandmother had worn at Sarah's parent's wedding, Sarah's sister had worn it at her own wedding, and now it was Sarah's turn. Throughout the celebration, in both dresses, Sarah's look was glamorous and timeless.

The Moments: One of the most memorable parts of Sarah and Raymond's big day was a quiet lunch they shared together before the ceremony began. "We just closed the bedroom doors to the suite and relaxed for a bit while everyone else was running around in the hotel room, getting ready. I didn't want to adhere to the rule of not seeing him on this day. He was the only person I really wanted to see."
Sarah and Raymond chose to have a friend officiate their casual ceremony because they "trusted her words." Says Sarah, "my favorite line of the ceremony was when we were exchanging rings and we said 'wear it, think of me, and know that I love you.' So simple, so sweet, so true." As the couple said their vows, Sarah remembers, "Raymond cried more than I did, and his brother, the best man, cried more than both of us!"
At the reception, the couple had a ball dancing to "Most Beautiful Girl (In the Room)" from Flight of the Conchords, for their first dance. A joke song, it perfectly summed up the air of ease and relaxed, fun feeling of the wedding.
The Pros: To learn about all of the incredible wedding professionals who helped to make this wedding a reality, please visit our Real Weddings section.

Thank you so much for sharing your wedding with us Sarah and Raymond! What a treat!
If you're planning your own wedding in Southern California or Seattle, don't miss our trusted Plan Your Wedding Hotlist!