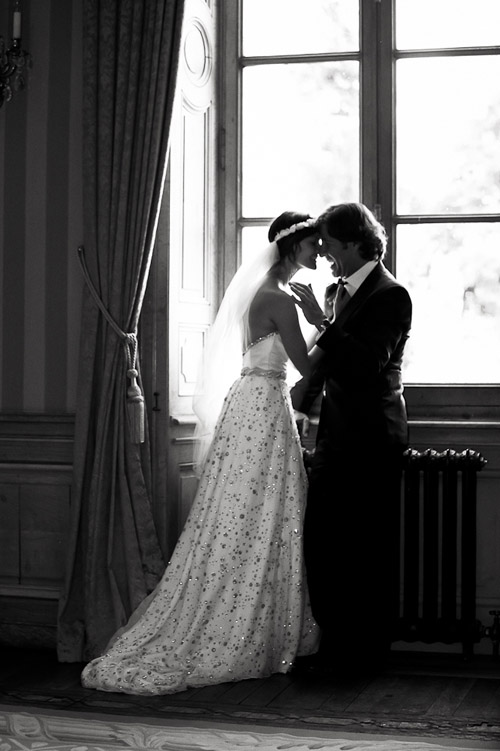 This magical French Real Wedding of Ainara and Patrick makes me simply long for a trip to France! Weddings there are like no where else – a brilliant combination of romance, elegance, natural yet refined beauty, a sense of humor and an abundance of passion and pure pleasure. I hope you enjoy this wedding story and the wonderful photos from One and Only Paris, and that it sweeps you away into a lovely weekend!

The Goals: Ainara's family is from the Basque region of Spain and Patrick's family is from Paris, so to bring everyone together they rented the spectacularly beautiful Chateau la Durantie in Dordogne, France, which is directly in between. Family and friends came and stayed for the week and made deep connections while cooking, laughing and dining together every night.

The Design: Chateau la Durantie is so gorgeous on its own that there wasn't much additional decor needed. Ainara and Patrick chose a soft color palette of pink, blue and white to compliment the lavender that grows abundantly on the chateau's grounds, and they found inspiration for the feel of the whole day in the lush countryside of France and in the "boheme" of the Gypsy spirit.
The wedding ceremony was held outside overlooking the vineyards, and Ainara decided to drive their convertible Mini Cooper filled with the flower girls and ring bearer out to the location. "The children would remember this moment as the funniest of the wedding day. I felt like Snow White and the seven dwarfs!" So fun! Walking down the aisle Ainara remembers looking everyone in the eye, which was a magical feeling for her. "I recommend it to every bride"
After the ceremony they played their favorite song, "Viva la Vida" by Coldplay, and everyone danced and ran behind the couple as they made their way to the gardens behind the chateau for the cocktail hour and tented reception. One of Ainara's favorite moments of the day!
Wedding favors of Cohiba cigarres, Spanish fans and Chocolates from their dear friend and New York pastry chef Francois Payard were given to guests, and the wedding cake was a traditional and towering (and delicious!) Croquembouche.

The Look: Ainara wore a wedding gown custom made by her sister Cristina Martinez Franco that fit her to a T. "The dress was a dream – beautiful and comfortable. I felt free in it. My sister knows me very well. She captured my personality in this dress." Her accessories were a vintage veil, shoes by Jessica Simpson and lingerie by La Perla. Patrick wore a vintage 1970s silk tuxedo with accessories from Barney's New York.
The Moments: At midnight, just before cutting the cake there was a surprise for all the guests – a firework display! They accompanied it with the voice of Pavarotti singing "Nessun Dorma" and simply wowed everyone. Ainara felt "as the sky was giving us a gift."
The Pros: To learn more about all of the wedding professionals who made this wedding day the event that it was, please visit our Real Wedding section!

Thank you so very much for sharing your wedding with us Ainara and Patrick! We wish we could have been there!
To plan your own Southern California or Seattle area wedding, check out our Plan Your Wedding Hotlists, and to find a dream wedding photographer for your wedding anywhere in the world, don't miss our World's Best Wedding Photographers Hotlist!