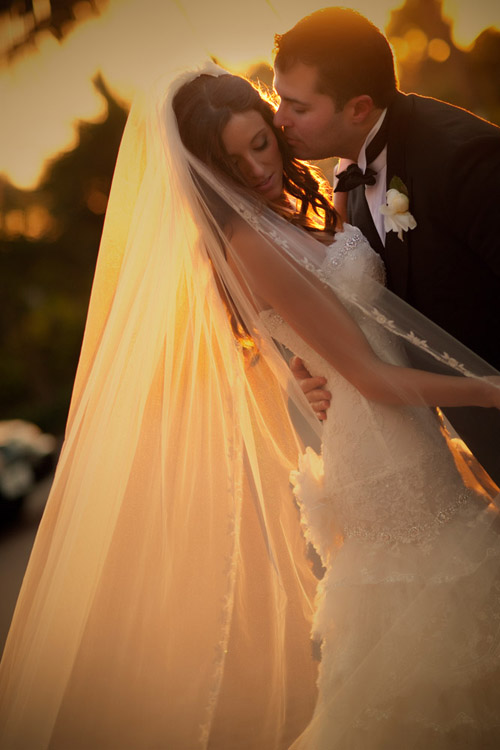 To end our Real Wedding week with a bang, we're thrilled to share Ashley and Adam's Florida New Year's Eve wedding, photographed by Chicago-based wedding photographers Jeffrey and Julia Woods! Read on to learn all about this truly thoughtful and super fun celebration, and then jump over to our Photobug blog to read our Photographer Spotlight Interview with Jeffrey and Julia too!

The Goals: Since Ashley and Adam's wedding took place on New Year's Eve, they knew that above all they wanted to make their event fun! "We picked the most amazing band that kept people dancing until 2:00 am. We fed all of our guests from start to finish… beginning with passed hors d'oeuvres, then a delicious dinner, and serving up mini burgers, french fries, donuts and chocolate late night. We had amazing fireworks at midnight to ring in the New Year, along with a champagne toast! It truly was such a great party and wonderful way to start our life together with our friends and family!"
Honoring family was the other most important component, especially when it came to Adam's daughters who were involved in special ways throughout the day.

The Design: Ashley and Adam had originally hoped to have their ceremony in a church, but when that didn't work out logistically, they had the church come to them! On the lawn of the The Ritz Carlton Golf Resort in Naples, Florida, a "church" was constructed. With the help of wedding planner Rufino Hernandez of the Garden District of Naples and the prop department at The Ritz, they were married in a stunning tented room with sparkling chandeliers, draped fabric walls, faux stained glass windows and an altar to create the feel of a church. Wow!
At the reception a rich gold, ivory and burgundy color palette was used to create a traditional, formal and antique look to the wedding decor. The invitations and paper details were designed by Sheryl at Arabesque and spectacularly calligraphed by Maria Thomas. The wedding cake was five tiers of lemon and hazelnut deliciousness with a look of lace to the design.
The Look: Ashley knew her Pnina Tornai wedding gown from Kleinfeld Bridal, the very first dress she tried on, was the ONE the moment she saw it, and it was one of her very favorite details of the day. "I just LOVE my dress. I love the vintage flare and the detail of the layers and layers of lace and Swarovski Crystals. There is a lot going on with the dress, but it worked for me. As soon as I tried it on… I knew. It was just my style!"
Her bridesmaids and maid of honor wore beautiful eggplant or red full length column gowns, and Ashley gave them long strands of freshwater pearls as thank you gifts which they each wore in their own creative way.

The Moments: The wedding ceremony was very meaningful for Ashley and Adam and they involved many people who are important to them. Adam's daughters were first and foremost made a priority – they acted as flower girls and junior bridesmaids, their drawings and stories were included in the programs, his 5 year old daughter sang the Shania Twain song "From this Moment" and his 8 year old daughter read the "Cherokee Wedding Prayer". "It was very important for them to feel a part of everything – it will always be remembered as an intimate family event."
Another special treat was having the choir from Seacrest Country Day School where Adam and Ashley met sing during the service, and their vows were very sentimental. "During our vows we both were choked up a bit. It was a sweet moment. It could have easily been just the two of us up there, helping each other through the words."
The reception inside the Ritz Carlton ballroom began with a delicious formal dinner and then the night turned into one big celebration in a night club atmosphere! There were fire pits outside for the kids (and adults!) to roast marshmallows over, then a fireworks show at midnight, and with the help of the Right on Band, everyone danced until 2 am!

Photographers Jeffrey and Julia Woods and film maker Andy Jackson of Portal Films created a very special Black Label Video for the couple, combining Super 8 film footage with stunning still images…
The Pros: To learn about all of the wedding professionals who worked on this wonderful wedding day please visit Ashley and Adam's page in our Real Wedding Library.
Thank you Ashley and Adam!
Readers, we hope you've enjoyed our full week of real weddings on What Junebug Loves! To plan your own Southern California or Seattle area wedding, check out our Plan Your Wedding Hotlists. To find a dream wedding photographer for your wedding anywhere in the world, don't miss our World's Best Wedding Photographers Hotlist!