Morgan and Tim had just the right blend of formal (the STUNNING Crystal Garden at Navy Pier and oh-so-elegant wedding day fashions) and fun (great music, comfy footwear, and of course…champagne!). The day turned out to be a joyful celebration made all the better by the talented professionals that brought their vision to life. The couple couldn't be happier with their photos by Miller + Miller Photography that captured every detail!
The Goals: It was most important to create an environment that was classy, yet one that also made everyone feel welcome and ready to let loose. This was important to us because we wanted our family and friends to feel comfortable and happy at our wedding. We wanted to convey our joy by making sure nobody felt uptight or too formal. We started that feeling by serving champagne to all guests who entered for the ceremony, having unique and funny stories in the wedding program, and finishing with great music. All of these components really set the right tone of the wedding.
The Vision: Crystal Gardens is a beautiful indoor botanical garden under a one-acre atrium, and little bit like a Miami hotel…with large indoor palm trees, fountains that "leapfrog" across the walkways, and the ferris wheel of Navy Pier as the backdrop. Taking that into consideration, we thought adding shades of white and lots of crystals would be gorgeous and formal. We also added a touch of light slate blue, which accentuate the white. Our classic, formal, yet airy vibe translated to chandeliers, candles and a lot of white flowers. Since we wanted to do something non-traditional at the reception, we went with a sweets table instead of a cake and a basket of flip flops for sore feet. In addition to the flip flops, the traditional Chicago hot dog and french fry meal later in the evening kept the guests going!
The Look: The fashion was elegant with a hint of vintage. I loved the low back and the gorgeous flowing train of my dress from Justina McCaffrey. I used a vintage looking belt, my mothers earrings for the ceremony, vintage drop style earrings for the reception. Tim wore a very formal, classic black and white tux. Since Tim is a big guy, the thicker bow tie looked amazing. The bridesmaids wore full-length gowns in slate. Each bridesmaid chose between four styles to find the one that was most complementary.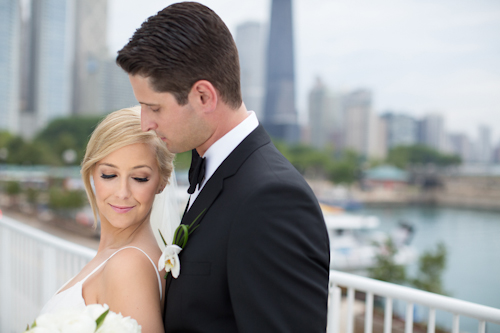 The Moments: Besides marrying my favorite person, some of my favorite moments were seeing the decor, listening to the wonderful music throughout the night, and seeing all of our loved ones having fun and getting to know one another. We also felt that we successfully hired an amazing team that brought our vision to life!
The Pros: Please visit Morgan and Tim's page in our Real Wedding Library for all of the details on their great wedding team!
Thank you Morgan and Tim for sharing your stunning wedding day with us! Readers, for more inspiration from other newlyweds, be sure to check out the other stories in our Real Wedding Library!