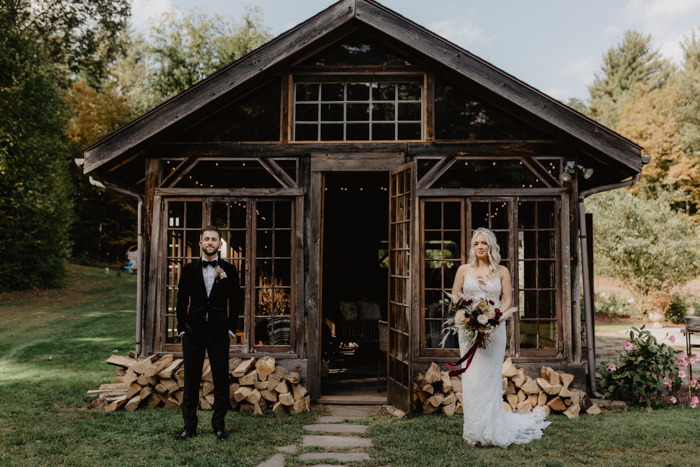 Fun fact: Instead of handing out party favors at their Foxfire Mountain House wedding, Michelle and Michael had a table to honor their rescue dogs and donated their "favor budget" to the shelter. We're not crying, you are! If that sweet detail wasn't enough, wait until you see the edgy, romantic details—in hues of black, burgundy, blush, white, and toffee—including epic florals by Olive & June Floral Co.. From the coolest eclectic mix of ceremony chairs to matching couple's tattoos (yeah, they rock), we are simply smitten everything about Michell and Michael's day at Foxfire Mountain House! If you've been dreaming of a wedding with the perfect amount of fashion, edge, and romance, these photos by Nicole Nero Studio are sure to leave you swooning!
The Couple:
Michelle & Michael
The Wedding:
Foxfire Mountain House, Catskills, New York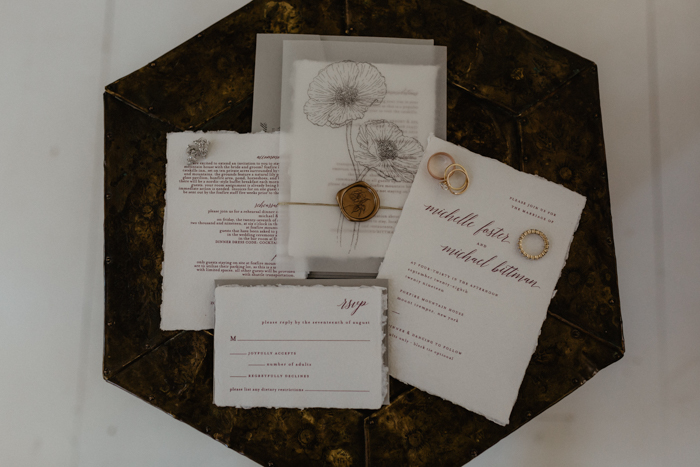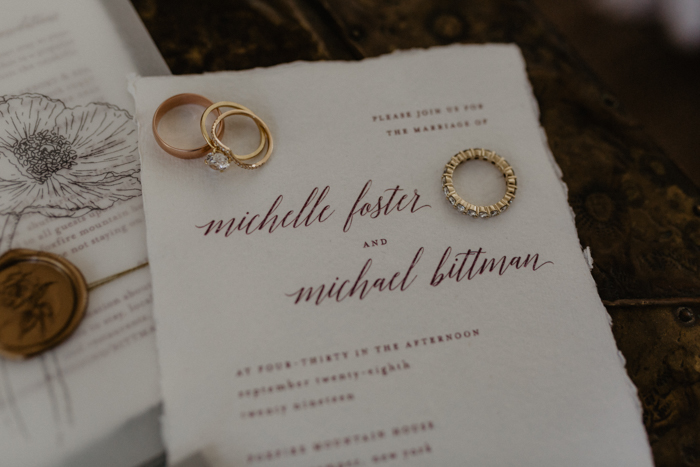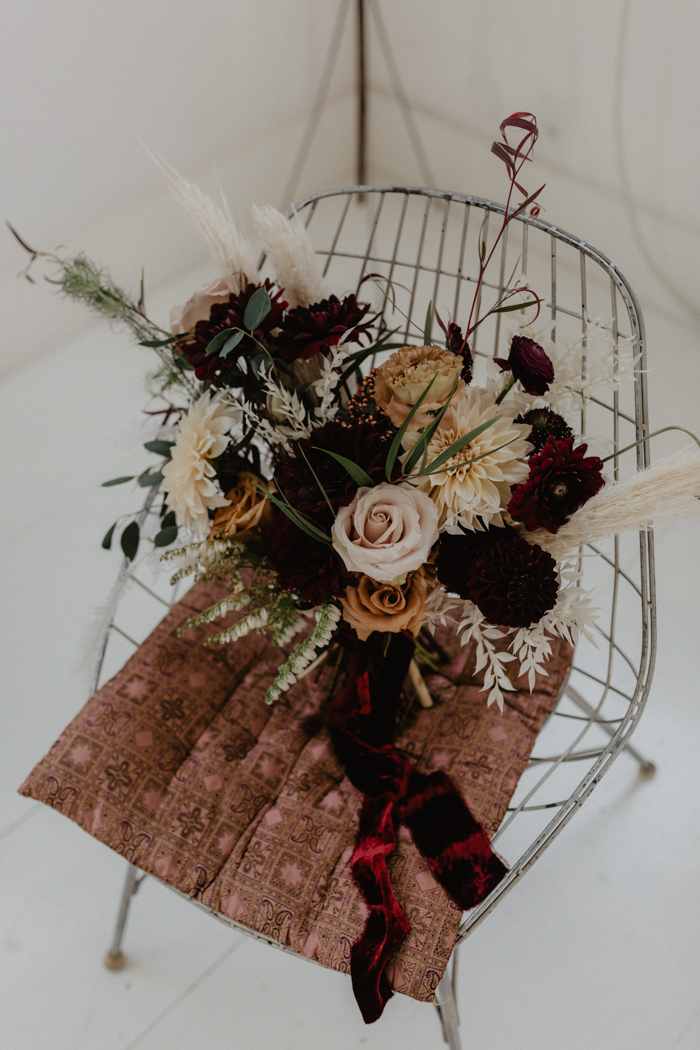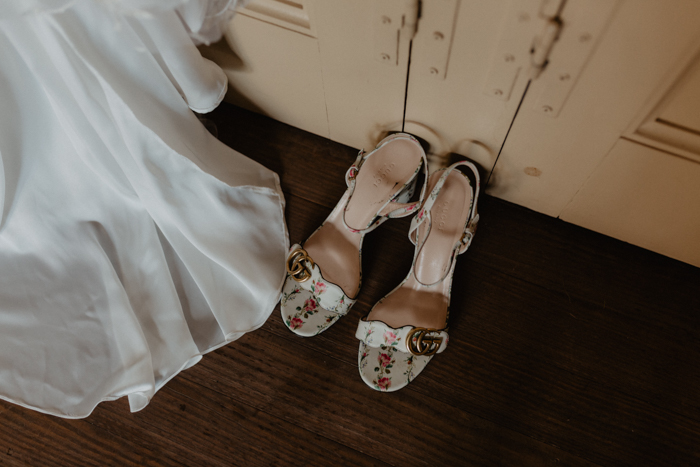 WE LOVE FASHION. I went with a whimsical, flower design by Alexandra Grecco (Billie) from Lovely Bride in NYC. It was so damn romantic, and I felt like the most beautiful ice princess in it, which is a huge contrast for an all black everything, every day kind of girl. I completed the look with a pair of floral Gucci block heels and a Twigs & Honey opal crown. Mike opted for a sexy black velvet tux from The Black Tux that really tied in with the bridesmaid gowns from Jenny Yoo.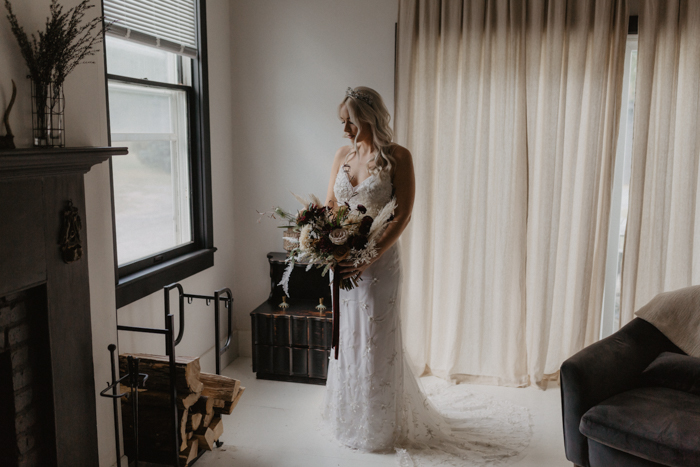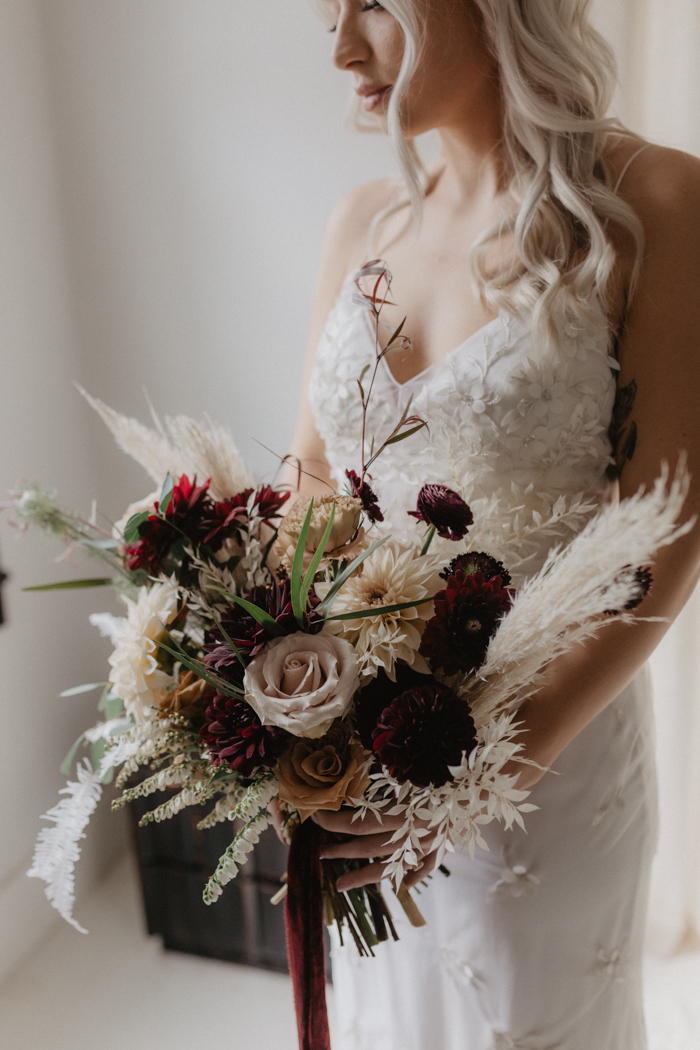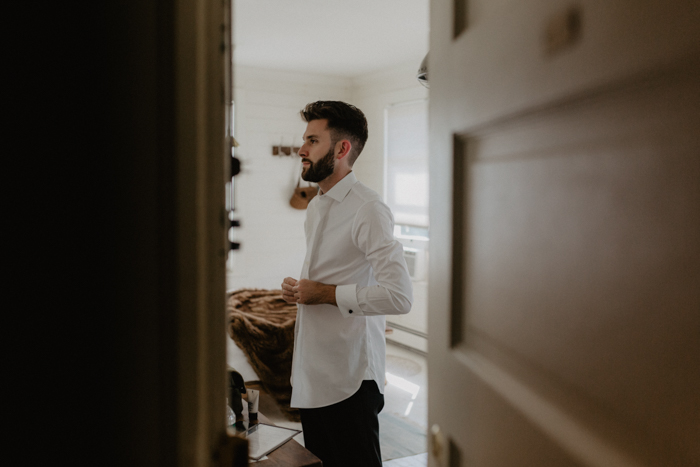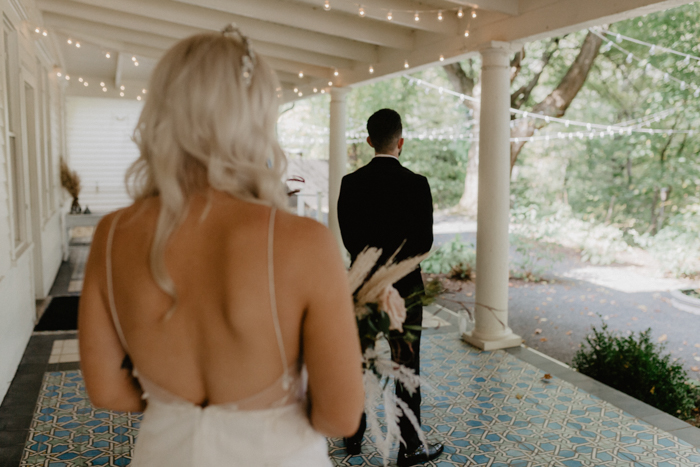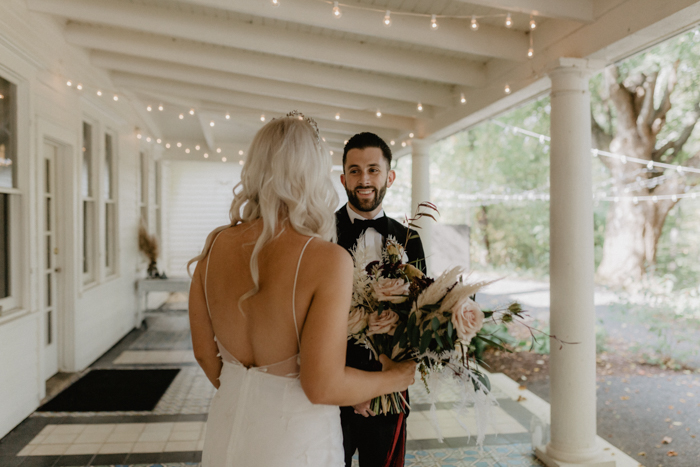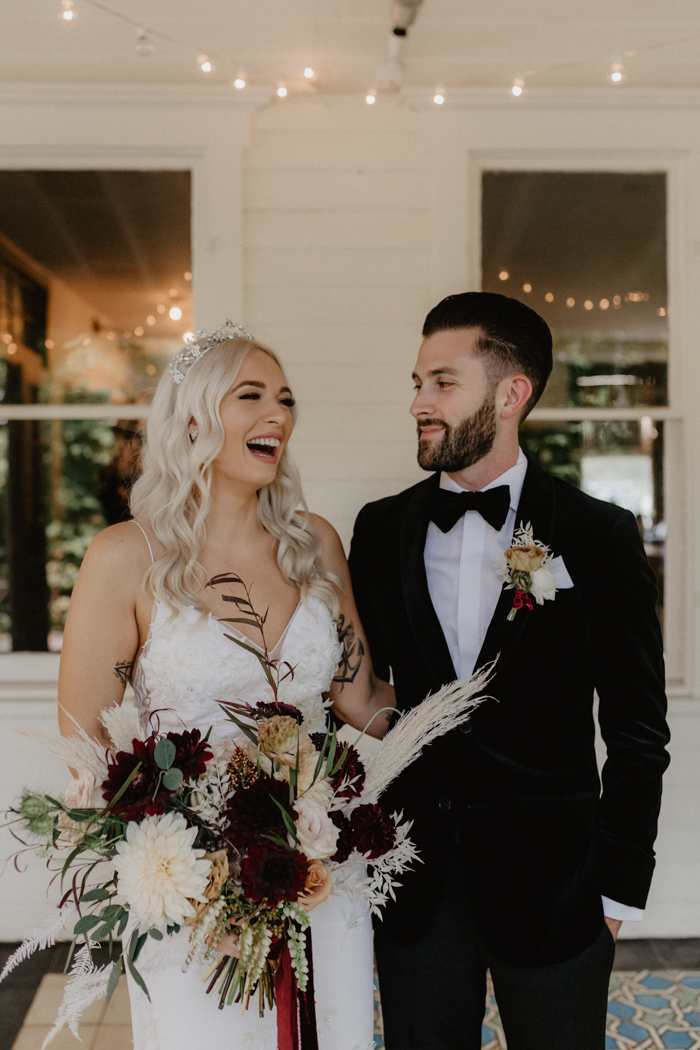 Our photographer is an absolute dream. Outside of the fact that she is completely and obviously so creative and talented, she was absolute go to for any kind of planning advice. If you think about it, your photographer has seen it all when it comes to weddings – they are supposed to everywhere to capture everything so she really had the best advice with everything. She is also a timeline queen which I love. She knew where I had to be for everything and when, it was almost like she was a day-of coordinator. My friends and family adored her because she makes everyone feel good in front of a camera. She was described as a little pixie by one of my friends because she was everywhere but so gracefully, without being disruptive to any special moments. I am also a disaster in front of a camera, but she hid it for me well by giving great direction.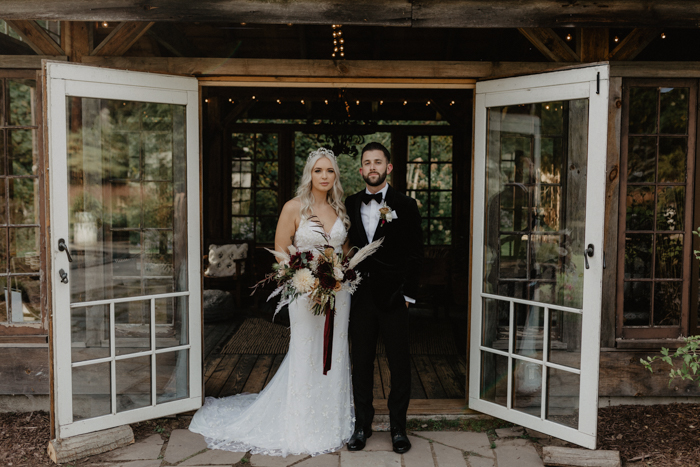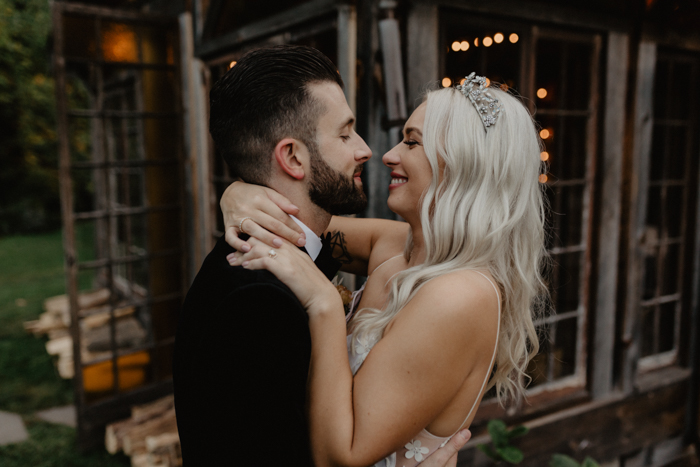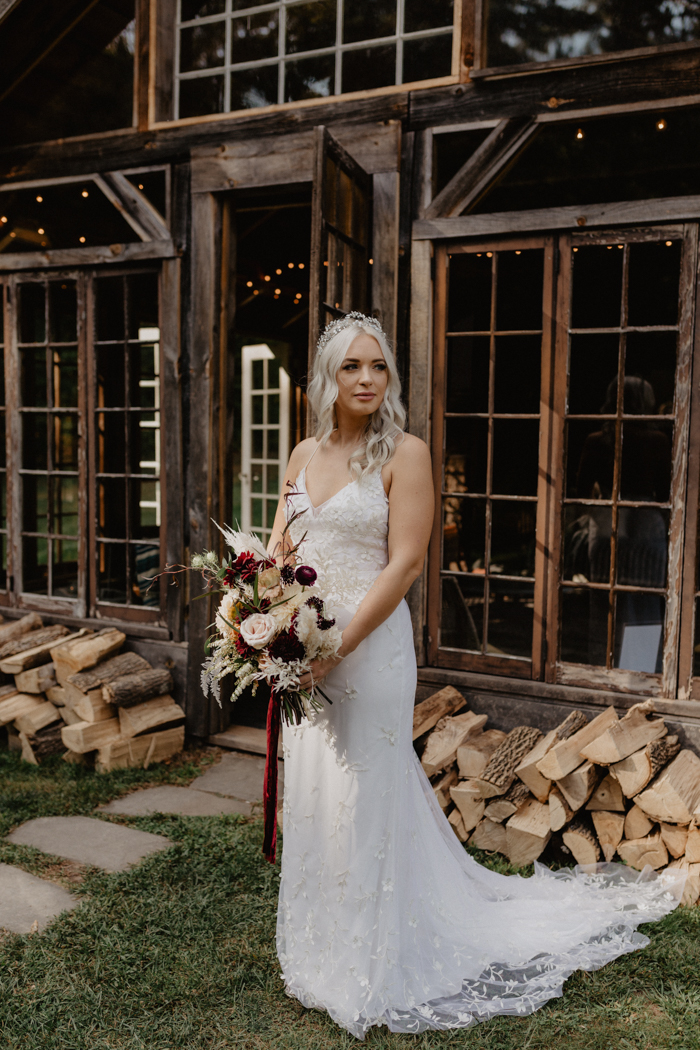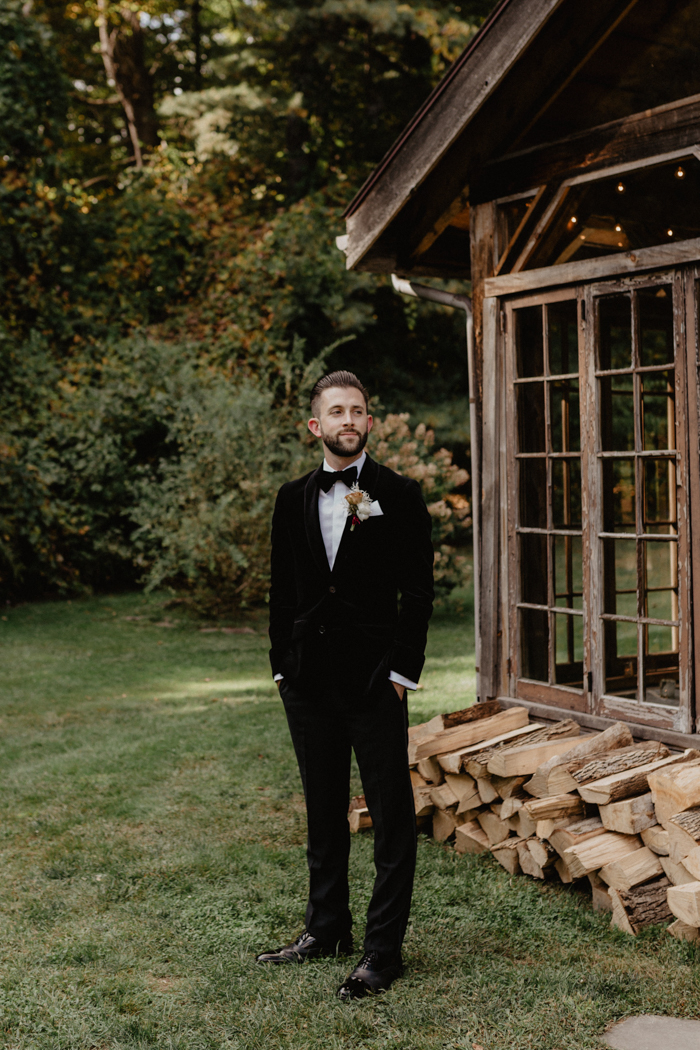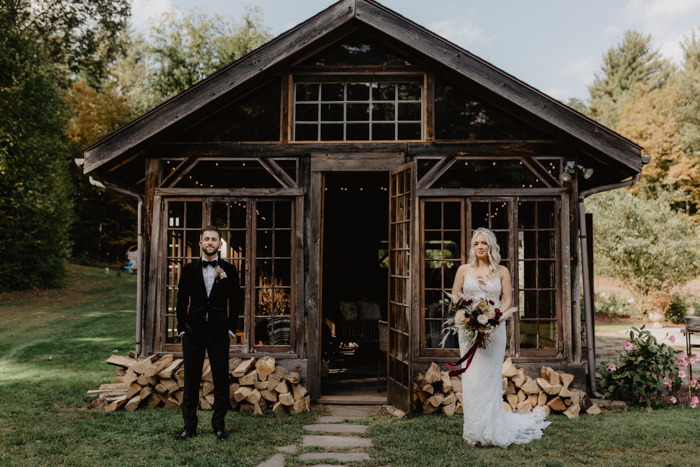 We knew we wanted a unique location to really wow our guests. We both grew up in New Jersey and not to knock the wedding culture there, most of us had grown up going to an over the top gaudy wedding or two filled with moments that were difficult to picture yourself in. This was so not our vibe, and planning a wedding was a little scary, in general, until we stumbled upon blogs like yours to give us all kinds of ideas. Once we were inspired, we knew we needed something that could take place outdoors during the fall time (our favorite!). Where better than update NY? We wanted a place that was romantic and moody, but also had great interior design for our guests to stay the weekend and possibly serve as a backup rain plan. (Thankfully we never needed the rain plan!) Enter Foxfire Mountain House – a gut renovated boho-chic inn in the Catskills. It was the first location we saw and the last.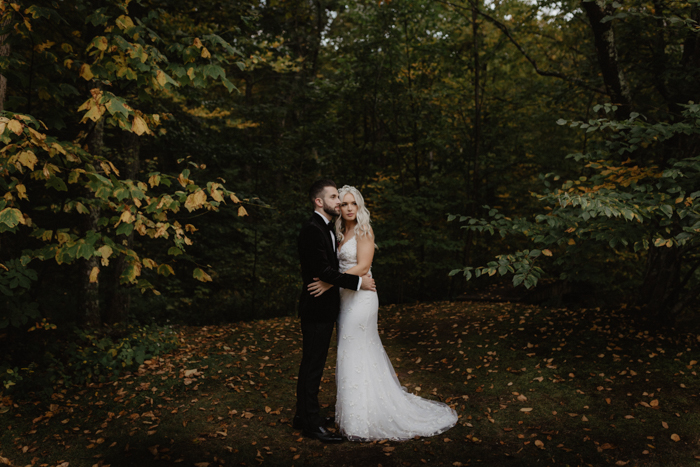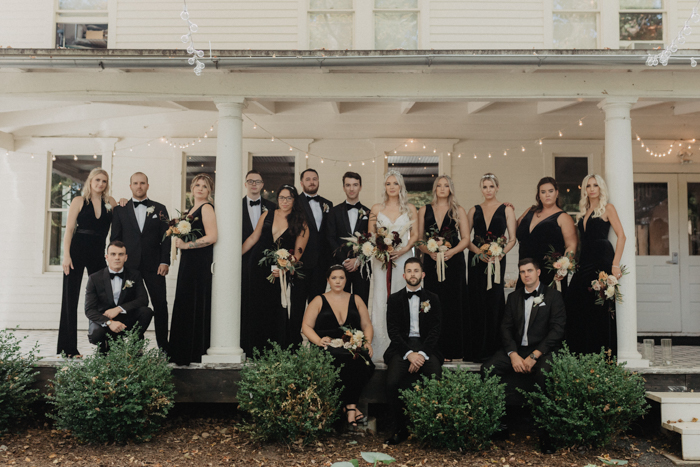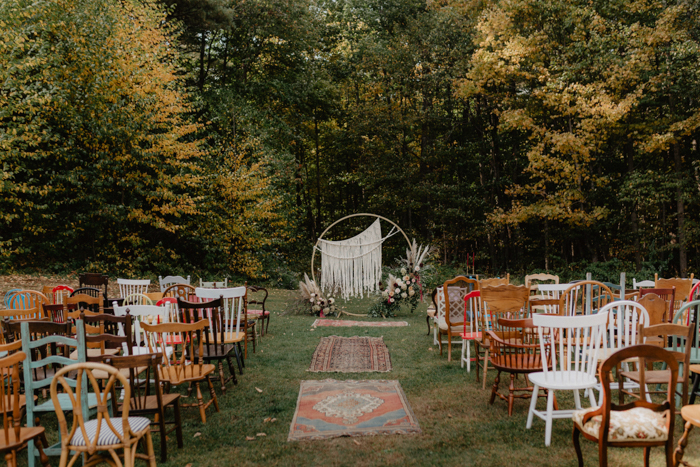 Everything revolved around boho-chic, romantic vibe of Foxfire Mountain House. Once we had it secured, we really worked everything around this with our vendors from our eclectic mix of vintage ceremony chairs, ceremony ring arbor, to the moody floral install over the reception dance floor. I planned everything myself but really leaned on Cassie from Olive & June Floral Co. and Tammy from Hudson Valley Vintage Rentals for some design suggestions. Pinterest was obviously a huge help with explaining my vision to our vendors. No one should ever plan a wedding without it!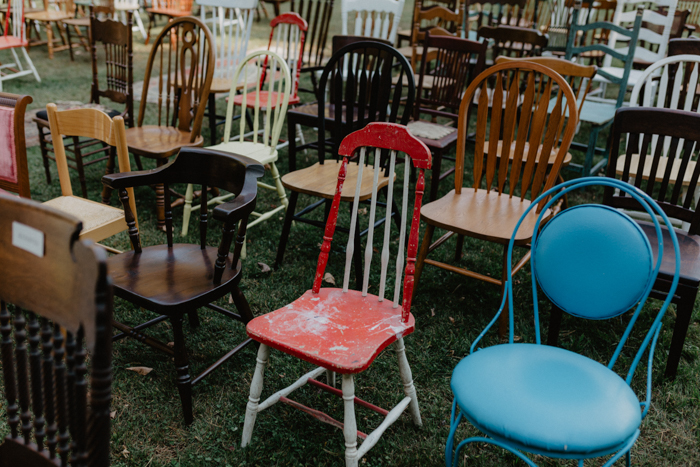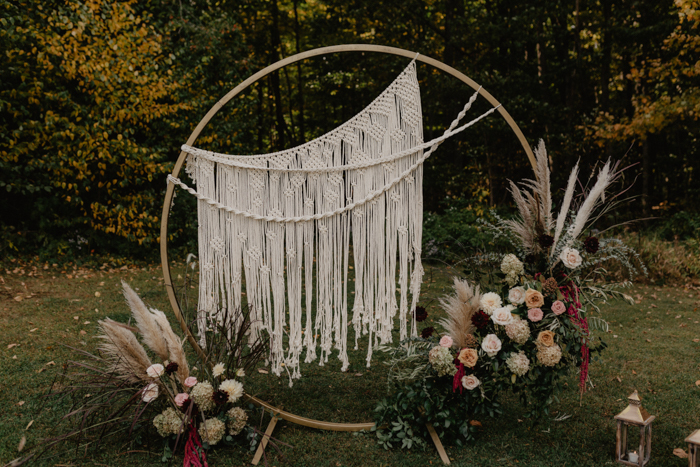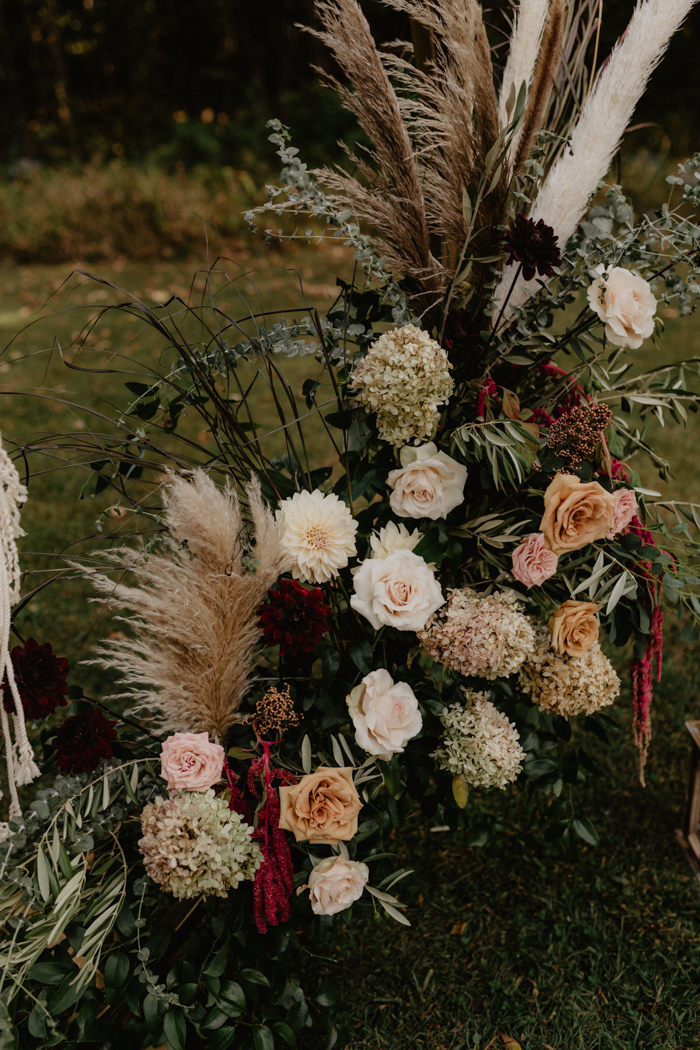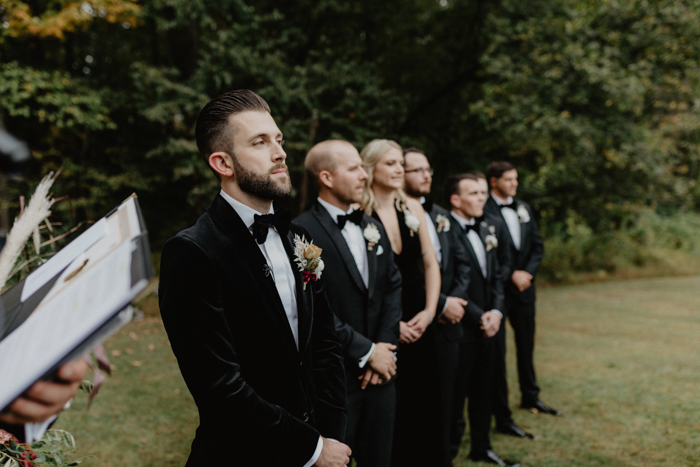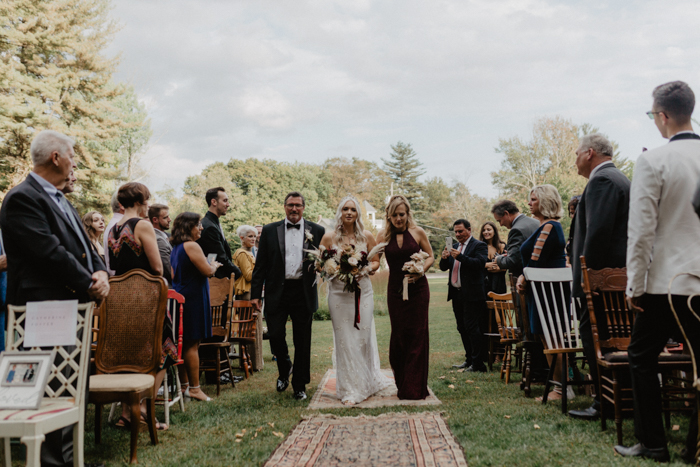 Everything flowed so beautifully together, it was truly like a dream where we were just laughing and crying over everything. If we had to name a few favorite moments: my step-father officiated the wedding, which was extremely emotional – there wasn't a dry eye in the house when he got choked up introducing himself during the ceremony. He literally couldn't speak until I leaned over and said "you've got this" which in turn helped me with my own nerves to say it out loud.
It really is true what everyone says about your wedding day being completely fleeting and so magical and sometimes blurred. The whole day was so dreamy.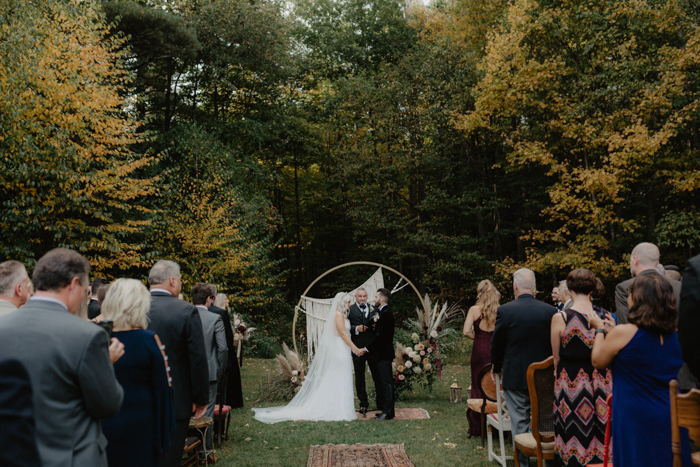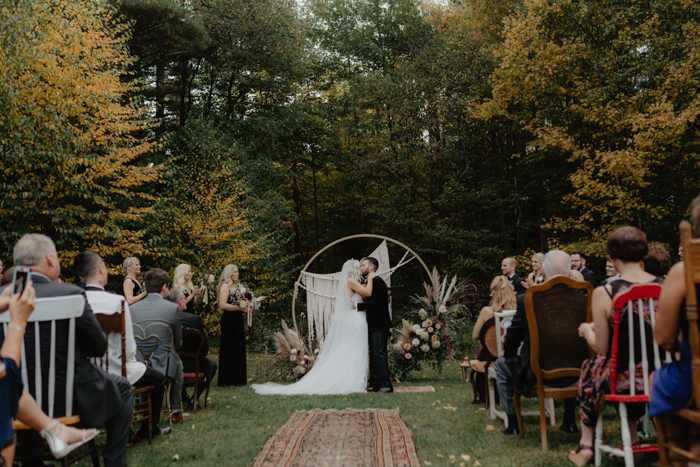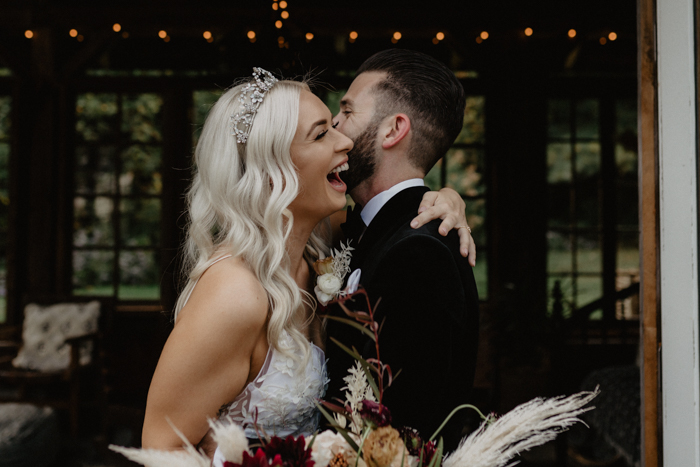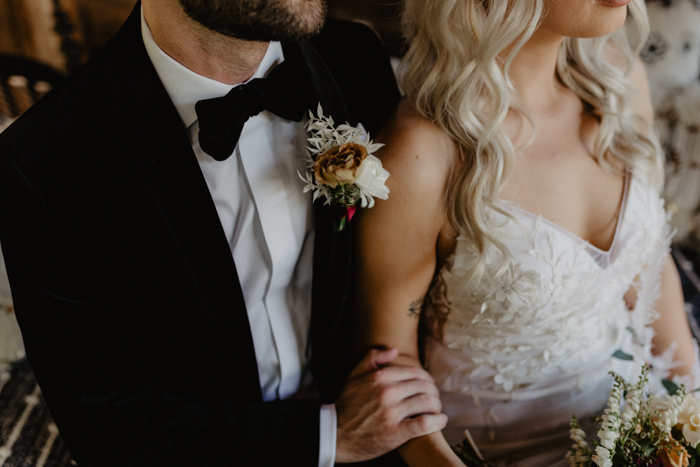 Our friend Tony who is a SUPER talented tattoo artist based out of Albany, NY showed up with his equipment to give us both matching 'Til Death tattoos right after our rehearsal dinner/the night before our wedding day. We had discussed the idea a while back, but he really came through for us – it is such a memorable and priceless part of our weekend that we will have with us forever.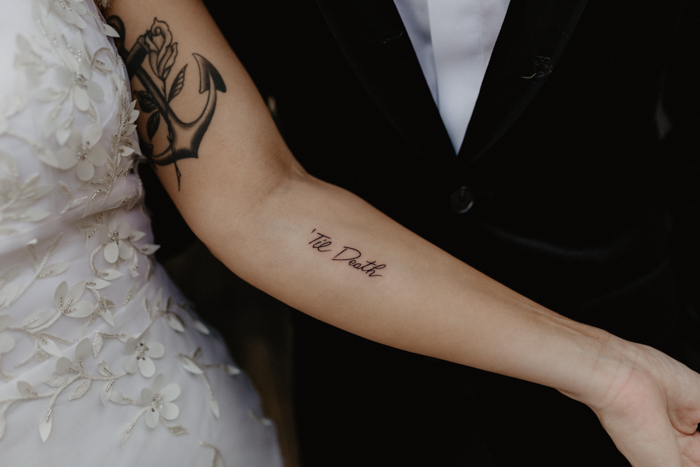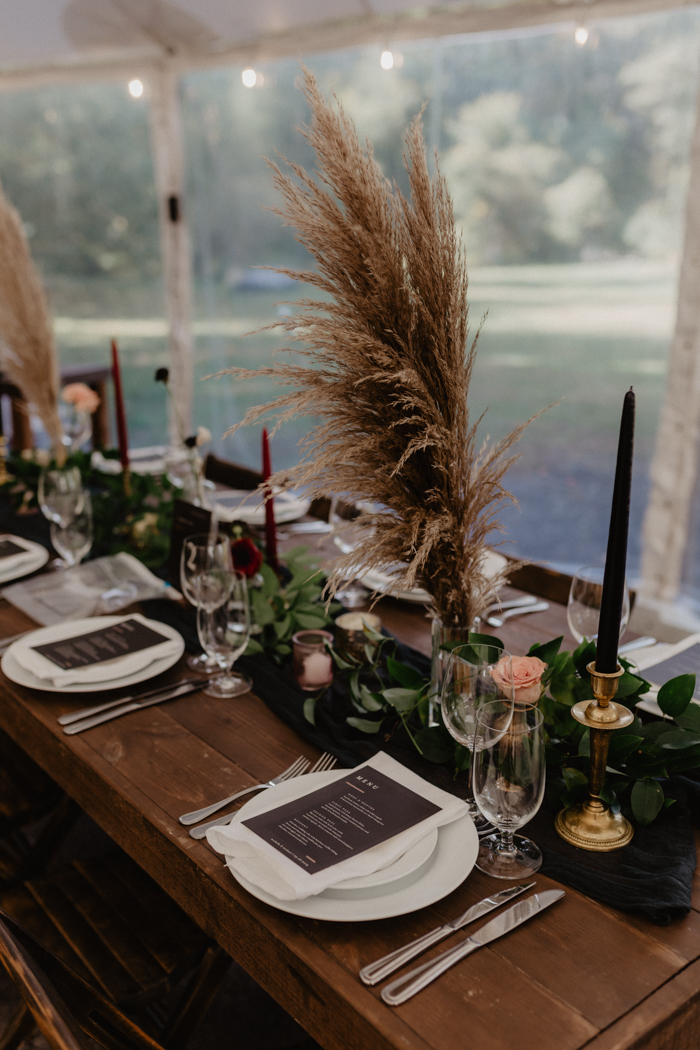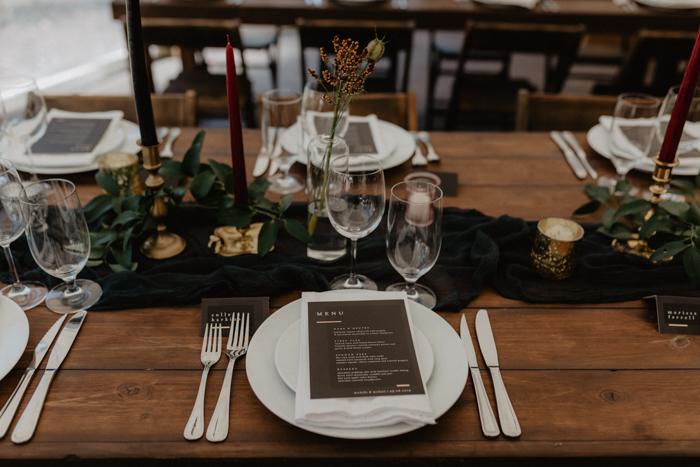 Wedding planning advice from the bride and groom: Stay true to who you are as a couple, even if some of your relatives don't "get it" or you nix some traditions that make you uncomfortable or you find outdated. There are ways to compromise with family on certain traditions. For example, the idea of first dances made us feel nervous, but we are so glad we went through with it because it meant so much to our parents to have that special moment with each of us. It was worth the minor anxiety we suffered thinking about "how do I dance with this person?". The end result was a lot of laughs and funny photos. We did without things like a bouquet and garter toss because it seemed outdated, unimportant to us and frankly a waste of everyone's party time.
Also, if you find a great vendor, don't be afraid to ask them for their perspective, advice or other vendor recommendations. If you have a seasoned vendor, they have seen and done and it all, and they most definitely know better than you. Don't forget it!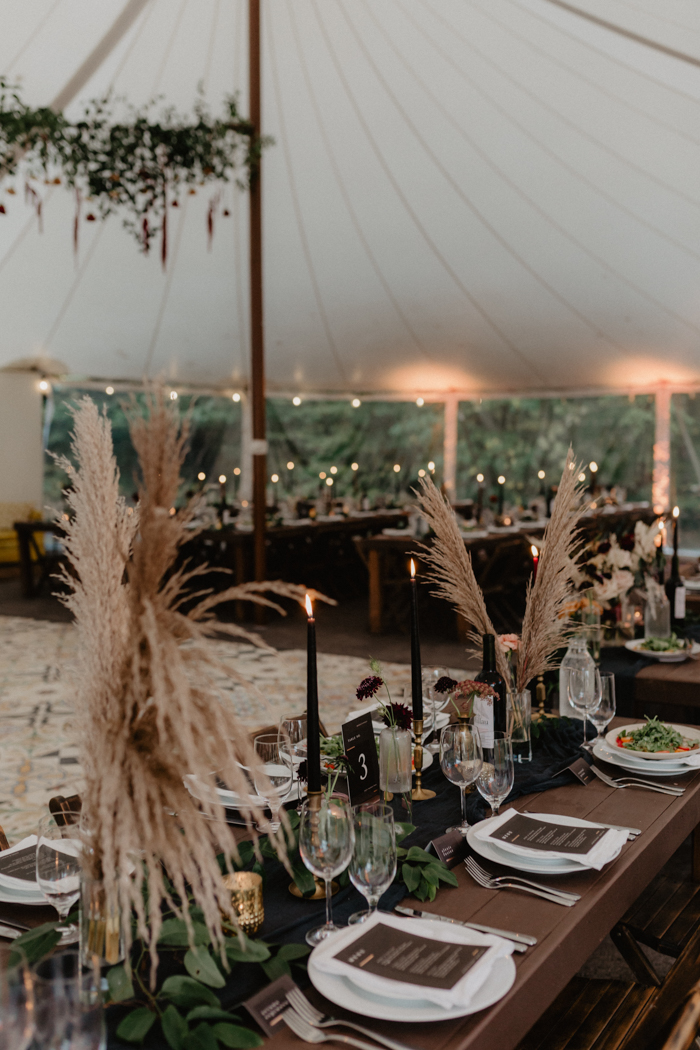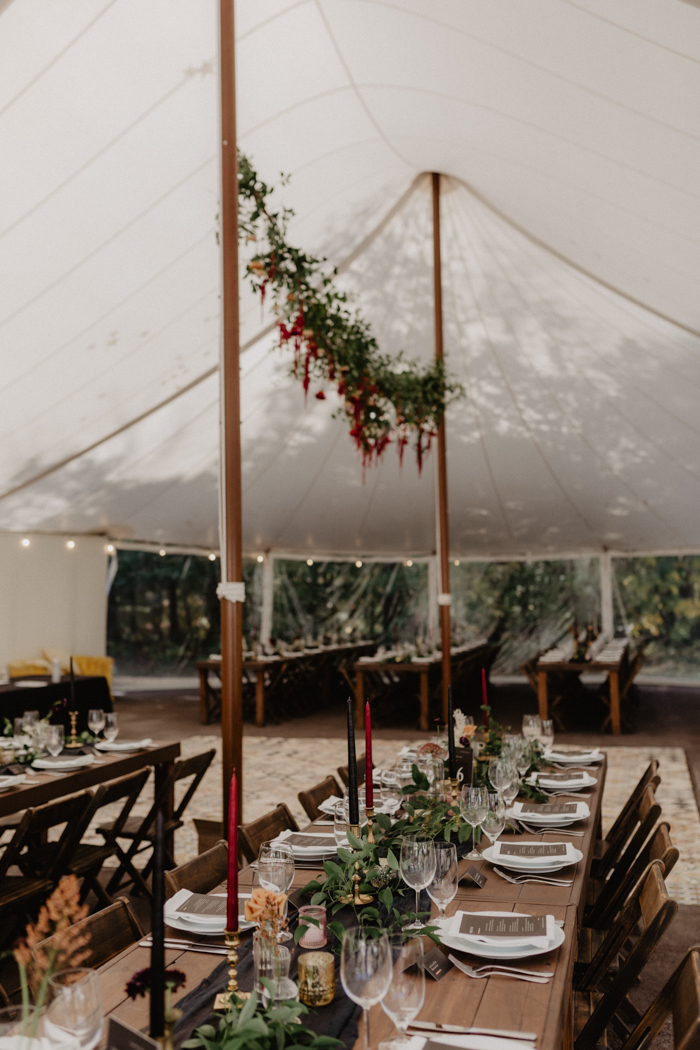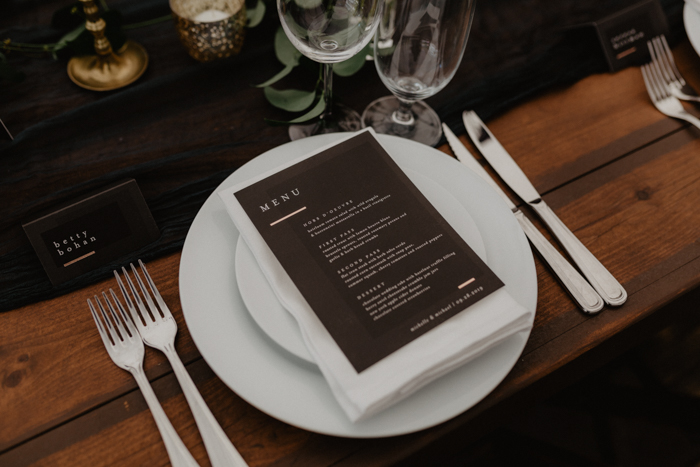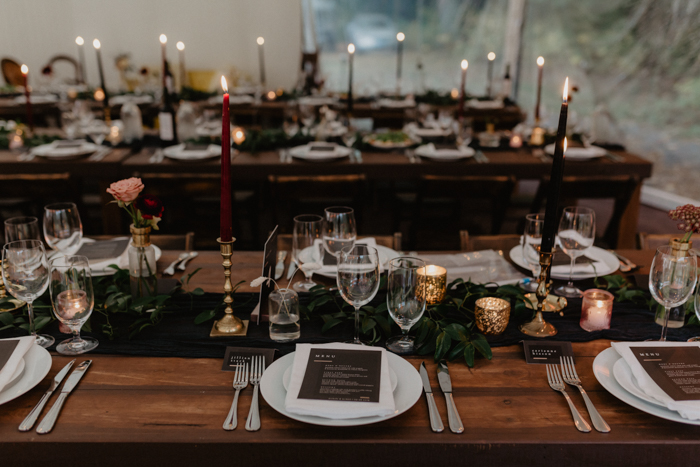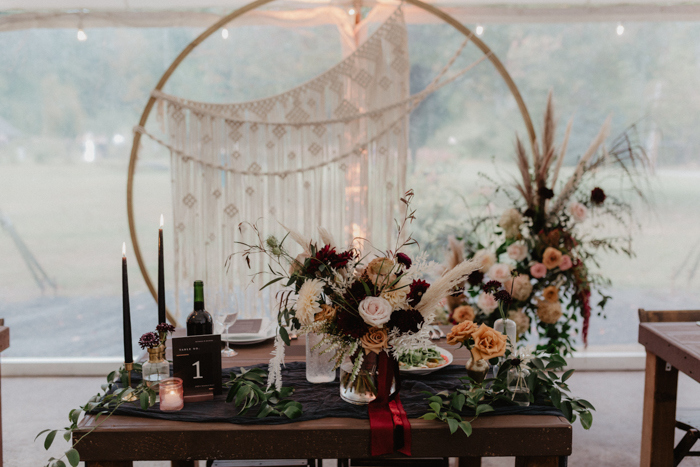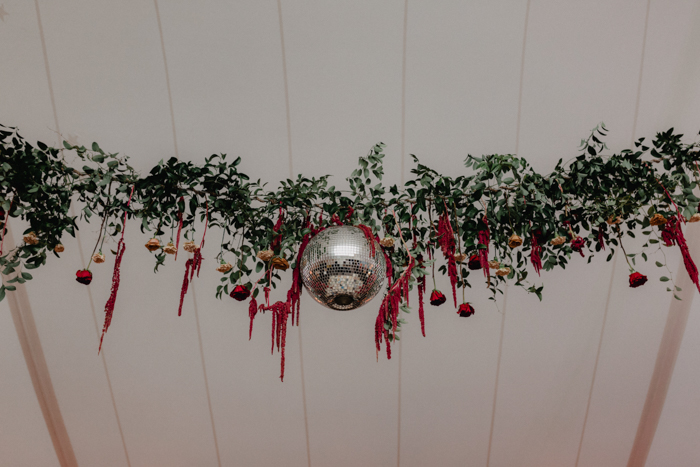 We wanted to make sure it was a weekend to remember not only for Mike & I, but for our guests as well. The most important thing was that we were true to ourselves as a couple, but also wanted to offer a kick-ass experience for our guests. That meant having something for everyone whether you are a foodie (our Foxfire Mountain House chef curated the most amazing menu), a dancing queen (our DJ brought the energy/party flow), or an interior design dreamer (Foxfire BRINGS IT). We wanted a fabulous party that reflected our love story.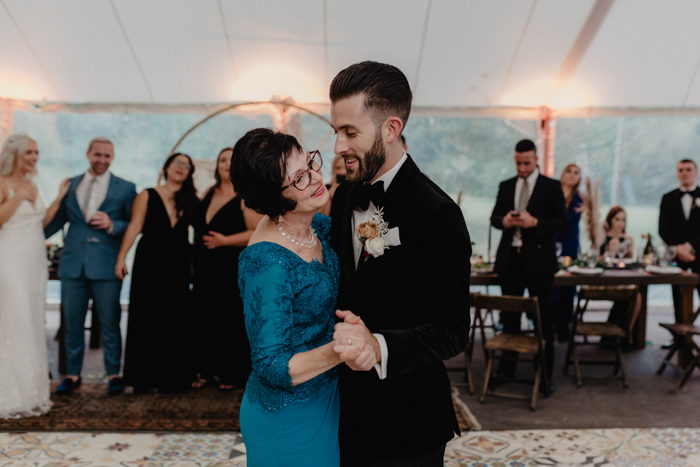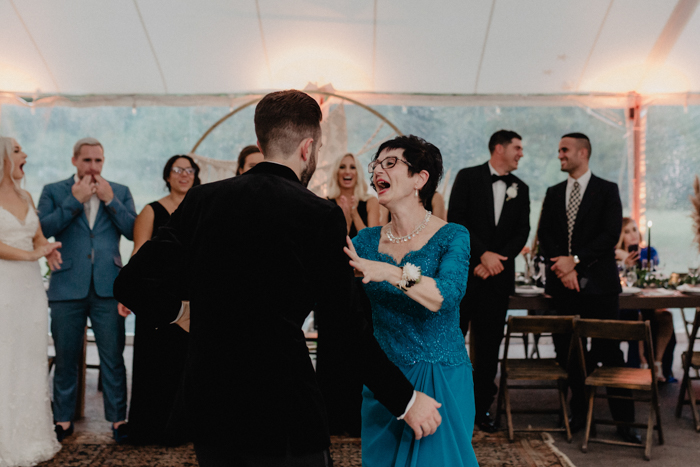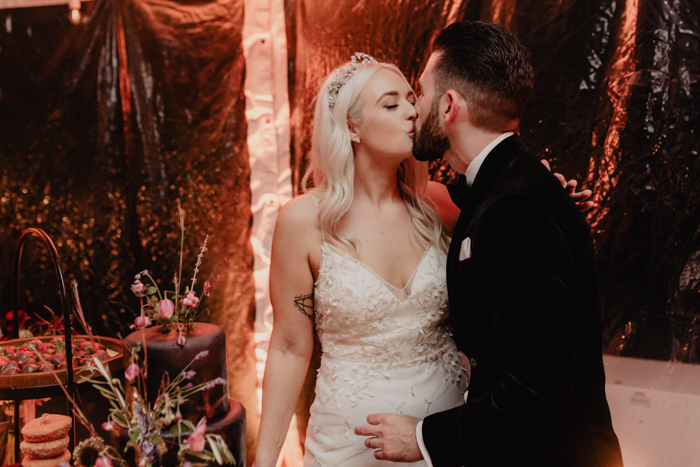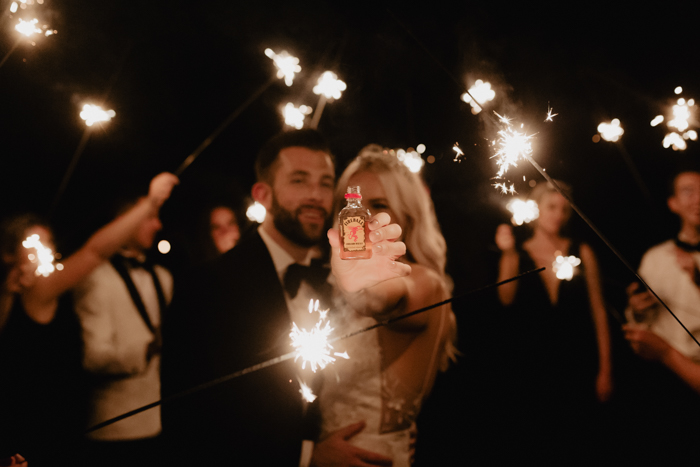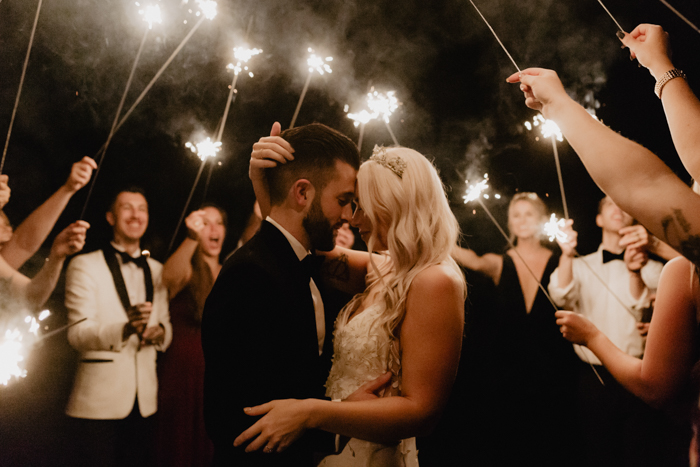 Congratulations, Michelle and Michael, and many thanks to Nicole Nero Studio for sharing their day at Foxfire Mountain House with Junebug! Searching for more epic wedding inspo? These posts might help!
This Edgy Elegant Portland Wedding at Bingham Estate was a Champagne-Fueled Party to Remember
These 60 Mother-Son Dance Songs Won't Leave a Dry Eye in the House