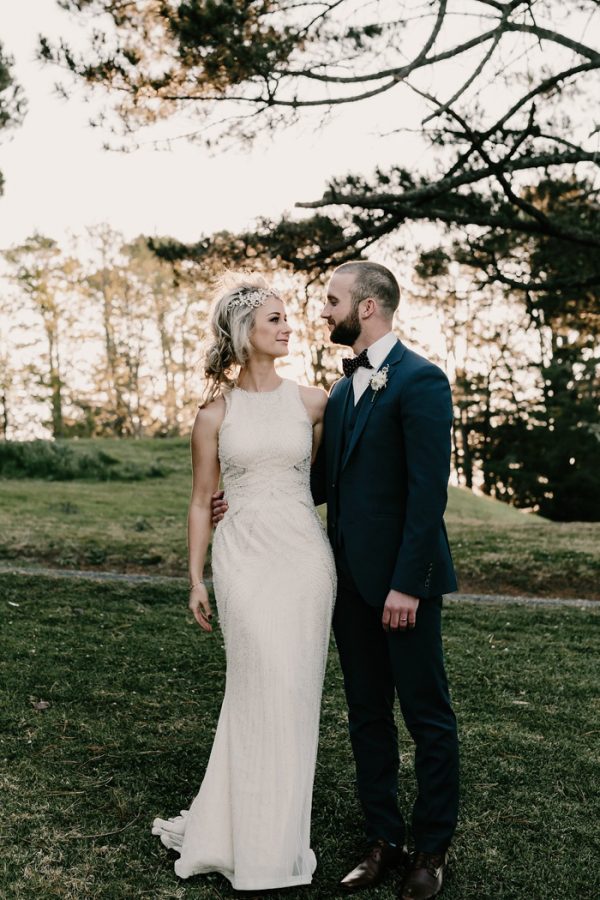 If there's one thing we love more than weddings, it's saving the earth – and this couple's big day combines both! Sophie and Matt always suspected a large wedding was in the books for them, but they also wanted to be environmentally conscious about the materials they used. The couple thoughtfully incorporated locally sourced décor materials and opted to compost and repurpose as many items as they could once the wedding was over. Zoe Morley Photography captured every stunning detail moment of this eco-friendly wedding, including the elegant hanging chandelier planters that Sophie collaborated on with her florist!
The Couple:
Sophie and Matt
The Wedding:
St. Gregory's Church & Chapel Hill Retreat, New South Wales, Australia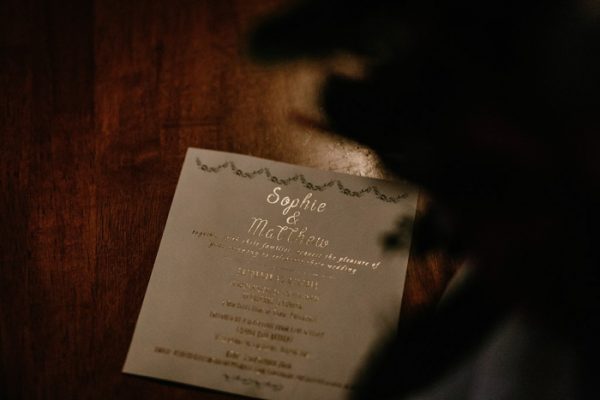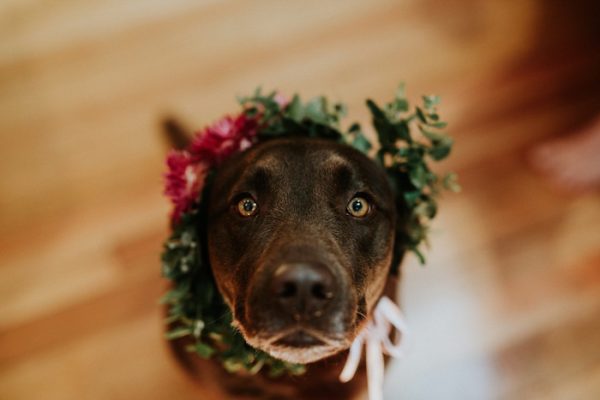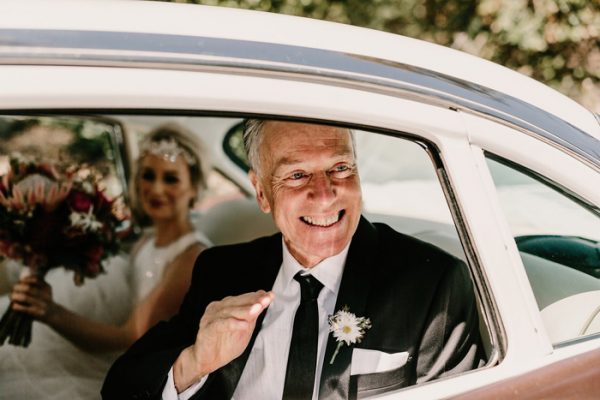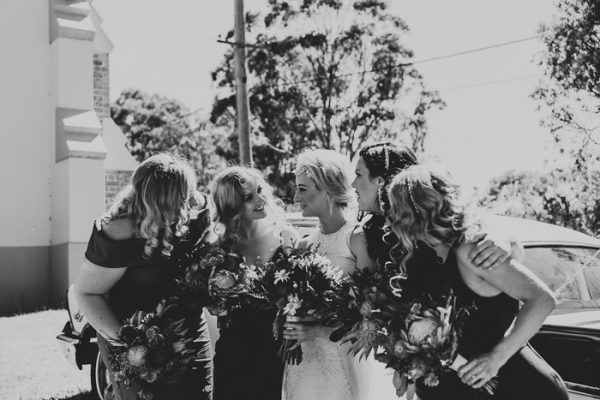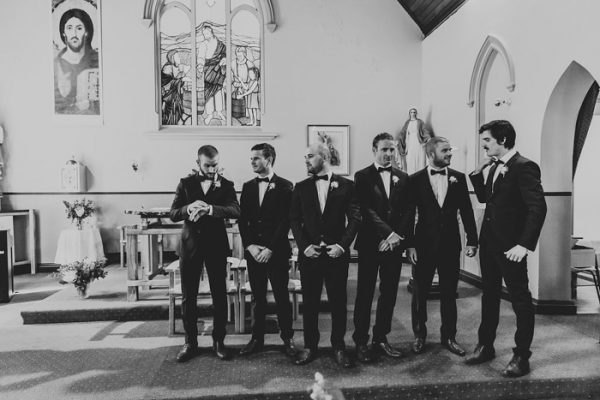 My brother (the Bridesman), played the organ as I walked down the aisle which was very special. He also played while one of my Bridesmaids sung 'Make You Feel My Love', while we signed the register.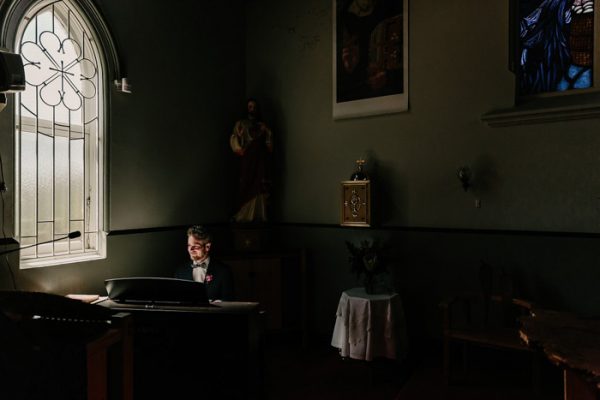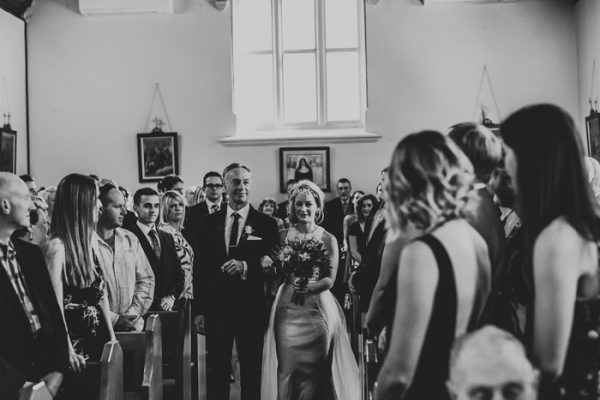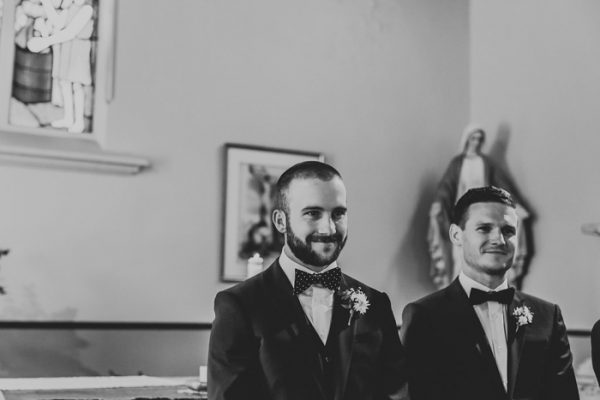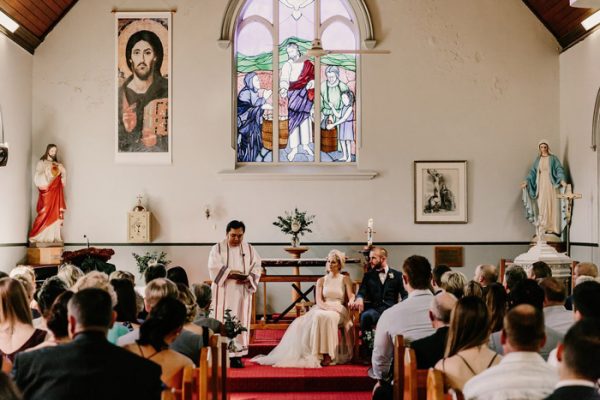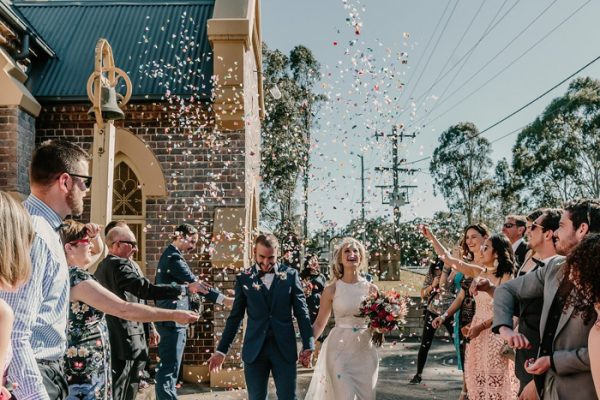 Our 'Ecofetti' was so much fun! We had no idea it was going to have such an impact on us and our guests. Definitely one of the most excitable parts of the day!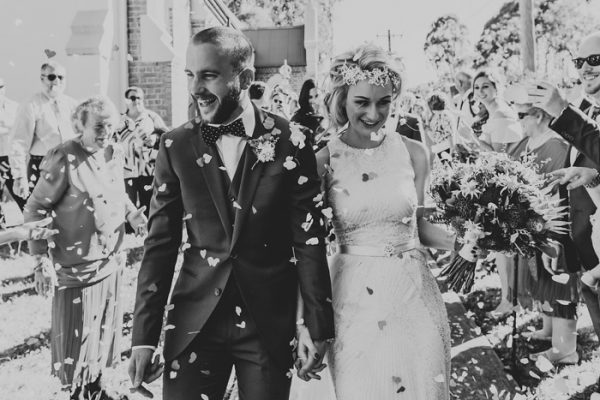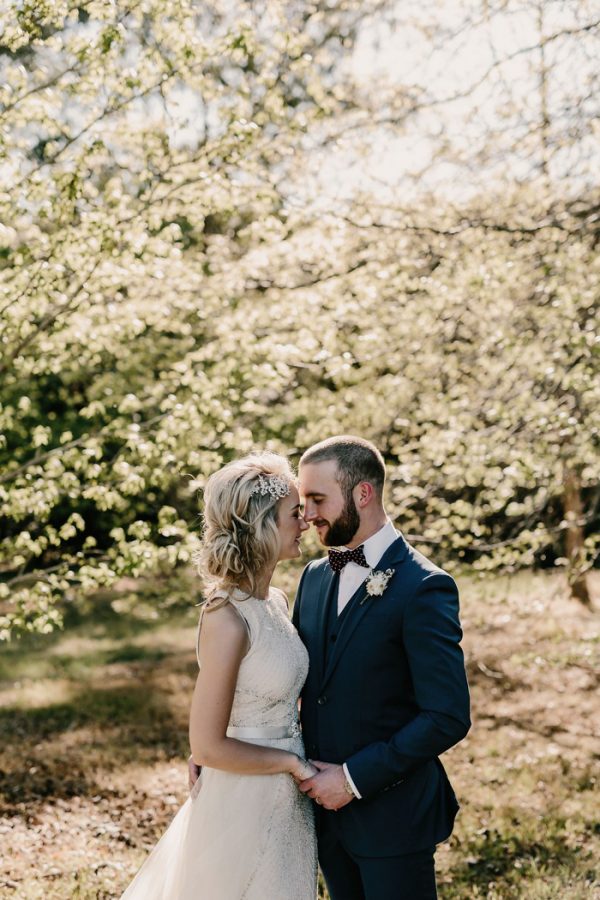 I bought my dress about 10 months before the wedding – it was one of the first things I did for the wedding. The dress was very me – a vintage feel with lots of embellishment, but also quite understated at the same time. I hadn't seen many dresses like it and all I knew was that I wanted to wear something unique! It didn't have much of a train so I decided to buy the overskirt to wear to the ceremony, and I felt like a traditional bride and then enjoyed my sassy wedding dress post ceremony. It was perfect!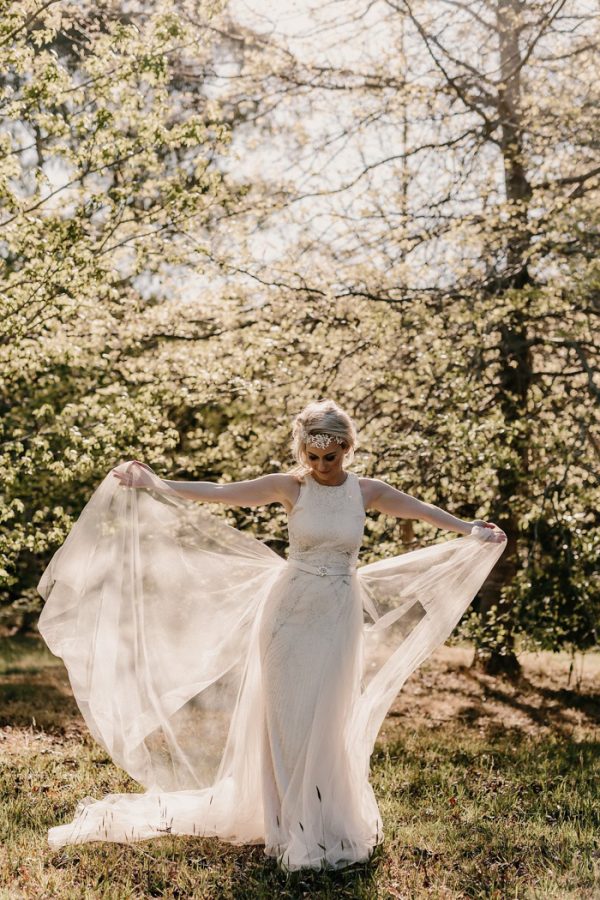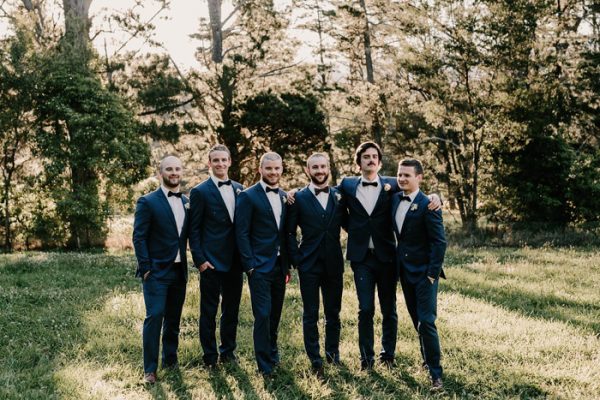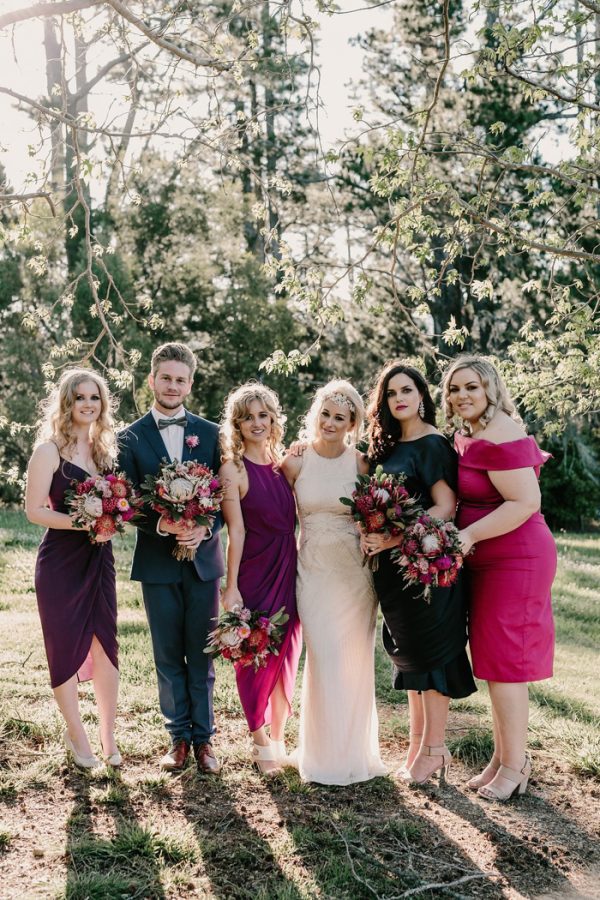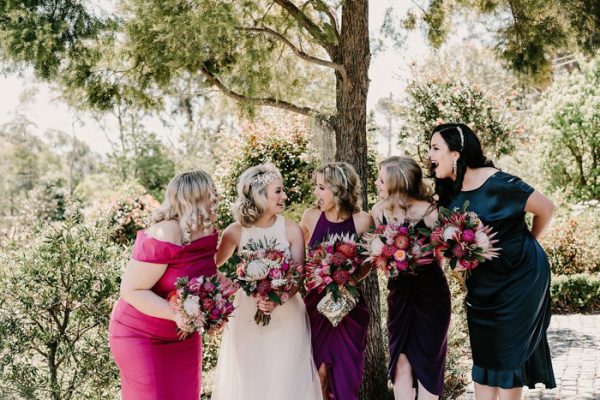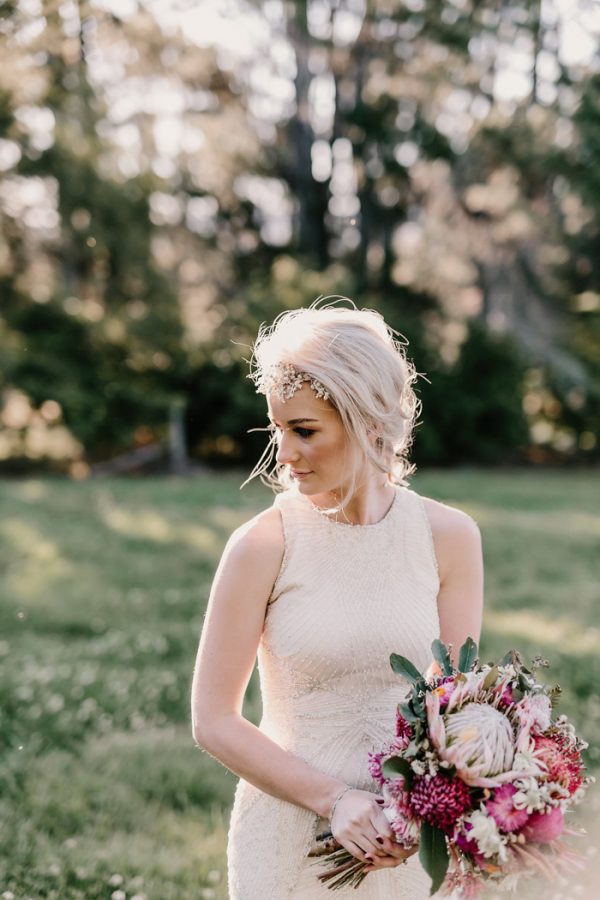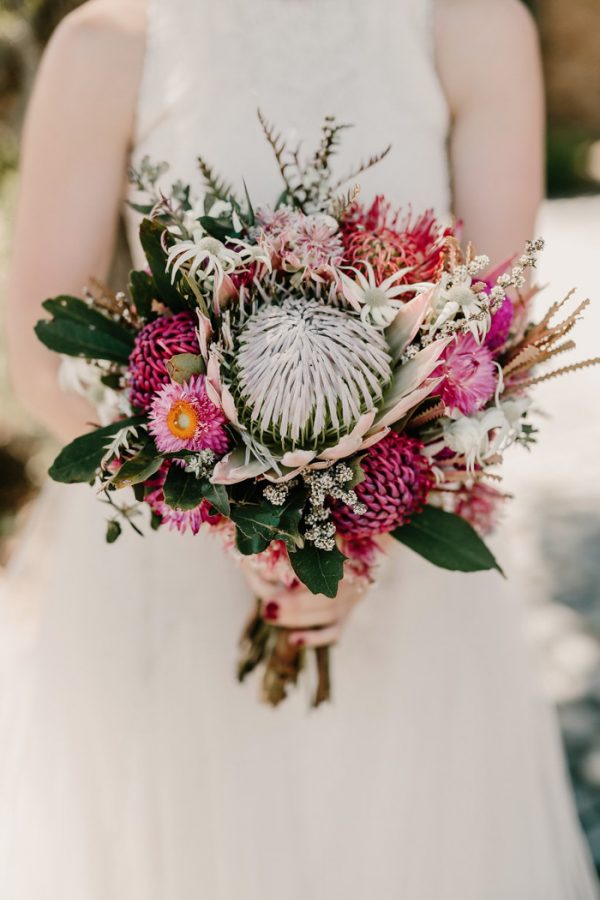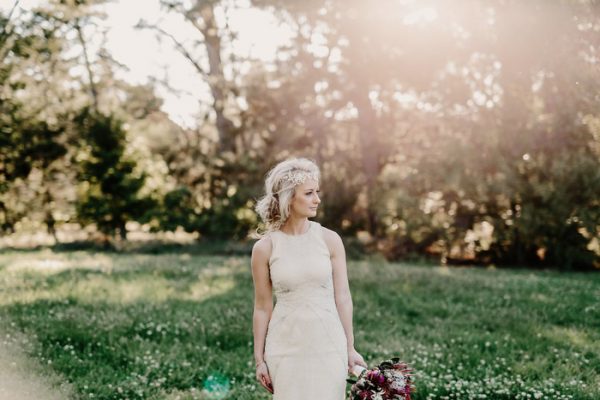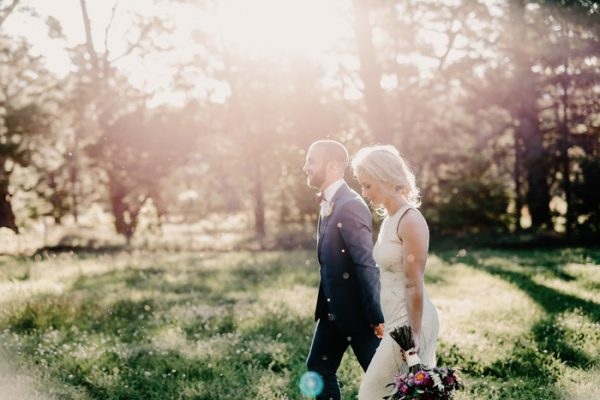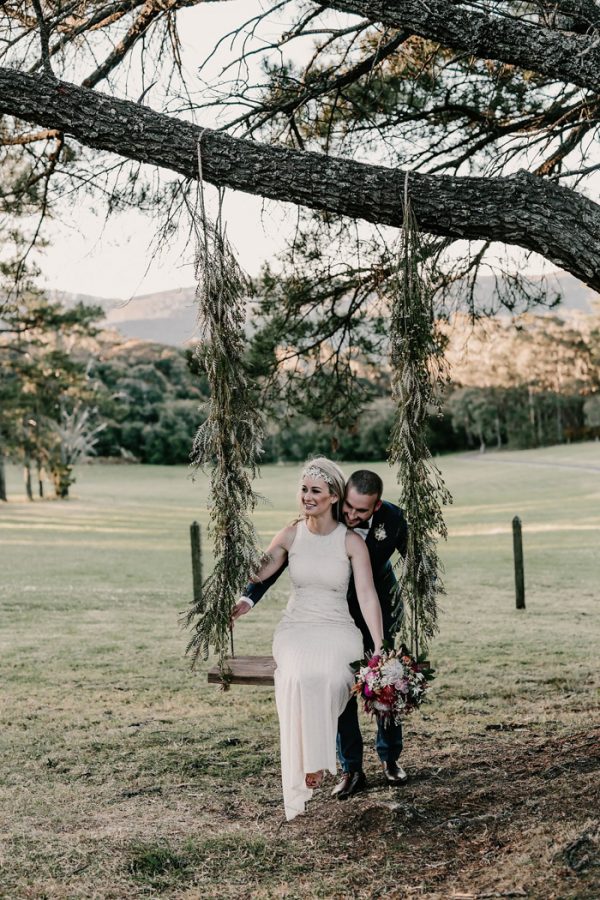 I had been recommended Zoe Morley Photography and looked her up straight away. I had never seen photos like Zoe's – there's many fantastic photographers out there and I looked at a lot of them, however no photos spoke to me like hers did! They have a certain feeling to them; with each photo its like you're there in the moment. She has an incredible ability to capture each moment naturally and a lot of the time we didn't even know she was there with us! We couldn't be happier with our photos.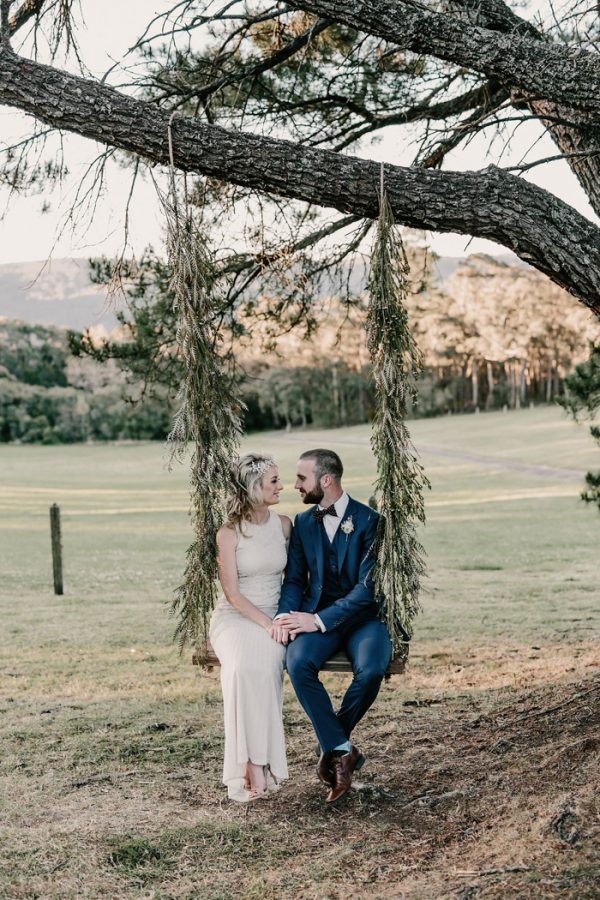 From the groom: The venue was close to home, and had the 'Australian bush' feel (Soph grew up in the Blue Mountains, and I grew up in the country), so it was very 'us'. It also had accommodation on site for my interstate family. It was the first of only a few we looked at and it ticked all our boxes.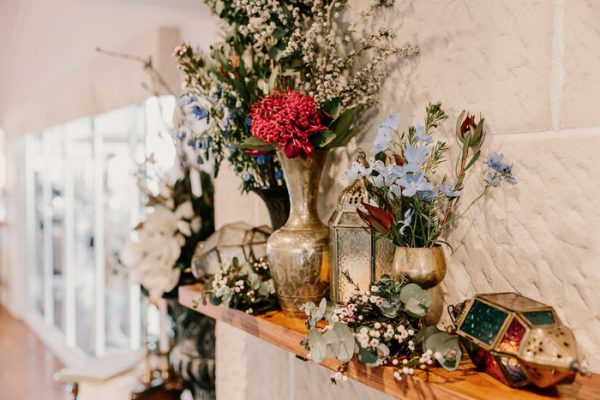 Growing up in the lower Blue Mountains, we had a big backyard, full of Australian natives. My dad used to pick a selection for my Mum and she'd always have them on our dining table. Native flowers have always reminded me of their love for one another and I always knew they would make an appearance on our big day. I also love the way they look. But I wanted to do something I had never seen before. So I experimented by teaming them with a Moroccan bohemian feel, through the lanterns, candlesticks, vases, and glassware. I loved the patterns on these, which I hired from Penny Lane Studio. I knew it could be risky if these two elements clashed, but I think they worked well together! I then chose a colour palette of burgundy, blue, and gold.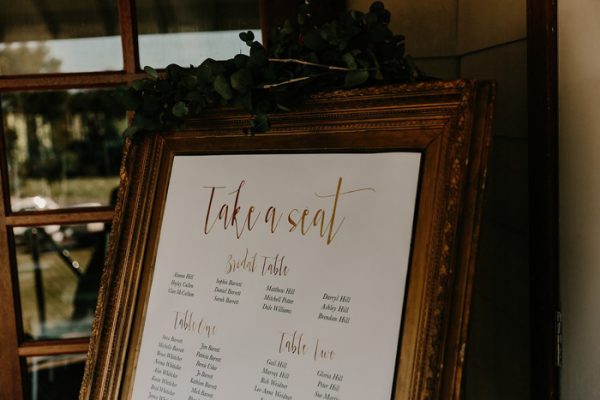 One of the most unique aspects of our wedding was that almost everything was hired locally or made by creative friends and family. It was virtually waste-free! A few examples are as follows: The florist is a friend of mine. Matt and I bought structures to hang from the ceiling from Bunnings to give to her. We had seen photos of hanging floral installations and wondered if they would work. They were actually just hanging planters (baskets) that the florist filled with foliage. Matt and the groomsmen then measured some chain and hung them up on hooks around the chandelier! Now that the wedding is over we will use them again for plants in our backyard!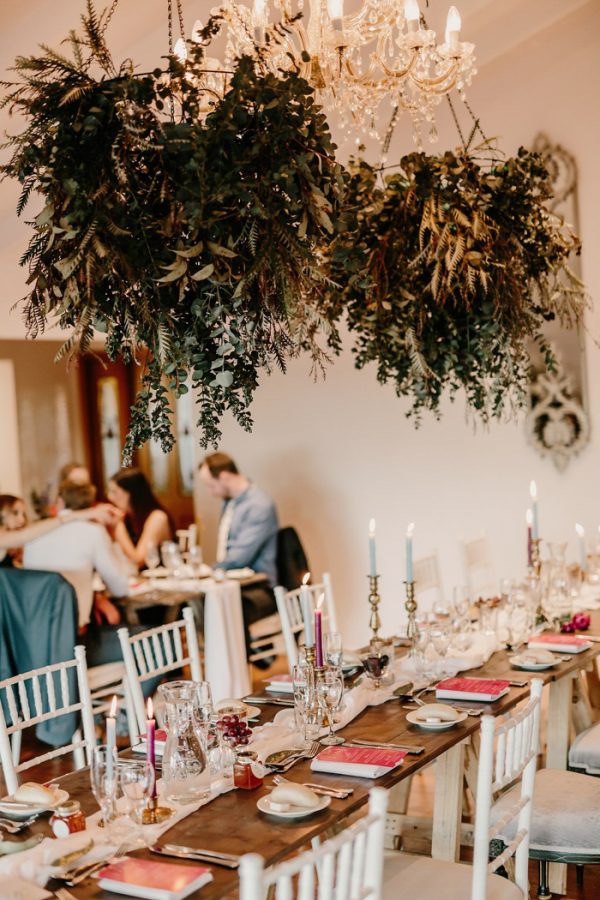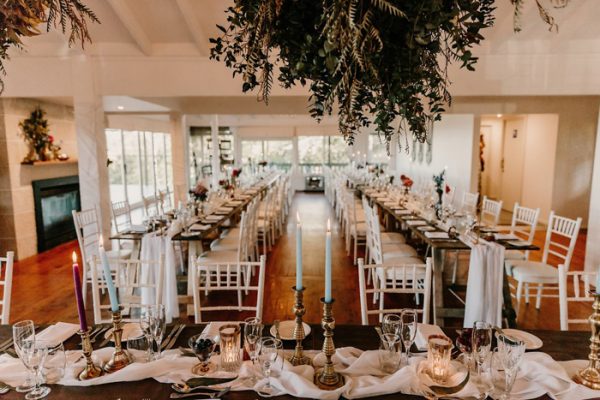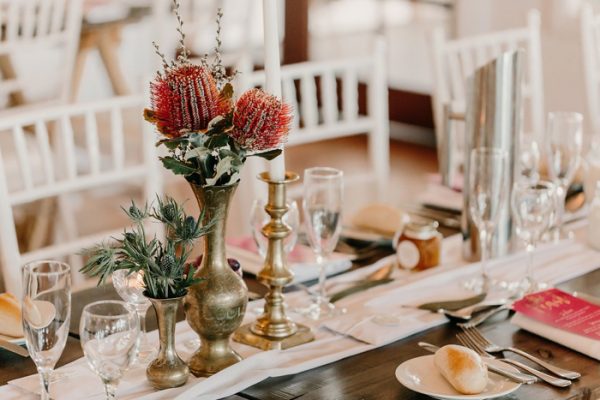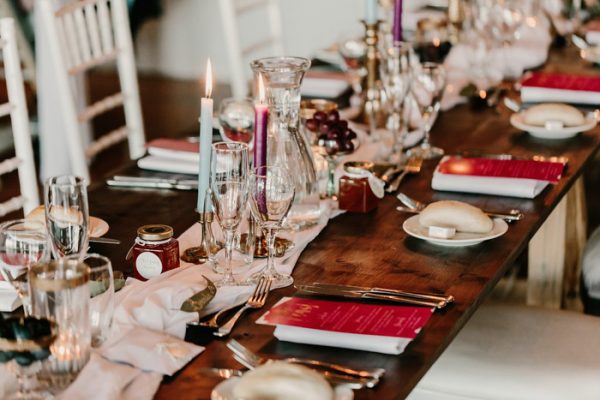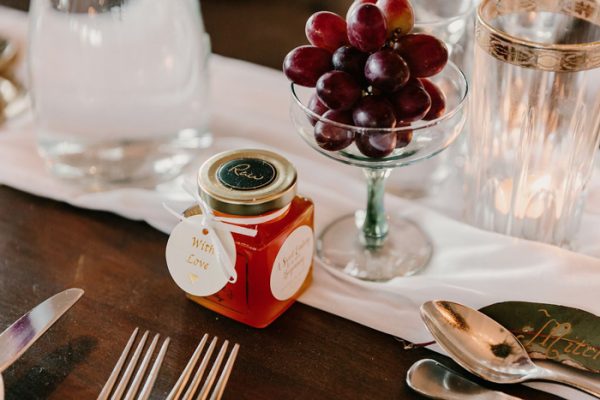 Gum leaves were hand selected from my Aunty's backyard for the place cards – she is my godmother and I grew up across the road from her in the Blue Mountains, so it was so lovely to involve her in the process. Her calligraphy skills on each setting was a beautiful touch for each of the 140 guests. Of course these were composted after, to reduce waste!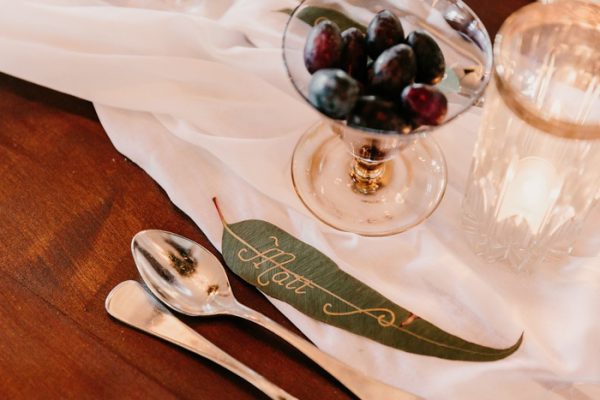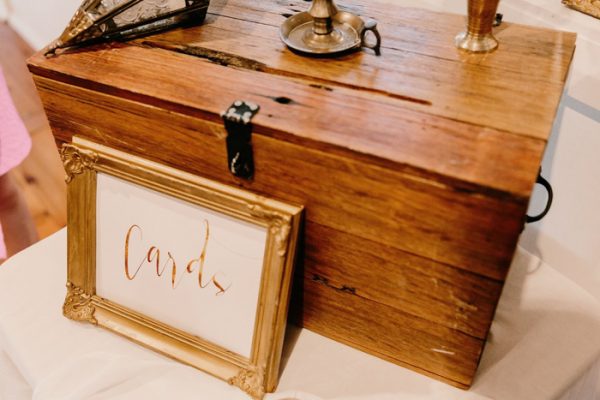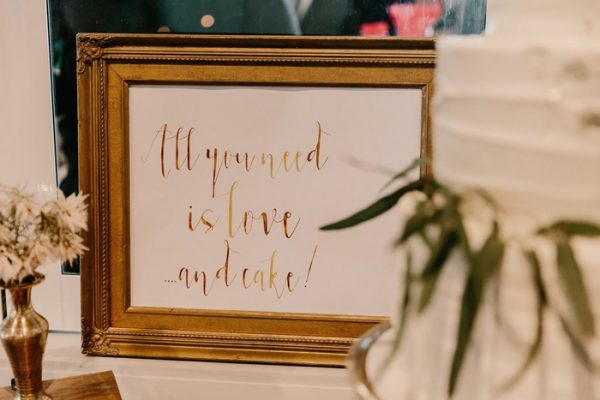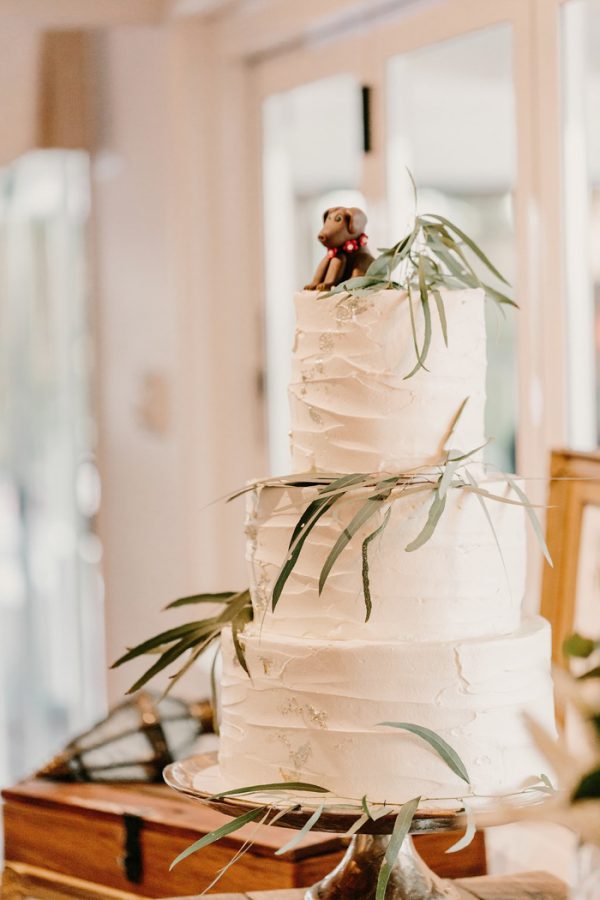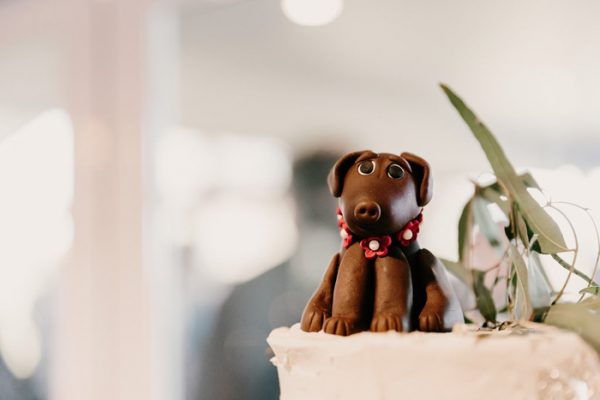 Congratulations to Sophie and Matt, and a huge thanks to Junebug member Zoe Morley Photography for sharing their wedding with us. Want more Australian wedding inspiration? Then you've got to see this multicultural Pemberton wedding in the Australian bush!