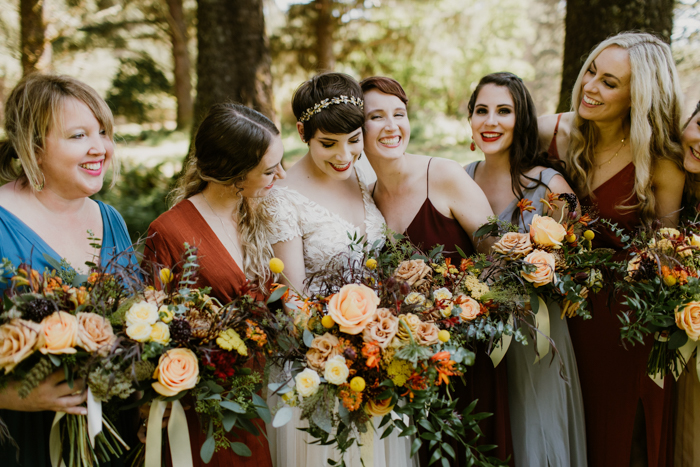 Katy and Mikael could not have picked a more perfect location for their eclectic PNW wedding than Crook Point in Oregon! Katy, a Portland wedding photographer herself, has plenty of experience with helping brides craft a vision for their big day and handpicked each vendor to make her own dream come to life. The couple wanted the entire day to have a feeling of hygge—and we think they totally nailed it. Your Perfect Bridesmaid helped them create the perfect mix of pre-ceremony cocktails, eats served family style, and lots of cozy details. The picturesque PNW vibes of the venue laid the framework for a stunning display of colorful florals by Woodland Floral, and just wait until you see the overall reception vibe! Katy and Mikael also added lots of style and DIY touches to make their day one-of-a-kind. We love how they personalized their invitation design and created the coolest triangle-inspired reception photo backdrop. If you love all things colorful, unique, and quirky, you're going to obsess over every photo Catalina Jean Photography captured of Katy and Mikael's incredible day at Crook Point!
The Couple:
Katy & Mikael
The Wedding:
Crook Point, Brookings, Oregon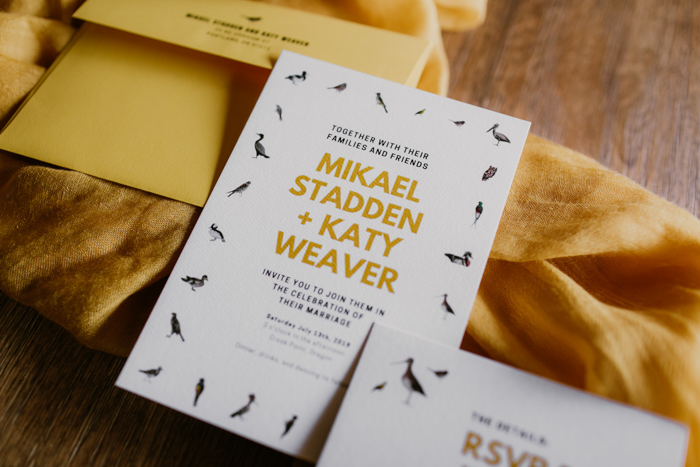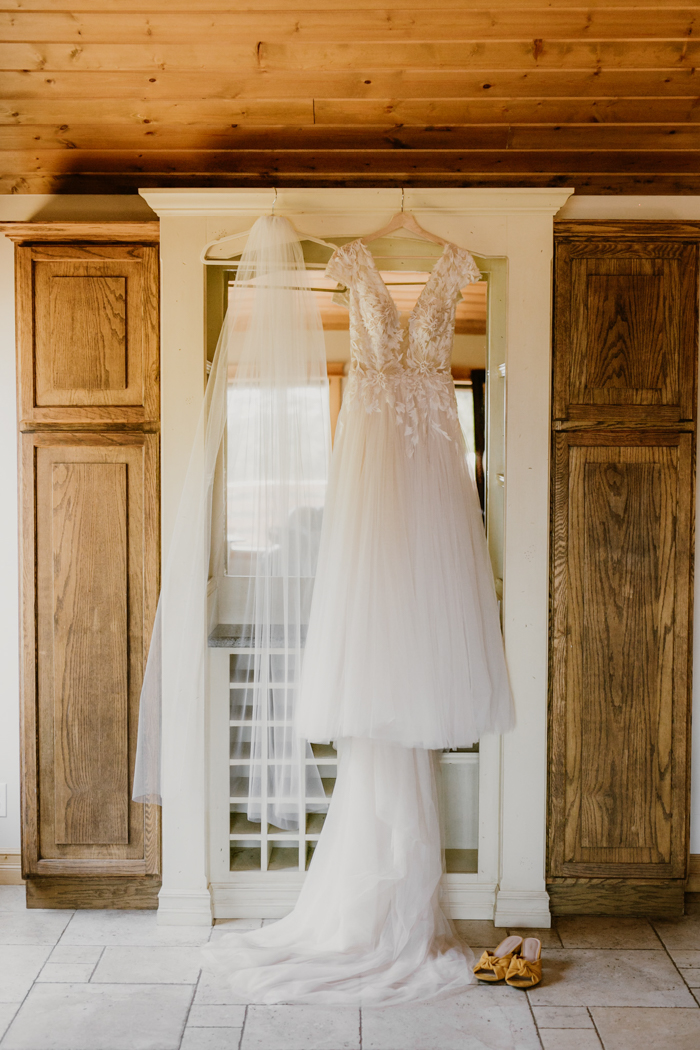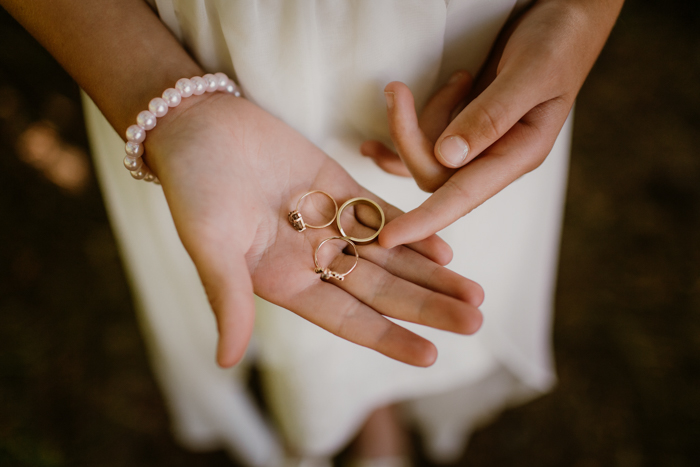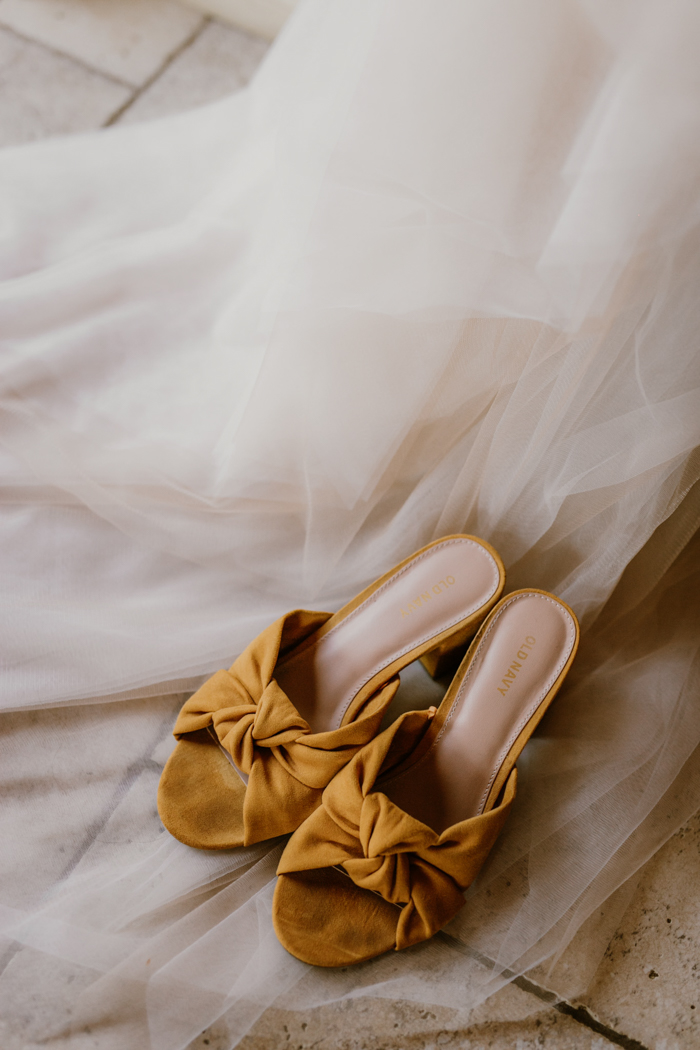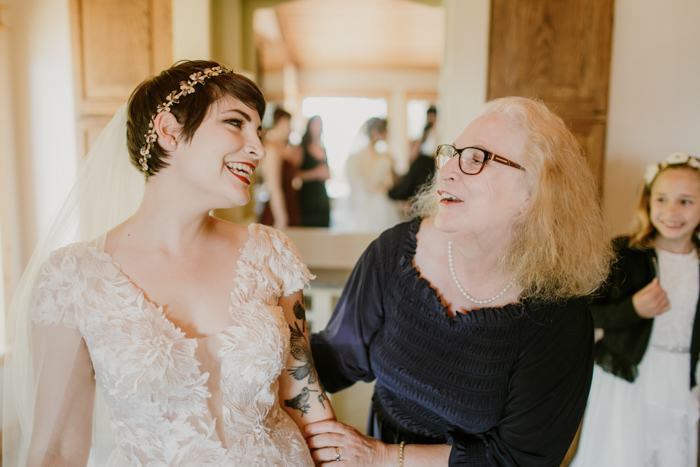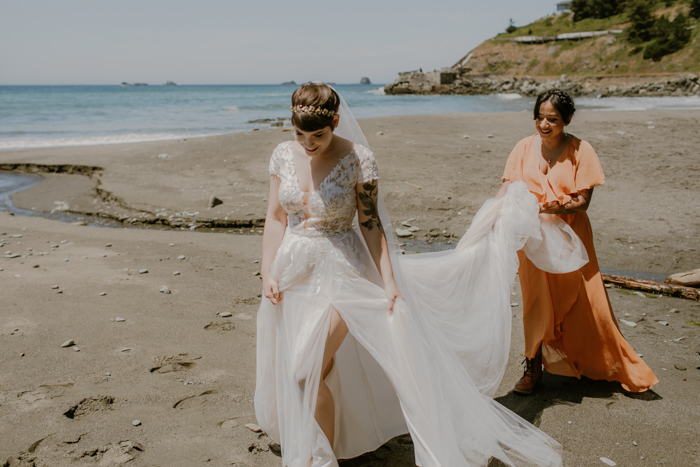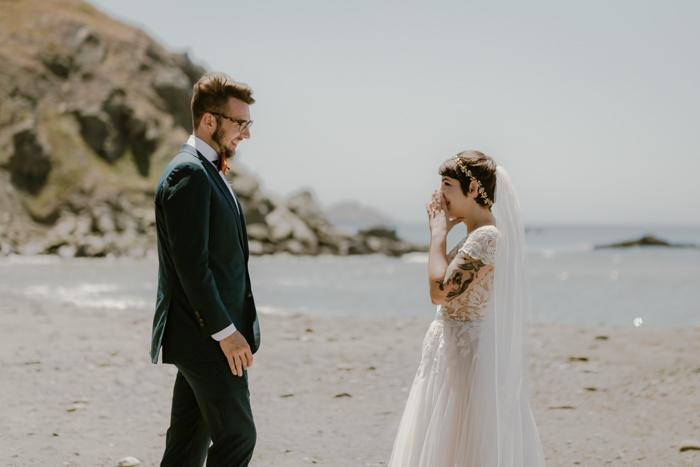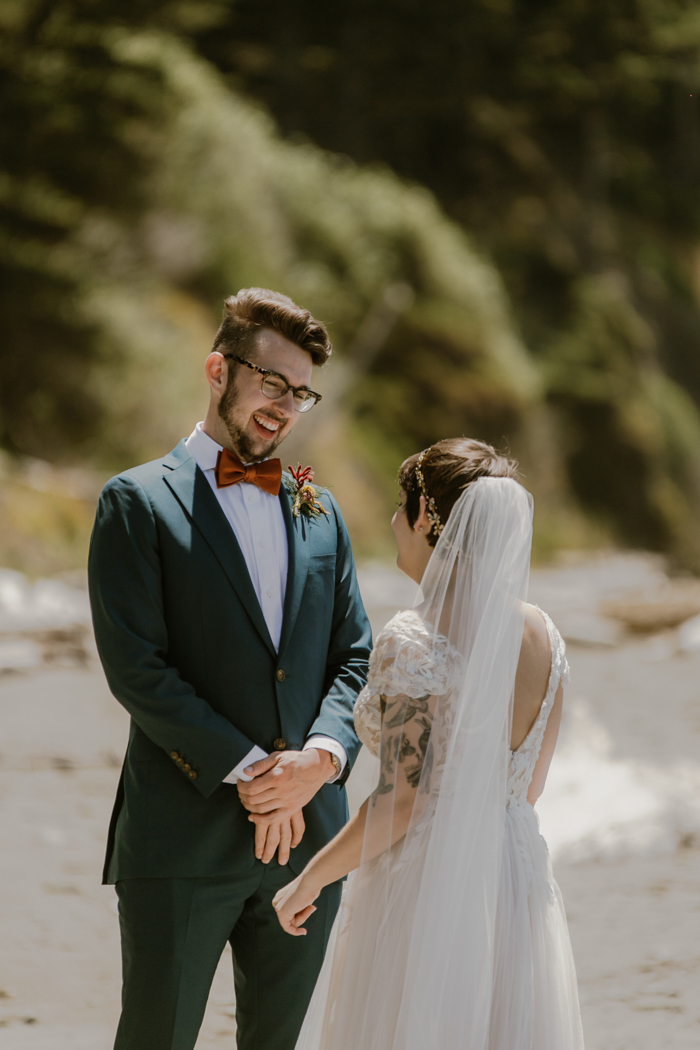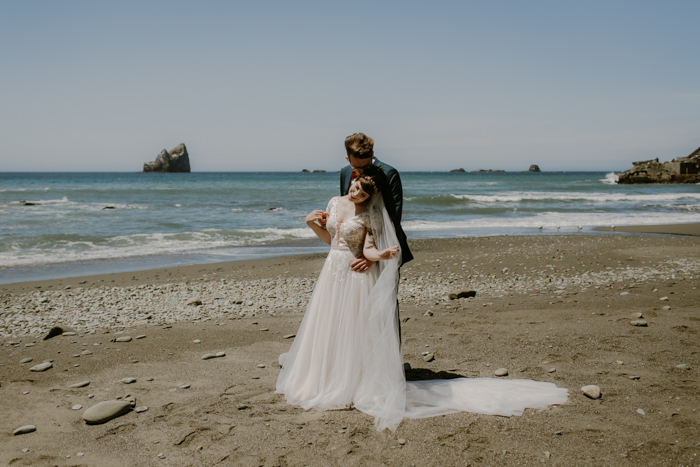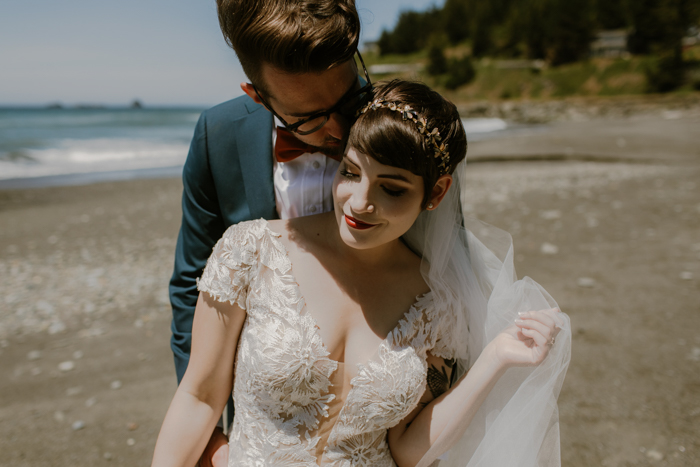 We wanted a venue that showcased the stunning, natural beauty of the Pacific Northwest. Katy, as a wedding photographer, really wanted a venue that she hadn't photographed a bunch so the experience would be much different than working. We also wanted a venue where we could party late, have most of our wedding party stay on-site, and bring in our own food and alcohol. Crook Point was absolutely perfect for all of these reasons. We loved the gorgeous beach houses, hosting our casual pizza and beer rehearsal dinner on the beach the night before, and the epic views! We were also happy to share a stunning part of the Oregon Coast with friends and family who had never been there before. Yes, it was far from Portland, but that made it more of a destination weekend, allowing us way more time with everyone in the days leading up to the event.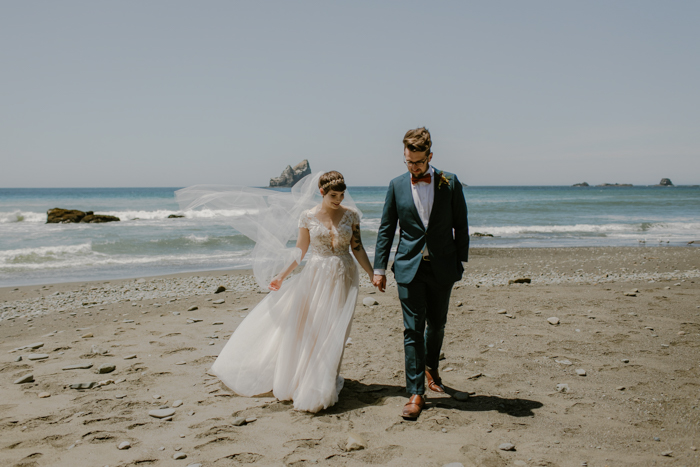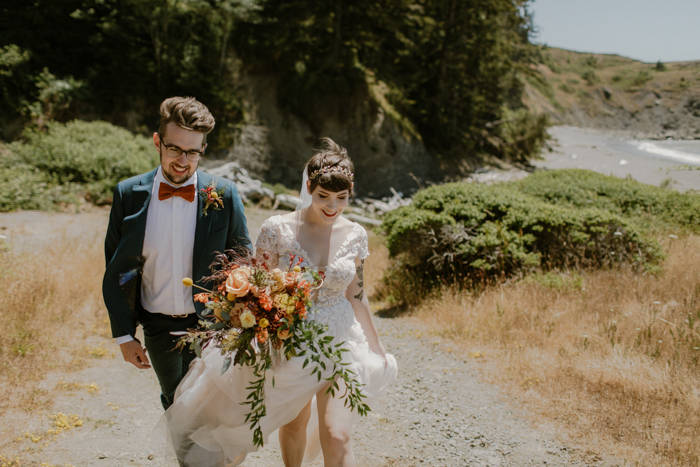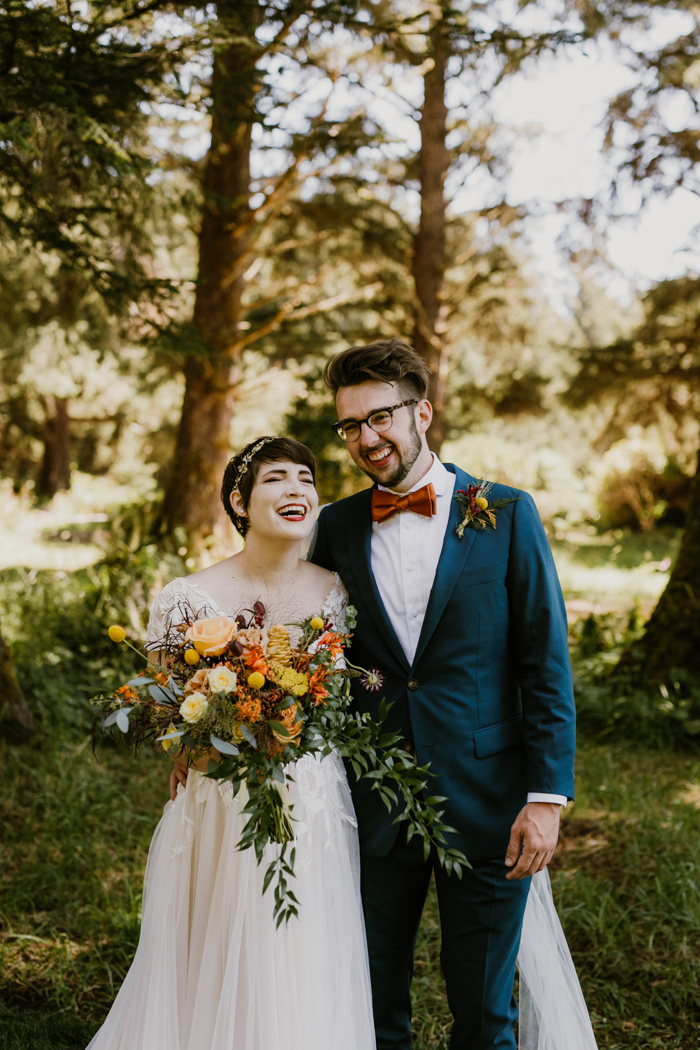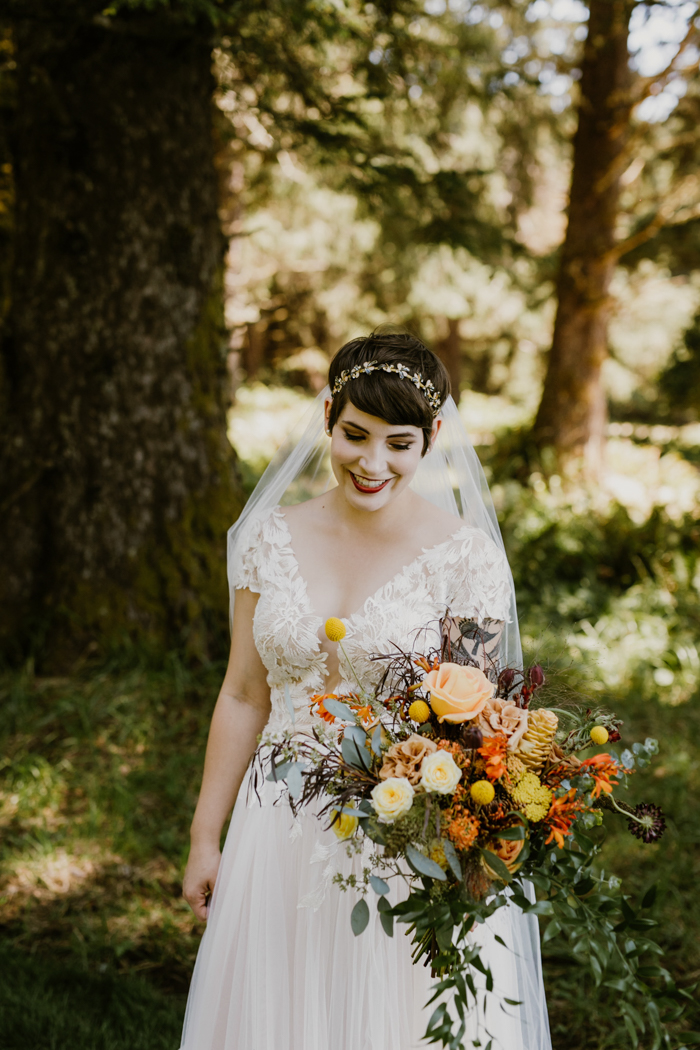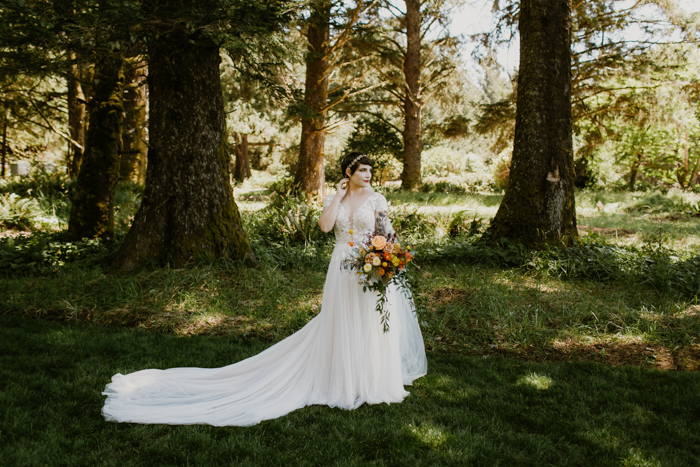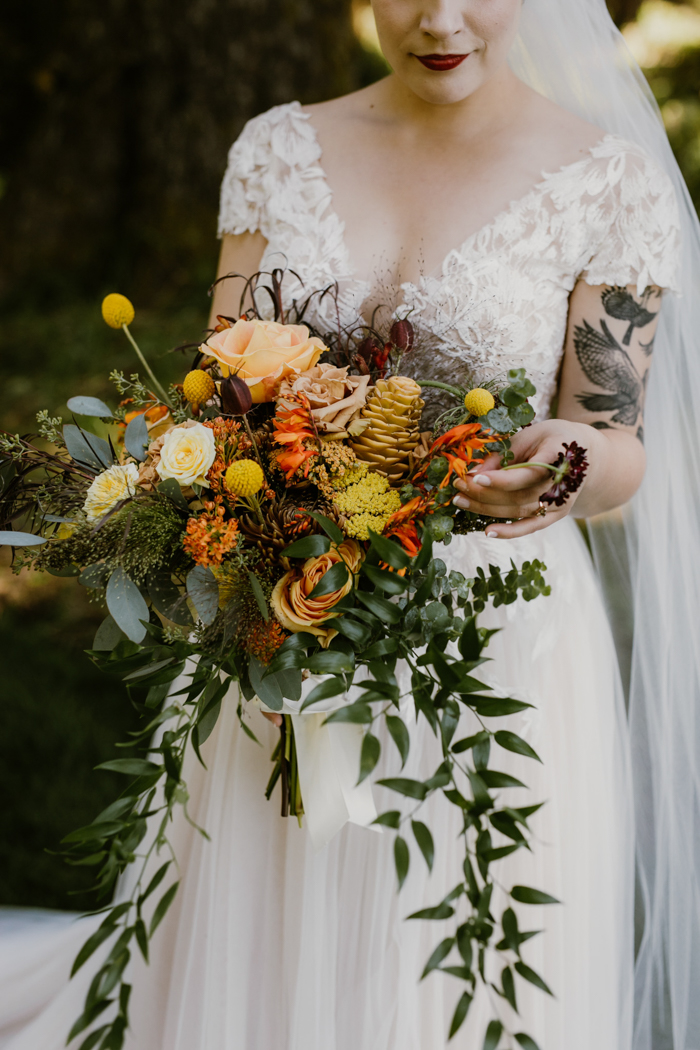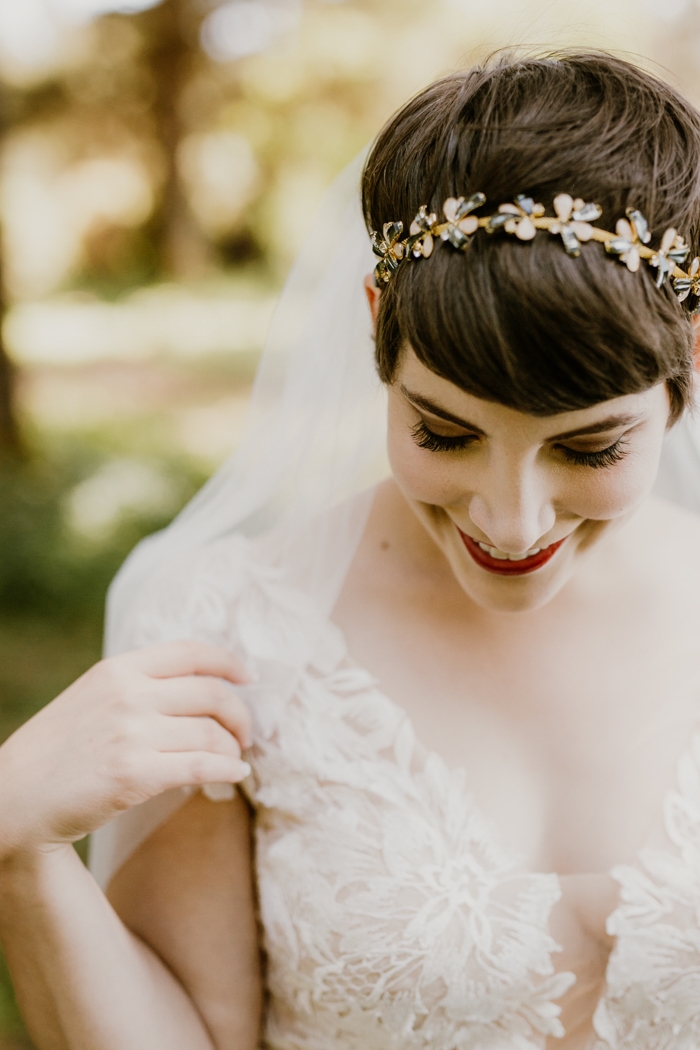 SHOP SIMILAR STYLES: Crystal Bridal Headband ($95); Wedding Gold Leaf Hairpiece ($107); Opal Bridal Headpiece ($115); Moonstone Headband ($38.50)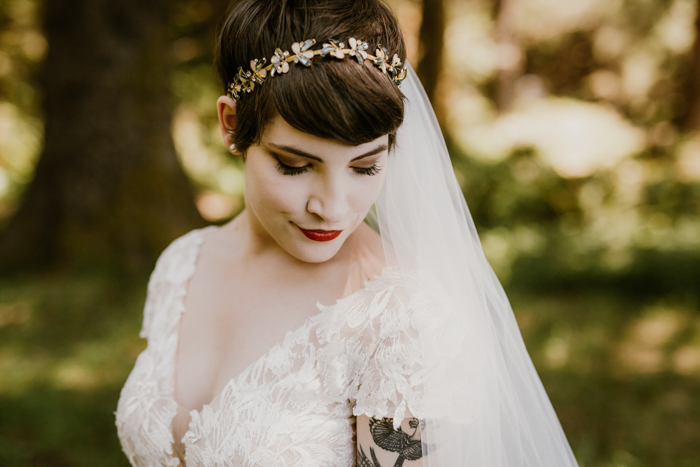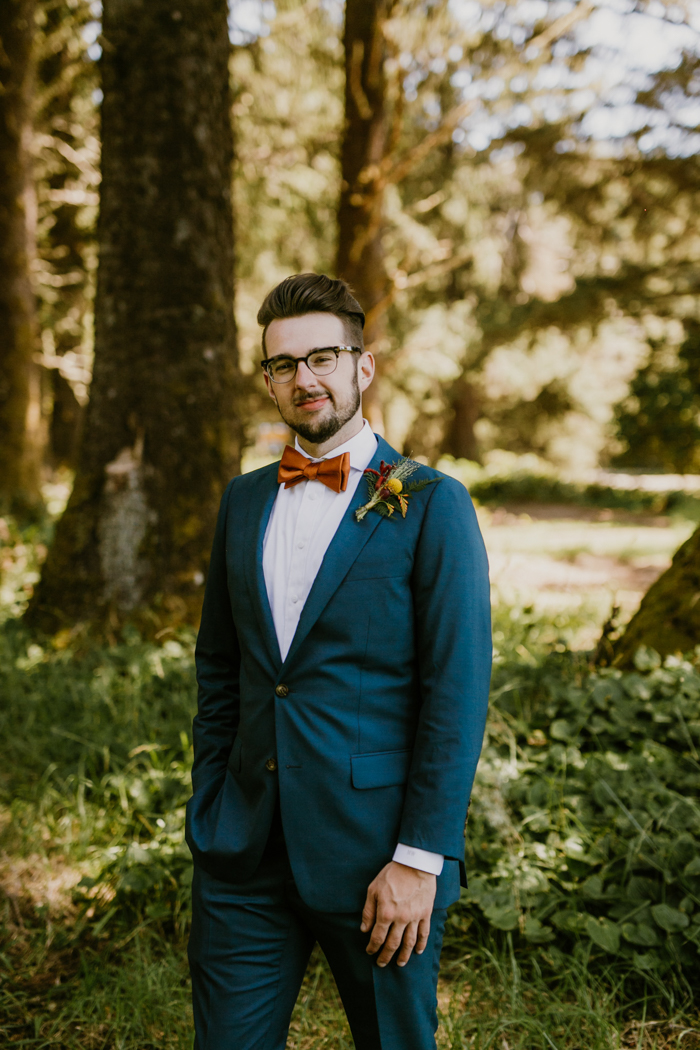 Catalina was a boss and she shot for SO long over the entire day, letting us be entirely ourselves from start to finish. She was supportive, creative, and so fun to have by our sides. We are absolutely obsessed with our wedding photos and our entire experience working with her. We can not recommend her highly enough.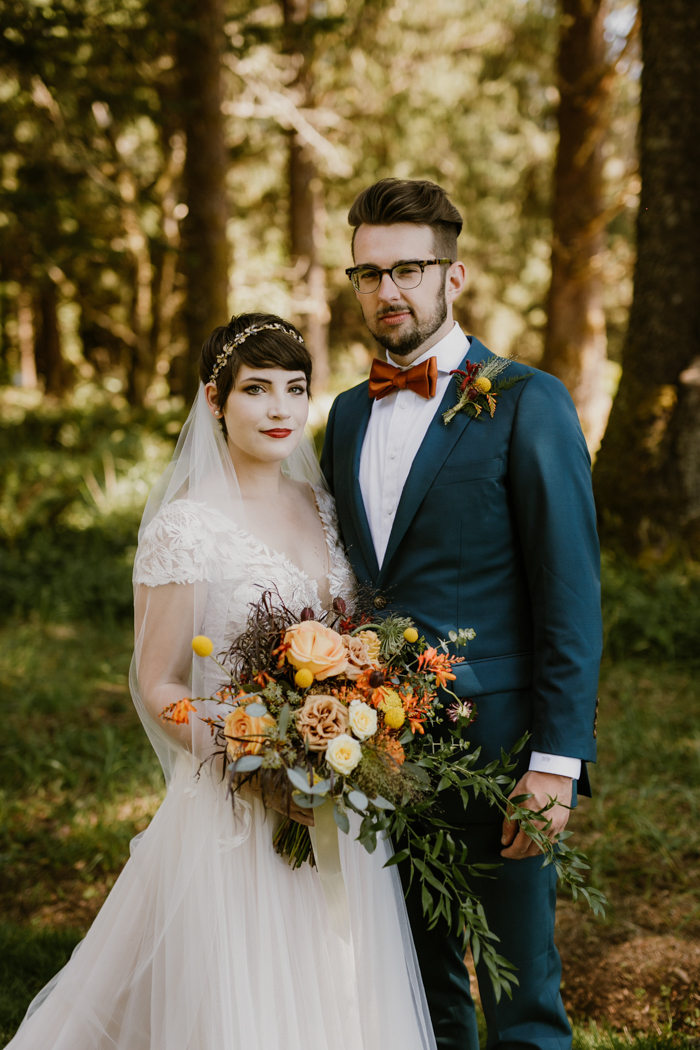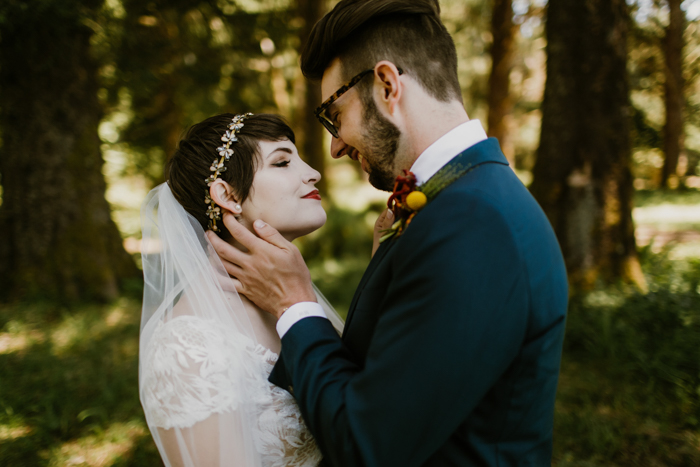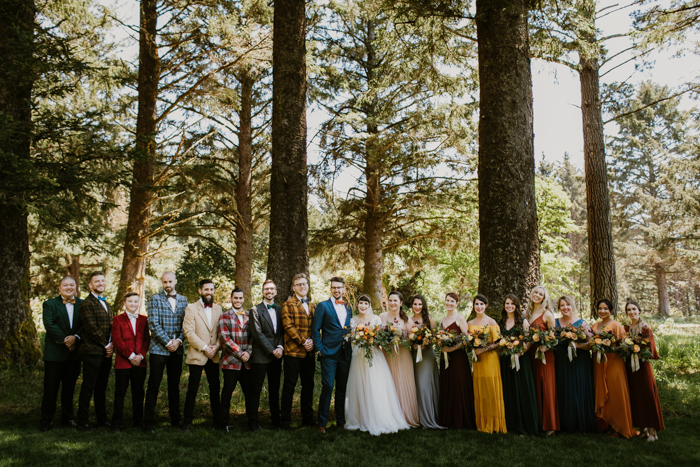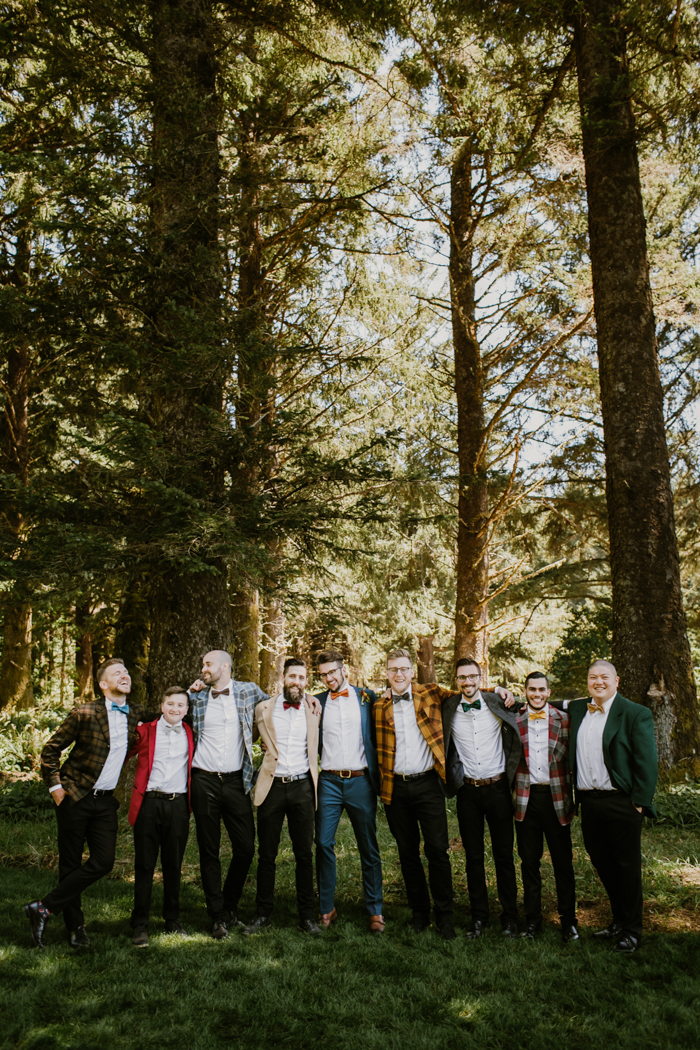 We wanted our overall wedding vibe to be playful, bold, eclectic, welcoming, and colorful. Most importantly we wanted it to feel like US, and not feel like a copycat wedding or scheme from Pinterest. The color scheme for our wedding was reflective of all Katy's favorite colors (and admittedly, her branding on her website lol). But it was also influenced heavily by Mikael and his unique ideas for his groomsmen. Mikael collects vintage Pendleton blankets, as well as plaid vintage Pendleton jackets. It was his idea to have the groomsmen wear mismatched vintage and Pendleton jackets. The colorful bow-ties (Mikael's favorite) elevated the look, so it wasn't too casual.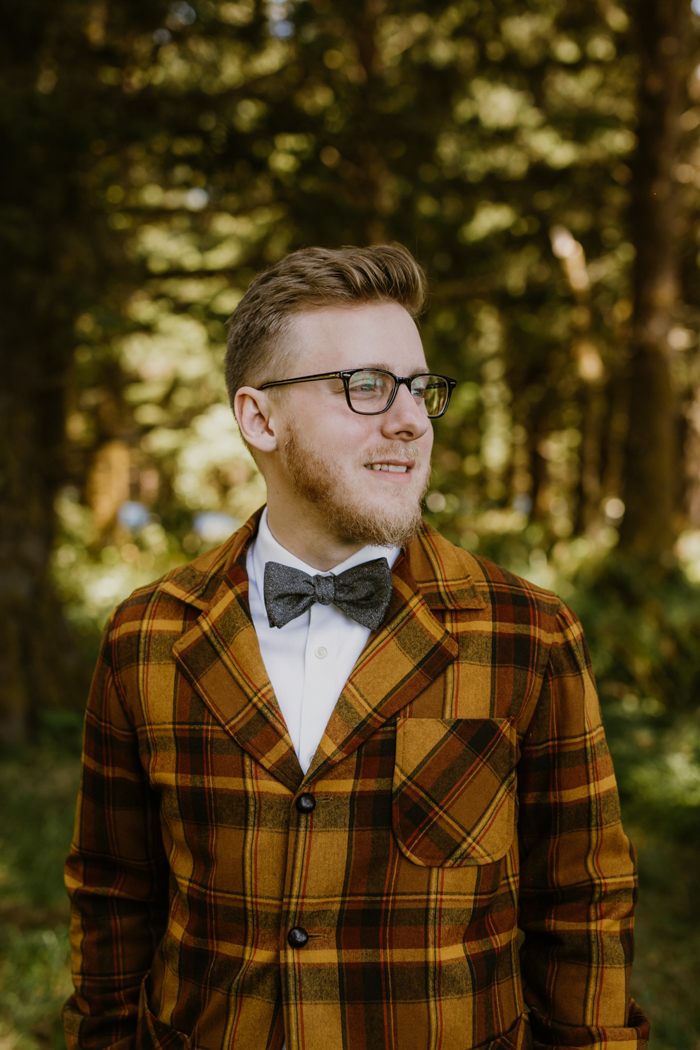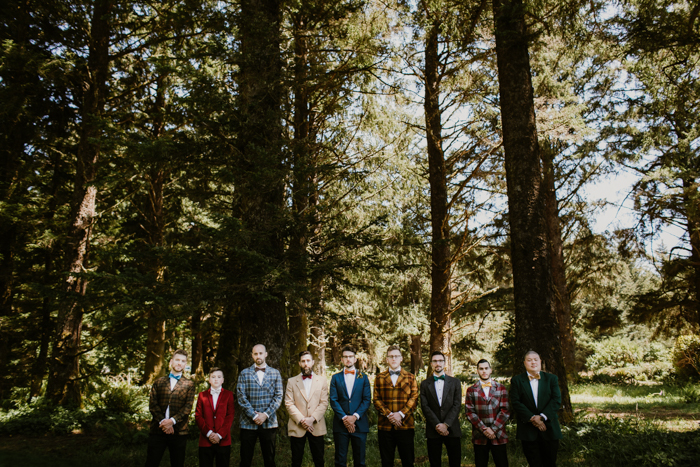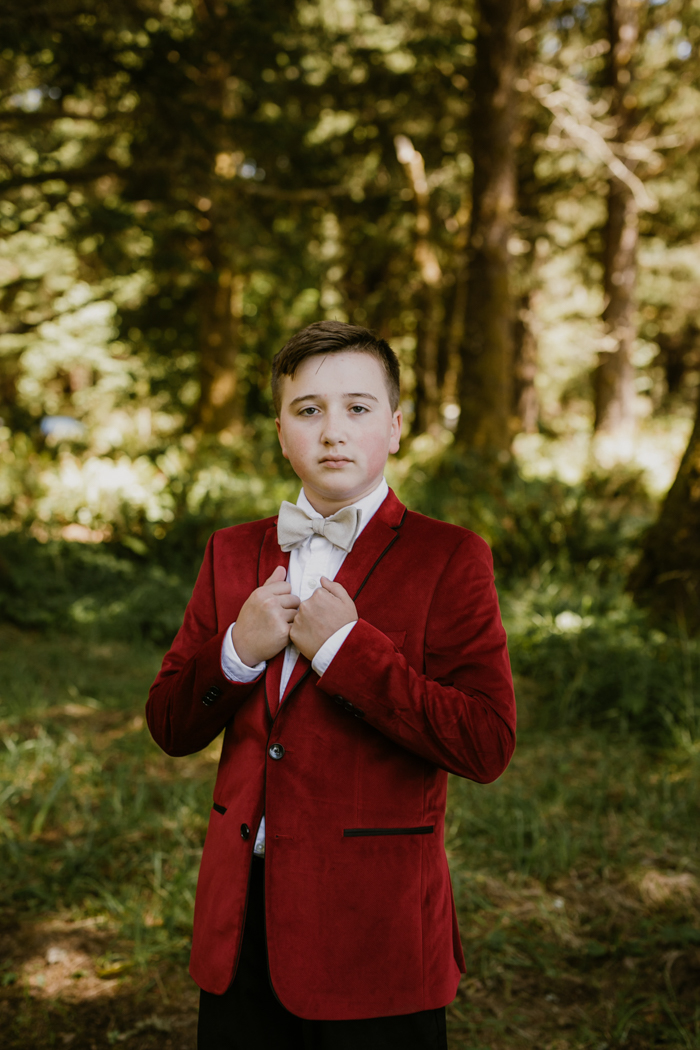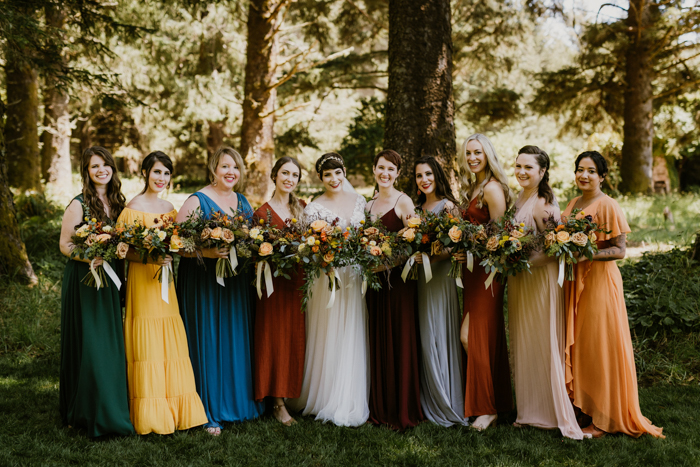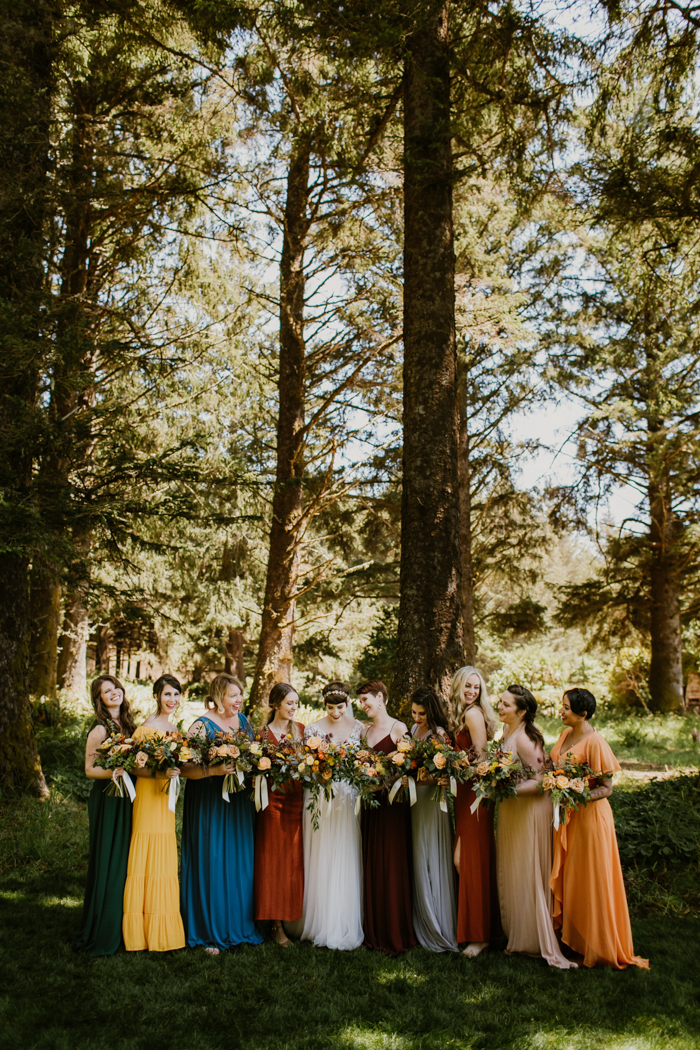 Tracy with Woodland Floral went above and beyond creating the most stunning florals and bringing flowers all the way from Sisters Oregon. She collaborated with our ideas and our bouquets were some of the most stunning Katy has ever seen. She is a gem of a human and we love her.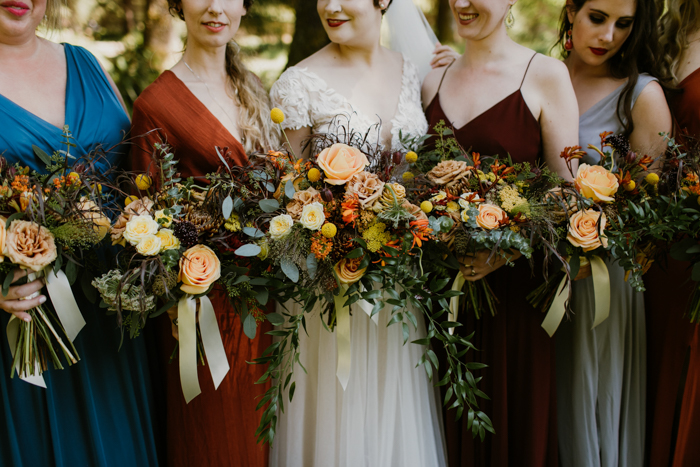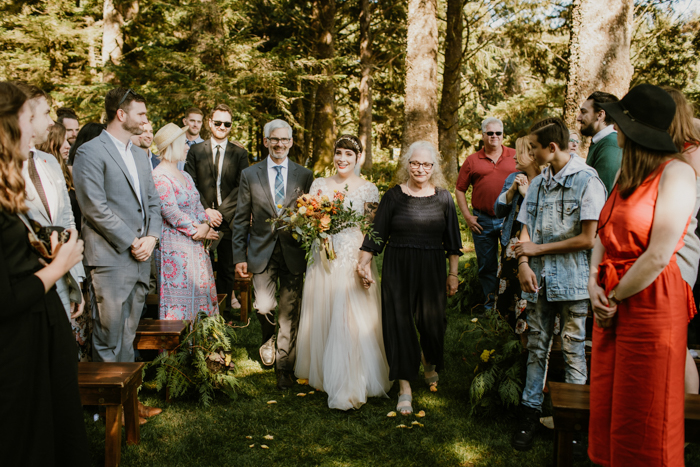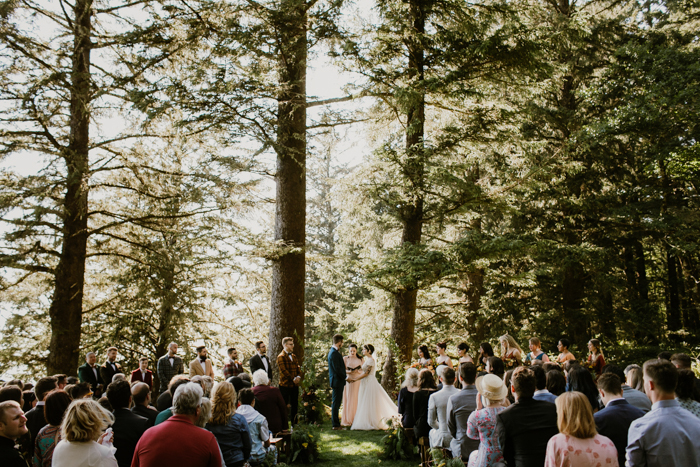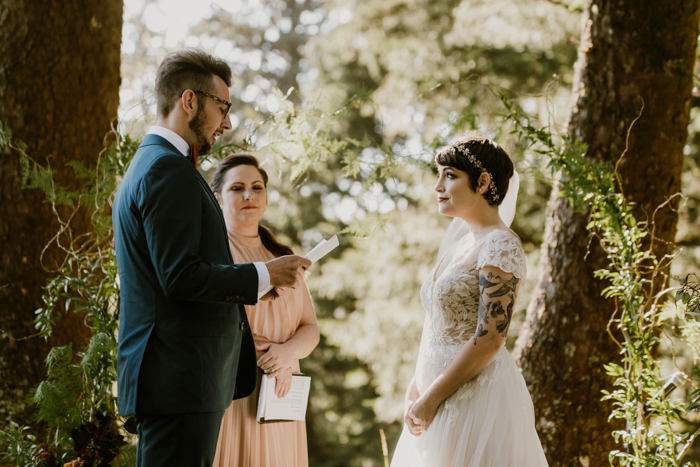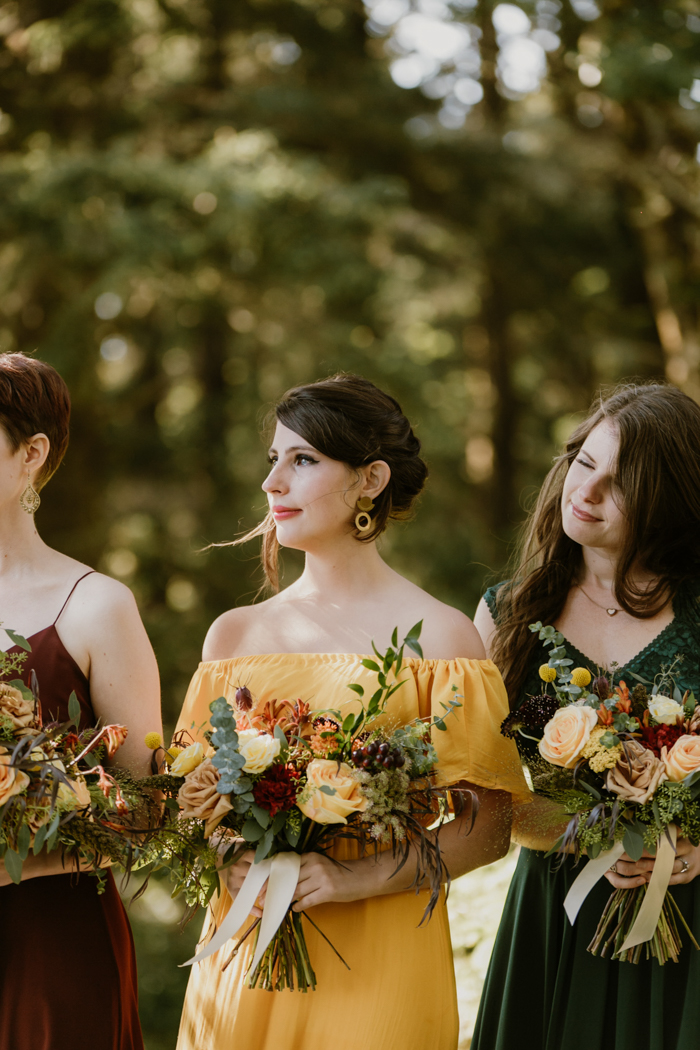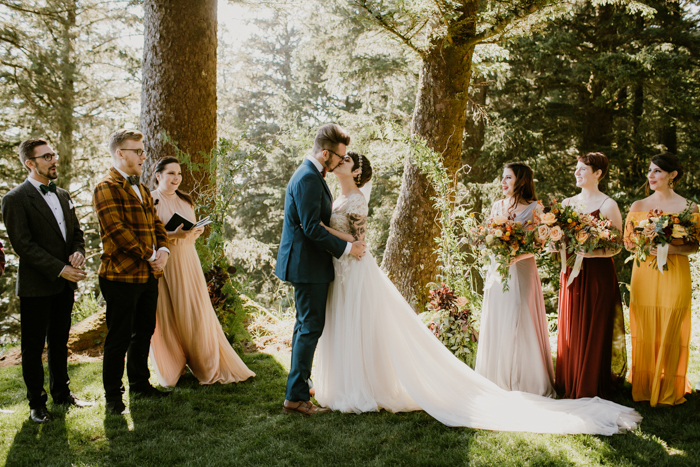 One of the biggest pieces of advice? Set your emotional expectations for the day of the wedding. In the months and weeks leading up to your wedding, it's easy to stress over EVERY. TINY. DETAIL. We were sleep-deprived and totally nervous leading up to our big day. But we also put in the mental work to prepare ourselves to literally have the best day of our lives NO MATTER WHAT. Be intentional about your mindset on your wedding, starting first thing in the morning. Don't let things faze you, just soak in every minute and stay present. This isn't something you can just wake up and do. You really have to prepare yourself ahead of time and tell yourself that you will have a positive attitude no matter what goes down. It will make a world of a difference in your experience and happiness.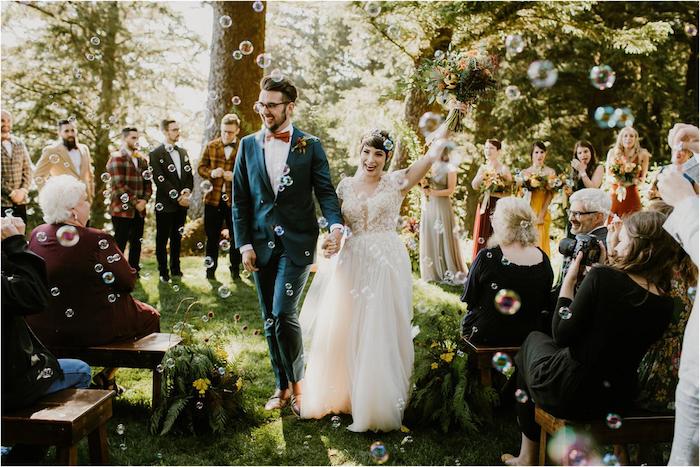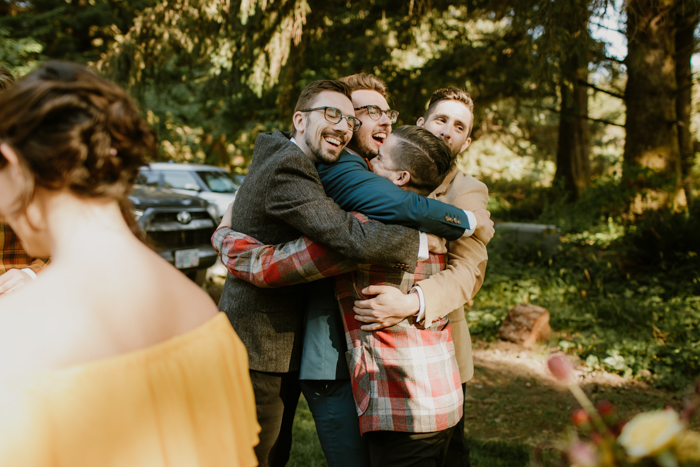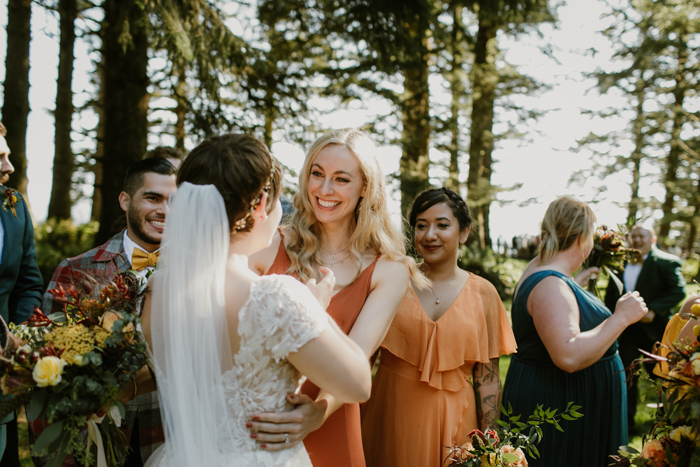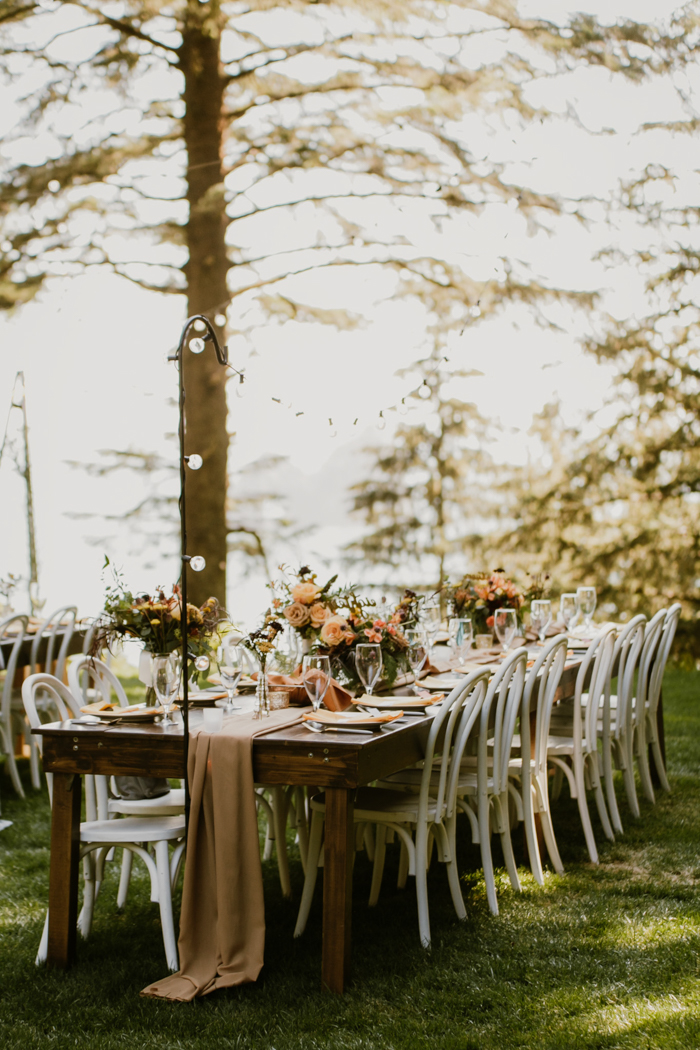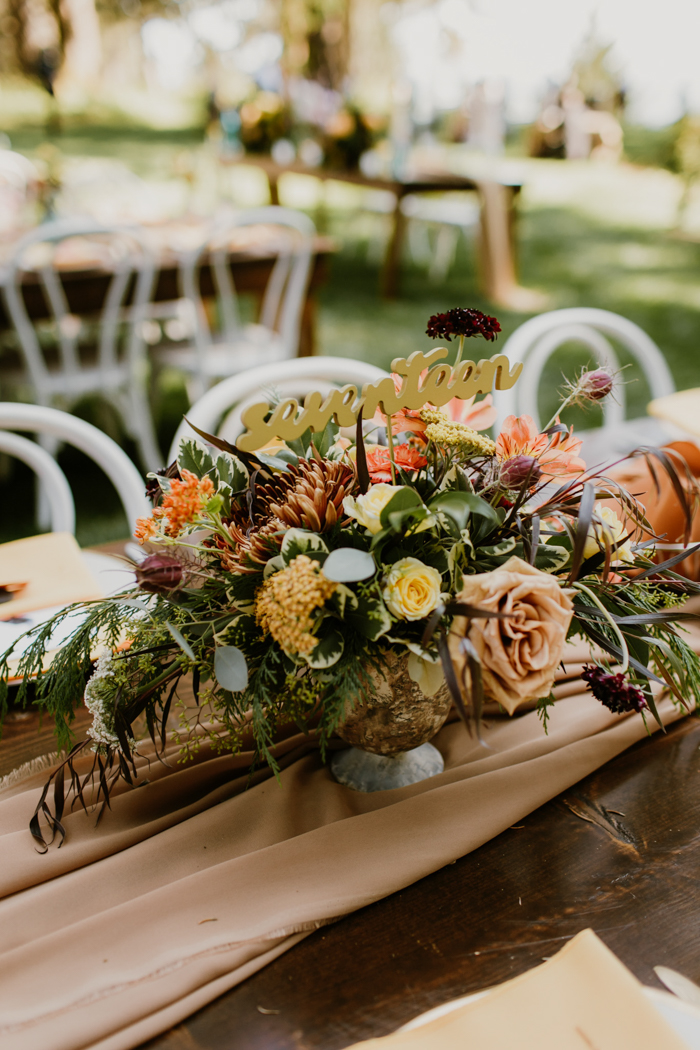 Wedding planning advice from the couple: Leverage each other's strengths and divide up responsibilities early in the process. Make a list of tasks and talk about who would be best to own each. For example, the person who owns the table design could be different than the person coordinating the food and drink. Katy quickly discovered that she was great at big-picture planning and creative ideas, and Mikael was much better with logistics and technical stuff.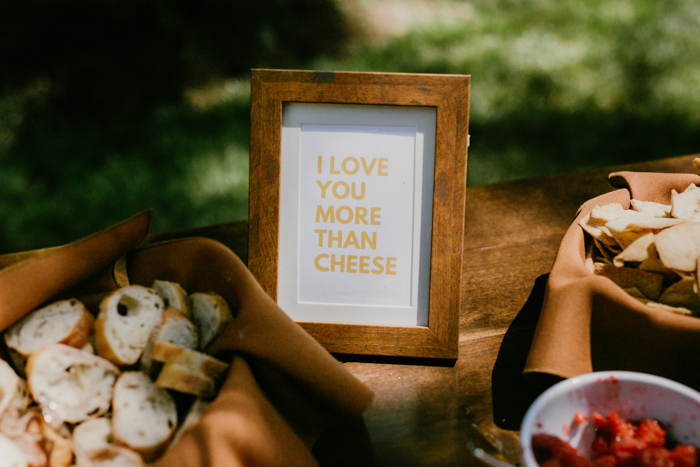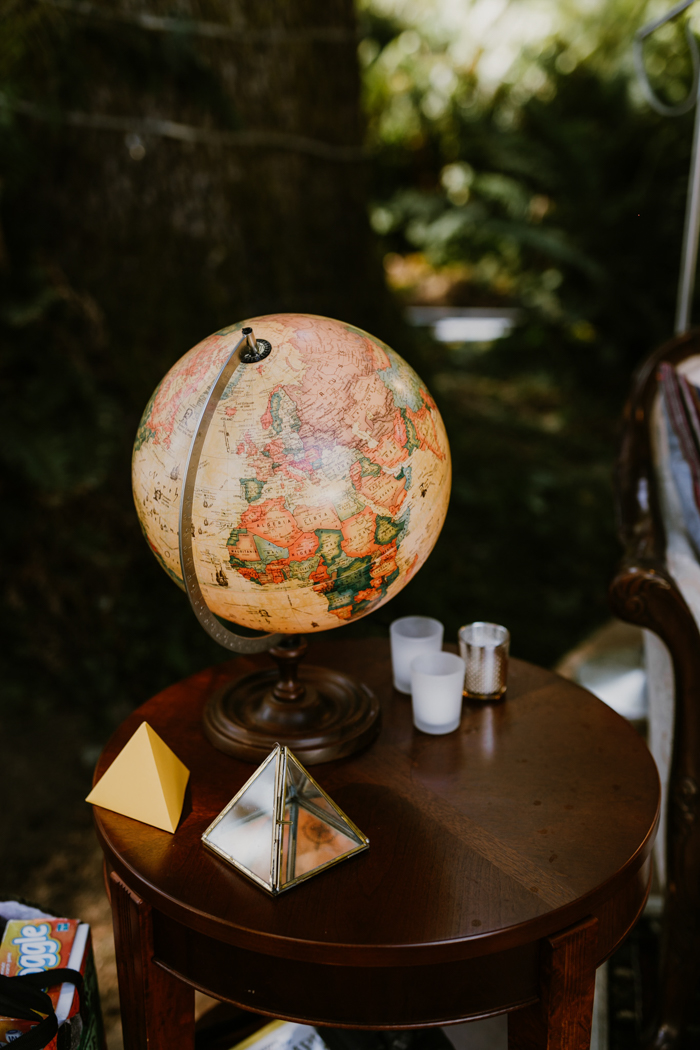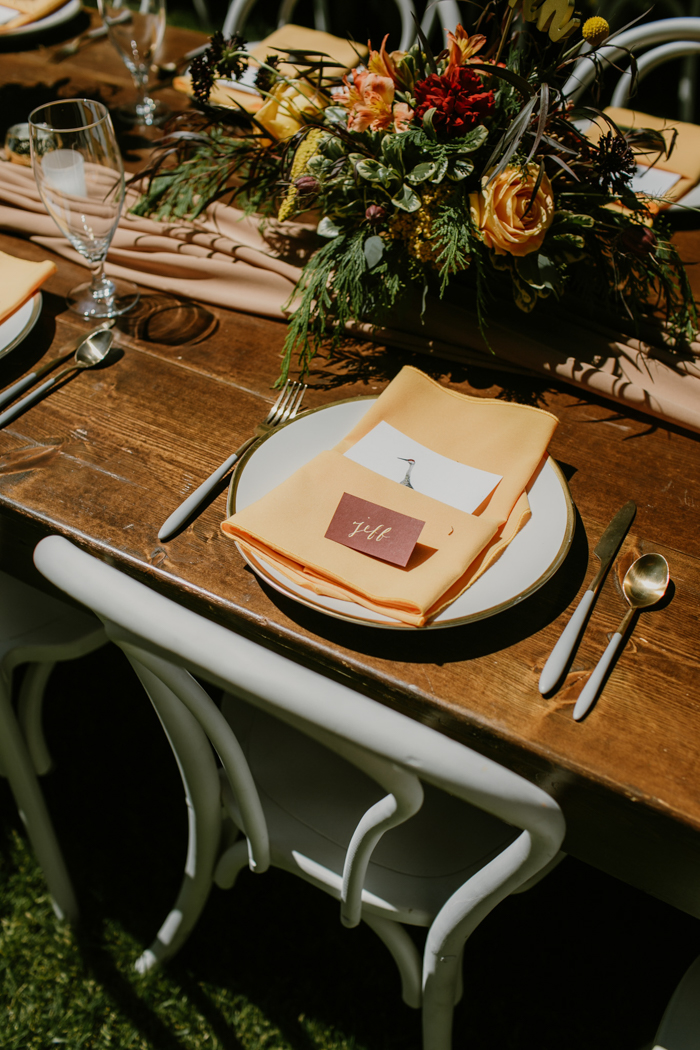 Kim and Kaitlyn with Your Perfect Bridesmaid went SO above and beyond to make our day go smoothly. A few things out of our control went wrong last minute and they were able to save the day. They were supportive, caring, and had fantastic problem solving skills that helped us with our challenging vision at Crook Point's remote location. We could not have done it without them. And Kathleen with Crook Point was SO patient with us and listened to our many needs. Their venue is fairly new and we were one of the first large weddings they hosted, and they did a great job providing exactly the experience we wanted.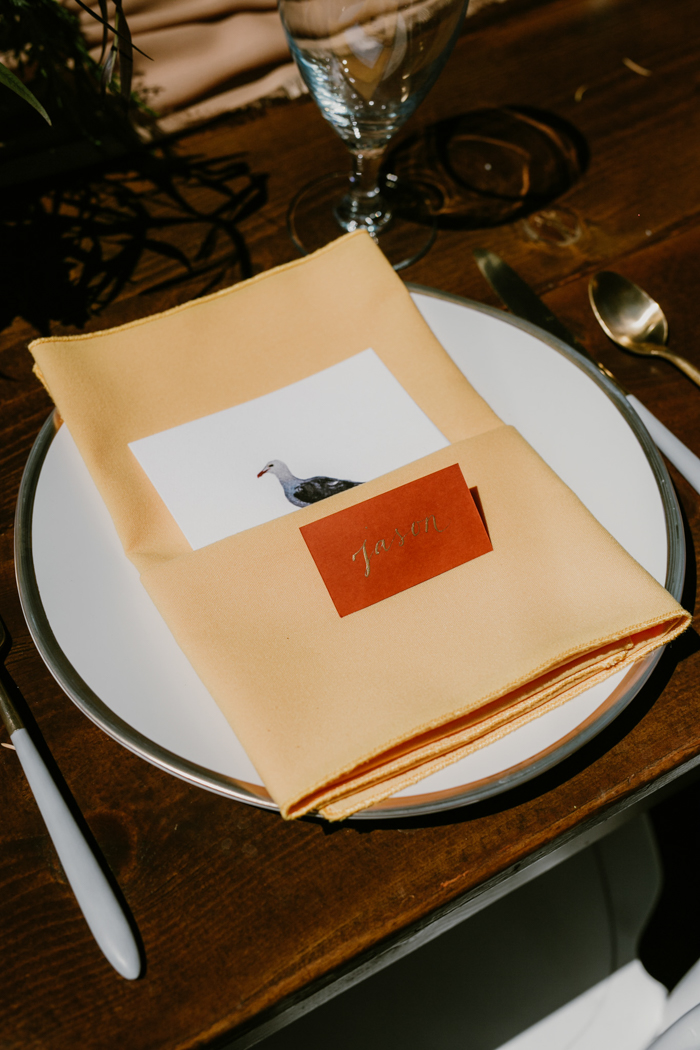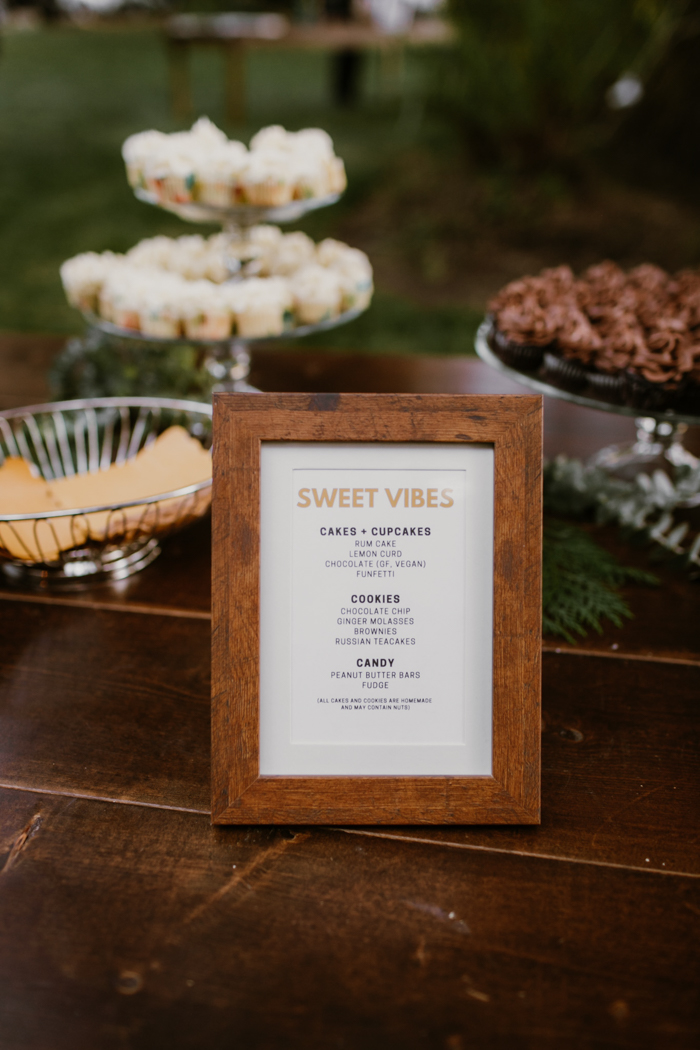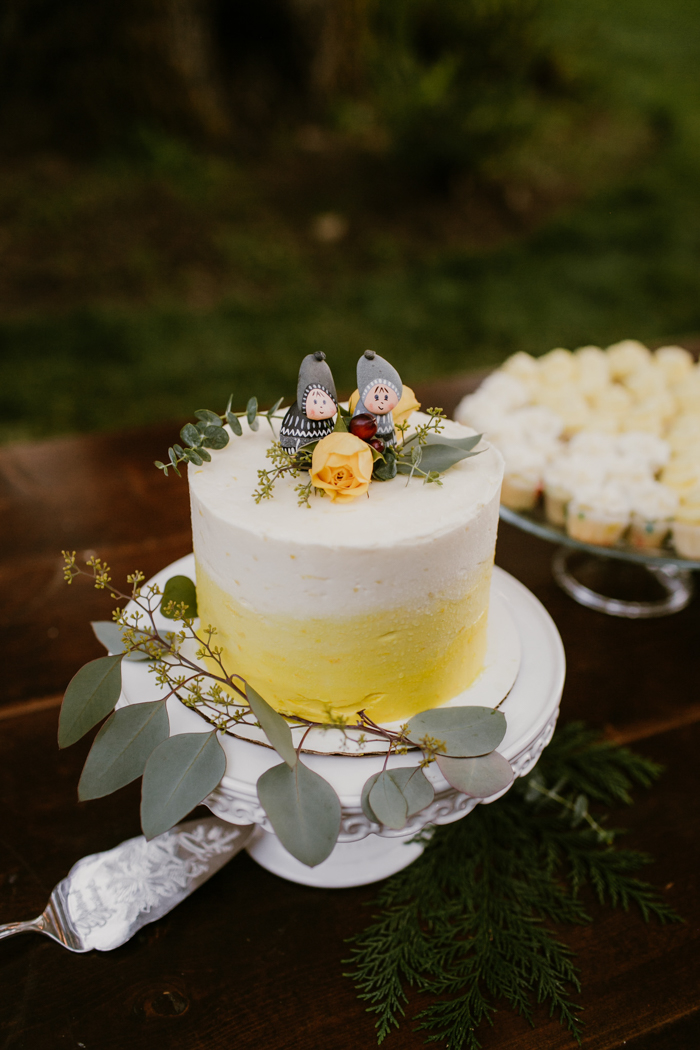 Our home is full of tall bookshelves, patterned blankets, TONS of art and prints, indoor plants, and warm lamp lighting. Katy is admittedly a Cancer and a little bit of a homebody, and LOVES hosting house parties, both huge and intimate. When it came to planning our wedding, we wanted to bring that sense of our hygge home to our entire wedding weekend. We wanted our guests to feel loved and welcome, and for the whole day to be relaxed, not rushed. Just like showing up at one of our house parties and hanging out until late in the night.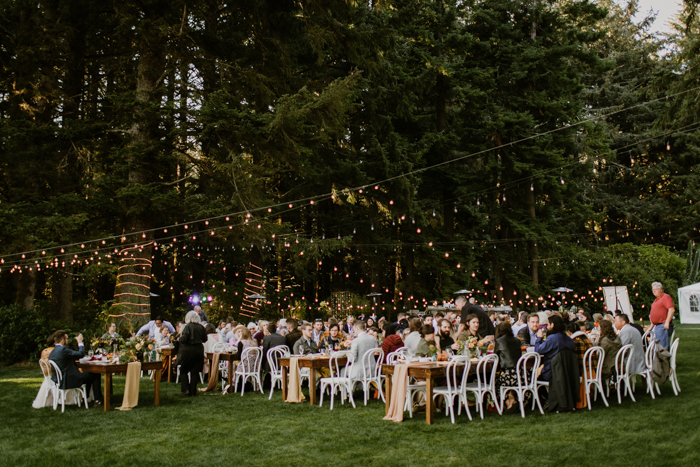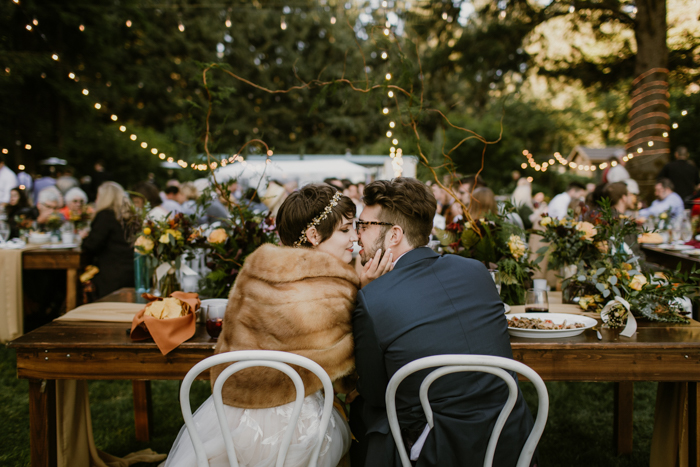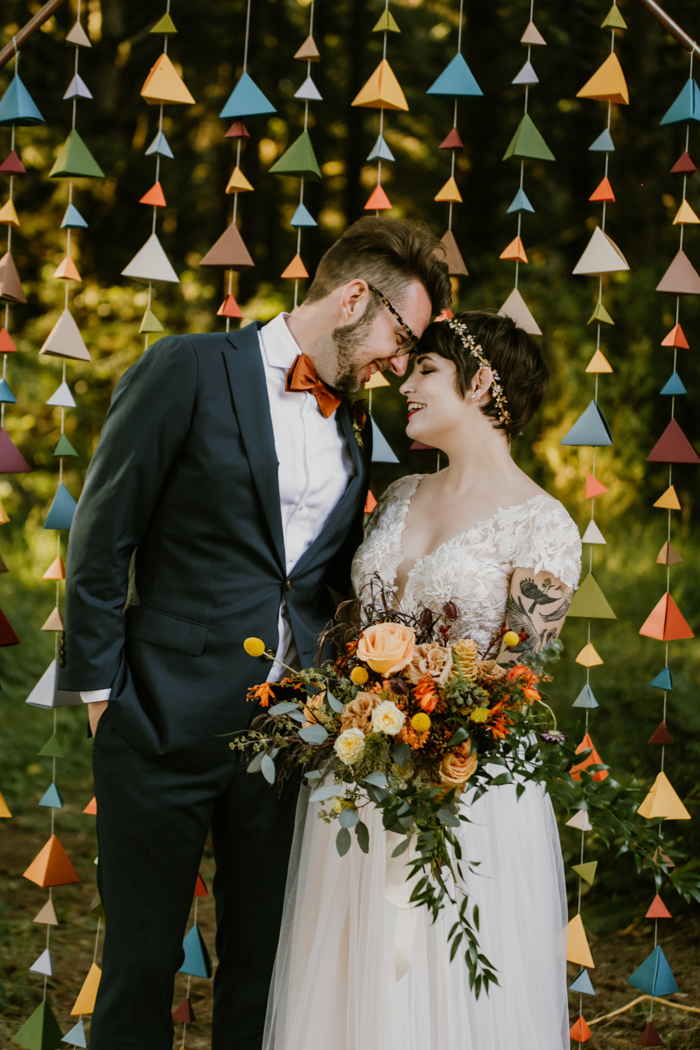 The triangle curtain in our lounge area was a last-minute DIY project that we had a lot of help with (thankfully!!) but it really tied the color scheme together and offered another playful element that felt fun, inviting, and unique. Katy felt like she couldn't have her art background and not attempt at least one semi-insane craft project, so the triangle curtain came into existence. We're both pretty obsessed with triangles, and we also bought triangle wedding rings from Alexis Russell, so it brought all of those themes together in a really cool way.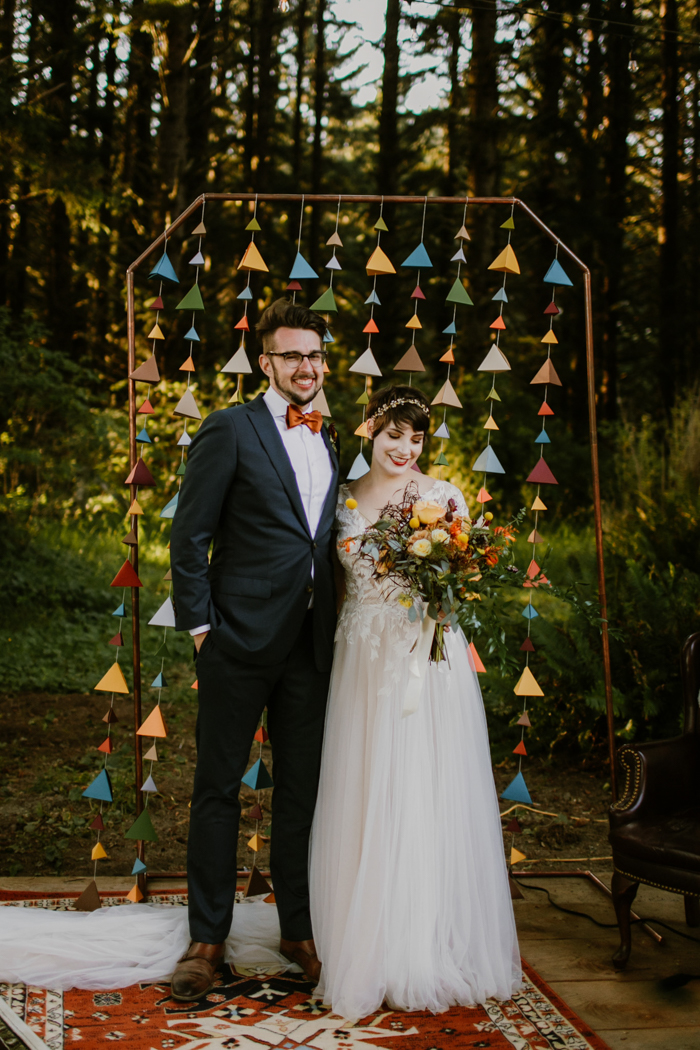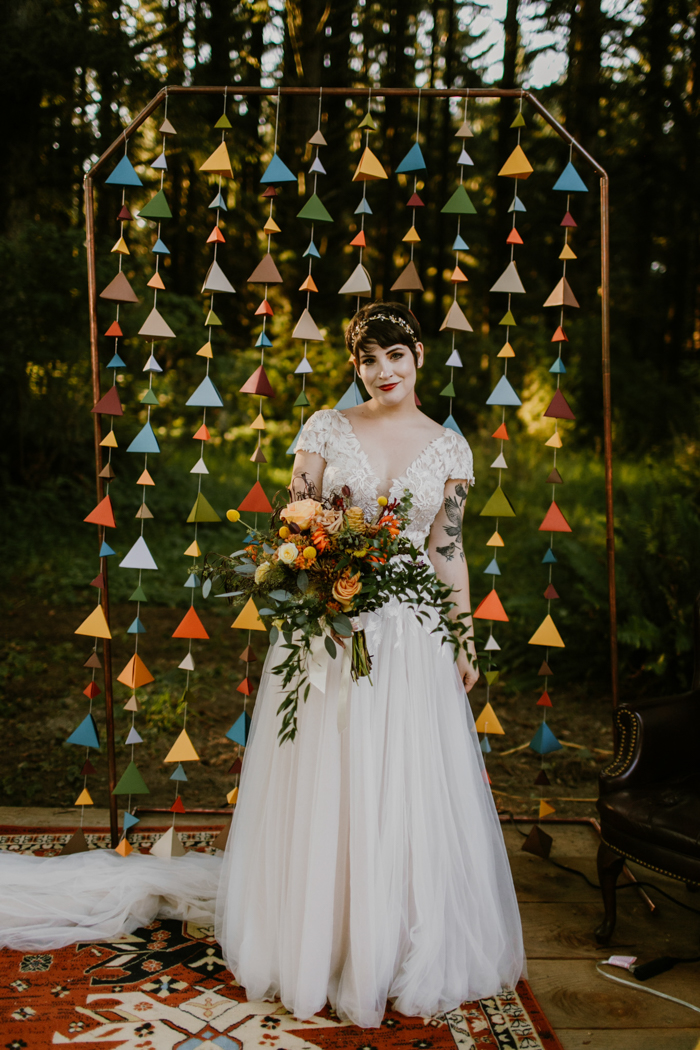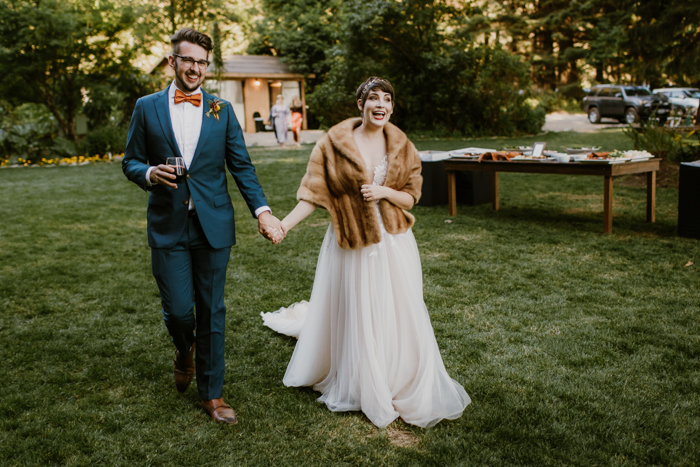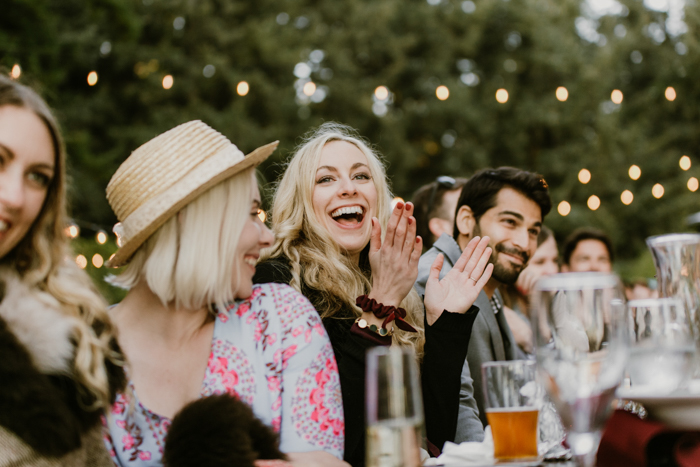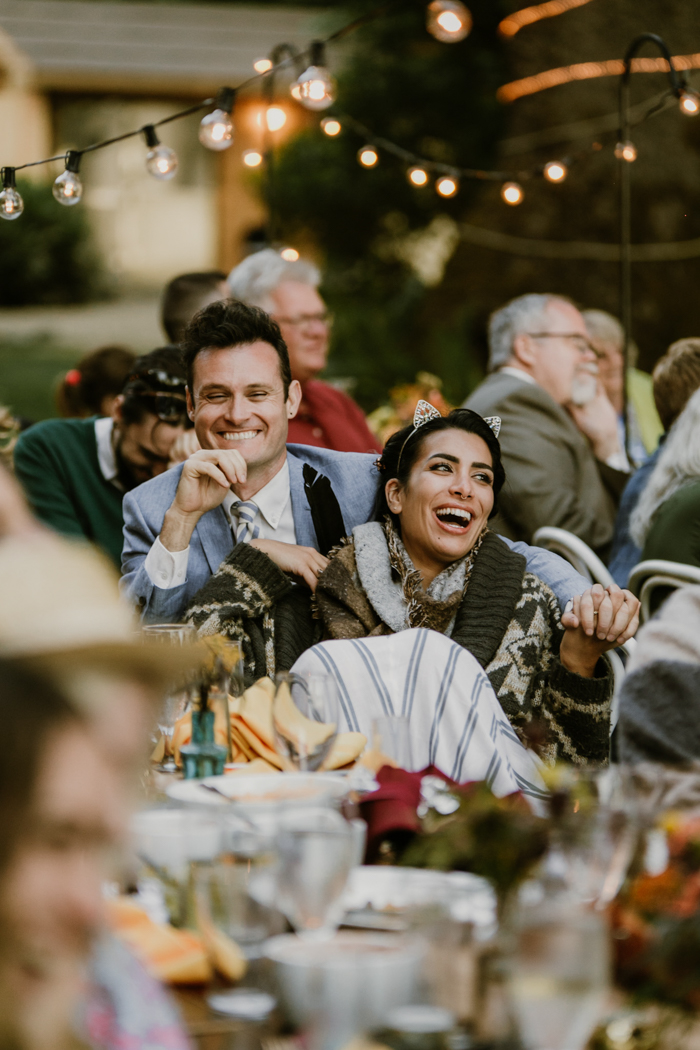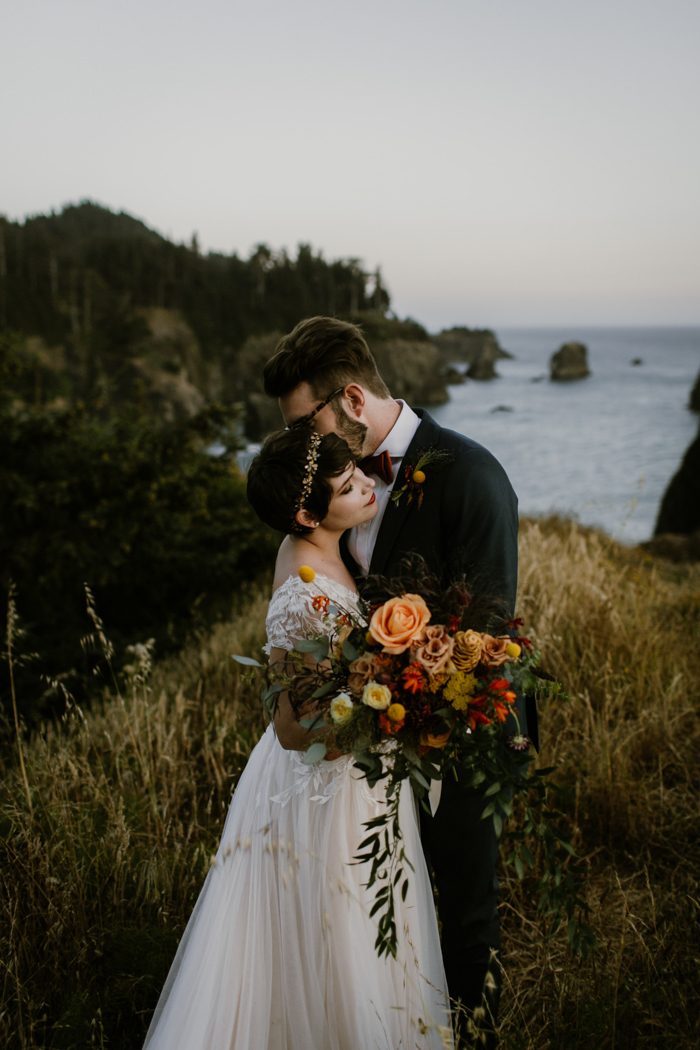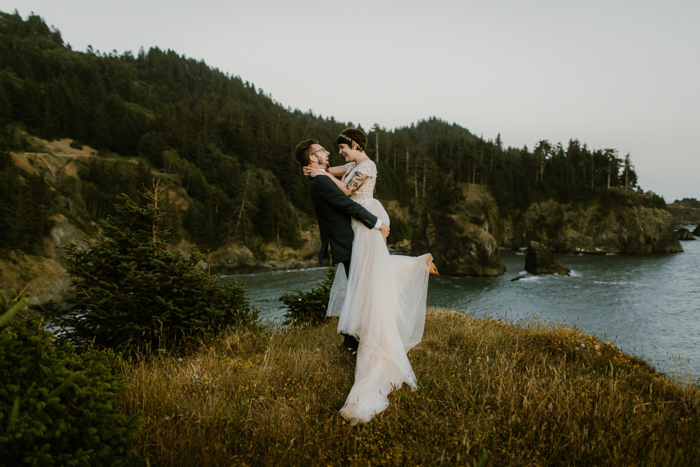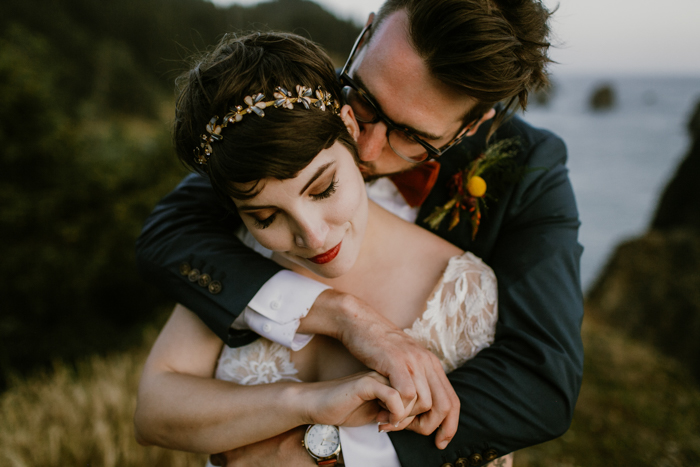 Congratulations, Katy and Mikael, and many thanks to Junebug member Catalina Jean Photography for sharing their awesome day at Crook Point with us! If you love Catalina's work, be sure to check out her page in our directory of the world's best wedding photographers.