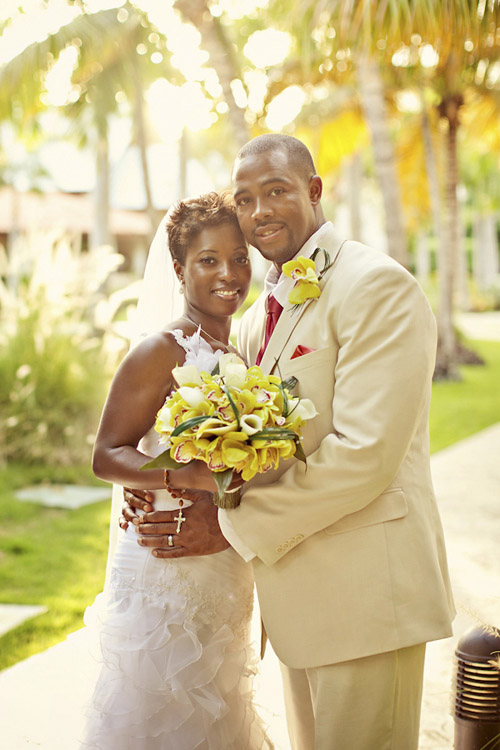 Rukiya and Qubi's Dominican Republic destination beach wedding, photographed by SB Childs Photography, is not only delightful to look at, but it absolutely tugs at the heartstrings with all of the sweet ways they honored their families. Read on to enjoy the beauty, and just see if you don't feel your heart swell with love!

The Goals: Rukiya and Qubi were thrilled with their decision to have an intimate and personal destination wedding, but more than anything, as parents, they knew that they wanted to include their sons in their wedding. Just before their ceremony at Dreams Palm Beach Resort began, the couple gave special gifts to each of their boys. "Knowing that Qubi and I were exchanging rings, we wanted to present gifts to our children as well to show them that it was their special day too. We had ID bracelets and necklaces engraved with their names on them. I presented Jaces (Qubis biological son) gifts to him, and Qubi presented the gifts to Kyran (my biological son). Reminding them that we are not replacing the parents they have, but rather enhancing the relationships we've already established with them." What a wonderful idea! During their meaningful Christian ceremony, Kyran walked his mom down the aisle and they included a contemporary sand ceremony that included both boys. During the reception, instead of traditional parent dances, they did a mother sons dance where Rukiya danced with Kyran and Jace.

The Design: To add to the tropical beach-chic feel of their amazing Punta Cana location, Rukiya and Qubi chose khaki, mint green and coral wedding colors. Save the Dates that looked like boarding passes and invitations that looked like passports had been sent to each of their 20 guests, and canvas beach bags welcomed everyone upon arrival. Travel agents VIP Vacations helped arrange details for wedding travelers – a special touch I think is brilliant for a destination wedding!
The Look: Rukiya's personal bridal style was inspired by their Dominica Republic destination. "I knew I wanted ruffles at the bottom similar to the Dominican flamenco dresses. I ended up selecting a form-fitting mermaid style dress that flattered my petite frame." Rukiya's maid of honor wore coral and her bridesmaid wore green – each dresses they chose themselves. Qubi wore a perfect-for-the-tropics tan suit with leather sandals and a coral tie. He wanted his groomsman to be comfortable so they all wore khaki pants with linen shirts and their sons wore matching white linen outfits.

The Moments: Getting to spend ample time with all of their guests made a destination wedding the perfect choice for these newly-weds. They even incorporated the concept into the way they approached their wedding favors. "In lieu of traditional favors, we treated our guests to an experience they would never forget. The night before the wedding we chartered a private boat and set sail on a three-hour sunset dinner cruise. Transportation picked us up from the hotel and took us to the dock. We set sail and docked at a natural swimming pool where our guests were able to either take a swim or relax on the boat. After we ate our dinner we danced and partied the night away as we set sail back to the dock. It was definitely a highlight of the weekend."

The Pros: To learn about all of the wonderful wedding professionals who contributed to this destination wedding please visit Rukiya and Qubi's page in our Real Wedding Library!

Thank you so very much Rukiya and Qubi! Your wedding simply looks like heaven!
Readers, to find the perfect wedding photographer for your destination wedding, don't miss our World's Best Wedding Photographers Hotlist!