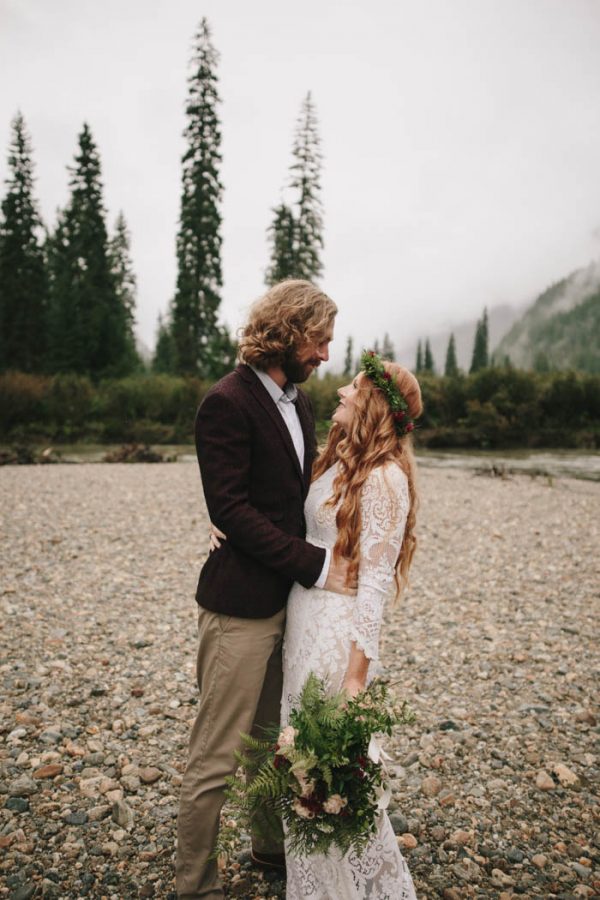 Keshia and Kelsey's intimate forest wedding at Begbie Falls is the epitome of natural beauty and dreamy romance. Before the ceremony, the couple took a private helicopter ride through a misty canyon for a seriously spectacular photo session with photographer Kelly Brown. Then they made their way back into the forest to say "I Do" in the company of 18 of their closest family members and friends. Their adventure continued after the ceremony as they climbed a waterfall for a second round of gorgeous photos! We love that the bride's intricate lace Saldana Vintage wedding gown and the groom's casually cool ASOS suit perfectly complemented the natural backdrop and allowed them to embrace their adventurous sides. We also love that, despite the change of reception venue due to a sudden rain storm, the couple went with the flow and managed to create a cozy and romantic indoor reception full of personalized touches and quirky charm!
The Couple:
Keshia and Kelsey
The Wedding:
Begbie Falls, Revelstoke, British Columbia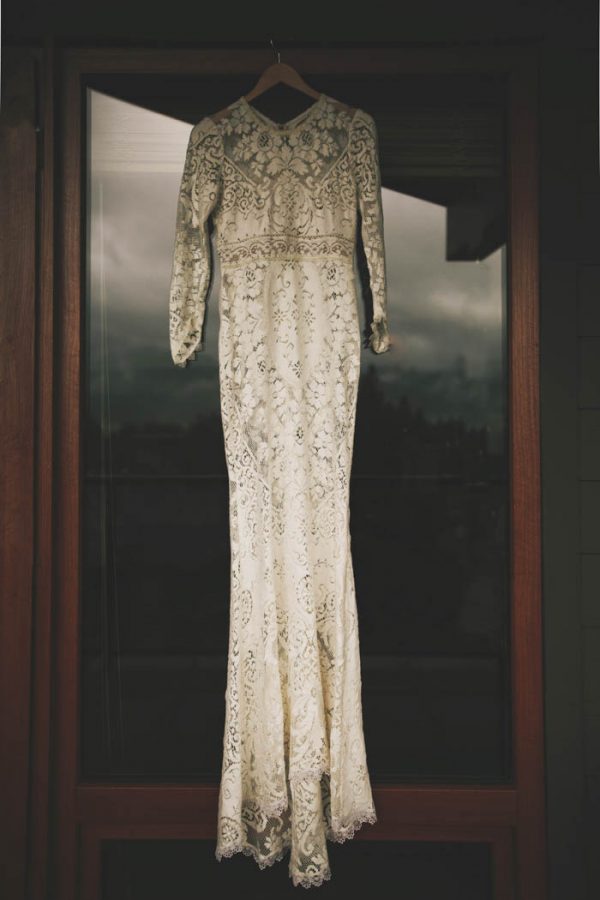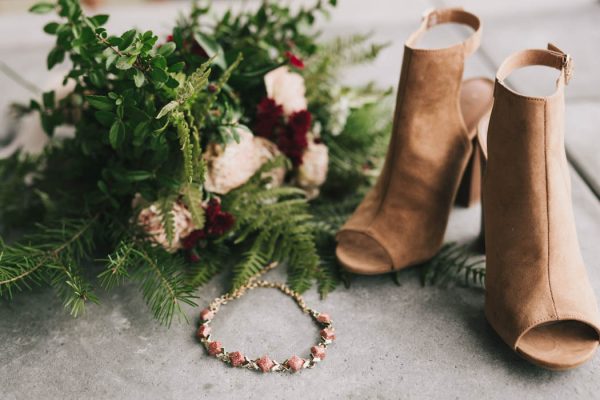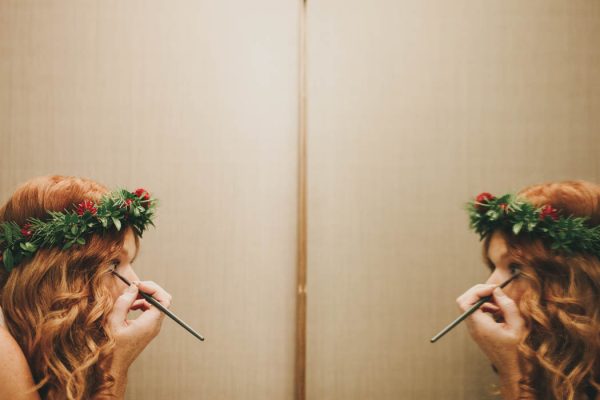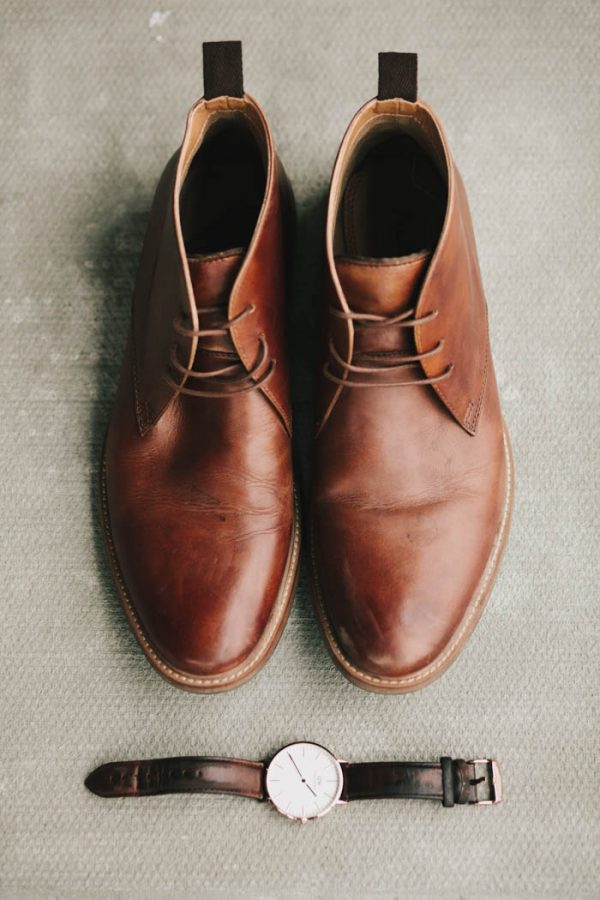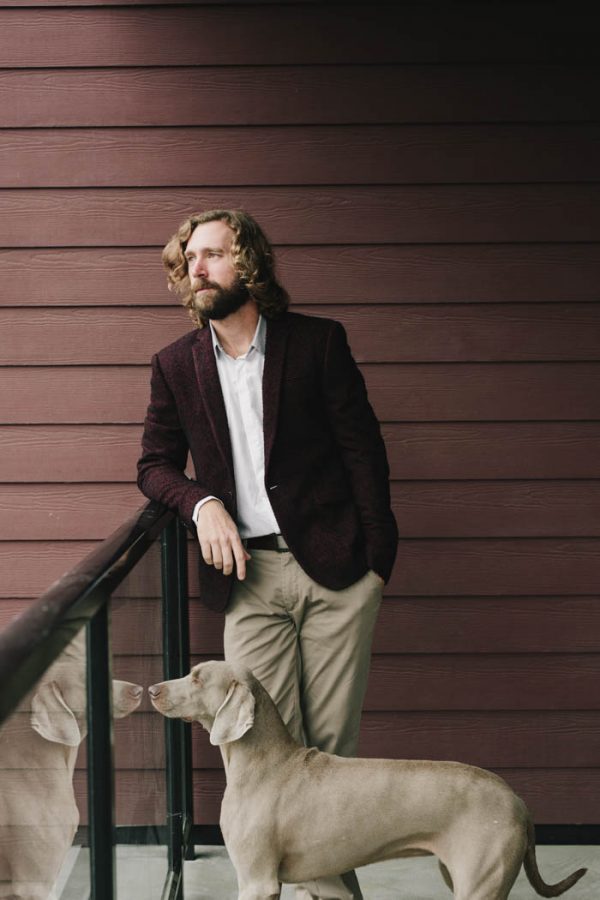 We really wanted to keep our day true to us. We didn't pay too much attention to traditional wedding day dos and don'ts! We love the outdoors and have a strong connection to the mountains, feeling our most spiritual and in tune with each other among towering giants so it was only natural that our wedding be set outside in the mountains of Revelstoke, a town very near and dear to our hearts.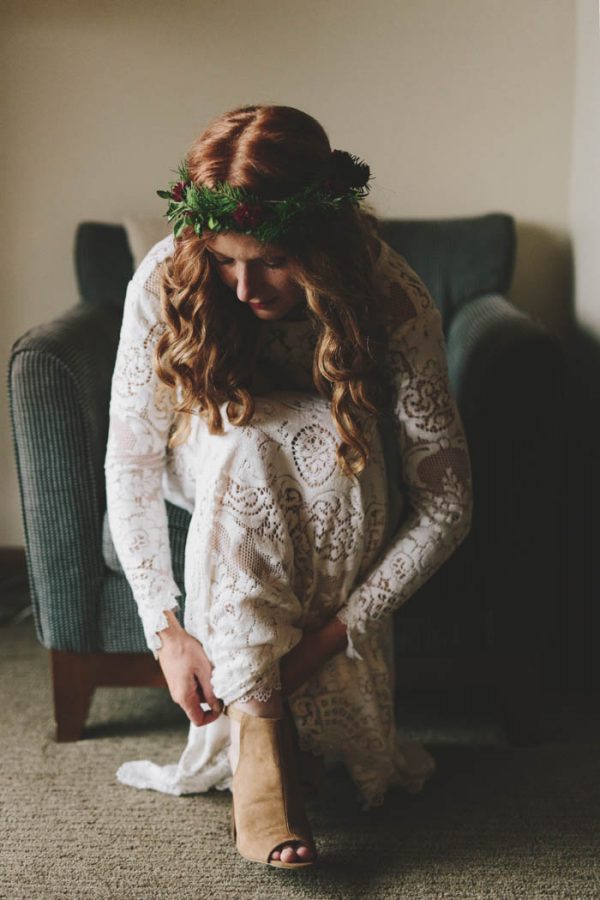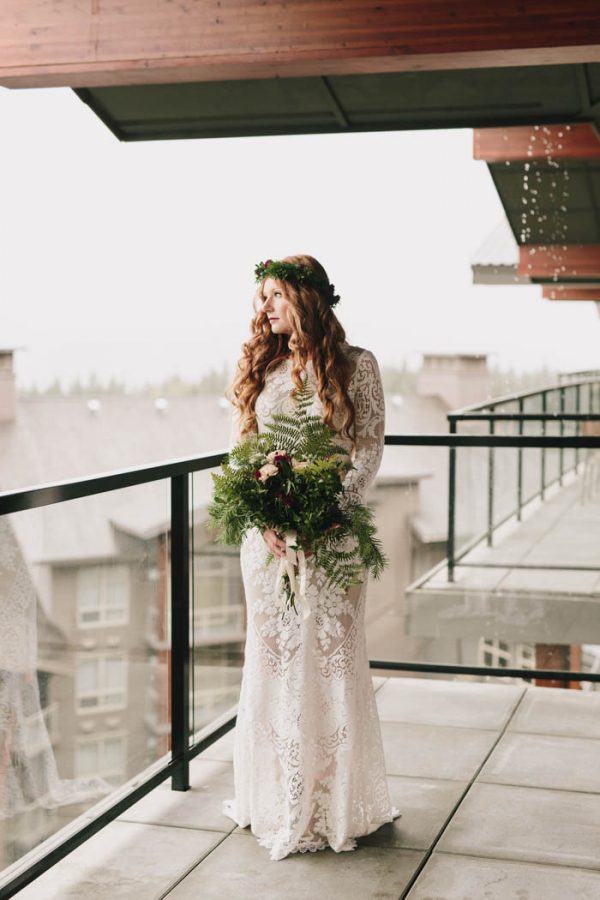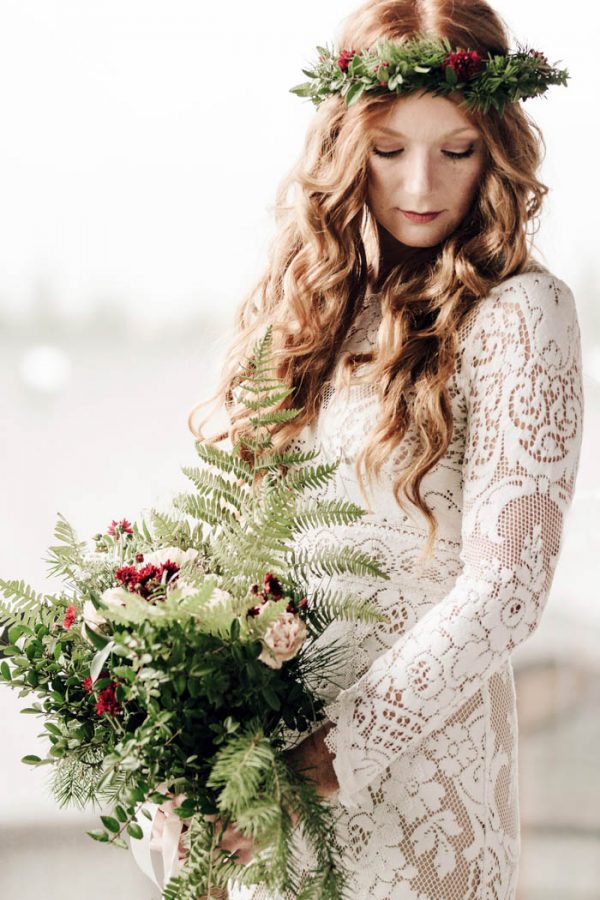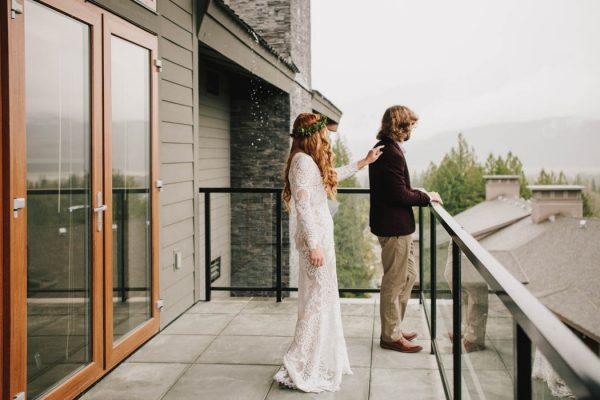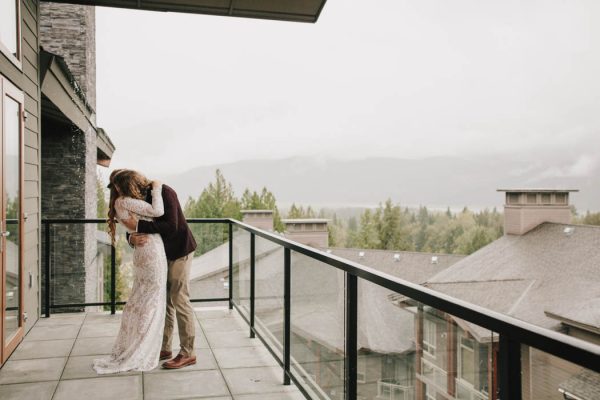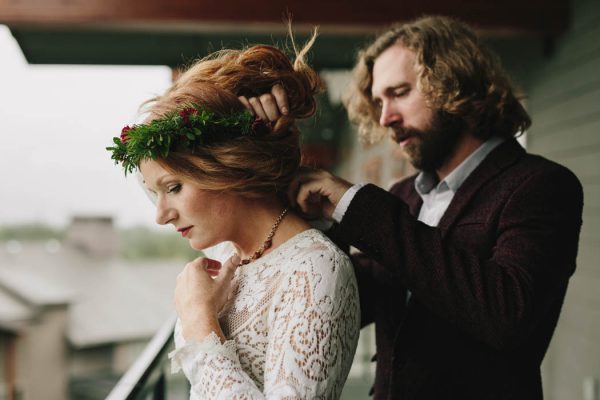 We both agree that the whole day was so surreal for us and there are just so many emotional memories that will stay with us forever! Definitely a highlight was taking a helicopter ride together through a canyon to the Jordan River. It was misty with a low ceiling of cloud and fog covering the mountain tops and was just absolutely breathtaking! We actually did this pre-ceremony (with our amazing photographer along of course!) and having that time to ourselves to just "be" was so calming and the energy was so pure. It washed away all the pre-ceremony nerves. Dreamy.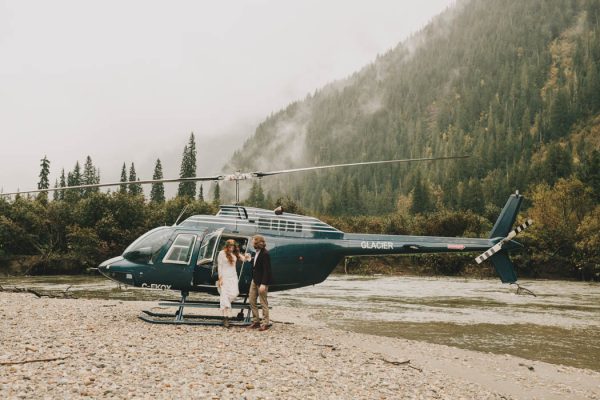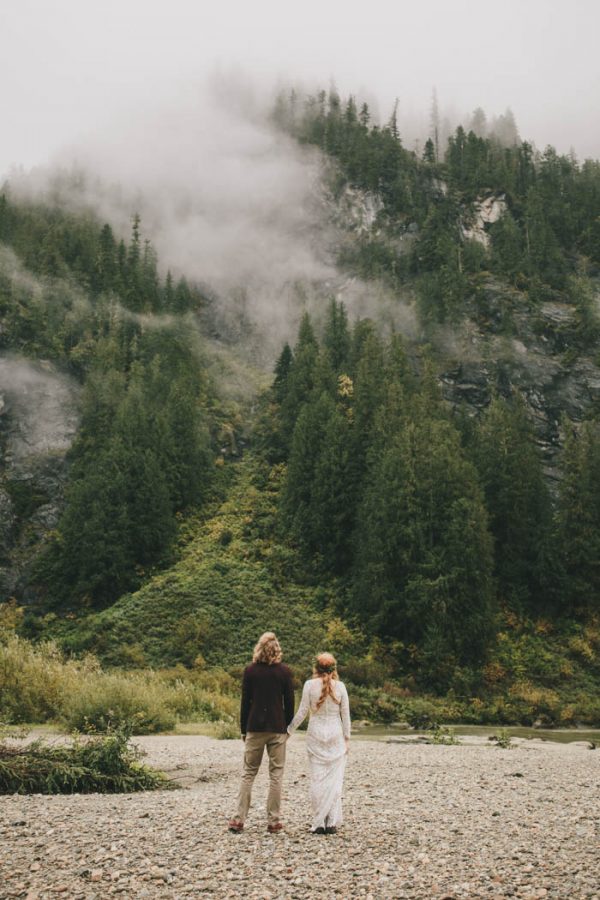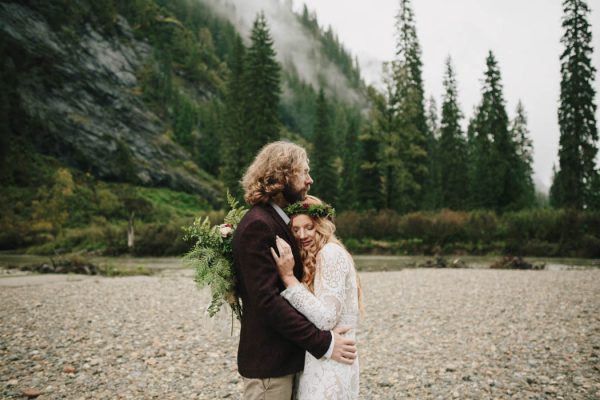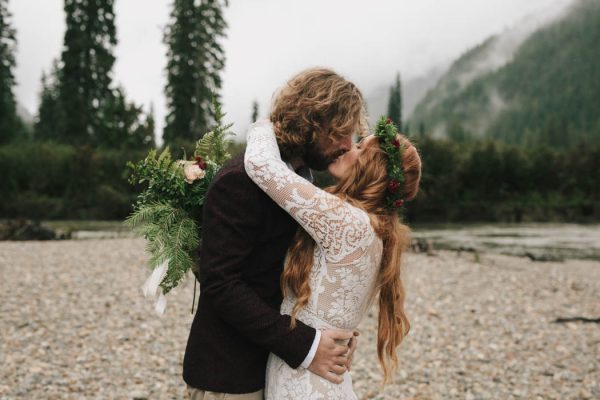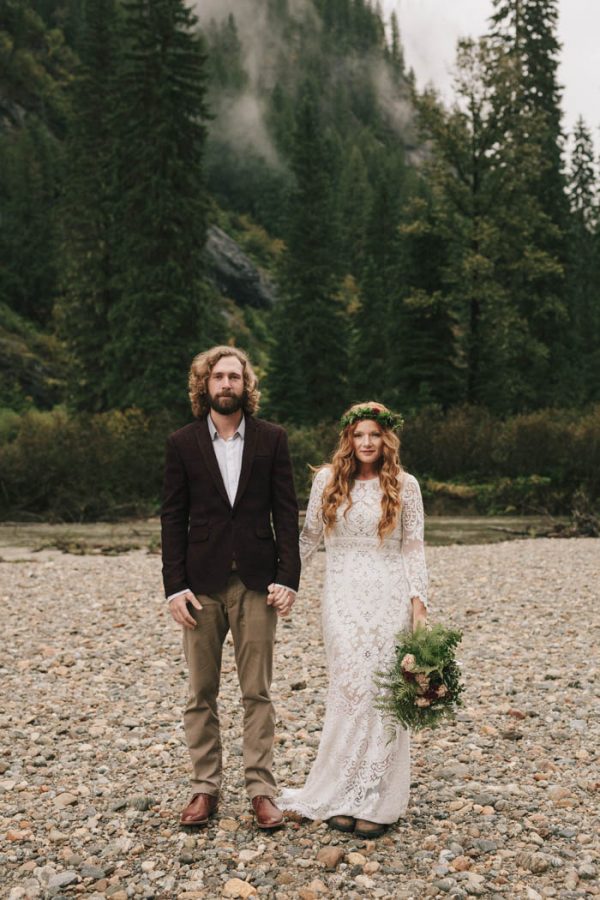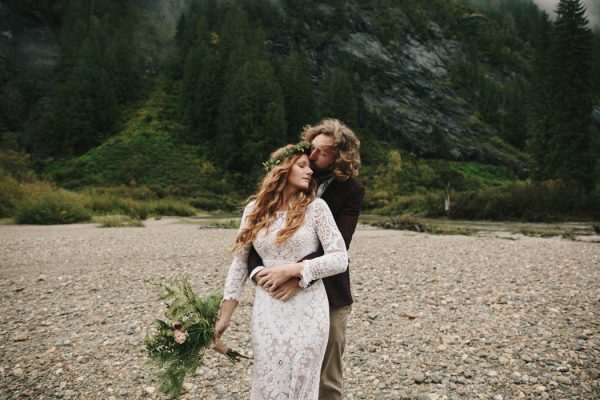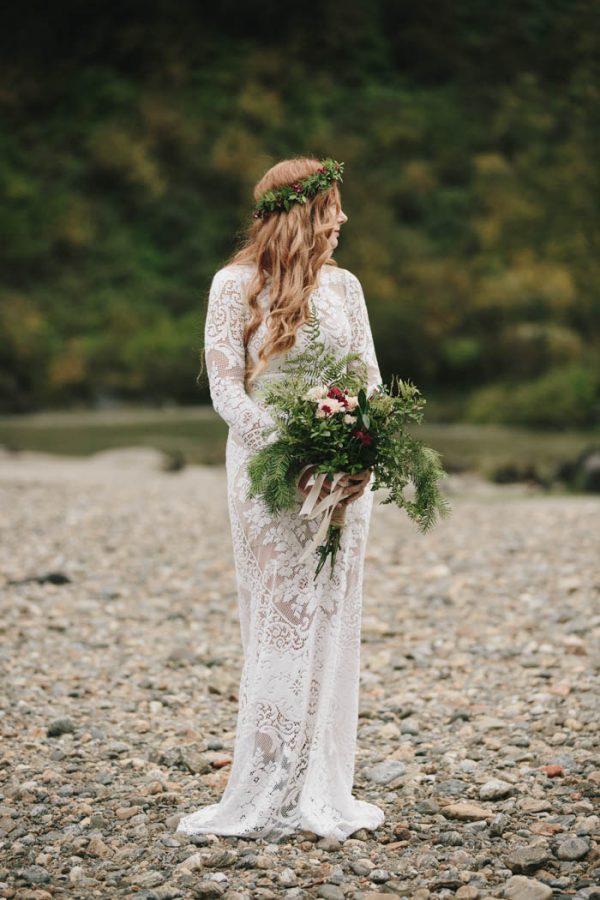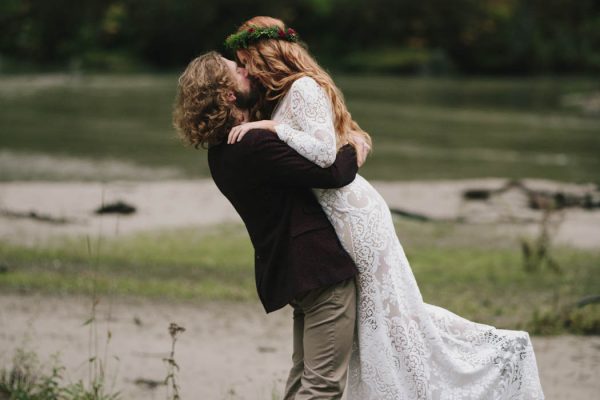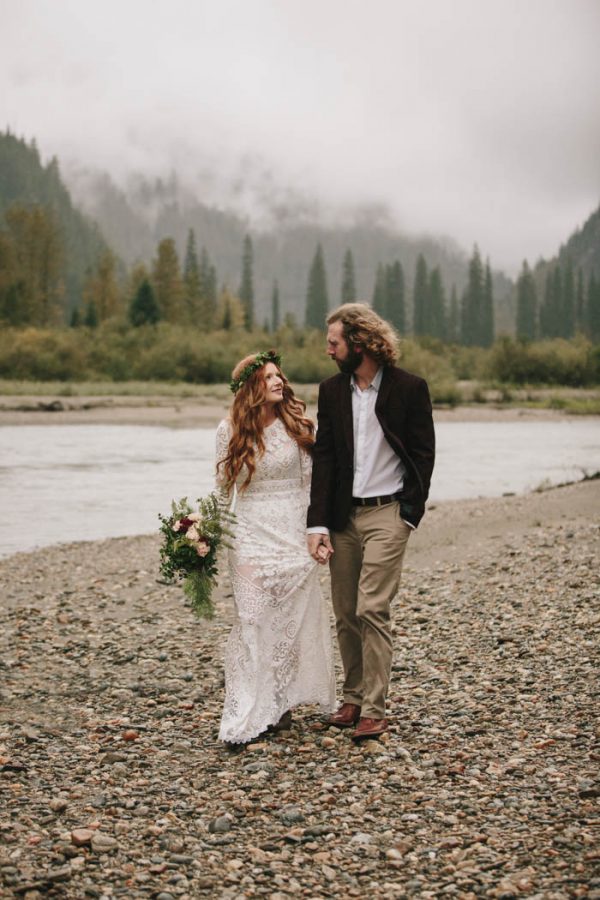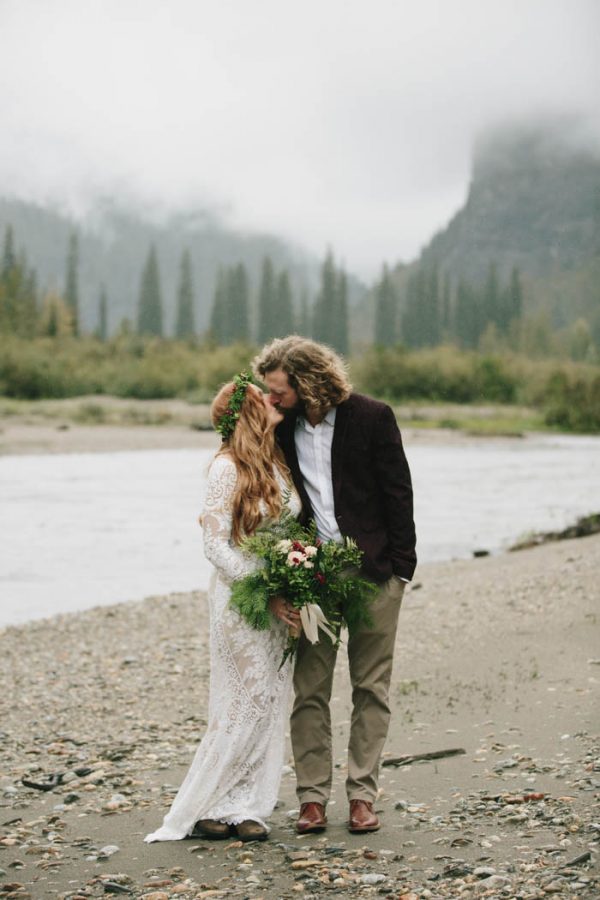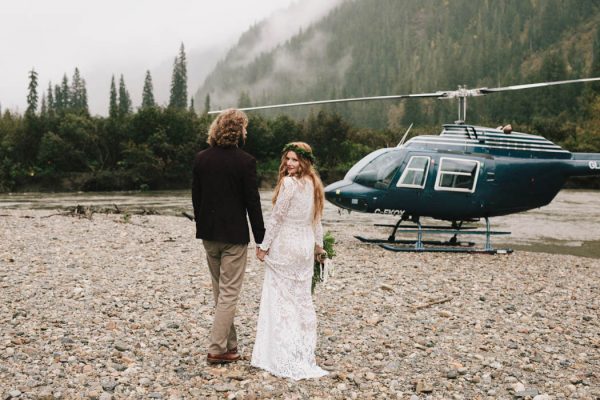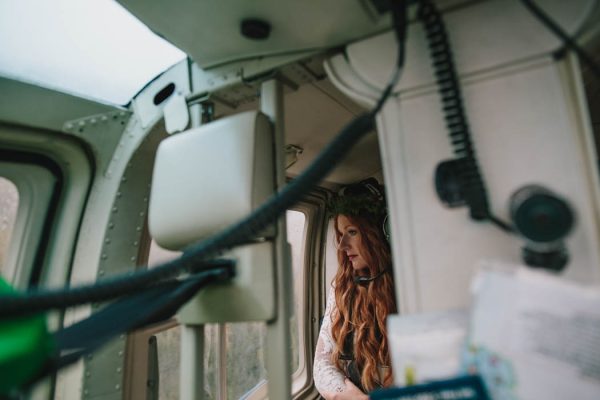 It was also super important to us to keep everything simple and intimate, letting the day unfold organically (reminiscent of eloping); thus, we invited just 18 people to witness our marriage and tried to plan as little as possible. We included our loving and supportive parents and closest family and friends. These are the people who brought our two lives together and who will be there in future to keep our union strong and commitment true.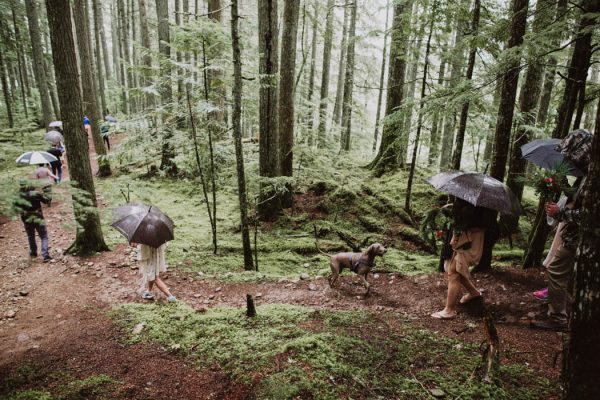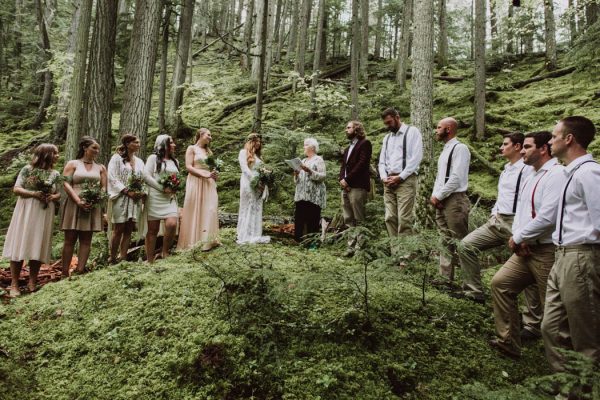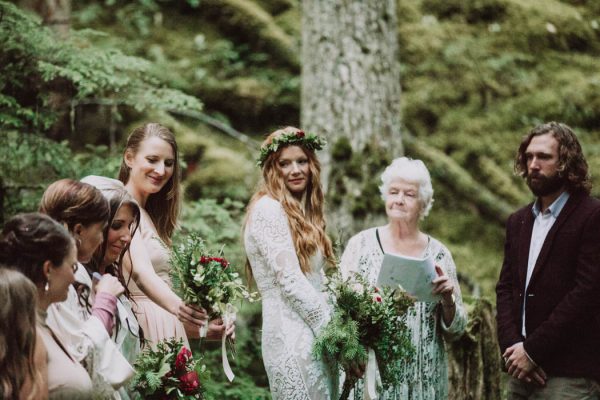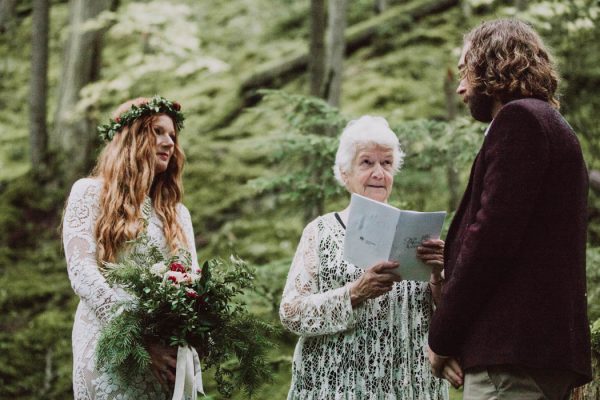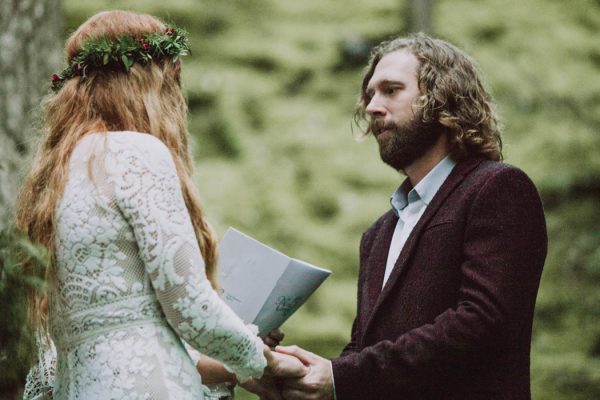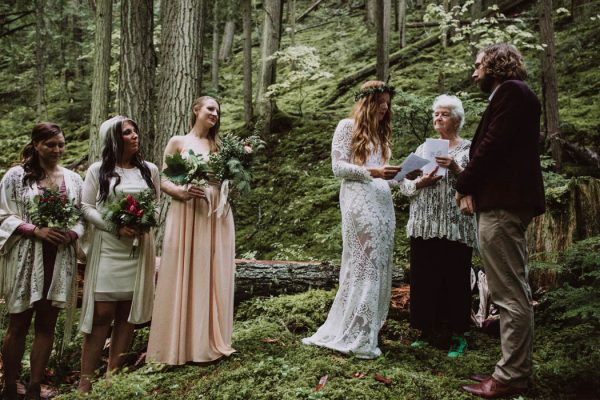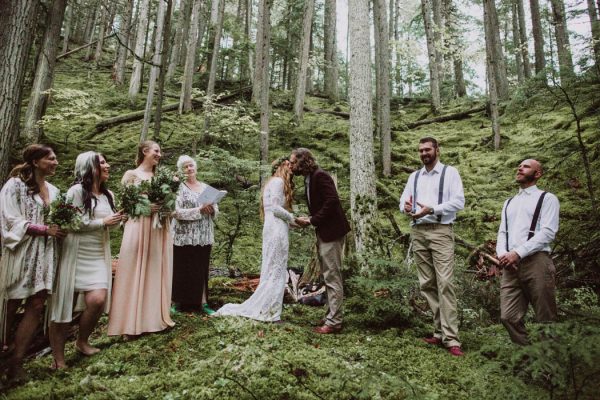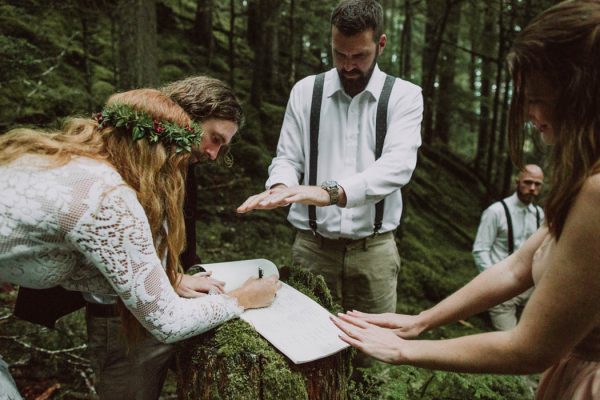 Immediately post-ceremony, we climbed a waterfall together, the base of which is where we got engaged the previous winter. It was a super sketchy climb up especially in the rain but that made it even more of an adventure….there was definitely a moment of truth clambering over the rocks down when I just had to trust Kels when he said jump and he would be there to catch me. We were both so emotionally charged that whole time, it was just beautiful.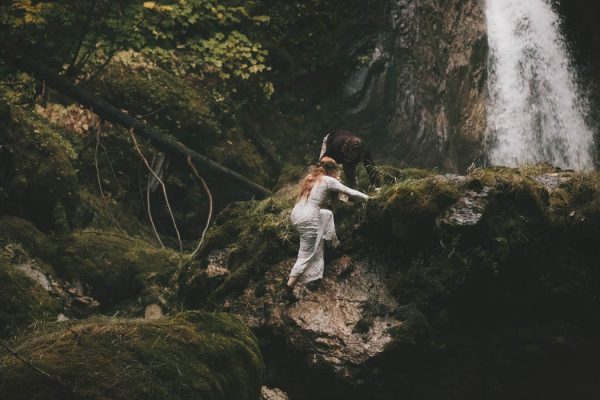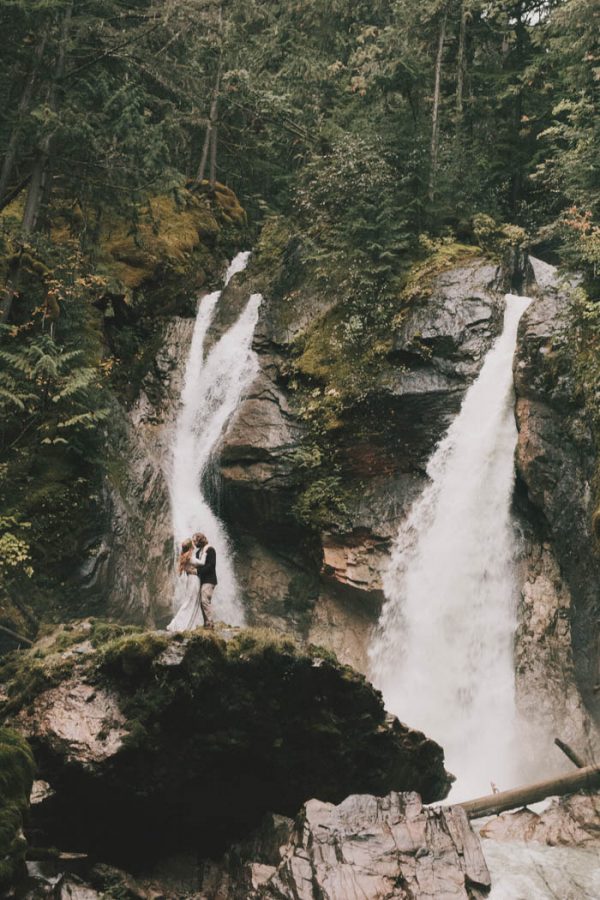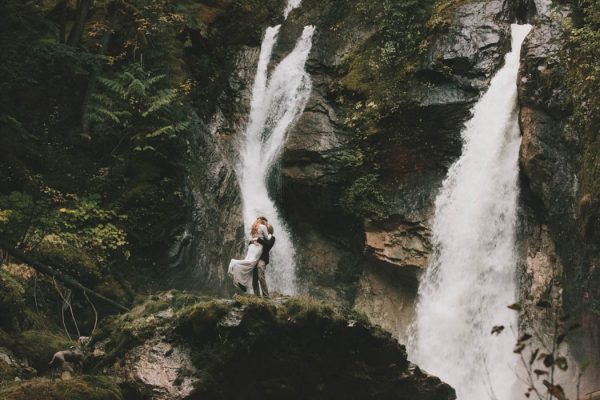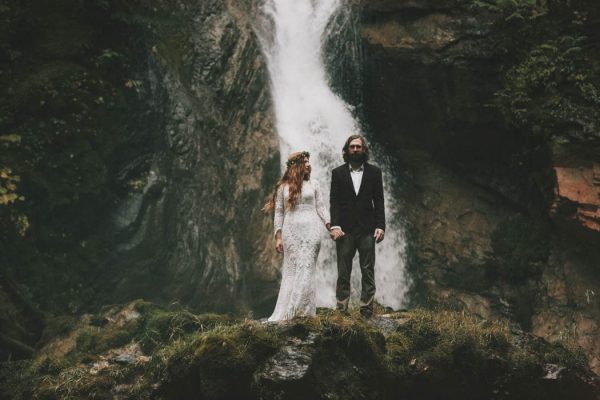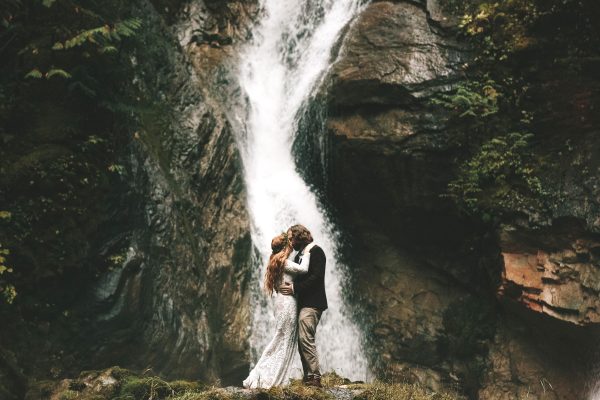 Mid September in the interior rainforest of BC is an unpredictable time for weather. We wanted a space that would ideally let us break bread, drink wine, laugh and dance under the stars and have a late night bonfire. We searched high and low for an outdoor space that would allow that as well as let us bring in all our home cooked deliciousness and bubbly and be as noisy and happy as we wanted without keeping up the neighbors. The BC Interior Forestry Museum was absolutely perfect for us – they checked off every box! They even had a gorgeous viewing platform that looked out onto the Columbia River that they set up for us to use as our dance floor! Then that day it rained…and stormed. We ended up moving our tables inside to the wood stove heated museum space, which was earthy and cozy. It ended up just perfect and the staff went above and beyond. All the old logging saws and forestry equipment sparked up great conversation and the exposed interior timbers hung with twinkling bistro lights provided us with the perfect ambience.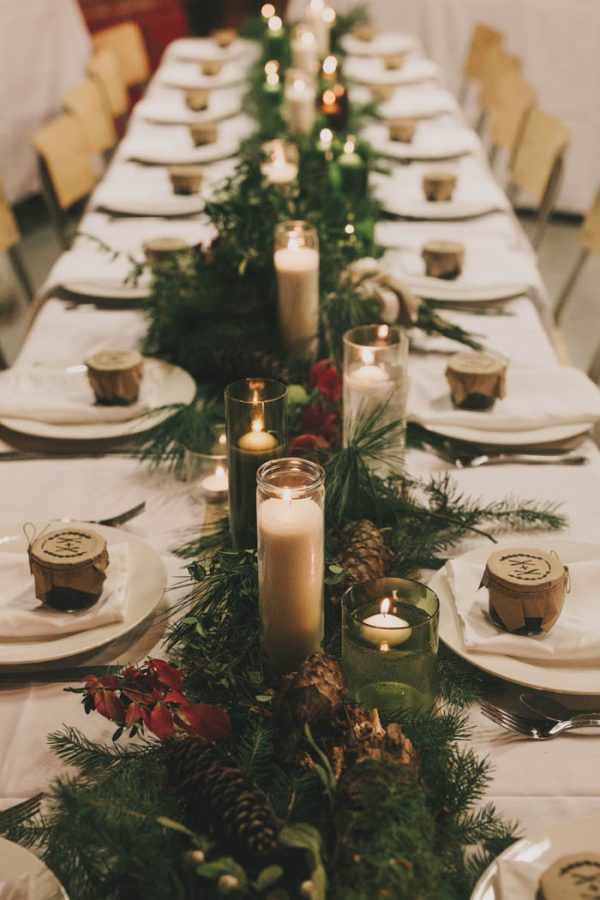 Our whole wedding was pretty much DIY! Thank goodness for patient and creative friends and family! All of our gorgeous bouquets and table runners were foraged locally in Revelstoke with my bridesmaids the day before the wedding. A lot of ferns were included, a favourite of Kelsey and me – my creative green thumb mother helped us all put them together the morning of the wedding.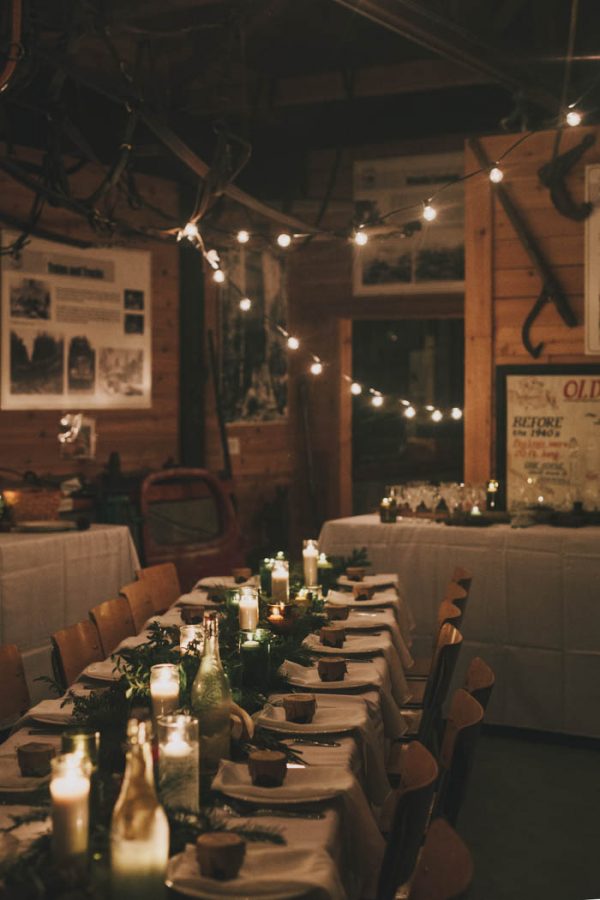 We gave our guests a flight-friendly jar of our homemade maple bourbon apple butter, which we made together in the summer, harvested from the apple tree on our acreage back in SK. It was our way of sharing a little piece of our love with our closest people.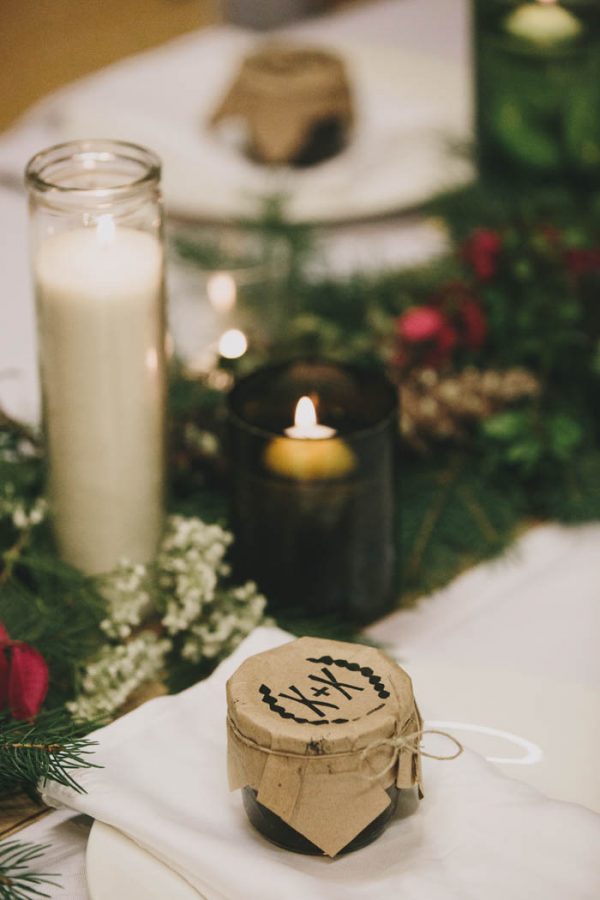 Our bar was set up using vintage decanters and recycled crystal and mid-century glassware my sister and I hunted for thrift store after thrift store, adding such a chill vibe to our bar.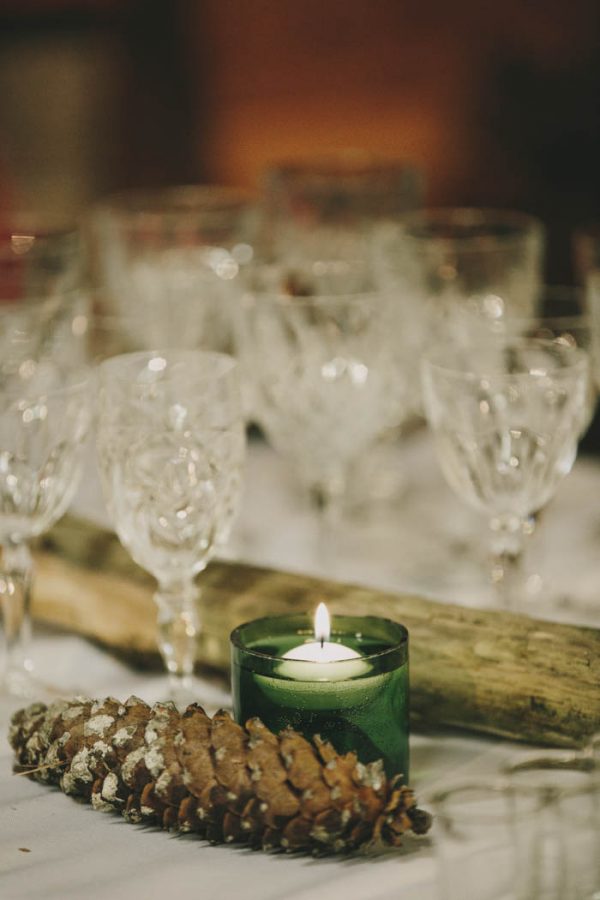 Kelly Brown is outstanding! From our first interaction with her we knew she was our kind of people! Her passion for seeking light and capturing real moments shines through in her imagery. We searched high and low for the perfect photographer to tell our story, and Kelly hands down was the right girl for the job – we are IN LOVE with our photos!!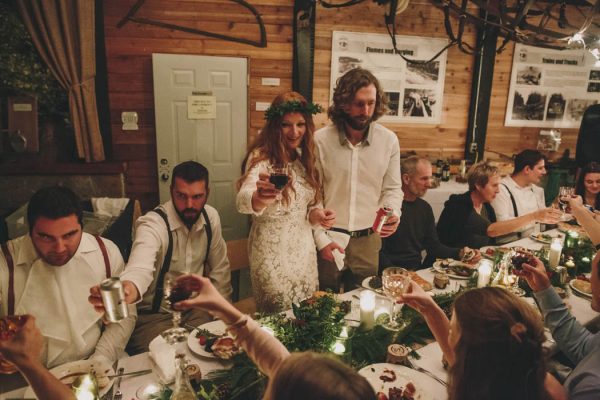 Congratulations to Keshia and Kelsey on your next great adventure together, and an extra special thanks to photographer Kelly Brown for sharing these incredible wedding photos with Junebug! Are you in love with the idea of a cozy forest wedding? This whimsical and heartfelt Wahclella Falls elopement has some incredible inspiration you need to see!