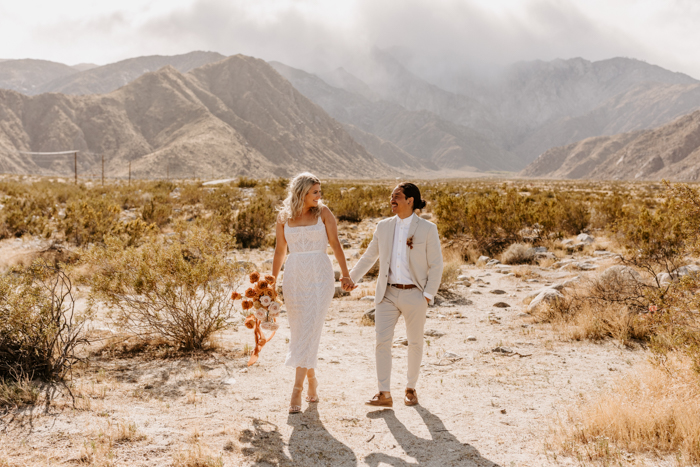 Zoe and Zac proved that you can have a totally epic wedding day with only five weeks of planning! We're feeling all the feels over their desert glam Joshua Tree elopement that stole our hearts with the perfect rust color palette, epic fashion, and portraits in the California sun. Zoe wore two gowns for her day (which we love) — the first, a Pallas Couture dress, was perfect for the "I do's," and her change into a fun, sparkly Alex Mearing number totally stole the show as the two ran around the desert with Tida Svy Photography! If you've been stuck on planning your day, let Zoe and Zac be your inspiration to make your elopement dreams come true!
The Couple:
Zoe & Zac
The Wedding:
Joshua Tree, California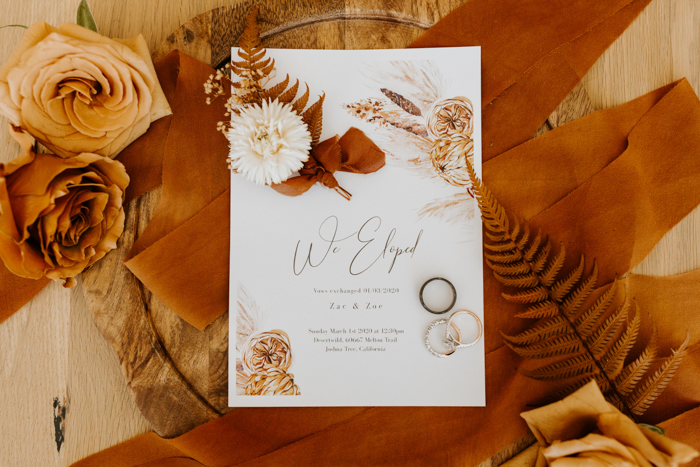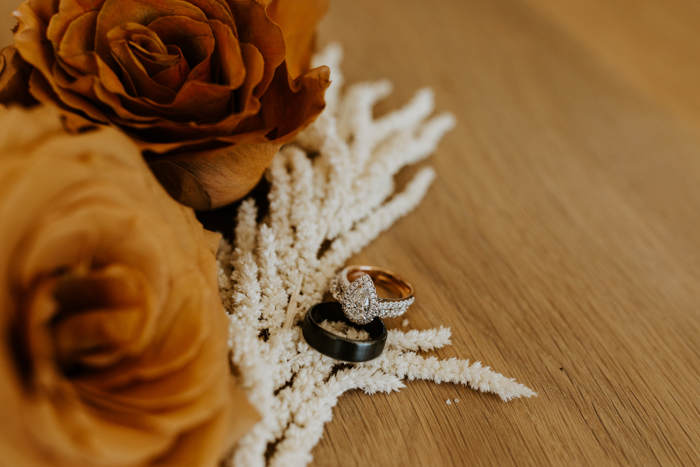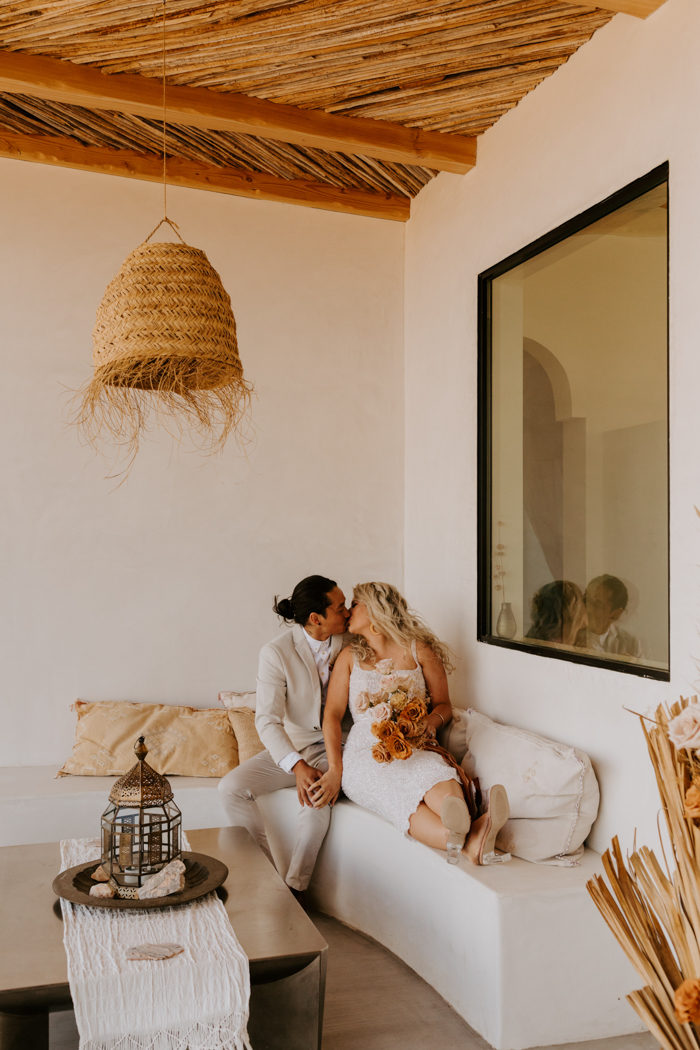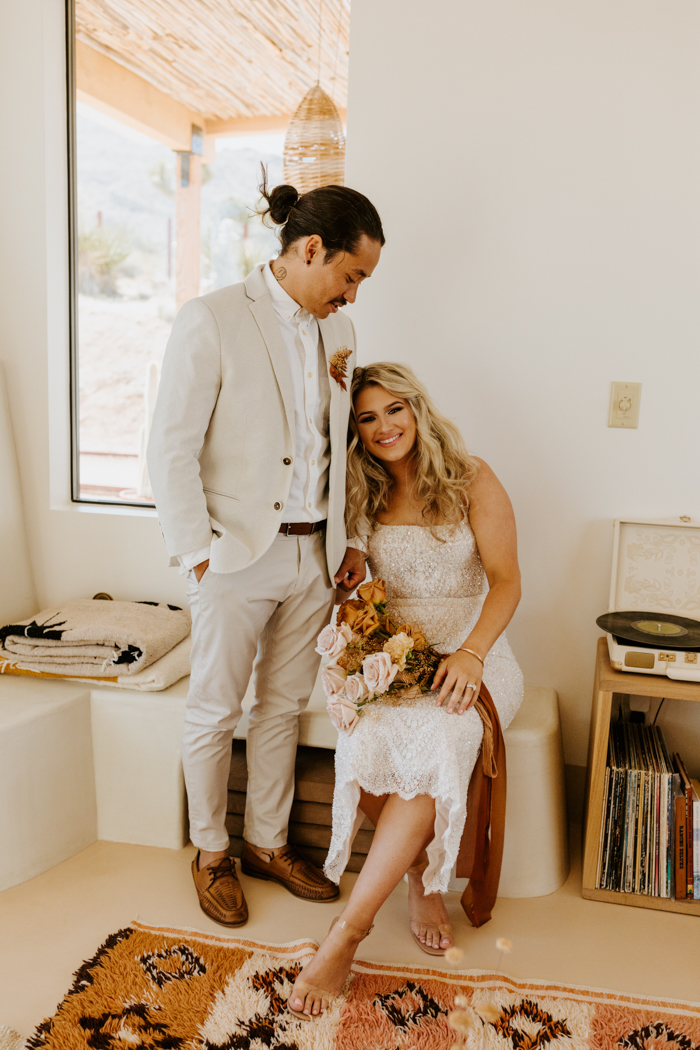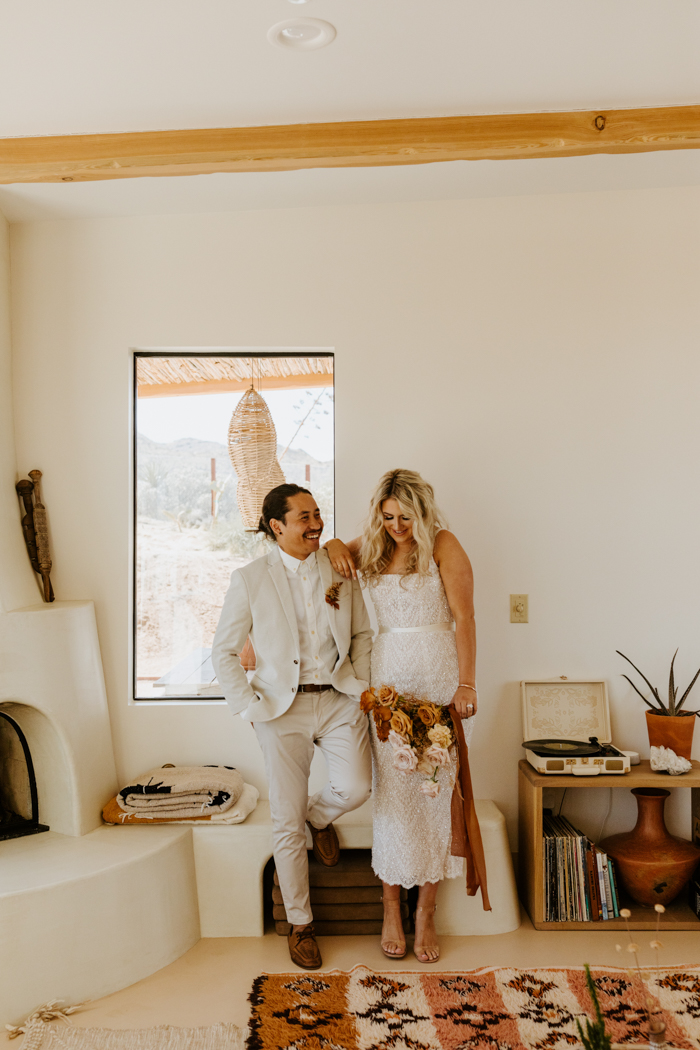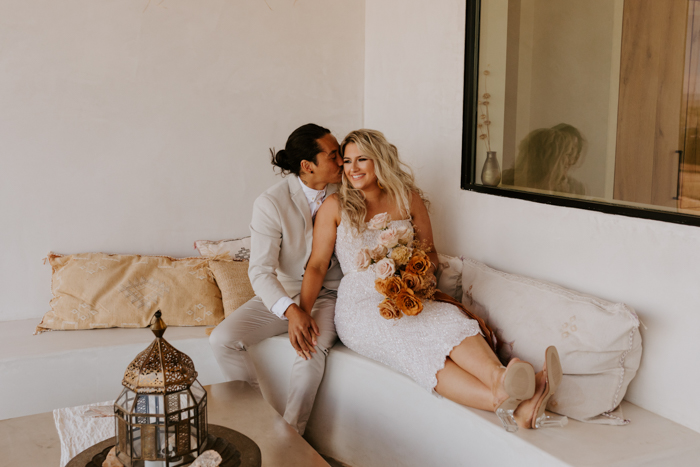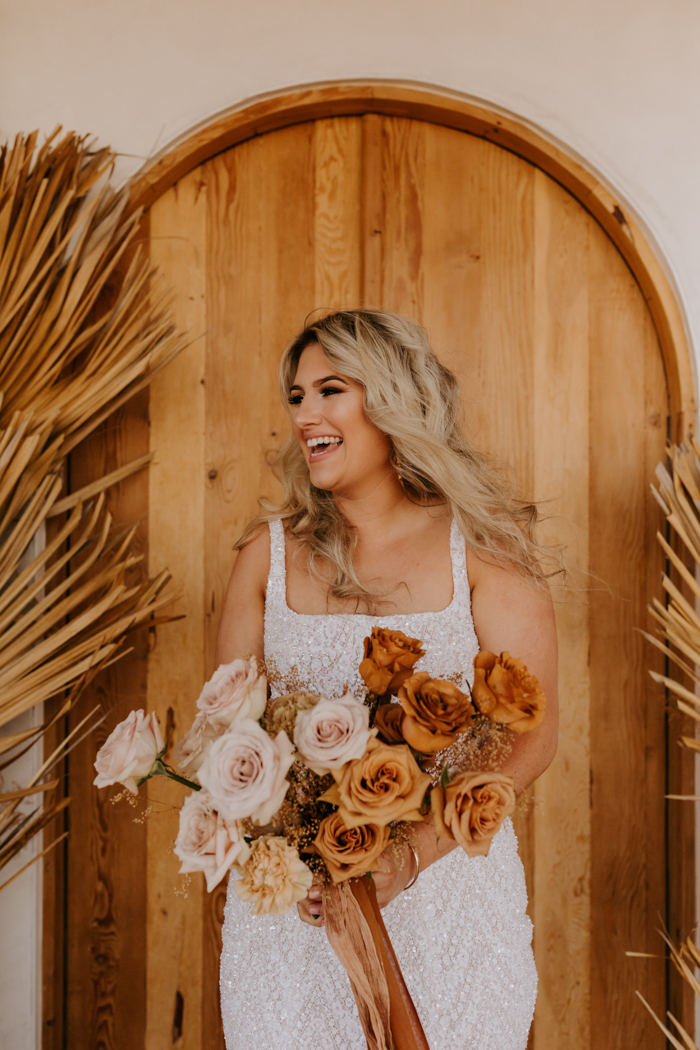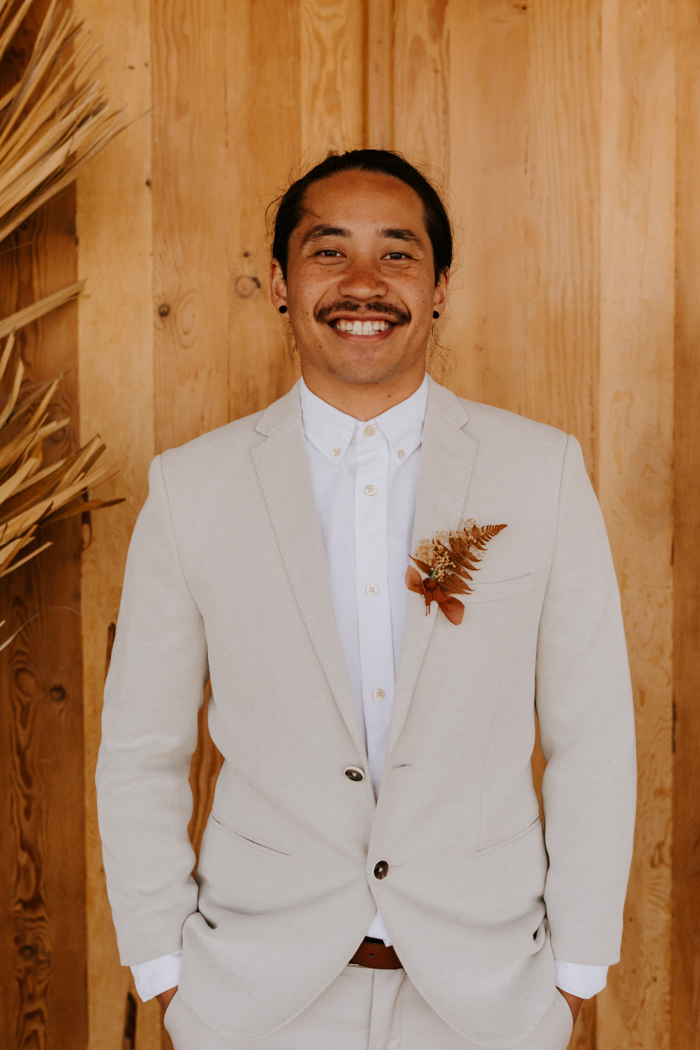 To me the most important part of planning our special day was to remain calm at all times. Some days I would spend hours going back and forth via email to our chosen vendors about failed plans or preferences and I could feel myself becoming a little overwhelmed. I had to keep mentally reminding myself what I wanted this overall experience to be like for us, which was TOTAL FUN and STRESS FREE. When I kept reminding myself of that I could totally shrug off a lot of those feels and embrace it all for what it was. We wanted to feel completely relaxed, be 100% in the moment on the day without any distractions and just enjoy the day for what it was. We wanted to enjoy each other.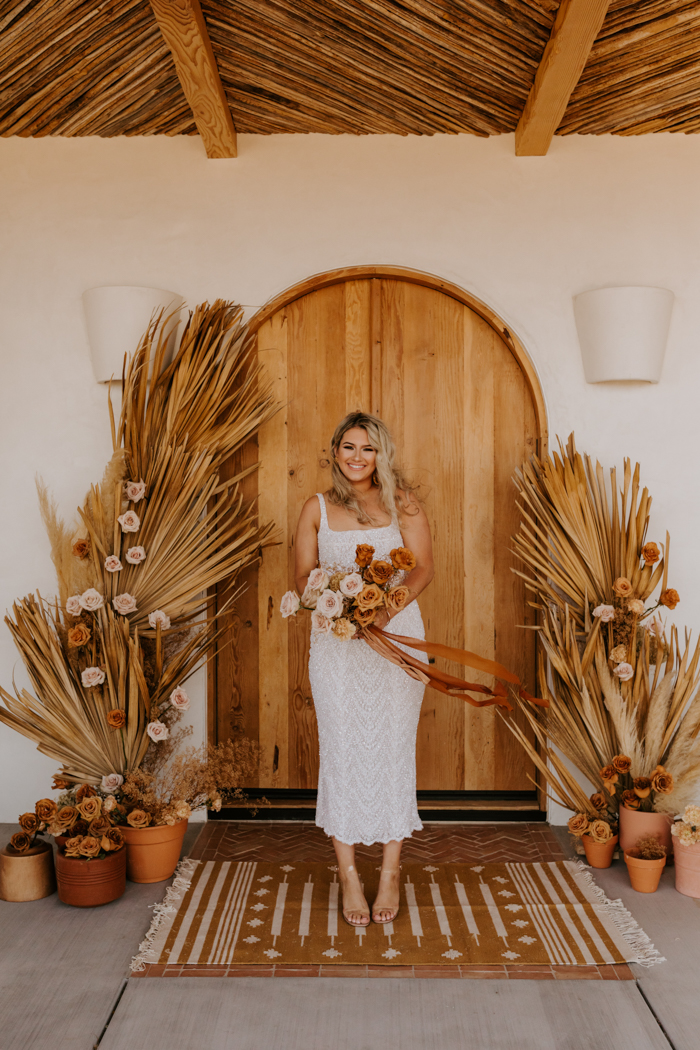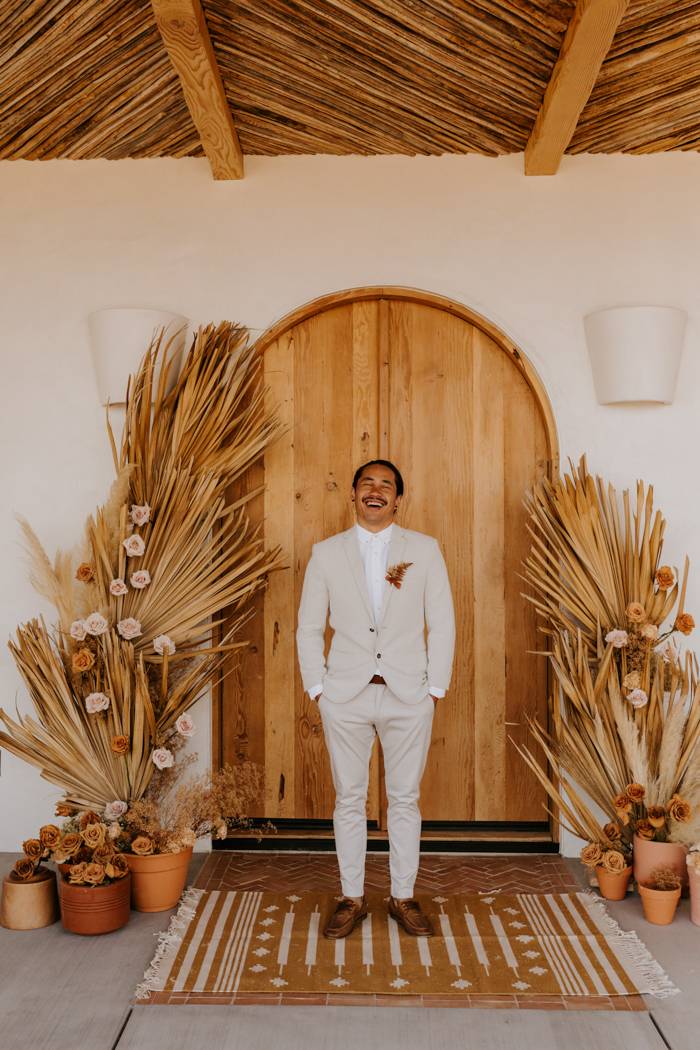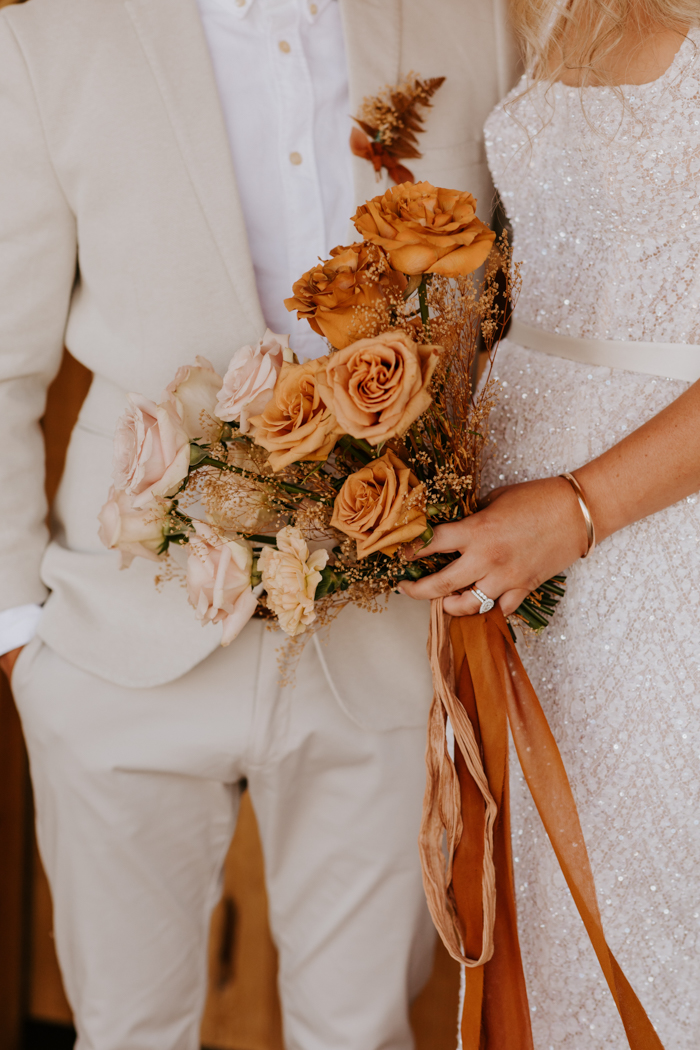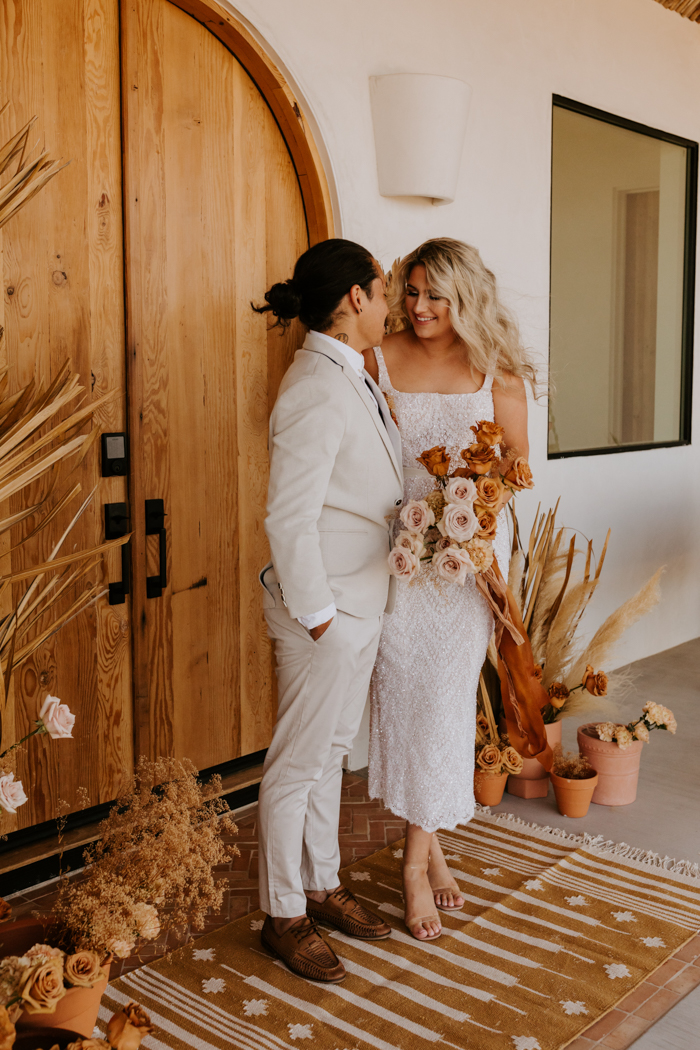 We found Desert Wild on AirBnb.com. There were so many cool and unique places to stay in Joshua Tree, but the second Desert Wild was on our screen we were hooked! Every inch of the place and it was exactly the vibe we wanted for our special day. It was quiet and intimate. The neutral tones inside and outside of the home are magic and send you into instant relaxation mode. It was gorgeous, it was relaxing, romantic, and it was …desert. What else can I say we were chasing the desert vibes and those magical golden sunsets to cheers to. We had no idea whereabouts in the home we would have the ceremony but decided on the big beautiful wooden doors at the front!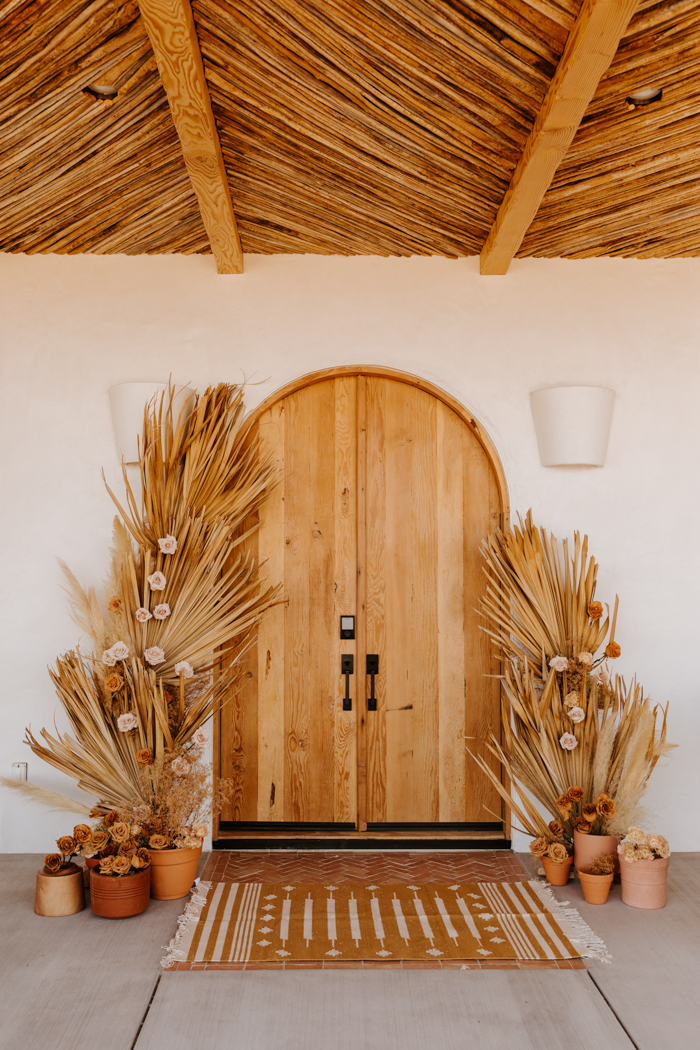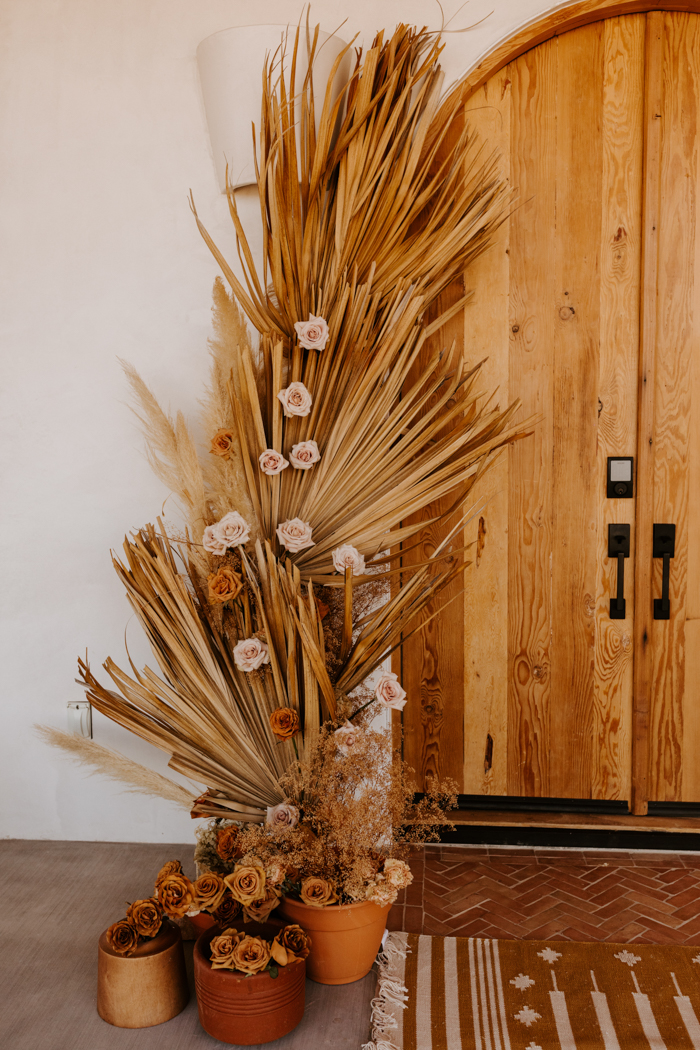 Cultivated by Faith was incredible. Isn't it amazing who you can find on Instagram these days!? I found Vanessa on Instragram only two weeks prior to our wedding. She was the most authentic, genuine, softly spoken and gentle women I have met. Such a beautiful soul to include on our special day. Her flowers were breathtaking. Everything I dreamt of and more. Vanessa was willing to go above and beyond for any vision I wanted her to create on the day. I remember asking her is she had a rectangle arch that we could use and her response was "No, but I can have my husband make one." Could not recommend her enough!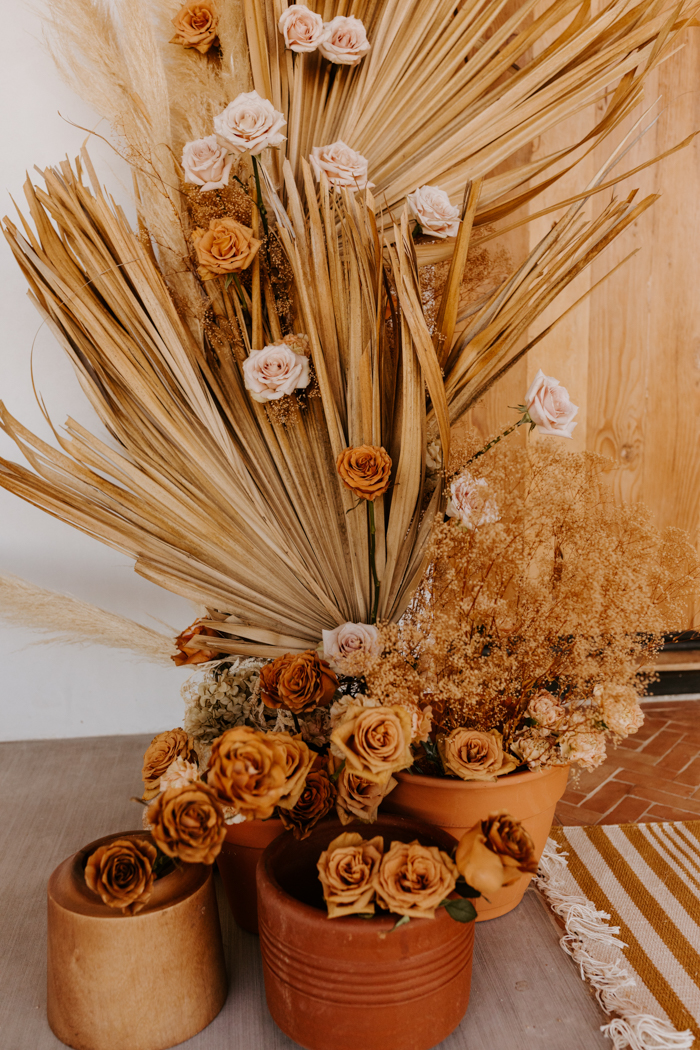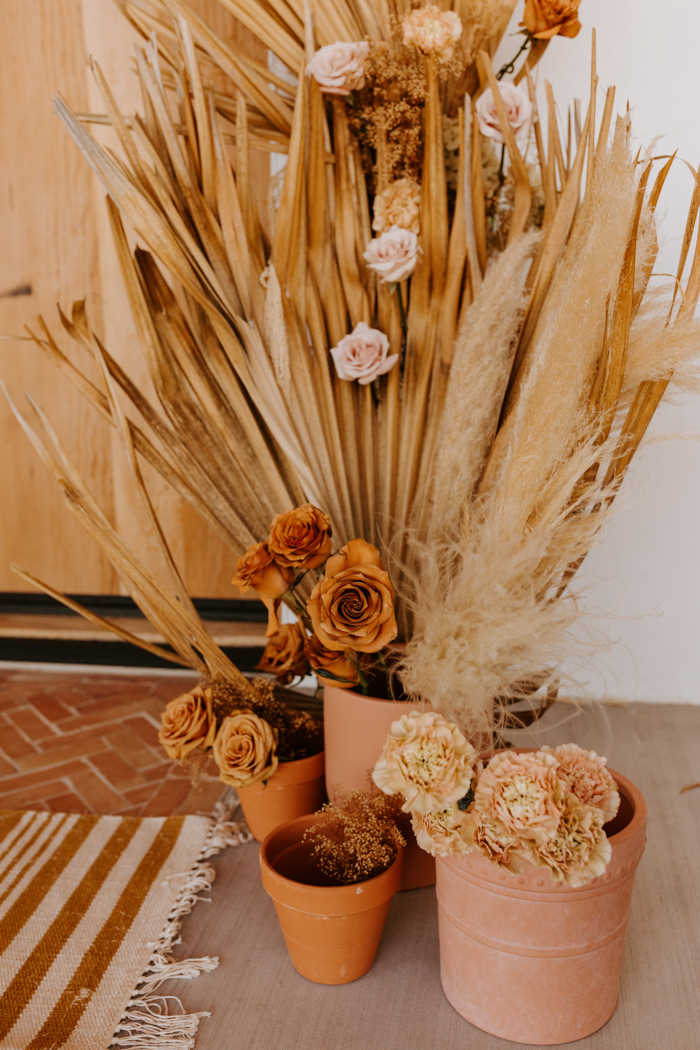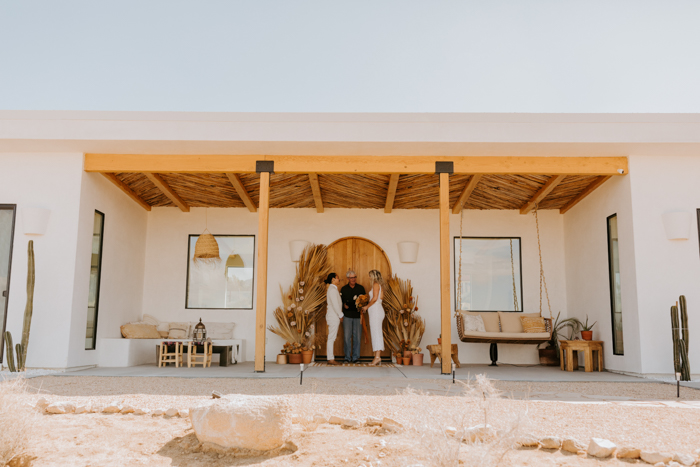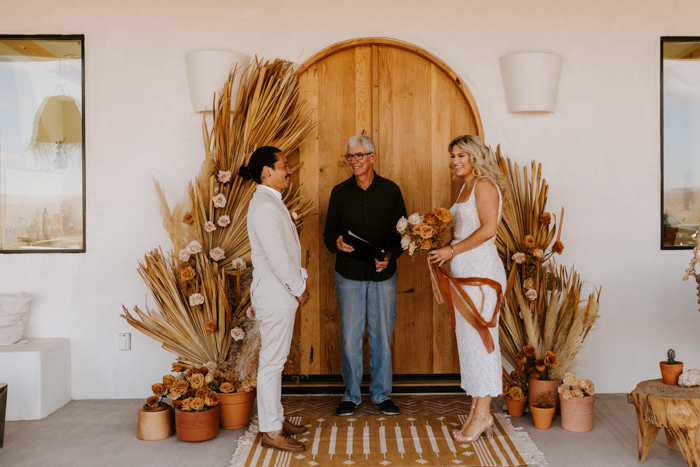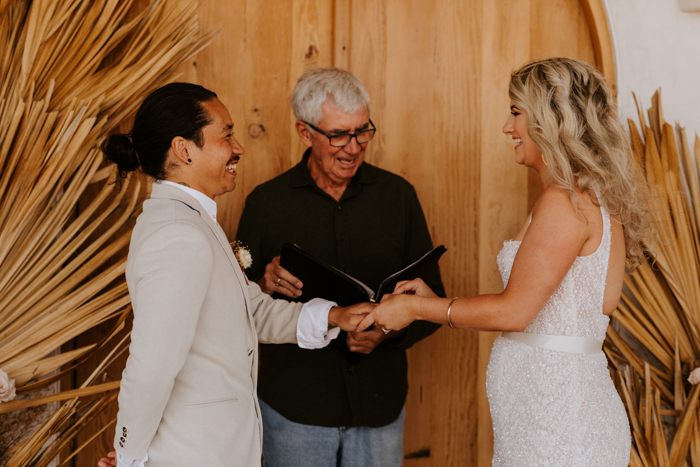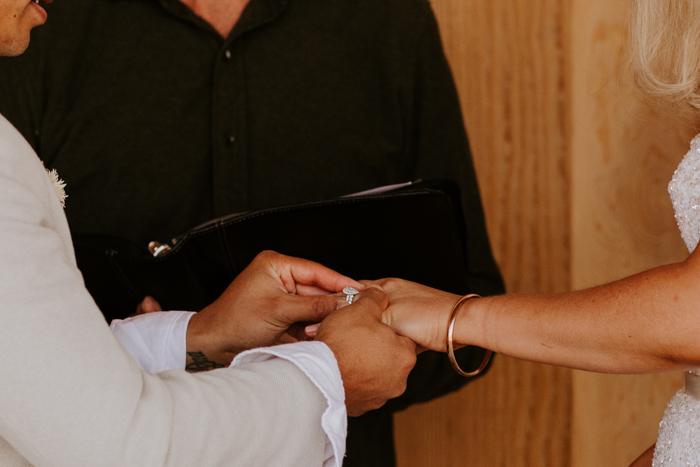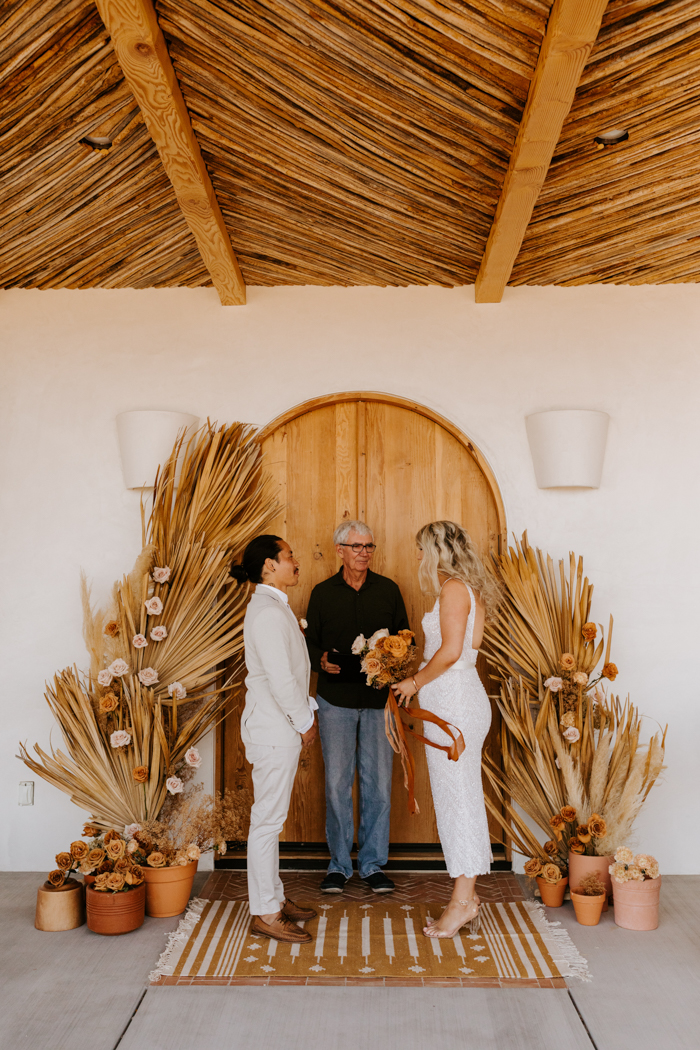 It was my mission to find warmhearted, real, genuine souls to share this experience with. People that I just felt really connected too. Finally meeting everybody [all of the vendors] in person and giving them a big cuddle was a special moment for us for sure. These special souls helped us create one of the best days of our lives and we will never forget them. They made it all so fun. We weren't having any wedding guests but we ended up having them. We all laughed and talked and got things ready together before the ceremony. The last thing we wanted was to feel uncomfortable and awkward on our wedding day and I can assure you it was far from that.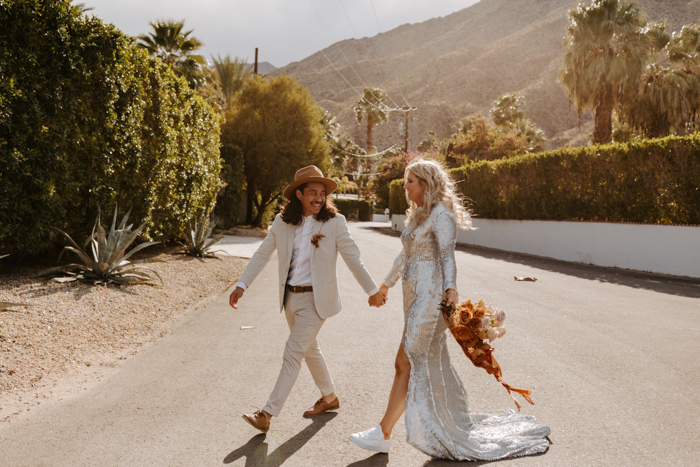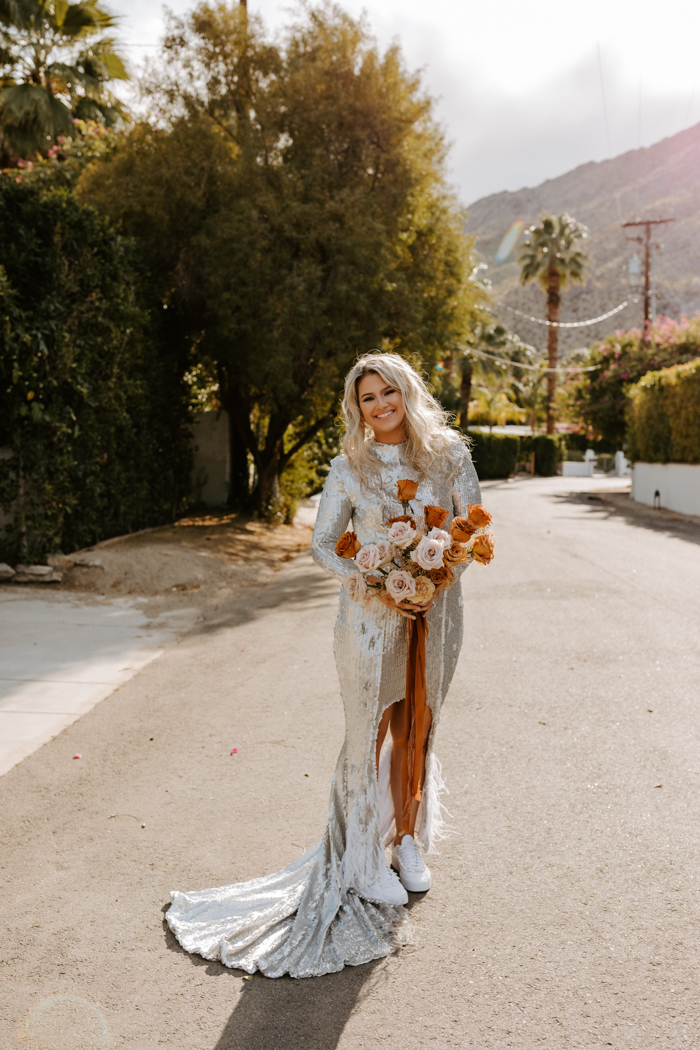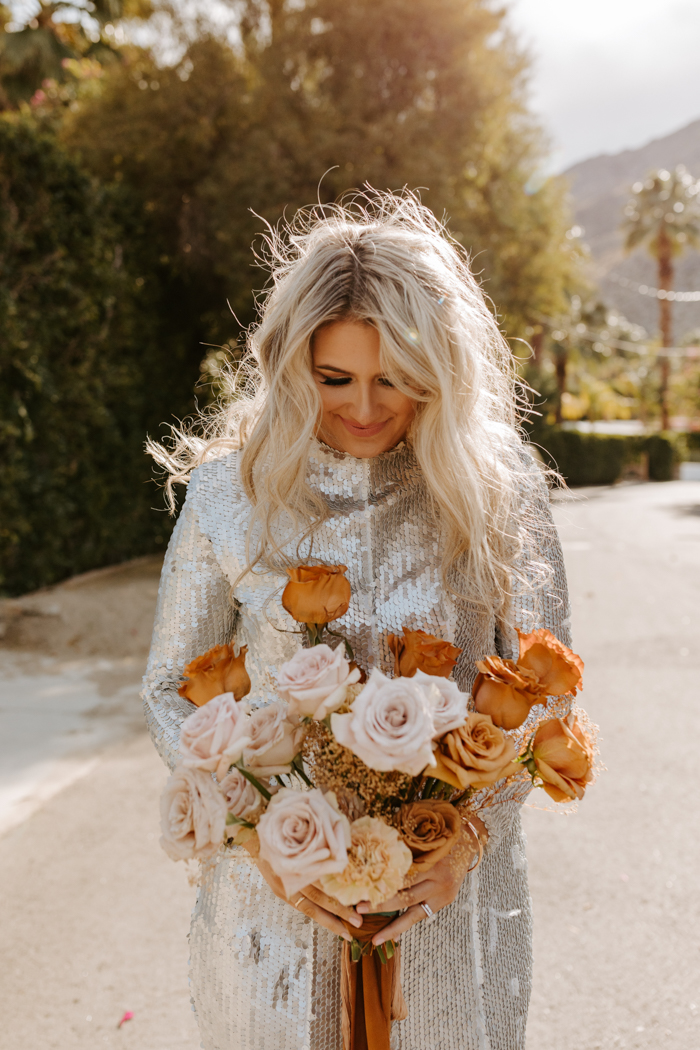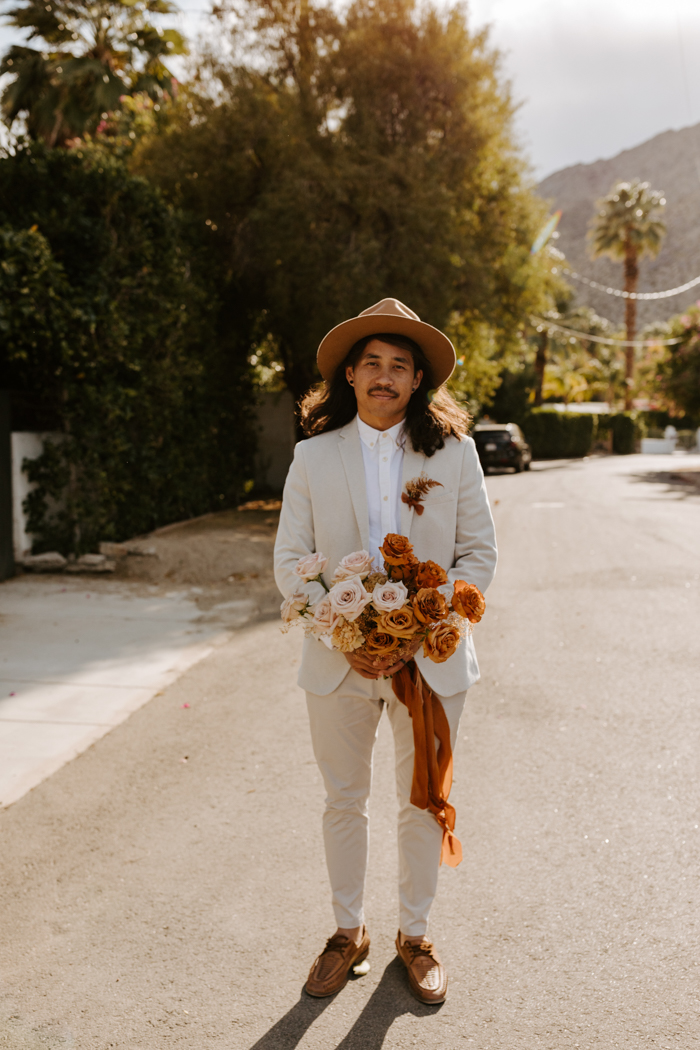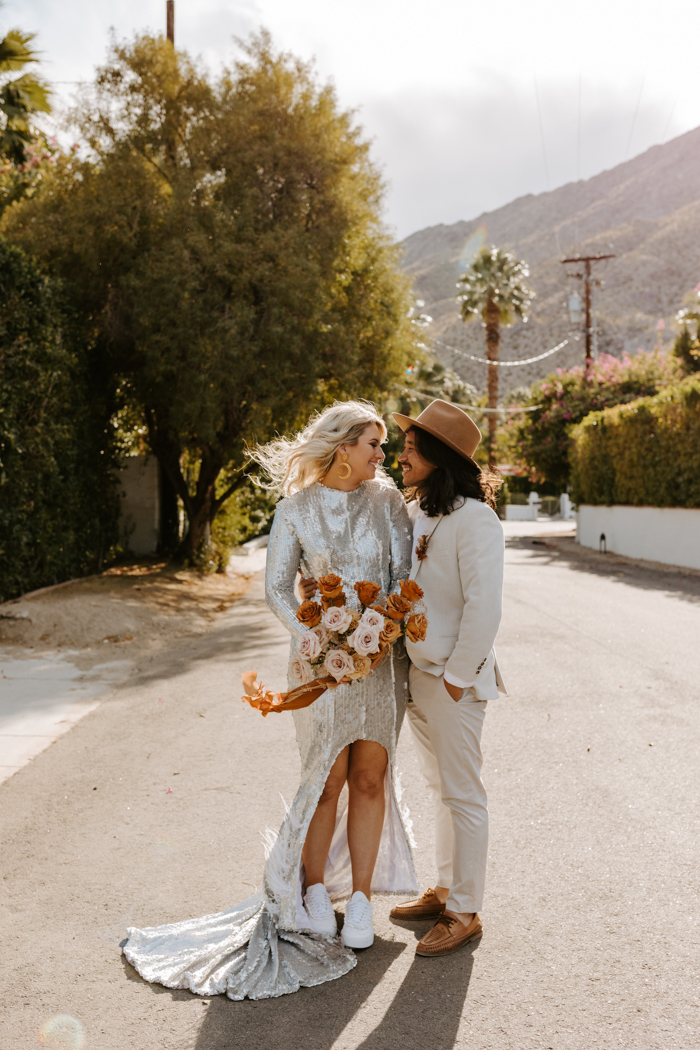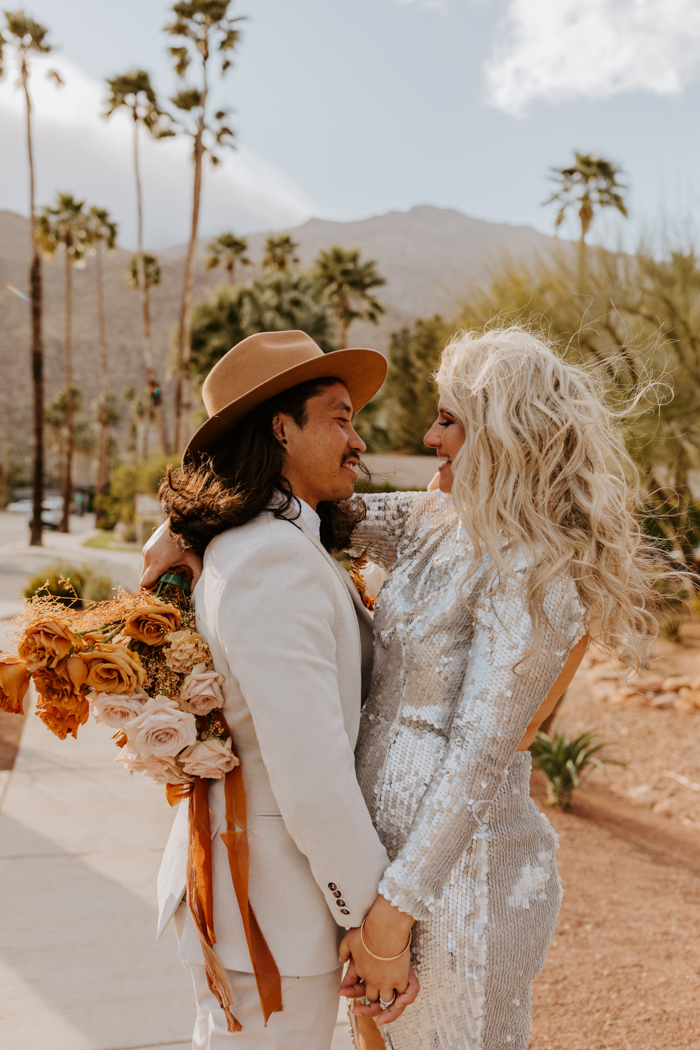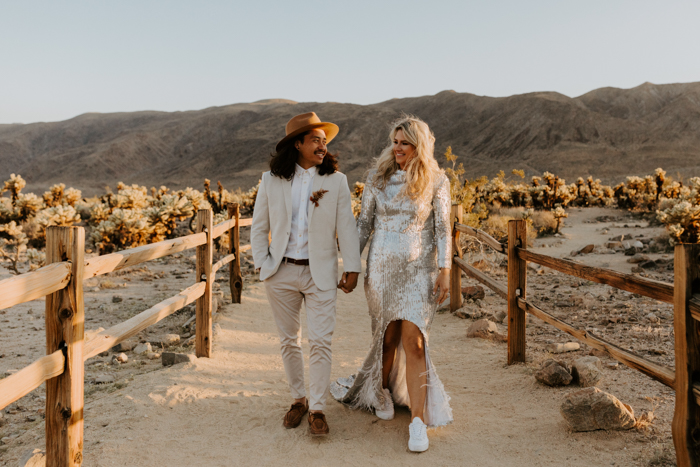 I had two wedding dresses on the day. I thought It was only right to find something a little more FUN for the desert. Our one-and-only wedding day goal was to relax and enjoy, so it felt right to change into something a little more unique to run around the desert in. The silver sequin Vegas dress made by Alex Mearing was SO FUN! I wore that with white Adidas sneakers. I didn't wear many accessories apart from a simple rose gold bangle and the most stunning gold Adara earrings by Christie Nicholaides. They were my favourite!

Zac wore a natural linen suit all day and we threw on a hat when we hit the desert for a more casual vibe. Honestly it all felt so casual and that's what we loved about it! Our wedding officiant asked me an hour prior to the ceremony if a white button up and black tie would be suffice? Our response was instant and it was "Richard you can wear anything you like, mate" and so he changed into something a little more comfy. IT WAS SO FUN! HOWEVER changing wedding dresses in the back seat of a car is no joke! I've attended gym classes that required less effort! HAHA.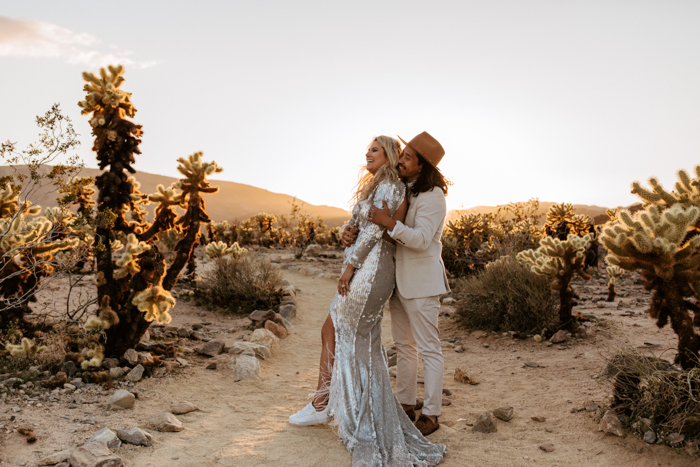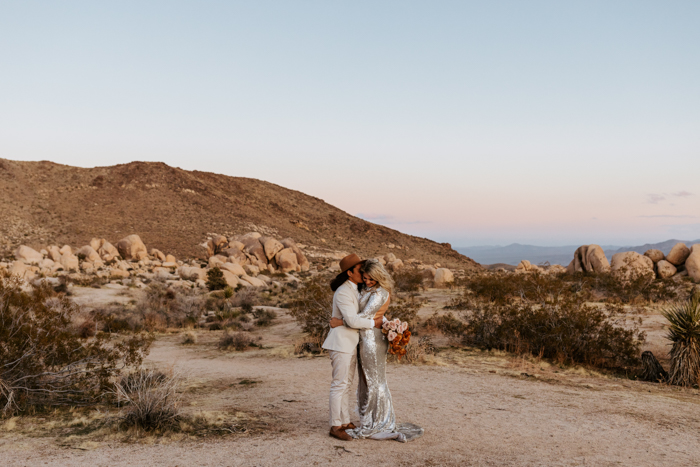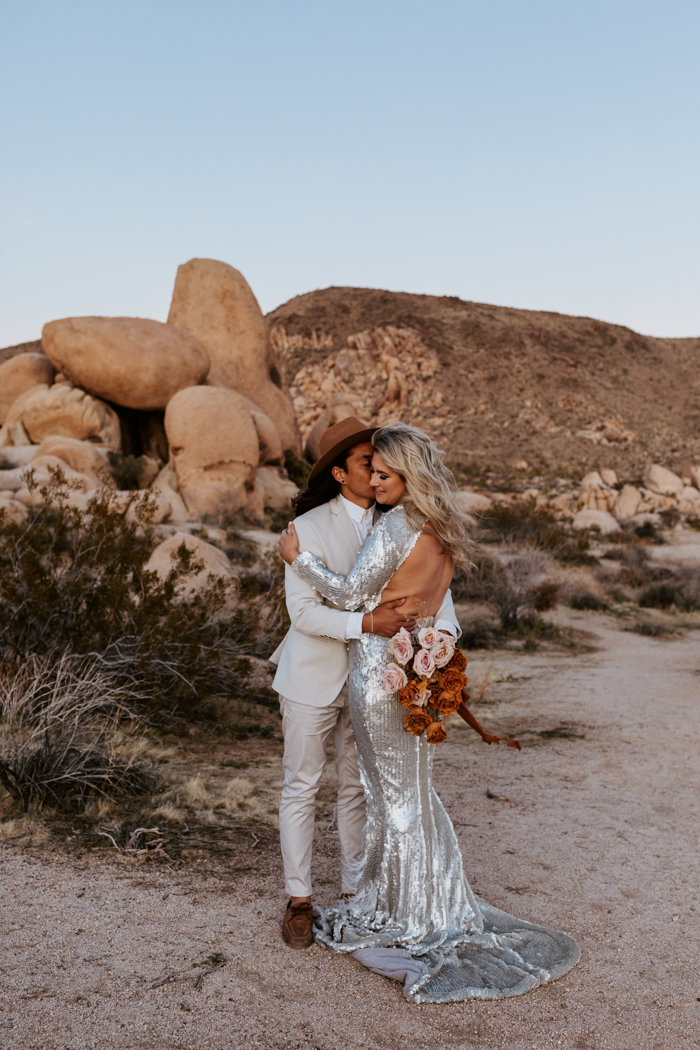 The vibe we felt on our wedding day was incredibly important to us. Being just the two of us without our babies, friends, and family we needed to find that balance somewhere that made us feel like we were still celebrating our wedding day. We wanted this day to be one of the most special days of our lives but we also wanted to keep it unique. We knew from the get go that doing something traditional or normal you could say, was not for us. We had never entertained the thought of even having a big white wedding. Having the ceremony in a white dress and a suit brought us back down to normal for a short moment, but then we wanted to get a little bit quirky and more US! We wanted to be 100% in the moment, we wanted to be relaxed at all times and we wanted to relax and enjoy our day TOGETHER. And that is exactly what we did.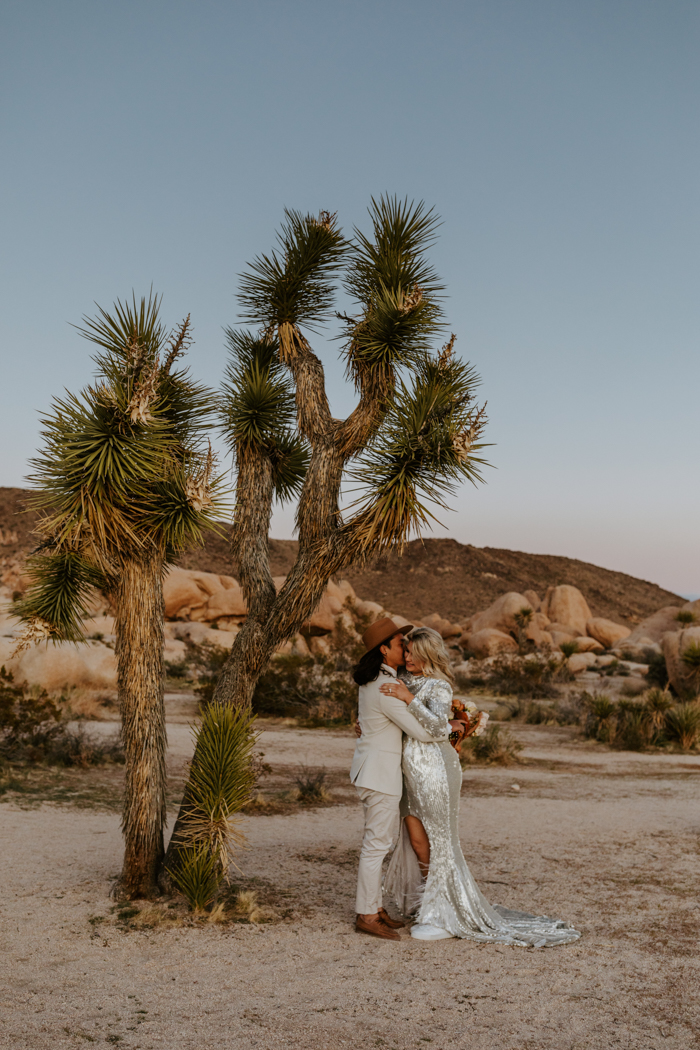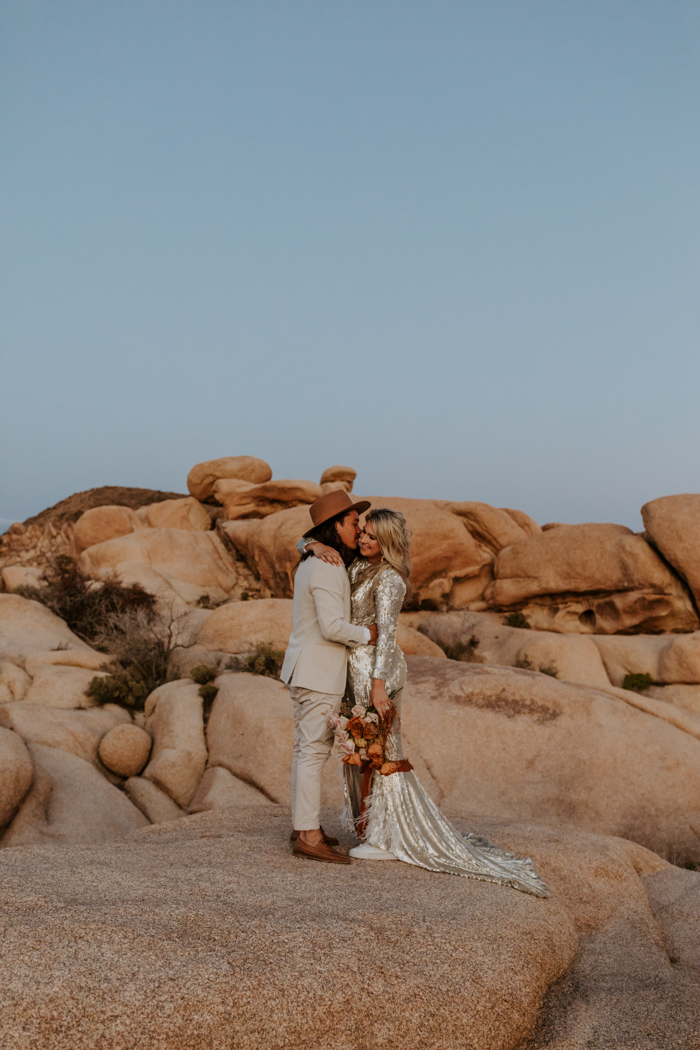 I was a little nervous about spending the majority of our day with someone we had never met. But Tida was everything we could have hoped for and more. She was a queen behind the lens, of course! But also an amazing human without the lens. Tida was our number one HYPE GURLLL. She made our day so special and so, so fun. She was an instant vibe and a half and yelled "OH DAYUMMMM" in our direction until the sun went down.
If I can say anything after this entire experience, it would be to find yourself a photographer that is more like a girlfriend you've known for seven years. Someone you can relax and enjoy your day with. Someone you can laugh with, joke with and let your hair down. Feel comfortable and most importantly have fun.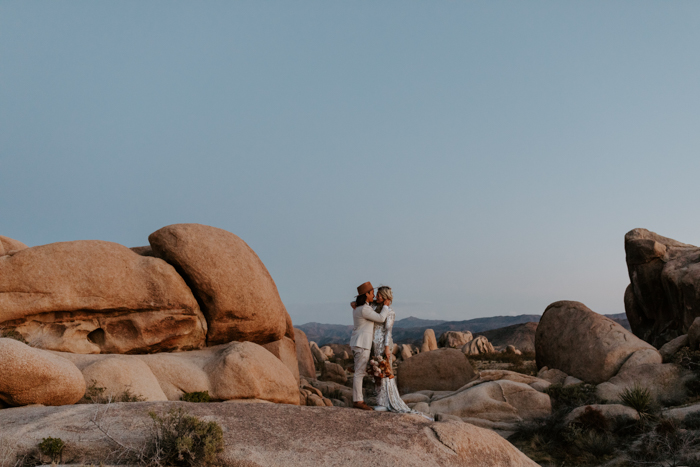 Congratulations, Zoe and Zac, and many thanks to Tida Svy Photography for sharing their Joshua Tree elopement with Junebug! If you love Tida's work, be sure to check out her profile in our directory of the world's best wedding photographers.