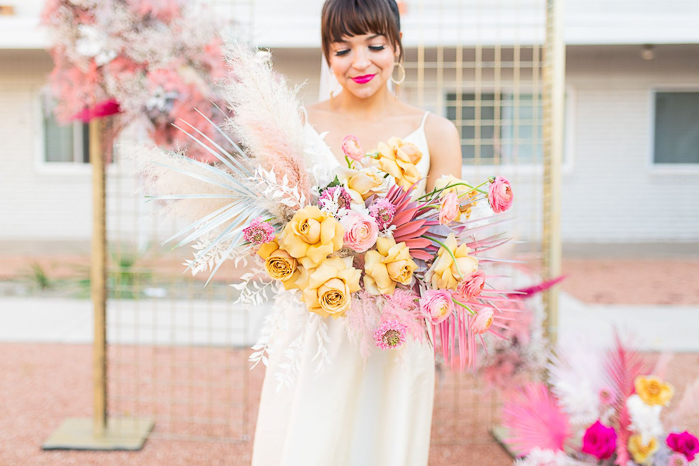 If hiring a florist isn't in your wedding budget, our friends at Flower Moxie have a solution with their approachable take on wedding day florals. From simple elopements to lavish weddings, every couple deserves florals that bring pops of color, elegance, and incredible fragrance to their day!
When their founder—a veteran event florist and planner—discovered that she couldn't afford floral services for her own wedding, she realized that DIY couples were getting left behind. Their mission is to change that. Because the truth is that when you DIY wedding florals you are becoming your own florist, and Flower Moxie is ready to help you succeed.
Curated DIY Wedding Florals
Flower Moxie was built by floral design professionals and they've curated over 30 different wedding collections for DIYers to take advantage of. Sort the options on their website and you'll be able to see professionally curated collections starting at $350. You can even sort by color scheme!
Each curated package includes an itemized list of every stem and bunch. You'll know exactly what you can make and the cost breakdown so you can compare quotes.
Junebug Tip: build your own collection
Not sure about the collections they've built? No problem! You can build your own with their a la carte menu. They have recommended add-ons on every page that call out the flowers that work well with the color palette so you won't have to go searching for them.
Custom Designs With A Pro
Work with one of Flower Moxie's florists for some professional guidance without any pressure, upselling, or extra stress. Their freelance floral designers are real florists who have worked on hundreds of real weddings and respect budget ranges. They're quick to give ideas on how to make the most of your wedding floral budget.
As part of the process, your floral designer will provide a customized mood and design board, floral recipes, and build your cart for easy checkout. This top-tiered custom design package includes the design call, two revisions, and a second strategy call a few weeks before your wedding to ensure you're ready to tackle your arrangements.
Pick Your Arrangements, Then What?
Flower Moxie's amazing service doesn't stop after you've added your arrangements to your shopping cart. Buying your DIY florals with Flower Moxie also gives you access to printable instructions, a corresponding Pinterest board, design explanation videos, and a checklist of the other supplies you'll need. Every detail is covered in their DIY Masterclass, which is available for free to their customers!
They've even created a library of exclusive floral tutorial videos for couples to feel confident in their capabilities. If the videos don't cover exactly what you're looking for, you can also ask them for specific tutorials. They're serious about customer service and empowering their customers.
When your blooms arrive and it's time to build your arrangements, have your wedding party get in on the fun! Flower Moxie couples say that arranging florals before their wedding remains a treasured memory with their loved ones.
Flower Moxie Has Your Back
Don't forget to check out the supplies options—it's full of inexpensive vase wear, floral snips, ribbon, floral foam, and much more. Get started and order your DIY florals with Flower Moxie today. The first 25 customers to use the code JUNEBUG will get $25 off their order, so don't wait!