One of the best parts of being a member of Team Junebug is getting to see all of the unique, personal touches that our couples incorporate into their wedding celebrations! We just love seeing couples put their own spin on their wedding day, and everytime a wedding filled with creative twists pops into our inbox, we're just thrilled! Denise and Patrick are the perfect example. From their hexagon design motif that was both elegant and representative of several shared interests, to the interactive ceremony for their beloved guests, it was an elegant wedding day they describe as "geek chic", but we describe as "wedding perfection"!
The Goals: First, it was most important to us that our wedding was an intimate and enjoyable event for the dear family and friends who have supported us as individuals and as a couple. It was difficult, but we kept our guest list close to 100. Second, we looked for a unique venue with a modern aesthetic, and fell in love with the streamlined architecture of Segerstrom Concert Hall. We loved the open interior, high ceilings, and making a grand entrance down that spiral staircase! Third, we insisted on hiring an incredibly talented wedding photographer. We are big fans of photography! It has the power to preserve so many beautiful moments.
The Vision: We wanted our wedding design to be modern and elegant while reflecting our personalities. Our wedding planner, Carolyn Chen, played a big part in bringing our vision to life. We chose a circular layout for our ceremony seating, in order to be surrounded by our loved ones and to play off the lines in Segerstrom. To capture our personalities, we embraced a playful geek theme. We chose the hexagon as our theme shape, inspired by our favorite board game, and our interests in chemistry (benzene rings) and computer science (hexadecimal). They showed up as the shape of the mens cufflinks, bridesmaids jewelry gifts, our stationery, wedding cake, rose petal aisle runner, card box, table runners, and more! Also, Patrick currently works at Google, so we dolled up two Android figurines with a bow tie and veil as cake toppers.
The Look: For my white gown, I wanted a dress that was modern with classic elements. I really love the trumpet silhouette, train and beaded lace appliques. I absolutely had to have a cathedral length veil because they are so classic and romantic. And we cant forget the geeky touch: I wore a bracelet and necklace inspired by the structure of DNA. During the reception, I changed into a qi pao, which is a traditional Taiwanese dress for special occasions like a wedding. I loved being able to honor our heritage and culture, and what more significant way than to wear the dress my mom custom designed for her own wedding? I paired this dress with two gold necklaces and bracelets that my maternal grandma had set aside for my wedding day from when I was a little girl.
Patrick wore a Calvin Klein tux with an understated black ombre tie. All of the men wore hexagon shaped Swarovski cufflinks, and the girls wore clean, modern, and elegant custom designed gowns.
The Moments: Our ceremony was perfect. It felt so personal and thoughtful! We had a "ring warming", where our wedding bands passed through the hands of all our guests as they briefly wished a blessing/prayer upon the bands. It really deepened the symbolic meaning of our rings. We also gave our guests the opportunity to voice a group vow, committing to be the support system and community that will help us uphold our marriage vows. On top of that, we honored our parents with a rose exchange while Diana Li performed the classic Taiwanese love song of Moon Represents My Heart.
Patrick and I also loved our first look – so romantic – and having a quiet snack together after the ceremony before the celebration began. We also loved booking the the top floor corner suite at the Westin South Coast Plaza as our wedding partys home base for the weekend. It was an amazing feeling hanging out and getting ready as a group the morning of our big day. I will never forget how content I felt; surrounded by the love, positive energy, and excitement of our parents and our wedding party.
The Pros: Please visit Denise and Patrick's page in our Real Wedding Library for more information on the talented team brought the couple's vision to life!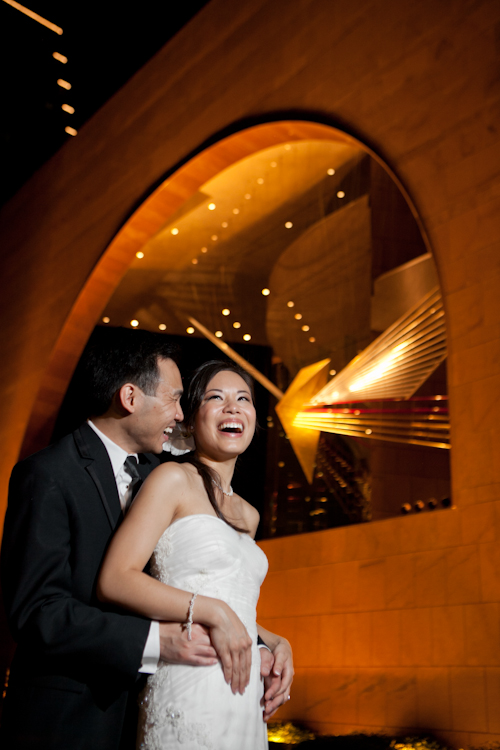 Thank you for sharing your fun wedding day with us Denise and Patrick! We love all the personal touches you incorporated!