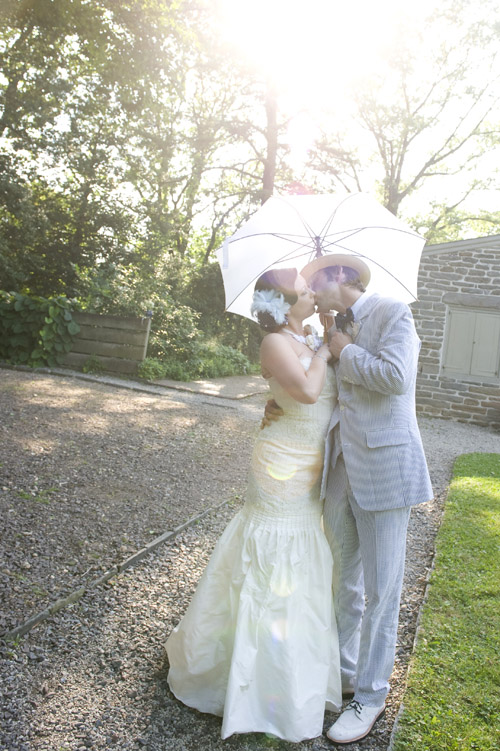 What a thoughtful, emotional and ultra-creative real wedding we have today! Christina and Peter hosted an event that honored the people, places and things they love dearly – from their location to their desserts and everything in between. I hope you enjoy this lovely "formal BBQ garden party" wedding as much as we have!

The Goals: Christina and Peter met while working in the restaurant industry and they love playing host, so their goal was to create an incredible, welcoming and sensually stimulating wedding atmosphere for their guests that showcased their personalities in every detail. The venue they chose for both ceremony and reception was Bartram's Garden in Philadelphia, America's first and oldest continually operating Botanical Garden. "Our best decision was our choice of venue. Bartram's Garden encompasses so much of what we love about Philadelphia, with it's visual juxtaposition of the rural and urban setting and it's historical significance. We were proud to contribute to this non-profit organization."
Christina is now a wedding photographer so another meaningful part of the day was having her dear friend and mentor, Leah MacDonald, beautifully photograph their wedding.

The Design: The theme of the wedding was a formal BBQ garden party, giving guest the opportunity to dress up as well as enjoy the fun, comfort and community of a family BBQ. With help from their wedding planner, Nina Lily, a navy, green and ivory wedding color palette was used throughout the day, and handmade quilts from Christina's mother and grandmother, symbolic of families coming together, were the main inspiration for the look of the day's decor. After the wedding the quilts were given to the bridal party as thank you gifts. So sweet!
As guests arrived in the formal garden for the wedding ceremony, they were served Arnold Palmer cocktails in vintage mason jars, and more mason jars were used to hold flowers on the reception tabletops, along with vintage milk glass vases and mismatched china place settings. Homemade pies, brought by the guests and displayed on Christina's vintage cake stand collection, were served in lieu of wedding cake and little individual Tastykake cherry pies (representing the couple's Philadephia roots) were decorated with hand-stamped tags and left at each place setting to act as take-home favors.
The wedding invitations were inspired by the original botanical drawings of John and William Bartram and included drawings of the Franklinia tree, named after Benjamin Franklin. The final invites were designed and hand letter-pressed by one of Christina's own wedding photography clients, Regan Gradet.
The Look: Christina's bridal style was a combination of sexy, vintage, and creative pieces, a look she thought of as "modern nostalgia." She wore a wedding dress by Anne Barge accented by a one-of-a-kind fabric necklace made by her mother, a blue reception shrug by Crimson Empress, earrings by Steven Singer, and ruffled, blue soled shoes by Pour La Victoire (which were later swapped out for blue cowboy boots on the dance floor)!
For their vintage fashion feel Peter chose a navy and white seersucker suit for himself and seersucker pants with navy jackets and light blue bow ties for his groomsmen. He says, "The look inspires feelings of days gone by when people would congregate for afternoon get-togethers in the garden to have a light meal with mint juleps, iced tea, lemonade, and pie." The bridesmaids wore navy dresses in varying shapes from Jim Hjelm along with hair fascinators made by Christina's sister-in-law and fun jewelry from Macy's and BonTon. Love it all!

The Moments: The ceremony was nostalgic and full of surprises, included Christina reciting the vows her mother had written for her father 39 years before (but never got to read because of a last minute change of venues) as well as lots of emotion from Peter. "The entire ceremony stood out to us including Peter sobbing, and then laughing about it during his vows, and the amazing surprise that our officiant planned. Just prior to us saying our personalized vows, the entire crowd got to their feet and recited traditional vows to the two of us. It was magical and the tears were flowing. I was so touched that I forgot to say I Do!"
For their first dance they chose David Bowie's Wild Is The Wind and afterward they surprised Christina's parents by inviting them to dance to their own first dance song (which they never got to actually do on their own wedding day). It was a sentimental moment for all!
As a wedding photographer herself, Christina had a unique perspective on being a bride. Here is what she had to say about the beauty of the whole wedding experience. "I have had the privilege of photographing many weddings, but nothing can compare to the feeling that I experienced standing before our family and friends, holding my partner-in-crime's hands, professing my admiration, love and joy. Suddenly, time stood still and I was whole. I have tried to avoid every cliche while pursuing wedding photography and being in that moment, I succumbed to it all. I believe in love more than ever, but more than that, I believe in partnership and utter respect for another human being. The details of my wedding day are hazy because I walked in a dream for hours that day, but the power of photography has been reaffirmed by looking Leah and Jules' amazing imagery over and over again. I am so grateful for all of the amazing people in my life who care so much. We achieved our wedding vision through the dedication of many hands and Peter and I are so thankful."
The Pros: Christina and Peter were thrilled to work with so many wedding professionals they know and love from their Philadelphia community – learn more about them all in our Real Weddings section.

Thank you so much for sharing your wedding story with us Christina and Peter!
To plan your own Southern California or Seattle area weddings, check out our Plan Your Wedding Hotlists, and to find your dream wedding photographer for weddings anywhere in the world, don't miss our World's Best Wedding Photographers Hotlist!