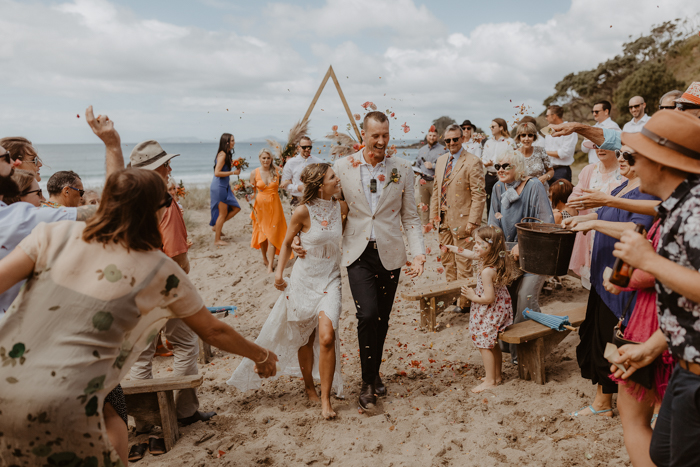 Rose and Luke wanted their New Zealand beach wedding to be a fun weekend getaway for all of the guests, so when they stumbled upon Motutara Farm, they knew it was a perfect spot! Their day had everything that free-spirited couples dream of: surfing, running bare feet, champagne caravan, amazing friends and family, and epic party. The decor was also totally awesome! We are obsessed with the colorful paper tassel backdrop Rose's mother DIY'd for their day. While it may have been a bit time consuming, it's easy enough for all levels of crafters to add a special touch to their day. We can't wait to see how you're inspired by all the swoon-worthy photos Wild & Grace captured of these sweet couple's most quintessential New Zealand beach wedding!
The Couple:
Rose & Luke
The Wedding:
Motutara Farm, Whananaki, New Zealand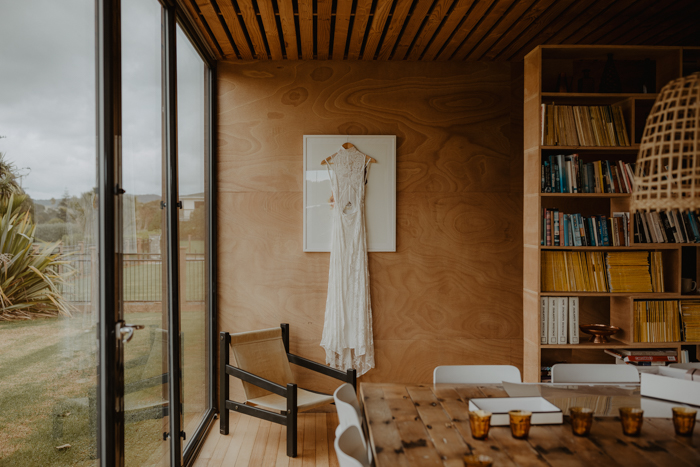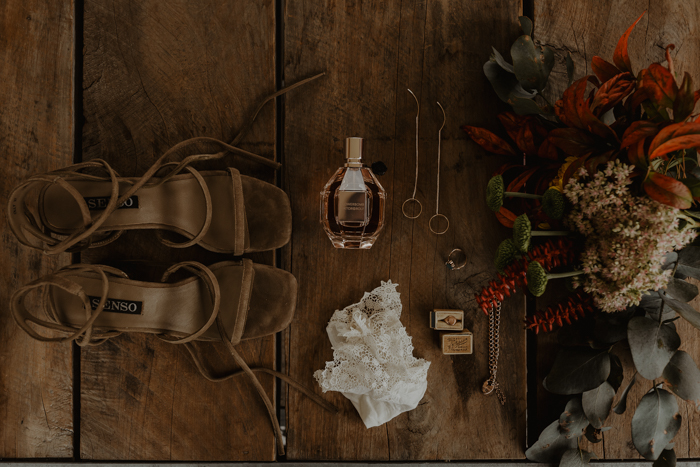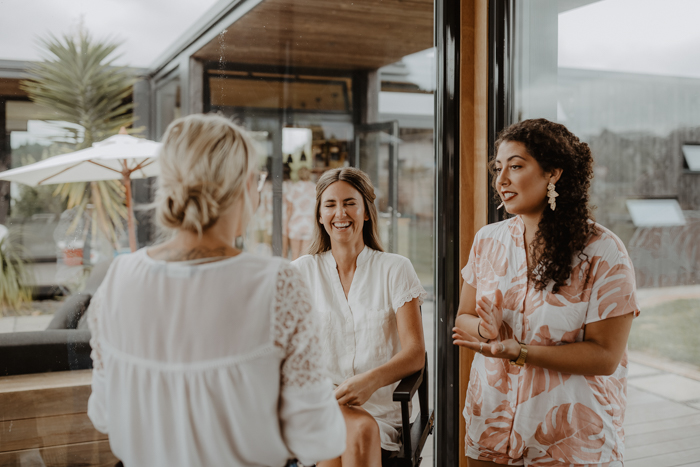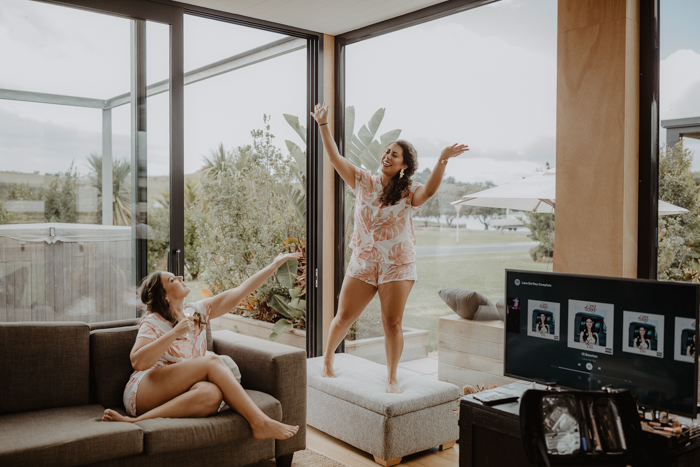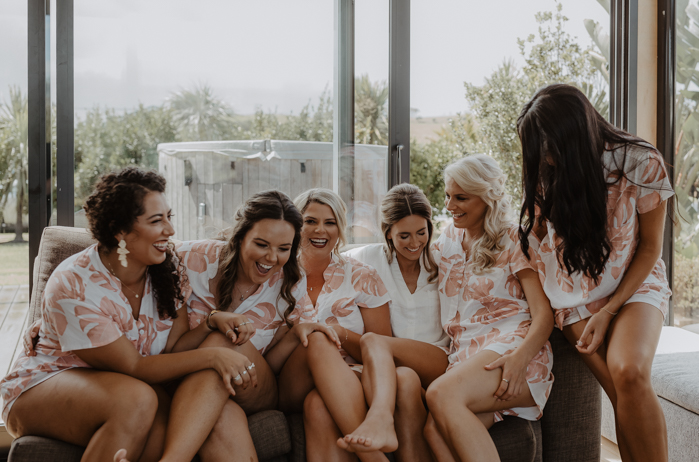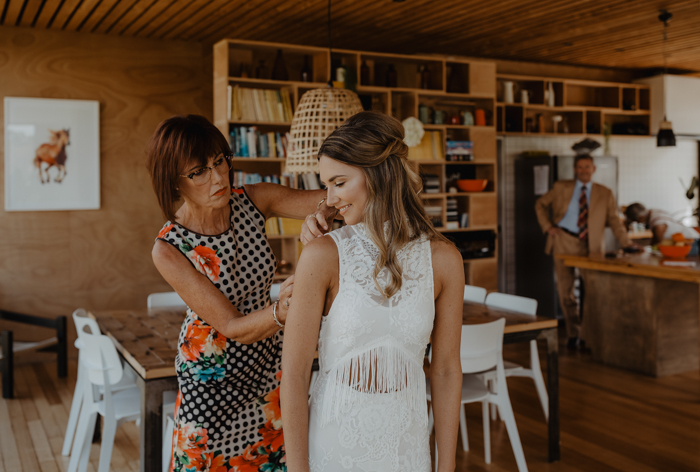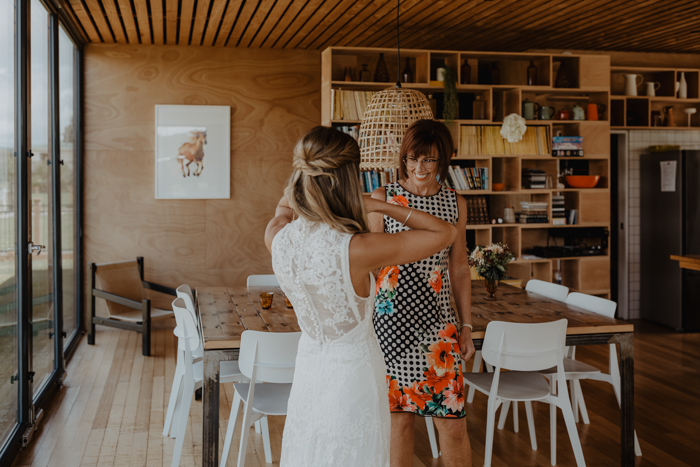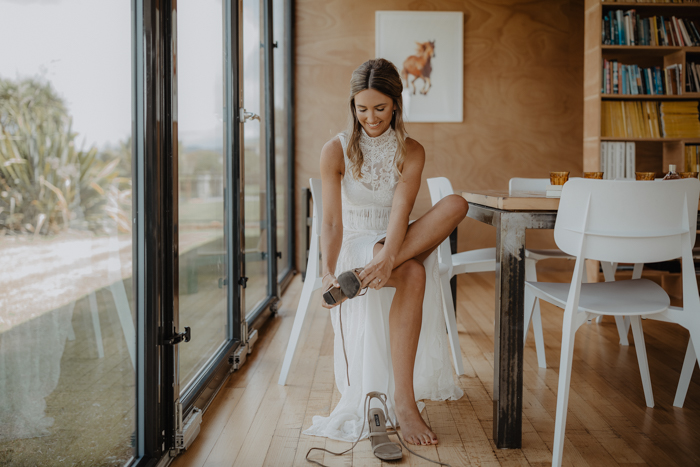 We were looking for a spot where it would be a great weekend away for all the guests—a really scenic beach town for our New Zealand beach wedding. We were pretty specific in wanting a venue with a great view, no curfew or noise restrictions, accommodation options close by, etc. we also had a reasonably large guest list and wanted to arrange our own booze & catering to keep costs reasonable (no wineries). Motutara Farm was a rare find to tick all the boxes.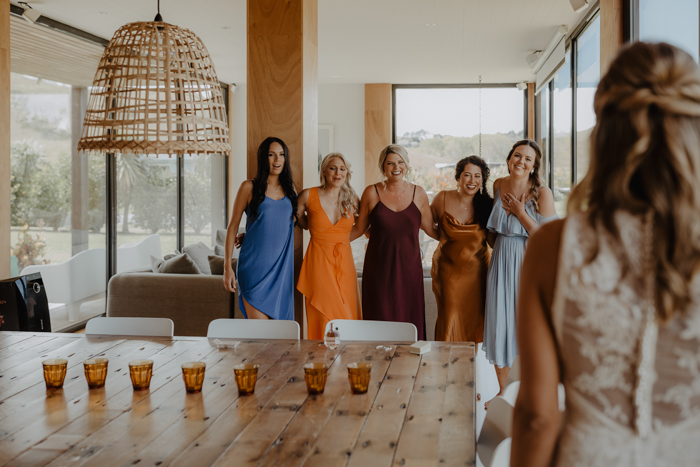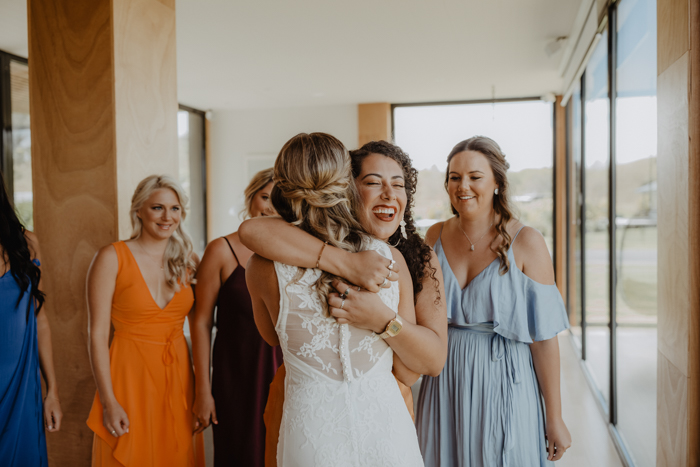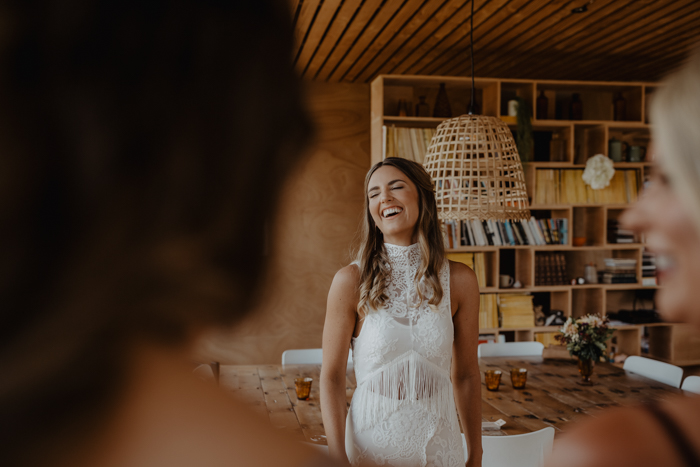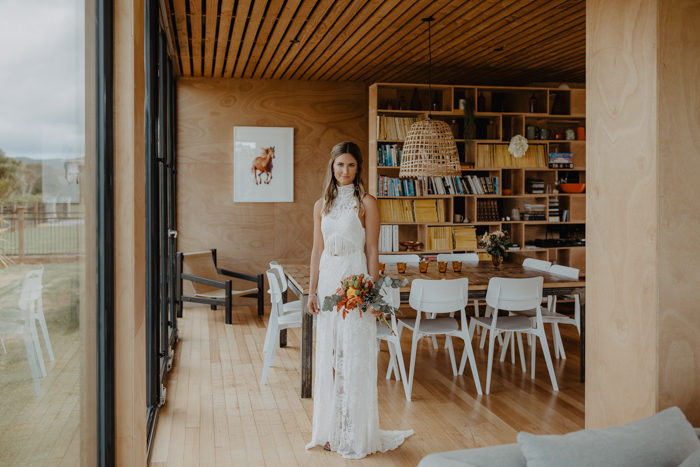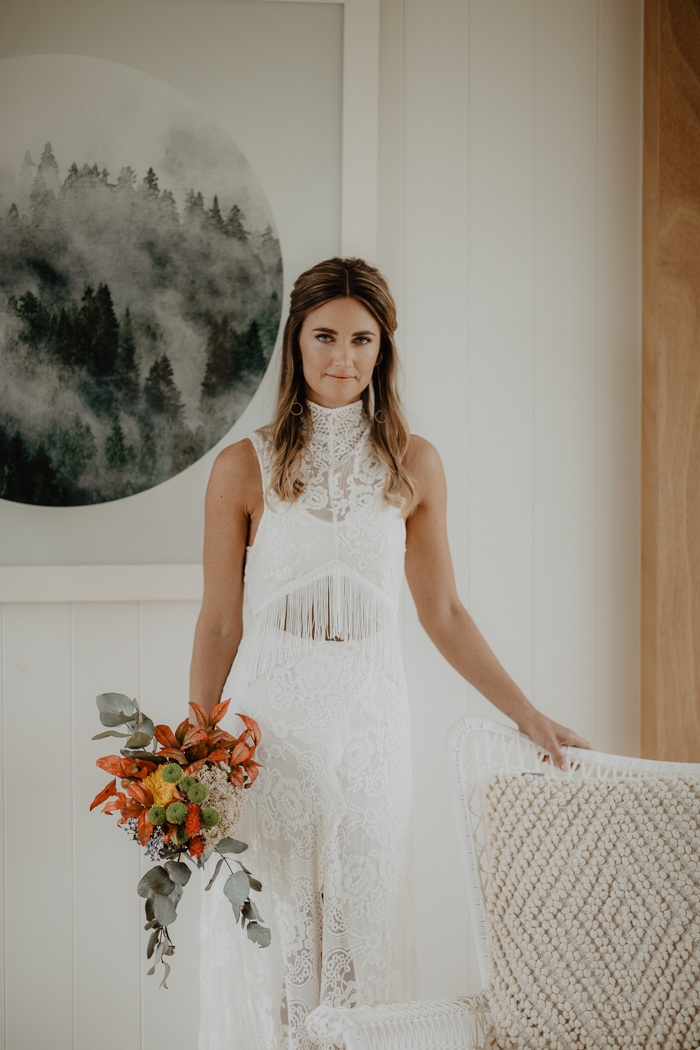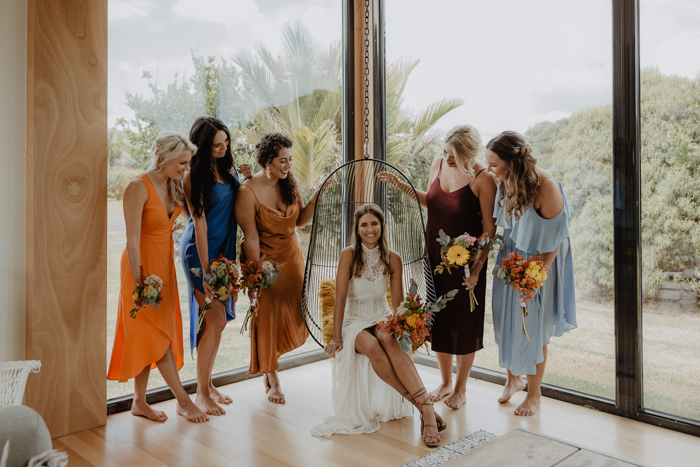 The bridesmaids wore whatever they wanted, in keeping with the fairly loose color scheme. They took it a lot more seriously than I did, in terms of making sure they coordinated. I loved my dress. It was a splice of two different dresses by Brooke Tyson that I liked, with the high neck and soft lace of one combined with the fringed cutout and train of another one. She was amazing and so nice too.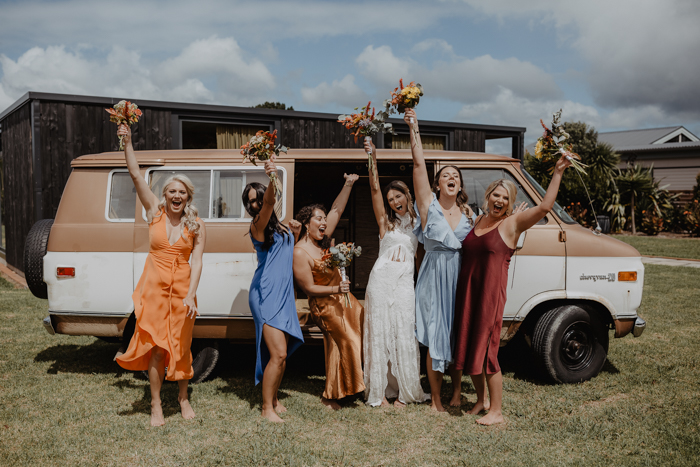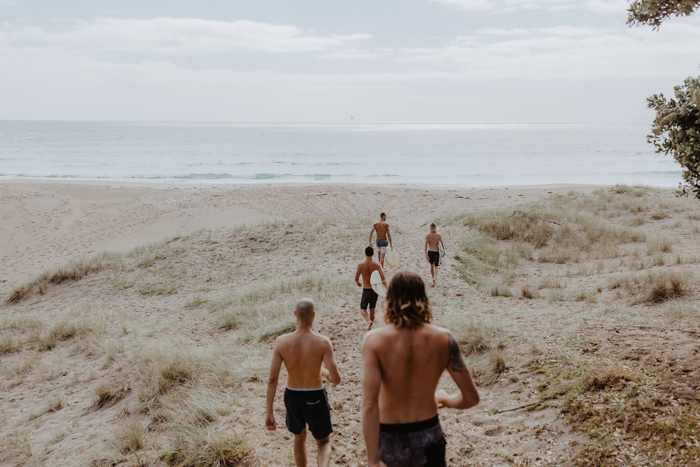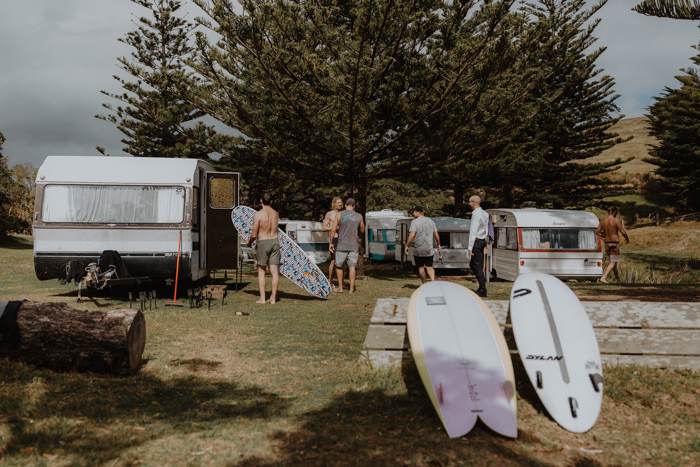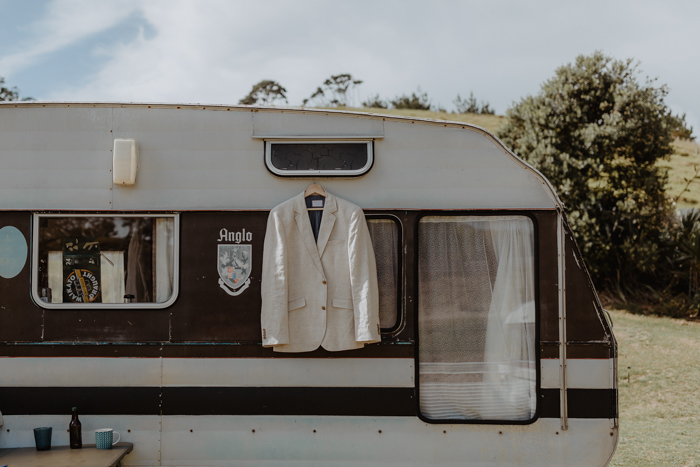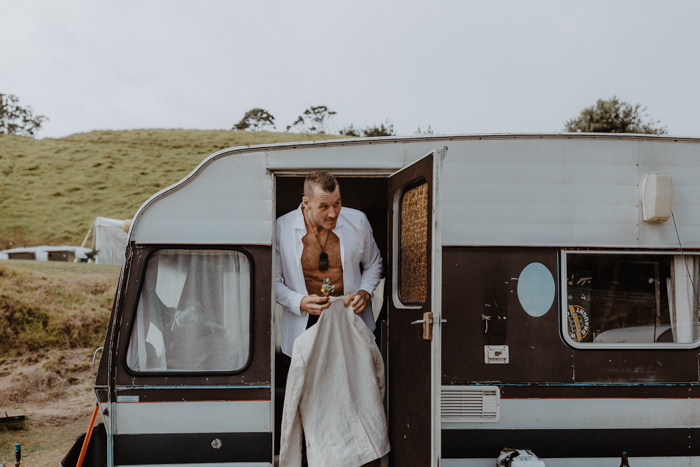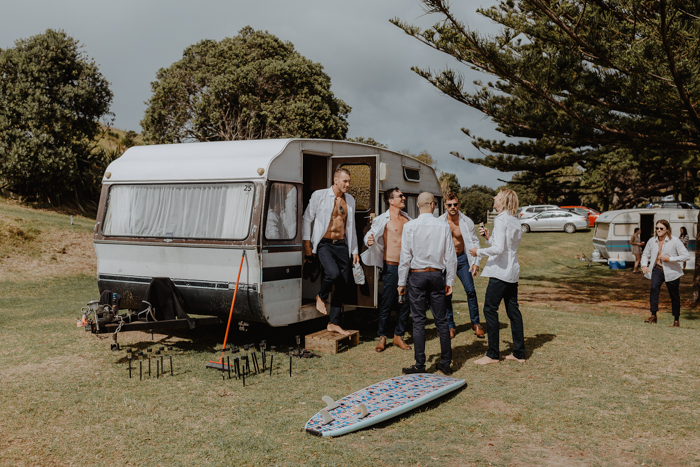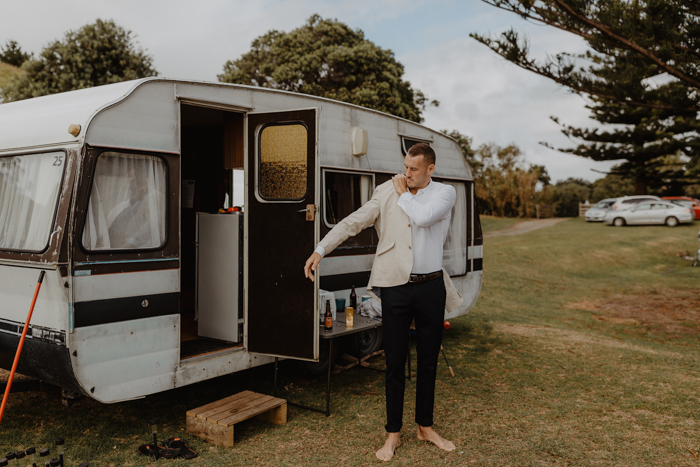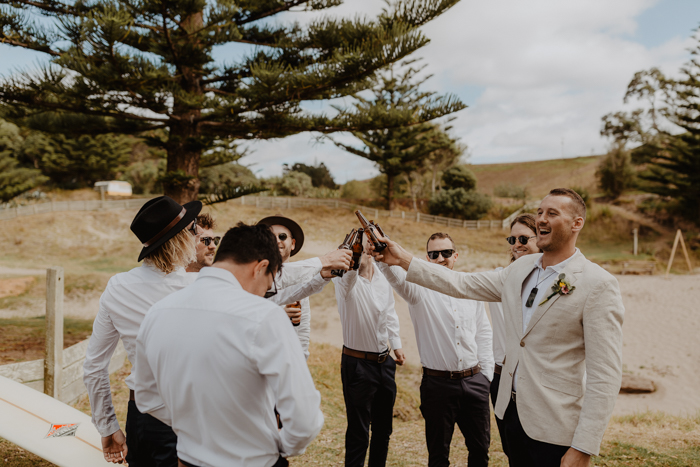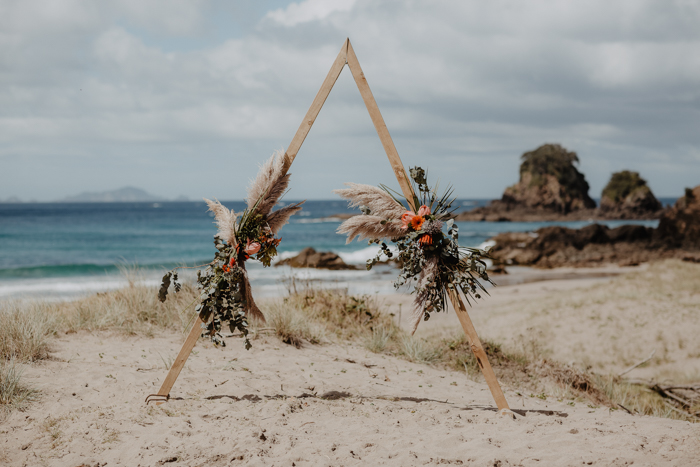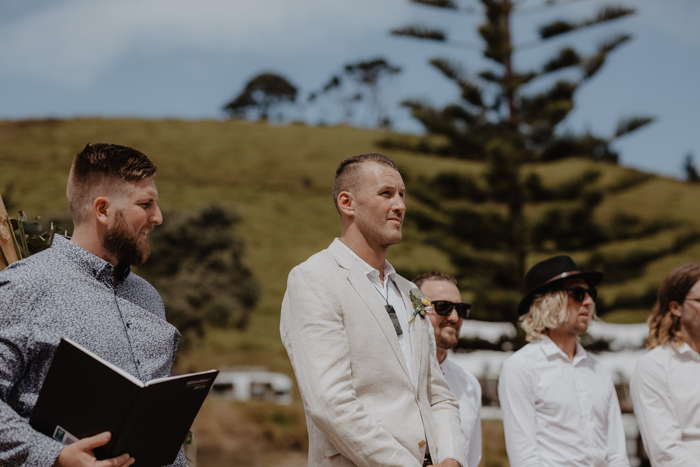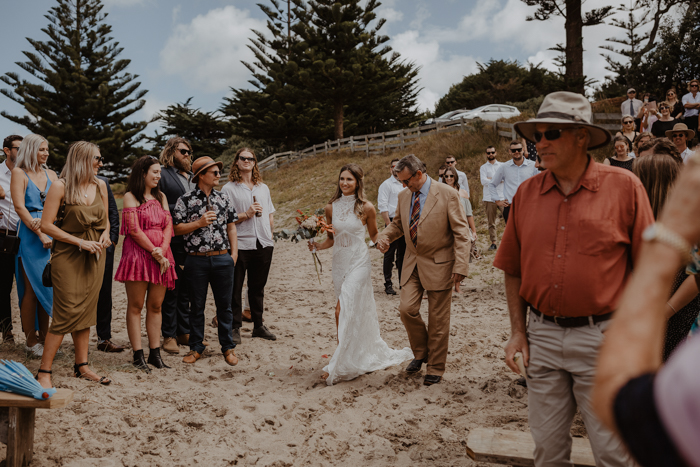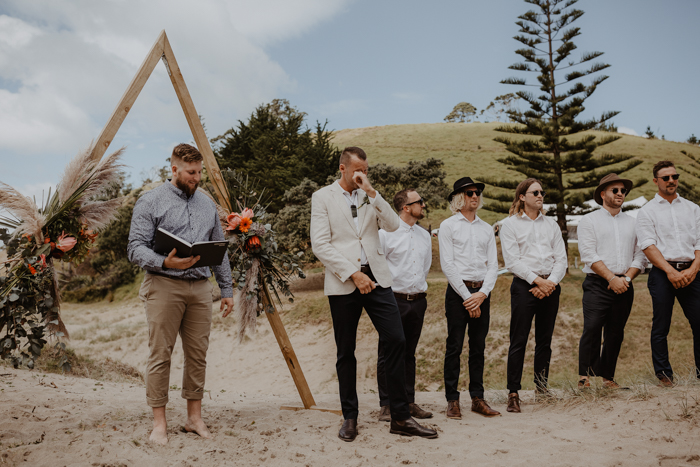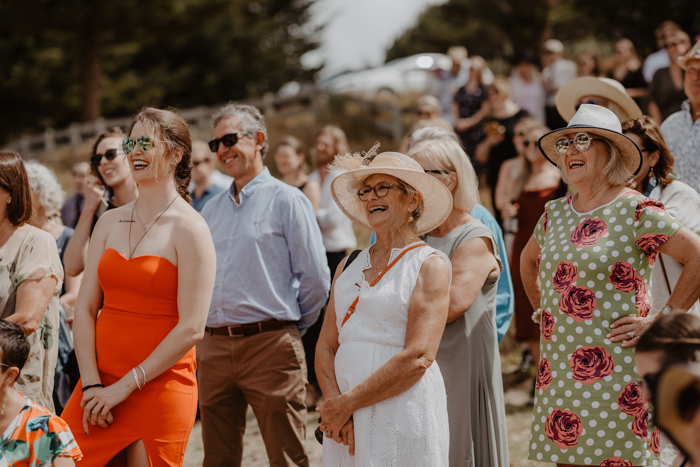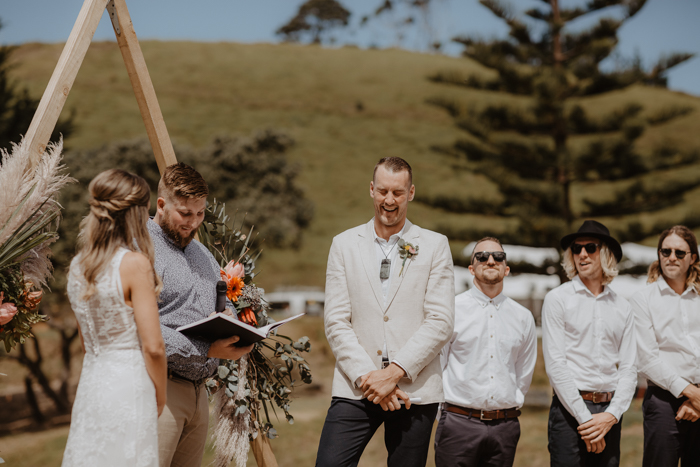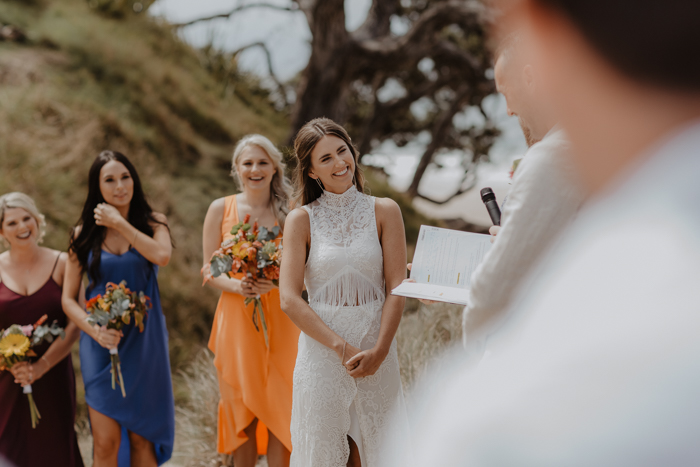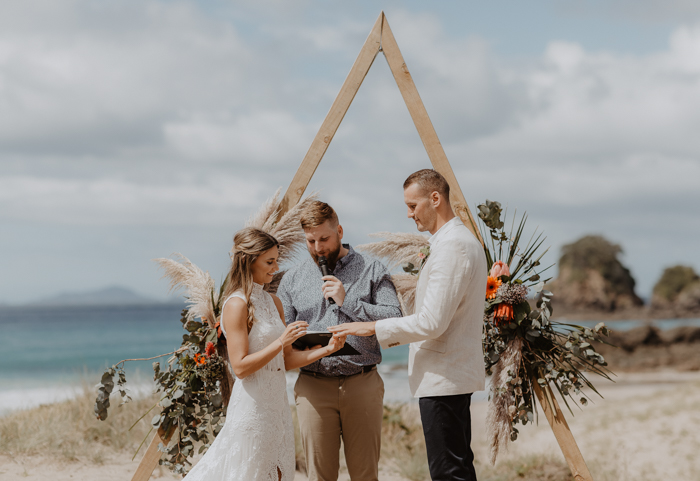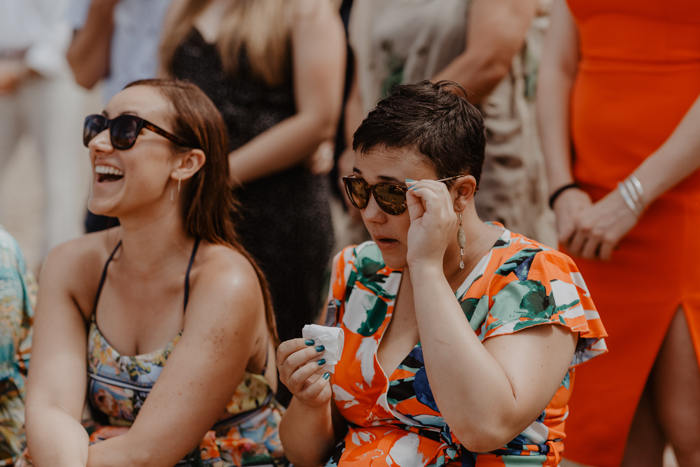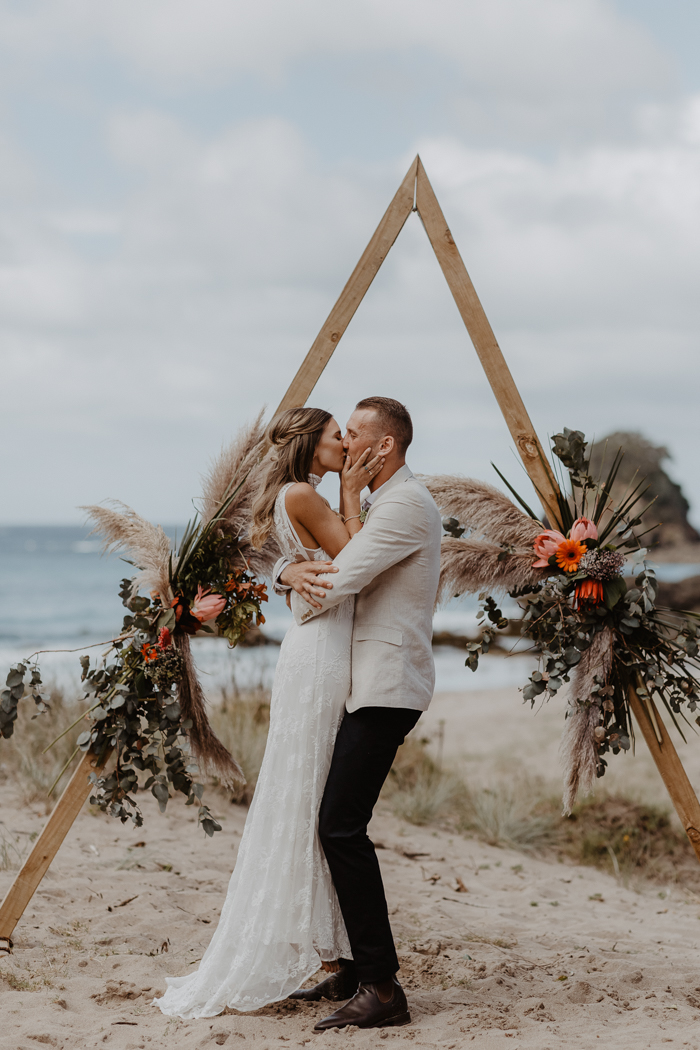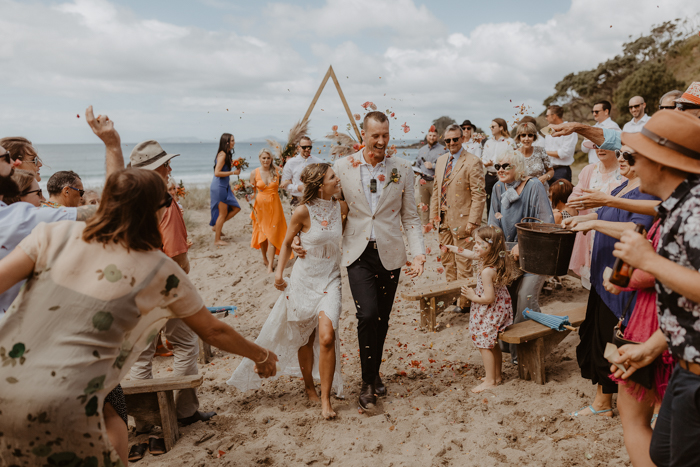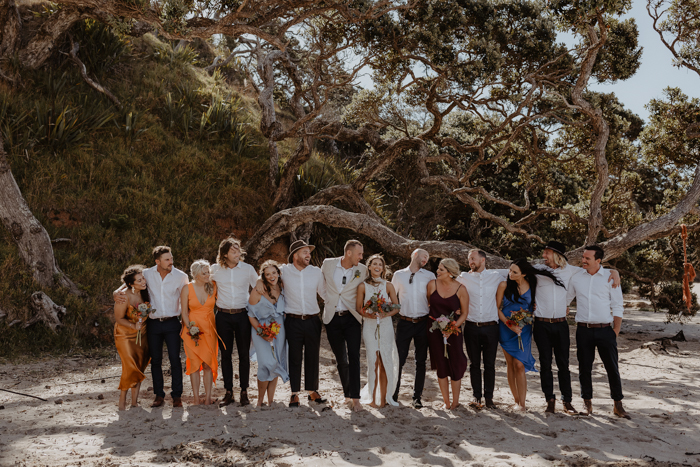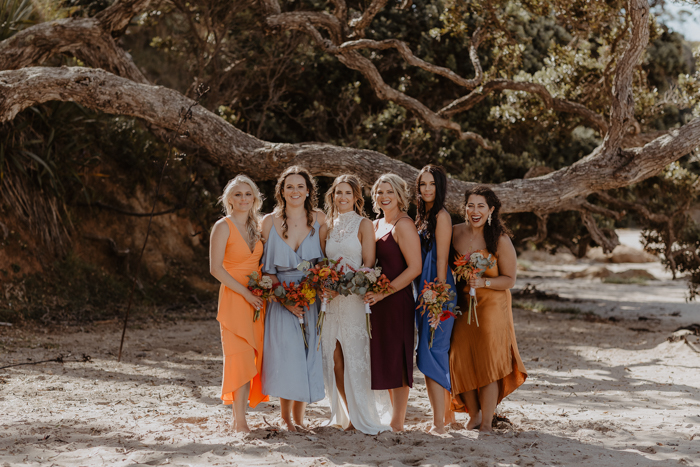 RECOMMENDED READING: The Best Places to Buy Bridesmaids Dresses Online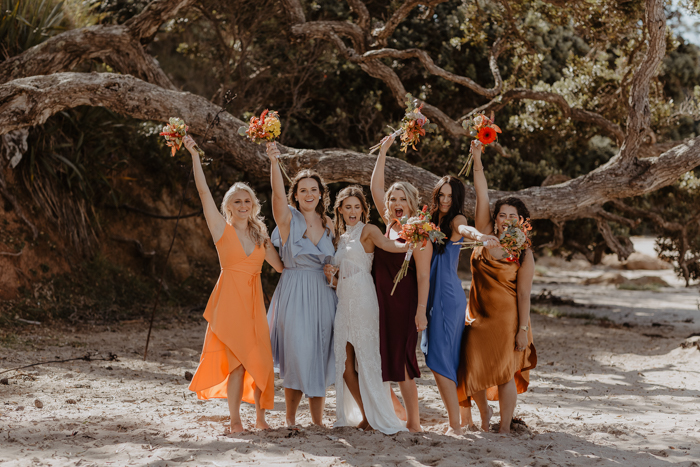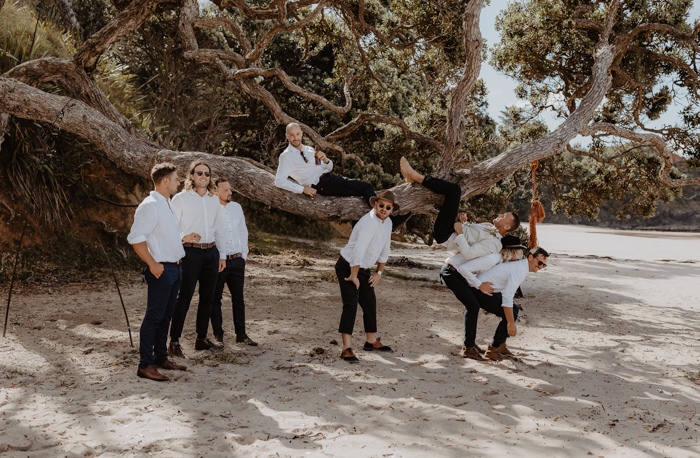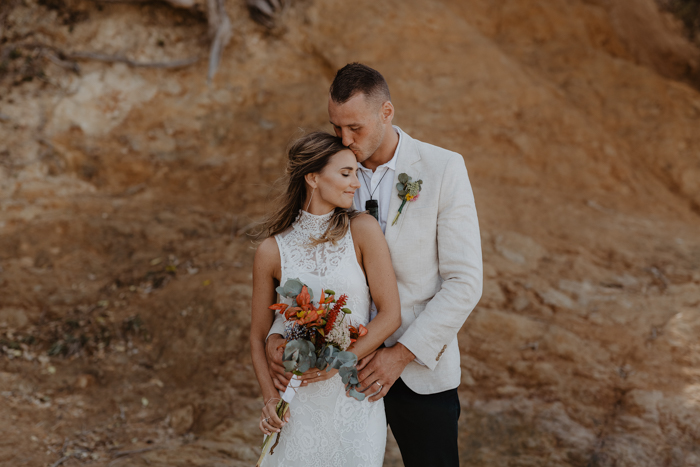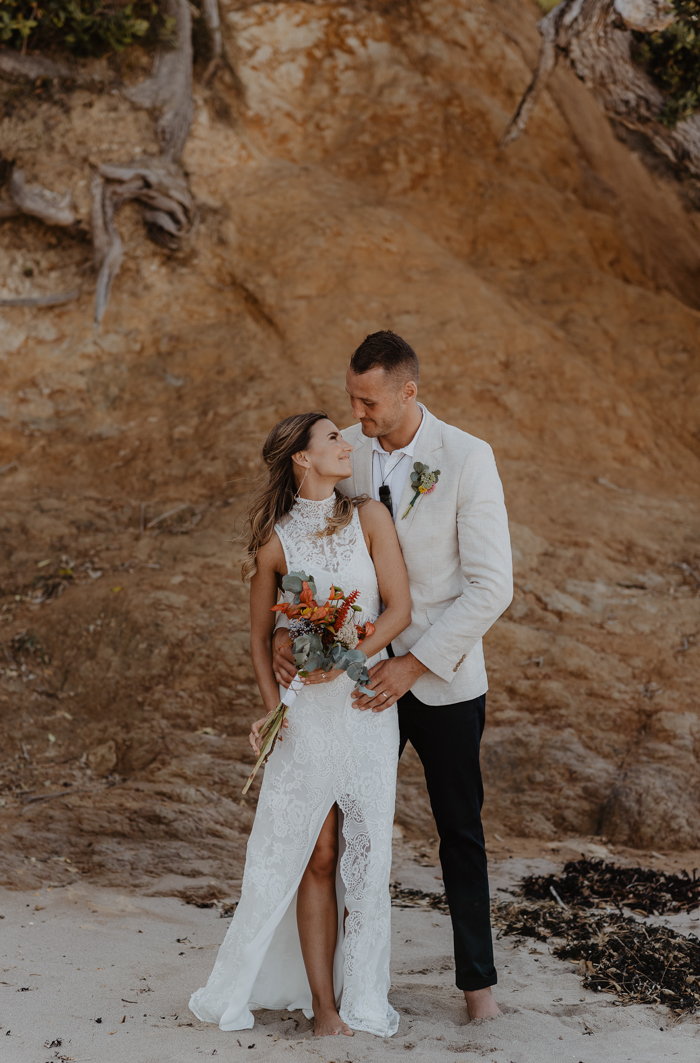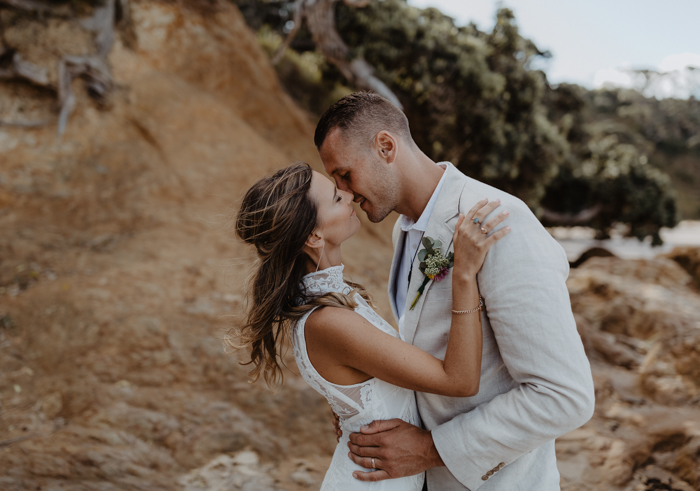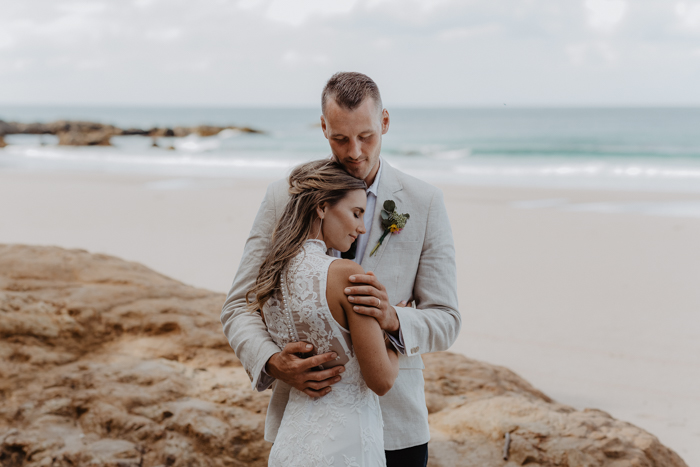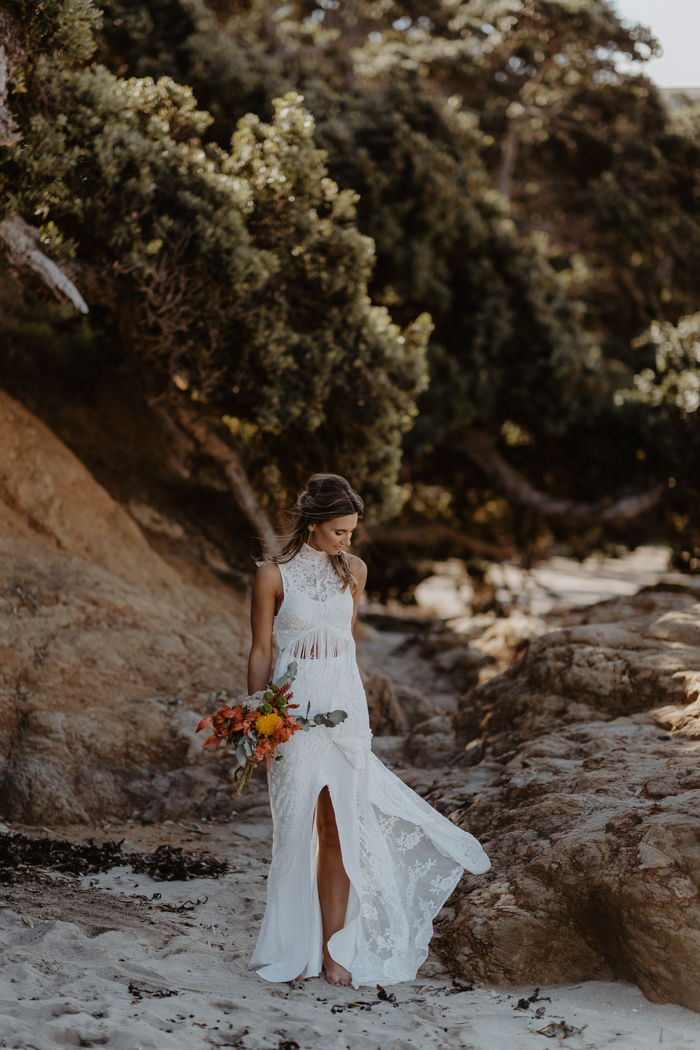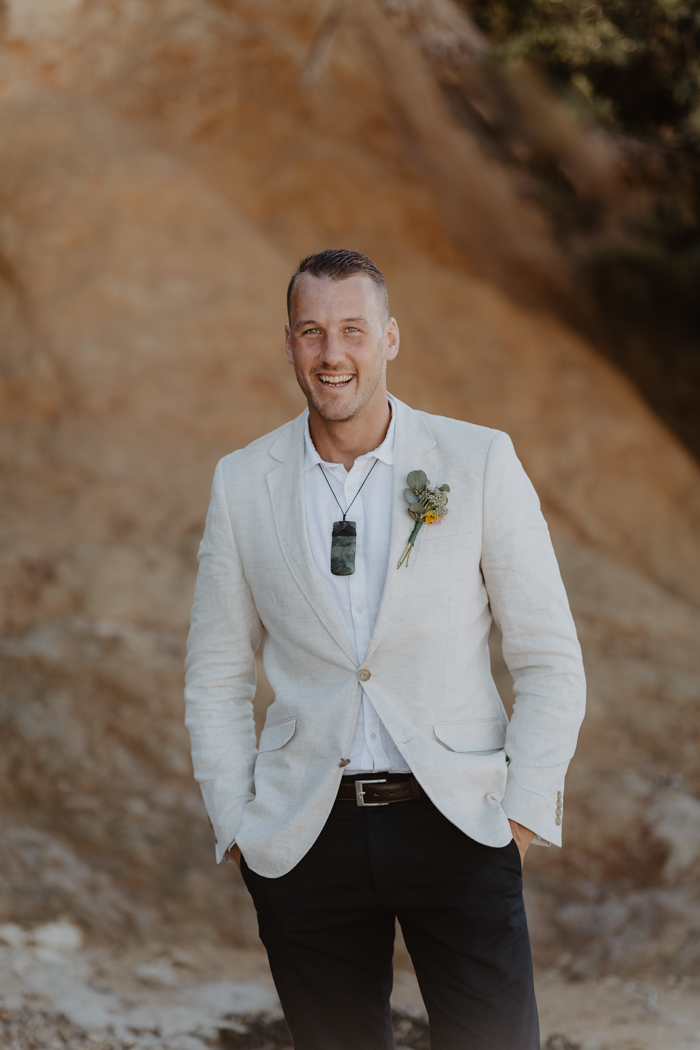 Olga (our photographer) had tramped all over the venue (in the rain) the day before, so knew all the spots for so that we could get amazing photos & get back to the party quickly. She was such a cheerleader that going off with her for photos was an unexpected highlight. She was very much in the background the rest of the day, shooting candids, so we have so many great shots of everyone having a good time.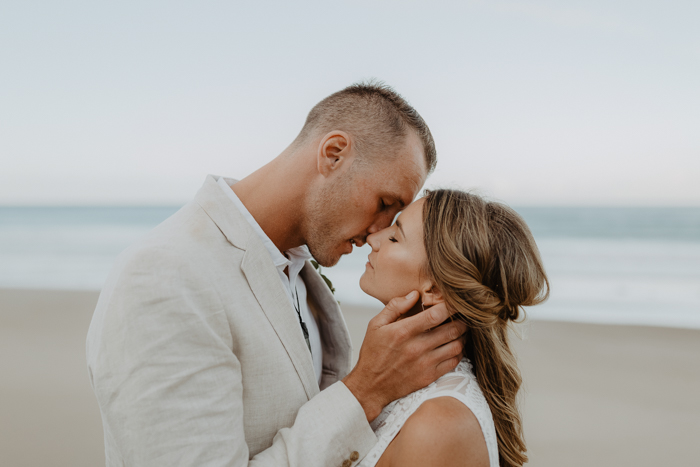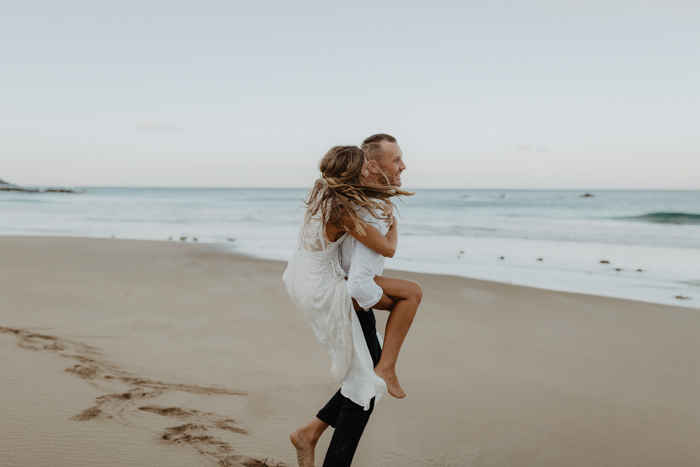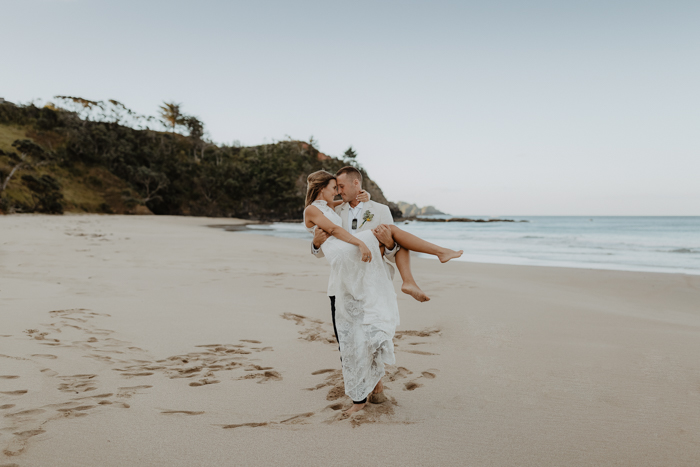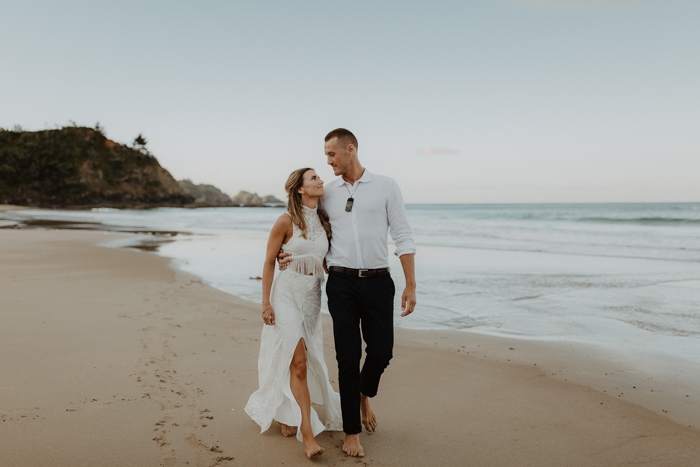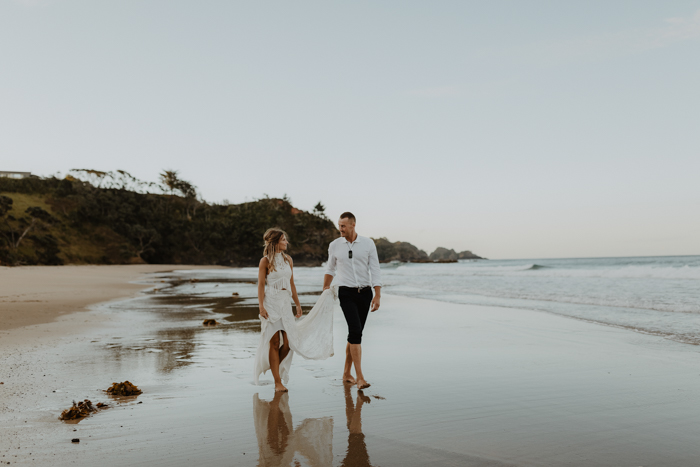 The ladies at Two Blond (a northland wedding planning service) that did basically everything – flowers, gear hire, set up and pack down assistance, they even manned the bar. They were so relaxed and funny, it made the days on either side really fun too. Brooke Tyson who made the dress was also so incredibly talented, a borderline mind reader and just a great yarn as well. Bruce at Motutara farm was great, the most relaxed venue management ever- we basically spent a week camping there doing set up and pack down bits and pieces and he was so chilled and helpful. Our dinner caterer Maty from wingless angel bbq was also so professional and a fantastic chef.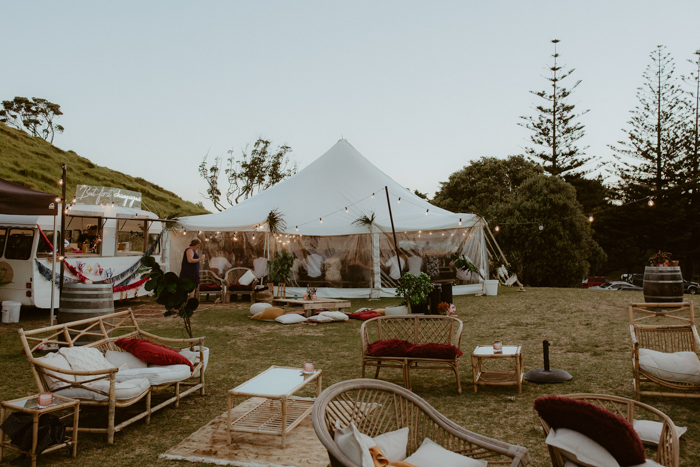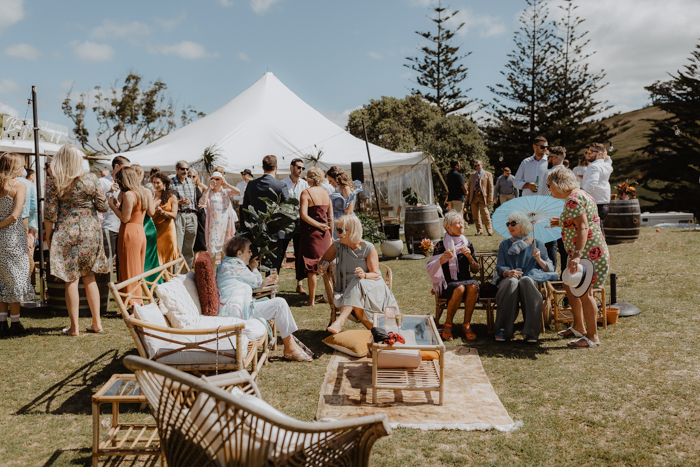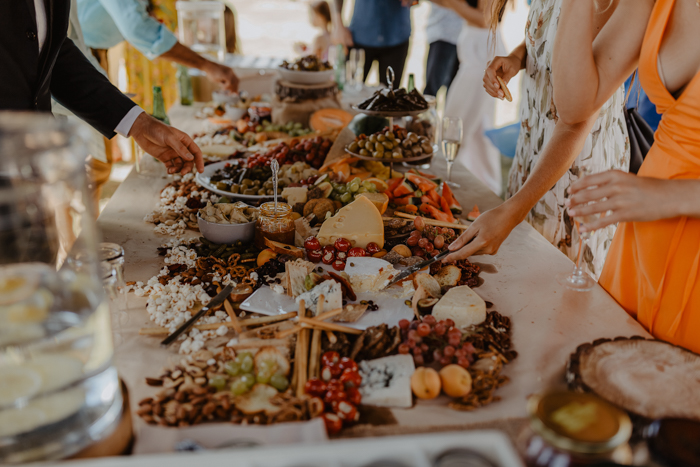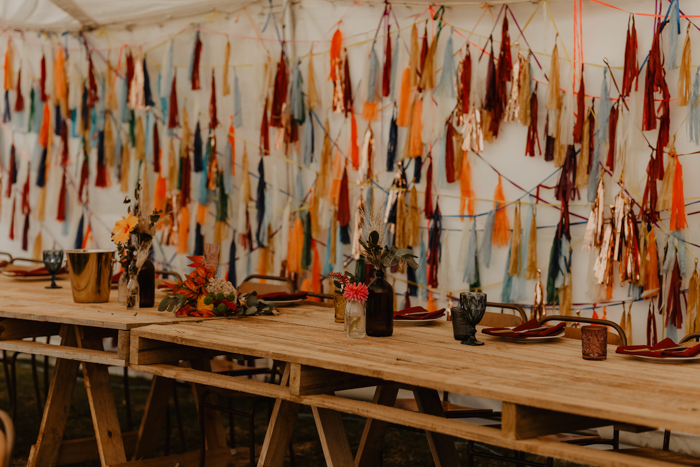 My lovely dedicated mum roped in our neighbor to tie hundreds of paper tassels to make into a colorful backdrop for the marquee. Honestly it was fairly painful and by far the most time consuming thing but they looked so cool all strung up together in the breeze. For a fairly wedding, always be asking yourself what is the simplest way to do something that involves the least set up / pack down effort (even if it's a bit more expensive than the cheapest option). It's such a coordination effort already, and you want to make sure you and your friends and family have time to enjoy the lead up and day after without a mad scramble to assemble or deconstruct things.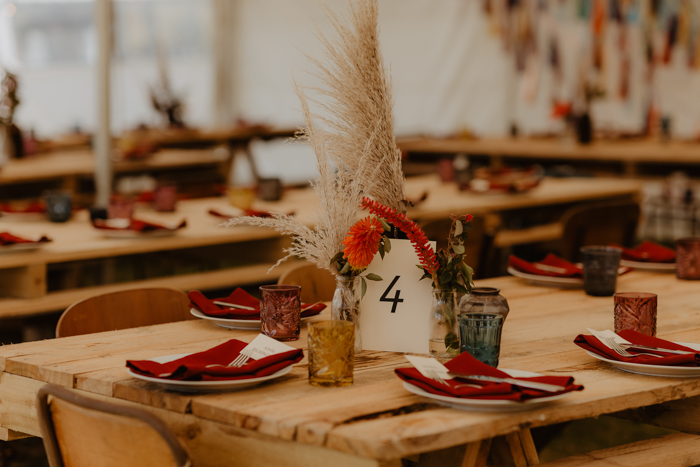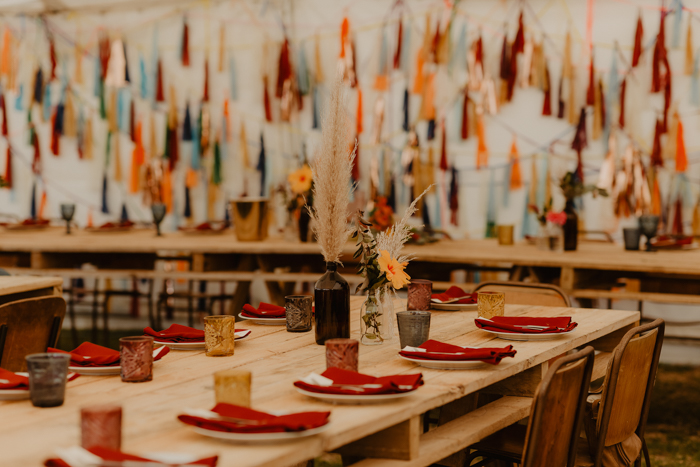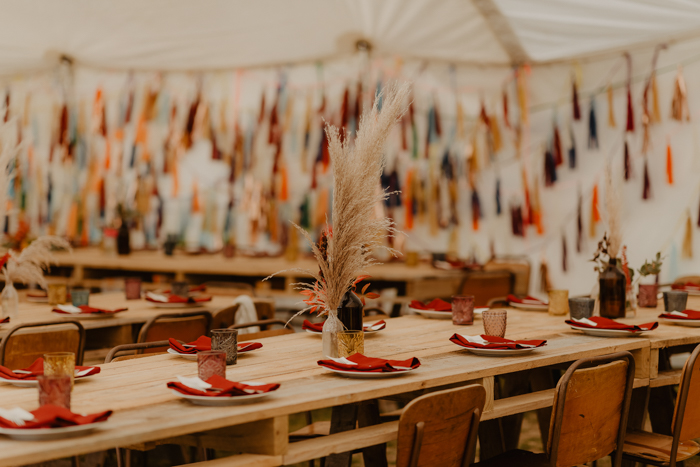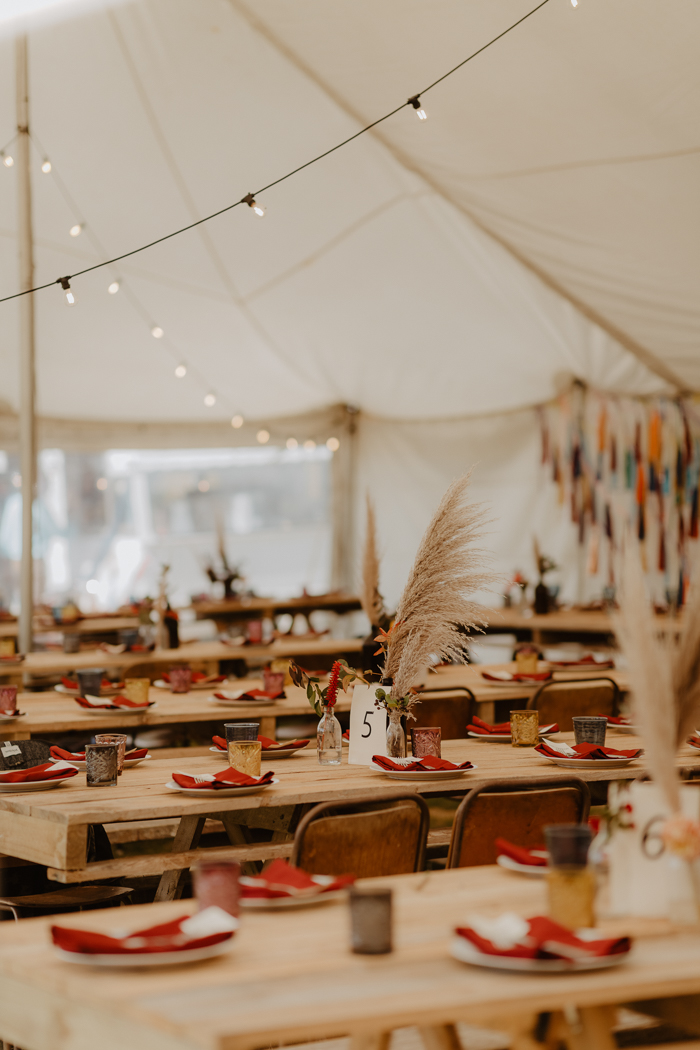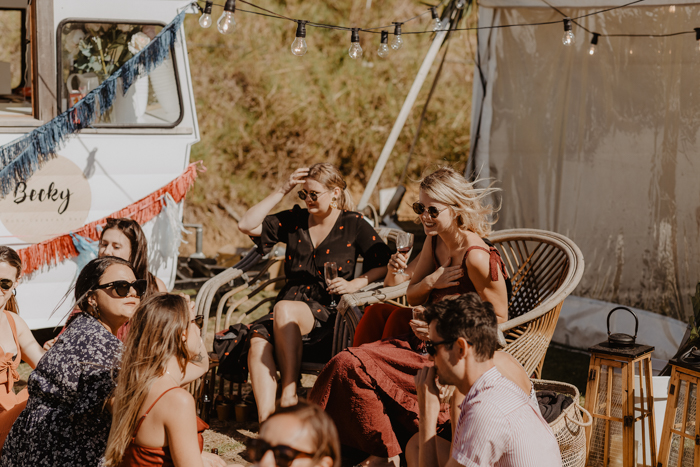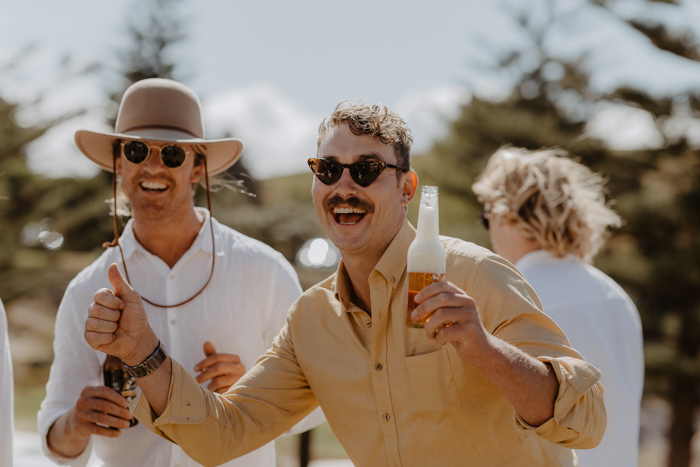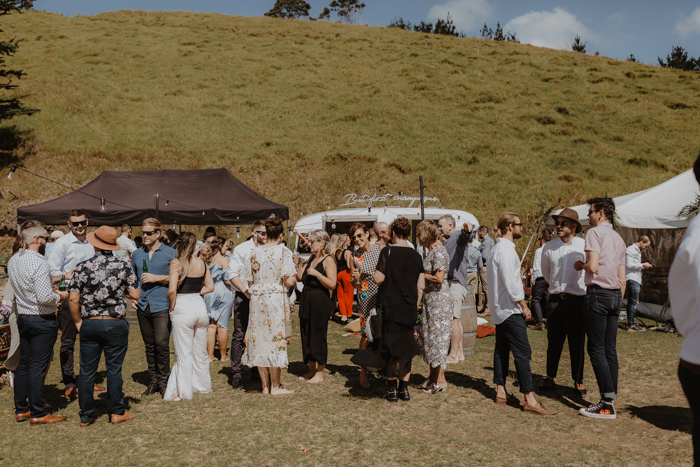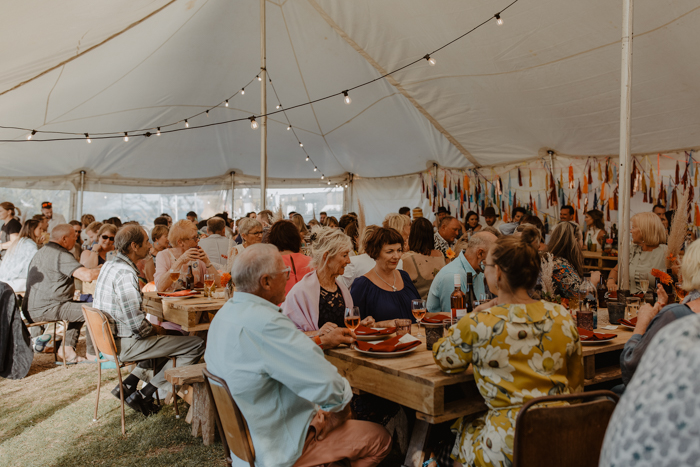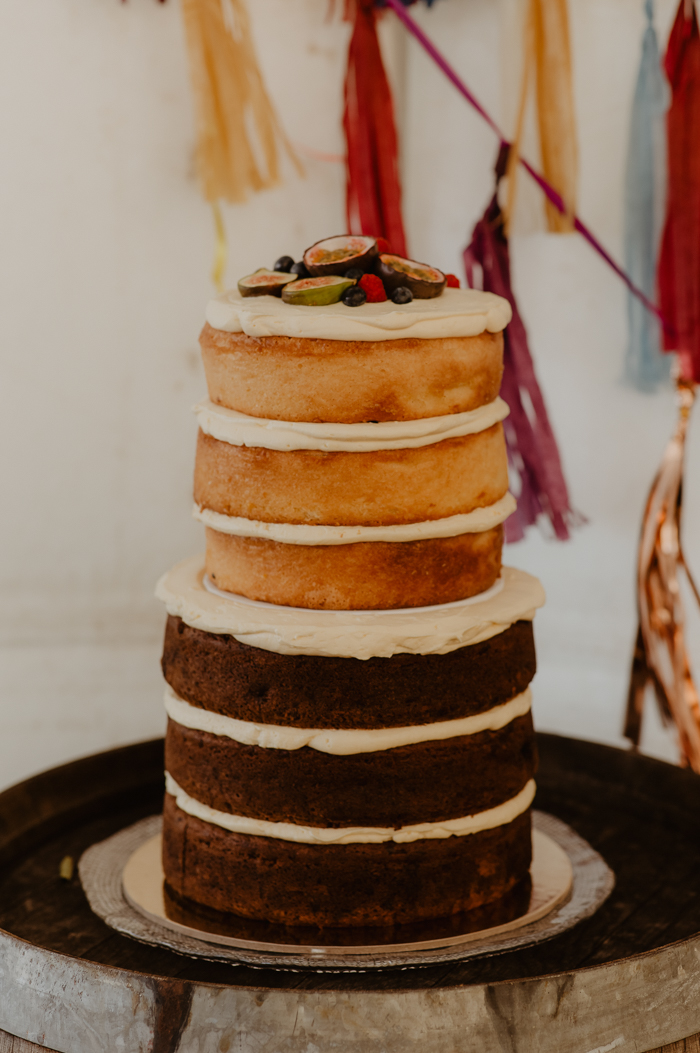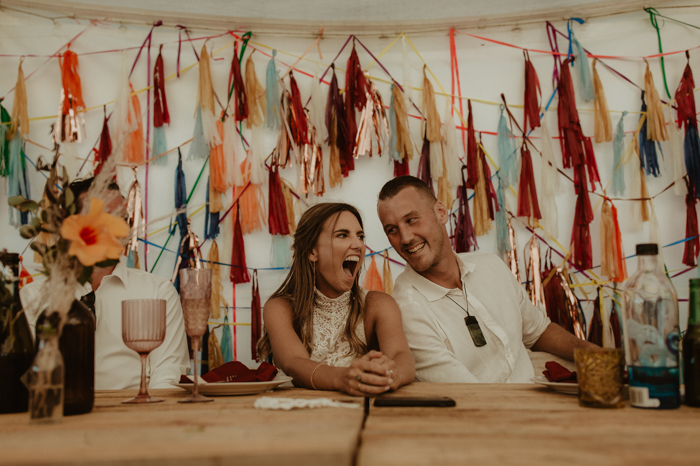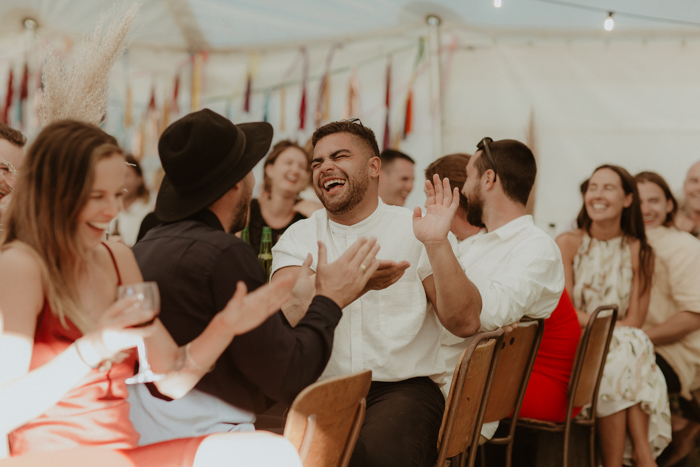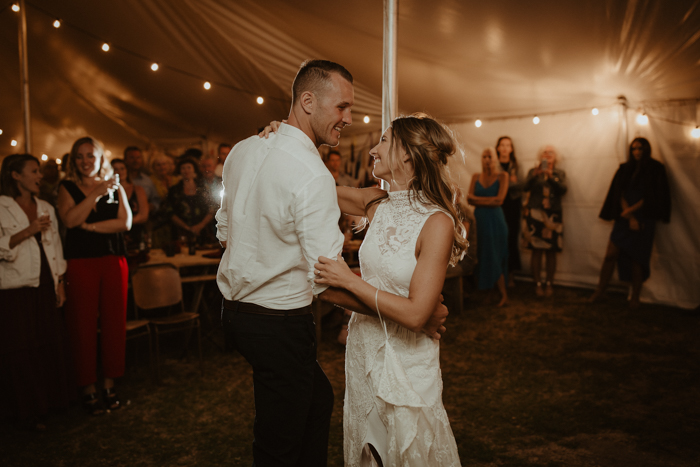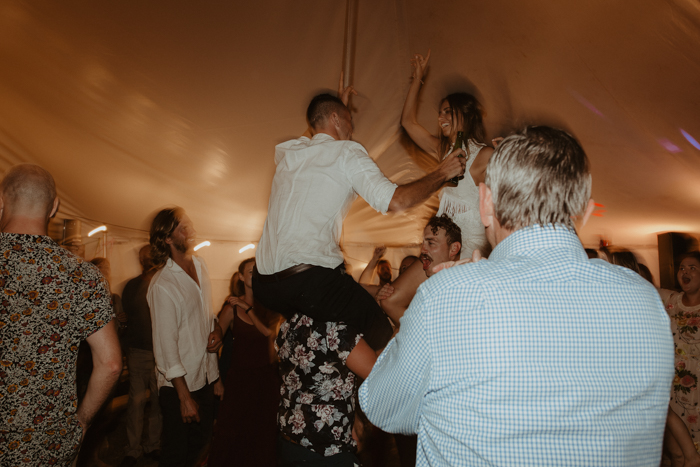 Congratulations, Rose and Luke, and many thanks to Junebug members Wild & Grace for sharing their New Zealand beach wedding with us! If you're loving these images by Wild & Grace, be sure to check out their page in our directory of the world's best wedding photographers.