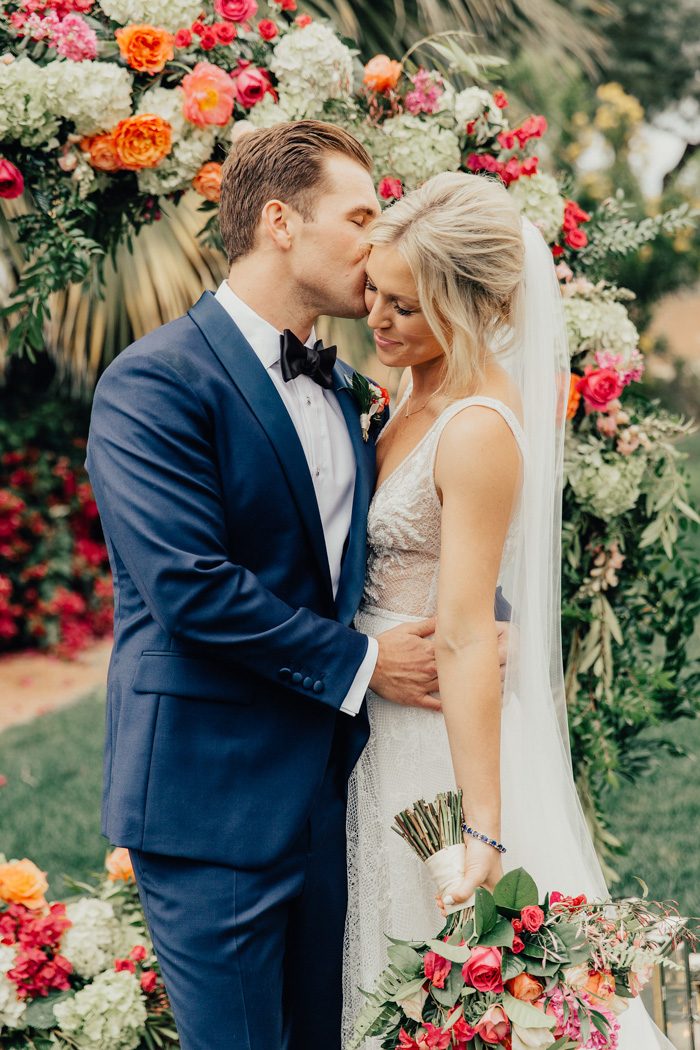 Melissa and Cooper's Palm Springs wedding at The Bougainvillea Estate was as colorful as it was heartfelt! The venue itself had a Coachella pool party vibe that was perfect for the couple to host their family and friends for the weekend, and the DIY projects they took on elevated the look to beyond classy. The stunning displays of bougainvillea around the venue were made even more eye-catching with the addition of the pink and coral floral designs from The Bloom of Time. And the couple's handmade copper pipe and hand-lettered signage gave the look a modern yet slightly bohemian feel we absolutely adore! We also can't get over Melissa's classic bridal gown from Flora Bridal and the wedding party's neutral yet striking attire that looked gorgeous with the vibrant color palette. Ashley Paige Photography captured every moment of this colorful and classy desert wedding perfectly!
The Couple:
Melissa and Cooper
The Wedding:
The Bougainvillea Estate, Palm Springs, California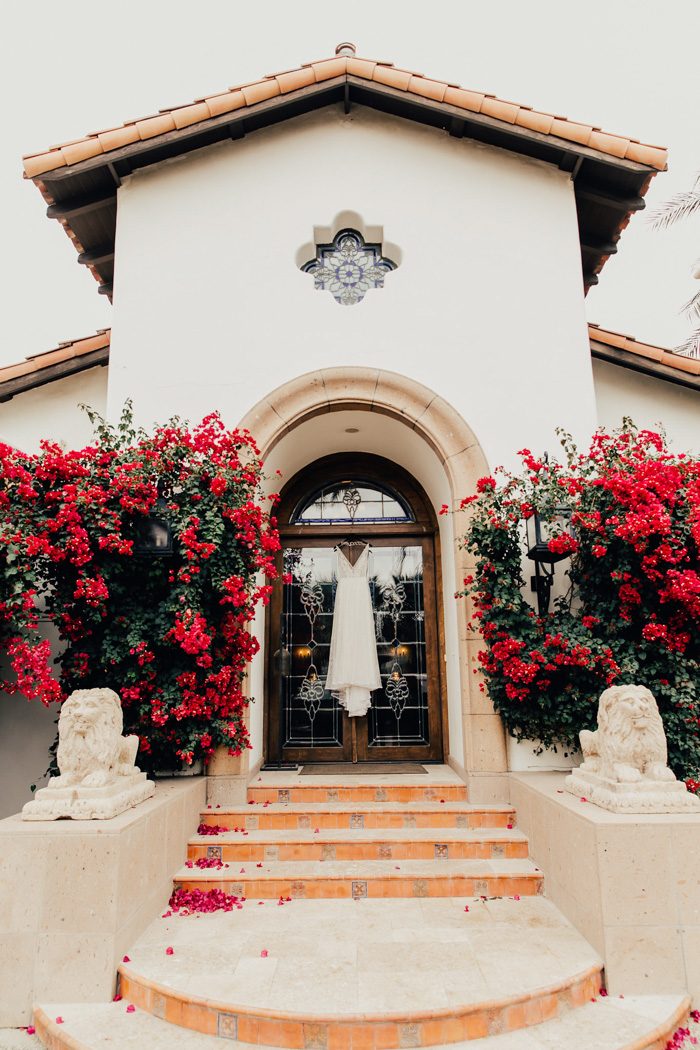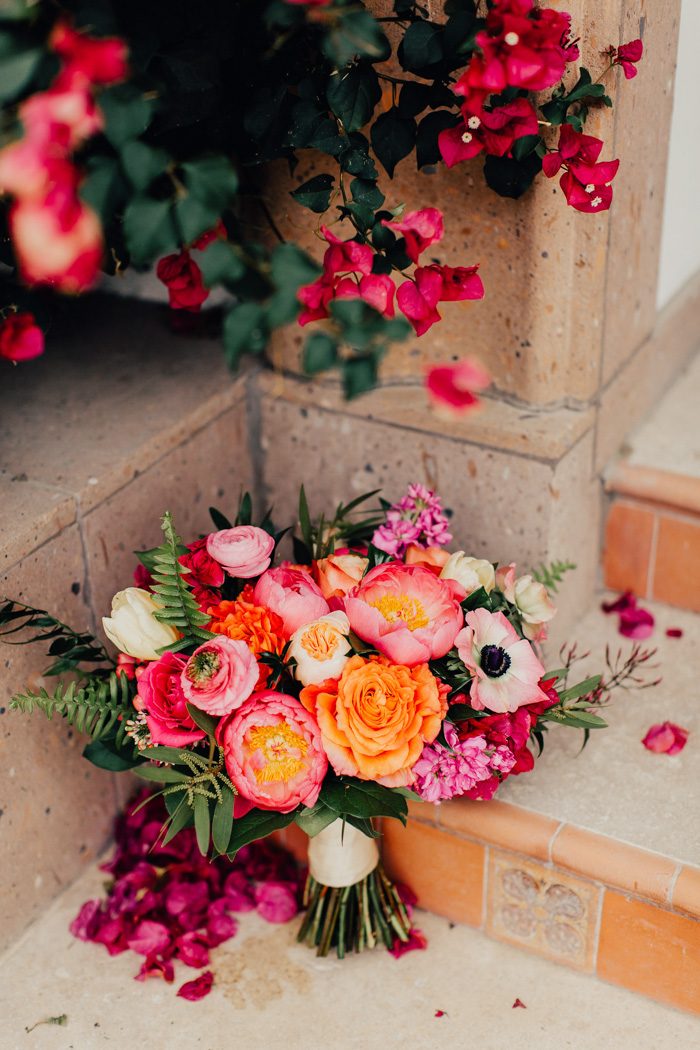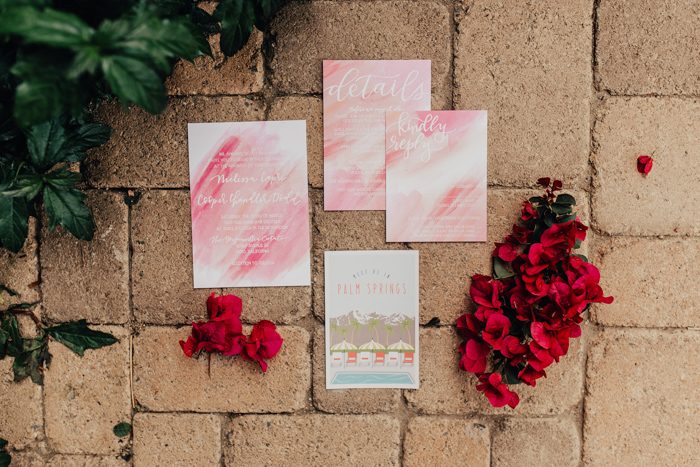 The most important part of planning our wedding was that the entire weekend felt like us. We have been to so many gorgeous weddings that could have easily been celebrating anyone. We wanted our guests to leave saying "wow that was so them." From the pool party we threw the day before, to toasting with margaritas at dinner, to the dance party under the cluster of disco balls, and the Bloody Mary bar the morning after, it was important to us that the details had a purpose. One of my favorite tiny details was on the back of our programs we included some of my favorite adorable quotes from my kindergarten students about love and marriage. It was a fun way to incorporate my passion for teaching!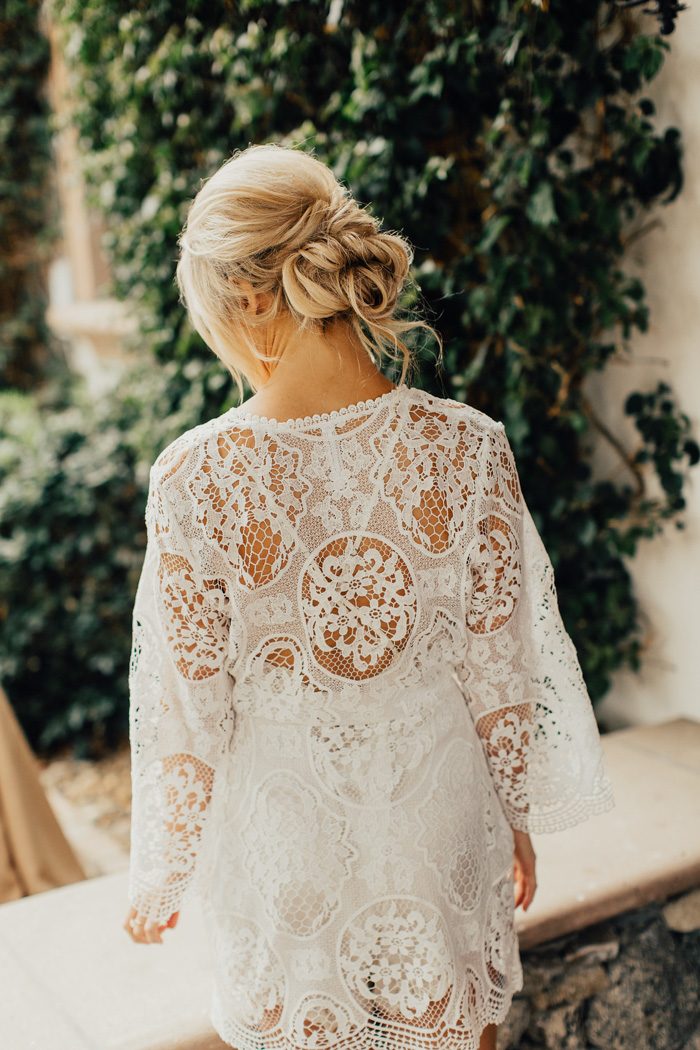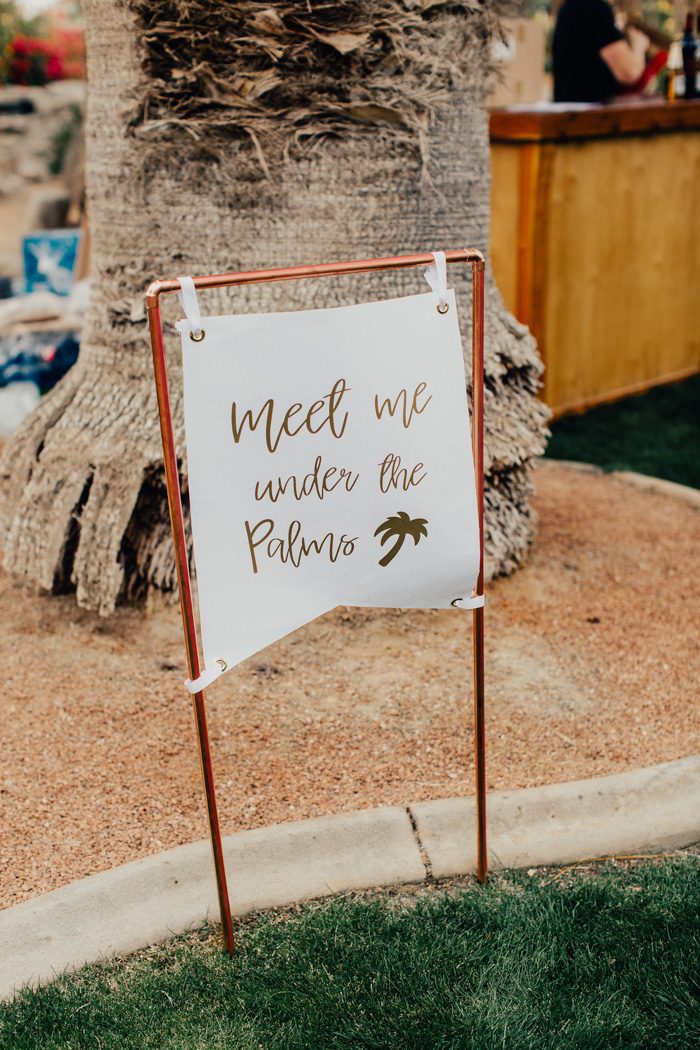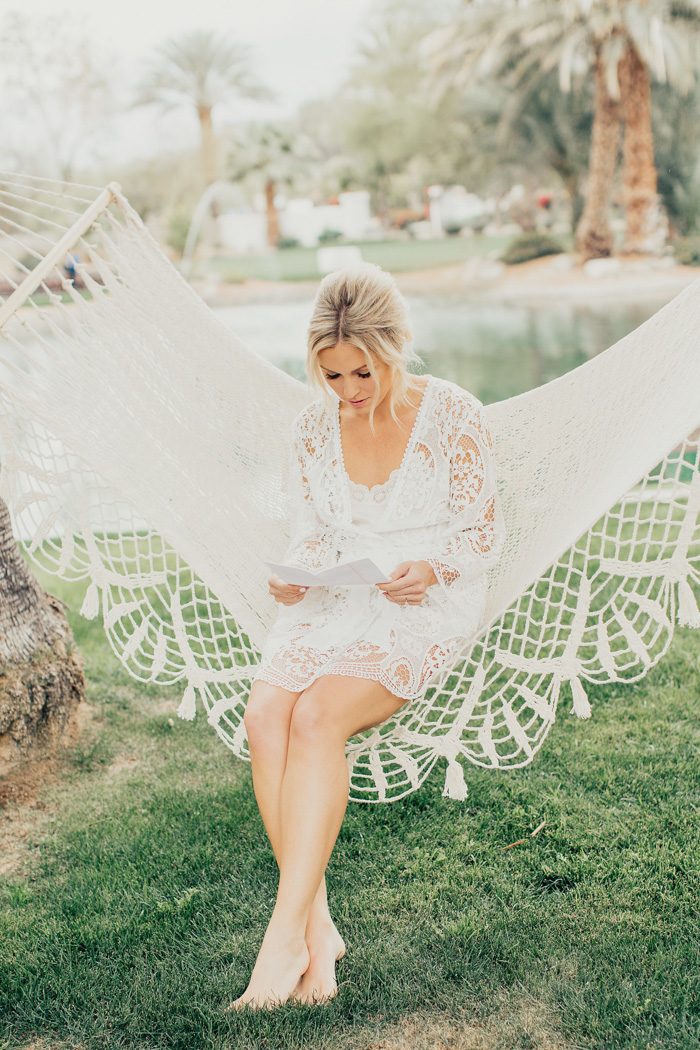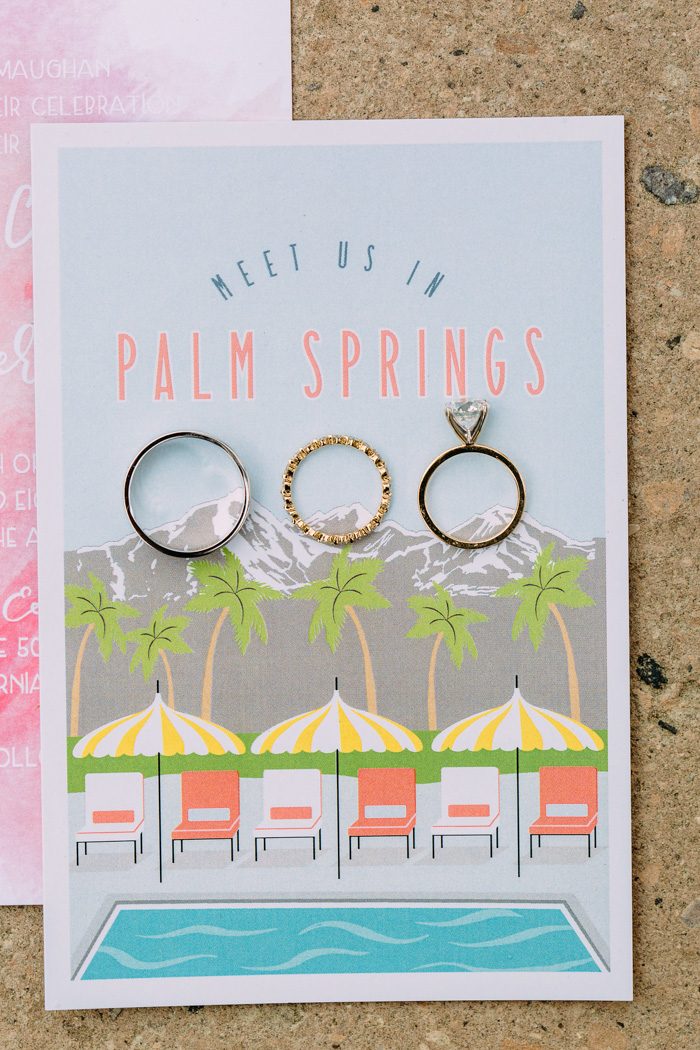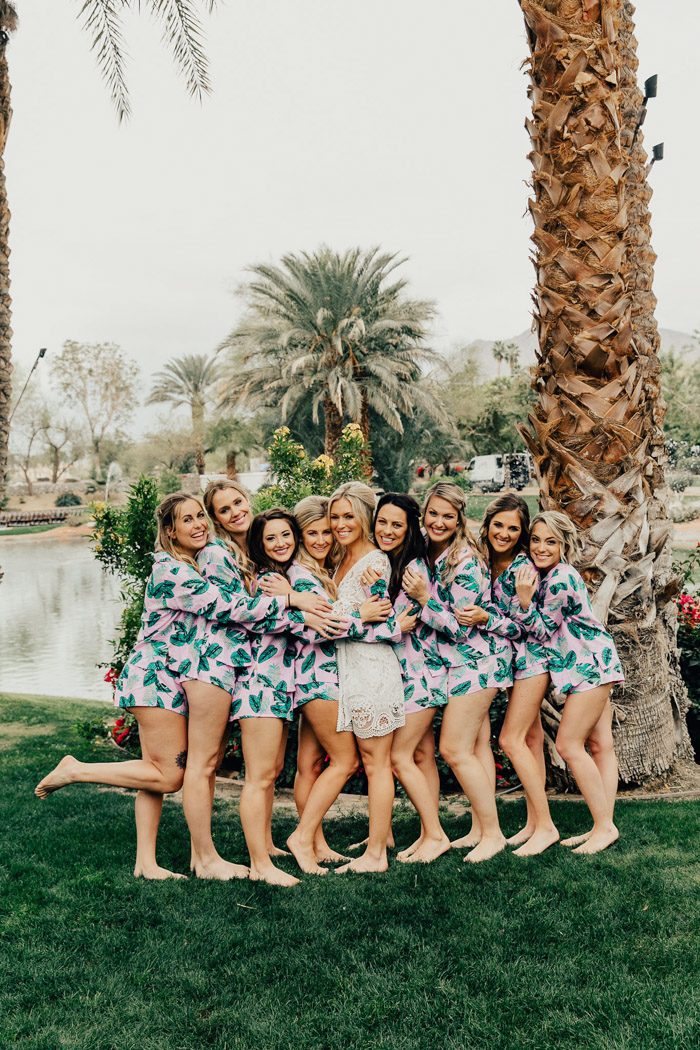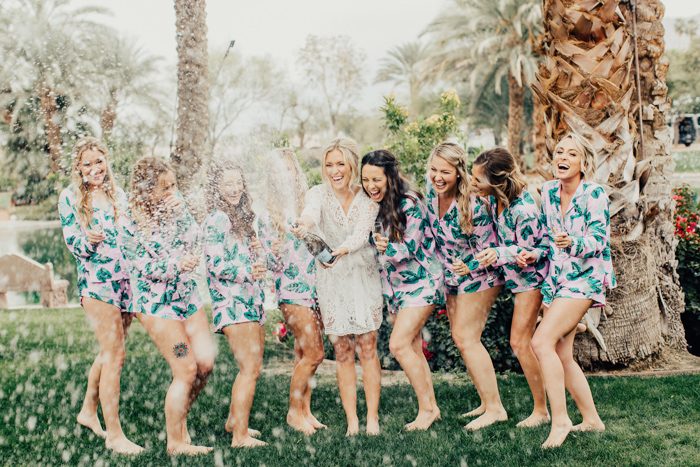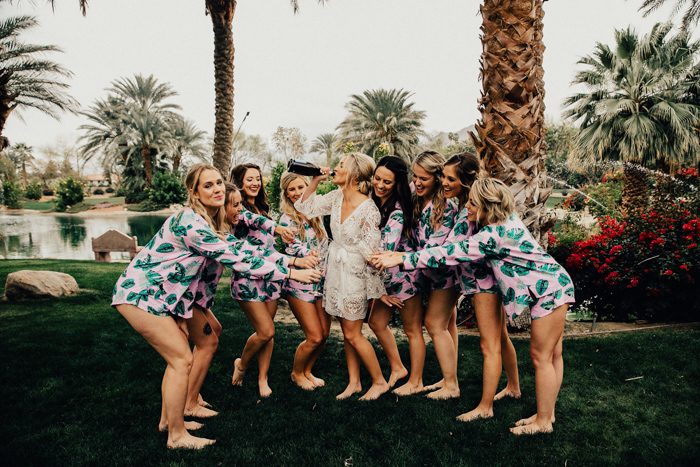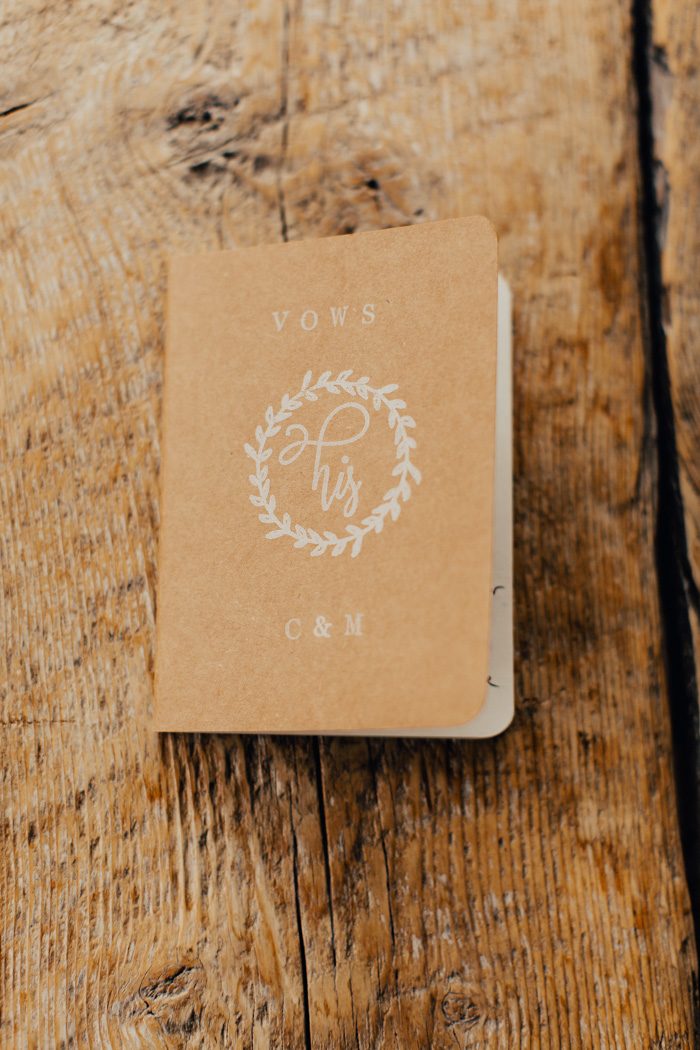 The day after Cooper proposed, we drove out to Palm Springs to celebrate with my family at our vacation home. On the drive out Cooper suggested we get married in the desert and that was the end of that, we never looked anywhere else. We knew that we wanted a venue that was private but also could house our bridal party for the weekend-long celebration. We loved that the Bougainvillea Estate was more of a Coachella pool party house than a stuffy wedding venue and that we could host all of the wedding events on-site without ever having to leave!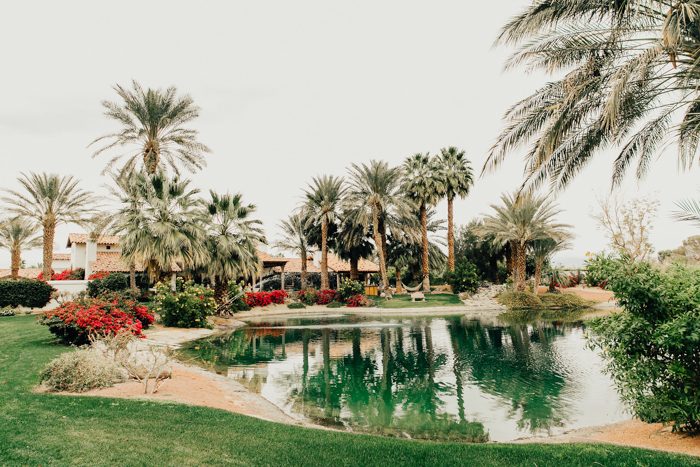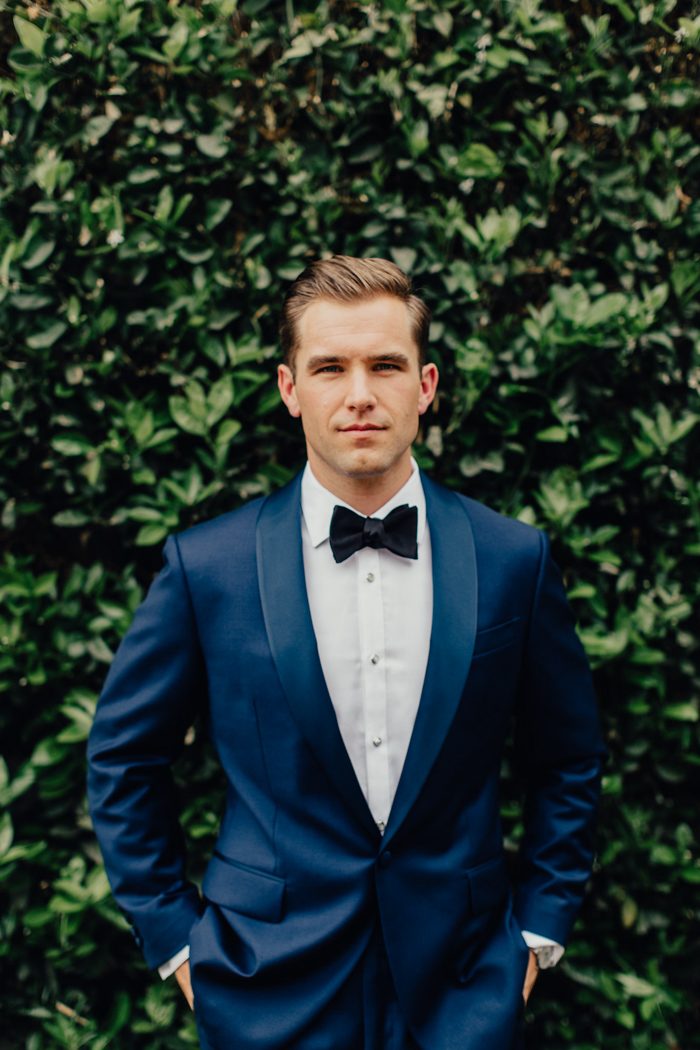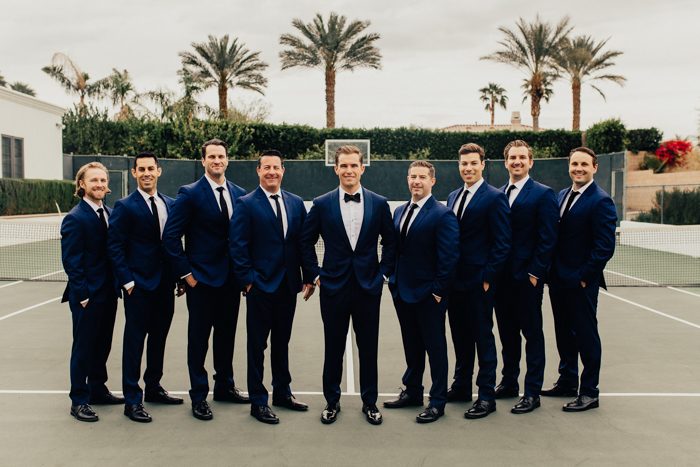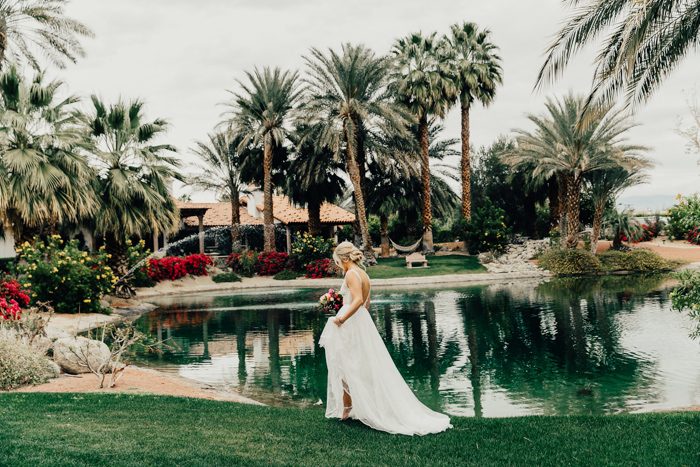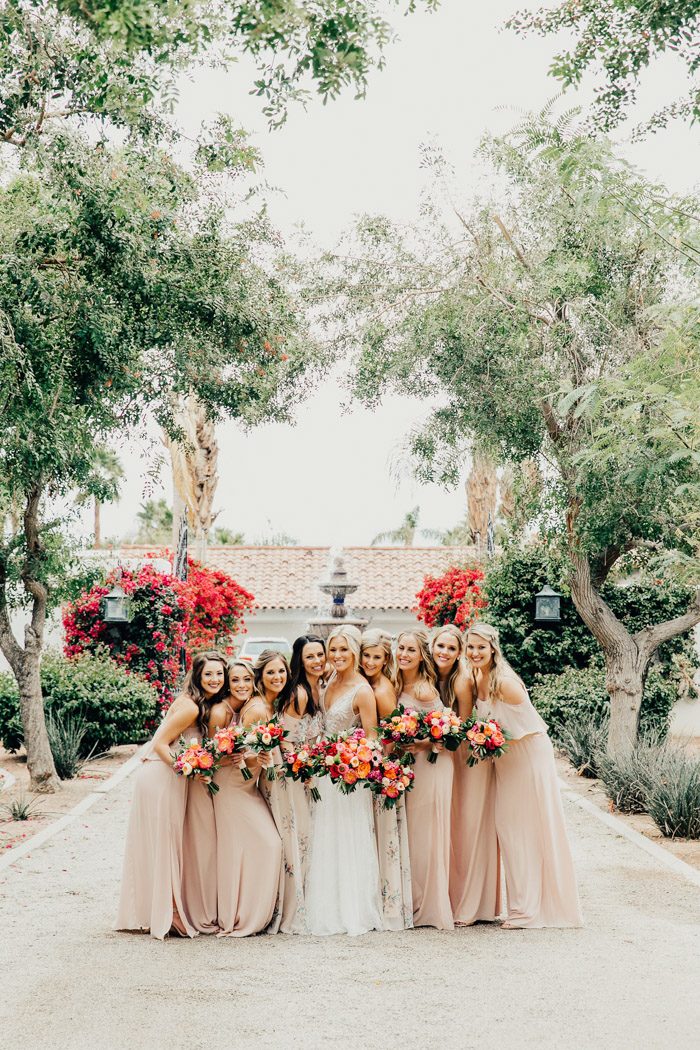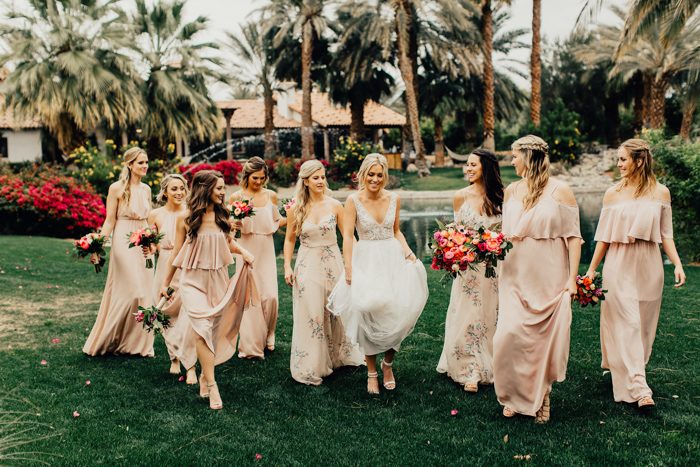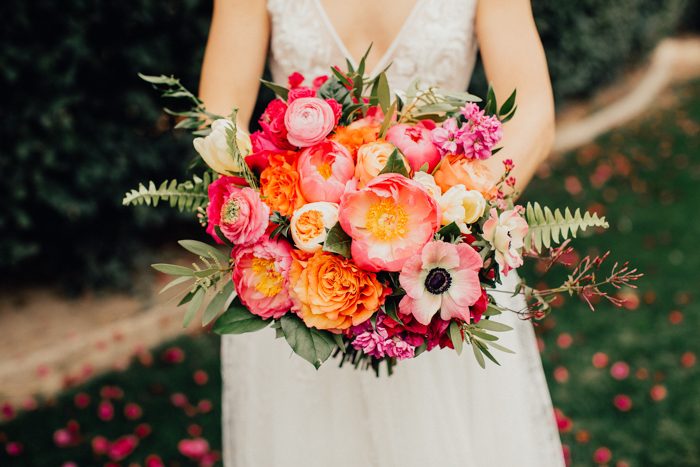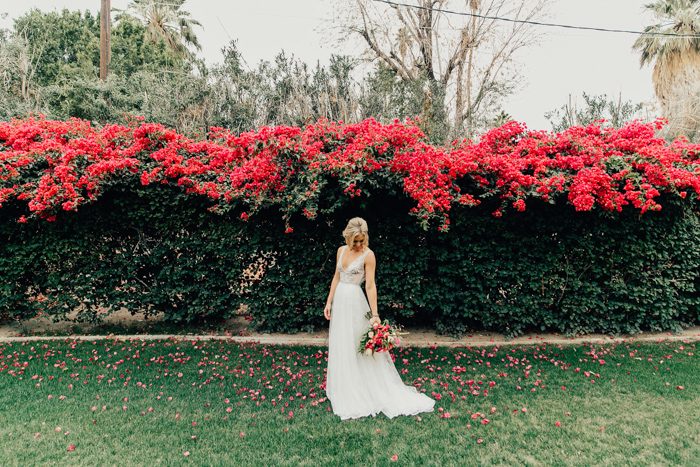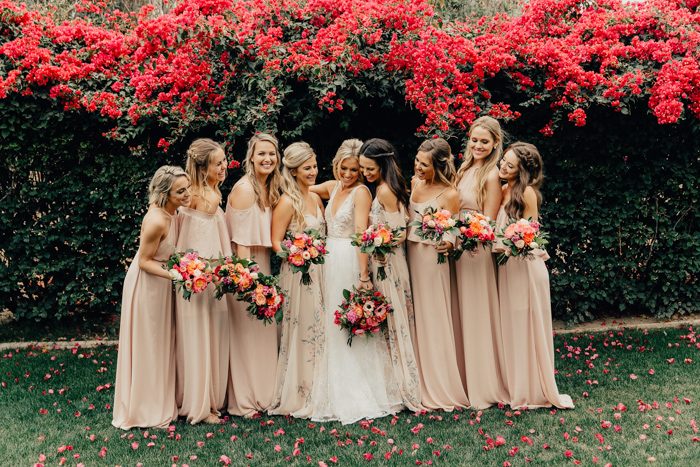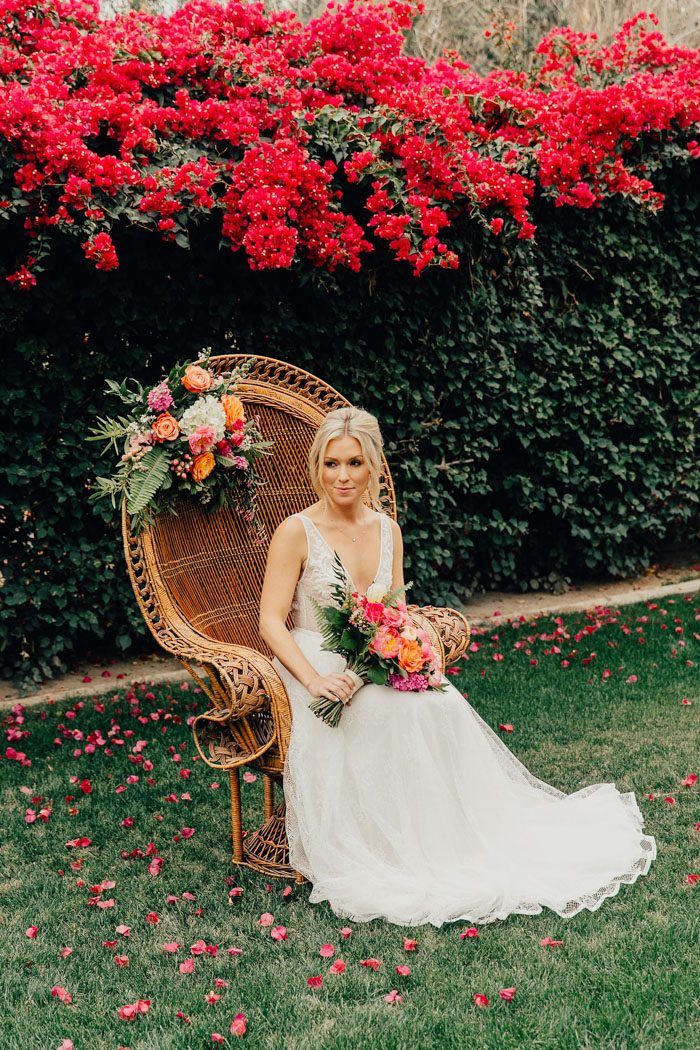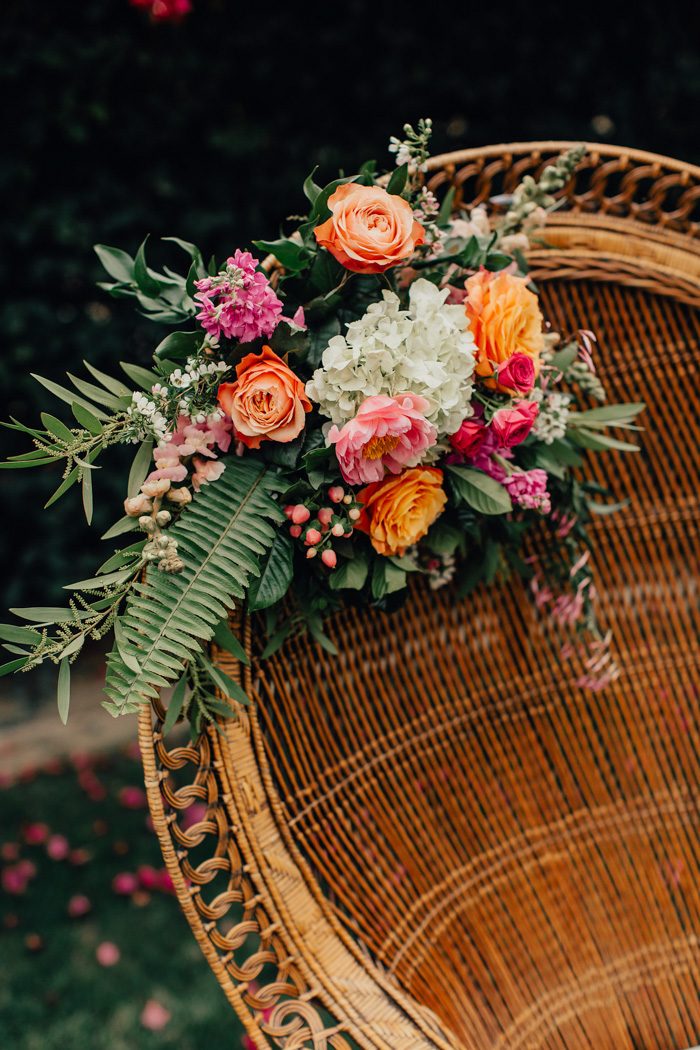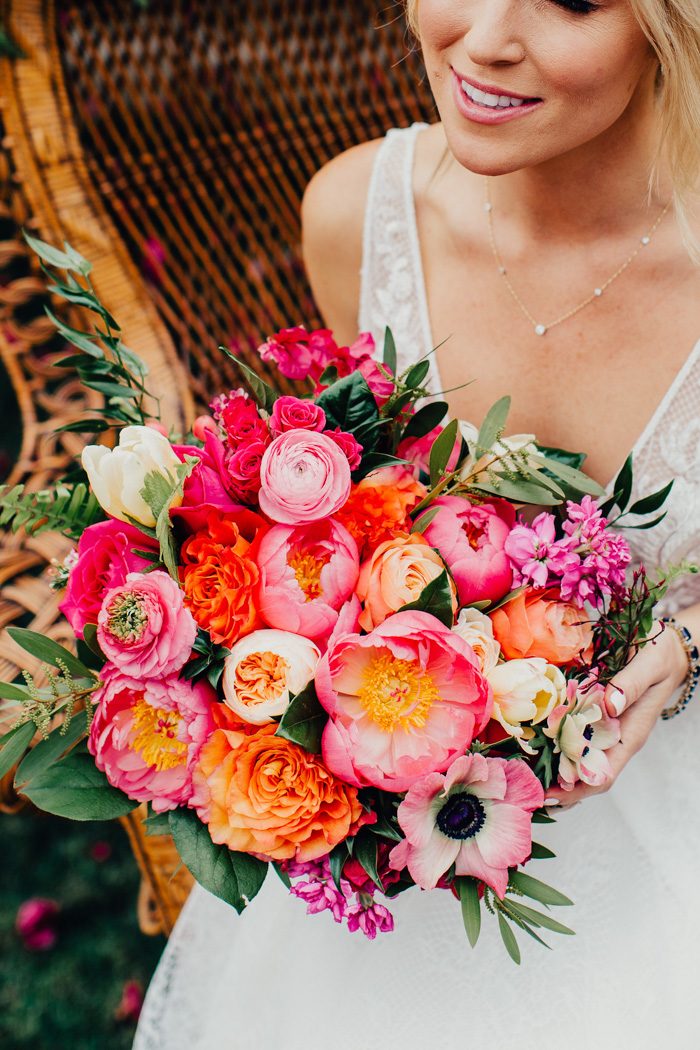 The DIY projects for the wedding became a family affair. I loved the idea of doing a Bougainvillea petal toss after being pronounced man and wife since we were getting married at The Bougainvillea Estate and the house was covered in the gorgeous flowers. The extra charge to make it happen was out of our floral budget, so my mom came to the rescue! She plucked petals from all of her friend's backyards, dried them in her oven small batches at a time, and helped me package them up in sweet little bundles! My dad also pitched in by helping me create our amazing copper piping signs! He bought copper pipes then measured, cut, and created the stands for our signs and table numbers inspired by a Pinterest picture I loved. My cousin helped me with the cloth and the lettering. I loved how some of my favorite people helped with some of my favorite details!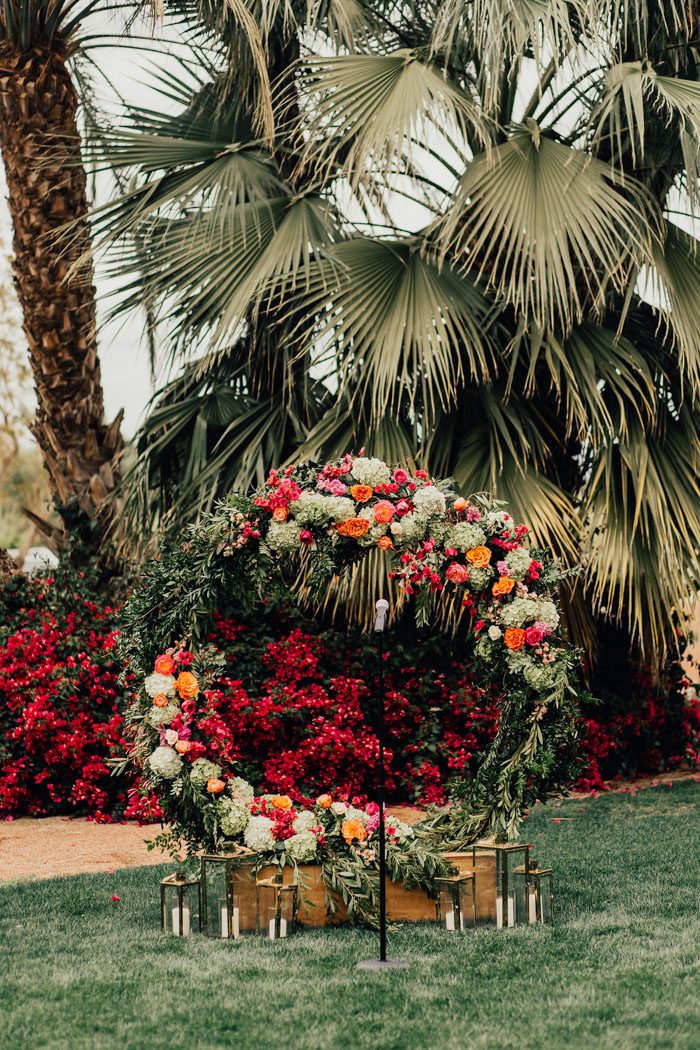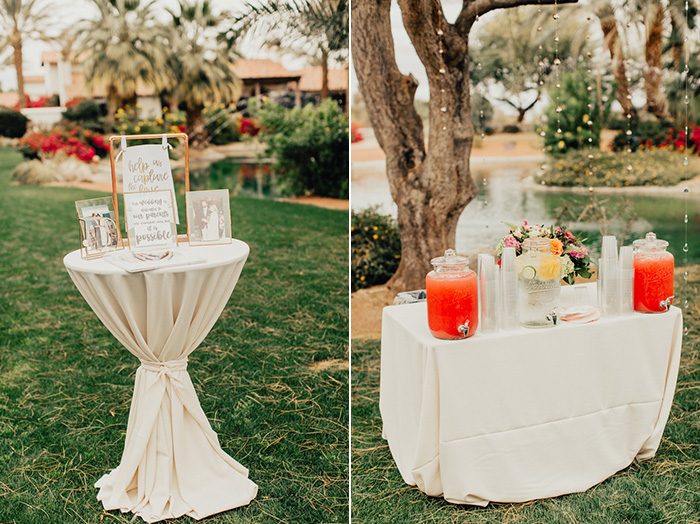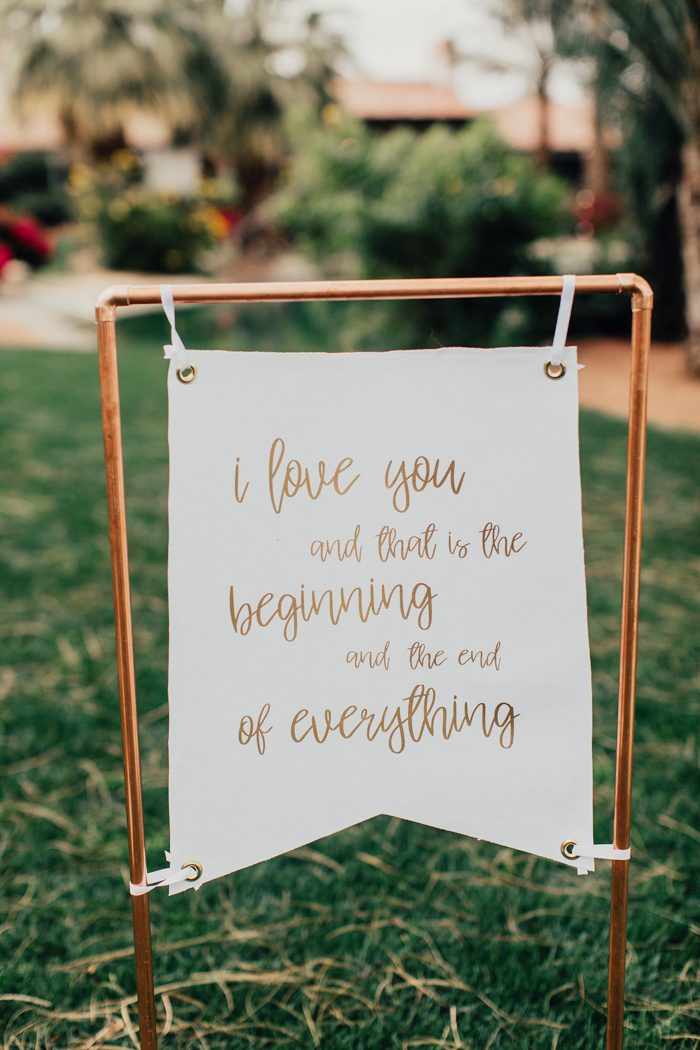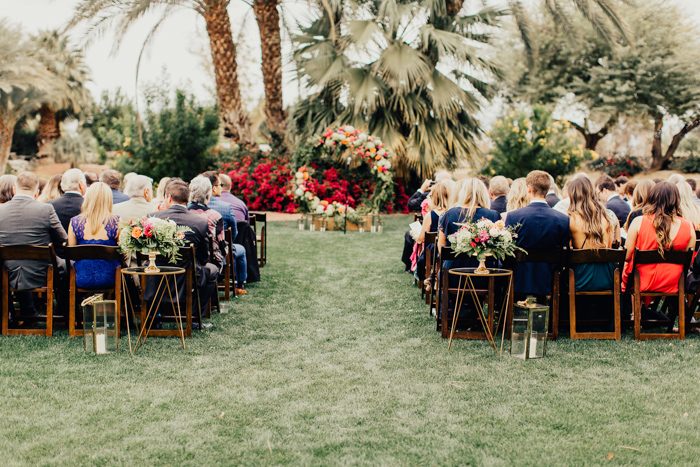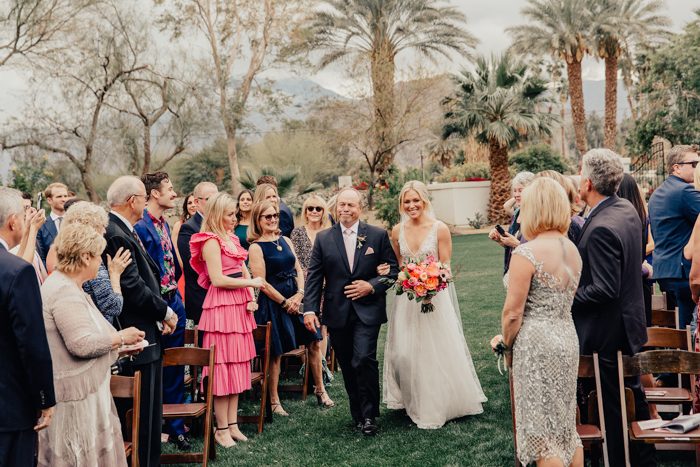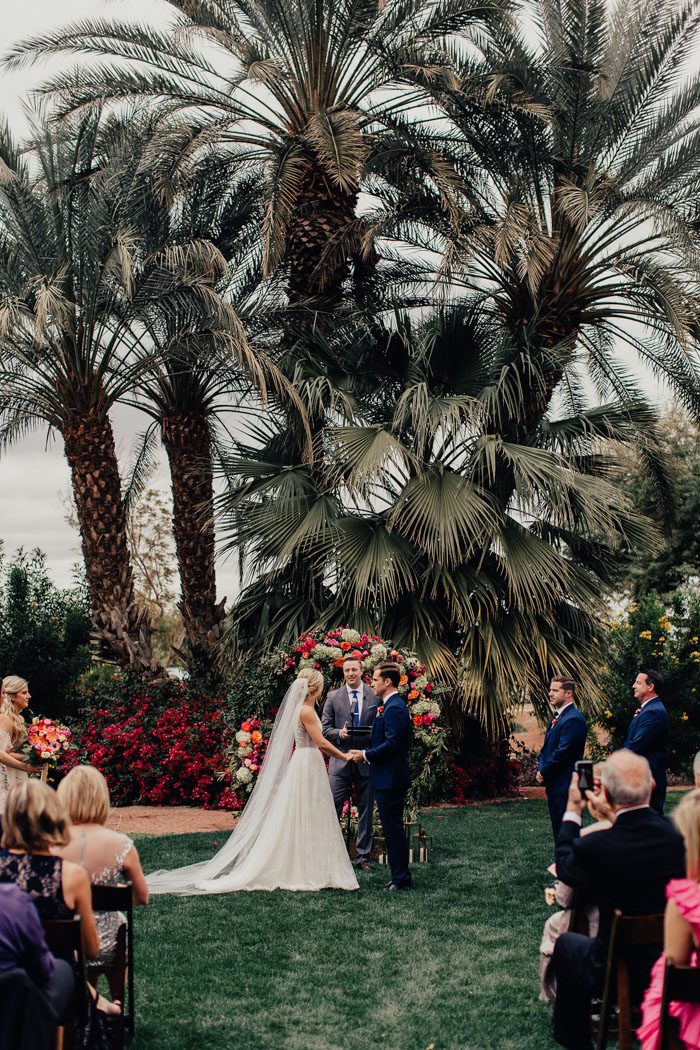 Reading our own vows in front of the people who mean the most to us was incredibly special. The whole day was so meticulously planned out and well manicured that reading our own vows felt amazingly raw and vulnerable in comparison. The entire day felt dreamlike and surreal but listening to Coop's vows and sharing my own brought me back to being present and helped us both focus on the meaning of the day. I was shaking the whole time but it was so worth it!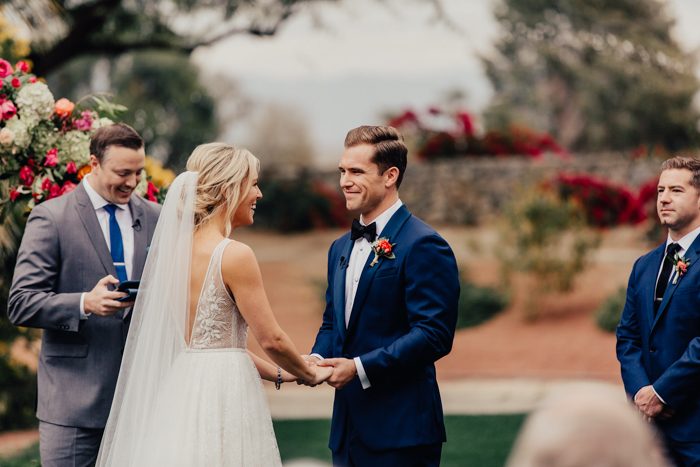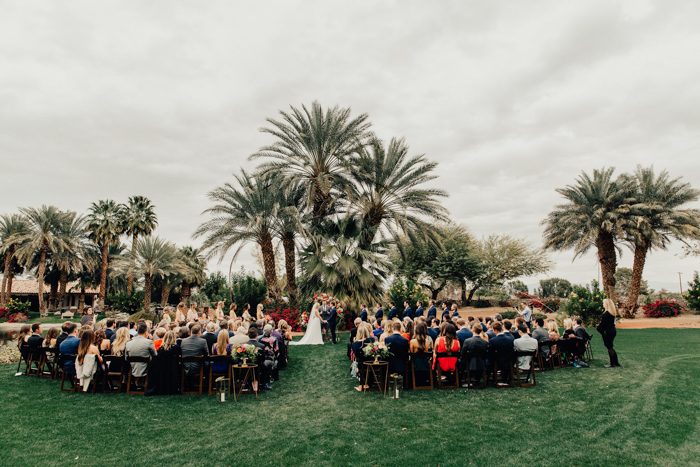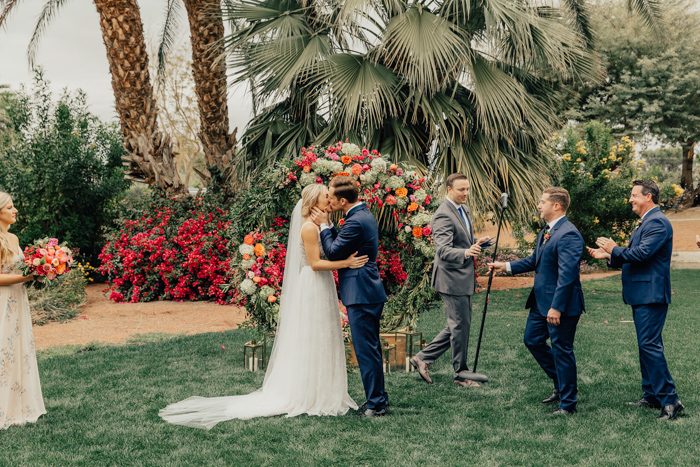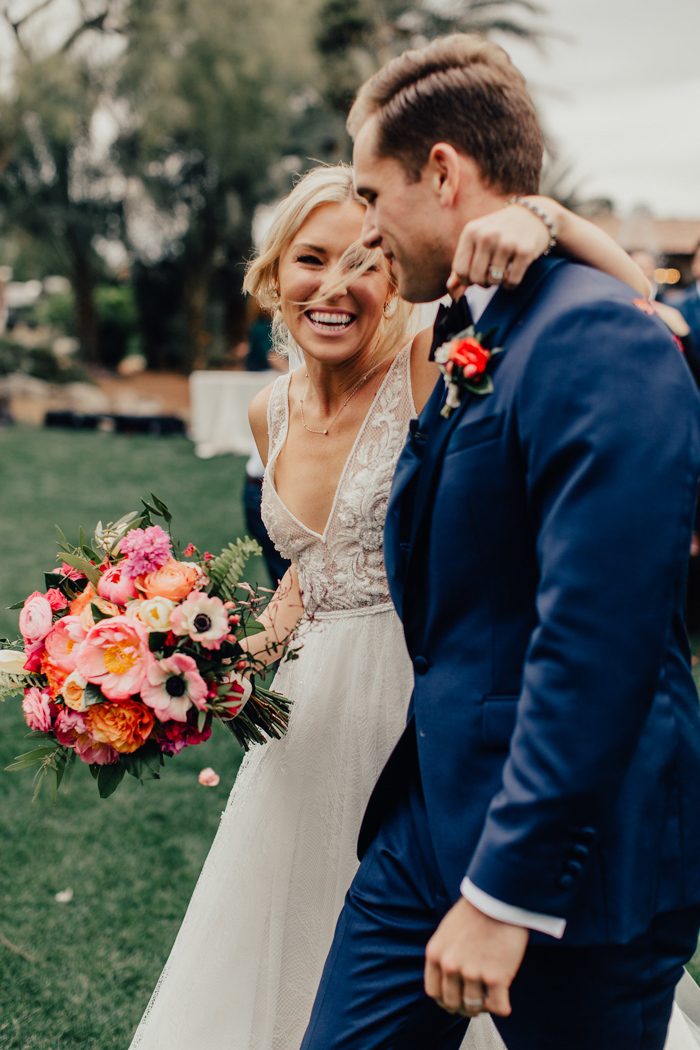 A close friend gave us amazing advice before we started any planning. She told us to really think about the few things that mattered to us as a couple and put our time and energy into those specific things. Cooper and I decided to separately come up with 3 things each that we thought were the most important and then sit down and share those things with one another. It really shed light on what mattered to us individually, and it helped us combine them together to come up with what mattered to us as a couple. In the world of Instagram, Pinterest, and beautifully curated wedding sites it is easy to think that every single detail matters, which is insanely overwhelming. Starting the planning process with a clear idea of what matters to you as a couple was a great way to cut out the wedding clutter and calm down the crazy to do lists!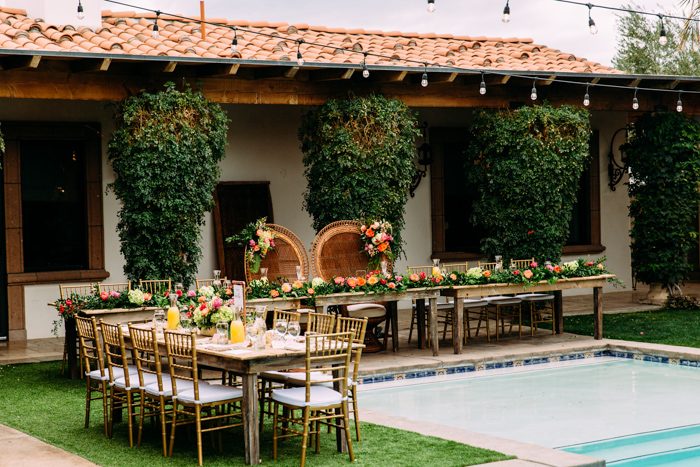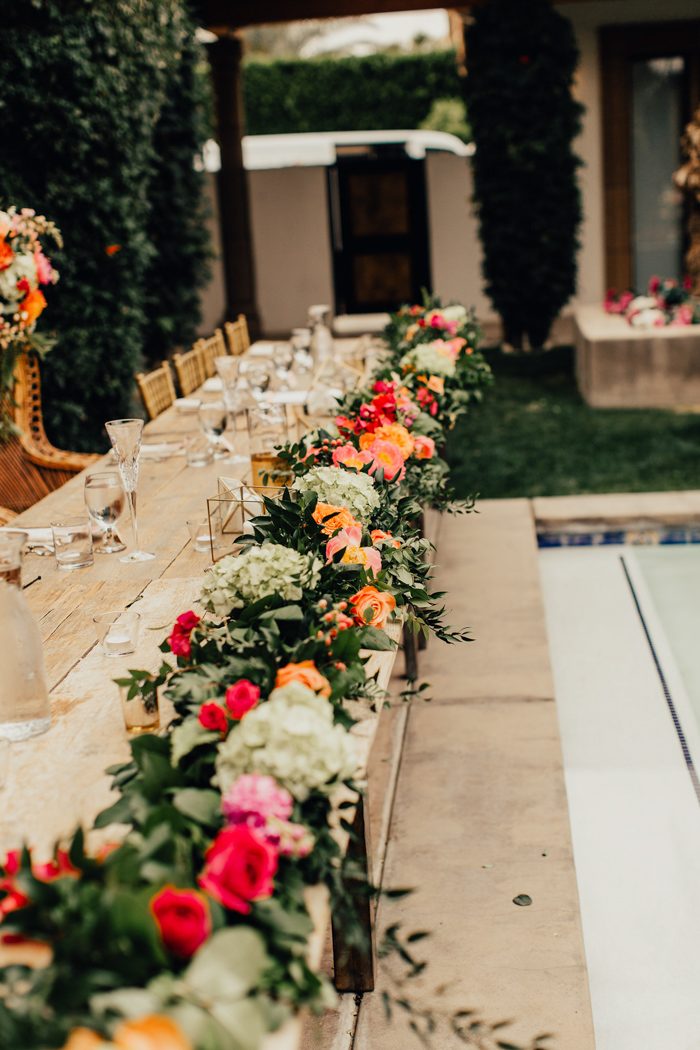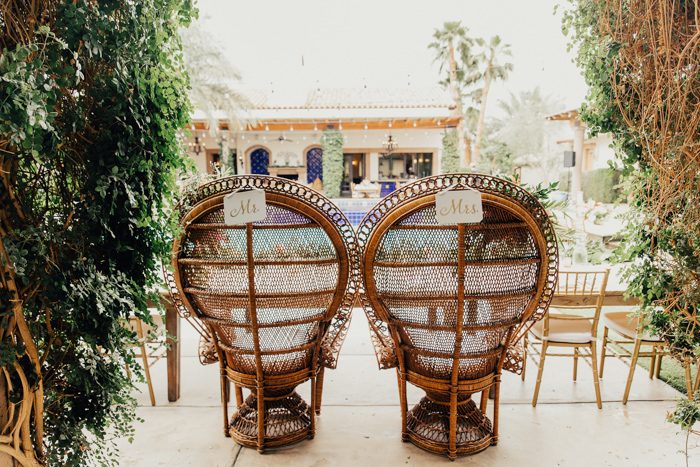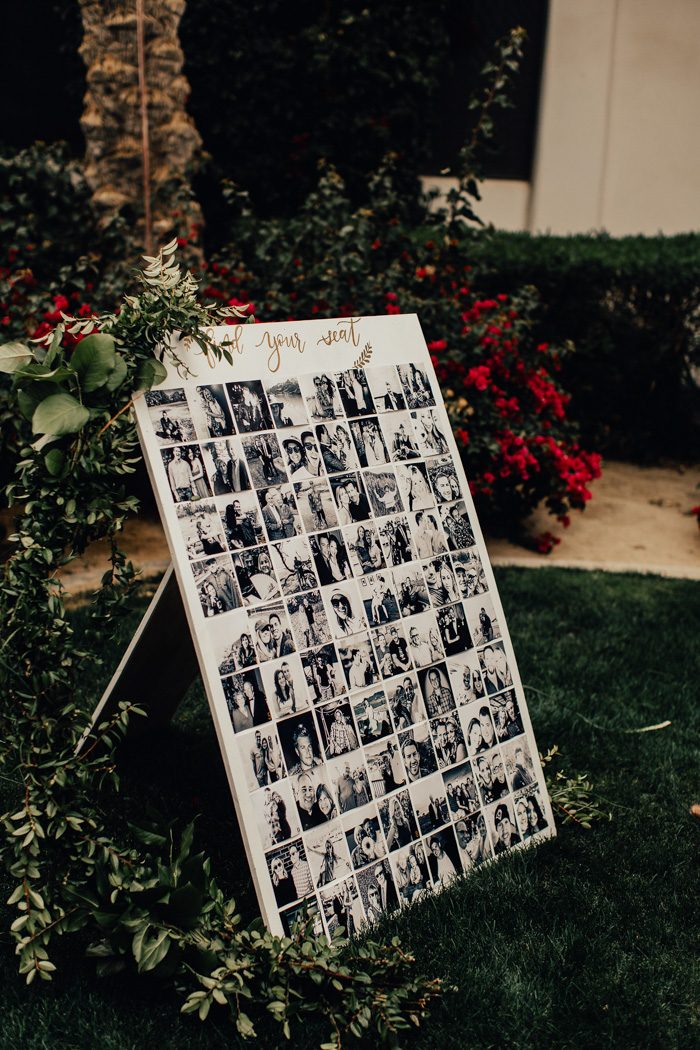 I love a good cutesy gift and a sweet punny saying, but I couldn't wrap my head around the effort and money that went into creating a tiny gift that rarely ever makes it home with the guests. In lieu of wedding favors, we hand wrote each guest a note, thanking them for being such a crucial part of our lives, reminding them of why they are so special to us, and telling them how excited we are to have them with us on our special day. It definitely took some time, but it felt so much more personal and thoughtful!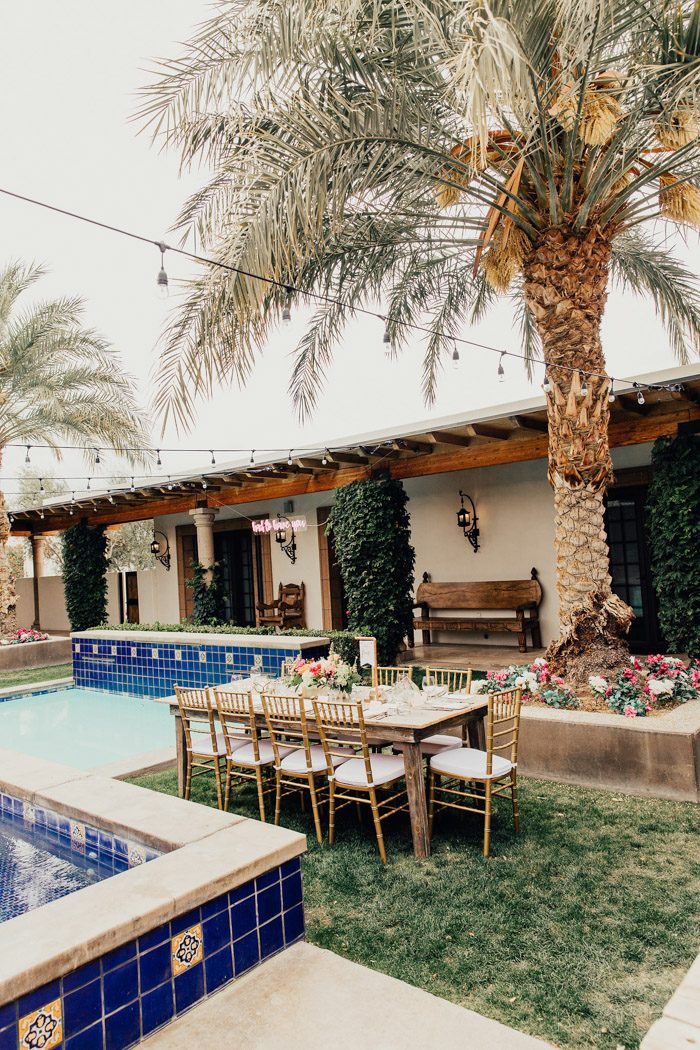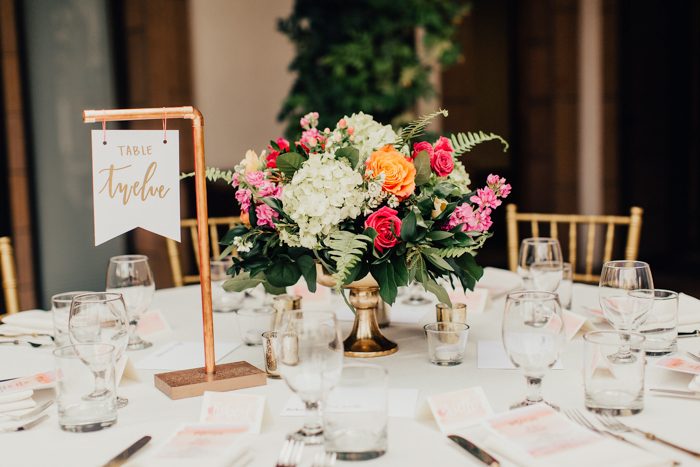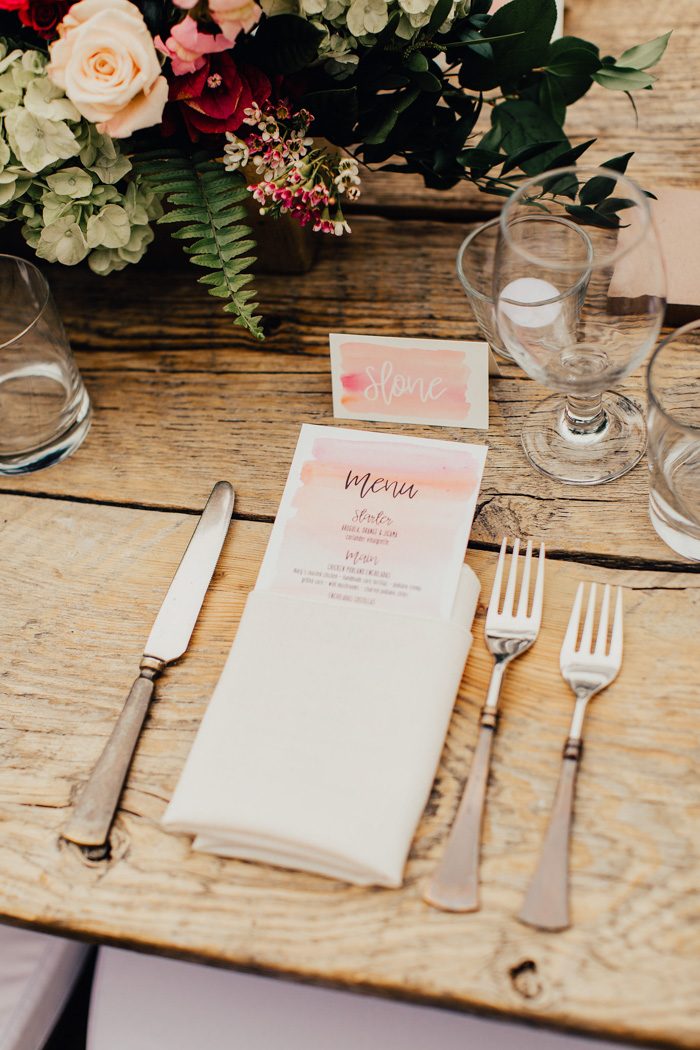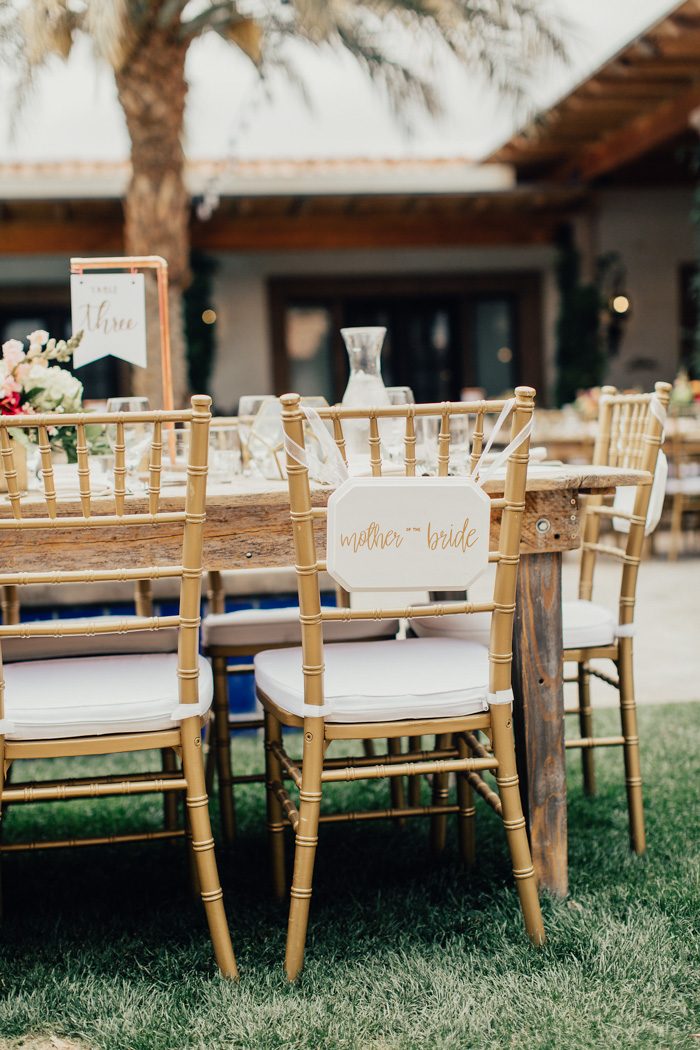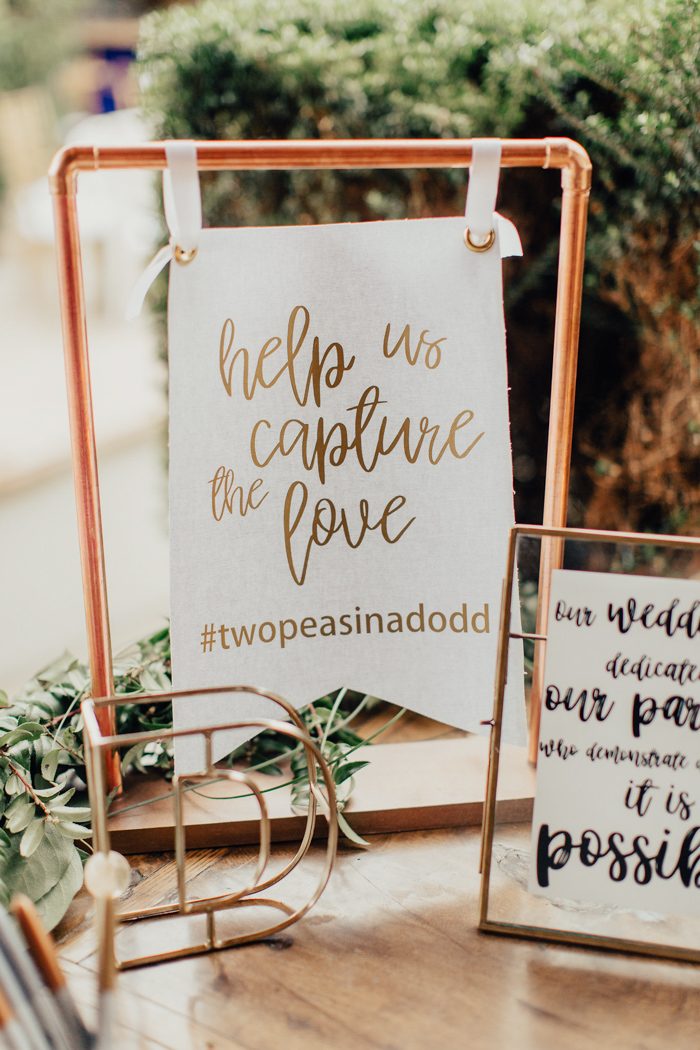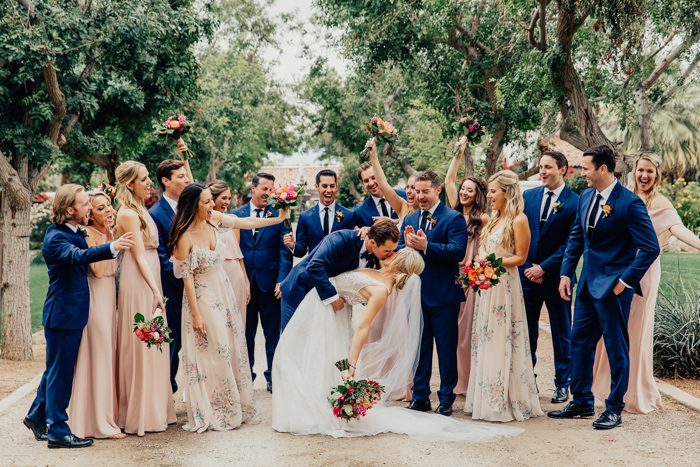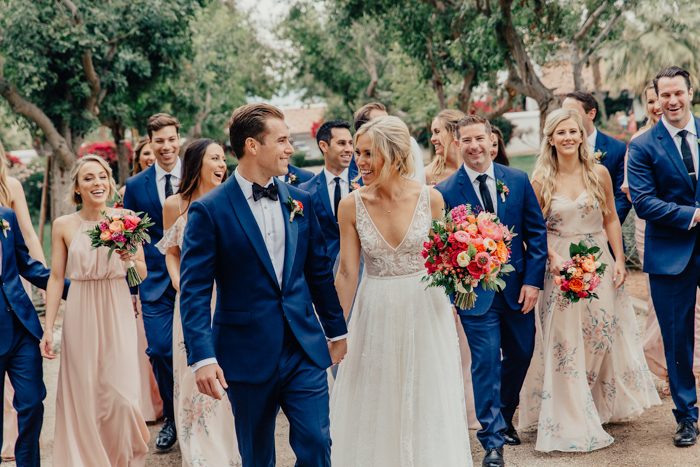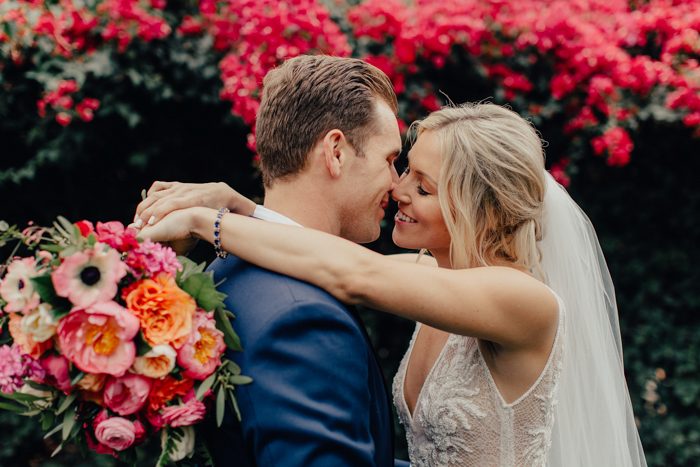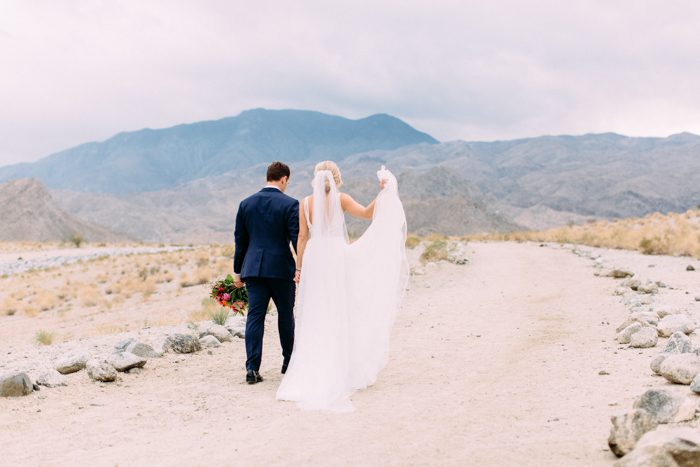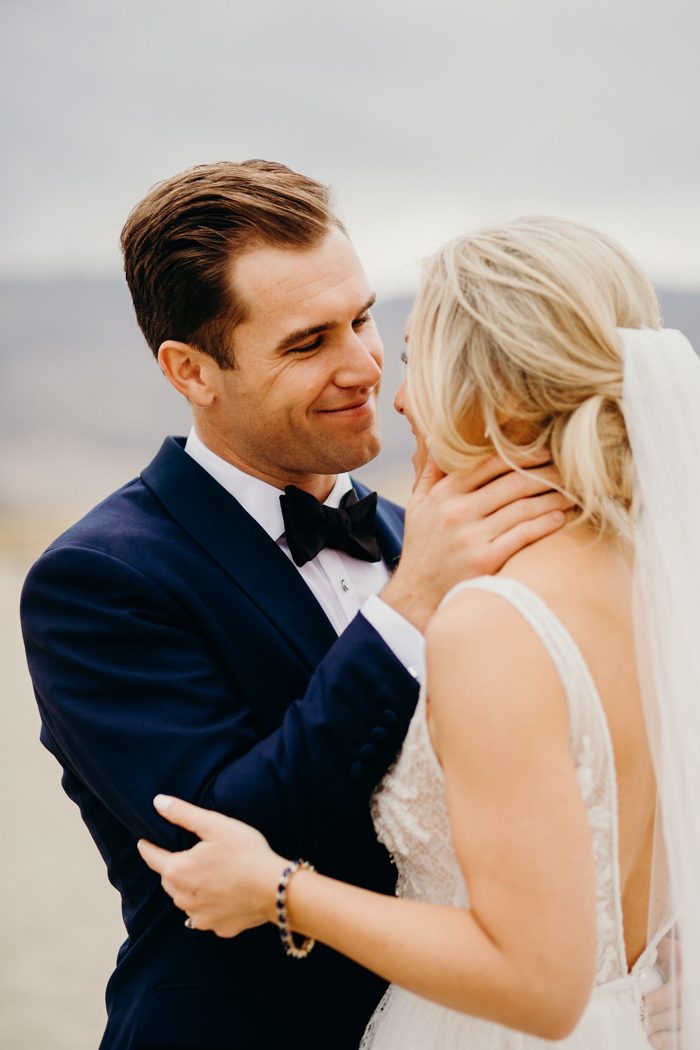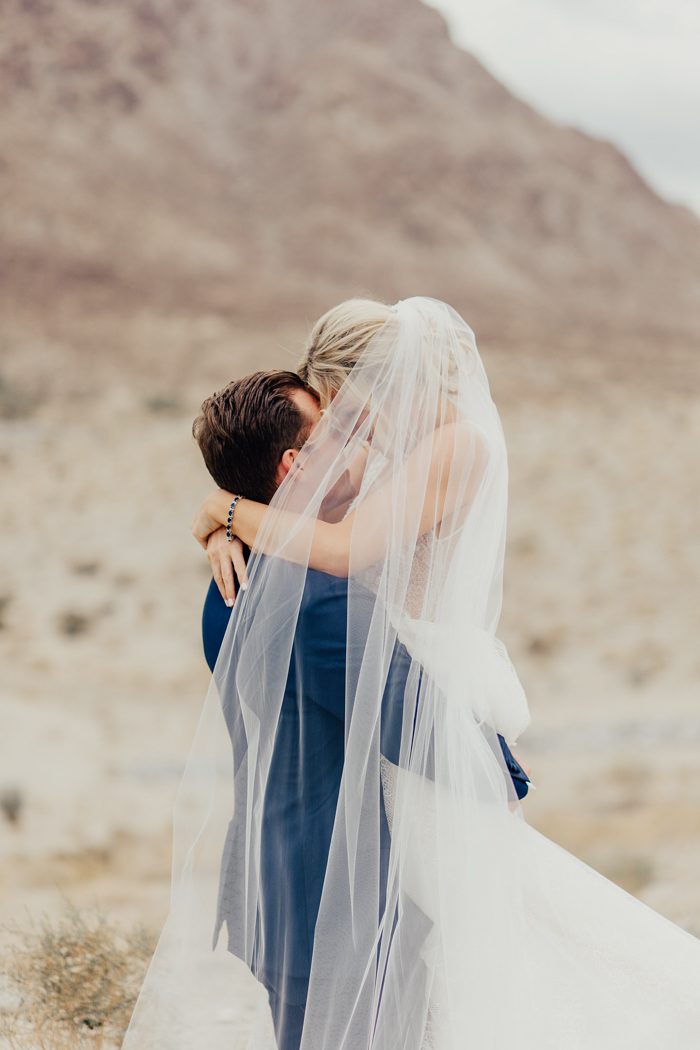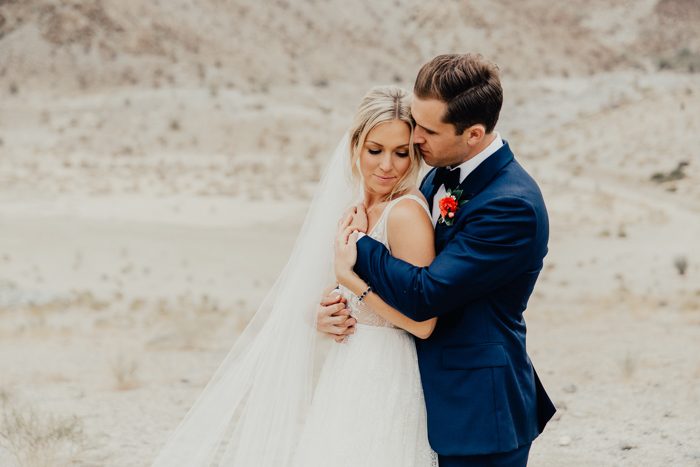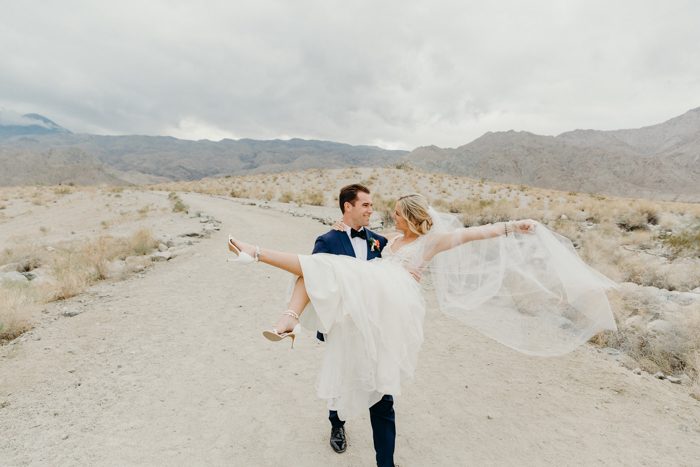 Processional – "Sweet Disposition" by The Temper Trap
Bride Entrance – "This Year's Love" by David Gray
Recessional – "You Make My Dreams" by Hal & Oates
First Dance – "Big Jet Plane" by Angus & Julia Stone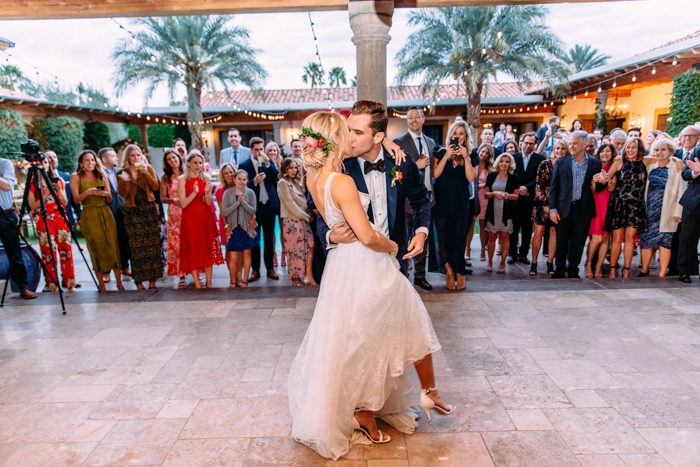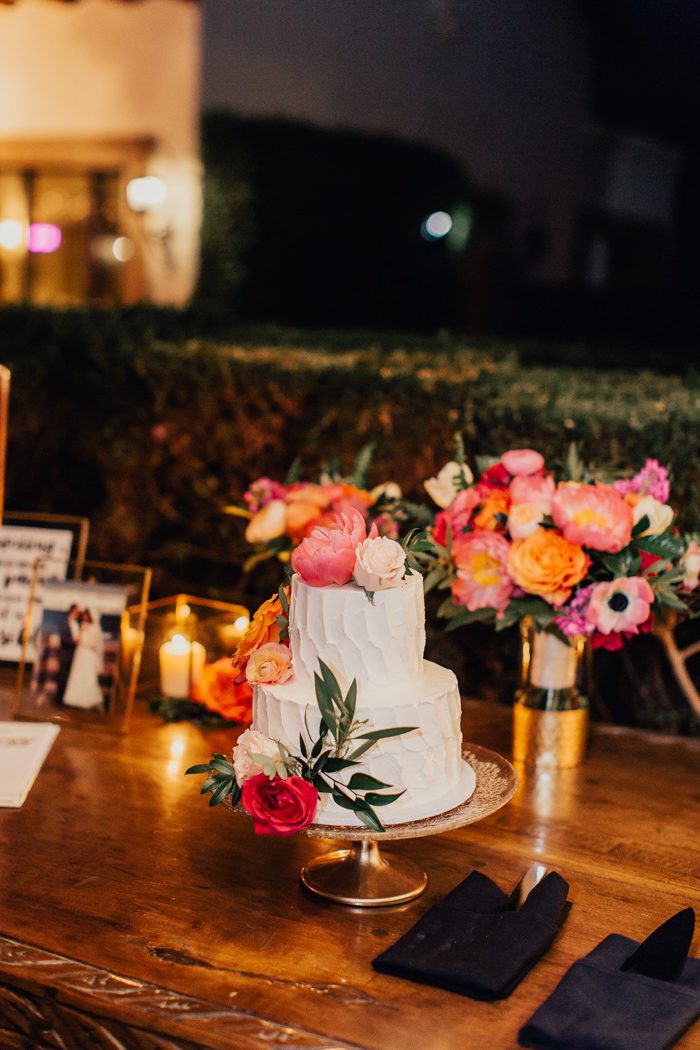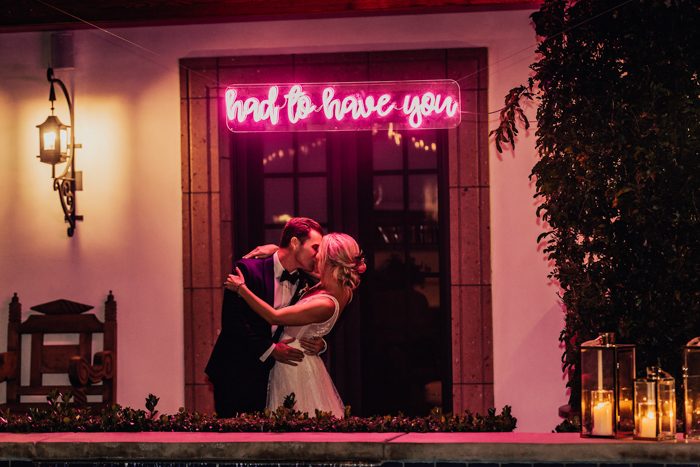 Congratulations to Melissa and Cooper, and a big thanks to Ashley Paige Photography for sharing this incredible wedding at The Bougainvillea Estate with Junebug! Love the vibrant color palette they used? Then you have to see this colorful Planet Bluegrass wedding in Lyons, Colorado!