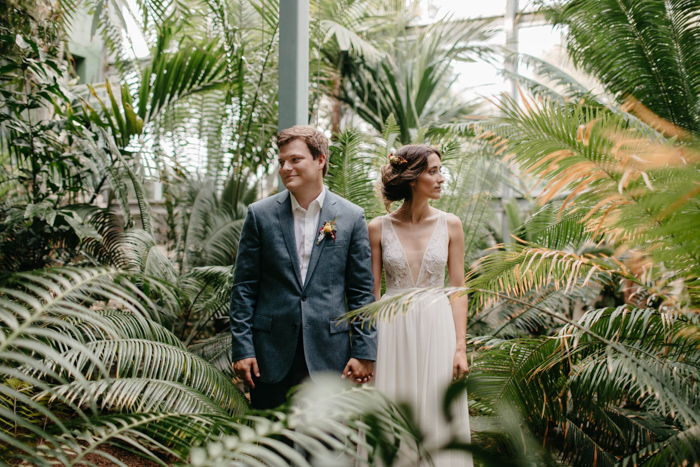 The '70s wedding vibes are going strong, and the retro color palette in Ariana and Morgan's Hill Country wedding at The Greenhouse at Driftwood is our new obsession! A mix of marigold, goldenrod, and red-orange florals designed by Sweetwater Stems popped brilliantly against their boho decor and brought the greenhouse space to life in the most vibrant way. The bride's custom Elizabeth Leese Bridal gown and the bridesmaids mismatched, floral print dresses were the cherries on top of such an epic design. Every detail, down to the illustrated fans made by Shay MacMorran Art and cornhole set made by the groom, had a bold, slightly tropical, totally retro feel! Luckily for us, The Teagues were on hand to capture every incredible element of this Hill Country summer wedding!
The Couple:
Ariana and Morgan
The Wedding:
The Greenhouse at Driftwood, Driftwood, Texas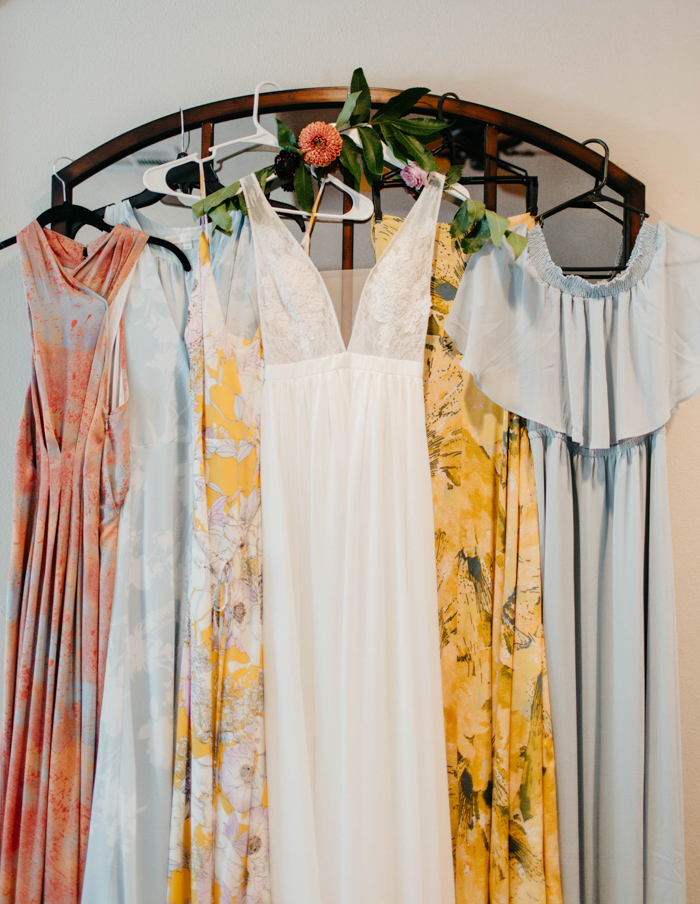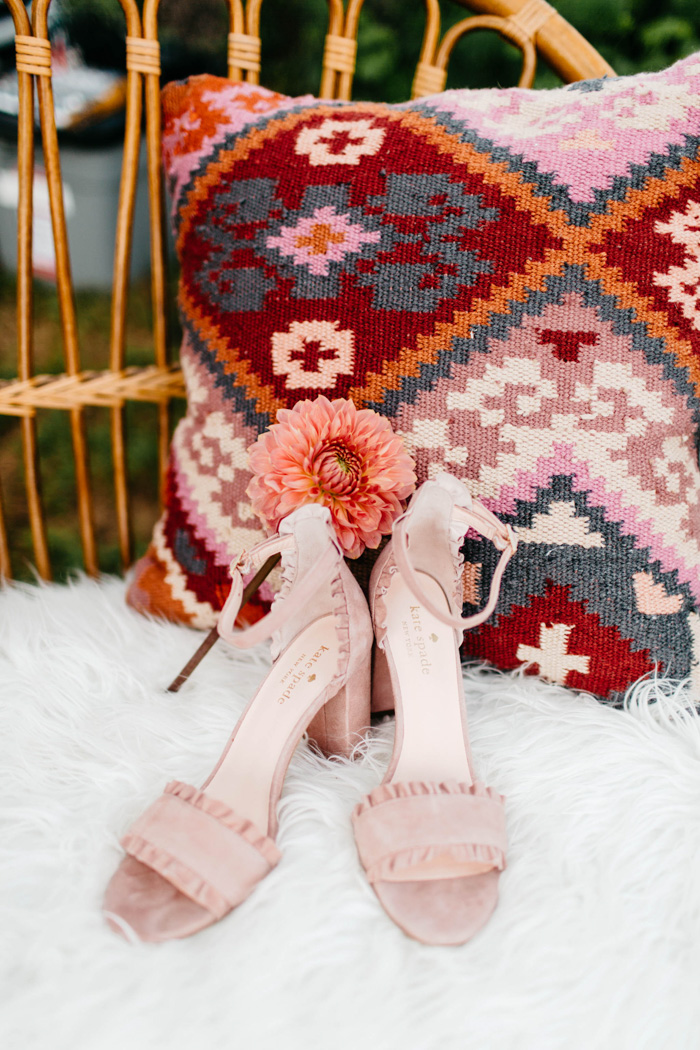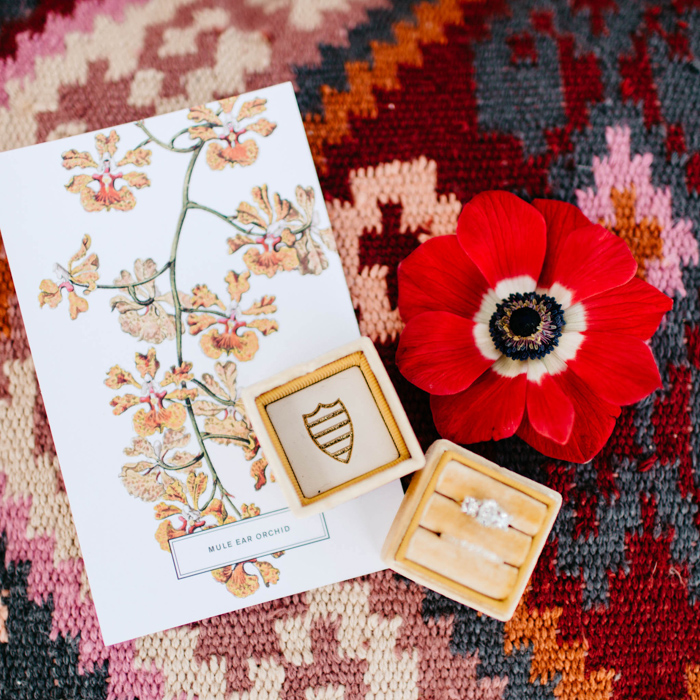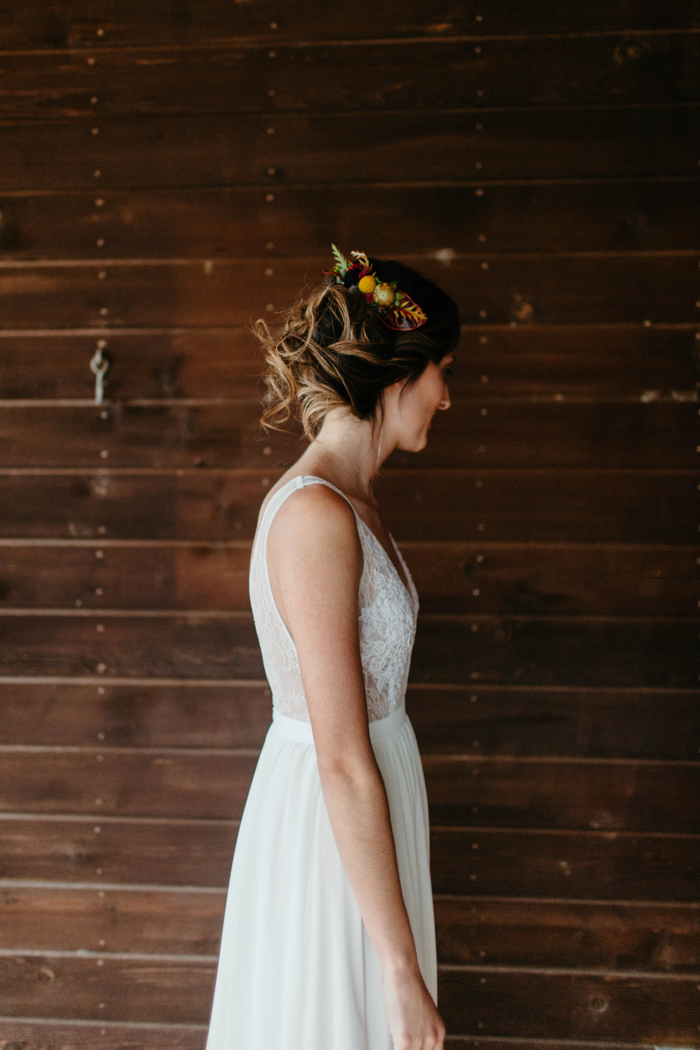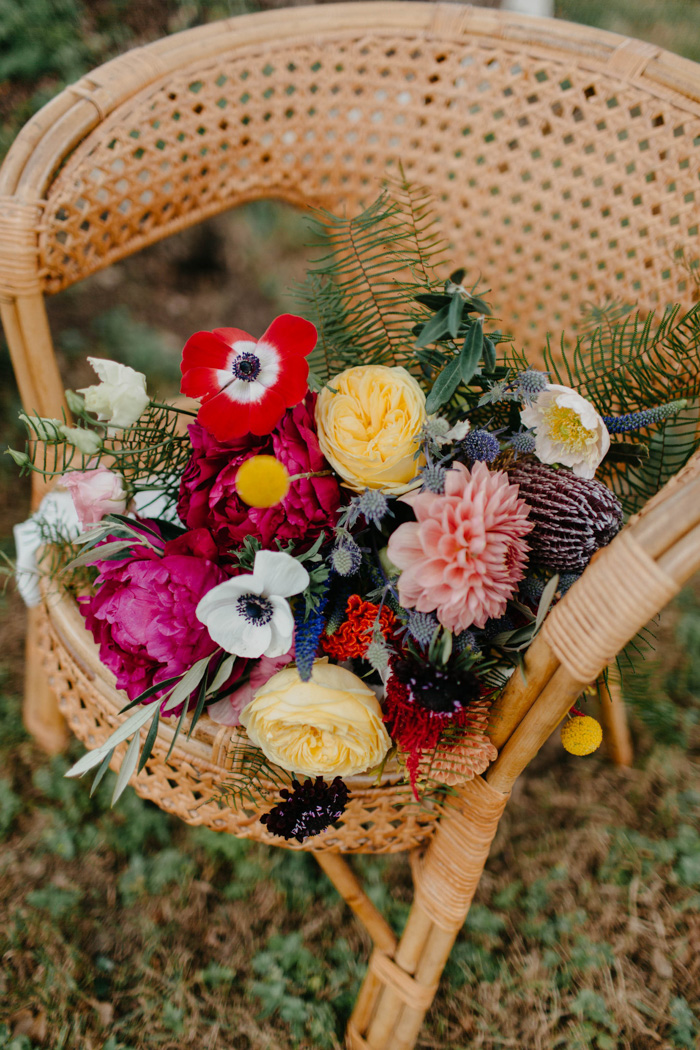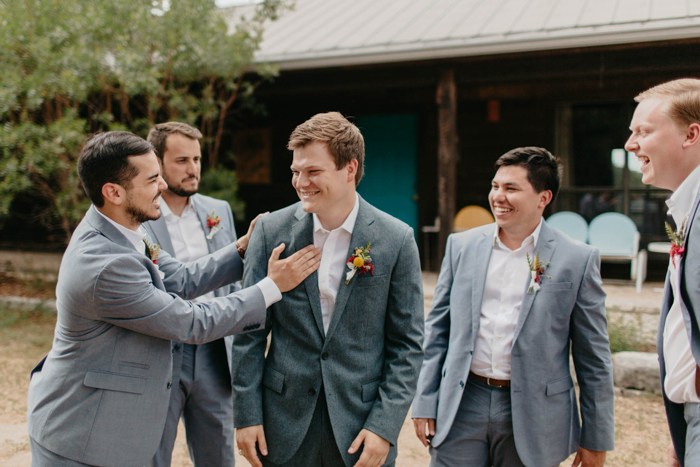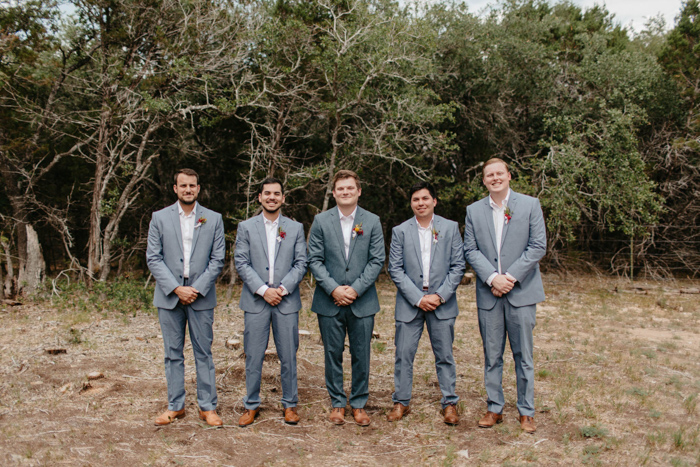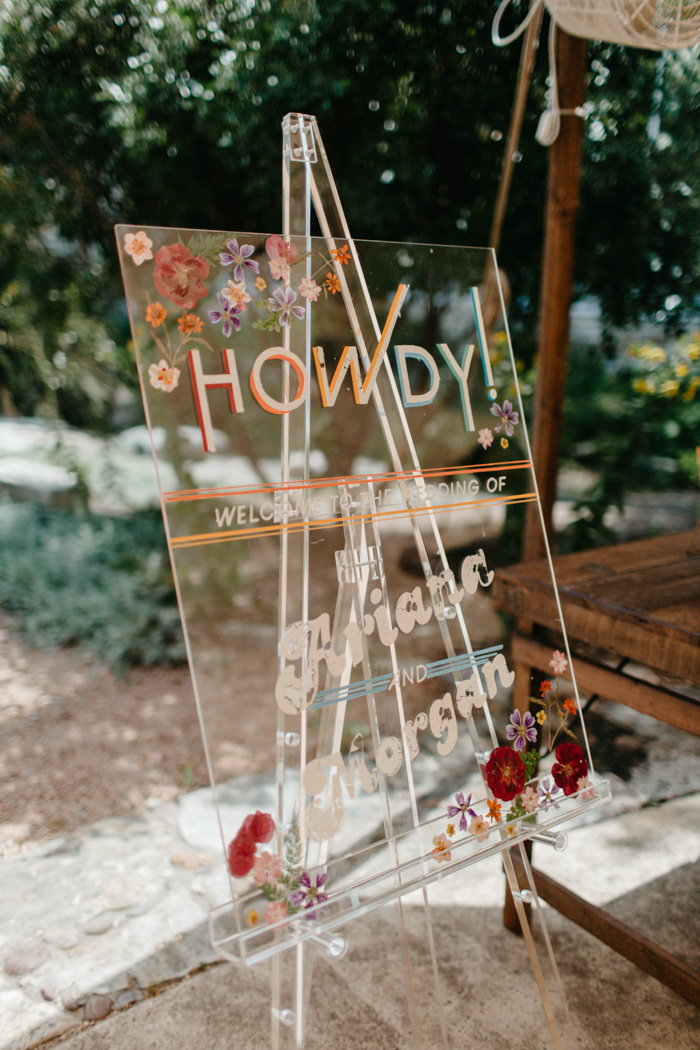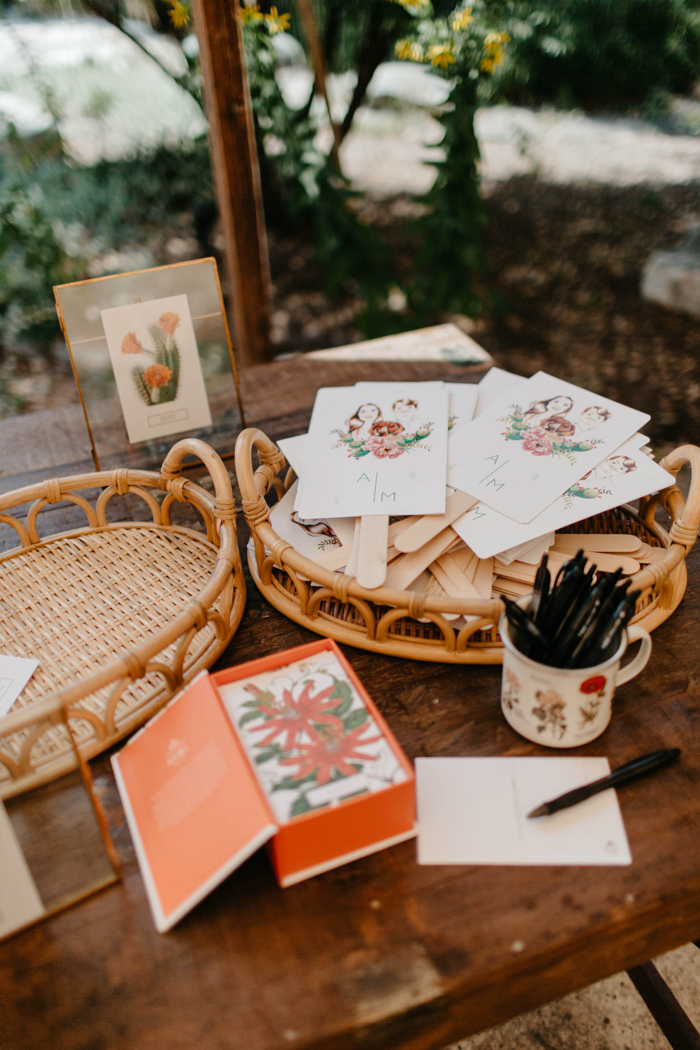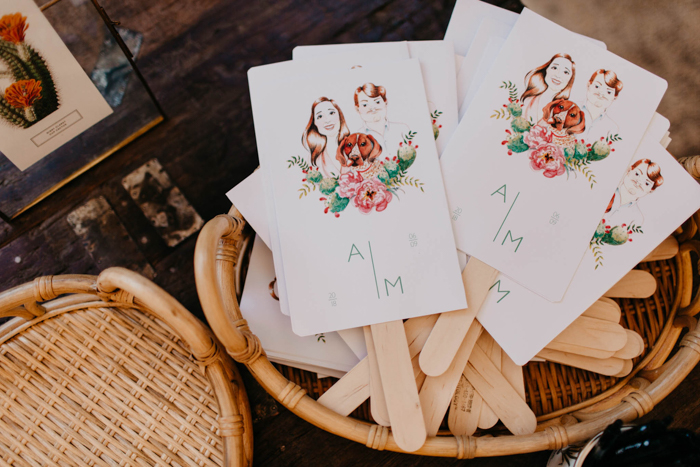 Morgan and I grew up in the Hill Country, but we knew we did not want to get married in our hometown of Fredericksburg. We decided to check out the Driftwood area right outside of Austin since it is still apart of the Hill Country and we stumbled upon The Greenhouse at Driftwood. The venue is truly one of kind and gives off the feeling that you're in the Arizona desert or Joshua Tree, but without actually having to travel to those destinations.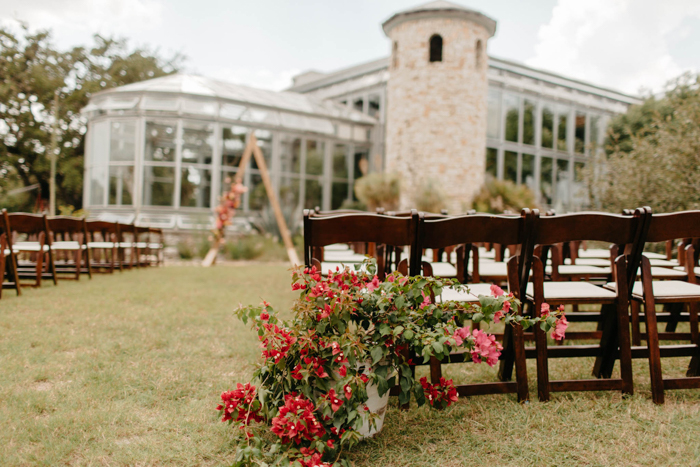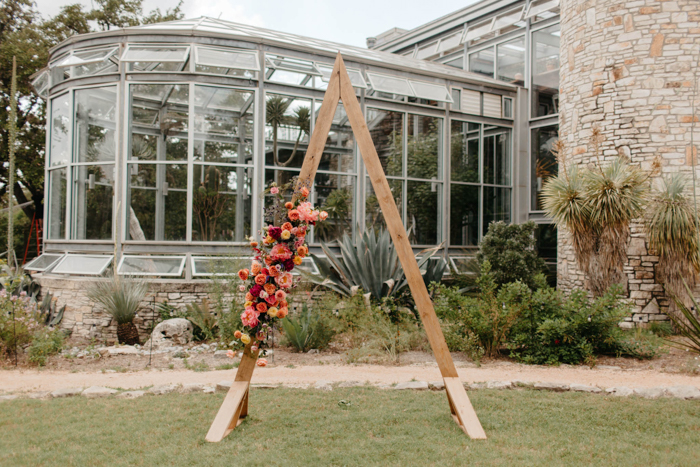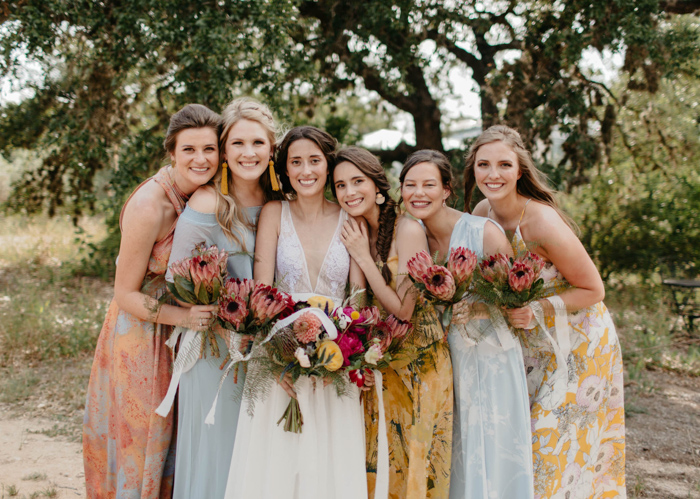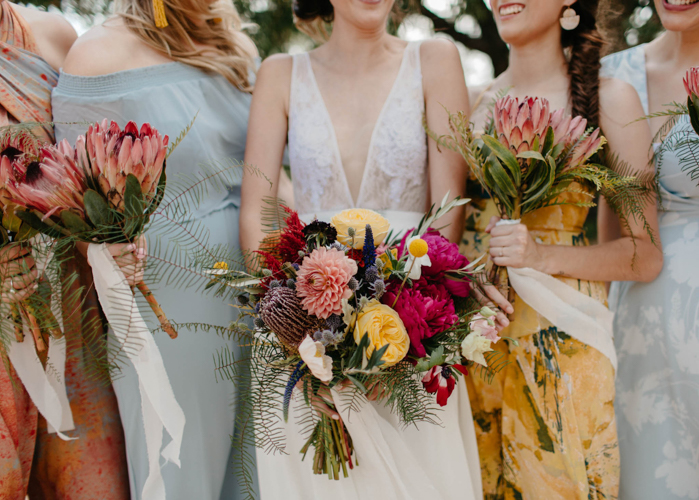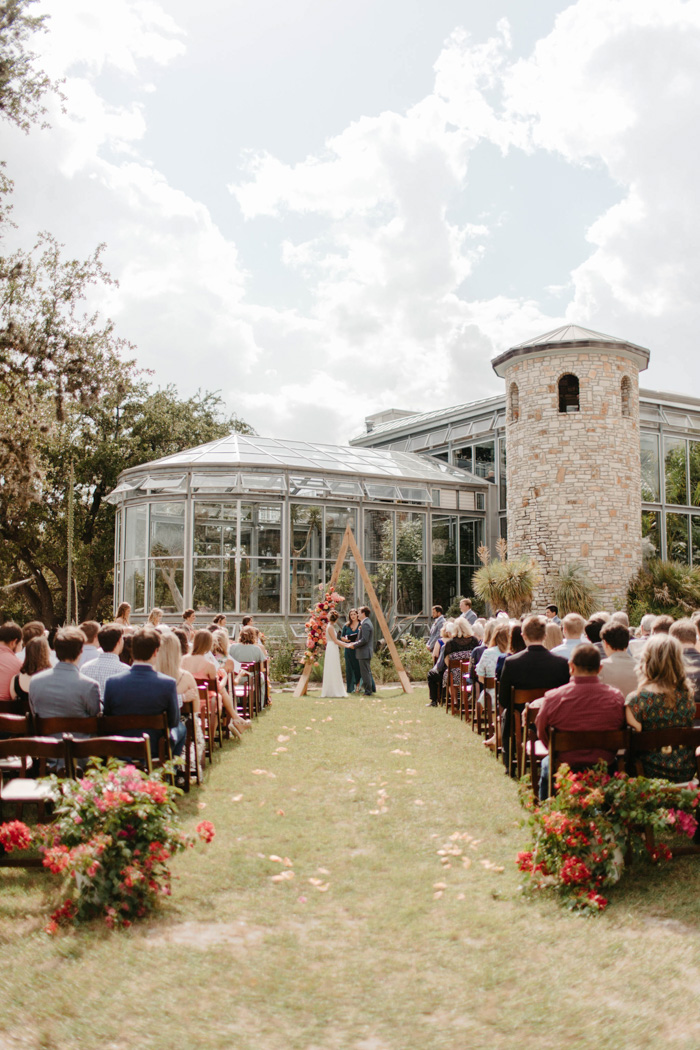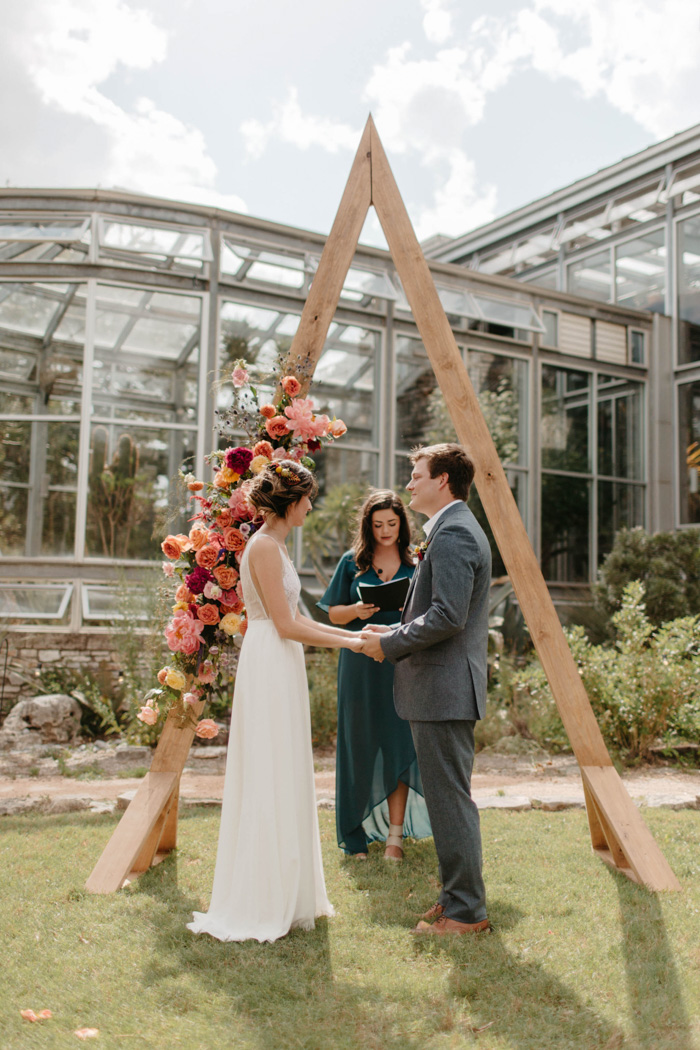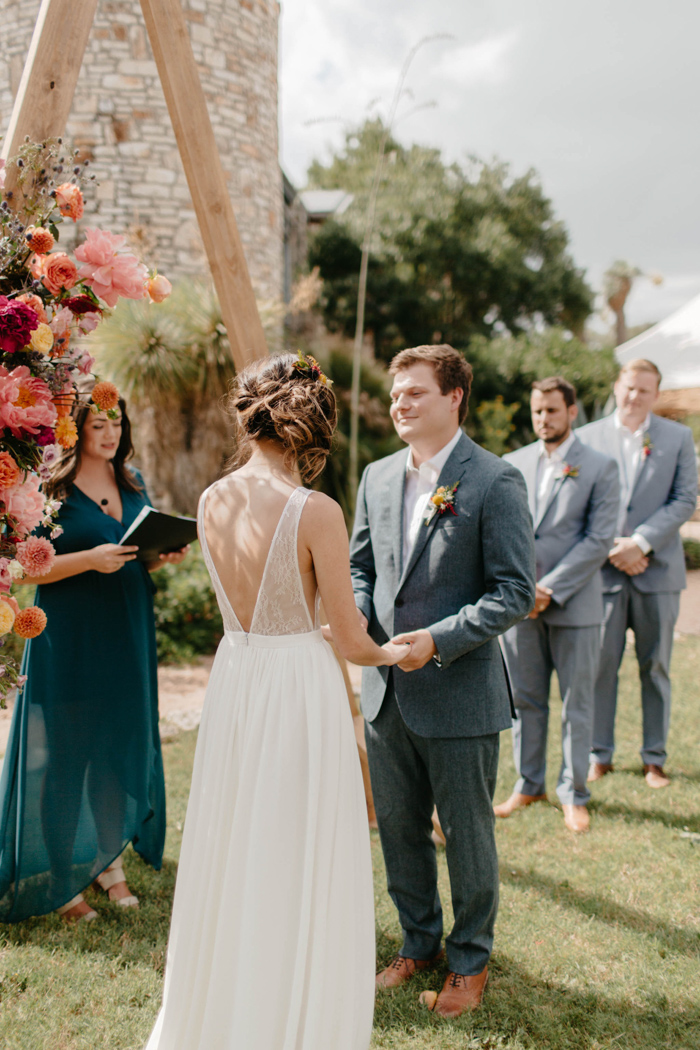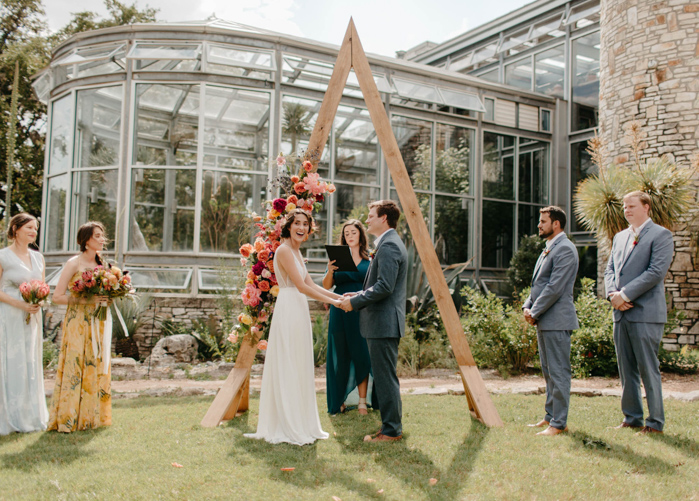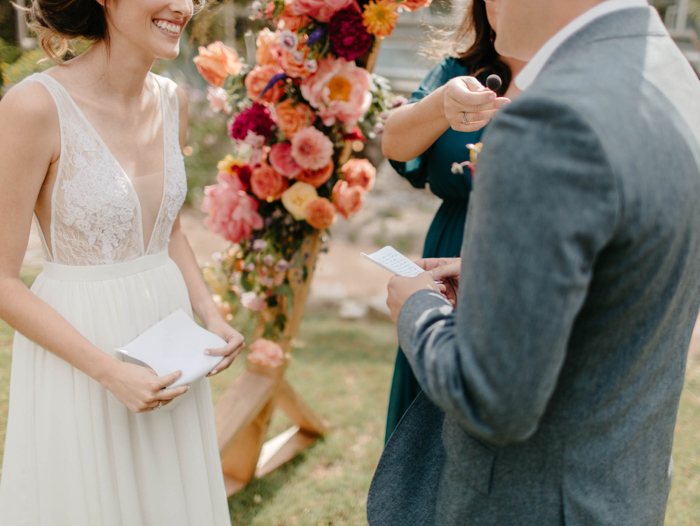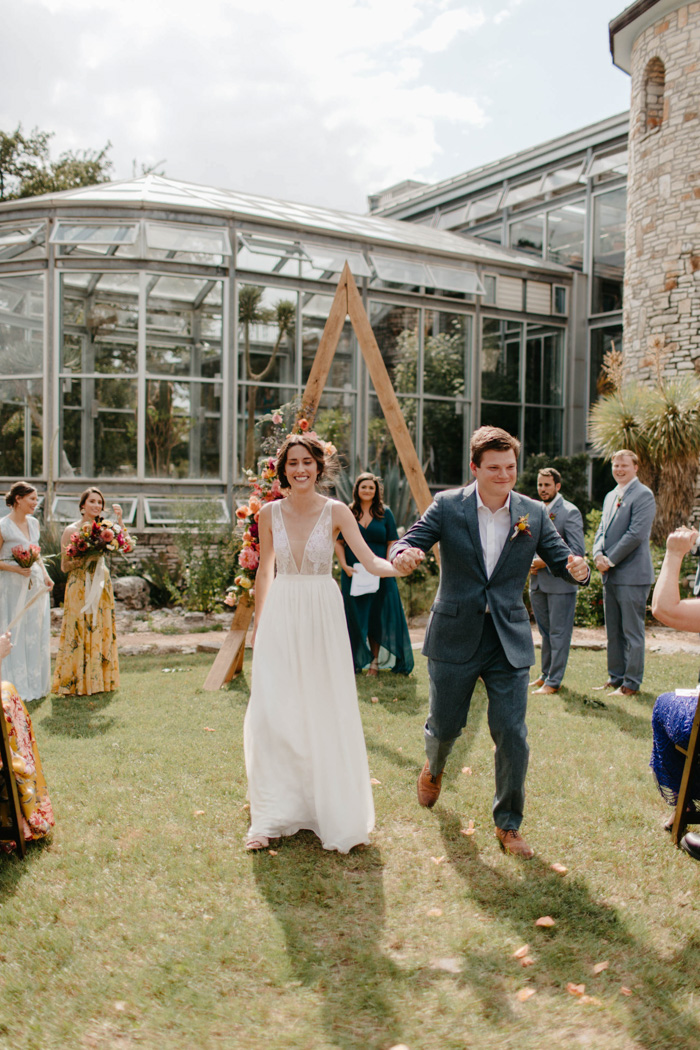 The most important thing to us was that everyone had the night of their lives, which means everyone would have to get their groove on. We decided we really wanted to have a band for our reception and that was by far the best decision we could have made. The Love & Happiness band kept our guests on the dance floor all night. (I think I even saw my Dad on the dance floor at one point, which was shocking!) All in all, we had the best time being surrounded by friends and family and seeing everyone having a good time together it will forever be a highlight.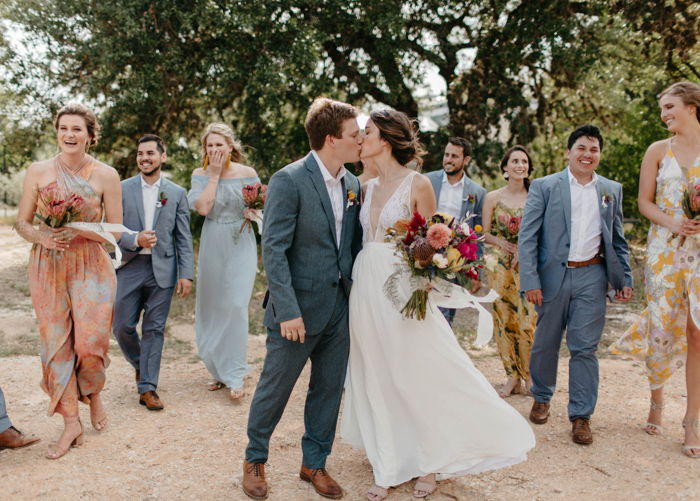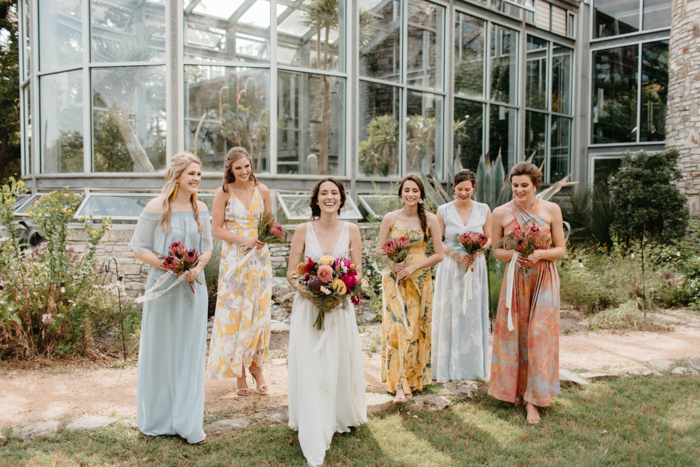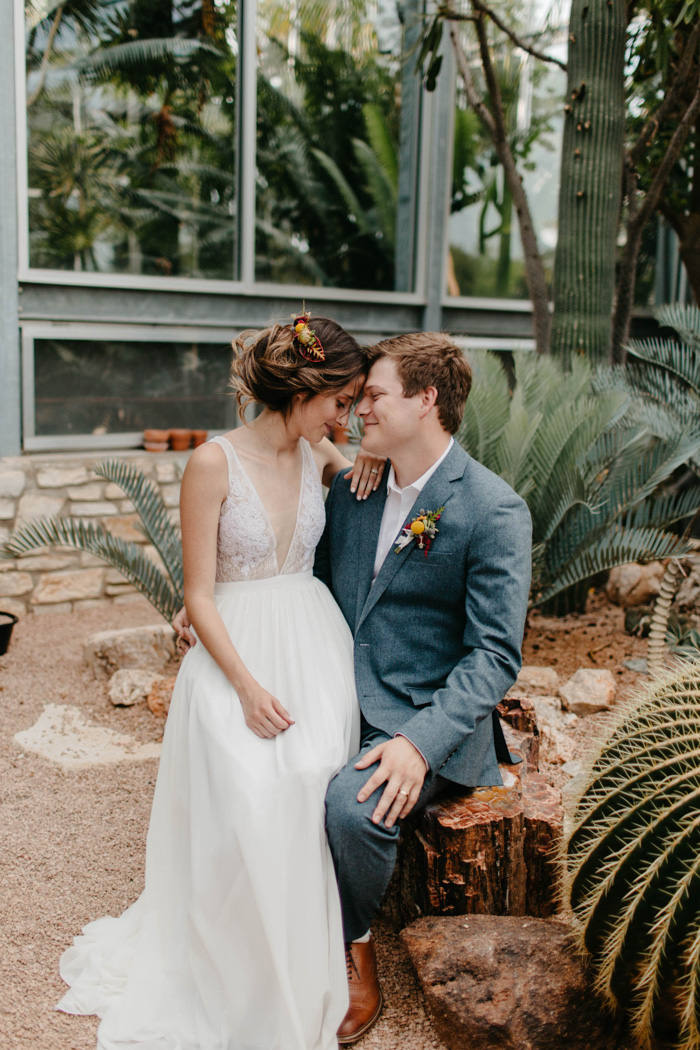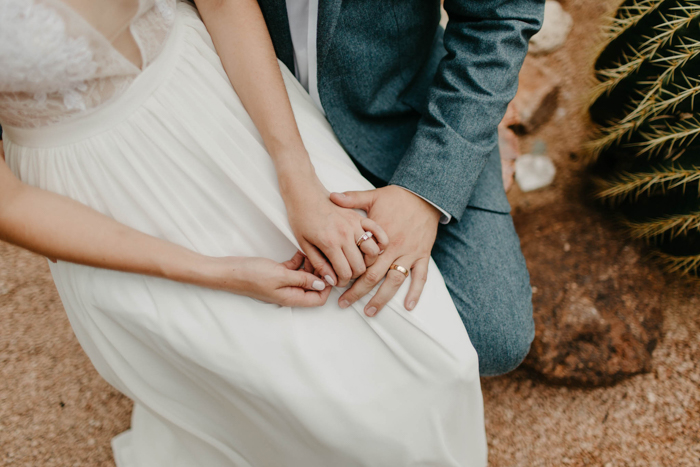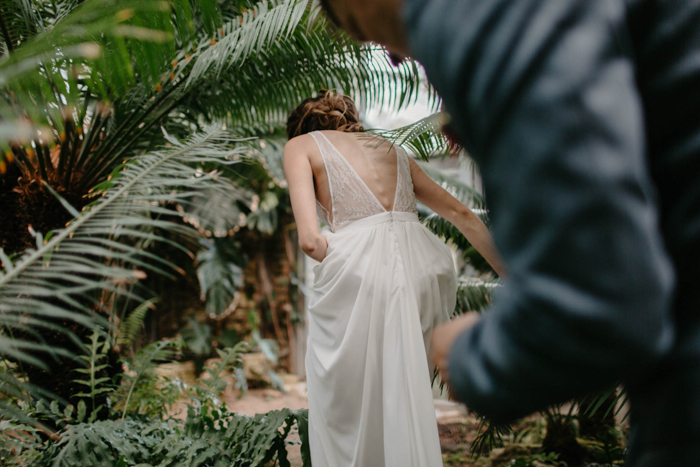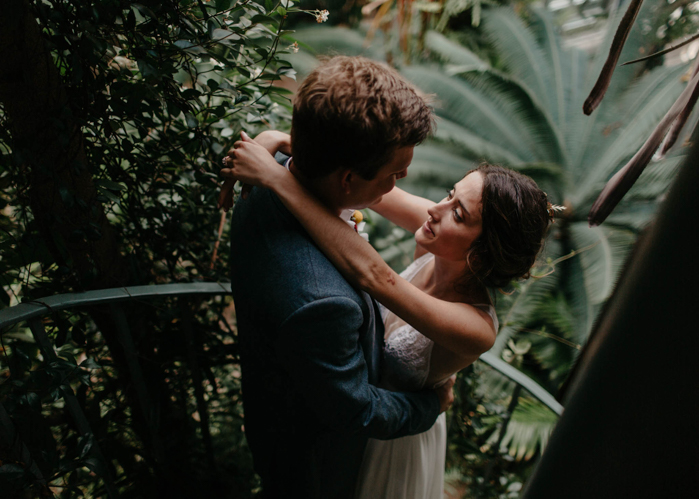 I think my favorite thing about the entire wedding planning process was getting to work with Elizabeth Leese on my very own custom wedding gown. I knew that I wanted a custom gown pretty early on in the planning process because it would be something that was 110% percent me. From the choosing the design, color, and fabric, the entire process was so fun to be a part of. Having my very own Elizabeth Leese custom gown is something I will always hold dear to my heart.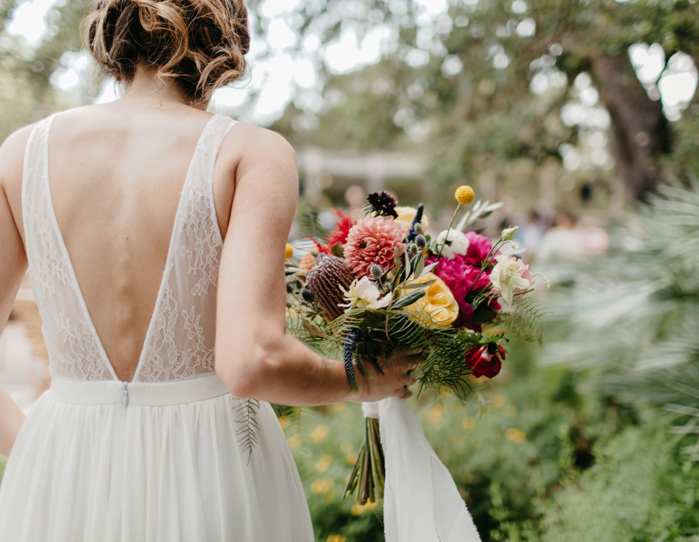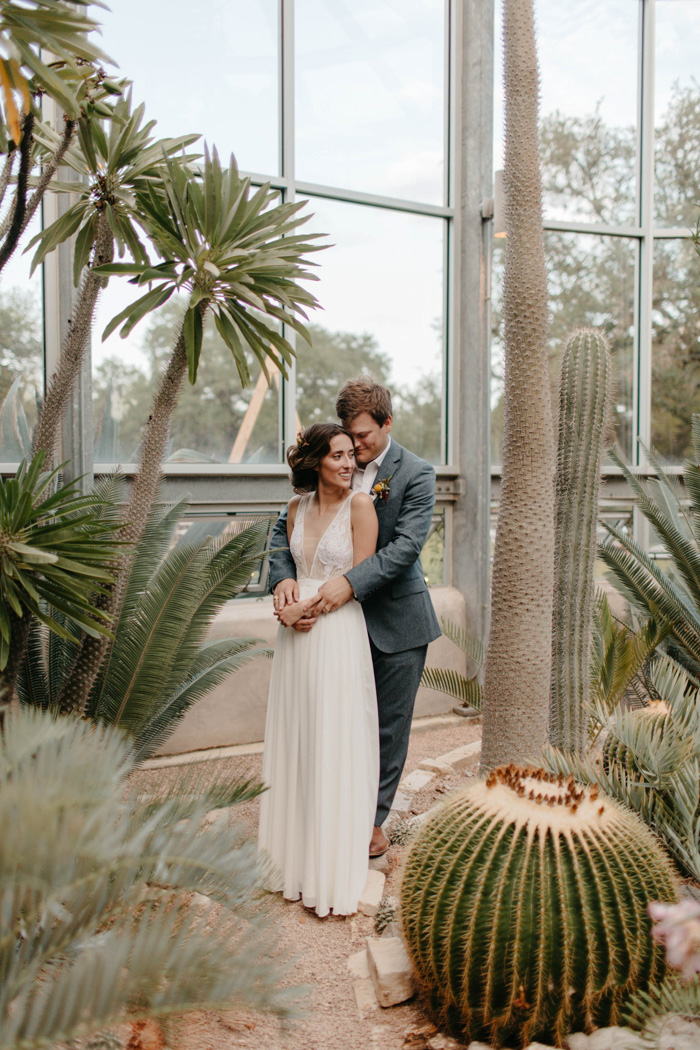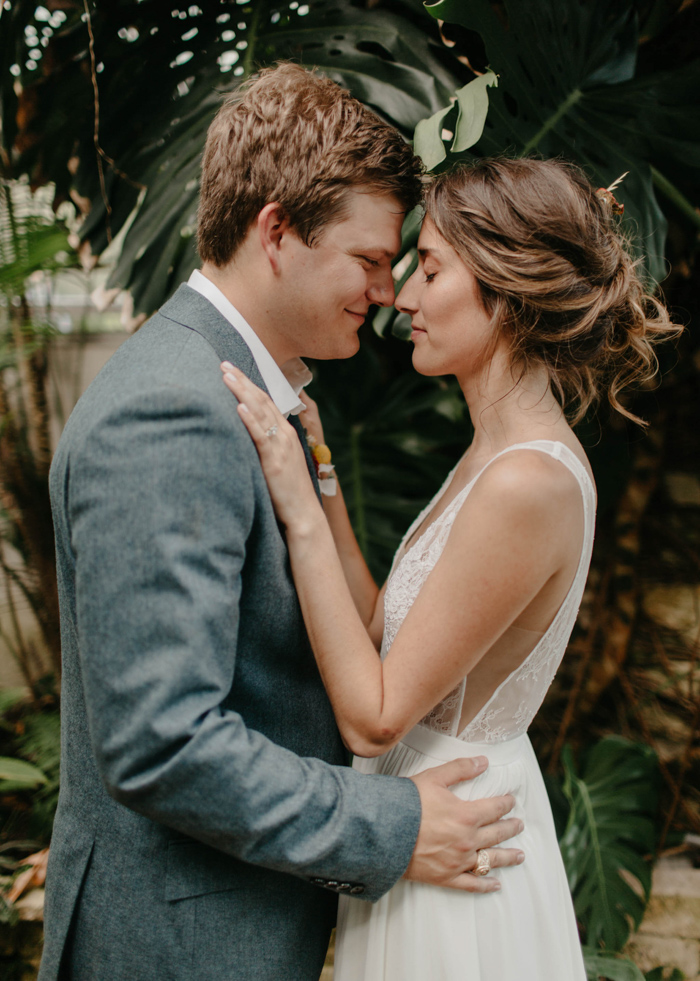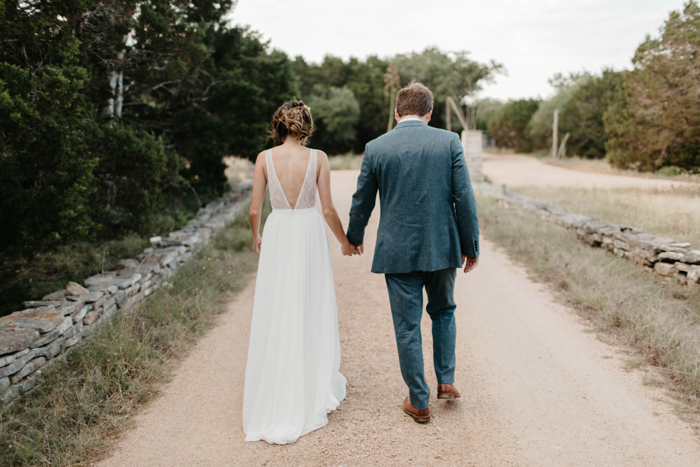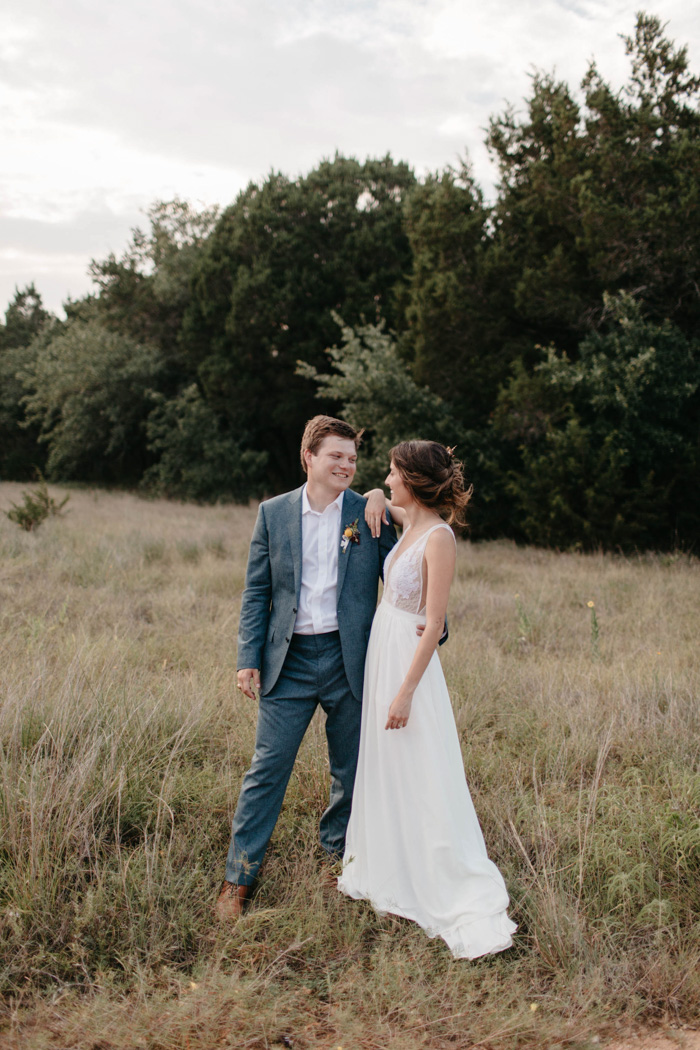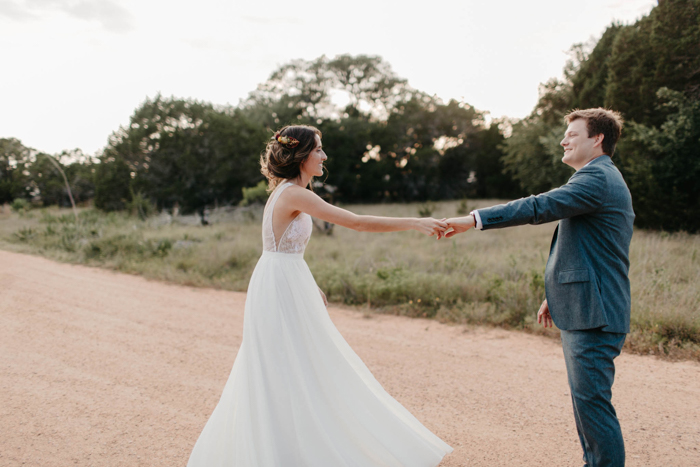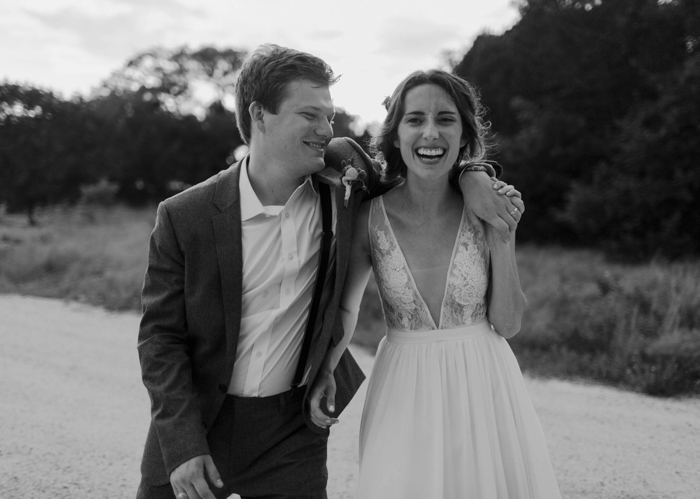 The Teagues are the most bomb photographer duo on the planet. We were lucky enough to travel with them to Marfa, Texas for our engagement photos and so, by the time the wedding rolled around, we had spent plenty of time together getting to know each other. They truly captured the essence of our day and us as a couple. They ensured that we were never away from our guests or the fun for too long and produced photos that I will truly cherish forever.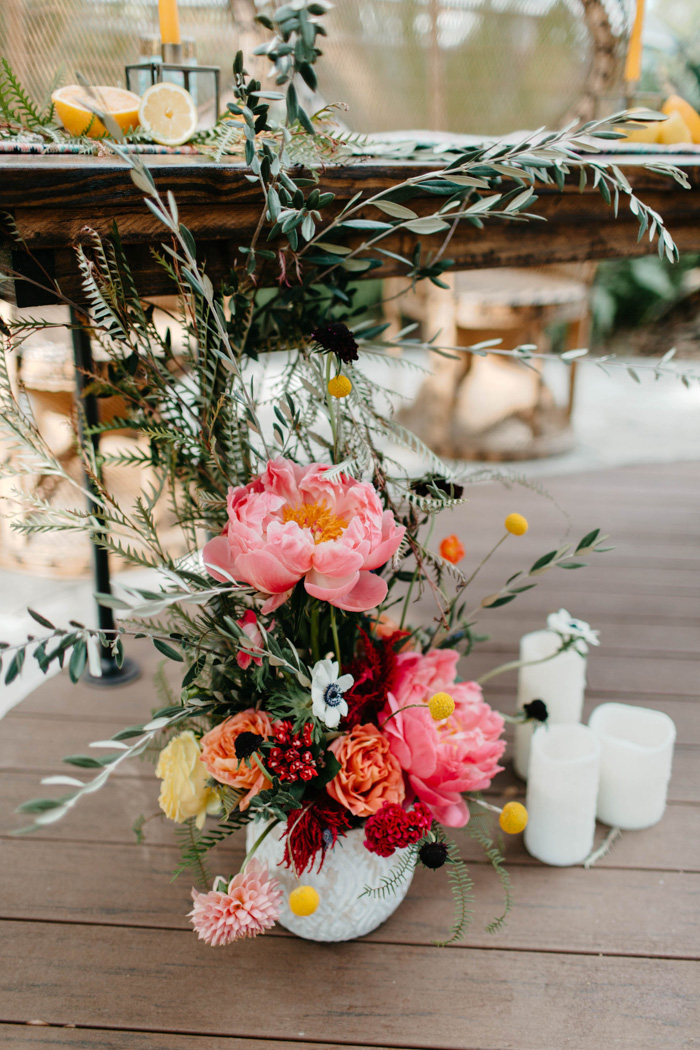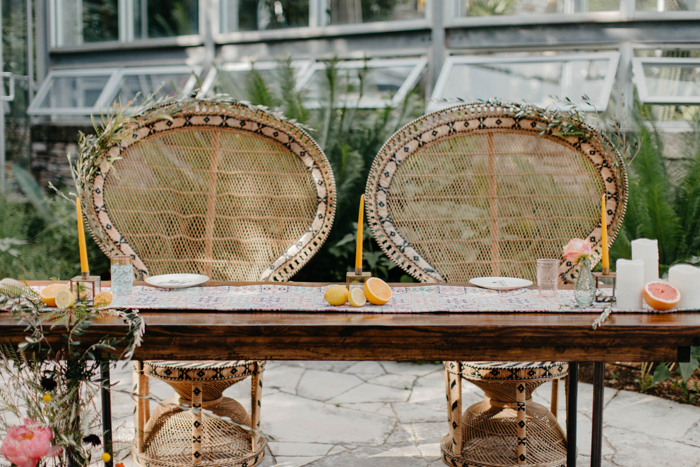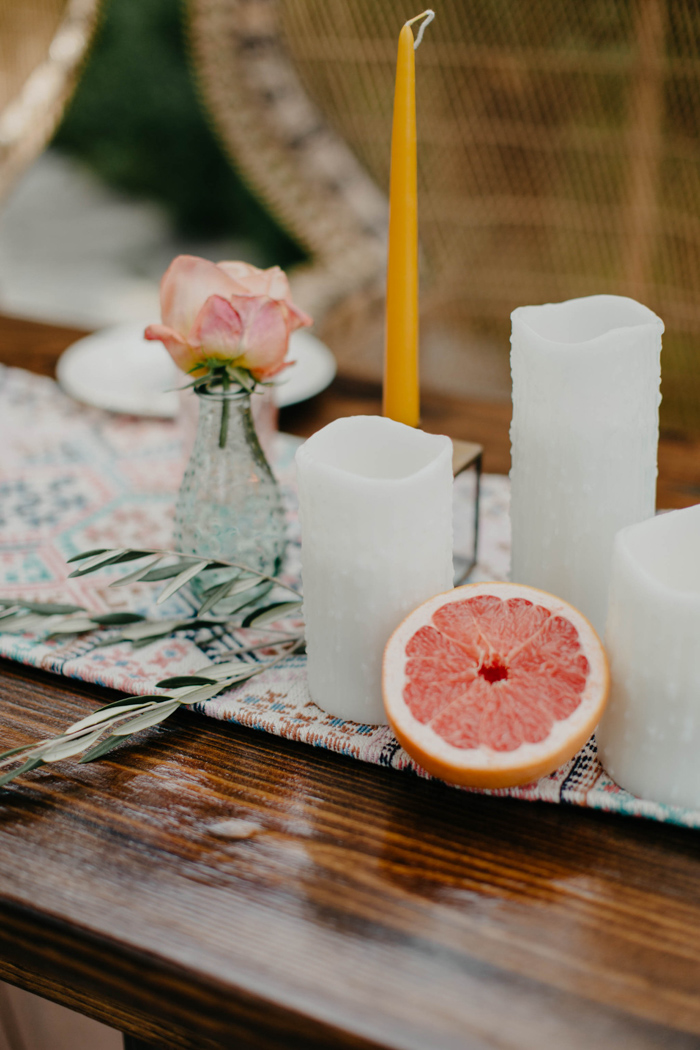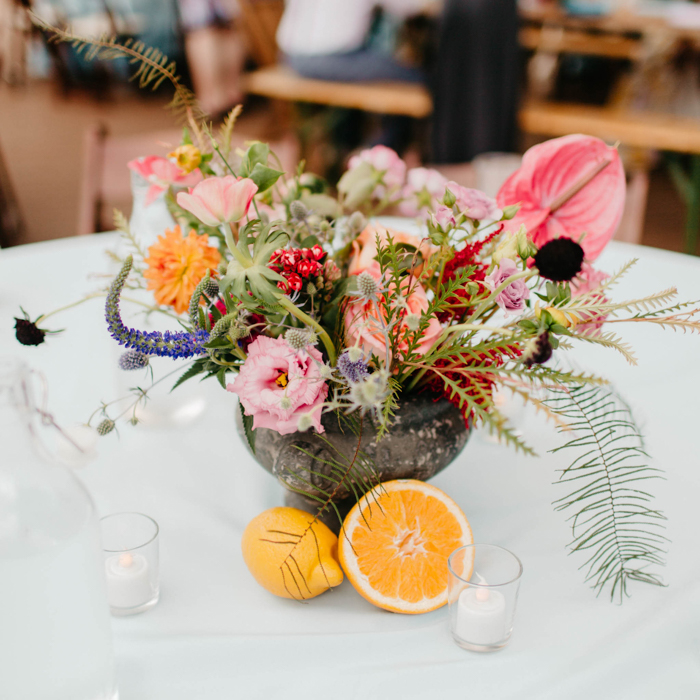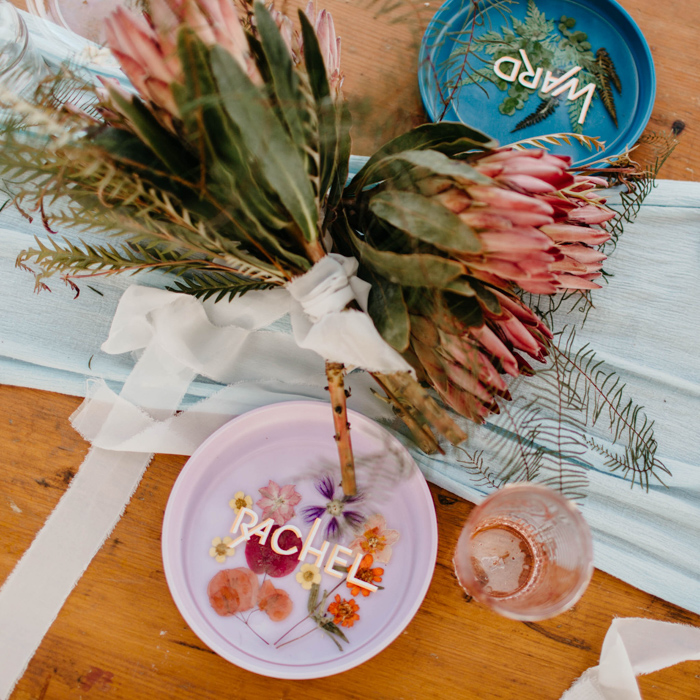 There are few things more miserable than the Texas heat so we had custom fans made. Shay MacMorran of Shay MacMorran Art drew this incredible illustration of Morgan, me, and our 3-year-old pup, Ruby. We had the illustration printed onto cardstock and made into fans so that our guests could use them during the ceremony and also take them home as a keepsake. We were also fortunate enough to have Morgan's sister bake hundreds of sugar cookies that were cactus shaped (to tie into the greenhouse theme) and also gave those away to guests. They were so beautifully made that one almost felt too guilty to eat them.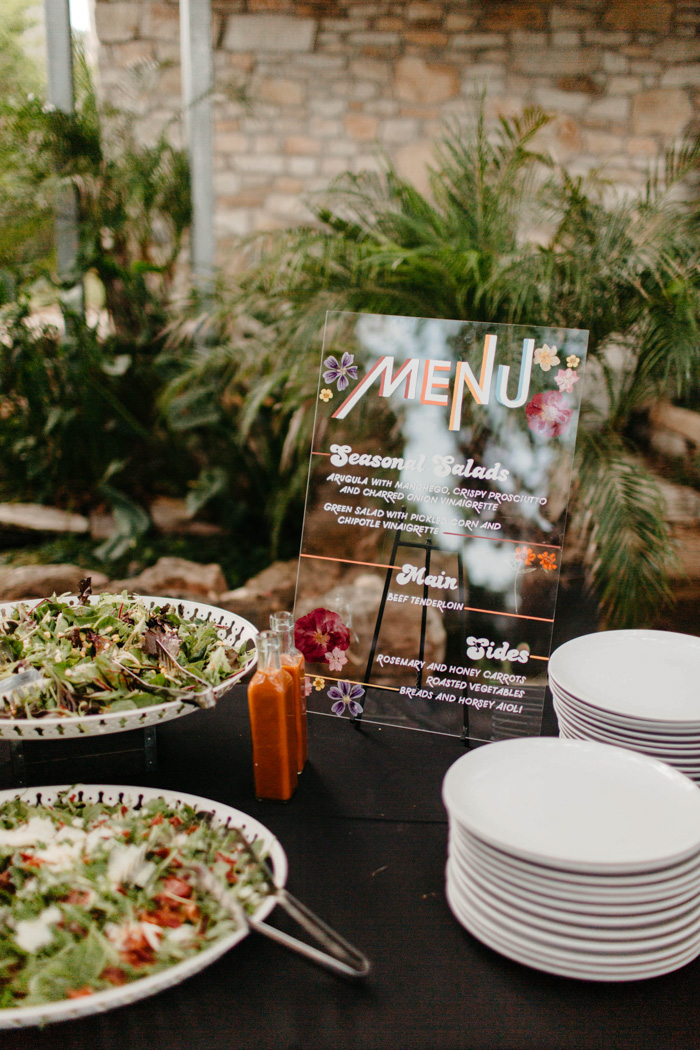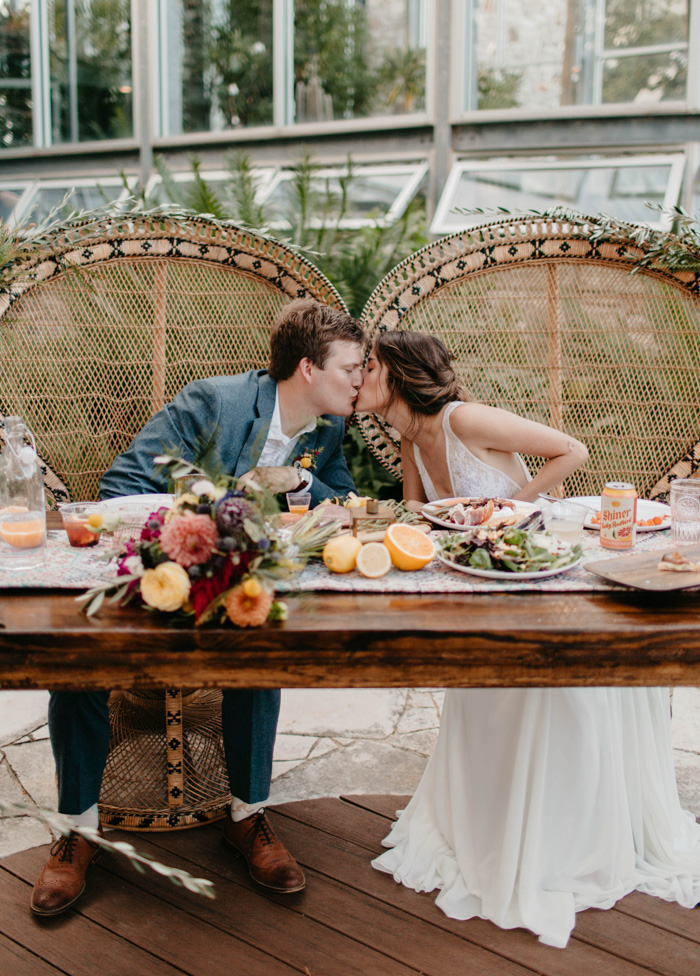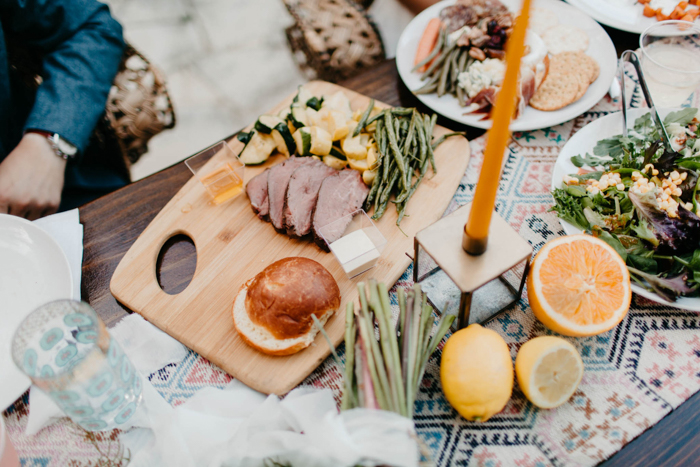 Morgan made these incredible cornhole boards so that our guests could have a lawn game to play throughout the evening. The coolest part was that instead of painting a design on the front we decided to use a wallpaper adhesive with banana leaves to tie in with our incredible greenhouse venue.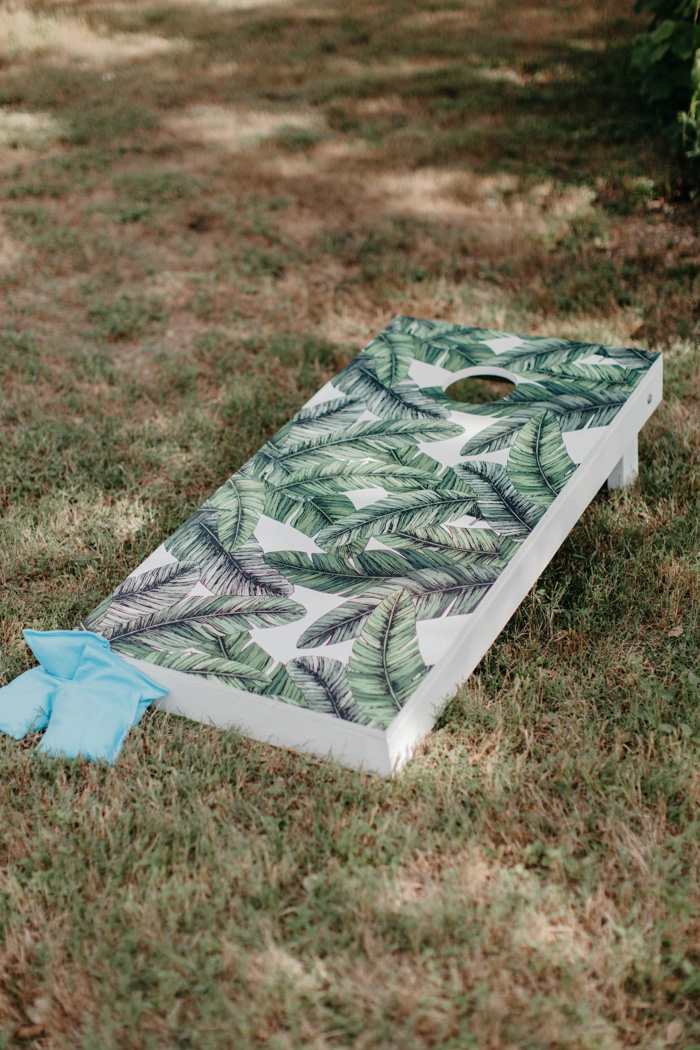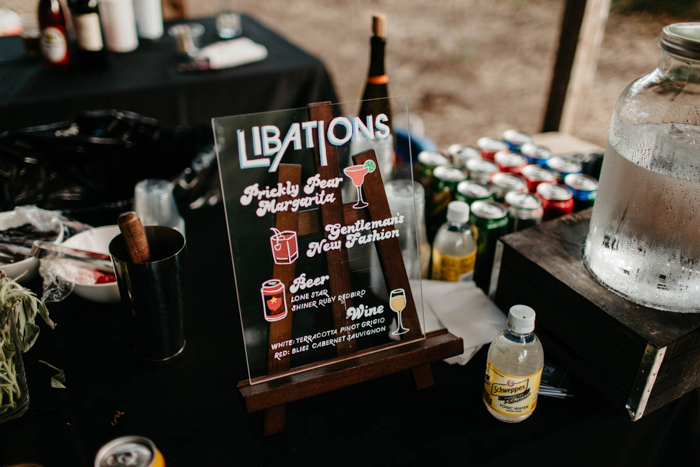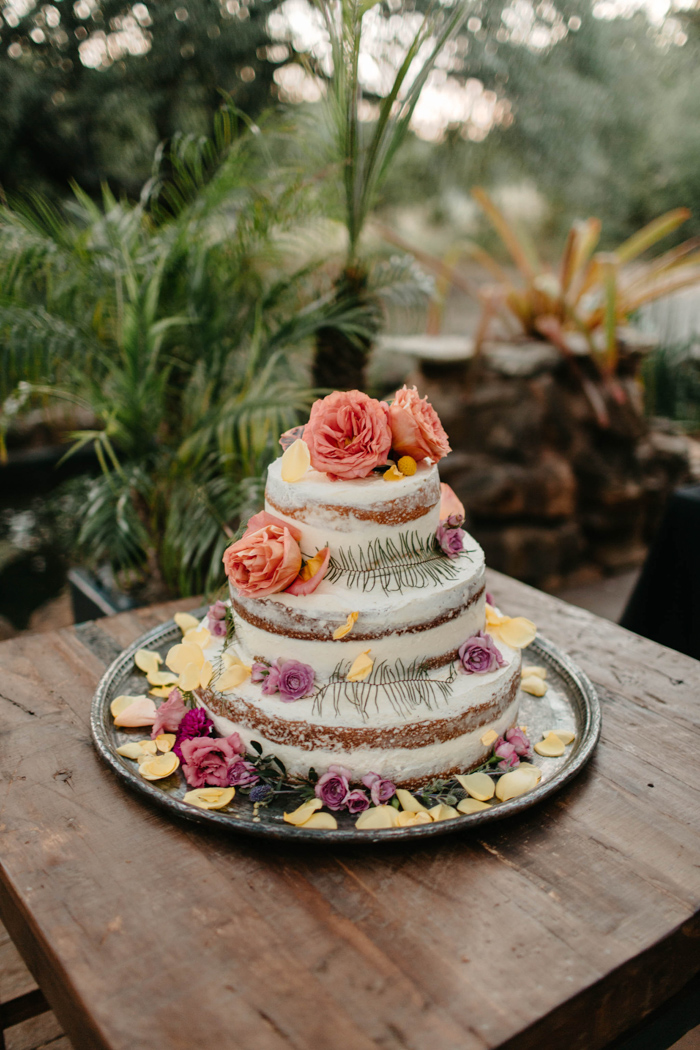 There were so many amazing memories from the day, but if I had to choose just one then it would be our dance to"Linger" by The Cranberries. The evening is almost coming to an end and the band is taking their final break before their last set. "Linger" comes on and, at this point, Morgan and I are the only two on the dance floor and it all just hits me. There's a voice in the back of my head telling me to stop and take a mental note of this moment, my surroundings, the faces of our guests, the details, my husband holding onto me, the song, the way I feel; to just stop, breathe, and let it all sink in. Now, I am not a super sentimental person by any means, but what everyone tells you is all so true. The day flew by and this felt like my one moment of just complete peace and absolute stillness where I could take it all in, tell myself to hold on to this exact moment for the rest of my life, and know that everything would always be okay. Needless to say, I was overcome with the amount of love I felt in that moment and couldn't fight back the tears of just pure happiness!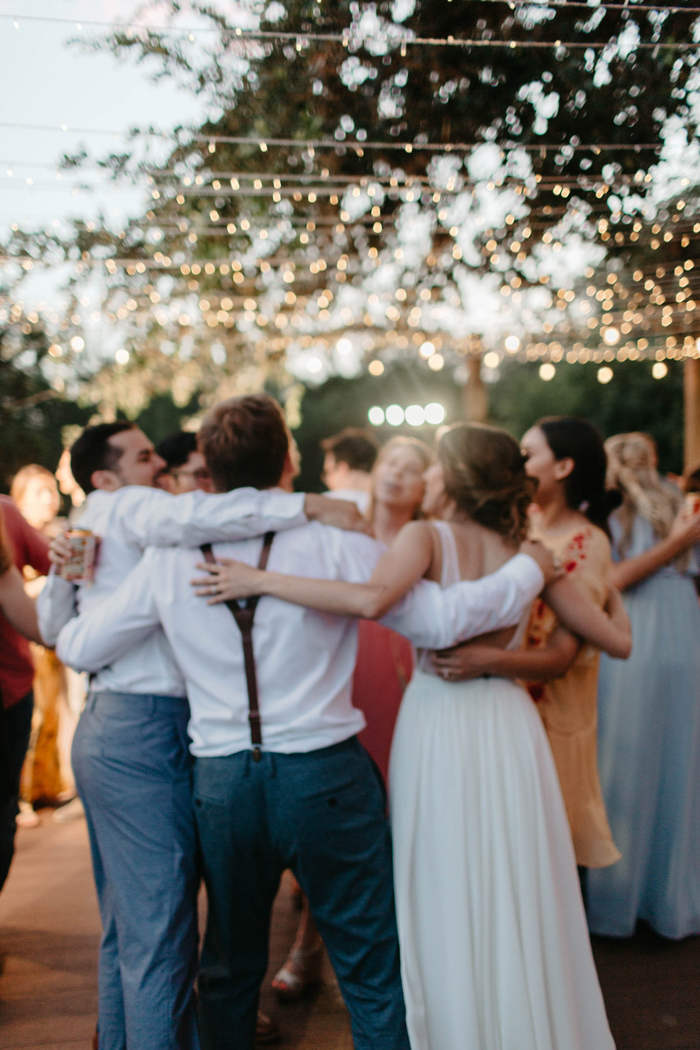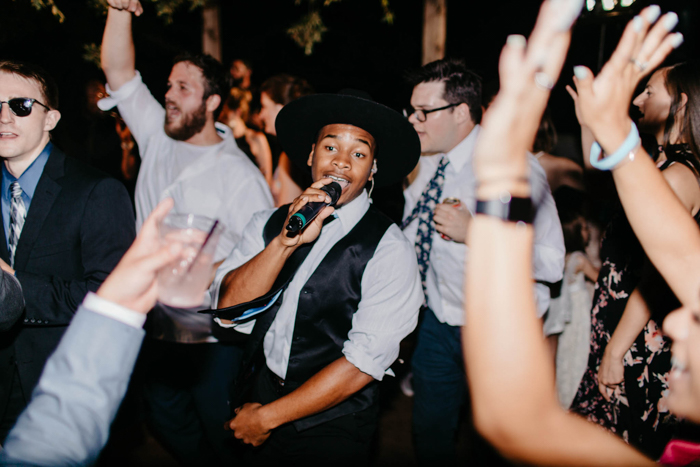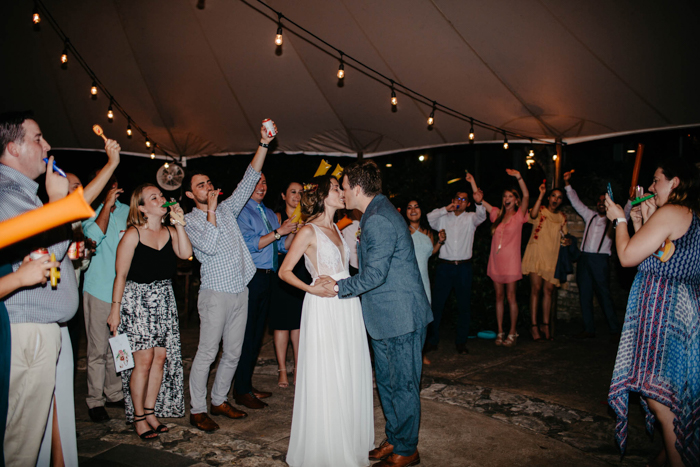 Congratulations to Ariana and Morgan, and a special thanks to The Teagues for sharing this incredible wedding at The Greenhouse at Driftwood! Love these retro vibes? This retro glam Bougainvillea Estate wedding was inspired by Frank Sinatra and desert blooms!