Bright, fun and festive – three words to perfectly describe La Chanda and Marcus' Cinco de Mayo wedding in Cabos San Lucas! A day filled with personalized details, bold pops of teal and fuchsia, and even an adventurous Mariachi band, Jillian Mitchell captured every moment as the bride and groom danced the night away with their guests. Love it all!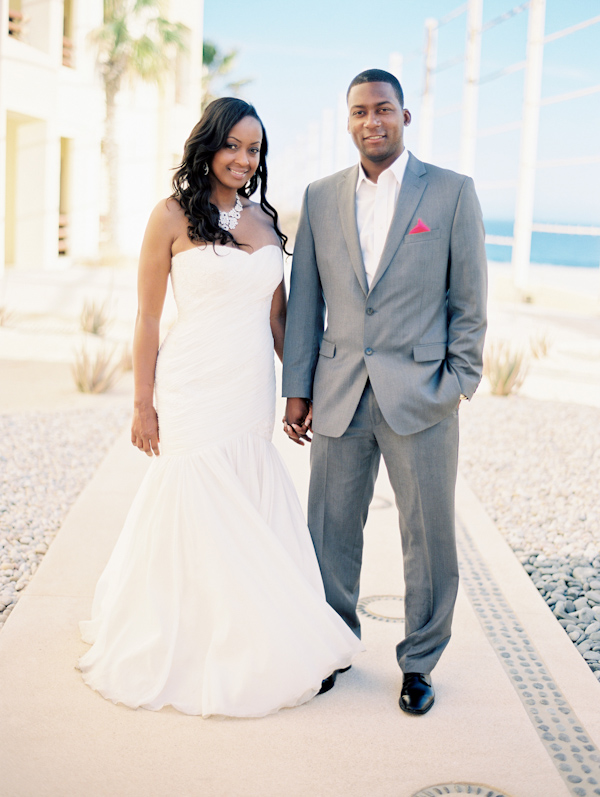 The Couple: La Chanda and Marcus
The Wedding: 5.5.2013 – Sunset da Mona Lisa, Cabo San Lucas, Mexico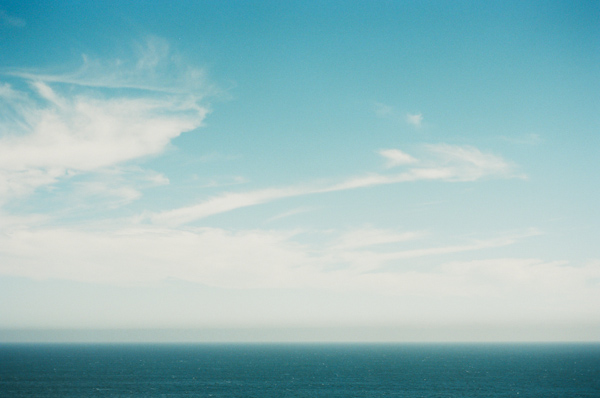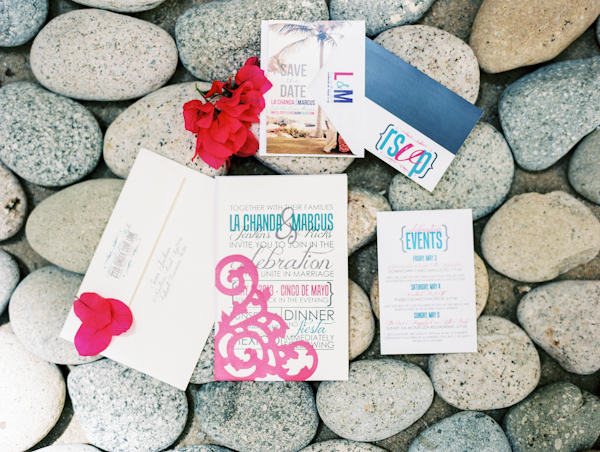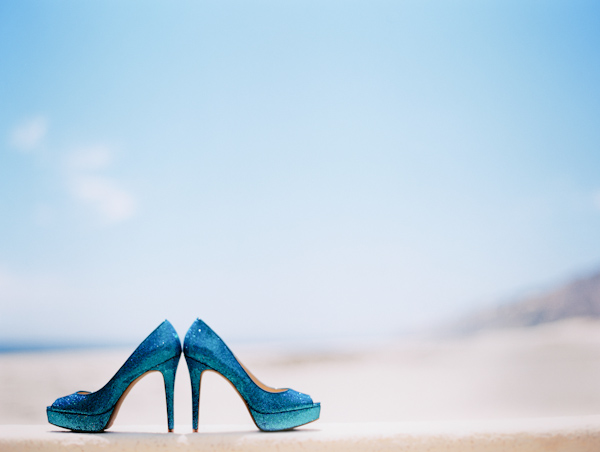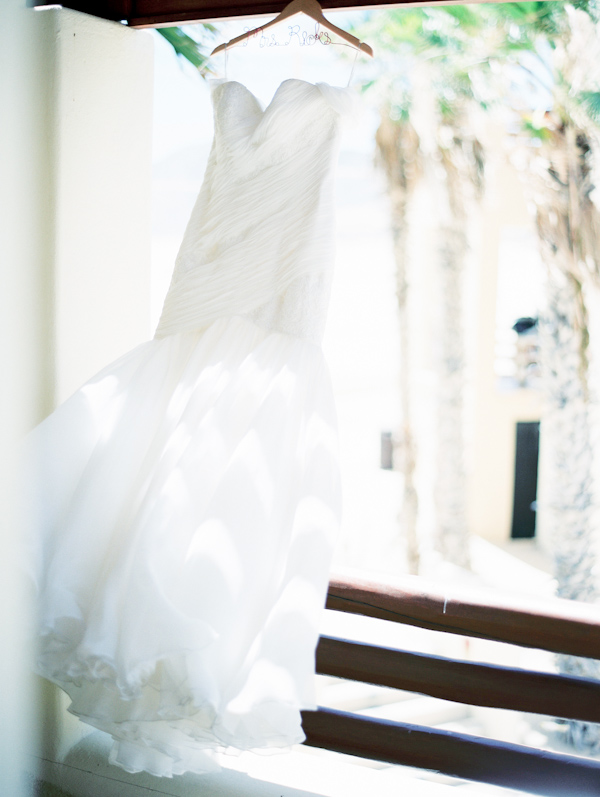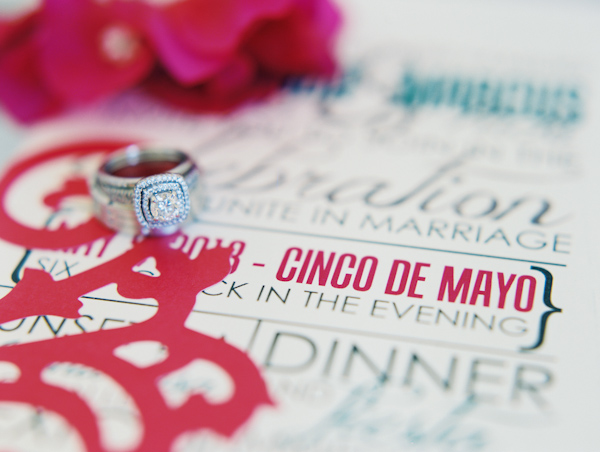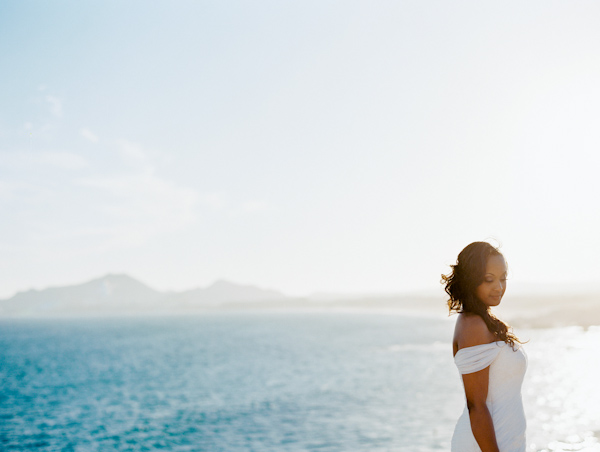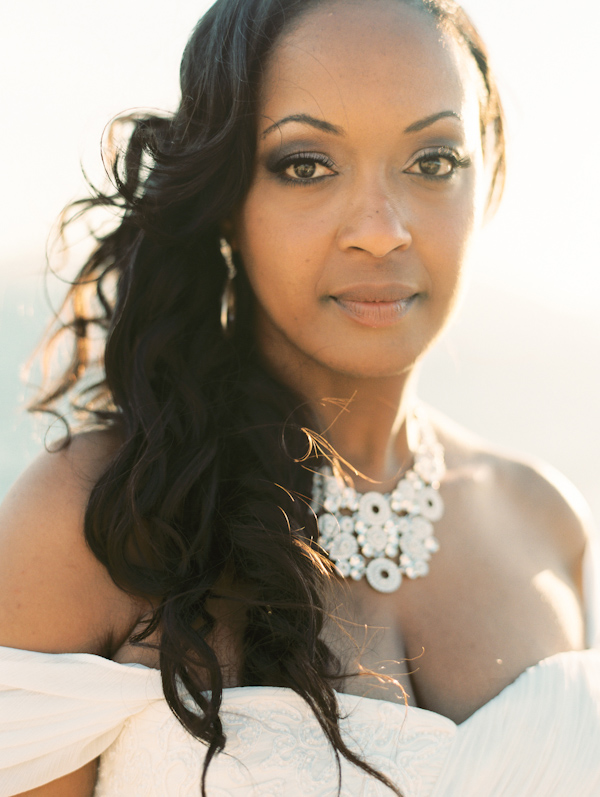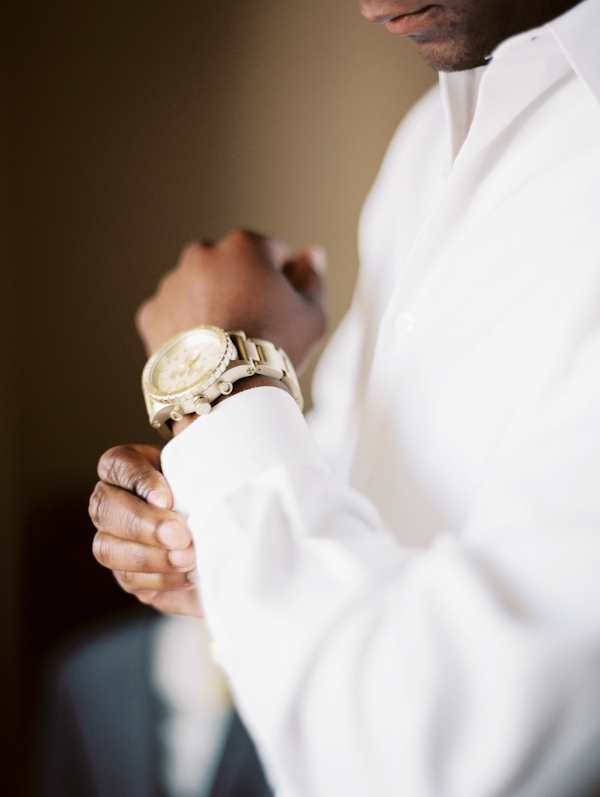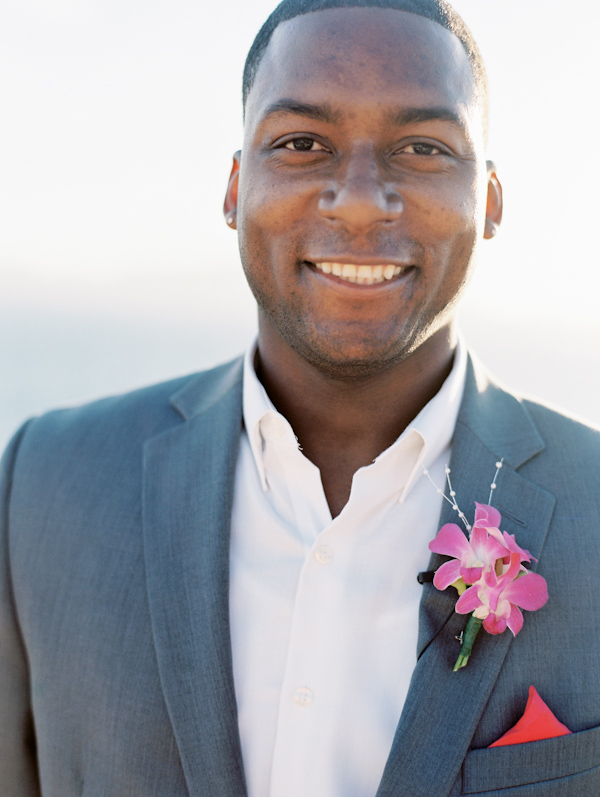 The Goals: First, we wanted our wedding to reflect our personalities. We love to travel and we love to party; so it made sense to plan a destination wedding in Cabo on Cinco de Mayo – a day synonymous with revelry!
Equally important, we wanted to express the love we have for each other and for our guests. We wanted every guest to know that we were honored by their presence, so we added special touches – personalizing everything with individual guest names from the shot glasses to the wedding programs.
Finally, we wanted a private ceremony and reception at a gorgeous venue that would allow the celebration to flow seamlessly. When we first visited Sunset da Mona Lisa and stepped onto the terrace, we knew there was no other place we'd want to get married. The view is spectacular and the restaurant's spaces were perfect for the set-up and flow we wanted to achieve.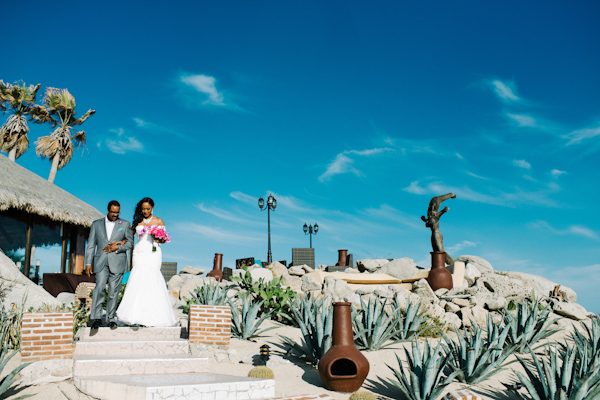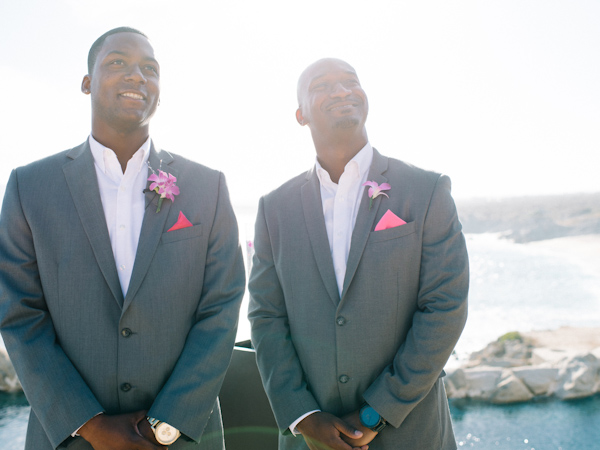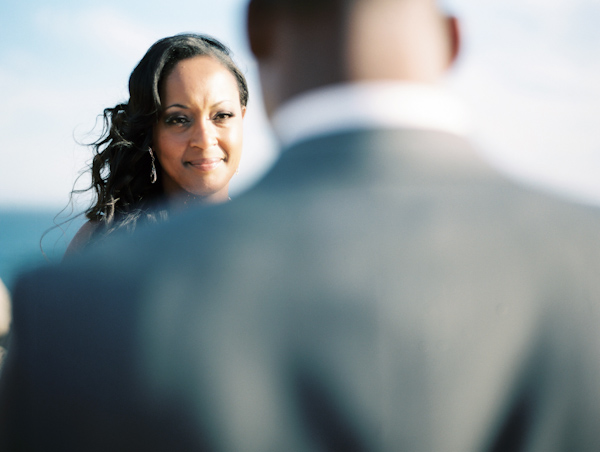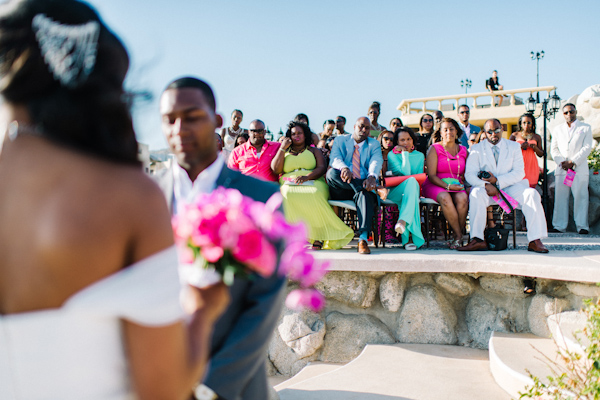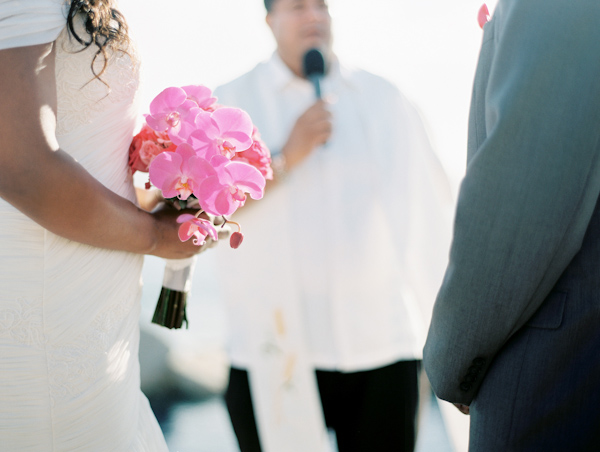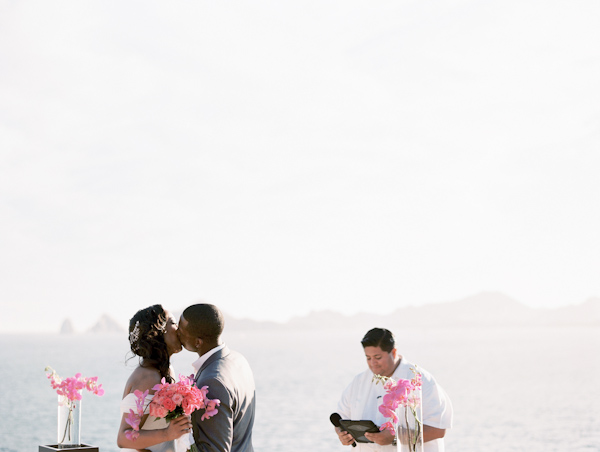 The Design: Our theme was LOVE. LAUGH. FIESTA. and that's exactly what we wanted our guests to do! We infused this theme and our logo into every element. Our website and printed materials set the tone with festive designs and bright colors inspired by the vibrancy of Mexico. That festive feel extended into all of our events, including a tequila tasting where everyone enjoyed laughing at me taking swipes at a custom piñata, labeled Marcus' Bachelor iPhone.
For our ceremony, we capitalized on the natural, breathtaking beauty of Cabo. Two simple orchid arrangements were all we needed; the famous El Arco rock formation and the meeting of the Sea of Cortez and the Pacific Ocean provided a stunning backdrop. Our officiant perfectly delivered a reverent, yet laughter-filled ceremony.
Guests discovered details everywhere, even in the bathroom, where they loved the vinyl decals on the mirrors encouraging them to get back to the dance floor and the personalized guest towels many of them took home as souvenirs instead of using them!
To facilitate our all-out, non-stop fiesta we had an open bar including signature shots, a cigar lounge, a crazy photo booth with custom signs, glow-in-the-dark necklaces (that turned into headbands after a few cocktails) and a 'no-one-sat-down-for-hours' soundtrack provided by our talented DJ.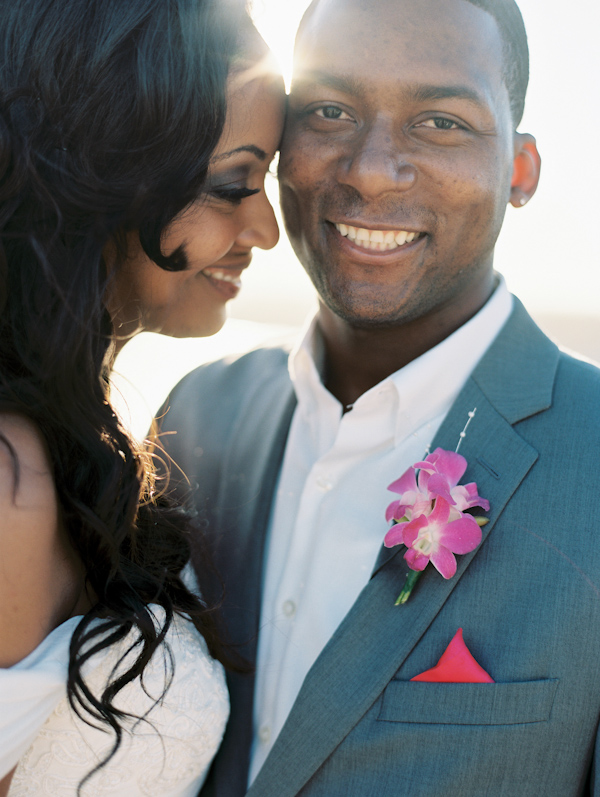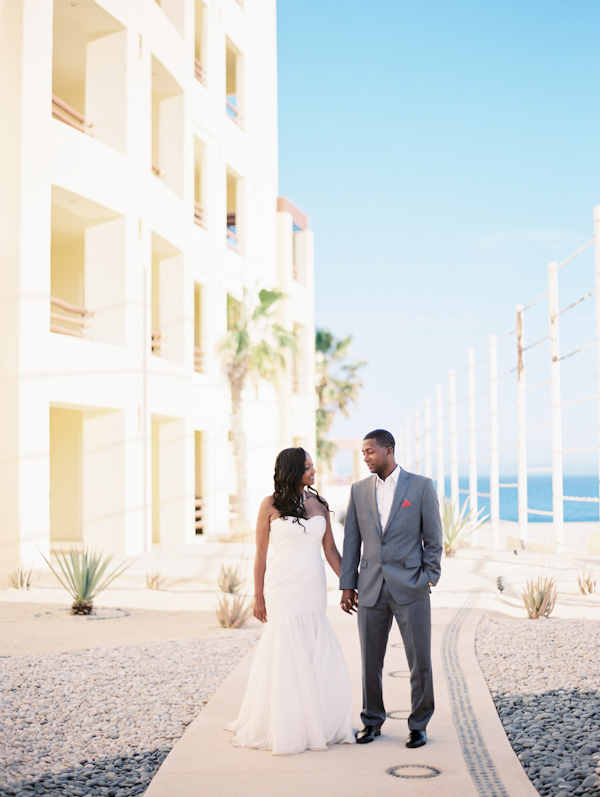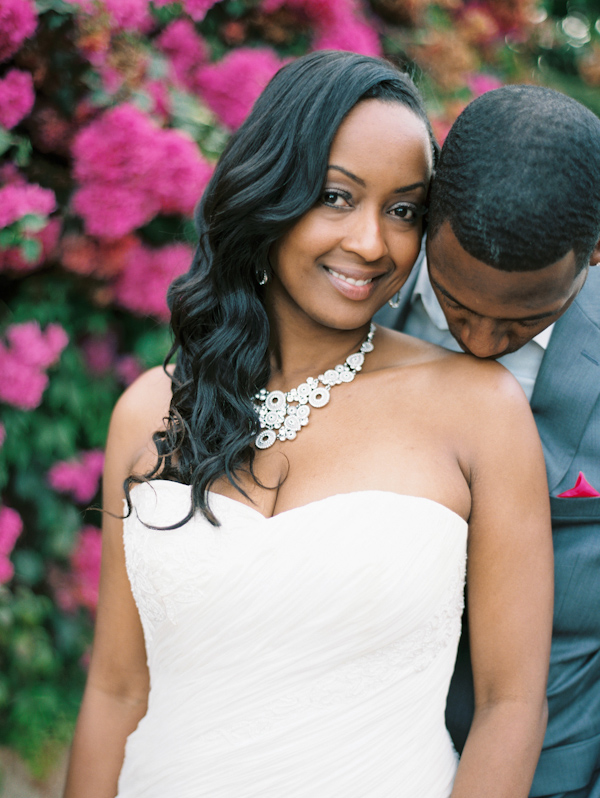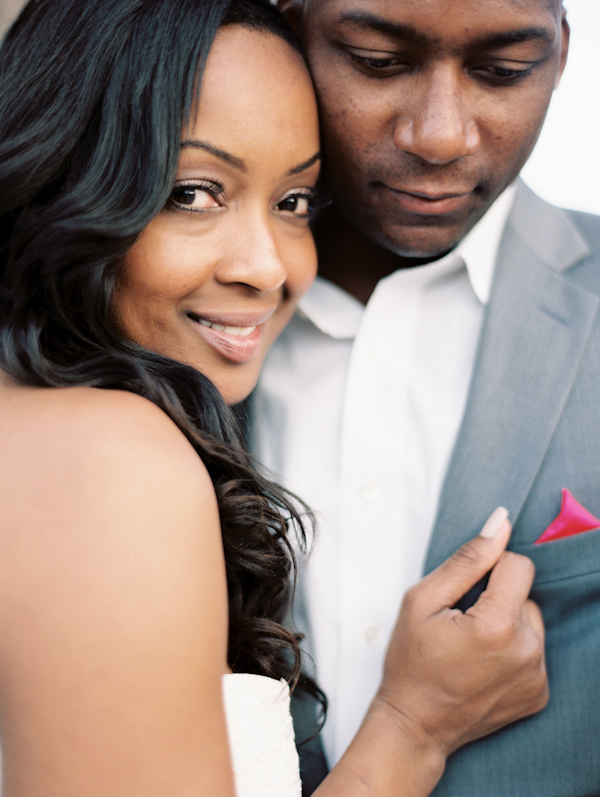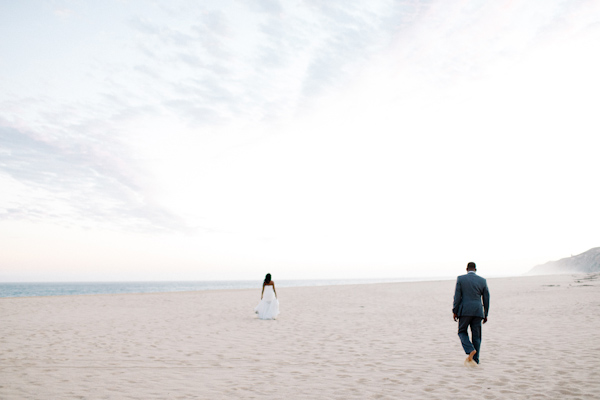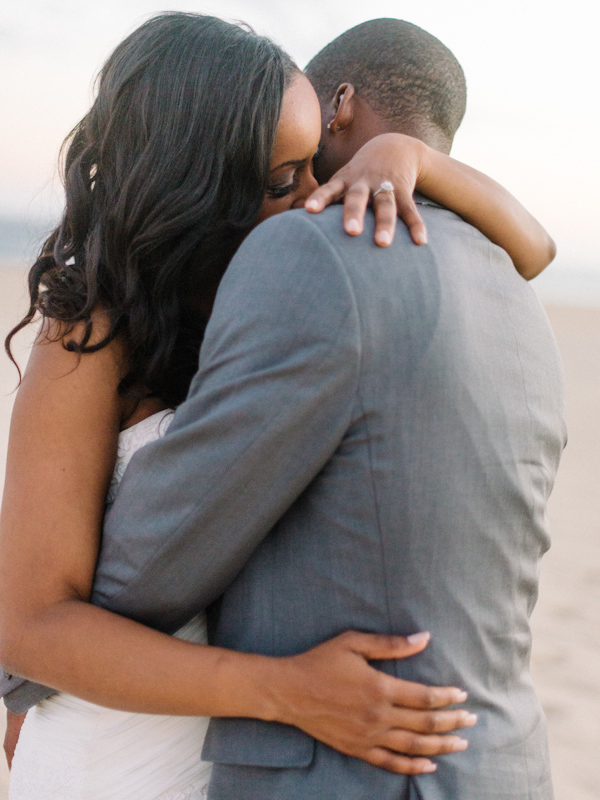 The Look: Marcus wanted a dressy, but relaxed look so he opted for a light weight Calvin Klein suit with no tie. I wanted a pretty, classic fit-and-flare dress suitable for all night dancing. I also didn't want to spend too much on a dress I knew I wouldn't wear more than once. I got lucky and found the perfect dress at a sample sale at the first shop I visited. I removed the long train for a less formal, oceanside look. I used chiffon cut from the train to make removable cap sleeves, creating two wedding day looks – with sleeves for the ceremony and strapless for the party! I added a little drama to the look with sparkly "something blue" heels and a gorgeous necklace my mom found.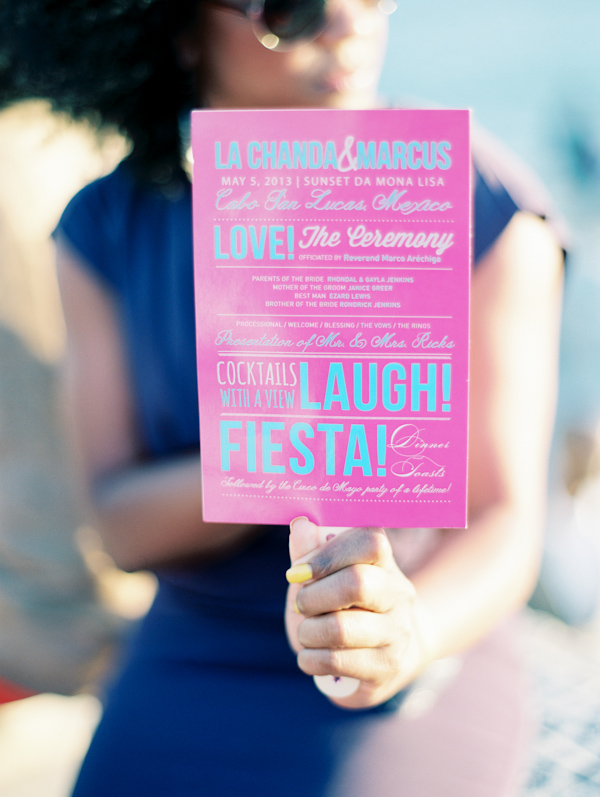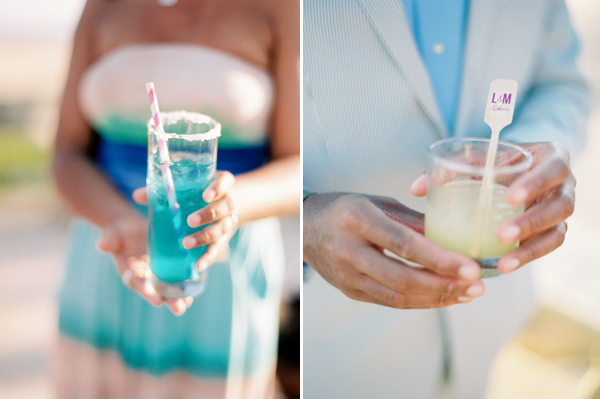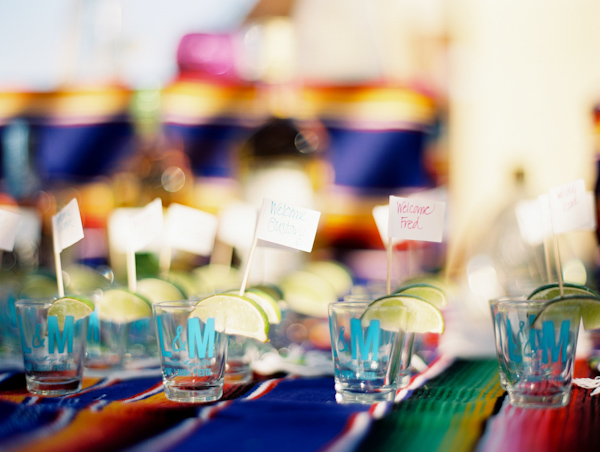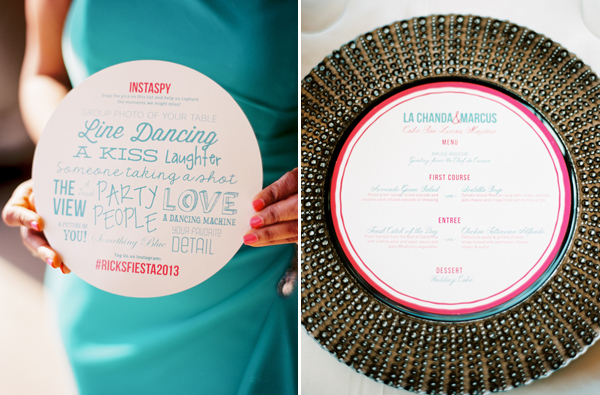 The Moments: More than a single moment, it was the overwhelming emotion of the whole day that stands out. The joy and love were palpable. From seeing each other for the first time that day to exchanging the vows we wrote to my dad's overly enthusiastic reply (with his hand high in the air) when the Reverend asked who was giving me away, it was wonderfully emotional. I'll never forget my heart beating fast as we held hands preparing to be introduced as husband and wife or the excitement of our first dance to Beyonce's "Love on Top".
Most memorable for our guests was a special surprise. Marcus is from Louisiana, as is my family and many of our guests. We love the city of New Orleans and wanted N.O. flavor in our celebration, like a Second Line. We couldn't fly a whole New Orleans Brass Band to Mexico, so we got creative. Our coordinator found a local Mariachi band and we sent them the music for a classic song called "Do Whatcha Wanna." They learned it, rehearsed it and right before dinner surprised our guests by playing it. Our guests went wild and jumped from their seats to dance. Dinner hadn't even been served yet, but the party had started!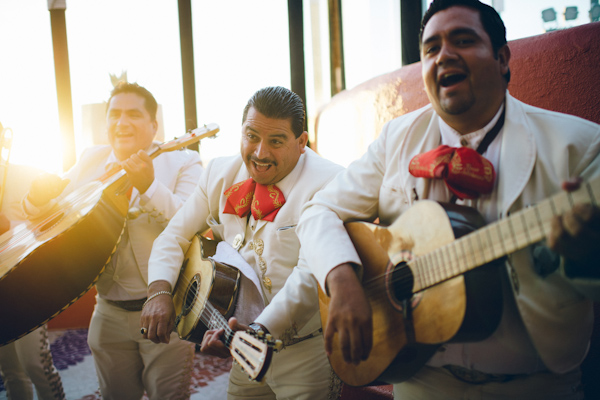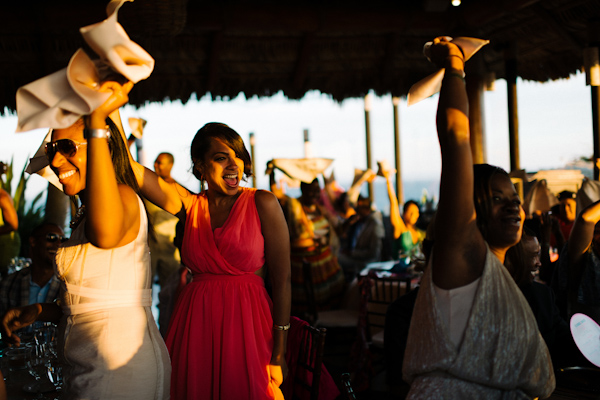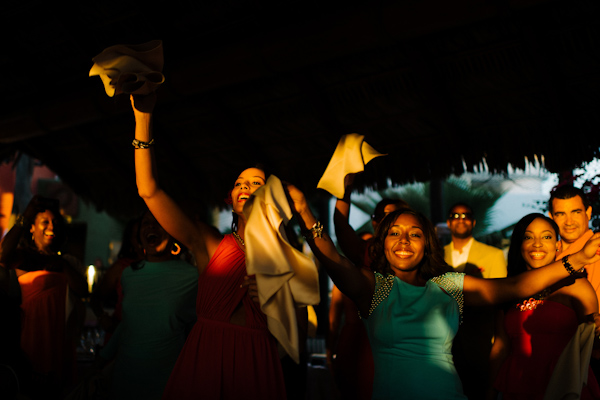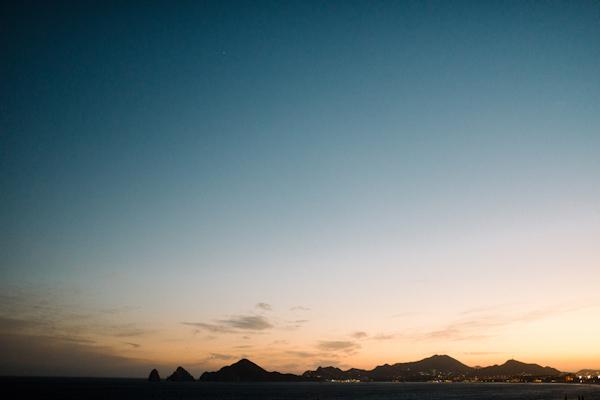 The Advice: If you're planning a destination wedding, we strongly recommend a site visit. There are so many things you won't know or discover unless you see and experience it for yourself.
Be happy with all of your vendors; don't stop looking until you find the right match. You're entrusting them with arguably the most special day of your life—choose wisely!
Especially take your time and find the best possible photographer. After the wedding is over, your memories and photos are all that remain. Because of our photographer Jillian Mitchell's incredible images, we're able to relive the moments over and over again!
Lastly, it's your day, so as our second line song says, "Do Whatcha Wanna!" Don't let others dictate the kind of wedding you should have. Have the wedding you want. We did and the day was perfect. And every anniversary will be a repeat Cinco de Mayo fiesta!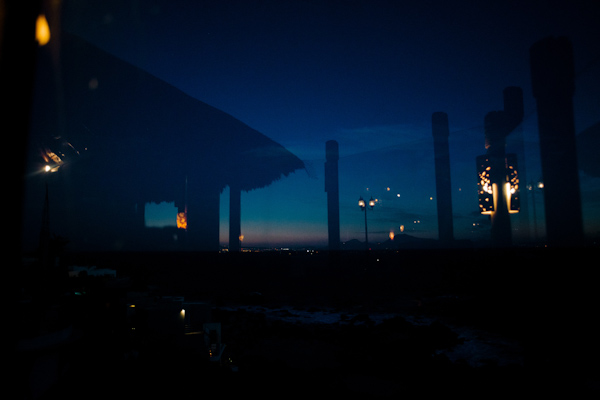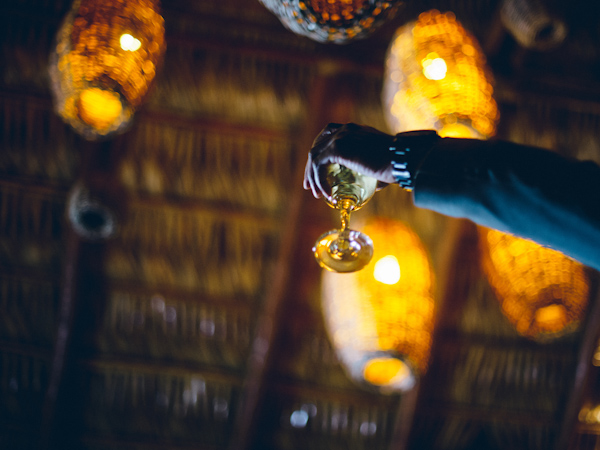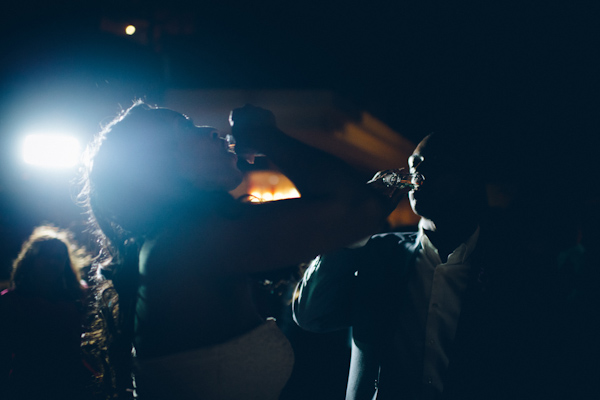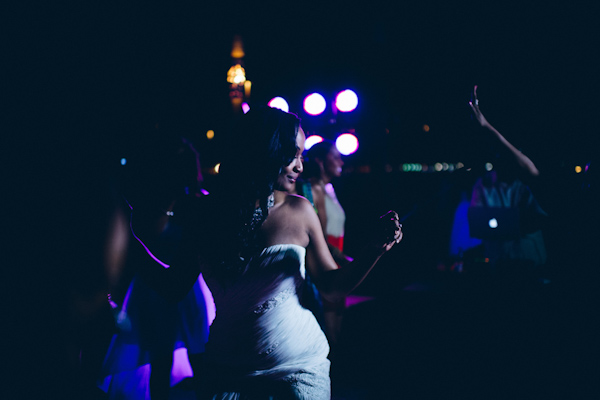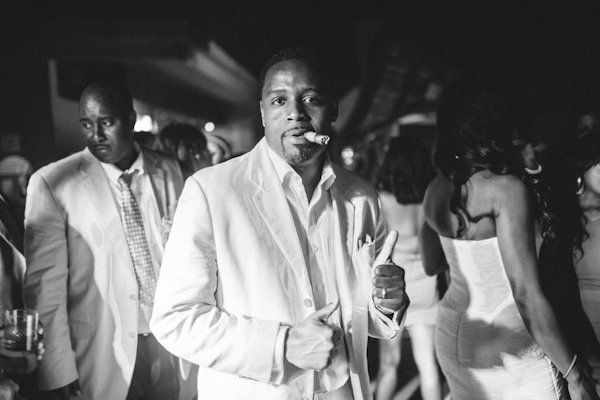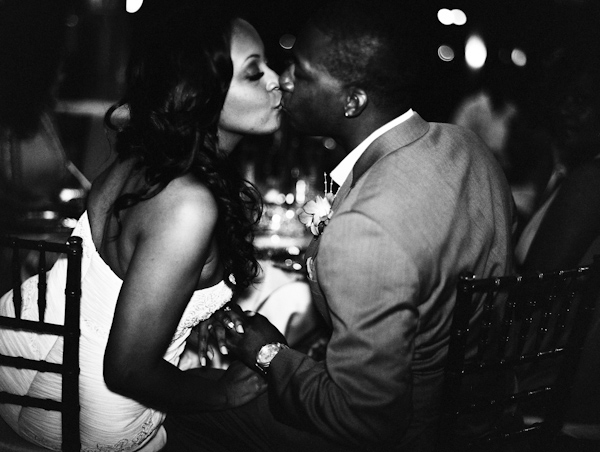 The Wedding Team:
Photographer: Jillian Mitchell
Event Planner: Tammy Wolff of Cabo Wedding Services
Ceremony and Reception Venue: Sunset da Mona Lisa
Videographer/Film Maker: Carlos Plazola
Officiant: Reverend Marco Arechiga
Invitation Designer: W Design Gallery
Logo, Website, Save the Date, Program, Signage & Menu: Courtney Jones Designs
Catering: Sunset da Mona Lisa
Florist: Rayen Floral
Cake: Sunset da Mona Lisa
Wedding Dress: Pronovias via Houston Bridal Gallery
Groom's Apparel & Accessories: Calvin Klein
Hair Stylist: Ashley Sparks
Makeup Artist: Neysa Berman
DJ: Robert Gamble
Live Music: Mariachi Gavilancillo
Photo Booth: The Memory Maker
Favors: Discount Mugs
Rentals: Lazy Gourmet
Sound & Lighting: Arturo Ortiz
Thank you La Chanda and Marcus for sharing your wonderful day with us!
See more destination weddings in our Real Weddings Gallery!