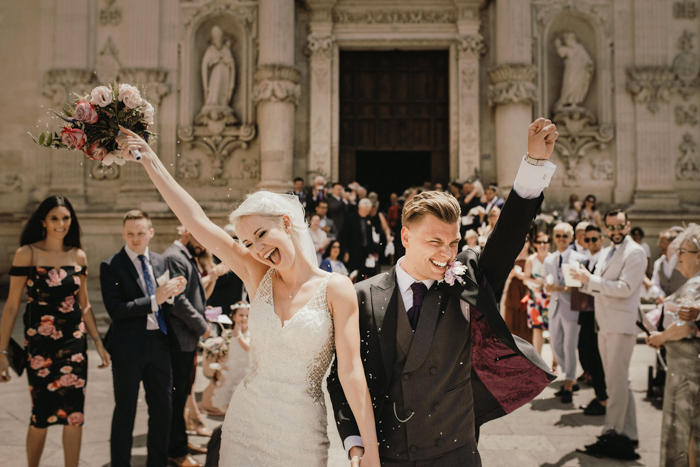 Siobhan and Linus' chic Italian castle wedding at Castello Monaci has our hearts fluttering. This duo of professional dancers wanted their day to feel like royal affair — and it was totally packed with style at every turn. We think they pulled it off brilliantly with the help of planner LeccEventi Wedding Planners! From Linus' three-piece suite with grape-colored details to Siobhan's romantic dress with modern cutouts, this couple knows how to do classic, formal attire. If unique wedding entertainment is your thing, we can't wait for you to see the photos FotoClip captured of the special performances by Truly Medley Deeply and Passione Taranta Music & Dancers. Prepare your hearts, because these photos do not disappoint!
The Couple:
Siobhan & Linus
The Wedding:
Castello Monaci, Lecce, Italia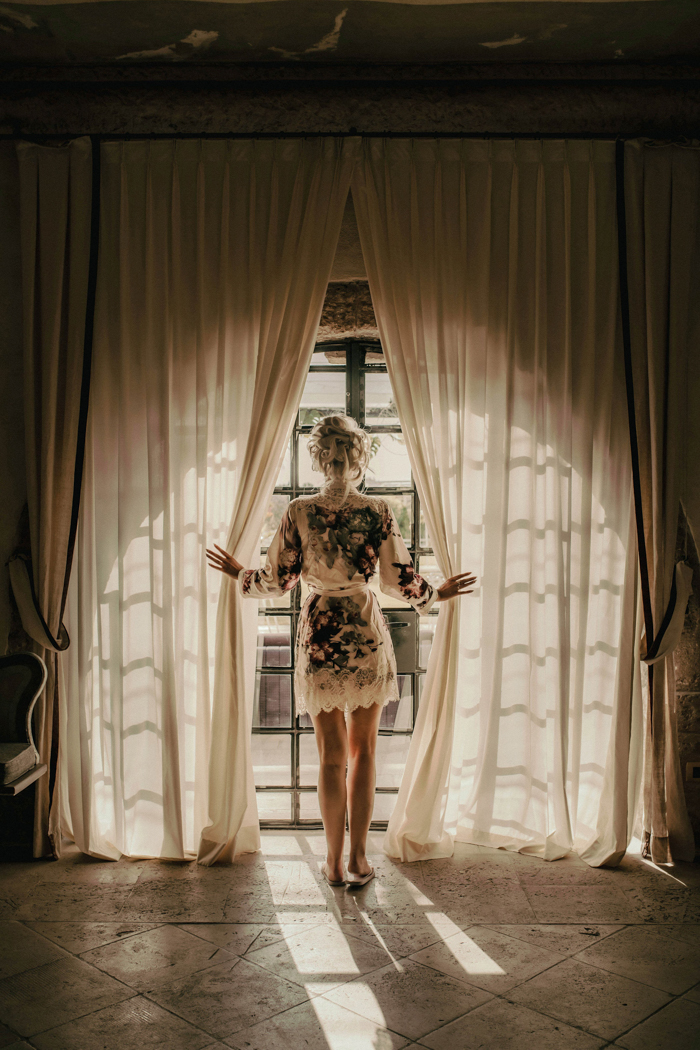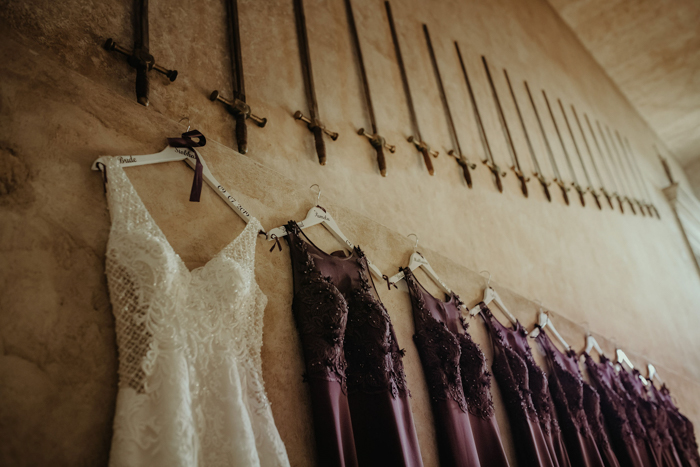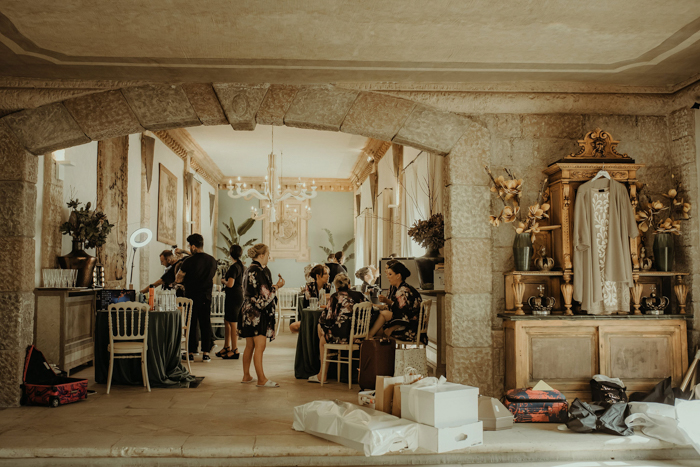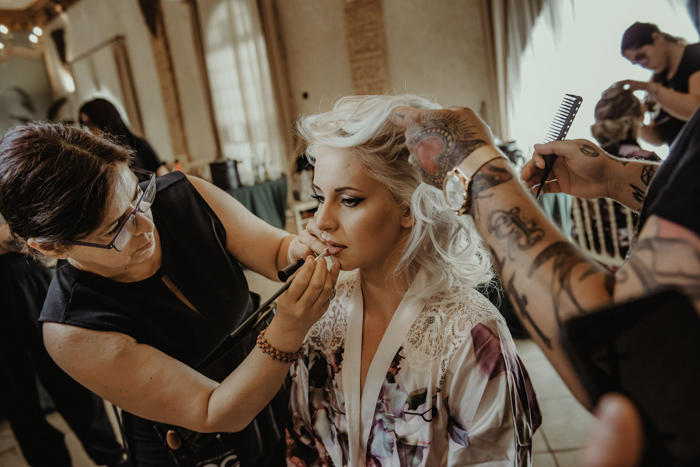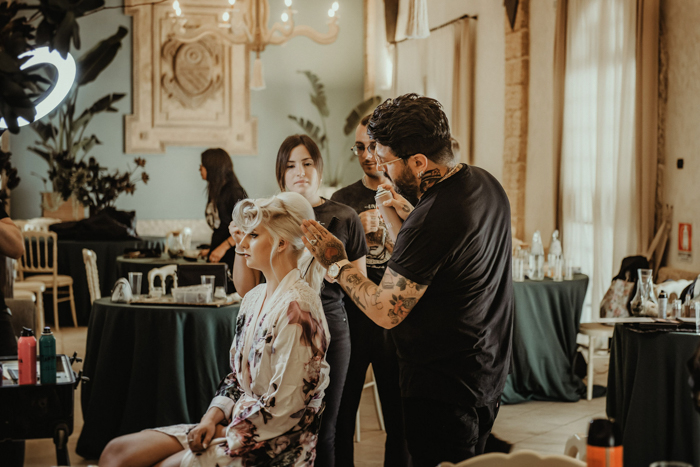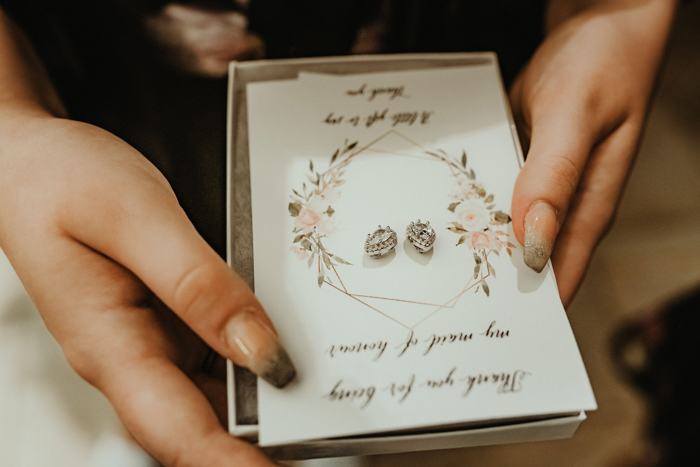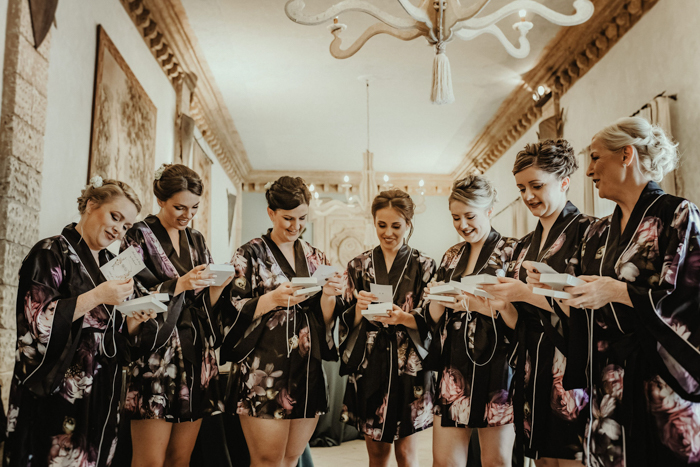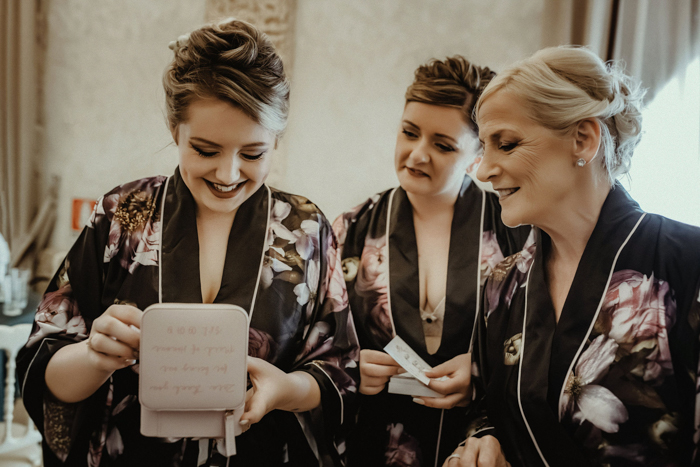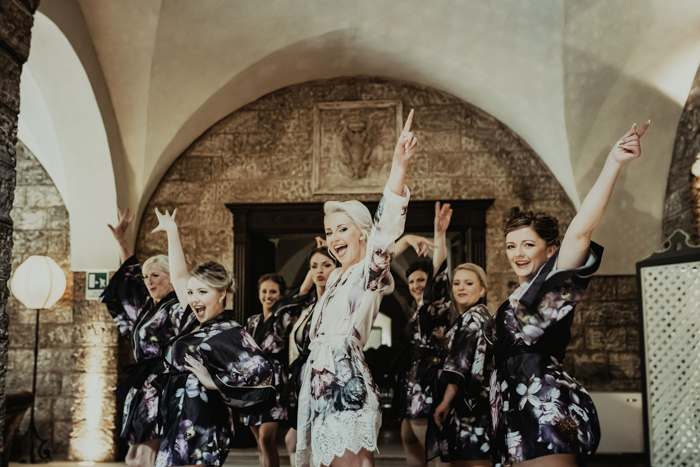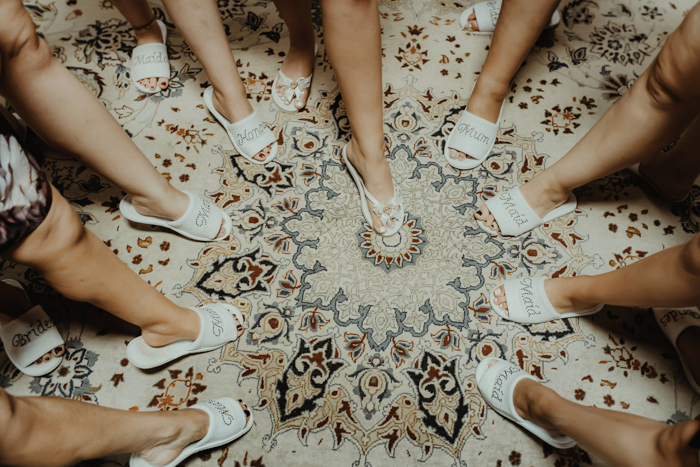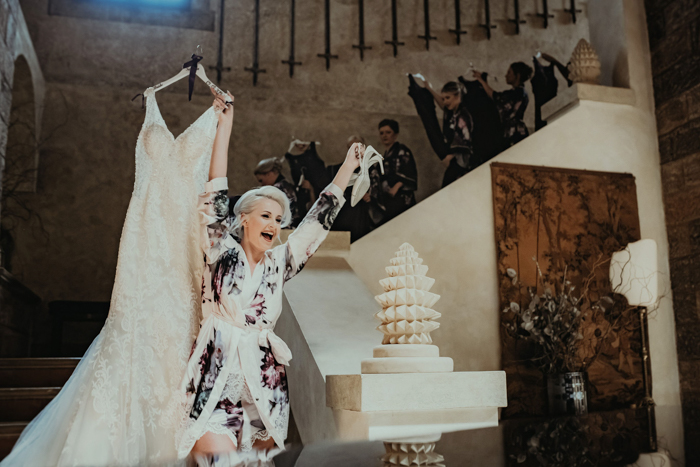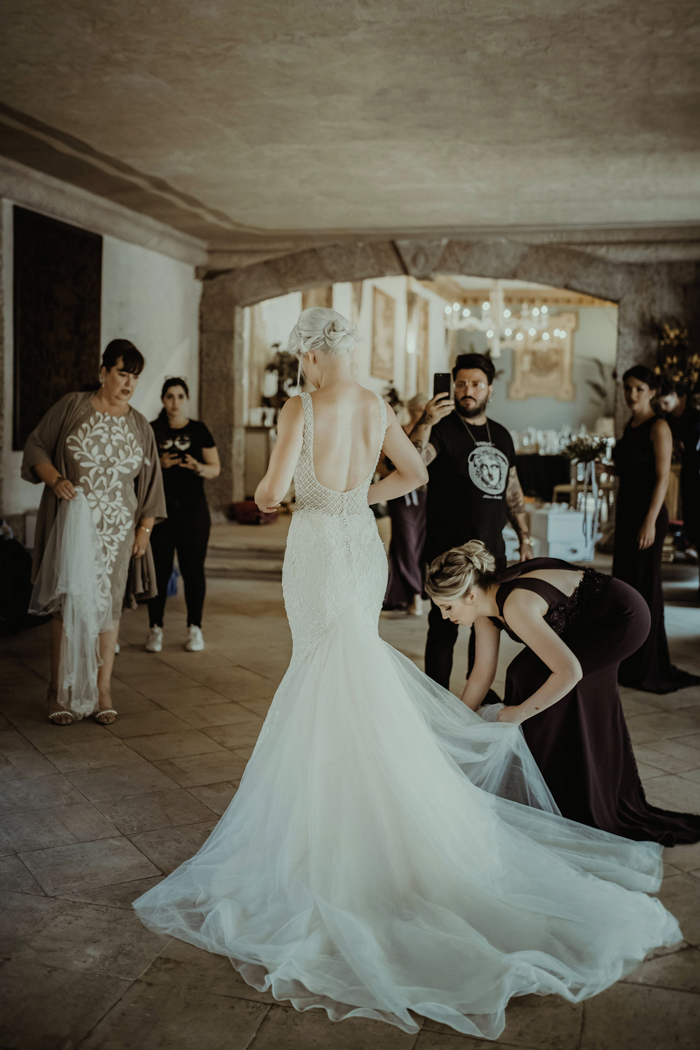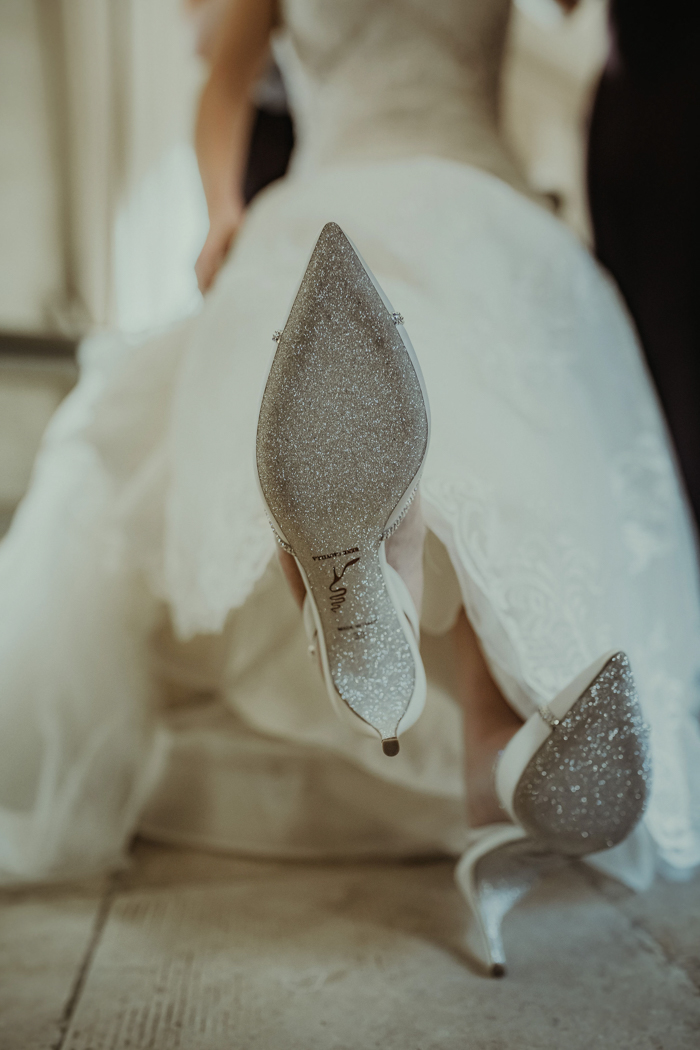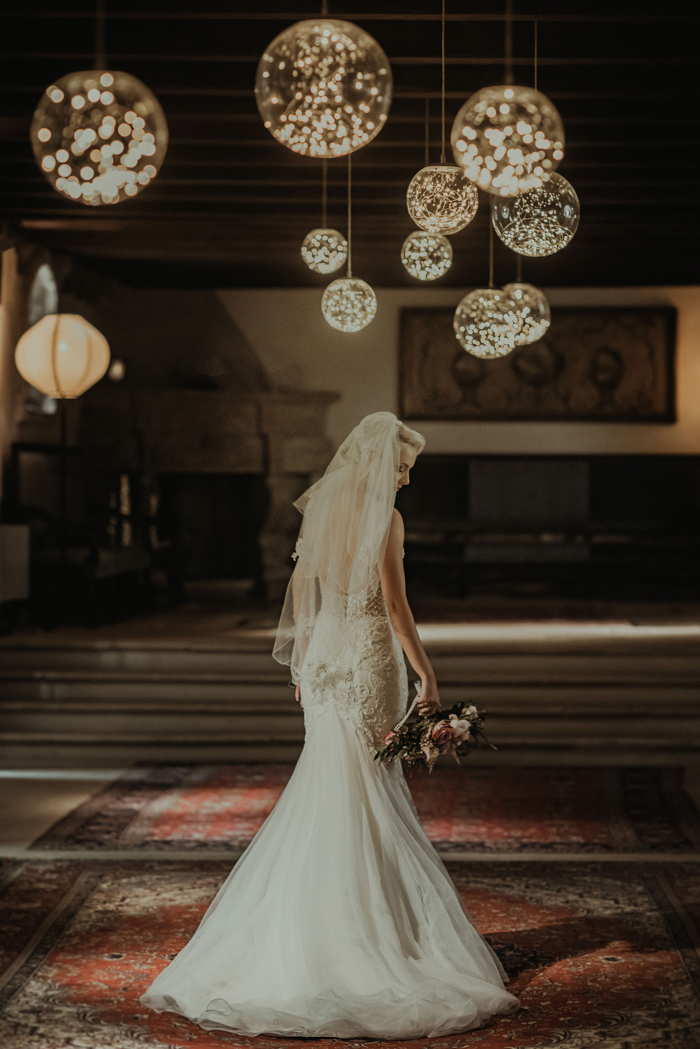 Choosing our 'look and feel' was somewhat influenced by the rustic, rich greenery of Italy. However, being dancers in our spare time, we often wear very formal attire – so we wanted to feel even more special on our wedding day. Inspired by the timeless style of Siobhan's parents' wedding we wanted to combine classic tradition with modern touches. Linus chose 3-piece tailor made suits in a range of greys with flashes of our 'grape' feature colour in the lining of jackets, back of waistcoats and accessories.
The Ronald Joyce 'Hermione' dress was a tight fishtail silhouette with a train long enough to compliment the beautiful Cathedral. A light ivory colour, it was beautifully embellished with lace and beads and fitted in with the warm, rustic and romantic style we were trying to create. The sides of the dress were unusually cut away – giving it a modern sexy, hourglass touch (and helped keep cool in the heat!). Her look was finished with bespoke made diamond & pearl jewellery from her parents and stunning white & crystal heels by Italian shoe designer 'Rene Caovilla'.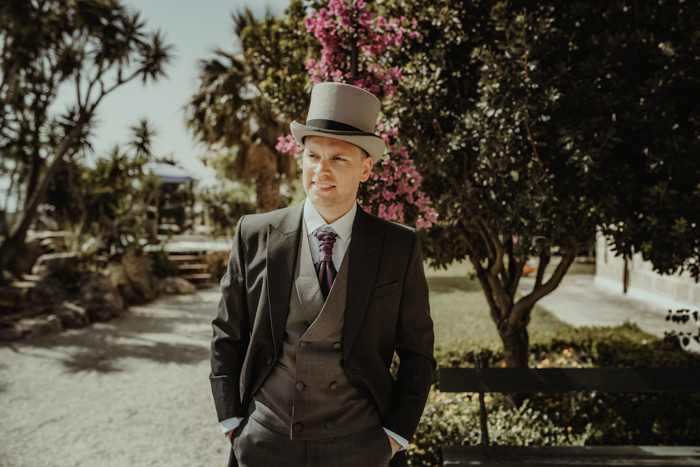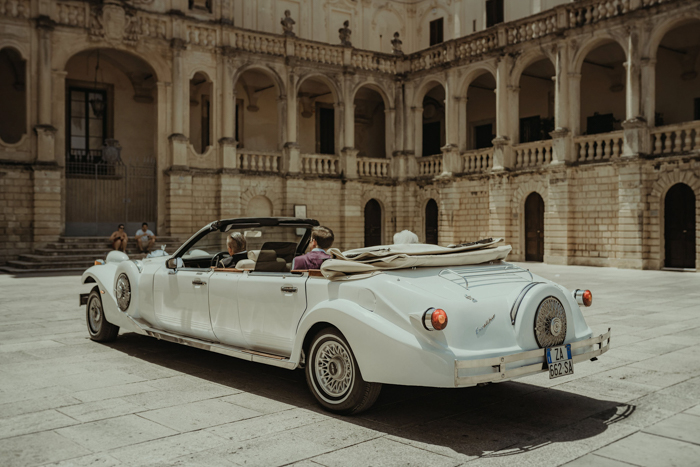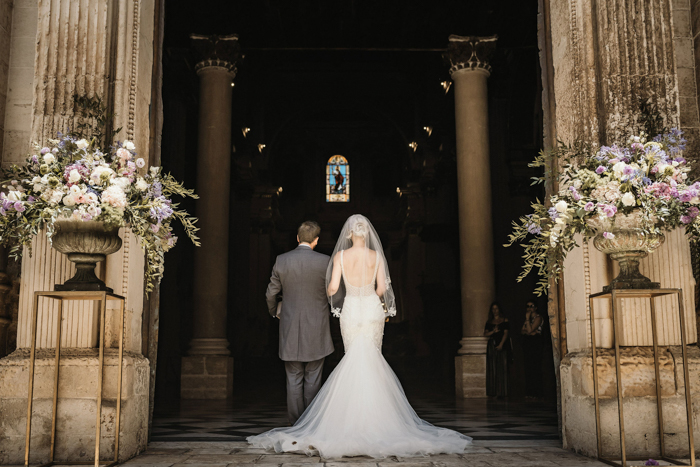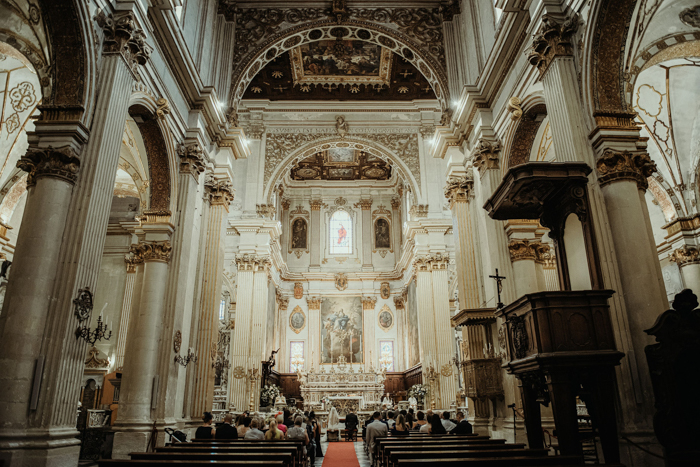 The ceremony was undoubtedly our favourite memory of the day. We were full of emotion seeing each other at the alter (which was perfectly captured in our wedding film). We exchanged bespoke rings that we had designed together and had made in Qatar. Both rings had a secret sapphire on the inside of the band to signify our 'something blue'.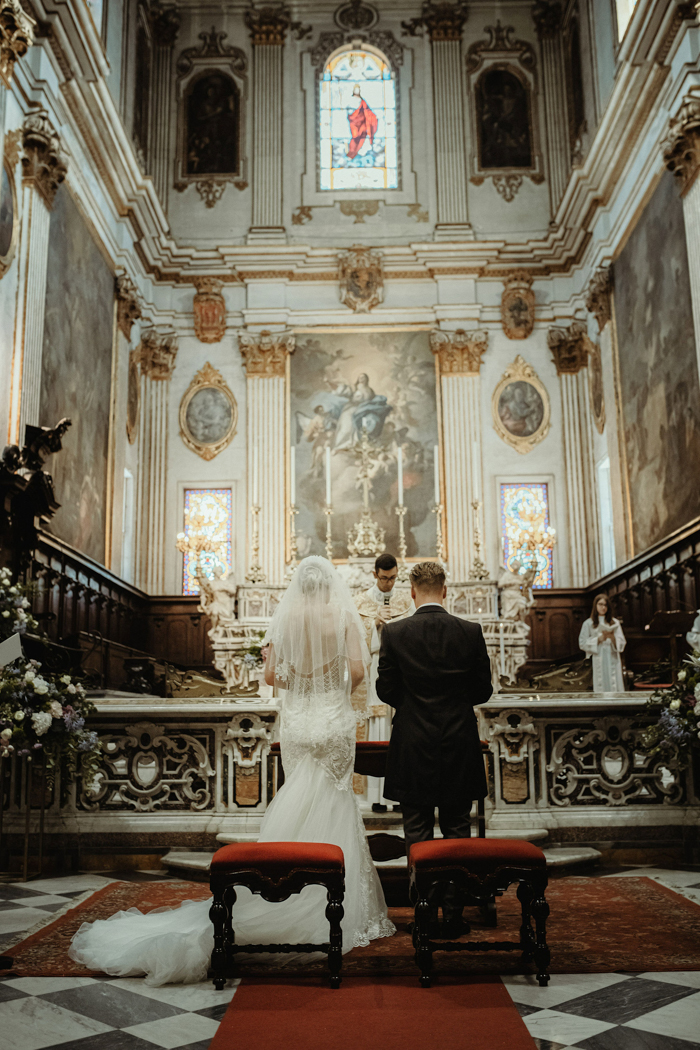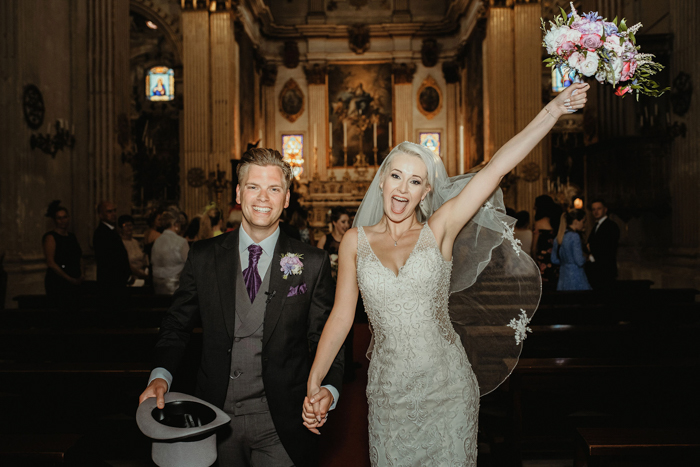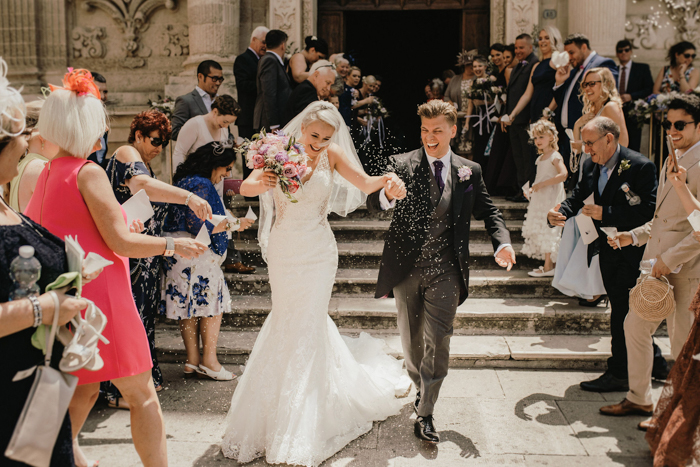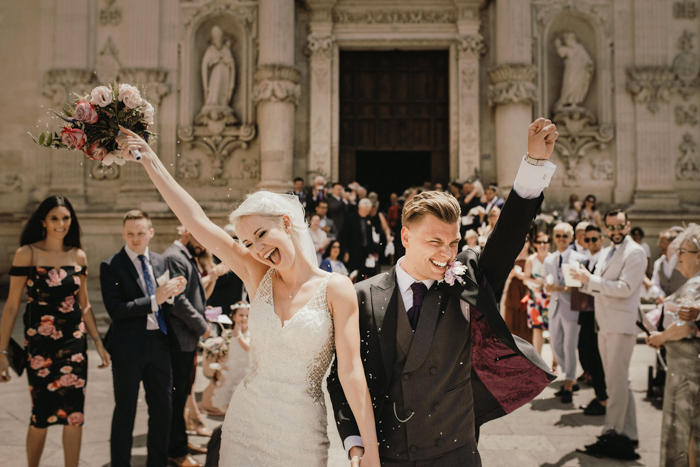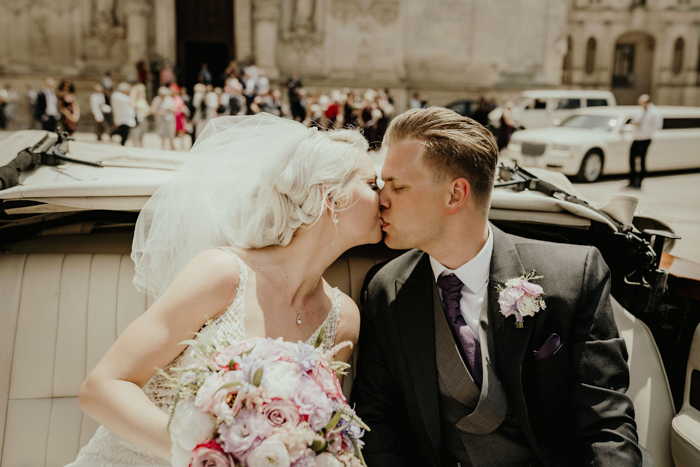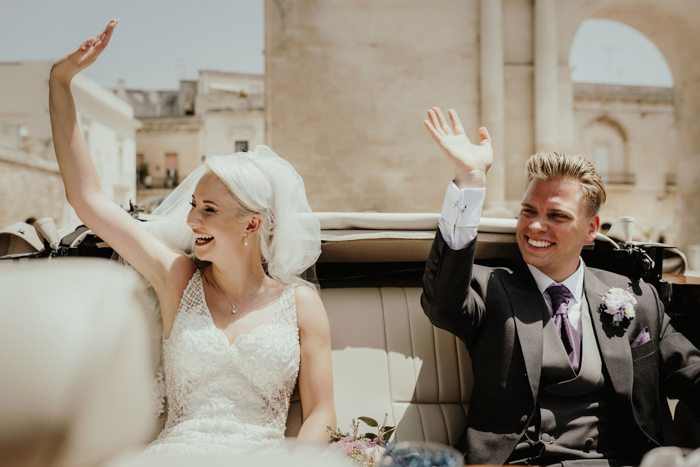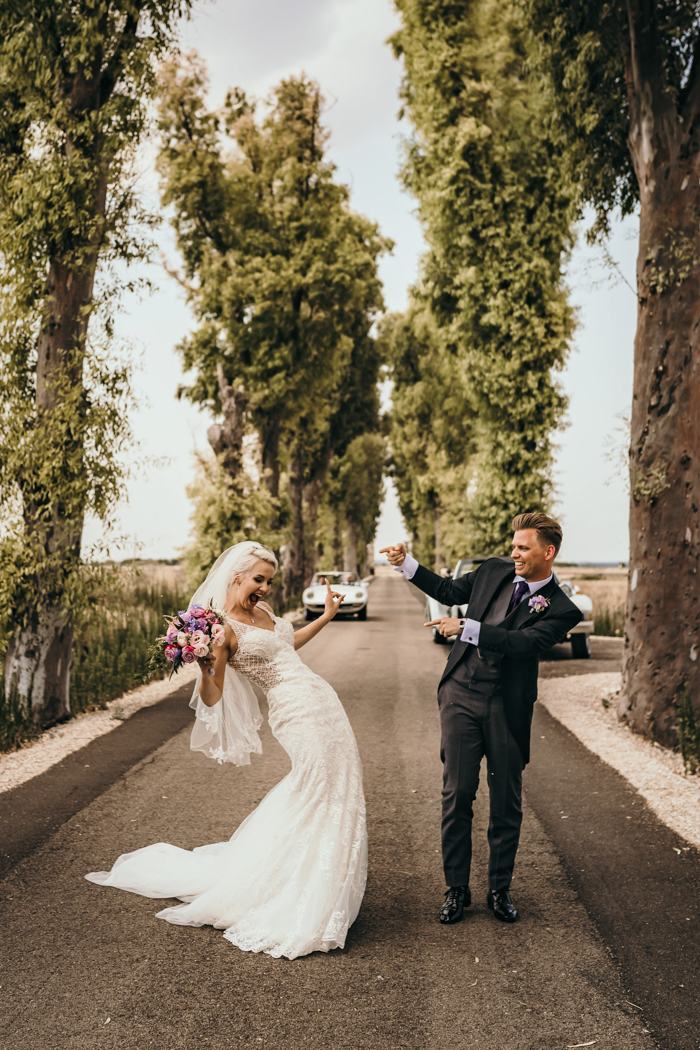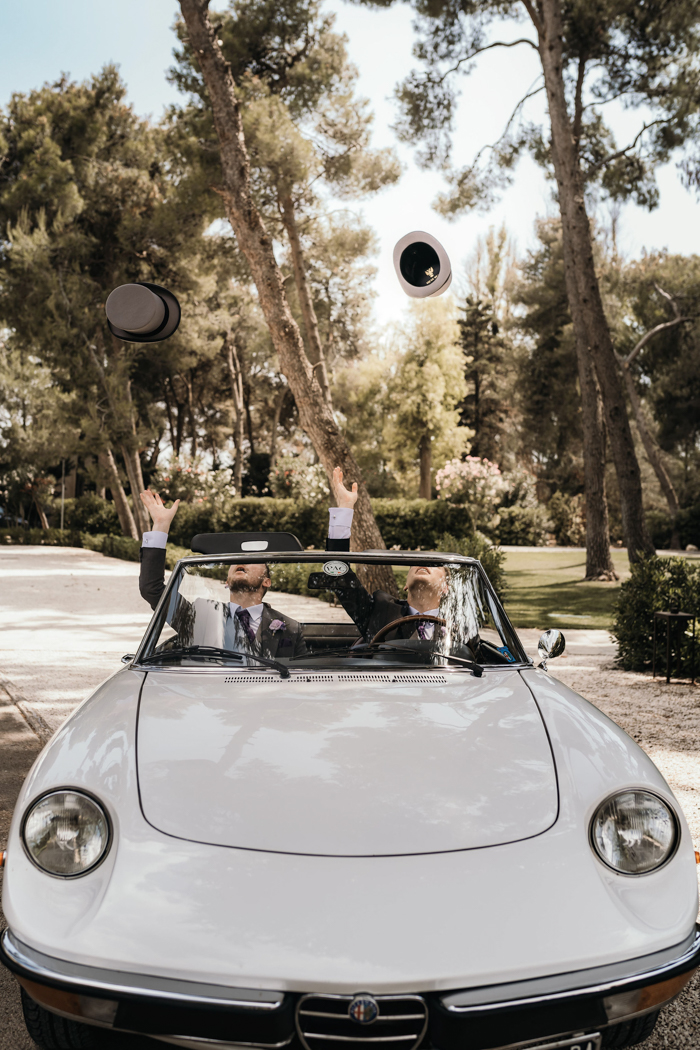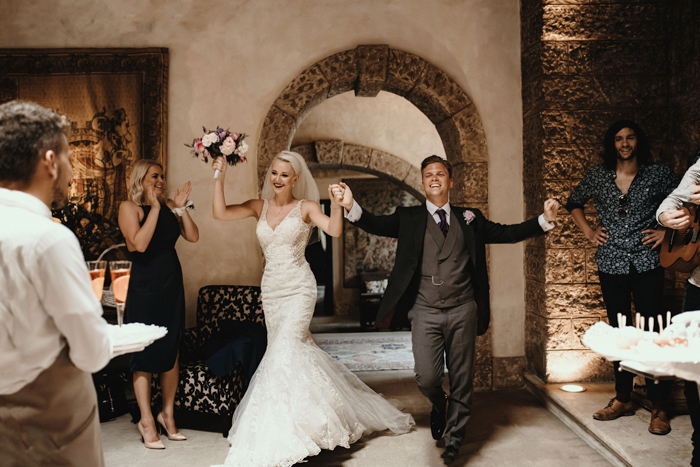 We issued digital invites and launched a wedding app and website that enabled guests to RSVP to different events, choose their food and transport options – and for us to send out notifications on the day too. Planning a wedding remotely was always going to be a challenge, but with the help of our amazing wedding planners LeccEventi, everything ran smoothly and was followed up meticulously. We grew close to Katia, Francesco and their team, and no obstacle or idea was too great for them to overcome. For example, not only did they stay with us during our initial visit to ensure that everything went smoothly during Siobhan's hair and makeup trial, we also had a lot of religious and legal paperwork to overcome and LeccEventi were with us every step of the way – Liaising with the cathedral, ensuring we had an Italian notary and even personally taking our paperwork all the way to Rome to the embassy.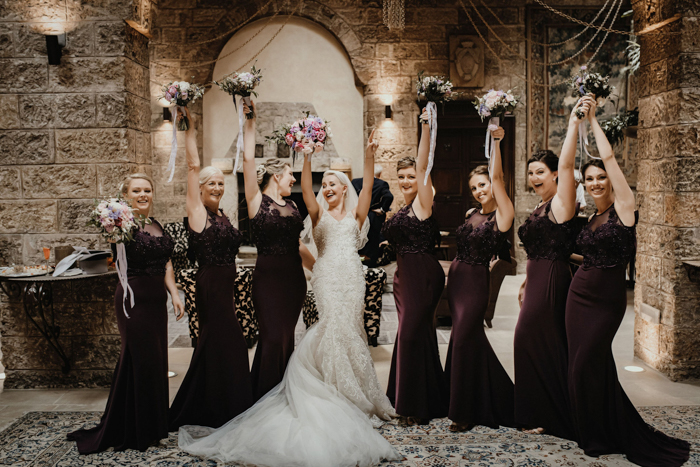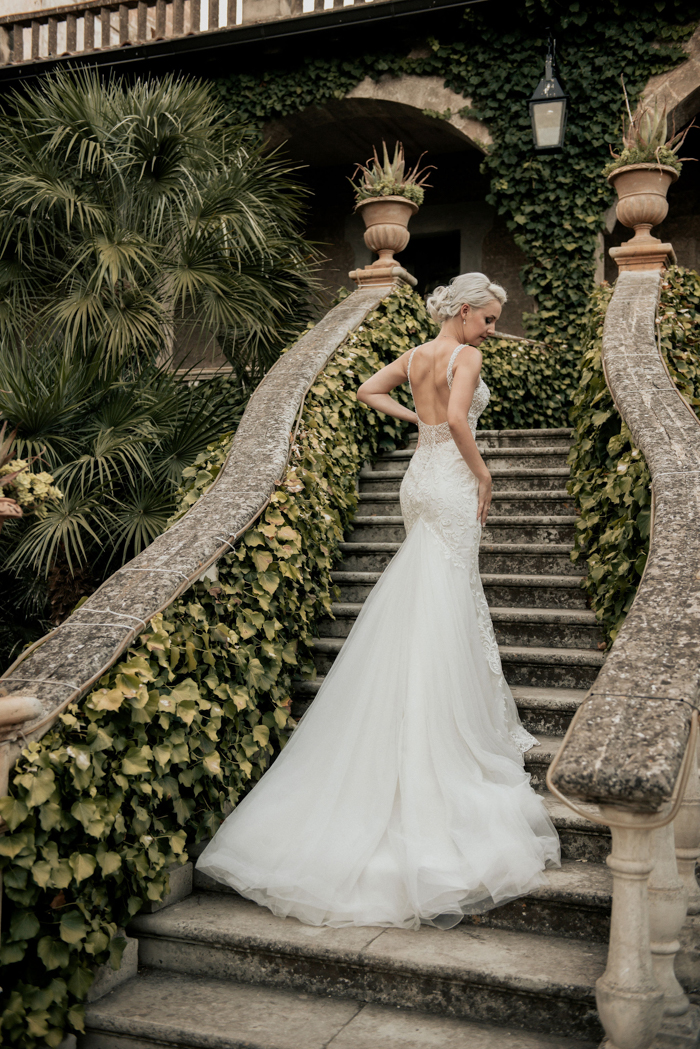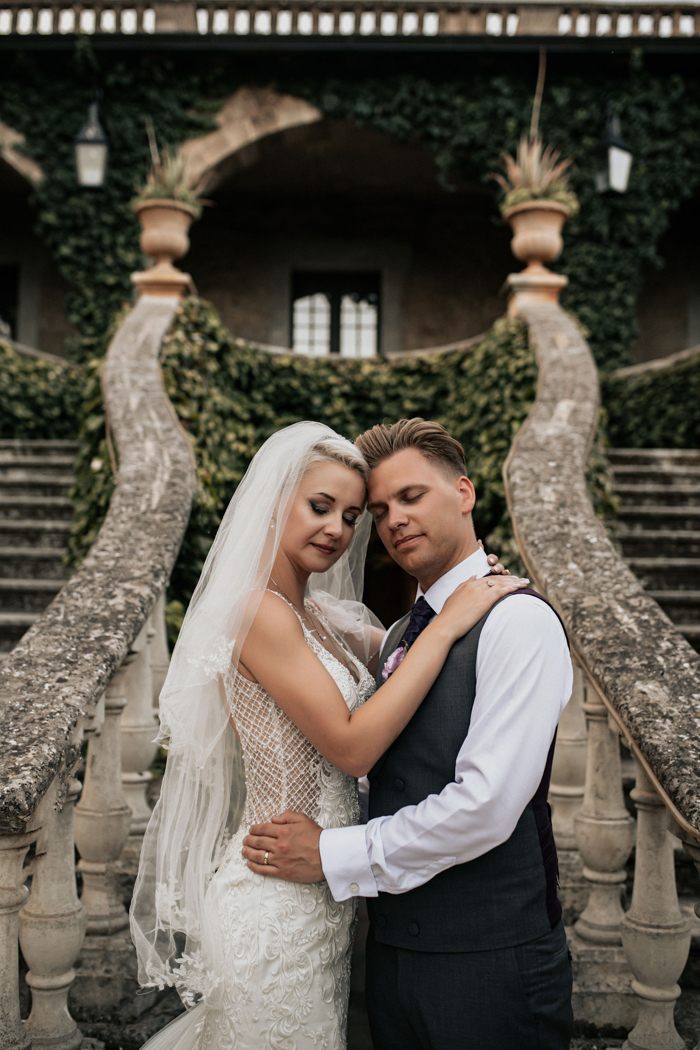 We knew, that after our wedding day was over, our lasting memory would be the photographs – so prioritizing photography and choosing the perfect team was vital to us. After stumbling upon 'Fotoclip' and seeing their website – the beauty and art that came through in their work took our breath away. Their photographs looked like something from a timeless movie and we loved their ability to capture the romance of a moment. Traveling from Spain, nothing was too much to ask from Dimitri and Sergey. They made us feel comfortable and instantly understood how we wanted a balance between candid shots and beautiful posed portraits. They listened to what was important to us and have provided us with perfect pictures and video's that allow us to relive each and every moment and emotion of our perfect day.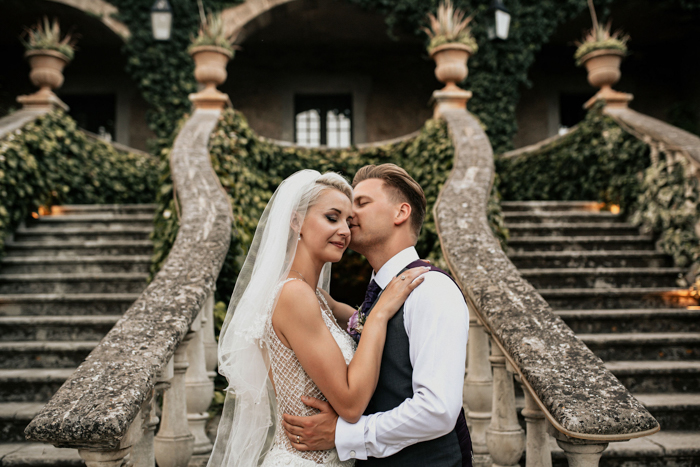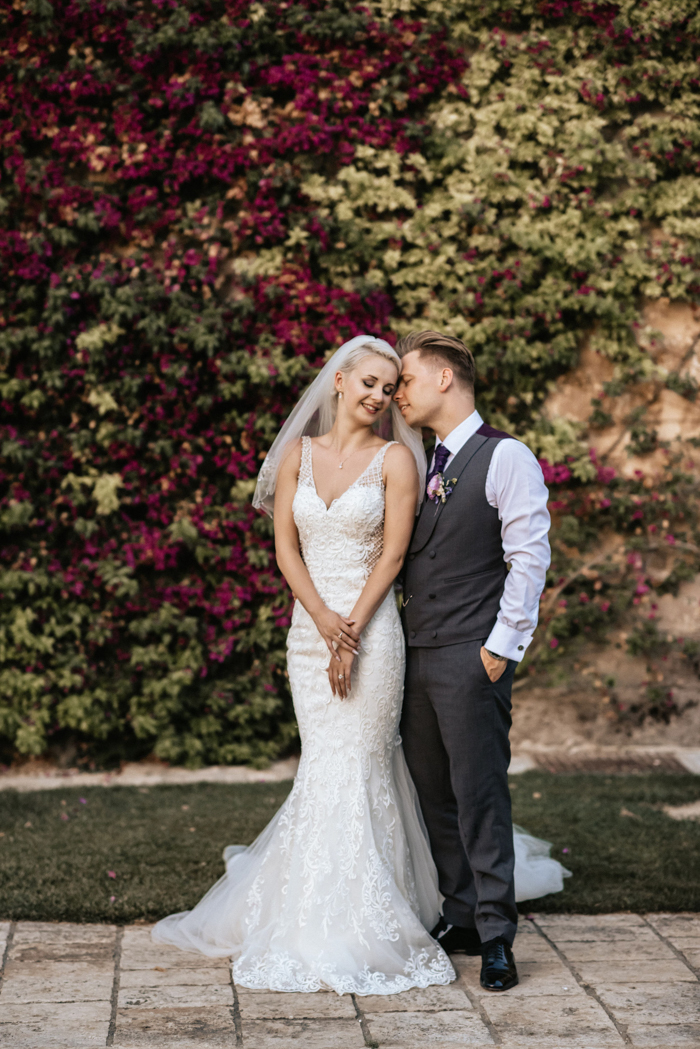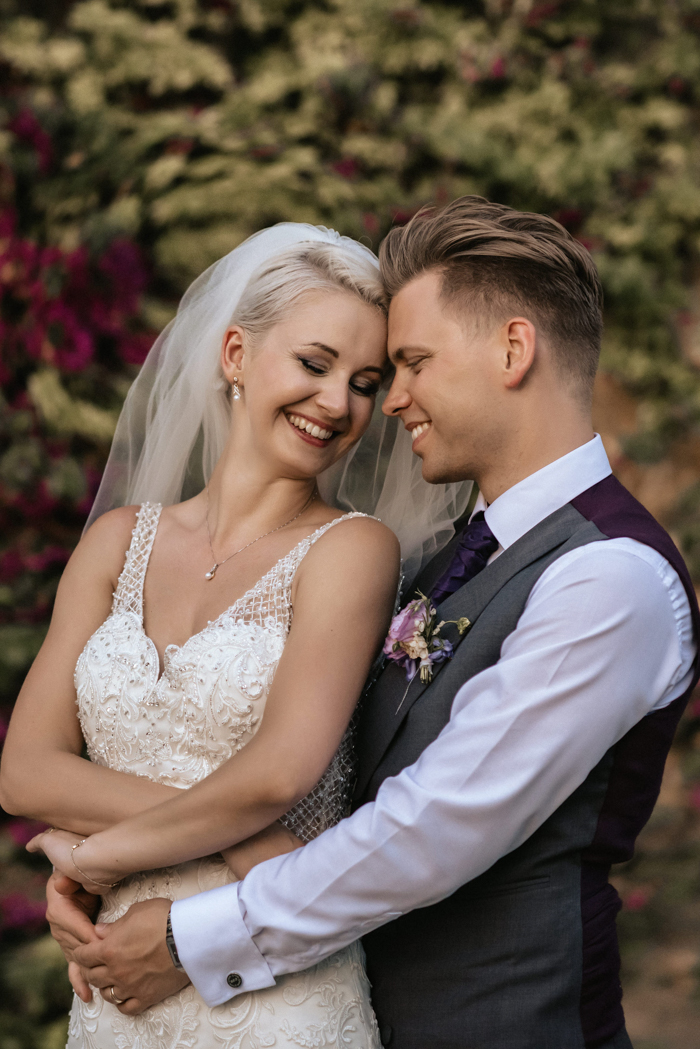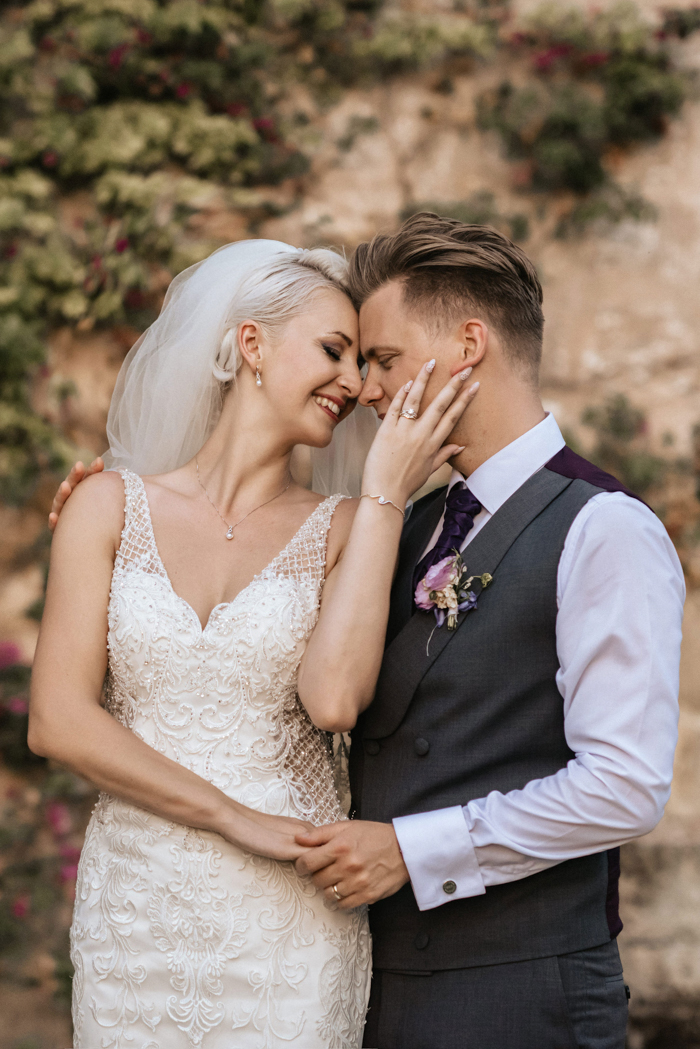 Italy has always been in our hearts with the fabulous style, food and culture – and after finding our dream wedding venue in Puglia (the wine region) we instantly fell in love and started to plan our Italian destination wedding. Castello Monaci – a fairytale, romantic castle – lush with greenery and its own winery provided the backdrop for our wedding week (it was an added bonus that when we first met Linus had dreamt about us one day marrying in a castle!). The beautiful areas and on-site accommodation allowed us to hold other events for our guests during the week including a Welcome BBQ, Wine tour & Farewell Pizza Party. The staff from the castle, especially Pamela & Marco became our friends during wedding preparations. They both filled us with confidence, when we were initially nervous planning remote. They were fantastic, answered endless questions and offered honest advice and they could not have made our week more perfect or fun and were there 24 hours a day catering to any request.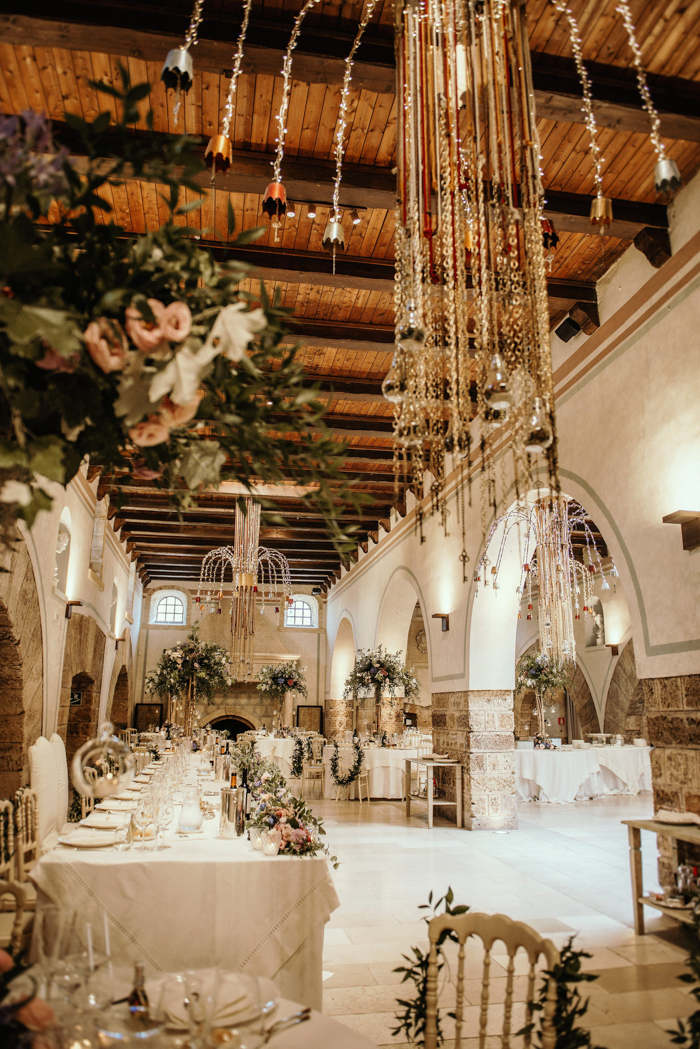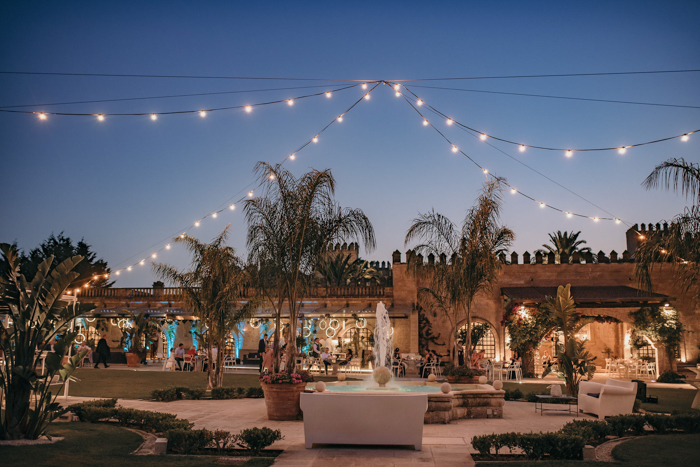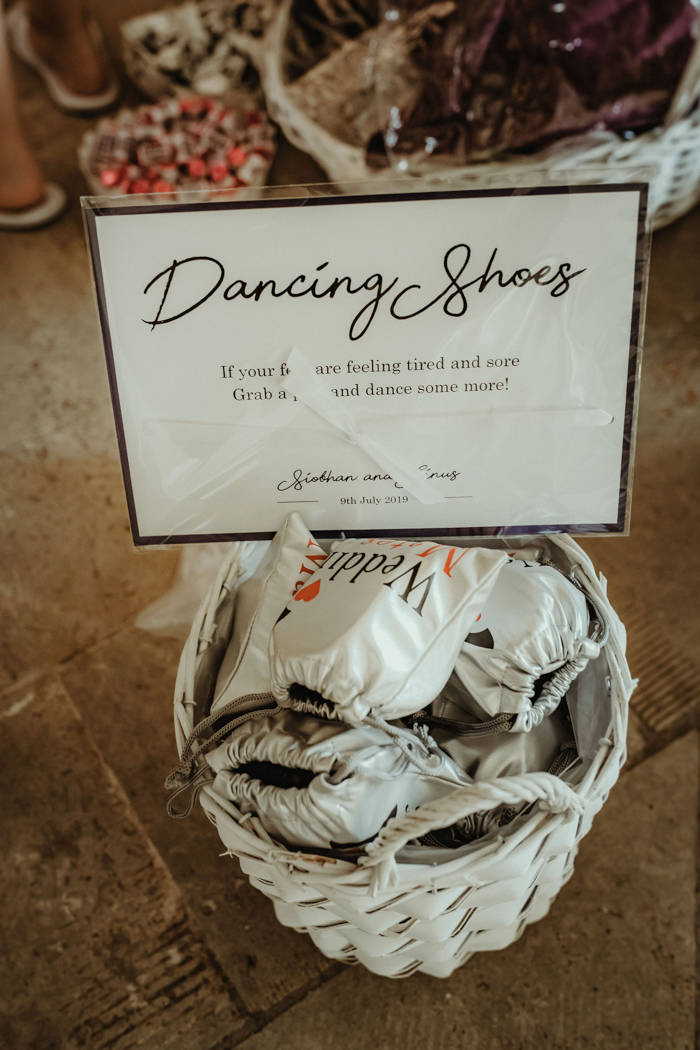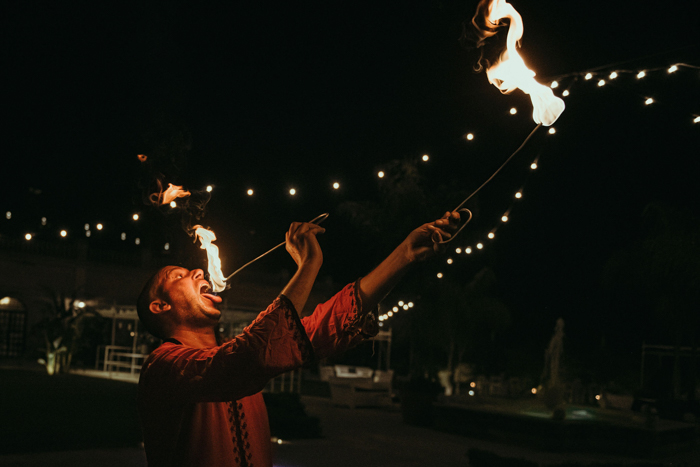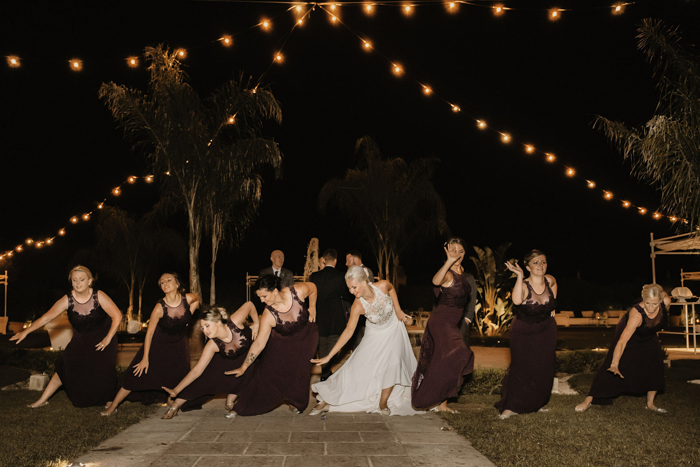 We wanted a party to remember and our live band 'Truly Medley Deeply' gave us just that. Their mashup's and clever medleys featuring iconic songs from all our favourite genres were a huge hit with all our guests. After their first set the guests gathered in the castle courtyard for the cutting of the cake, which was topped with custom made 'bobble head' versions of ourselves. As we cut the sky was lit up with roman candle fireworks all around us – which resulted in one of our standout photos of the wedding. After that, the open bar and party continued with more awesome medleys by TMD, who kept everyone dancing till the early hours.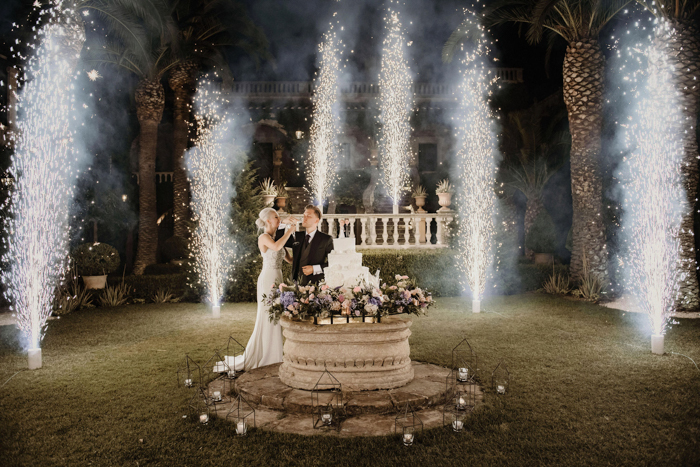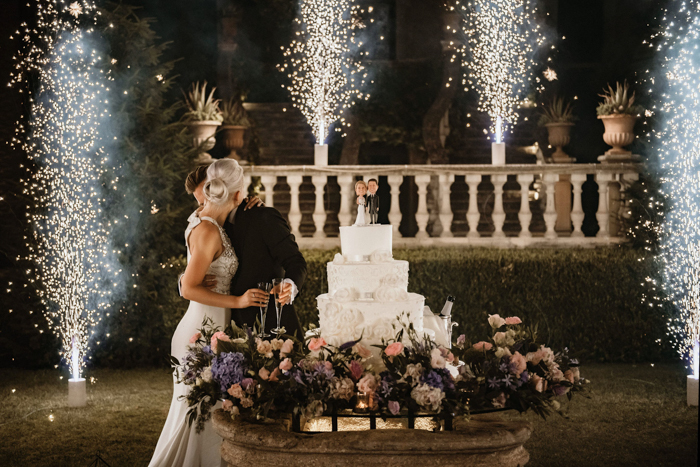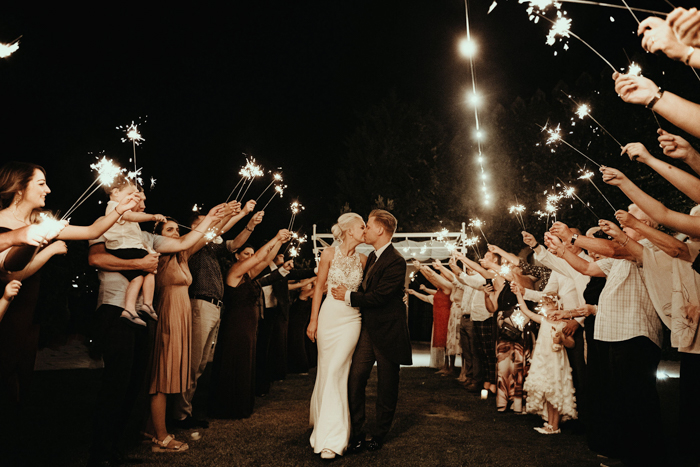 Congratulations, Siobhan and Linus, and many thanks to Junebug member FotoClip for sharing their day with us! If you love FotoClip's work, be sure to check out their page in our directory of the world's best wedding photographers.