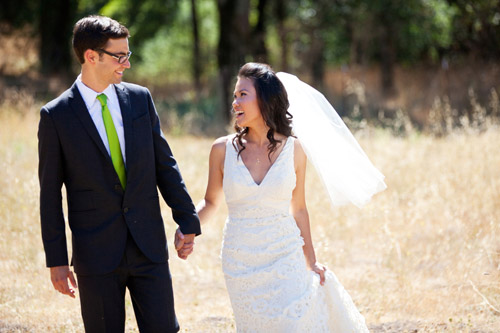 The couple: Jess and Tim

The wedding: 9.5.10 – Relais du Soleil, Glen Ellen CA
What three adjectives that best describe your wedding? Personal, fun, joyous
What inspired your personal wedding style, and how did you incorporate your style and personalities into your big day? Tim and I wanted to create a wedding that was a true reflection of the laid-back, loving and goofy couple that we are. When we envisioned our wedding day, it was to be a joyous occasion for our family and friends to celebrate, laugh, be silly, cry, sing and dance with us. We kept all of his in mind as we started our planning process.
We both love the outdoors and decided we had to get married outside. We found this totally rustic little bed and breakfast in Sonoma Valley called Relais du Soleil that was off the beaten path. The venue had a lot of eclectic charm and really set the tone for our casual, back yard feeling wedding. We ended up not needing a lot of extra décor because the venue itself had so much character. Our flowers came from a local farm, and we just had friends snip off the ends during our rehearsal and place them into collected vintage mason jars. It all came together so naturally and effortlessly, which was exactly how we wanted our wedding to feel.
We felt that the best way to inject our personalities into our wedding was to add a lot of DIY elements. I love being crafty, and our wedding provided me with so many opportunities to tap into my creative side. It was a lot of work but I had a lot of help from my groom, my brother (who also served as my Man of Honor) and his girlfriend. One of my favorite projects was designing and assembling our program. Since we knew it was going to be a hot day, we decided to have our programs double as fans. On the front side, we had all the info a program needs but added our own personal touch with a great cartoon depiction of the two of us drawn by one of my very artisitic bridesmaids Elaine Chao. Tim also loves crosswords (as do many of our friends), so Tim made a crossword puzzle for the back. There were lots of clues about weddings and about us, that when strung together read, To have and to hold from this day forward for better or for worse."
It was also important to us that we incorporate our cultures into our wedding day. Tim is Jewish, and his mom and aunt volunteered to craft a beautiful chuppah for us. Our close friends contributed squares, and the end product was a perfect backdrop for our ceremony. I made sure we played Chinese door games before the wedding. Door games are a Chinese tradition where the groom and his entourage have to complete a series of tasks and challenges designated by the bride and her bridesmaids before he can see his bride. Since Tim loves games, I had one of my very talented bridesmaids, Joyce Chen, make a Bridal Pursuit board game where Tim was tested in three categories: brains, brawn and bride. It was a great way to start the day!
Lastly, we wanted to make sure our love of fun was captured in the day. Instead of traditional wedding favors, we had a basket of white wayfarer sun glasses for all our guests to take. Our DJ made sure everyone was wearing a pair at the end of the night on the dance floor, and it was awesome! We have this great photo of my parents in them. They looked so cool! We also had one of my super crafty bridesmaids sew and build us a bright yellow photo booth backdrop. I purchased the fabric from Ikea, and she made a frame using PVC pipe. We found some fun photo props from Etsy and our guests had a great time goofing it up with mustaches and funny glasses.

Looking back, what are the moments, decisions or memories that you love the most about your wedding? After we got engaged, Tim and I wrote down a list of must-dos for our wedding. It wasnt a long list but it contained all the important elements to make our wedding day truly memorable and special to us. One of the first things on our list was that we wanted to be married by someone who really got us and our quirkiness, so we chose our close friend Jason Miller, and it was the best decision we made for the entire wedding. He reached out to our family and closest friends and worked with us to create the most genuine, intimate and touching ceremony we could have ever asked for. It allowed our guests to laugh and cry with us, and we will remember it forever.
It was also important to us that our family to be part of our ceremony. Our parents, siblings and my grandmother have meant so much to us, and we wanted to make sure they played a special part in our day. We asked them to literally wrap us in their blessings. During a part of our ceremony, our family came up and stood in a circle around us. We held one end of a Chinese silk cloth in our hands and the other end was passed around from one family member to the next as they each gave us a blessing for our marriage. When it was my 88 year old grandmothers turn, I simply couldnt stop the tears from flowing.
Another "must-do" was to have song and dance to be a big part of our day. This was a bit risky as you never know how people will react or if itll end up being awkward, but we are so glad we took the risks we did. I always joked that if I could have my dream wedding, the Harlem Gospel Choir would come and get all our guests on their feet, and itd be one big happy songfest. Well, I dont know the Harlem Gospel Choir, but I do have a great friend Grace Chen who has a beautiful voice. Grace sang Aint No Mountain High Enough during our ceremony but coordinated it so that midway through the song the wedding party joined her in song and dance. We also had plants in the audience who got up and started singing, and before we knew it, all our guests were on their feet. Looking out on all our guests, seeing everyone smiling, clapping to the music was one of the most awesome moments of our wedding for me! The second song came in the version of Karaoke. Ive been singing Karaoke with my father since I was a kid, and it only made sense that we sing a song together versus doing the traditional father-daughter dance. We did a medley of two crowd favorites: Stand By Me and My Girl. It was a lot of fun for us to ham it up and gave our guests a chance to have a good laugh!
Lastly, Tim and I decided to buck the traditional first dance. Tim HATES dancing but compromised for our wedding. We started taking dance lessons with Val Cunningham, the most wonderful dance instructor, three months before our wedding. When we first met with Val, we were definitely hesitant about the time it would take and the money it would cost, but luckily, we were in good hands. Over the three months, Tim and I took ten lessons with Val and practiced almost every other night on our own. We both were incredibly surprised by how much our relationship grew just by taking dance lessons together. We were learning new things about each other and also just having a lot of fun. By the end, we had a great number to wow our guests with and knew the time and money we invested into our dance was one of the best decisions we made for our wedding. When we walked out for our dance on our wedding night, we started off with Etta James At Last, purposely making it seem awkward as thats what people would expect. Then all of a sudden the music changed to the Pipettes Pull Shapes, and we started our choreographed dance. The crowd went wild, and we got so much energy from everyone. It was absolutely fantastic! We know that it was the highlight of the wedding for so many of our guests, and we will remember it forever.
Our wedding really was filled with so many amazing memories. We had such wonderful friends and family around us, and we are so glad that Noah Hawthorne, our photographer, and Julian Gilliam, our videographer, captured it all so perfectly. We really feel so lucky to have found the vendors that we did to help us create a beautiful, memorable day. If we could, wed do it all again in a heartbeat.
Wedding Color Palette: Yellow and Green

The Wedding Team:
Photographer: Noah Hawthorne Photography
Videographer: Julian Gilliam of 10th Letter Media
Ceremony and Reception Venue: Relais du Soleil
Officiant: Jason Miller, our close friend
Invitation Designer: Jess Dang (the bride!)
Catering: Grapevine Catering
Florist: Oak Hill Farm
Desserts: A sundae bar from Ben & Jerrys of Sonoma
Wedding dress: Amy Kuschels Turner dress purchased at Belltown Bride in Seattle. BCBG dress for dancing.
Bridal accessories: Birdcage veil and flower feather fascinator from Brendas Bridal Veil on Etsy
Bridesmaids apparel and accessories: Yellow cotton wrap dresses from Victorias Secret
Groom and groomsmen apparel and accessories: Ties and bowties from Principessa; Man of Honor shoes custom made with Nike ID
Hair and make-up: Jane Kim of The Glamourist
DJ: Phil Trau of Pure Energy Productions
Live music: Lots of Karaoke-ing from our friends
Transportation: Pure Luxury Transporation
Dance instruction: Val Cunningham
Favors: White Wayfarers from Shades of Fun
Rings: Overstock.com
Photo Booth Props: Maro Designs on Etsy
Thank you so much Jess and Tim! Such a fun wedding!
To find inspiration for your our personal wedding style, don't miss our wedding image gallery!
All images above by Noah Hawthorne Photography