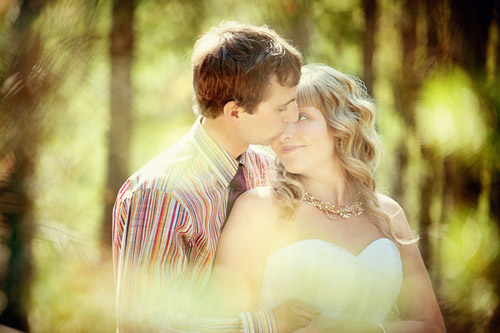 Beautiful bride Julie is a wedding photographer, so when it came time to plan her own wedding to fiancé Adam, photography was high on the priority list. So high in fact that having just one photographer was never going to happen. Between their lead photographer, Antigonish, Nova Scotia's Eunice Montenegro, Eunice's second shooter Christina Craft, currently based in Costa Rica, and Julie and Adam's other wedding photographer friends who snapped away all day long – Stacey Hedman, Kira Nelson and Tessa Perkins – this fun, camping-inspired, DIY wedding was covered from beginning to end!

When you imagined your wedding day, what was most important to you?It was so important to us to keep the whole wedding authentic and true to ourselves. Of course we wanted our guests to have a great time (THAT WAS SOOOO IMPORTANT!) but at the end of the day, we focused on what was meaningful to us as a couple. We certainly broke tradition in many areas and don't regret a thing. So many people told us after the event that our wedding changed their idea of what a wedding could be. I think that's pretty cool!
What kind of wedding ceremony did you have? Our ceremony was very casual. It was outdoors with a great view of the Rockies – rain or shine…and we had a bit of it all, weather-wise. We incorporated a few of our own twists and rituals into the standard ceremony that our commissioner offered.
1. We walked in together! We had already done a first look earlier in the day and I think its only fair that 1/2 the eyes were on Adam too. When we walked into the ceremony together through the woods, everyone started cheering as we got closer. I have been to way more than 100 weddings and I have never experienced that. It was just SO amazing to have all these incredible people who had traveled from far and wide cramped into that tiny corner of the forest to witness our nuptials.
2. We did an honoring of the parents. Both sets of mums and dads are still together. Adam and I have both grown up with such an amazing example of marriage and we really wanted to acknowledge this. Some people give roses to each of them, but we just gave them a big hug.
3. We did a wine box/love letter ceremony. We added our own twist on this tradition, we decided to add a menu to the box. Adam has been a chef for much of our relationship, so we picked our favorite meal that he cooked us this past summer and paired the bottle of wine with the entree. On our fifth anniversary we'll open the box, he'll cook the dinner and we'll enjoy the wine. By then our culinary tastes may have become more sophisticated, but it will remind us of the summer we were married!
4. Lastly, we didn't have a wedding party, so to chose our legal witnesses for the registry, we did a witness lottery. We had each guest fill out a slip with their name on it upon arrival and we each drew a name. It was fun! Adam's mum won a spot, as well as one of our photographer friends, Kira.

Tell us about your reception and all your DIY projects! Our reception was right there at the campsite where we were married and everyone stayed. Thankfully there was a great picnic shelter with a wood stove because it got chilly and very, very stormy later in the night. Two days prior to the wedding I was at peace with the fact that we very well could have a cold and wet outdoor wedding so I started calling all my local friends to round up tarps. We got our hands on what I think was nearly 1000 square feet of colourful coverway more than we needed! I couldnt believe the amazing tarp collage that was constructed over our dinner area!
Our friends and family did so many special things – the flowers were grown by family, wine was made by Adam's parents, my sister made an amazing playlist that we played at the wedding and gave out as wedding favors too. My aunts sewed the tablecloths, napkins and bunting. Big red lanterns and white lights were donated to us by some of my past clients. Myself and my mother-in-law gathered dozens and dozens of beautiful mismatched vintage vases for the flowers. I made chalkboards out of old frames and re-purposed cardboard for signage and little notes around the site. My aunt collected well over a hundred mason jars in various sizes from her local thrift store for our drinking vessels. Our mums collected old family photos, I printed them black and white and put them in an array of gold frames. Instead of a wedding cake, my mum, aunts, grandma and a great friend got together one Sunday afternoon and baked chocolate chip cookies, triple gingersnaps, brownies, lemon squares and four flavors of cake pops. I thought we had an insane amount of goodies…but every last one was eaten up.
Adam and I bought a 1971 thirteen foot Boler trailer in the spring before the wedding. During the weeks between he spent so much time renovating it to bring it back close to it's original state…it turned out just perfect! It was there front and center and was a great focal point for the event.
And everything was coordinated by the amazzzzing Callandra Caufield of Cherry Tree Occasions (our wedding planner hero).

What was your personal bridal style and what inspired it? I wanted to look like me on the wedding day. Adam loves my hair long and curly, so that's how I wore it. I wanted cocktail length dress with lots of poof, a natural waist, sweetheart neckline and Swiss dots! I knew I wouldn't find a dress in a typical bridal store that I would want to wear so I gathered a bunch of ideas and eventually found a lady on Etsy who could whip a custom gown up for me. It was perfect.
My entire outfit definitely wasn't understated. I had a big feathery-flowery hair comb and birdcage veil, big vintage gold belt, loads of chunky gold jewelry and bright blue shoes. I added a printed cardigan after the ceremony. When my feet got sore, I changed into a brand new pair of moccasins (I wear moccasins every day) and then when it got even colder, in true mountain girl fashion, I added a big scarf, toque, long underwear and my clunky Sorel boots.
In retrospect what was your best wedding planning decision? Keeping our wedding casual and true to ourselves. During the planning process, every now and then I would feel a tad guilty to be planning such an offbeat, quirky, budget-conscious affair when in the meantime I was frequently photographing lavish ballroom weddings for my clients…I didn't want them to think that I was disrespecting the choices they'd made for their own weddings. In the end (as I knew all along!) it was the absolute perfect kind of party celebrate our marriage. It was so us, and every one of our guests fit right in with the setting and theme we chose. I loved every last one of our DIY projects, I feel so grateful for the time I got to spend with friends and family throughout the planning process.

Thank you for sharing your wedding with us Julie and Adam!
Readers, you can learn about all of the wedding pros who contributed to this fun wedding on Julie and Adam's page in our Real Wedding Library, and you can read more about Julie and Adams wedding planning on Julie's own blog.
To plan your own wedding in Southern California or Seattle, check out our Plan Your Wedding Hotlists. To find a dream wedding photographer and planner for your wedding anywhere in the world, don't miss our World's Best Wedding Photographers Hotlist and World's Best Wedding Planners and Designers Hotlist!