Dana describes her elegant California wedding to Michael as sparkly, but nothing is as sparkly as the smiles on their faces! While I love all the gorgeous decor planned by La Fete Weddings, and the amazingly lush centerpieces of hydrangea, tulips, and orchids by Cody Floral, it's those smiles that really get me. I can't even look at the gorgeous photos from Stephanie Hogue without getting a huge grin on my own face. These two are so happy it's contagious!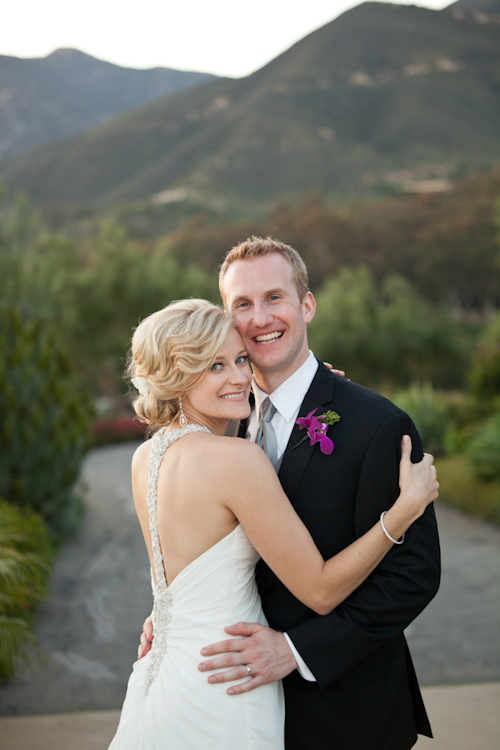 The Couple: Dana and Michael
The Wedding: 6.30.12 – Montecito, California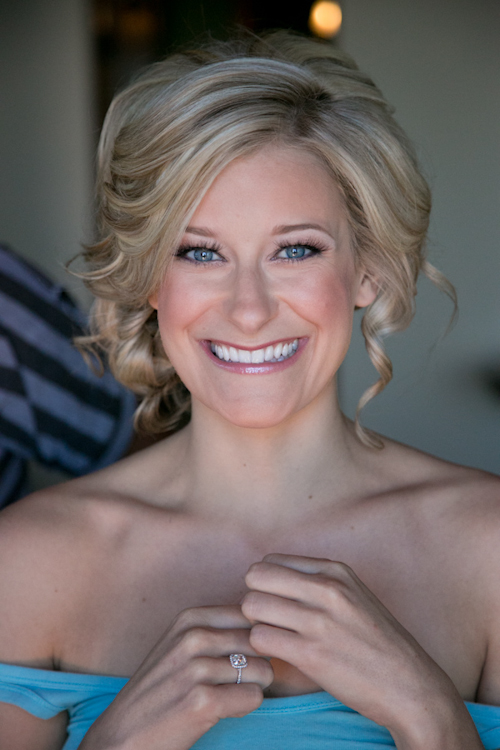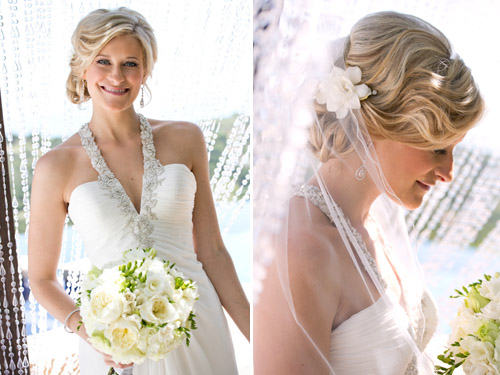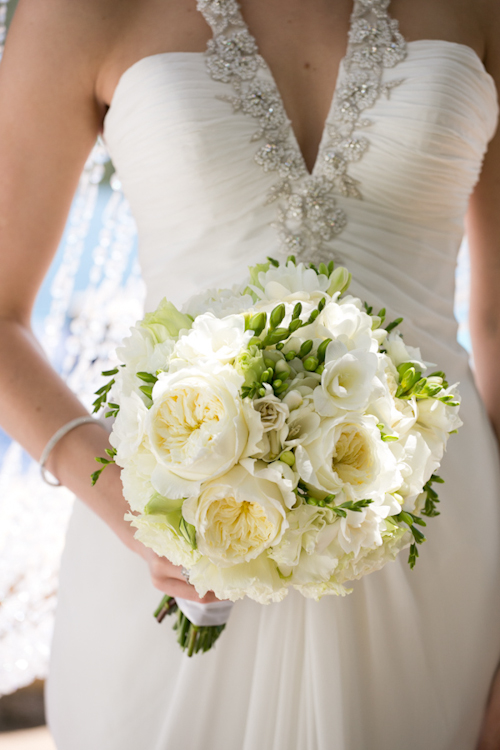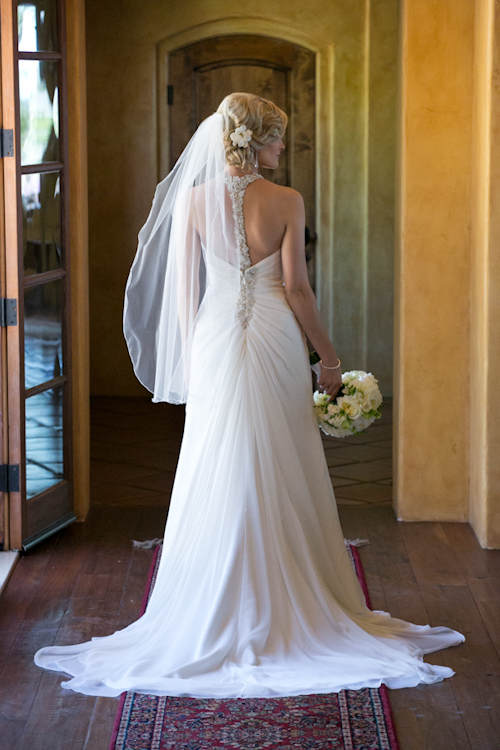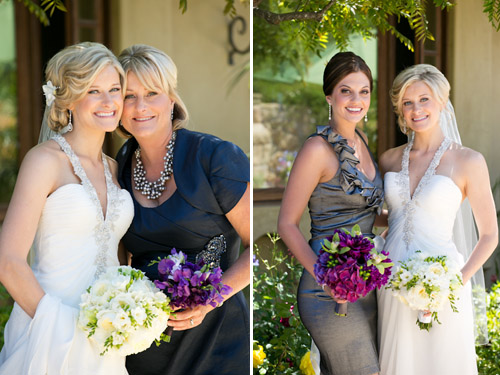 What three adjectives best describe your wedding day? Loving, delicious, sparkly!
Was there a decor theme that ran through your wedding? What was the inspiration for that particular idea and how did it reflect you as a couple? I wanted purple as our main color theme because I think it looks lush and elegant, and goes so beautifully with the setting that we chose: the blue sky and pool, green grass and trees. Sparkle became a theme after I chose my wedding dress. I love to be girly and glam. We told our guests in the invitation to bring their own sparkle as well.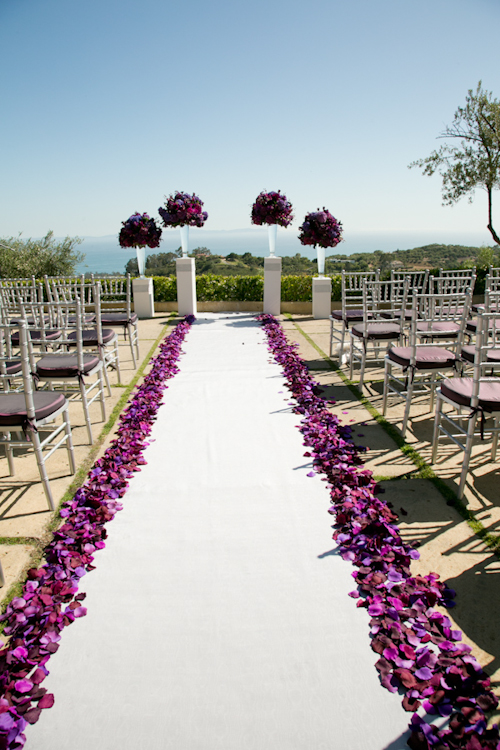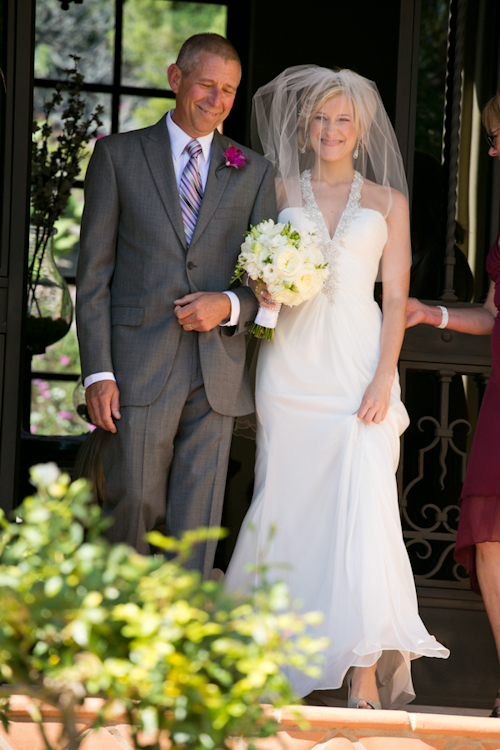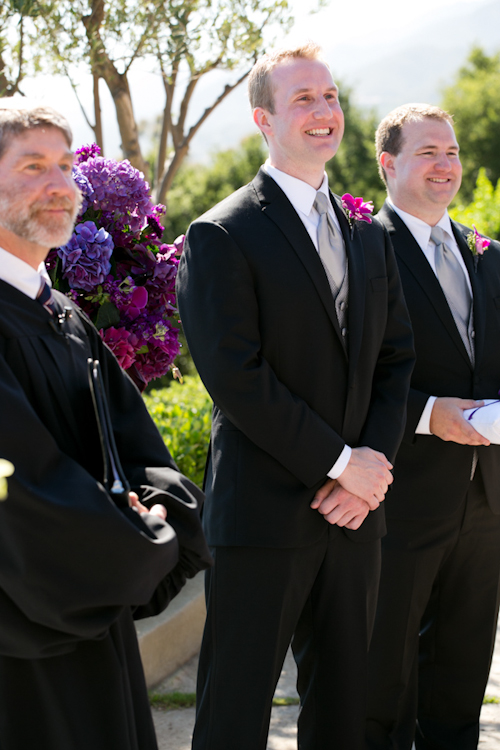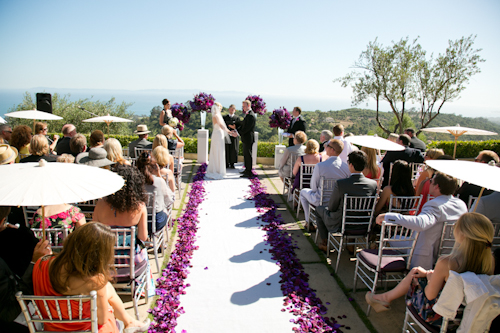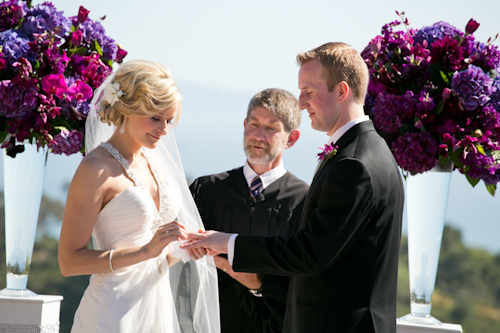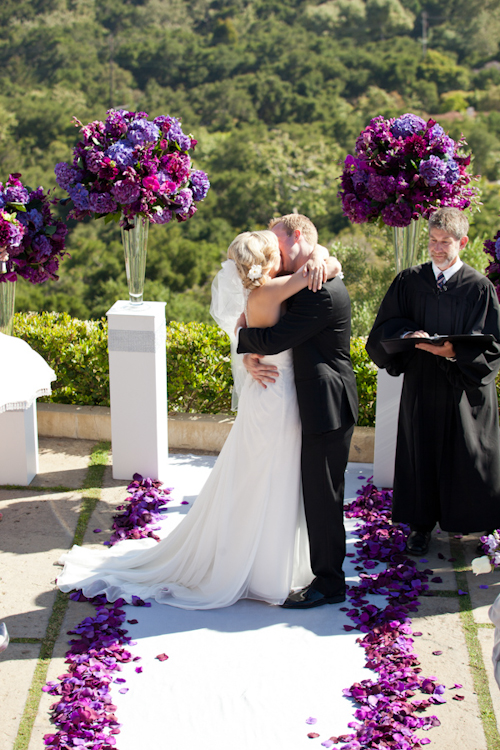 What were some of the different ways you used decor elements to create the beautiful, cohesive event you were envisioning? My father made a beautiful hanging cake stand that my mother decorated with purple silk flowers. It was one of my favorite elements of the wedding. Our cake designer put a sparkly band around the cake, and our florist added beautiful real flowers to the top of it- it looked like a work of art. Our linens and flowers were different and beautiful shades of purple- they were such deep and rich tones that it enhanced the sparkly touches we added.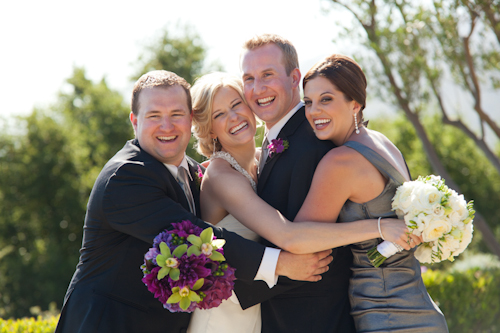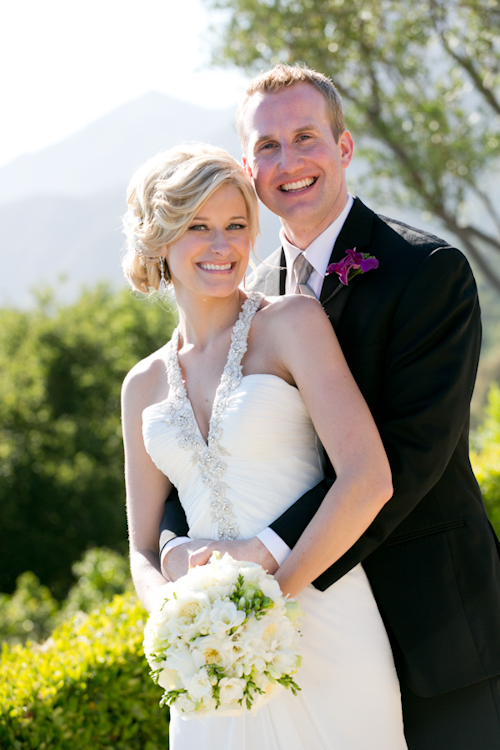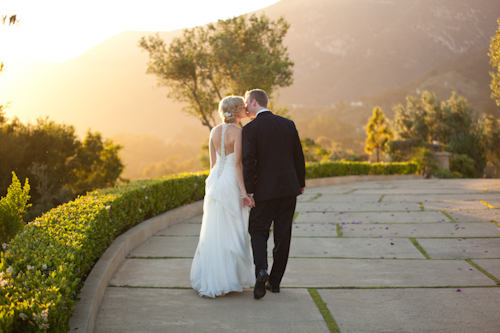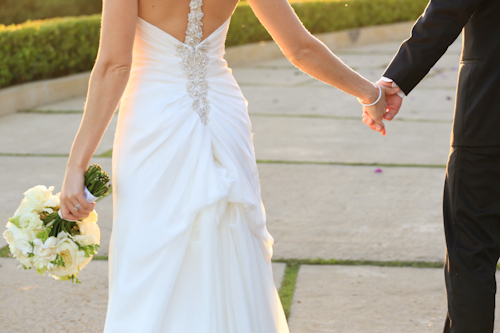 Where did you choose to hold your wedding, and how did the location influence your decor decisions? We were married at a private estate that my mother found. Shes a magician! It was such a beautiful property with such an incredible view, I think even if we didnt do anything it would have been gorgeous.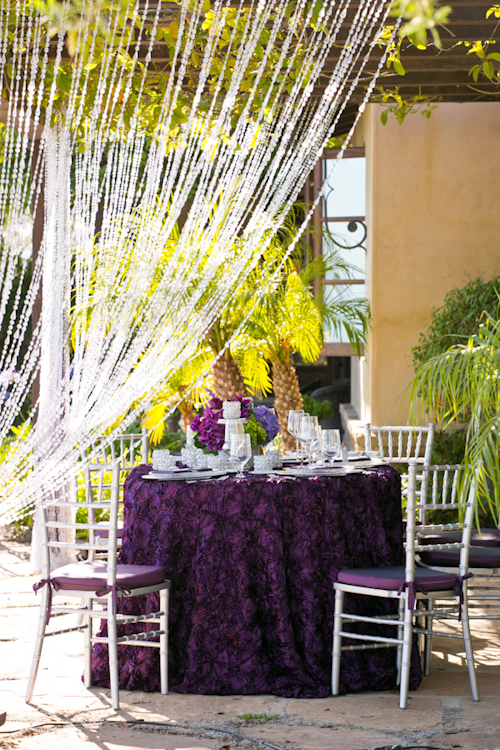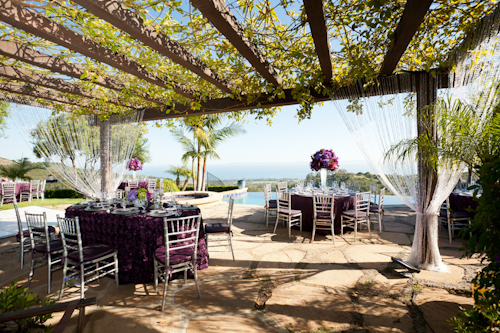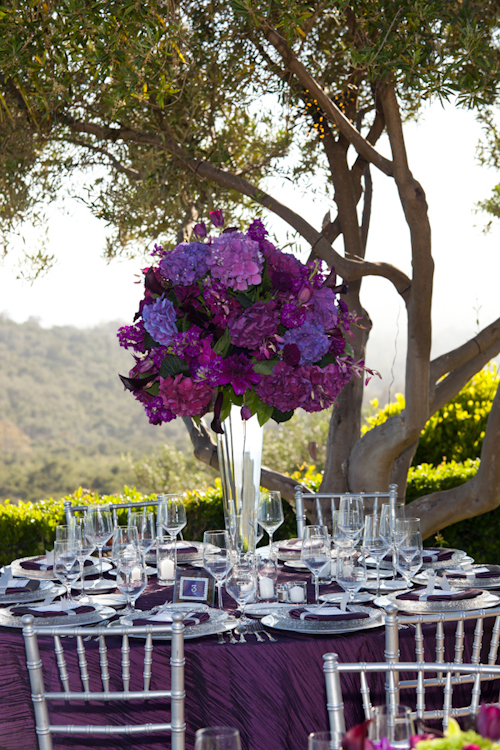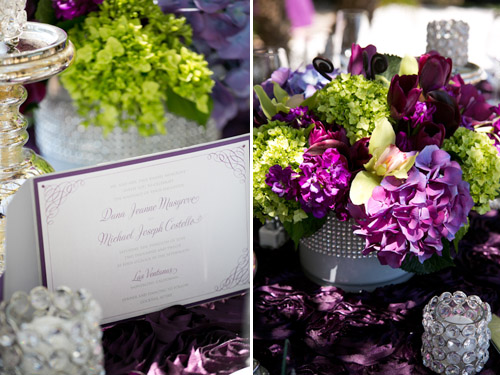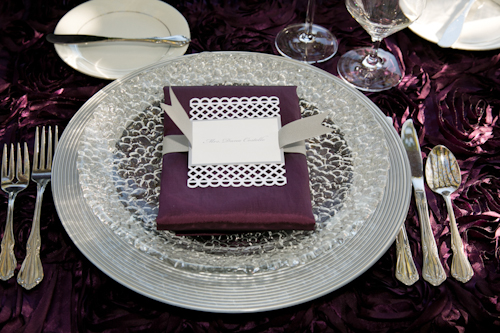 Looking back, do you have a favorite project or successful decor idea from your wedding? Tell us what you loved about it! I loved everything! Besides the hanging cake, I really loved the stars we hung from the trees. They looked so beautiful as it became darker outside. And the view of beautiful Santa Barbara was amazing. Truthfully, I think I had little to do with how well the day turned out. I said I want purple and sparkle, I want to pick my dress, and taste the food, and I put the rest in the capable hands of my mother and Colette Lopez. Although I am very girly, I am easily overwhelmed by details. I knew my mother (a Santa Barbara wedding photographer) has seen hundreds of weddings and her taste is classic and beautiful. She knows what I like and what has been done to death, and had great ideas to make the day unique. As for Colette – I dont know how anyone plans a wedding without her! She was so creative and 10 steps ahead at all times. It was really the two of them that put this wedding together. I feel like I simply showed up and enjoyed the nicest wedding I had ever been to!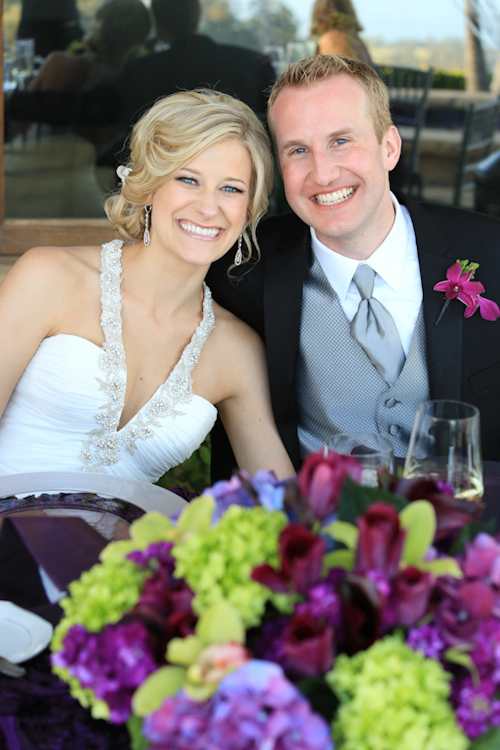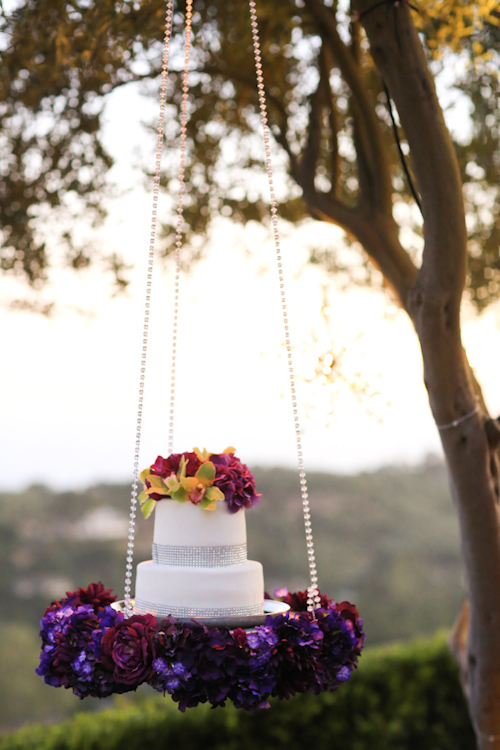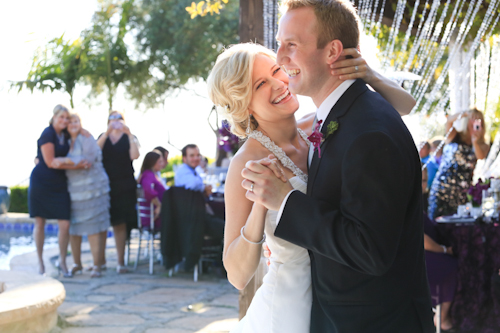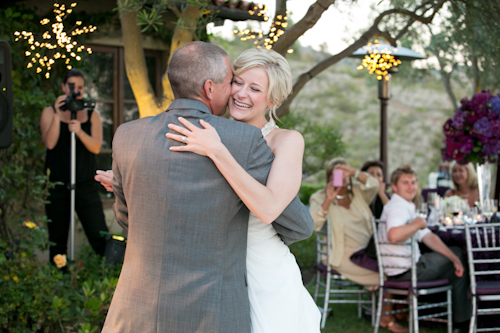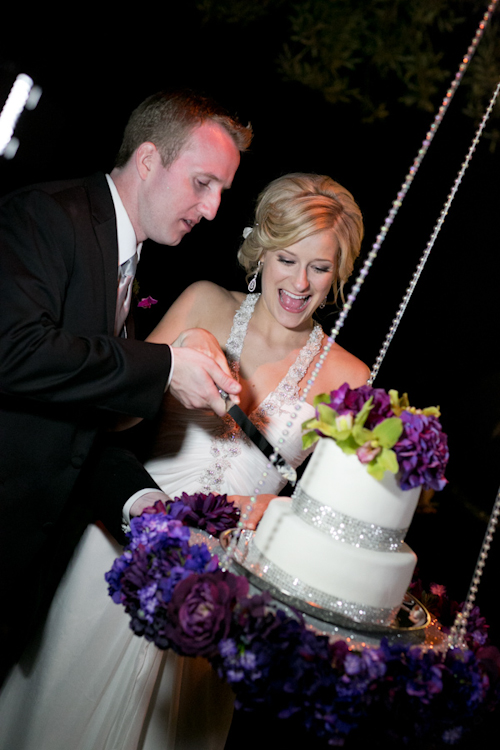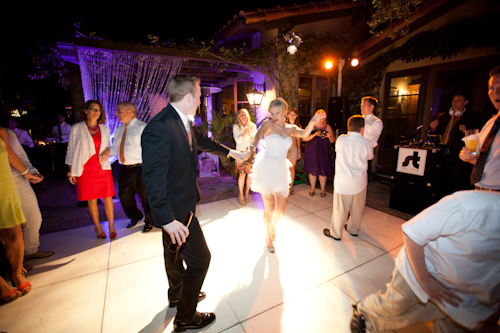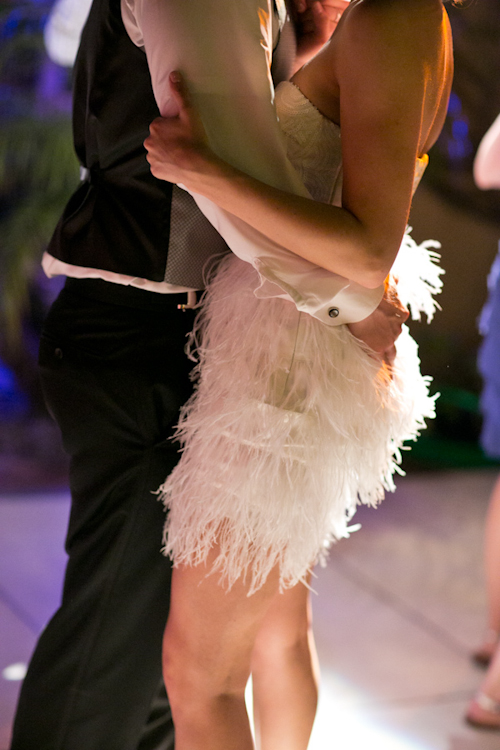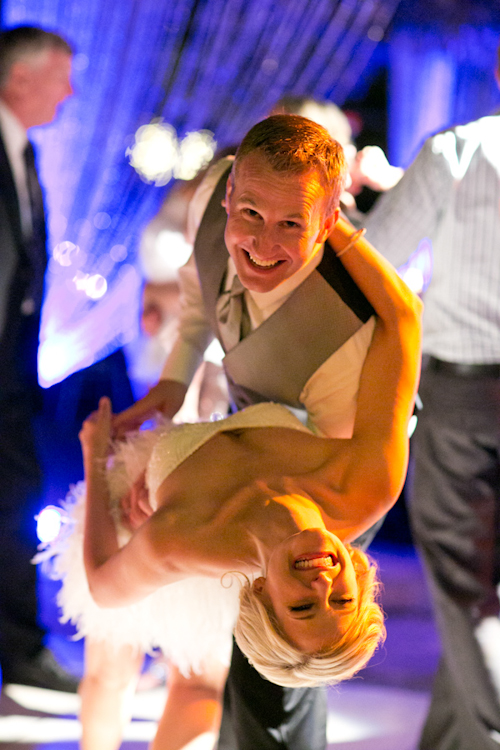 The Wedding Team:
Photographer: Stephanie Hogue Photography
Event Planner: La Fete
Ceremony and Reception Venue: Private Estate in Montecito
Videographer/Film Maker: Riviera Productions
Officiant: Rich Tobin
Invitation Designer: Lazaro Press
Catering: Seasons Catering
Florist: Cody Floral Design
Cake: Christine Dahl
Wedding Dress: Pronovias
Reception Dress: Bebe
Bridal Accessories: Beautiful by Mercedes Trump
Bridesmaids Apparel and Accessories: Mercedes Trump
Groom and Groomsmen Apparel: Vera Wang Collection at Mens Wearhouse
Hair and Make-up: Luna Bella Make Up Art
DJ: Scott Topper Productions
Live Music: Sam Ferguson
Transportation: EOS shuttle
Rentals: LaTavola Linens, BellaVista Designs , Ventura Party Rentals
Rings: Daria DeKoning New York City
Thank you for sharing your gorgeous, sparkly day with us Dana and Michael!
Readers, for more pretty purple inspiration, be sure to check out our Inspiration Gallery!