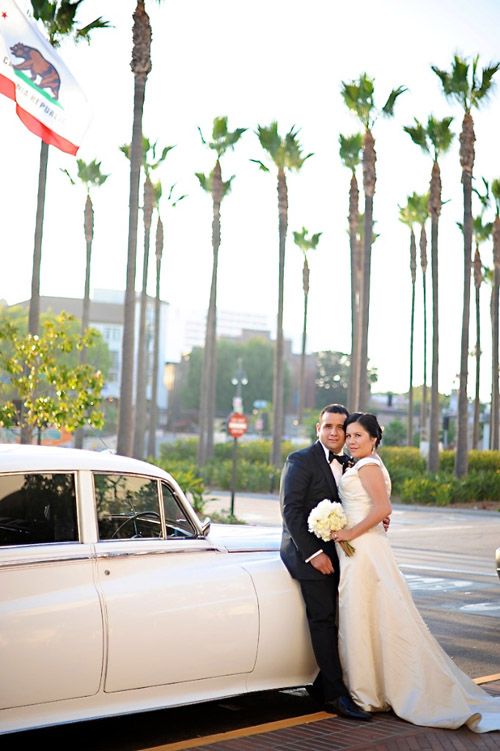 The couple: Elvira and Carlos
The wedding: 6.5.10 – The Fred Harvey Room at Los Angeles' Union Station
What three adjectives that best describe your wedding? Amazing, magical and enchanting.
What inspired your personal wedding style, and how did you incorporate your style and personalities into your big day? Carlos and I have a love for historic landmarks, food, travel, and music. We wanted to incorporate the things that we love and also create a fun night for our guest. We immediately fell in love with the Fred Harvey room at Los Angeles' Union Station for its rich history and art deco style. During the process of putting together our design concept, my wedding coordinator sent me a picture of an old Hollywood vanity room and, from there, the ideas started to pour in. I decided to take that inspiration and create a vintage glam inspired wedding with a modern twist. We spent over a year collecting furniture and vanity style decor from second hand stores, flea markets and antique shops. We also mixed modern colors and decor pieces to bring in more of a present day feel to an already vintage inspired day. In regards to music, we had a wide range of sound which included a String Trio that played contemporary pieces during our ceremony and, for the traditional pieces, my aunt, who is opera singer, accompanied the trio with her lovely voice. For the reception, we had a Frank Sinatra inspired band and a DJ who played a mixture of both modern and old school tunes throughout the night. We also created a lounge seating area with vintage furniture pieces and different stations for our guest to enjoy – a photo booth, a guest sign in table with a 1920s typewriter and vintage like telegrams for our guest to type best wishes, personalized matchboxes that were displayed in antique cigar boxes, and a 1950s train case in lieu of a card box. When it came to the food we went with modern style dishes with a twist – Chinese chicken salad served in Chinese style take-out boxes and mini Kobe burgers. We had signature fusion cocktails like a lychee champagne drink with handmade flag stirrers and a fresh cantaloupe juice spritzer accompanied with retro paper barber striped straws. Our cocktails were named after Hollywood classics like An Affair to Remember and Casablanca. As for the dessert, we created a Old Hollywood candy/dessert bar that was served in vanity trays, cupcake beaded chandeliers, antique powder jars and apothecary jars that were lined with french like lace and beaded brooches. For a late night snack we surprised our guest with a Taco Cart in our lounge area, which was huge hit with our guest!

Looking back, what are the moments, decisions or memories that you love the most about your wedding? Our wedding decor was about 60% DIY and the day of the wedding we were a bit nervous to see how everything would turn out. We opted to have the first look of our reception before our guest entered the room and we were literally blown away by the end result. It was far more than we ever expected it to be and we couldnt have done it without the support and hard work of our family, friends and our amazing team of vendors. All their dedication and amazing help throughout the process meant more to us than anyone could possibly know. Our wedding was full of so much love and was well worth all the hard work in the end.
What was your wedding color palette? Burnt orange, peacock blue, antique gold and antique ivory.

The Wedding Team:

Photography: Hazelnut Photography
Ceremony Location: St. Vincent de Paul Catholic Church
Reception Location: Fred Harvey Room at Los Angeles Union Station
Wedding Coordinator: Paola Spagnoletti – Just Chic Events
Paper Goods and Graphic Design: Prim and Pixie
Cinematography: Captured Cinema
Desserts and Cake: Sweet and Saucy Shop
Caterer: Tres L.A. and Liquid Catering
Linens and Chairs: Fusion Linens
Vintage Furniture Rentals: Found Rentals
All Other Rentals – L.A. Party Rents
DJ: Lee Dyson
Live music: String by Reiko, Danny D. Swing Band
Lighting: Waveform Events
Photobooth: Sparkle Photobooth
Late night snack: Jalisco Mobile Grill Tacos
Car Rentals: Classy Chassis Car Rentals
Bridesmaid Dresses: Jenny Yoo
Feather Fascinators: Feather and Frills
Brides Make-up: Aimee Jakes – Puff Beauty
Bridesmaid Make-up and Hair: Chelsey B.
Floral Design: the couple's best friends, Dawn Holland and Charles Watkins
Wedding dress & bridesmaid alterations: In Stitches
Thank you so much Elvira and Carlos!
To find inspiration for your our personal wedding style, don't miss our wedding image gallery!
All images above by Hazelnut Photography