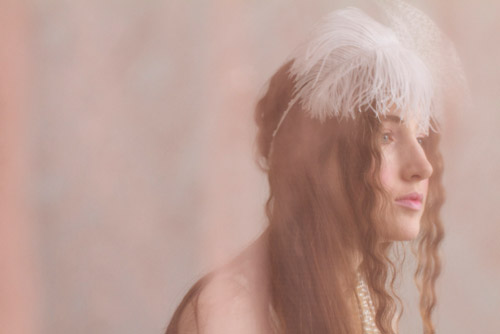 I think that veils and hair accessories are by far some of the most fun pieces of wedding day fashion, so when the designers at Yestadt Millinery introduced themselves to me I felt like I had struck gold! Based in NYC, the Yestadt team aims to modernize the understanding of headwear with their unique mix of old world craftsmanship and contemporary style. Their new bridal collection just recently launched and includes soft vintage-looking lace, delicate cage veils and other creatively constructed hair accessories that I just can't get enough of. If you love what you see, you can order directly from the Yestadt Millinery website and via BHLDN.com, or you can work with the designers themselves to have a custom wedding look made just for you. How dreamy!

Take a look at this fun video showing how the new Yestadt Millinery Bridal Collection came to be…
And because they're just too delicious not to show as well, here are a few of their other designs from their Fall/Winter and Spring/Summer collections. The designs are a little like Bonnie and Clyde meets early Madonna meets that fabulous girl you always see at the coffee shop who's style is just achingly good!