I arrived at my computer this morning to such a treat! An e-mail from Deborah, designer of gorgeous handmade wedding accessories for Bonbon Oiseau and a glowing post about Junebug on her delightful blog, Your Destiny is Stone Golden. Anyone who makes such beautiful fashion accessories and tells the world that Junebug is "as glossy as a candy apple and just as delicious," automatically wins my heart. Thanks Deborah!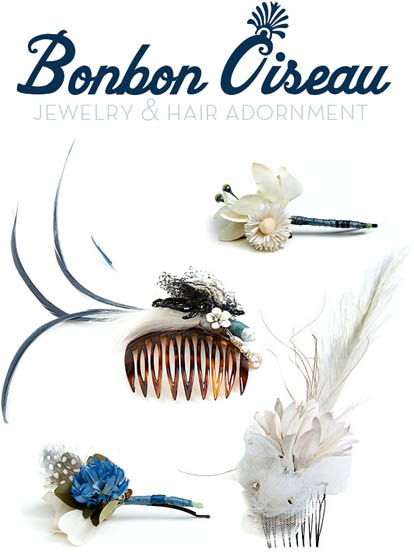 Visit her site to see all of her wonderful one-of-a-kind bridal hair accessories made from vintage flowers, feathers, crystals, pearls and semi-precious stones, and to see the list of stores across the country carrying her designs. To order a custom piece, Deborah can work with you one-on-one if you're in the Brooklyn area, or she can show you design examples over Skype if you can't quite make it to her studio. How fun! I love the blue feathers in the Something Blue hair comb, and the sweet little flower clusters in her hair tucks. Pretty, pretty, pretty.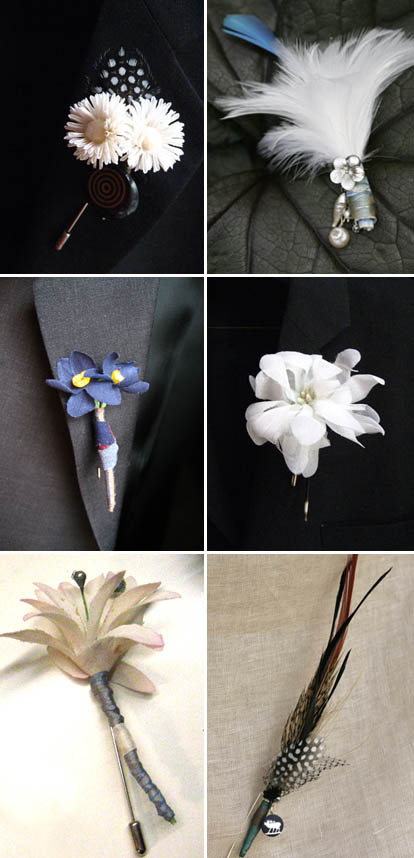 Bonbon Oiseau also makes creative boutonnières for guys in all sorts of shapes, sizes and materials. What great keepsakes these would make after the wedding!