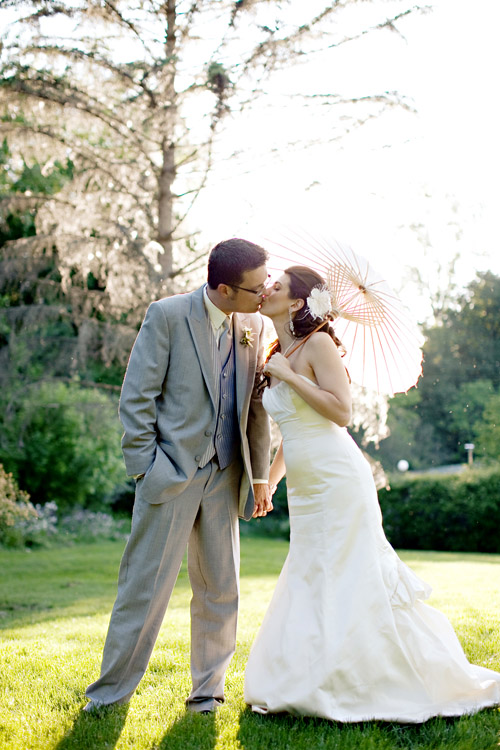 The Happy Couple: Erica and Matthias
The Wedding: 5.29.2010 – Wellers Carriage House, Saline, MI
What three adjectives best describe your wedding? Elegant, natural, hot!!
What inspired your personal wedding style, and how did you incorporate your personalities into your big day? We wanted our guests to be comfortable and relaxed because as a couple, that is how we are! We both felt that having the event outdoor accessible would enable our guests to move around and be comfortable during both the ceremony and reception. We also wanted the event to have an understated elegance (not too fussy). We feel we achieved this by having romantic but simple floral arrangements on the tables, along with pearl favor boxes and pearl napkin rings. The use of pearls was inspired by the my dress; we thought the sheen and luster of the satin matched that of the pearls so they were a great way to incorporate the dress into the reception setting.
Lastly, since Matthias and his friends and family are from Germany, we wanted to celebrate both of our cultures. In Germany, it is not legal to marry outside, so having the ceremony outdoors was something totally new for the German guests. We ended the evening with some games and the distribution of the wedding magazine, which is customary in Germany. All were a big hit with guests, both American and German!

Looking back, what are the moments, decisions or memories that you love the most about your wedding? Even though the day was uncharacteristically hot for May in Michigan, we love that the ceremony was outdoors. It was such a beautiful setting and the heat certainly made it memorable for us and our guests! The reception was so much fun, especially during the last hour when the German guests took over the music. Everyone was dancing to German party music and loving it. Even I was surprised at how enthusiastically my American friends and family embraced it! A significant portion of our guests, about 70%, traveled from out of state or country to come to the event. The day was so much more special because they all came. It was the first time Matthias parents came to America. We are really so blessed to have friends and family who wanted to come support us on such an important day.
My personal favorite memory and moment… I had not planned to wear a necklace that day (thus the big earrings), but a few moments before we left the hotel for the wedding, Matthias sister-in-law gave me a pearl necklace that his mom had brought from Germany. It had been Matthias grandmother's necklace and was over 80 years old. I decided to wear it. After the ceremony, in the first moments we had alone, I told Matthias that the necklace had been his grandmas and that I had no idea that his mom was bringing it for me to wear. He was just as surprised as I was, and his eyes started watering as he told me that he had memories of her wearing it. It truly touched me to see how the memory of his grandma was so special to him. By wearing her pearl necklace, she was still able to be a part of our day.
Color Palette: Green and white

The Wedding Team:
Photographer: Jen Lynne Photography
Floral Designer: Wedding Flowers by Heidi
Ceremony Venue: West Grounds of Wellers Inc.
Reception Venue: Wellers Carriage House
Officiant: Reverend Ron of Wedding Ceremonies Michigan
Invitation Designer: Wedding Paper Divas – Rustic Frame
Catering: Wellers Inc.
Cake: The Cakery at Jefferson Market
Wedding dress: Melissa Sweet
Dress shop: Mimis Bridal Boutique in Ann Arbor, MI
Bridal accessories: Earrings and bracelet BelleNouvelleDesigns on Etsy, pearl necklace was the grooms grandmother's, hair flower from Brendasbridalveils on Etsy, veil by Elen Henderson.
Bridesmaids apparel and accessories: Jim Hjelm dresses from Mimis Bridal Boutique, earrings handmade by the brides mother, custom clutches from DavieandChiyo on Etsy
Groom and groomsmen apparel and accessories: Tuxedos from Milano Fine Apparel in Plymouth, MI – Jean Yves Parisian Collection
Hair and make-up: POSH Makeup Studio
DJ: Jim Petrat
Transportation: A Dream Coach Limo
Dance instruction: Nora Nader – Schoolcraft College, Livonia, MI
Favors: Ivory Linen favor boxes from Beau-Coup.com adorned with pearls and ribbon by the brides mother, pearl and crystal napkin rings also made by the brides mother
Thank you so much Erica and Matthias!
To find more inspiration for your our personal wedding style, don't miss our all new and gorgeous wedding image gallery!
All images above by Jen Lynne Photography