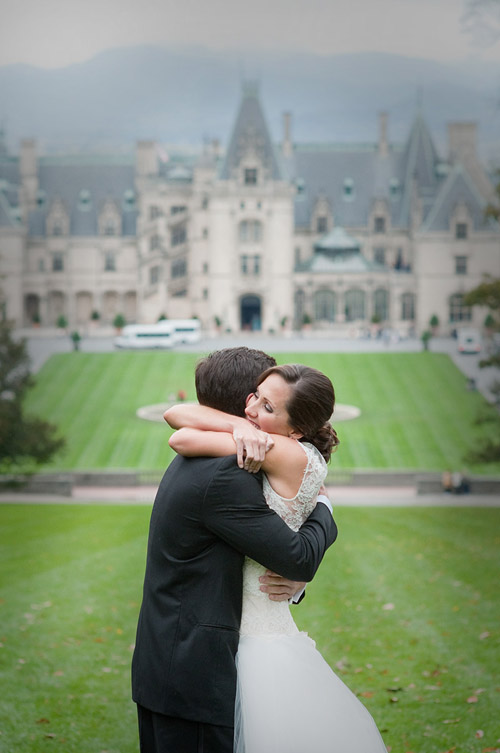 Despite a prediction in the Farmer's Almanac that Grace and Micajah's October wedding day would be warm and dry, the newspaper headline on the chilly morning their event was to take place read "Wintery Mix Blasts Asheville!" But the happy couple chose not to let anything dampen their spirits. "The excitement of finally marrying my best friend outshone the chill bumps!" says Grace. Check out the amazing images from Woodward + Rick Photographers below, for a glimpse into Grace and Micajah's beautiful outdoor fall wedding.

The Goals: Grace and Micajah wanted their wedding to be a relatively small affair held in a breathtaking outdoor setting, so they chose the beautiful Biltmore Estate in Asheville, North Carolina. The ceremony was originally to take place on a bluff that Grace had fallen in love with, but when the weather didn't cooperate, it was moved to the Tennis Lawn. There guests could sit under a tent with heaters, shielded from the blustery wind. With all the changes, Grace was grateful to have expert guidance throughout the day. "The best decision was to trust the wedding planners' advice. By trusting their advice, I was able to feel peace that the day would be beautiful, even though things were not going according to plan. Especially with an outdoor wedding, you just have to go with the flow!"

The Design: Grace and Micajah chose shades of green, white and ivory for their color wedding palette, adding in small pops of violet and blue. Light toned hydrangeas were used everywhere and were complimented with silver and crystal decor accents. The tables were adorned with antique ivory lace table runners and a silver tea service that had belonged to Grace's grandmother and great-grandmother, and as a finishing touch, lanterns were placed on each table for a romantic and glowing effect.
Grace has always loved letterpress and calligraphy, so for their invitations and paper accessories she chose to have handwritten calligraphy by Eric Self letterpressed onto one hundred percent cotton ivory paper by Nashville printing house Joyner and Hogan. In a personal touch, the invitations for the rehearsal dinner contained a card along with the RSVP, where guests could write down advice for the couple. Grace's mother-in-law compiled all of the returned cards and put them in Grace and Micajah's bags for the honeymoon. "We loved sitting by the pool and reading through the advice that people had written."
The Look: Grace wore a gorgeous lace and tulle dress and caplet from Monique Lhuillier (hiding a pair of long-johns and riding boots under the dress to protect her from the freezing cold weather!) and her bridesmaids were clad in indigo blue chiffon dresses from Jim Hjelm, with custom designed silk shawls by Sheryl Putnam Designs. The groom and his groomsmen were each handsomely attired in classic black tuxedos.

The Moments: Grace shared many sentimental moments with Micajah throughout the day, but one special moment with her father really stands out as well. "As my father walked me through the winding garden trail to the aisle, he looked at me with tears in his eyes (and my father does not typically get emotional) and said, "Best Buddies." We had been saying that to each other since I was a little girl, and at that moment it was the most sentimental, touching expression a daughter could hear from her father. The emotion of that moment was beautifully captured on camera by Woodward + Rick, and I will cherish that photo forever."
After plenty of dancing and celebration, the couple exited their reception in a white antique Rolls Royce, and perfect ending to a perfect day!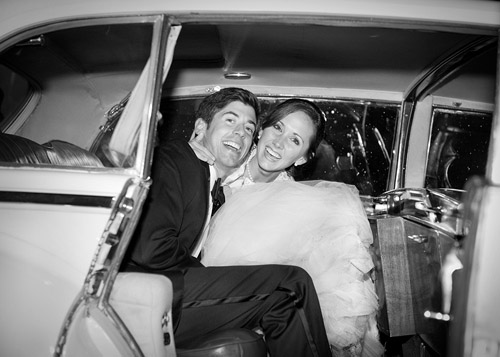 The Pros: To learn about all of the incredible wedding professionals who helped to make this wedding a reality, please visit our Real Weddings section.
Thank you so much for sharing your wedding with us Grace and Micajah! What a gorgeous celebration!
If you're planning a wedding in Southern California or Seattle, don't miss our trusted Plan Your Wedding Hotlist, and to find your dream wedding photographer for weddings anywhere in the world, be sure to visit our World's Best Wedding Photographers Hotlist!