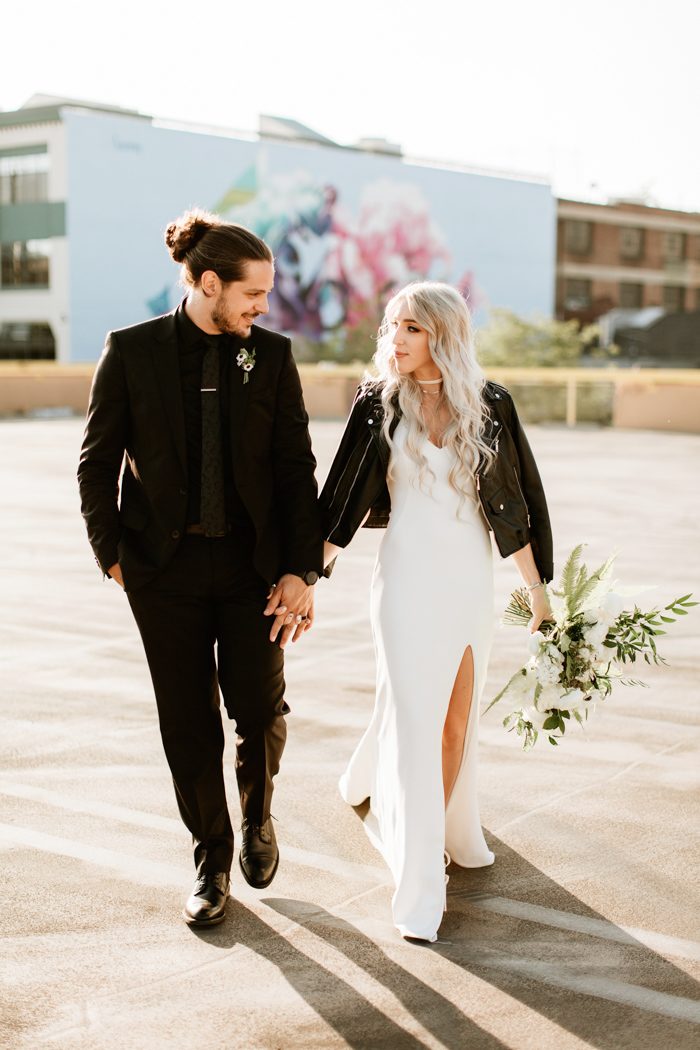 Calling all romantic flower lovers: Tara and Kristifer's Millwick wedding in downtown Los Angeles is for you! The venue's modern tropical vibes were the perfect backdrop for this couple's floral-forward design, which The Little Branch created using a plethora of white blooms and lush greenery. The black and white color palette added an edginess we don't see often in botanical weddings, but we must admit that we love the juxtaposition! No detail was overdone, but the entire look was cohesive and impeccably designed by Carly Rae Weddings. The couple took the edgy look even further with their style, with Tara rocking a sleek Martina Liana dress, bold makeup, and a black leather jacket, and Kristifer opting for a black-on-black ensemble. We can hardly get over all the cool LA vibes in this wedding and photographer Lauren Scotti was the perfect choice to capture this special day.
The Couple:
Tara and Kristifer
The Wedding:
Millwick, Los Angeles, California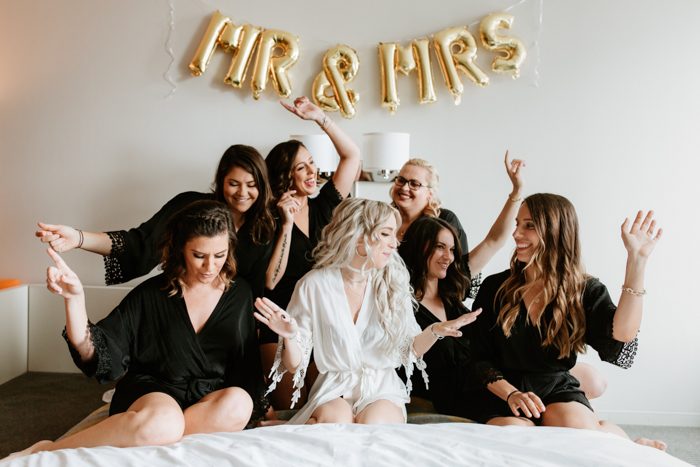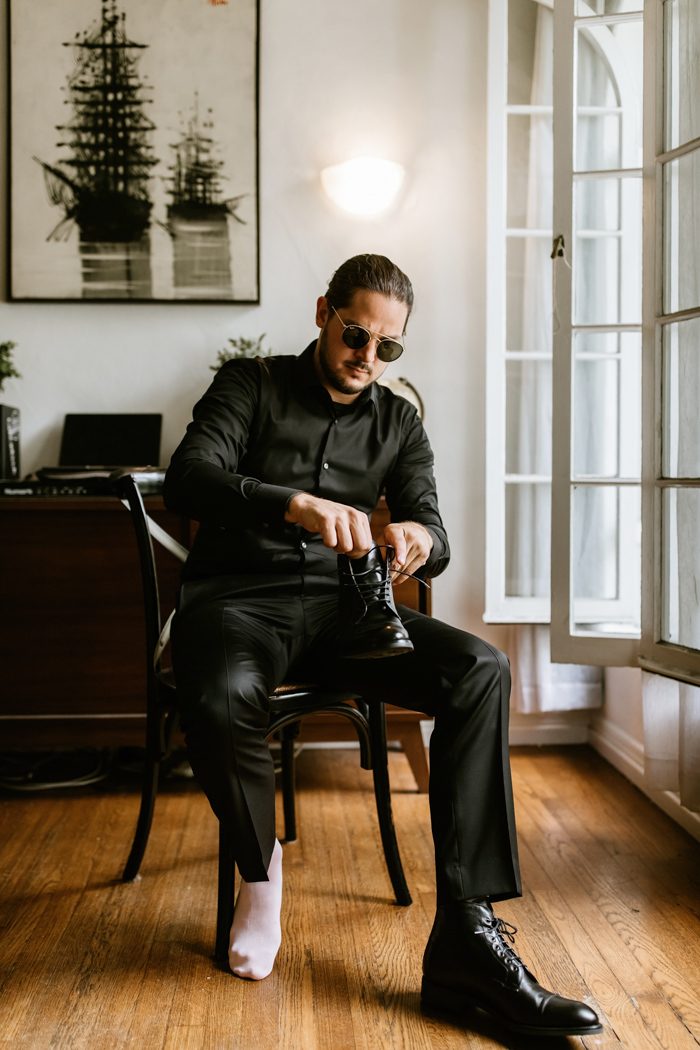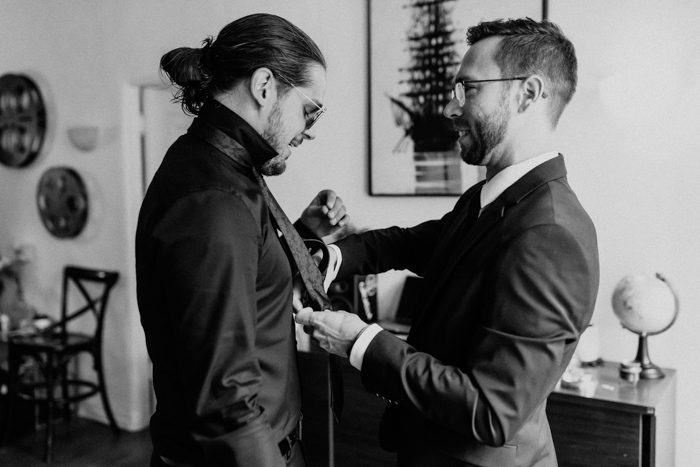 The most important part in our wedding planning process was the location. Kris and I are both originally from Connecticut but we've both been living in Los Angeles for so long that it is home to us, so we knew right away we wanted to have our wedding here. Connecticut will always have a place in our hearts but having the people we love the most in the city we love for our wedding meant everything to us. Many of our friends and family members have never been able to visit us so it was really important to have them experience our city and see why we love it so much.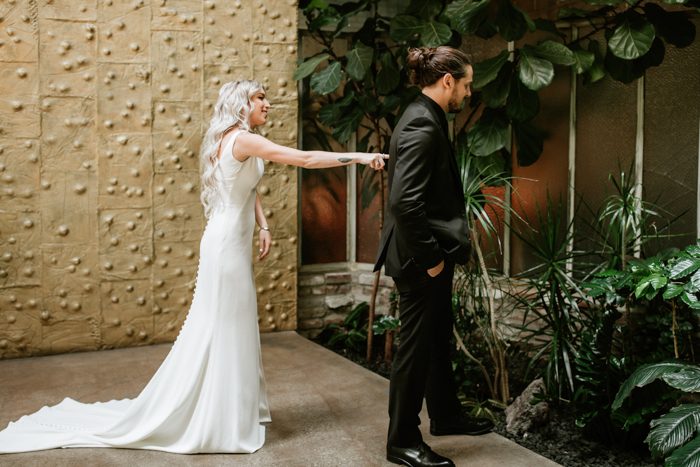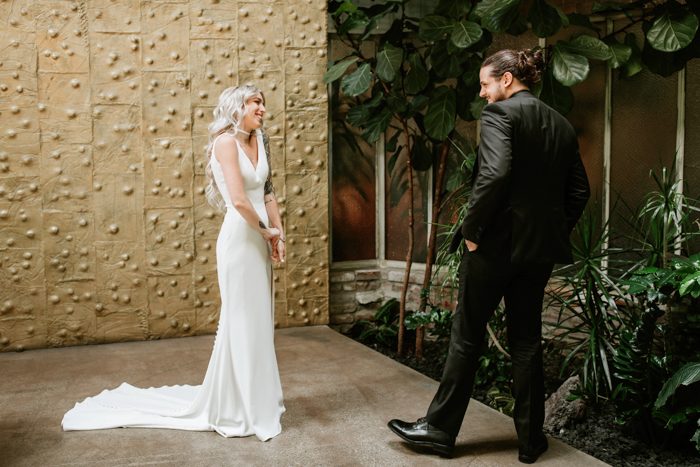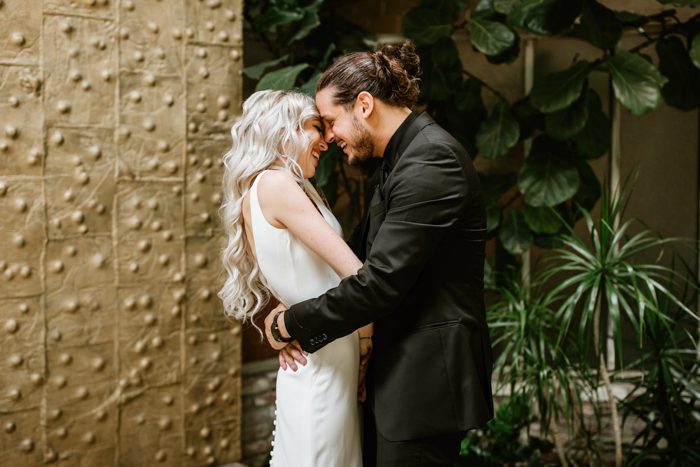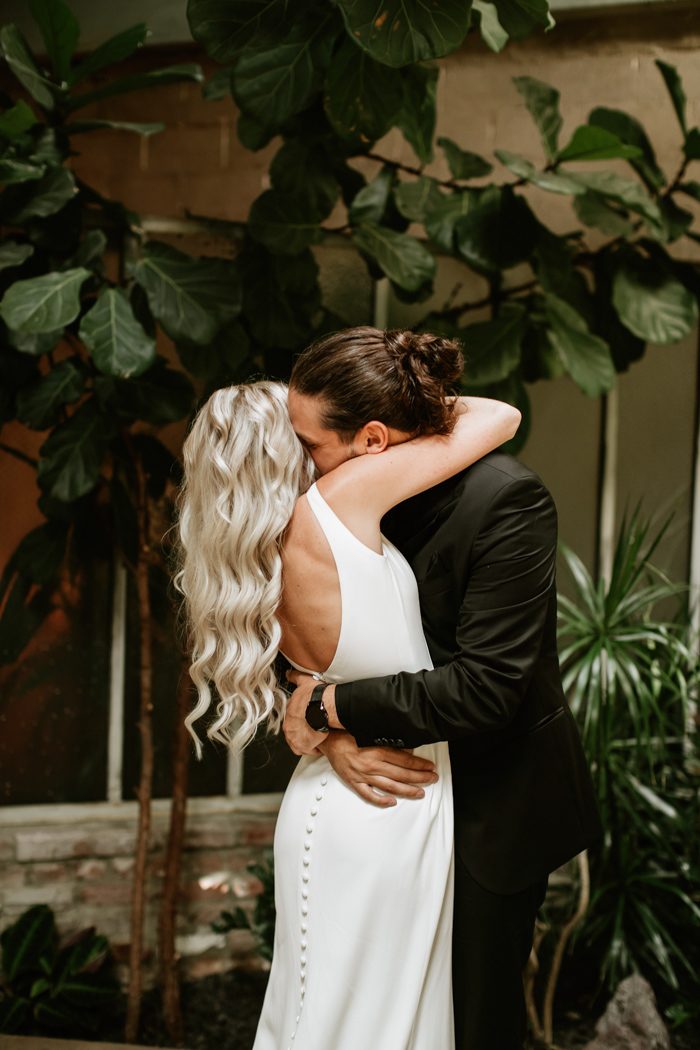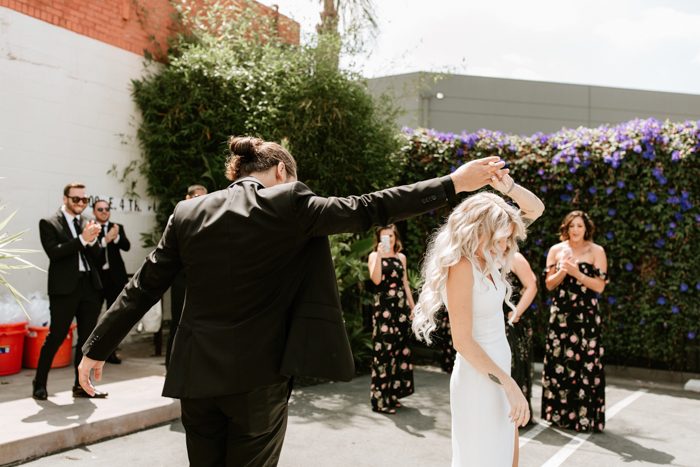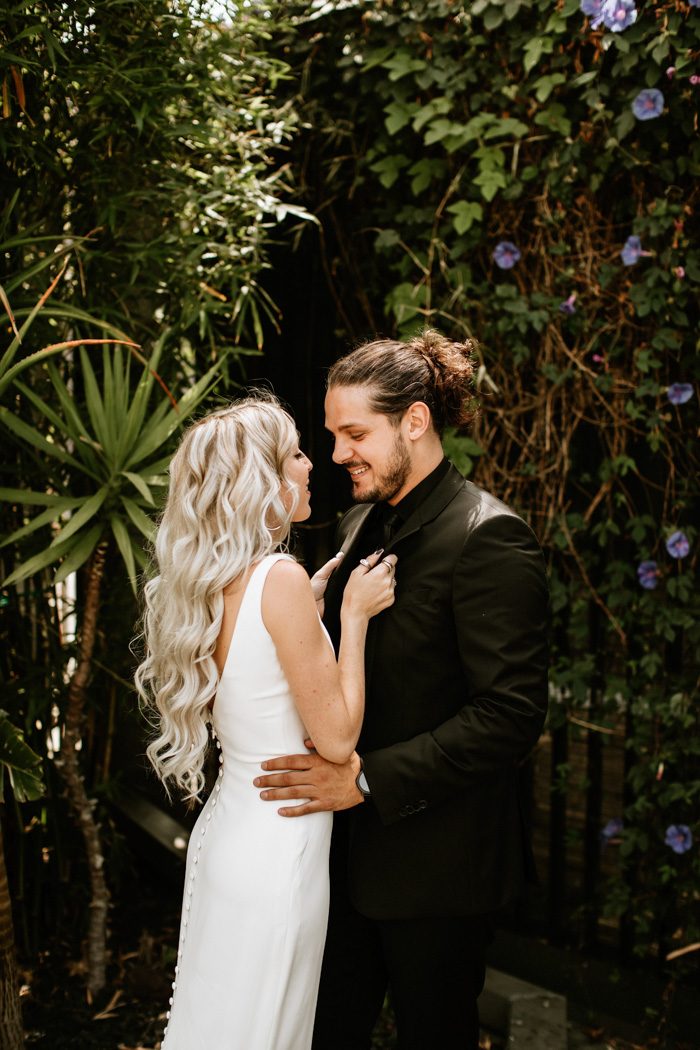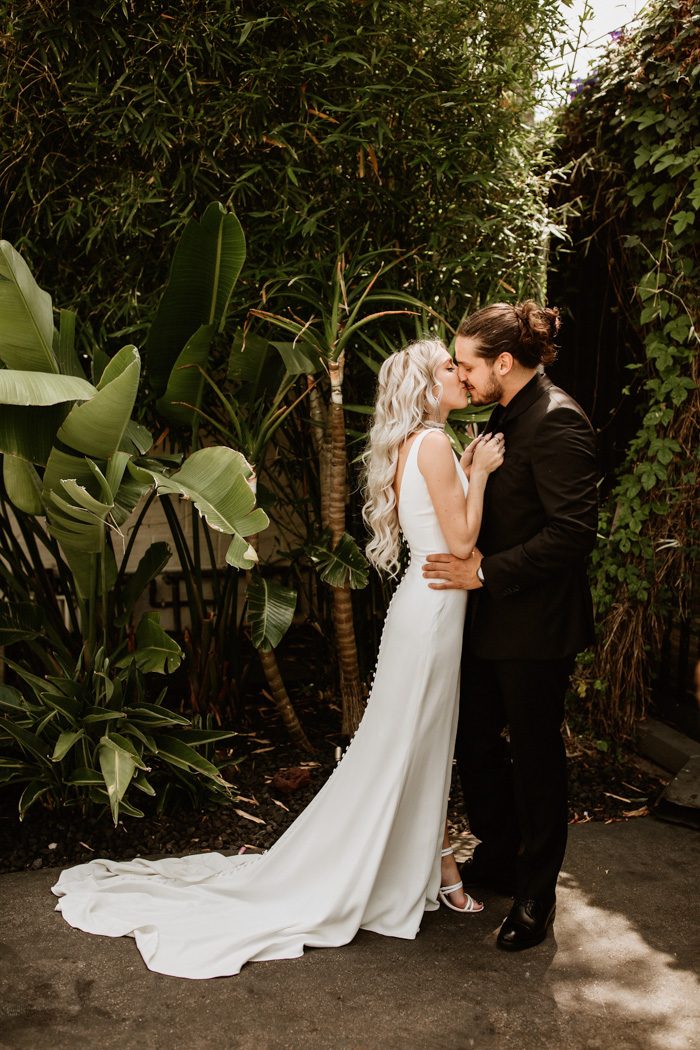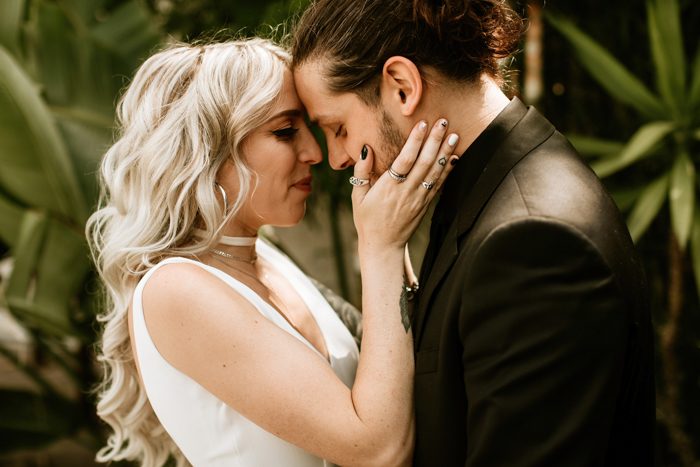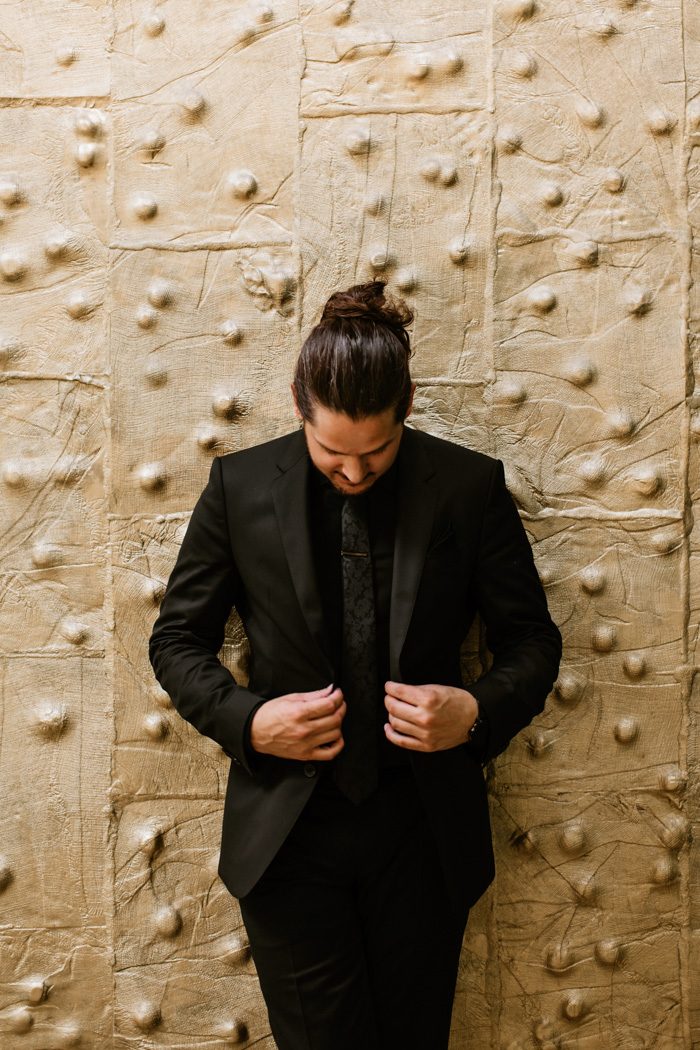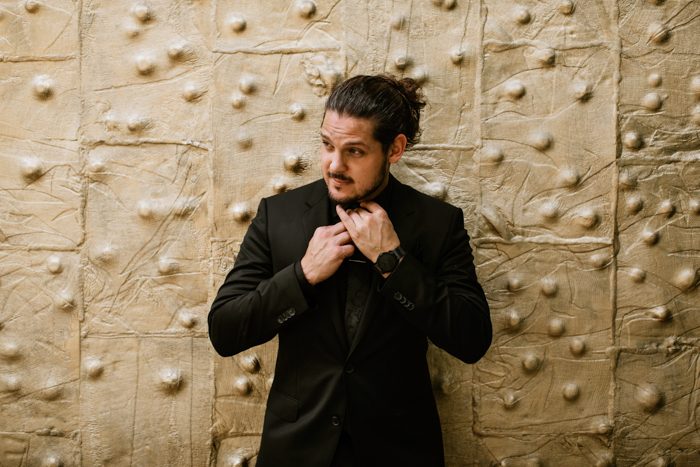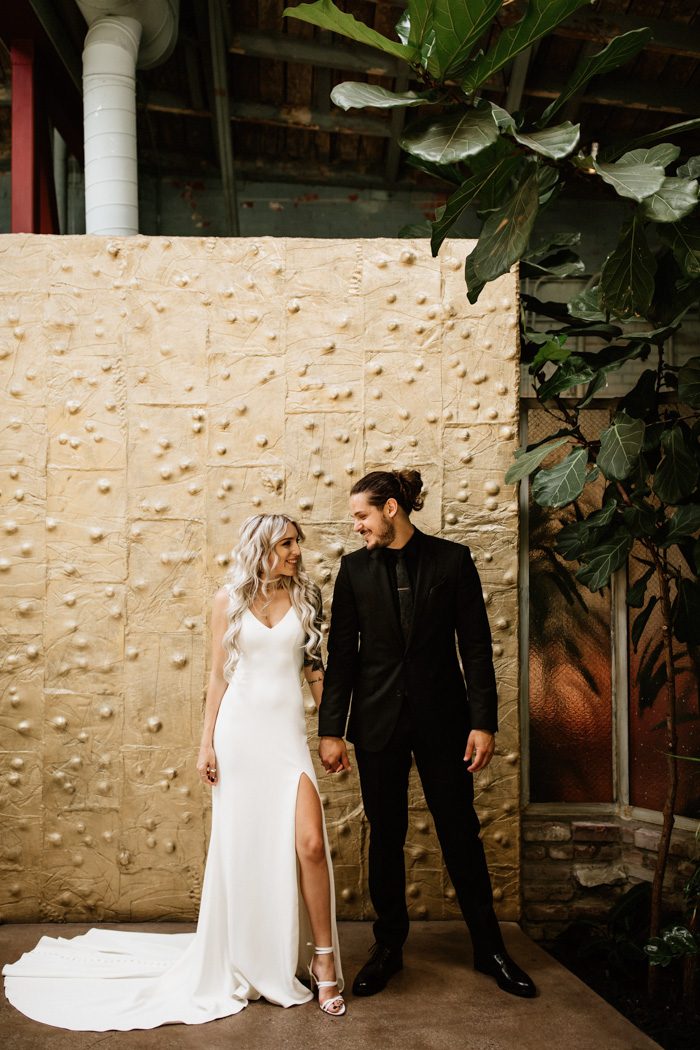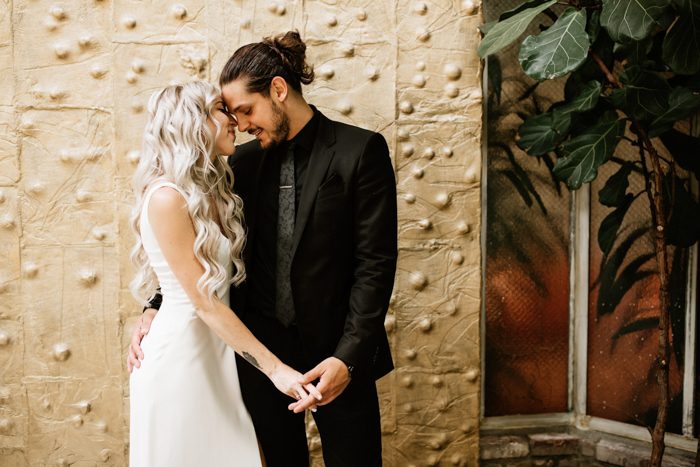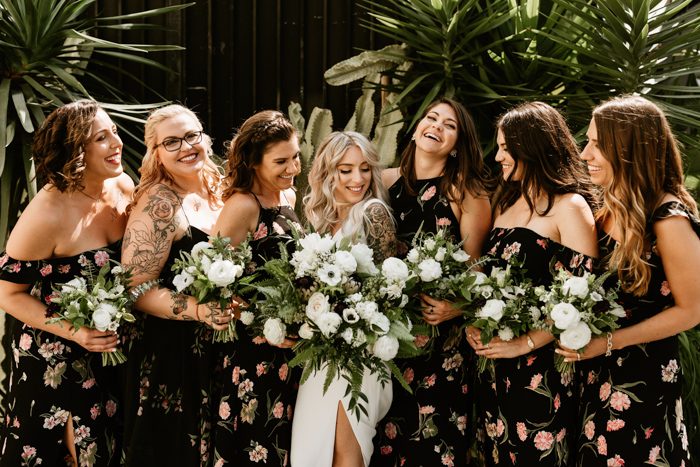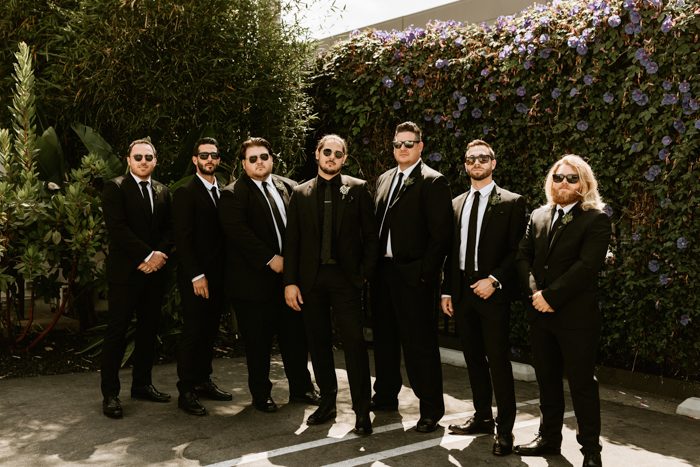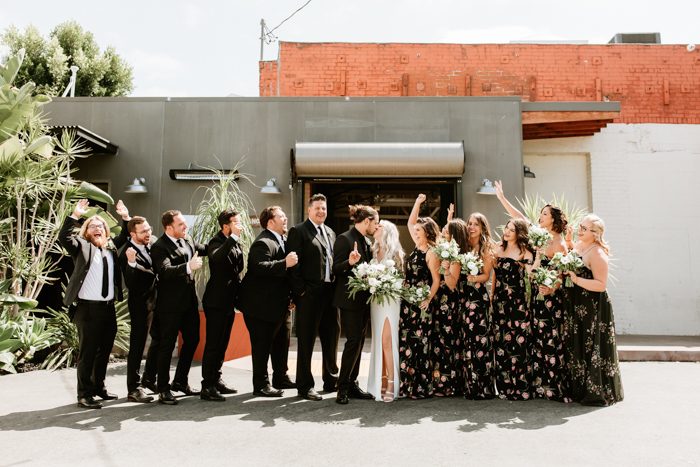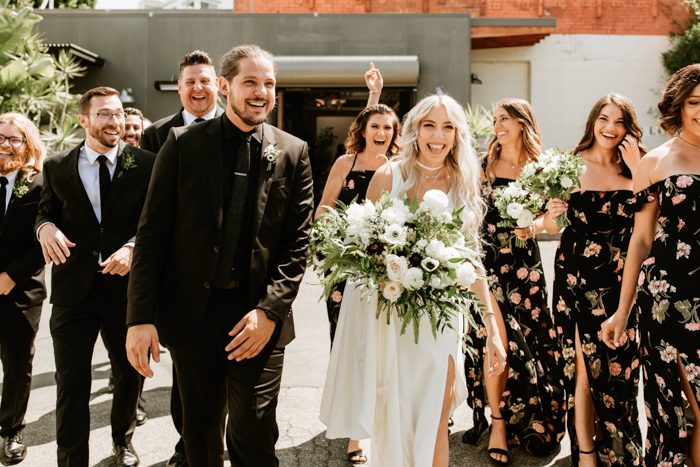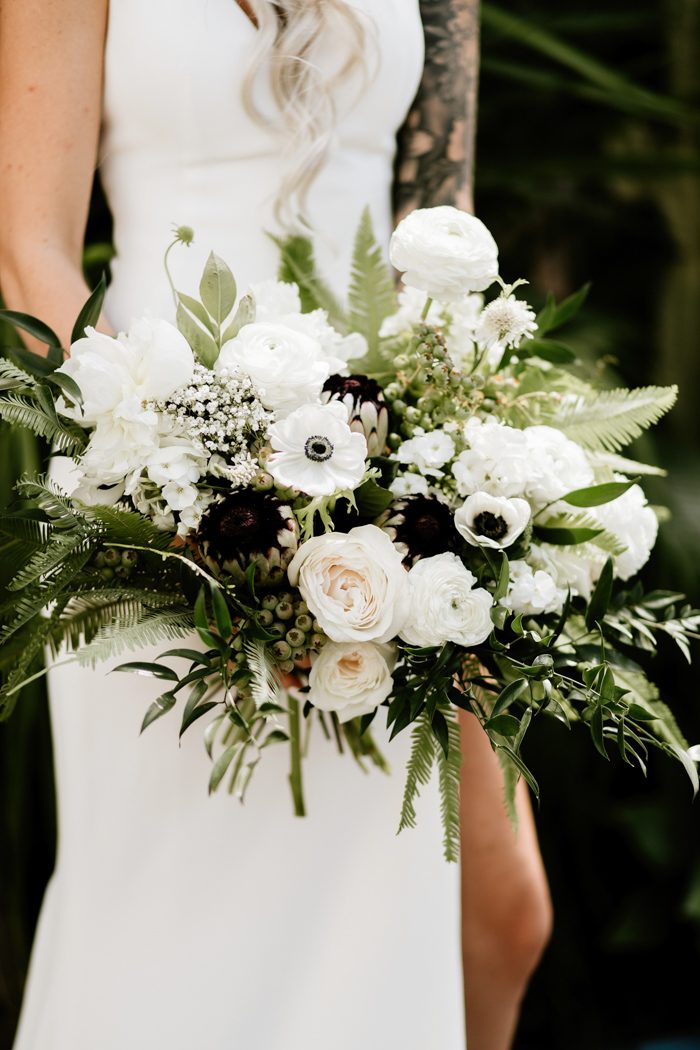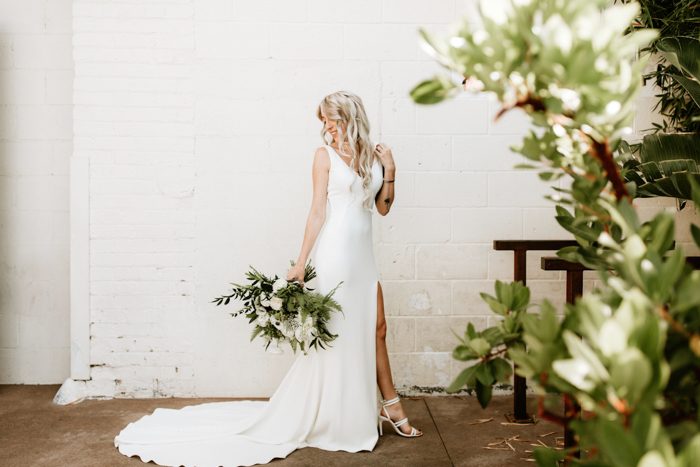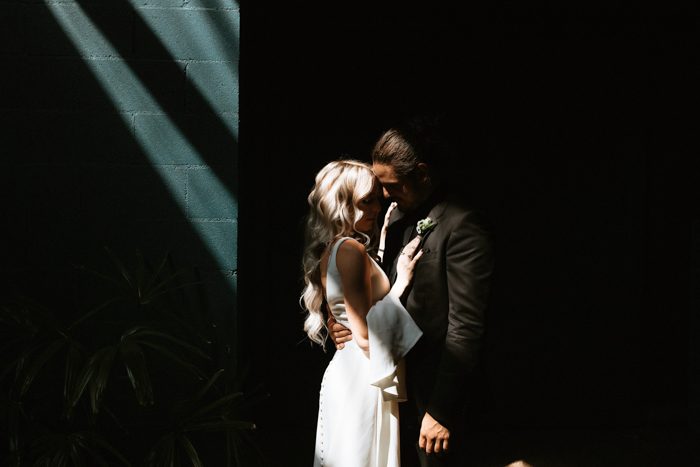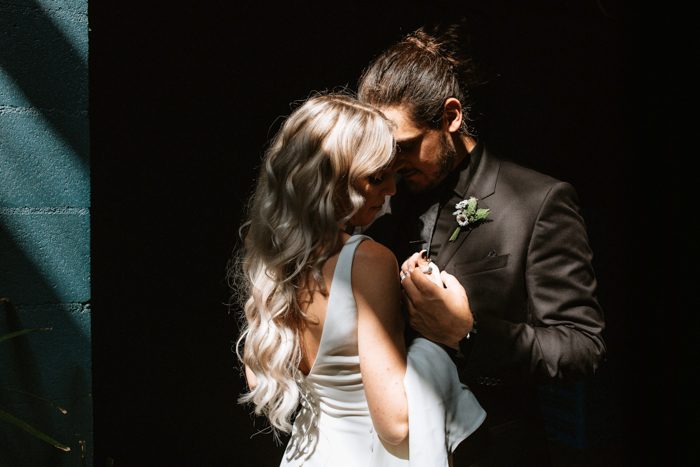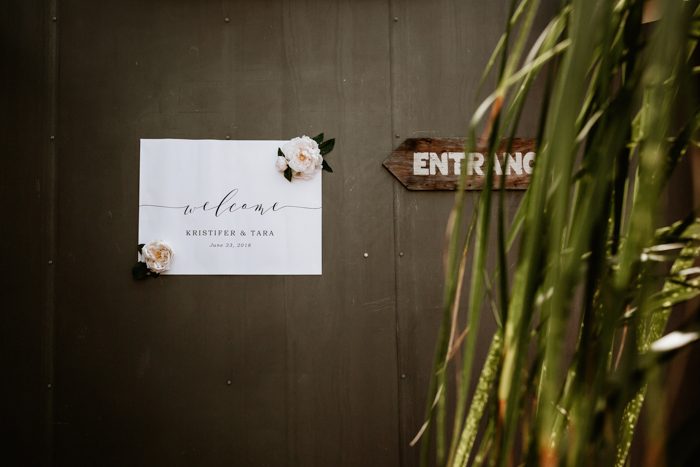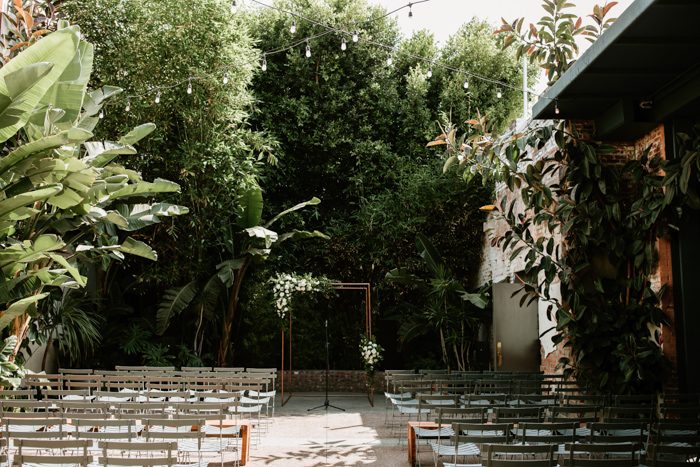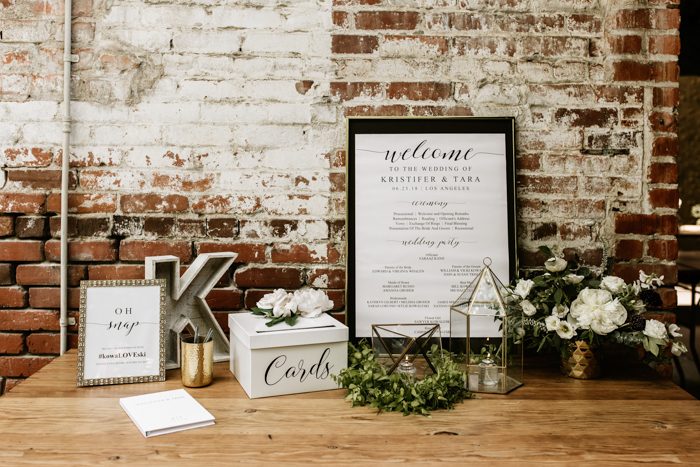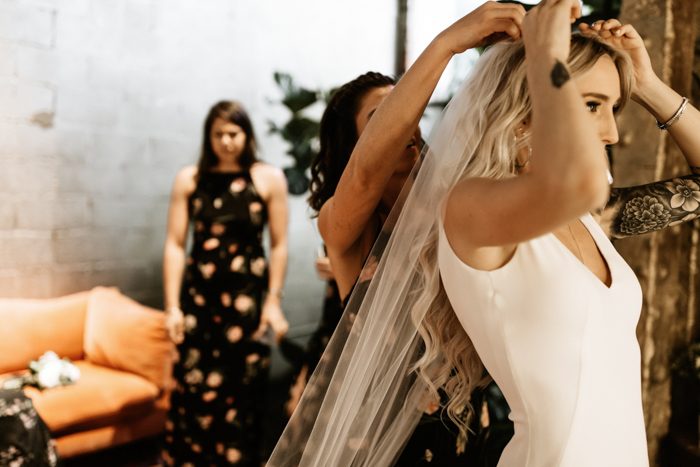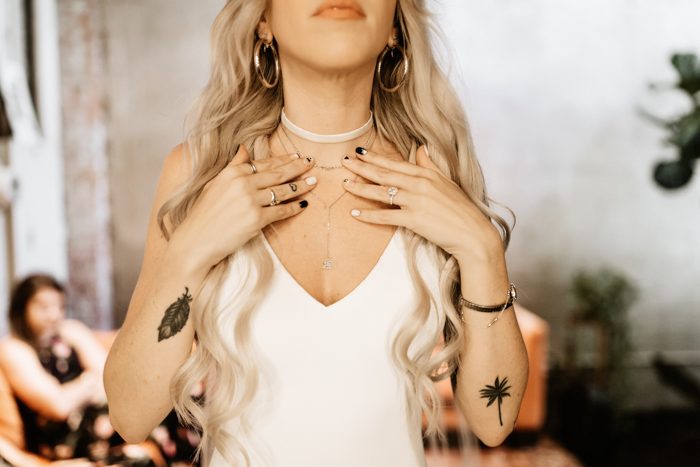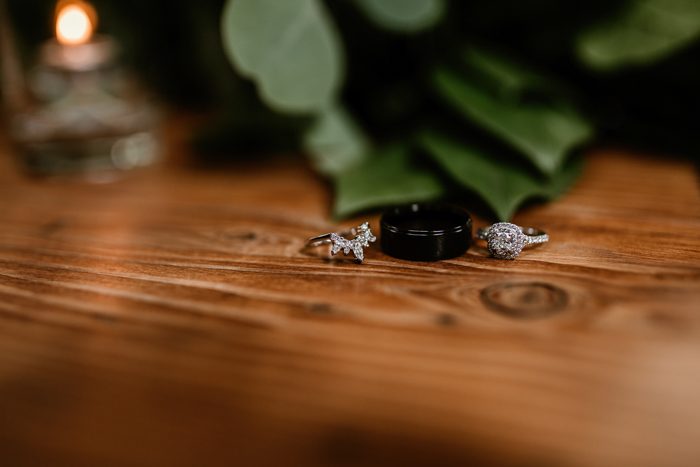 The most memorable part of our wedding day was the ceremony. But more specifically was our vows. While the whole day was a whirlwind of memorable moments our ceremony couldn't have been any more perfect. We had one of our closest friends as our officiant which was amazing since everything he said was completely personal. He was able to say things that everyone in attendance knew was 100% Kris and I. He was able to make us laugh, and even cry.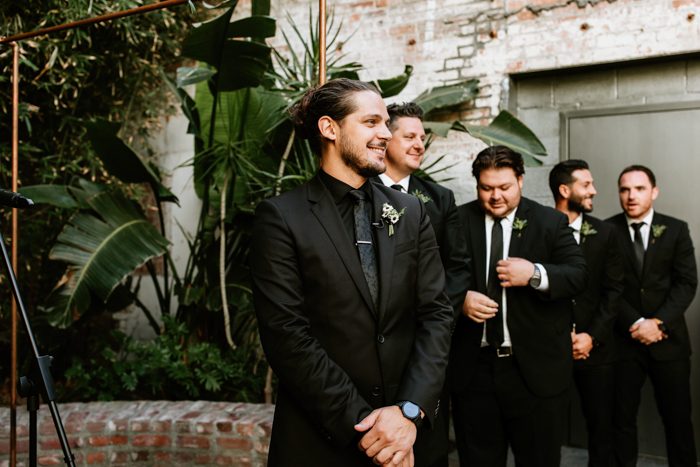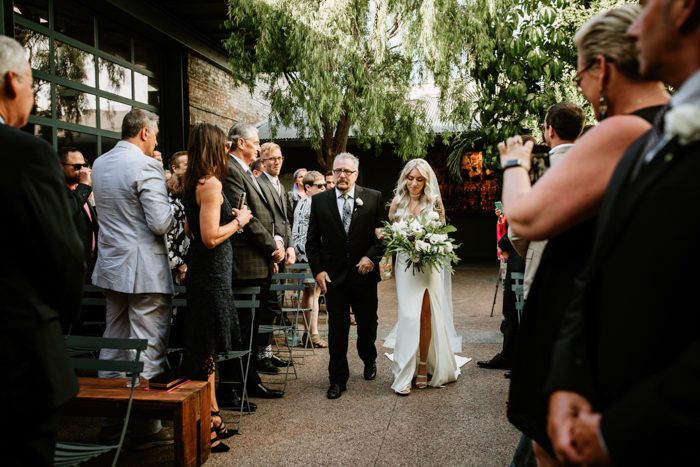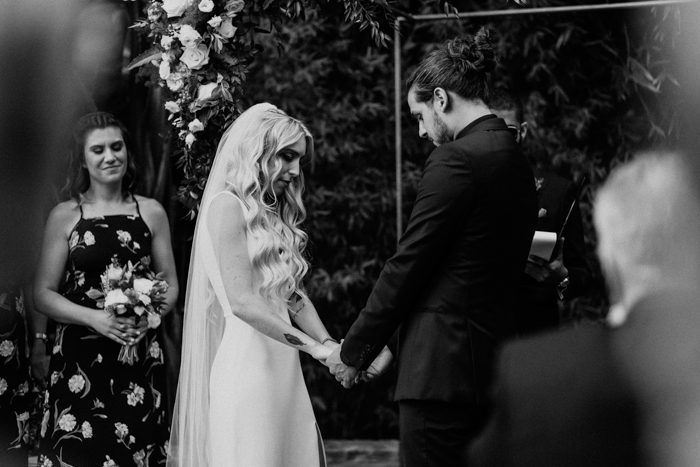 Our vows are something we will never forget. Kris and I never really said anything to each other about how to write them. We never read them to anyone before to make sure we were both on the same page, we just wanted it to be raw, and real words true from the heart. When the vows were exchanged we couldn't help but share a laugh because they actually were incredibly similar. To the point that we actually ended them with the exact same words. It was a moment that will stick with us for the rest of our lives, and words we'll never forget.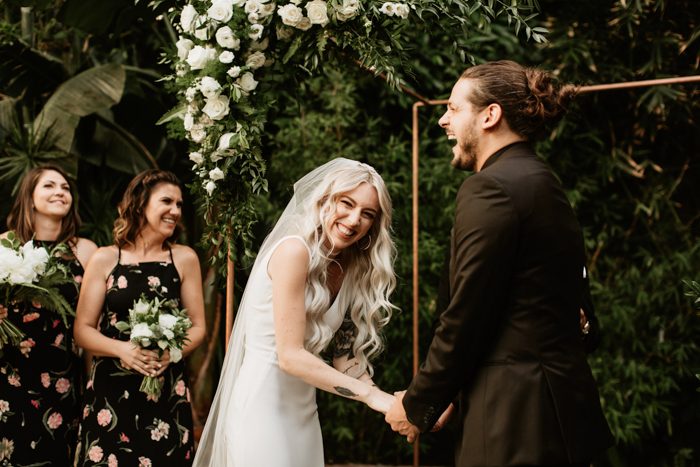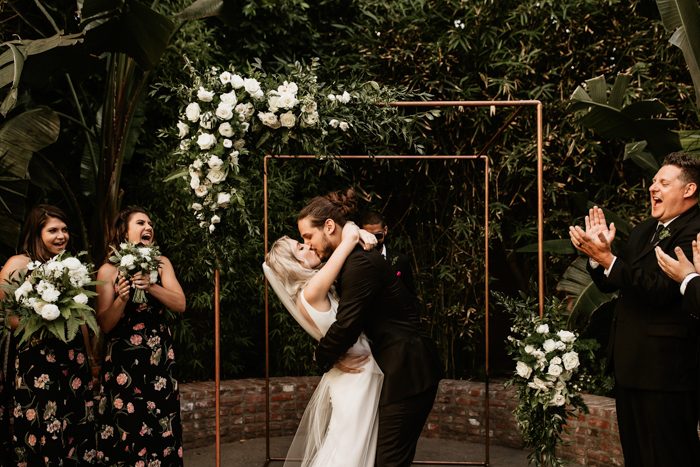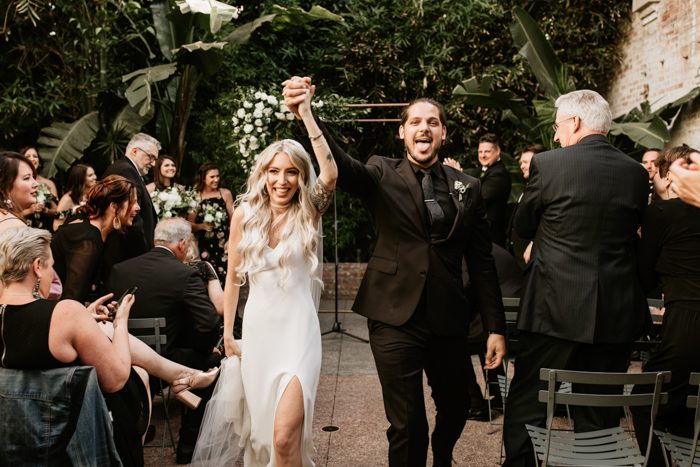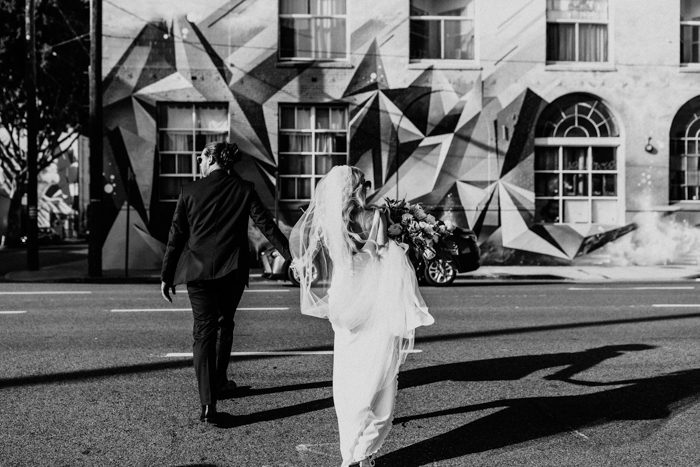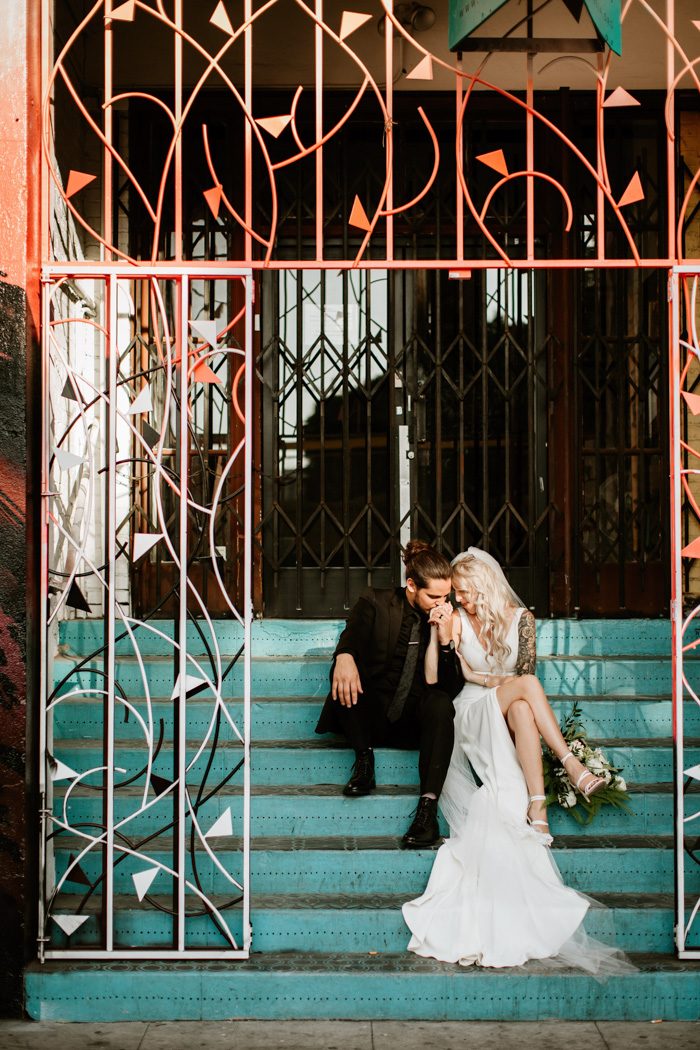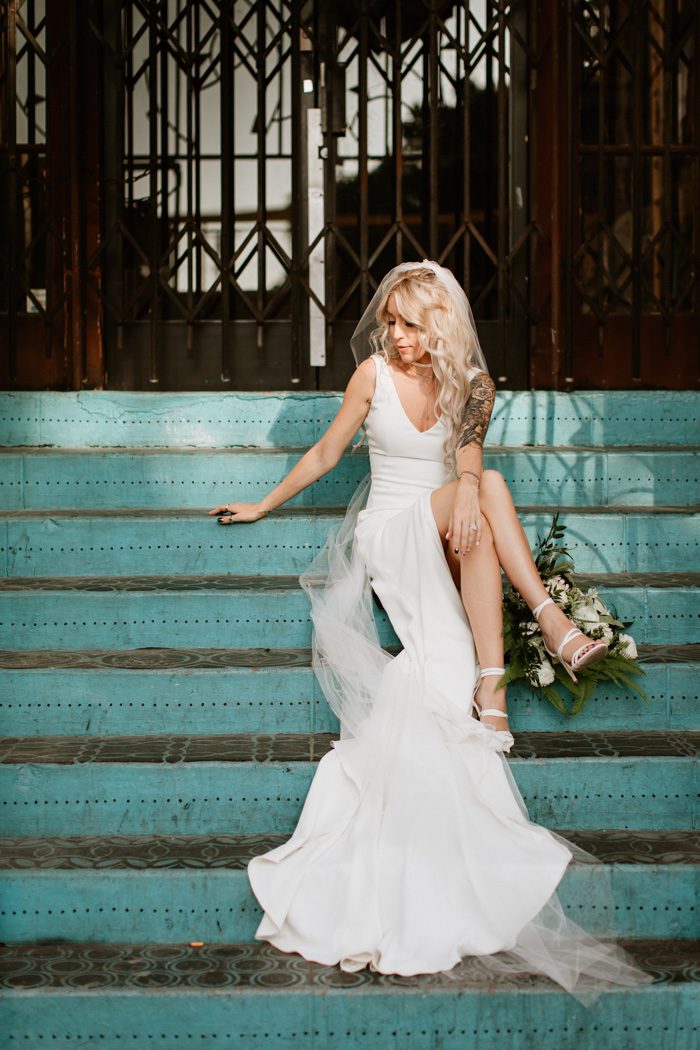 If we had to give out any wedding planning advice it would be not to rush and take your time. Kris and I actually did a 2-year engagement, which ended up being the best thing we could have ever done. You really only get to be engaged once, so it gave us time to really enjoy that. Its such a special moment in time and most people are too busy worrying about planning the wedding that they rush to get everything done and don't get to live in that moment of being engaged. Not only did we get to enjoy being engaged but we were able to go slow and really actually enjoy the process of planning our big day.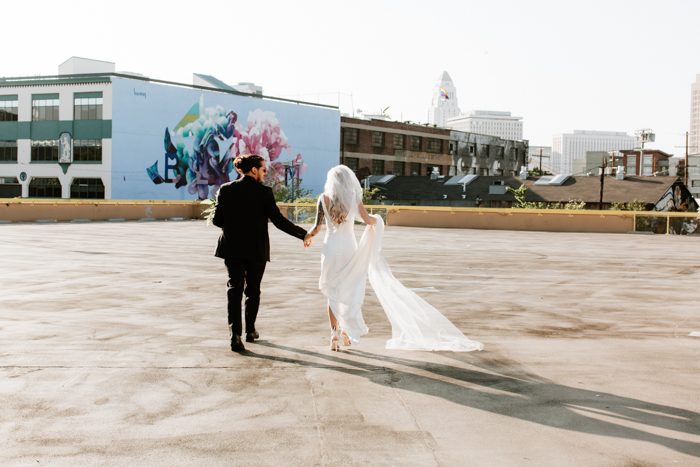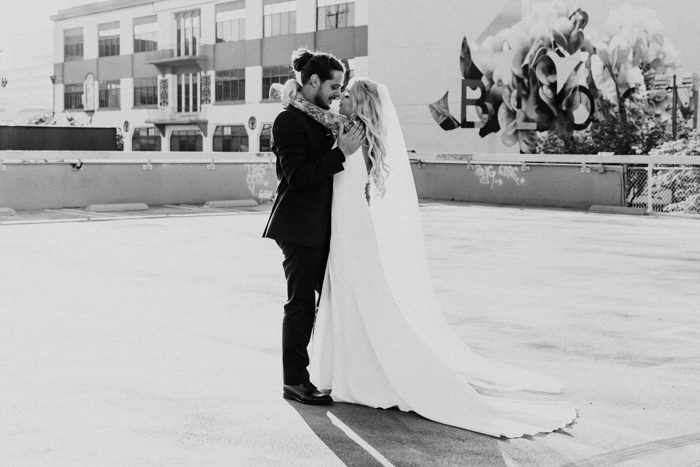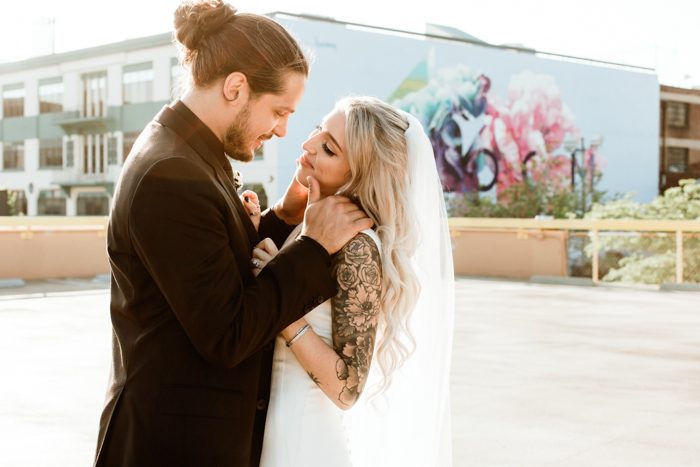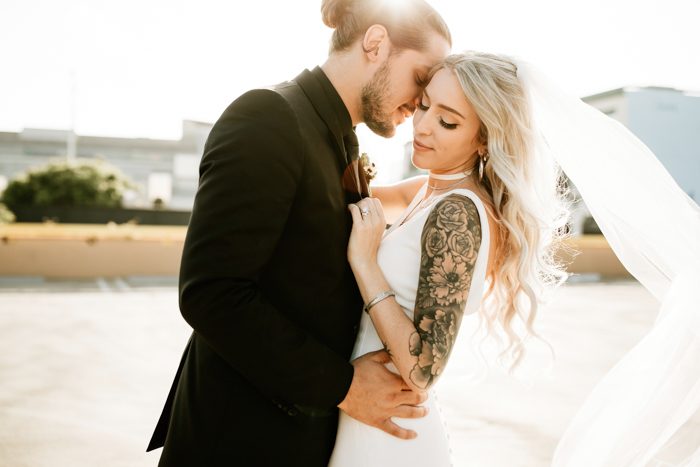 We broke it down into certain stages and knew what needed to be done but also had plenty of time to be able to sit down over a glass of wine and decide what we like and what we didn't and what really mattered the most to us. People won't believe us when we say this, but the planning process was so smooth, and we think it was because there was no pressure or real time crunch. It also helped that we had a beyond AMAZING group of vendors who made everything so seamless and easy.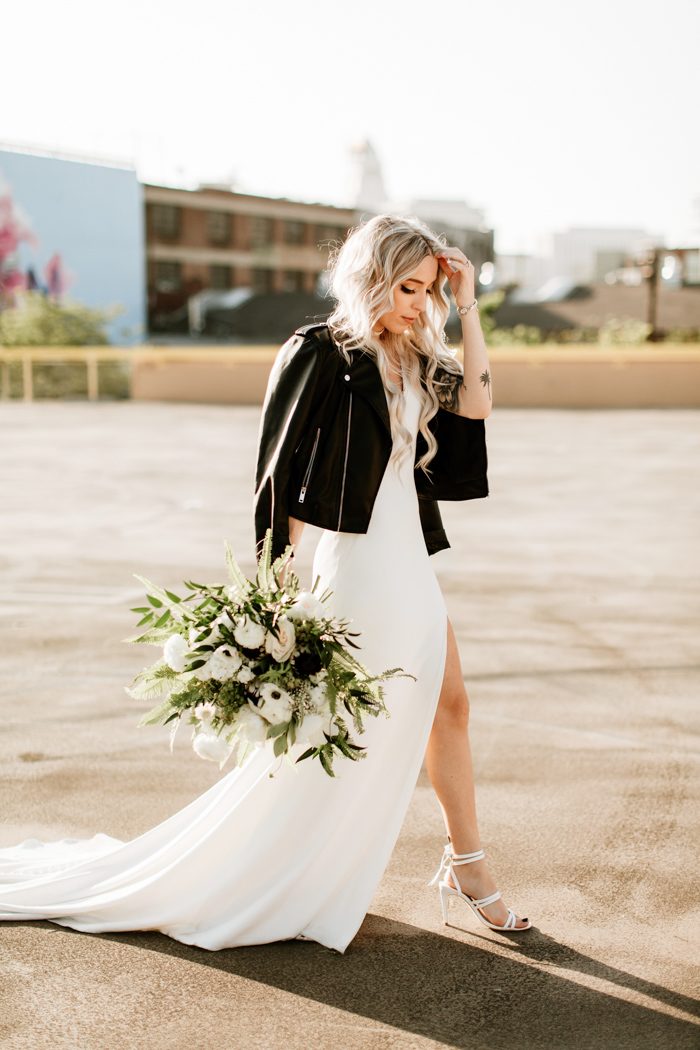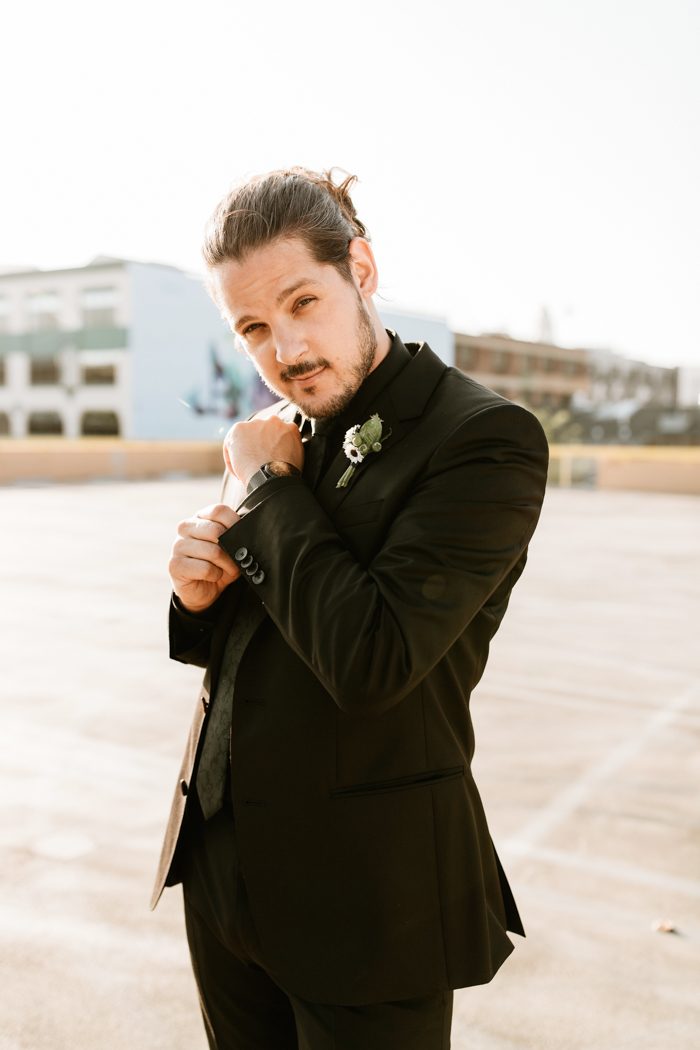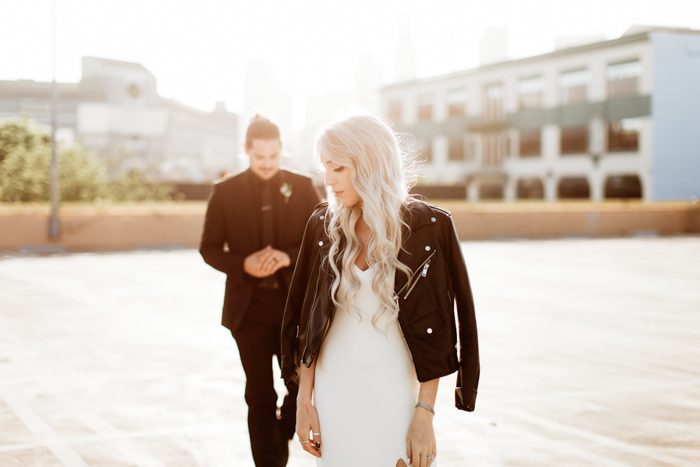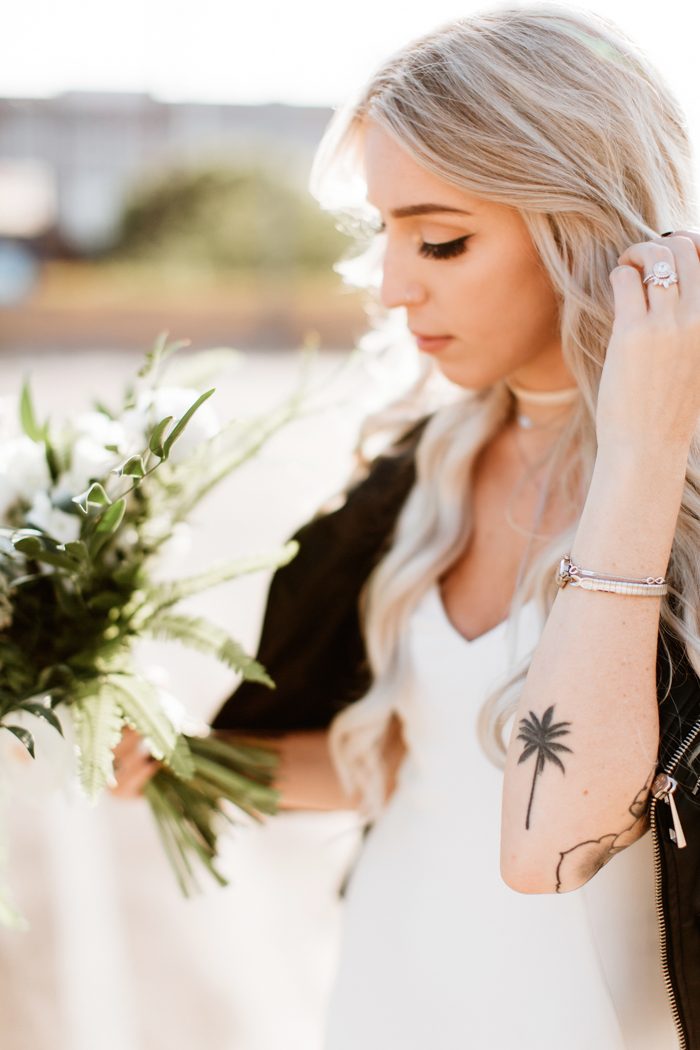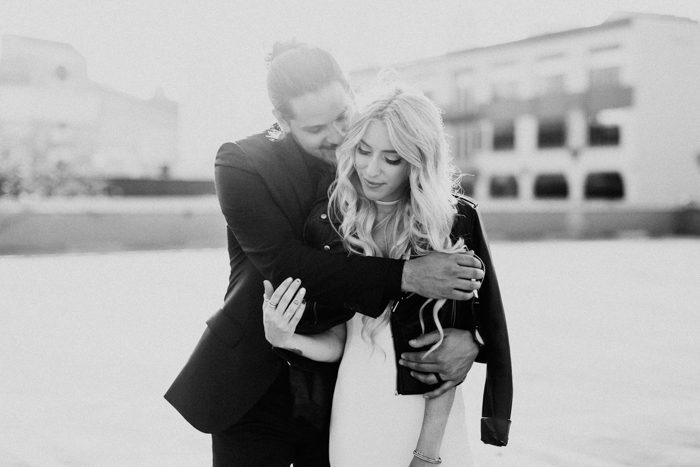 When we finally got to our wedding month, everything had pretty much been squared away and we knew we were in the best of hands so we were able to take the time and enjoy our family and friends being in town and just get excited for the big day.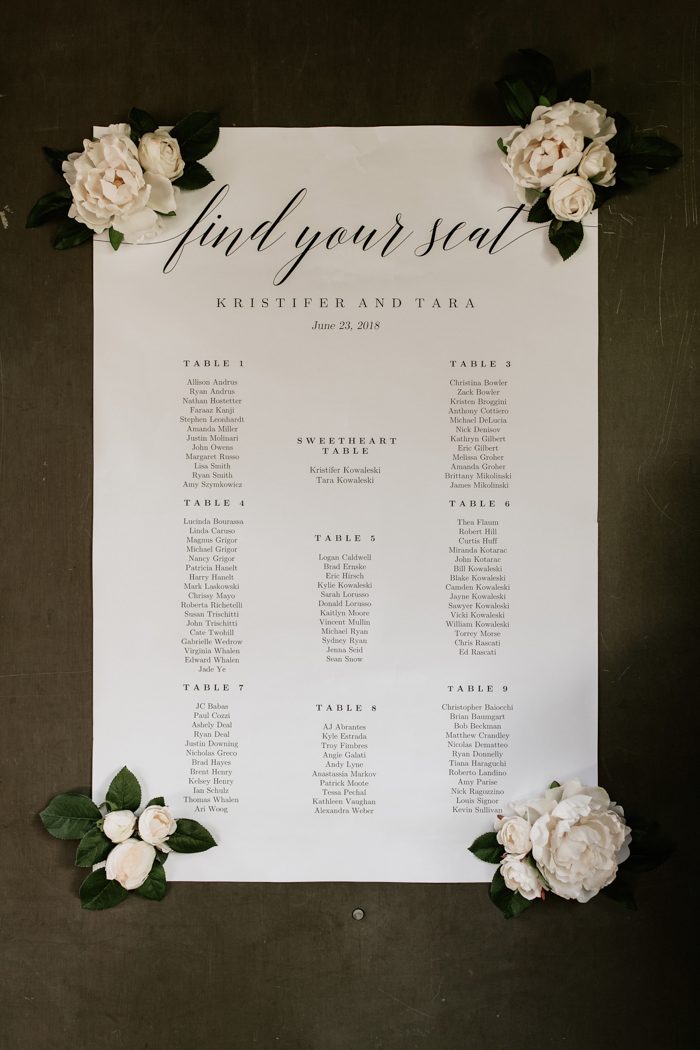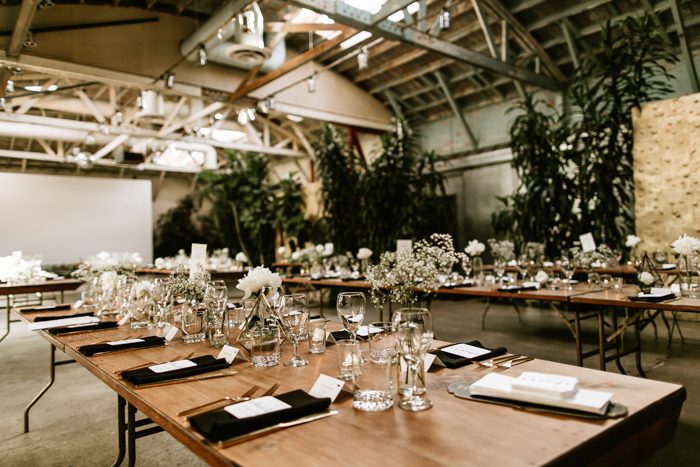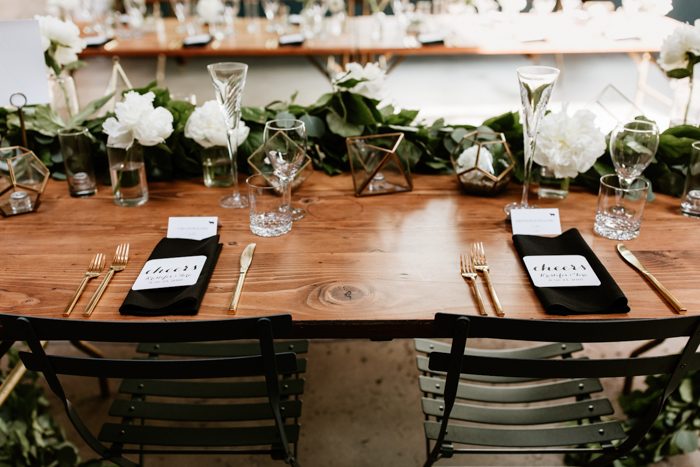 Choosing our venue was actually the hardest part of the whole wedding process. We knew we wanted to get married in LA but it is not the smallest city, and has more venues then you can even imagine! So we had to narrow it down to what type of venue really felt like us. We knew from the start we didn't want a church or a ballroom. We're not beach or ranch people either. So I finally got the idea to look at converted warehouses and spaces since we really wanted a unique and different look. We love the Arts District in Downtown, so when we stumbled upon the Millwick we instantly knew it was going to be a top contender. Once we visited it though, it was love at first sight! It gave you that warehouse feel while still being super unique, elegant, and fun!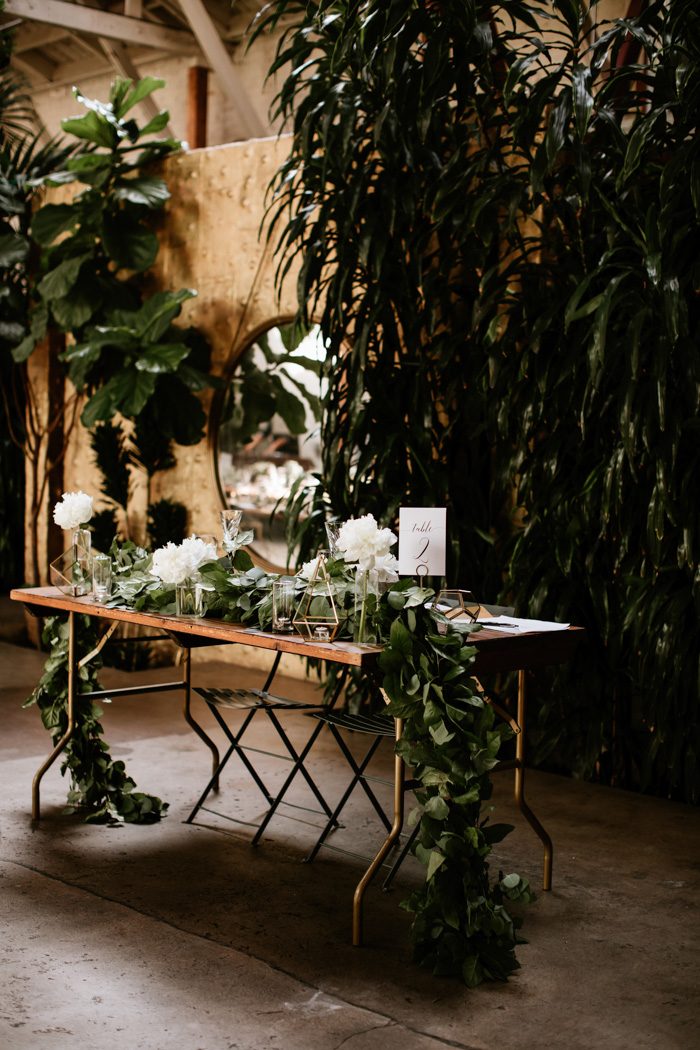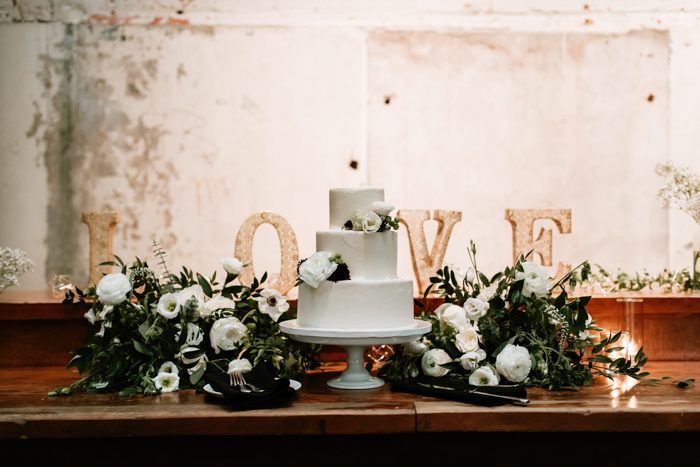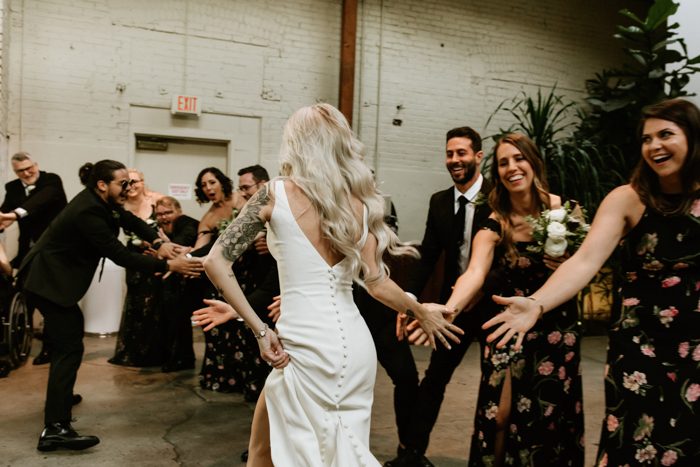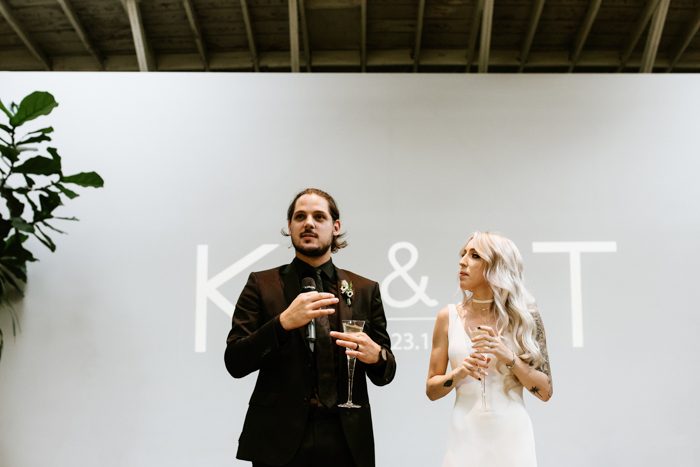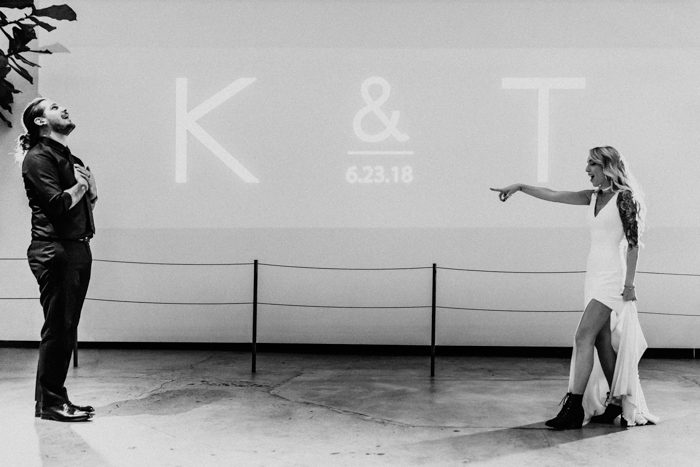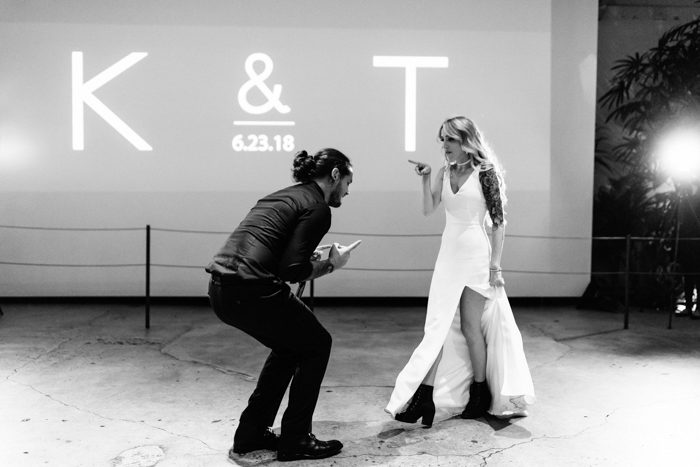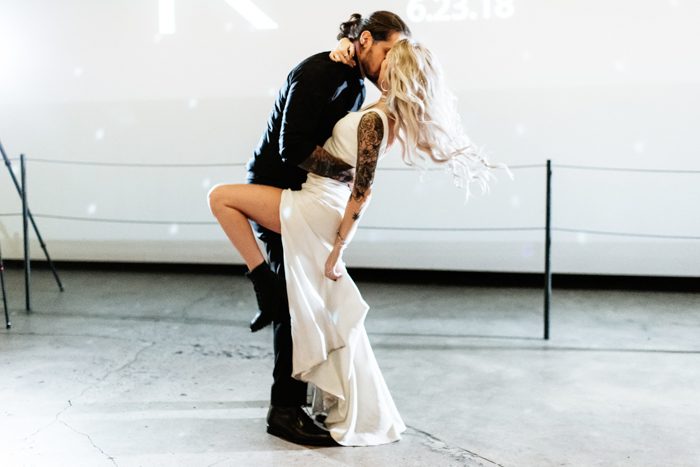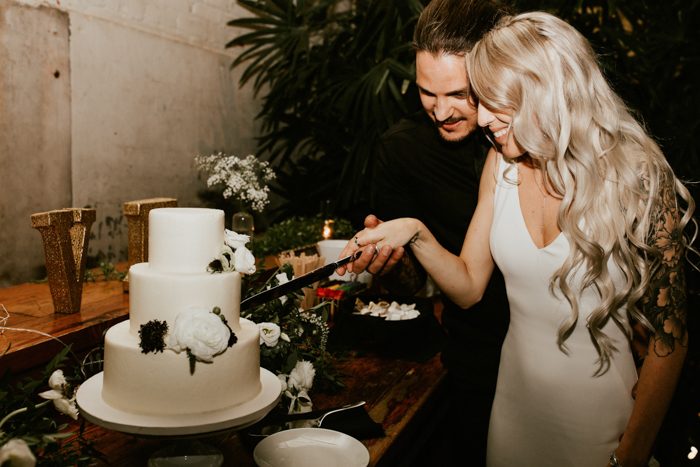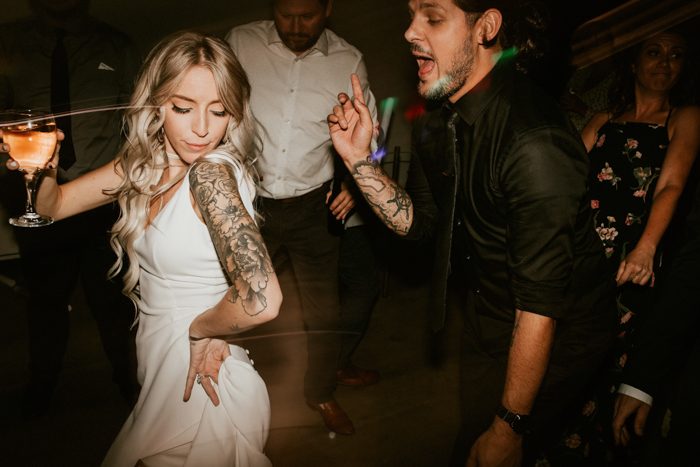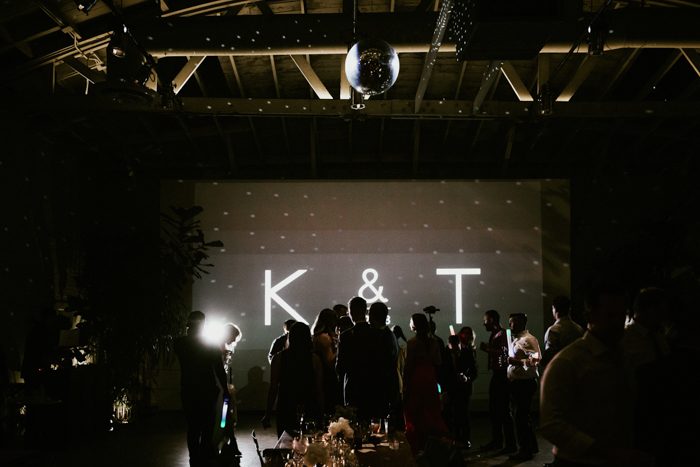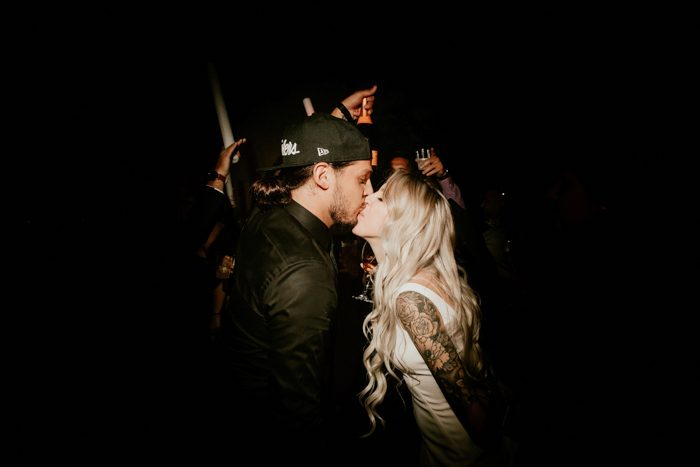 Congratulations and a huge thanks to Tara and Kristifer for sharing their gorgeous Millwick wedding with Junebug! Looking for more botanical wedding inspiration? This Greenfield Farm Estate wedding brings the botanical wow factor!