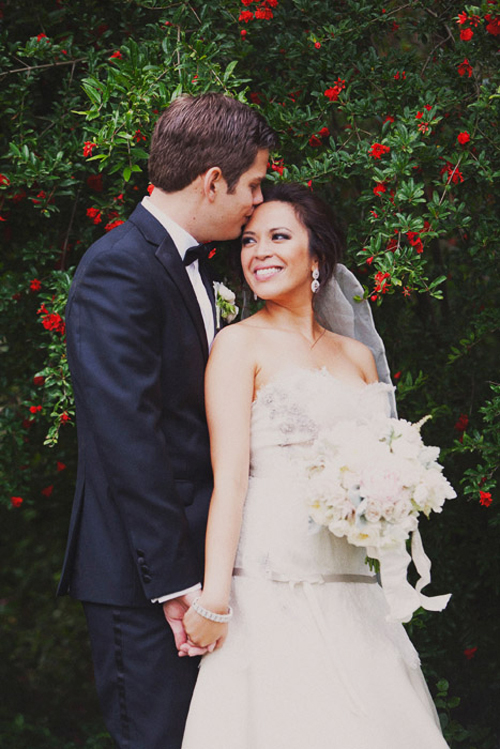 Cricket and Casey, you're making my day here with your Great Gatsby and Coco Chanel inspired wedding! Who wouldn't adore attending an event with such an elegant vintage feel to it? From the pale pink florals to the sophisticated fashion, I'm absolutely loving it all in these photos from photographer Christine Farah!

The Goals: Cricket and Casey wanted a day filled with love, beauty and fun, and in their search for the perfect wedding venue, they were thrilled to find Maravilla Gardens. "We loved the outdoor venue for our ceremony and reception. The gardens were so lush, well manicured and so thoughtfully landscaped, it was perfect for our Gatsby inspired wedding."

The Design: With the help of wedding planner Alexandra Rembac of Sterling Engagements and florist Susan Tom-Nellis of Peony and Plum Floral Design Cricket and Casey chose wedding colors of blush, dove gray, black and white to create their elegant, vintage, garden environment.
Their wedding invitations were simple but beautiful white card stock with black calligraphy, a black ribbon on the left side, and their C monogram in Tiffany blue. The three tiered wedding cake from Fantasy Frostings was beautiful of course, covered with fondant and decorated with black ribbon and a blush peony at the top. The cake's bottom tier was funfetti with cream cheese frosting, the second tier was triple berry yellow cake, and the top layer was a black and white cake with a coconut creme.
Instead of traditional wedding favors, Cricket and Casey wanted to give back after all the natural disasters that had recently occurred, so they made a donation to the American Red Cross in honor of their guests.
And perhaps one of the most fun details of the day was the inclusion of Cricket and Casey's beloved pups! "Casey and I are all about our dogs so we incorporated them in the wedding. Layla and Maggie were our flower girls along with our 2 year old goddaughter, Sydney. They wore handmade dove grey tutus with garden roses in their hair. Rocky, our male chihuahua, wore a black bow-tie and the handmade ring bearer pillow. We also incorporated them into our table numbers. Casey created silhouettes of our 3 chihuahuas along with the other doggies from our family."
The Look: Cricket fell in love with not just one, but two wedding dresses – one by Tara Keely and one by Jim Hjelm. She pulled her hair up for the ceremony and then wore it loose with large barrel curls for the reception – so fun! For the wedding party, Cricket says, "I wanted them to look and feel GORGEOUS. I chose a soft palette for the girls and had them choose from a number of dresses, not repeating any style or color. My aim was to have them look like a runway collection and not a group of girls wearing the same dress. The guys looked sharp in their classic black tuxes with suspenders and dove grey ties." Agreed.

The Moments: Because Cricket is Catholic and Casey is atheist they worked hard to make their non-denominational ceremony a perfect blend of their values and beliefs. "We thought a lot about what was going to be said at our ceremony because of our differences in religion. Every word meant so much to each of us and crafting what rang true to us and coming to a compromise was a great journey on its own. The whole ceremony for us both was out of this world. Hank, our pastor, was perfect, and declaring our love to our family and friends felt powerful and awesome."
For the reception Cricket and Casey choose a formal dinner created by Command Performance Catering that started with a crepe brie and fig salad, then a choice of four different entrees with three amazing sides. They served two signature cocktails comprised of their favorite things; the Golden Groom included Crown Royal, Amaretto and a splash of sprite, and the Blushing Bride was a classic French martini. YUM!
Following all that incredible food, DJ Predakon, a good friend of Casey's who flew in from NY for the event, spun tunes all night. "There was never a dull moment thanks to him. Jazz, Bossa Nova, Rock, Oldies and Top 40 kept everything well paced.
The Pros: To learn about all of the wedding professionals who helped create this wedding day please visit Cricket and Casey's page in our Real Wedding Library.

Thank you Cricket and Casey! We're so honored to get to share your wedding – what a day!
Readers, to plan your own Southern California or Seattle area wedding, check out our Plan Your Wedding Hotlists, and to find a dream wedding photographer for your wedding anywhere in the world, don't miss our World's Best Wedding Photographers Hotlist!