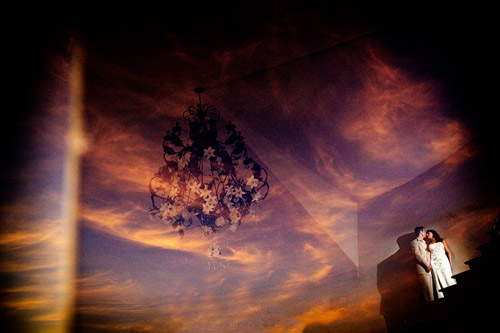 Today's Real Wedding looks like it was a rockin' good time and makes us wish we had been there for all the excitement! Spectacularly photographed by Ben Chrisman and Erin Reed of Ben Chrisman Photography, this destination wedding, in Todos Santos, a dazzling beach locale in Baja, Mexico, was a fun-filled, sentimental getaway for the gorgeous Jean and Michael and their closest family and friends.

The goals: Jean and Michael wanted a wedding that was a true reflection of their personalities and above all, fun for their guests. Not into the idea of a big event, they chose a small destination wedding in Todas Santos, Baja, Mexico. With just fifty guests, they were able to have the intimate and special day that they had dreamed of, and there was ample time and opportunity for forming new friendships, bonding with loved ones and of course, plenty-o-fun!

The look: With such a gorgeous beach view as their backdrop, there wasn't need for much decoration. Jean chose colors for the wedding that were inspired by Todos Santos – blue for the sky, green for the lush foliage and white for the long sandy beaches. She also included pink and orange in her wedding color palette for their fun and festive feel, and incorporated them into every detail from the flowers and invitations, to the favors for the guests – a pretty package of pomegranate and orange-sherbet jellybeans wrapped in blue boxes with orange bows.
The bride's wedding dress was a stunning creation by Carolina Herrera, and the bridesmaids were able to choose their own black and white bridesmaids' dresses. Each one wore a custom-made necklace, designed by the groom's sister for The Jewelers of Las Vegas, to match the bow on Jean's gown. The groom and groomsmen were perfectly beach-casual in tan pants and ivory shirts.
The moments: In a sentimental and humorous ceremony, the most romantic moment for the bride and groom was reciting their vows, which they wrote themselves. Another special moment for the couple was their first dance to "Stay With You" by John Legend, chosen for its timeliness. Says Jean, "we began dating around the time the album came out, and every song on it related to our relationship in some way". The couple agrees that the entire wedding get-away was filled with moments they will always treasure, because they were able to have their families and close friends with them for those full four days.

The details: Jean and Michael filled their wedding day with many funny and touching details that helped them complete their vision of a fun-filled destination wedding. Each groomsman received a flask before the ceremony engraved with the the couple's names, the date, and the quote "Another One Bites the Dust". As for Jean, her "something old" was a ring made from a Greek coin with the goddess of hearth and debauchery on it, given to her by her mother. The bottom of Jean's shoes were appliqued with blue rhinestones saying, "I Do", and her jewelry and hair comb were new presents from her soon-to-be hubby.
Everyone danced and celebrated long into the night, creating the magical good time, full of love and laughter, that the couple had been hoping for. You can see the energy bursting from the party pictures below, which are like none we've ever seen before. Great job to photographers Ben Chrisman and Erin Reed for capturing all the fun!
The pros: To learn about all of the wedding professionals who helped make this wedding a reality please visit our Real Weddings Section.

Thank you for sharing your wedding day with us Jean and Michael! We are totally inspired by your joy!
If you're planning a Seattle or Southern California wedding, don't miss our trusted Plan Your Wedding Hotlist featuring the most talented and passionate wedding professionals available!