While writing our wedding planning book we researched every ounce of wedding tradition we could find, and while some traditions have fallen out of favor, the sentiment behind this lovely classic will never go out of style. Writing this post was a fun!
The Victorian era English saying Something old, something new, something borrowed, something blue, and a silver sixpence in your shoe is a good luck tradition that many of you will follow on your wedding day. Its such a sweet and creative way to add a little extra meaning and magic to your wedding! Heres a bit of background on the sentiment behind each part of the saying, so you can think about what it means to you, and interpret it in your very own way.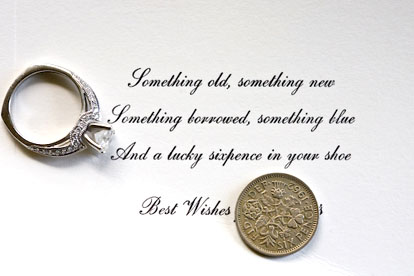 Something old signifies a connection to the past, including your family values and family history.
Choose a favorite photo, childhood story, or song you want incorporated into your ceremony that has sentimental value to you and your family members.
Look to your mom, his mom and your grandmothers for lovely jewelry and accessories that have family significance.
Carry a picture of from your parents wedding or a love letter from father to your mother in your purse.
Wear your mothers wedding dress or veil, or carry a compact mirror she used on her wedding day.
Make your getaway in a vintage Rolls Royce or hold your reception at a beautiful historic site.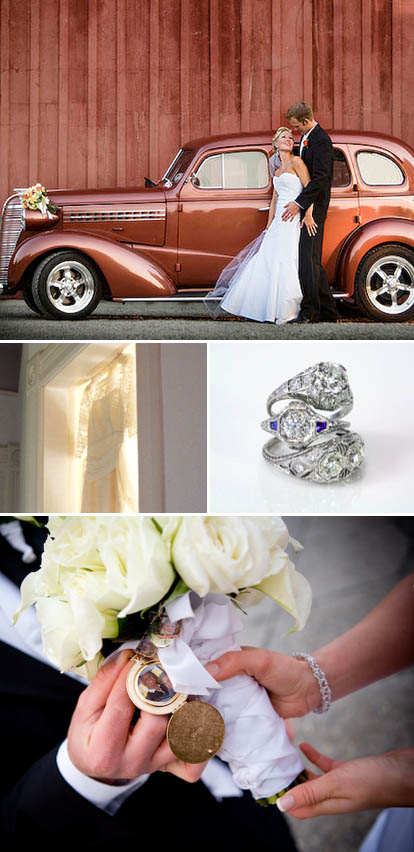 Photos: top photo by J. Garner Photography, middle photos by Positive Light Photography and Junebug Weddings, bottom photo by La Vie Photography.

Something new indicates hope and an optimistic look at the road ahead.

Buy new earrings or a charm for your charm bracelet that can be passed down to your daughter or another important relative in your life.
Have a new cocktail recipe invented and name it after you and your partner. Serve it at your reception with a recipe card as a coaster.
Ask your friends and family members to bring a wish or a small token to add to your time capsule box. Open it on your silver wedding anniversary.
Start your own new tradition! Think of new creative ways to honor your marriage, your friends or support your favorite cause.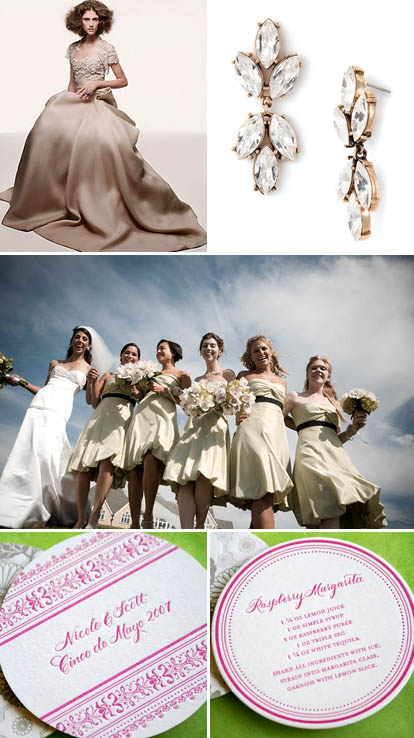 Photos: top dress by Monique Lhuilier, Badgley Mischka crystal cluster earrings from Nordstrom.com, middle photo by J. Garner Photography, bottom photos by Junebug Weddings.

Something borrowed denotes the respect you have for others who have been role models in your life. Borrow something of significance from someone you think exemplifies the traits of a good partner, and let a little of their wisdom rub off on you.
Borrow a passage, song, or special prayer from the wedding ceremony of a couple that you admire.
Get married at the home of a relative or spend your honeymoon at a family members vacation property or time-share.
Use a pearl handled knife or decorative cake cutter that youve borrowed from a friend or put your parents cake topper on top of your cake.
Borrow a favorite recipe from your mother, aunt, or grandmother and have it served at your reception.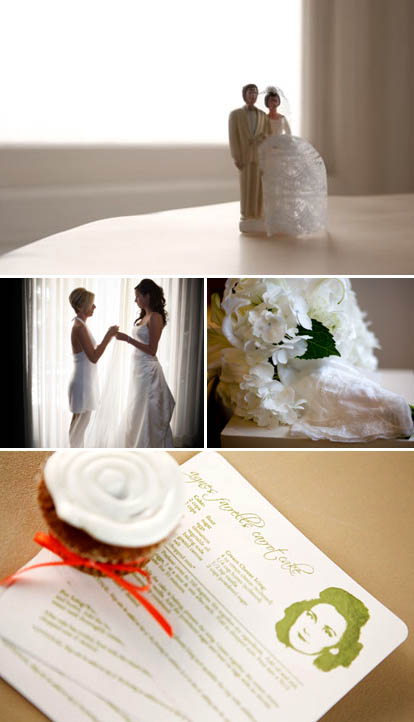 Photos: top cake topper note card from lizaruth on Etsy.com, middle photos by J. Garner Photography and La Vie Photography, bottom photo by La Vie Photography.
Something blue is a sign of fidelity and true love. For many years before the white wedding dress came into vogue, brides were married in blue as a symbol of their purity. Nowadays, this is one of the most fun ways to incorporate color into your wedding. Play up blue in your garter, shoes, lingerie, or wedding bouquet. No matter what you choose to do make it fun and make it meaningful.
Incorporate forget me-nots, larkspur, delphinium, or love in the mist blossom into your bouquet for a romantic touch of blue.
Buy yourself some lacy blue under things. Splurge on a gorgeous new blue bra and panty set.
Have your cake decorated with blueberries and blackberries, or serve blueberry pies or tarts as an alternative to wedding cake.
Tie a light blue ribbon around your garter or have one woven into the handle of your bouquet.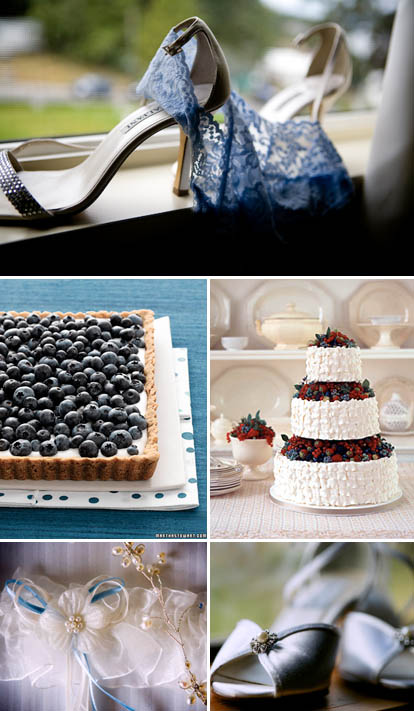 Photos: top by La Vie Photography, middle blueberry and buttermilk tart and berry basket wedding cake from MarthaStewart.com, bottom photos by J. Garner Photography and Positive Light Photography.