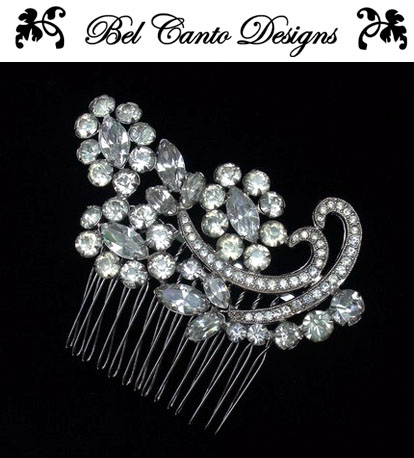 Bel Canto Designs' restored vintage accessories make my heart absolutely race! Starting with authentic high end costume pieces from the 1930s to the 1950s, each item is carefully refurbished to it's original beauty and often re-purposed into hair combs, headbands, necklaces, bracelets and earrings that are ideal for bridal fashion. Love!
Bel Canto also really enjoys working one on one with brides, so the delightful Mari, Bel Canto's owner, is generously offering one of you Junebug readers out there a custom set of necklace and earrings, bracelet and earrings or a hair comb perfect for your wedding day! Just look around at all her gorgeous vintage pieces here and at her Etsy shop, and leave a comment on this post describing your own stylish way to wear your favorite Bel Canto items. We'll choose the big winner on Monday, and for everyone else who falls in love with her work (just like me!) in honor of Bel Canto's birthday this month you can get 10% off all orders for the next week (until April 15th). Just "convo" Happy Birthday to her before you place your order. Thanks Mari!
I'm off to window shop and day dream about vintage fashion galore. Can't wait to hear all your creative style ideas!