While in wedding planning mode, many women are also in a beauty enhancement mode, exploring ways to look their best on their wedding day, and during all those events, parties and rehearsals leading up to it. Being a beauty product junkie myself, I admit that I tend to live in this mode on a regular basis! All those products and potions that feel so good and smell so lovely? Well, they simply brighten my day (and hopefully my skin too!) Here are a few fun beauty finds I've run across recently that are focused on specific areas and particular dilemmas that a bride-to-be just might be thinking about…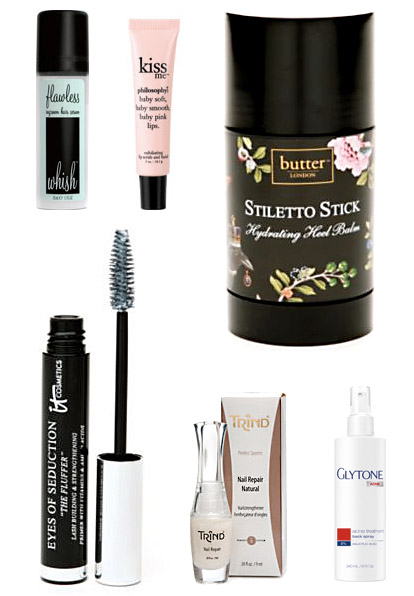 Whish Flawless Bump Fighter– Gets rid of shaving bumps, ingrown hairs and redness from waxing- perfect for helping that honeymoon bikini wax!
Philosophy Kiss Me Exfoliating Lip Scrub– Get those lips soft, smooth and ready for wedding day makeup and your first kiss as husband and wife.
Butter London Stiletto Stick Hydrating Heel Balm– Smooths and moisturizes dry, cracked heels so your feet will look healthy and happy in those strappy wedding heels you just splurged on!
It Cosmetics Eyes of Seduction Lash Primer "The Fluffer"– Antioxidants, amino acids and provitamin B5 help this lash primer do double duty. Apply it under your mascara for immediately thicker looking lashes, and watch it help them grow stronger and healthier over time.
Trind Natural Nail Repair– Wear this repairing and moisturizing polish alone or as a base coat to strengthen weak fingernails and get them wedding manicure ready.
Glytone Back Acne Spray– Blemishes on your shoulders and back are never gong to make your feel your best in that strapless dress. Try this 2% salicylic acid blend spray that's packaged in a smart pump bottle, allowing you to spray it upside down so you can cover all those hard to reach places with ease.
Another favorite way to amp up the beauty quotient with minimal work? Night creams! I love the feeling of waking up to softer, clearer skin and the feeling that I got something accomplished while I slept. (Got to make the most of your busy schedule, right ladies?)
Sundari Neem Night Cream– My all-time personal favorite. I just can't live without this stuff. Creamy, nutrient rich and easily absorbed, I swear this night cream heals all.
Philosophy 'Help Me' Retinol Night Treatment– This night treatment means business. It contains time-released retinol to keep pores clean, minimize fine lines, and improve skin discoloration.
DDF Mesojection Healthy Cell Serum– DDF is one of those brands that's heavy on the science, so you feel like you're really making an impact. With antioxidants galore this product is supposed to reduce free-radical damage and penetrate 14 layers deep into the skin's surface. Sounds good to me!
Fresh Mamaku Night Serum– Fresh pretty much can't go wrong in my book, I've never tried a product of theirs that I didn't like. This Mamaku Night Serum consistently gets rave reviews from people who report glowing, hydrated, plumper, firmer, and more radiant skin, even after just one use.
How about you, what favorite beauty products are you using right now?