Marisa Manna Ferrel, So Eventful's owner and lead planner, recently experienced planning her own wedding. As a wedding & event planner herself with more than 300 + weddings to her name, Marisa understands both traditional expenses, as well as what she has seen her own couples (including herself) do when it comes to splitting the wedding bill. She's here today to give us some tips and advice on how to organize your wedding finances. However, we would like to mention that everyone divvy's up wedding expenses differently. These are not "rules", just an explanation of how wedding expenses are traditionally divided – not to say there's anything wrong with deviating from tradition!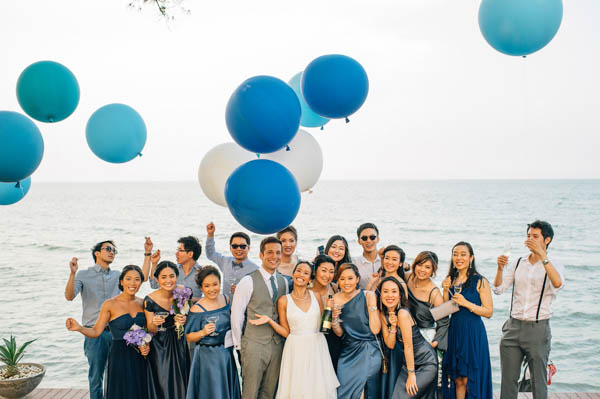 Photo by Nordica Photography
The largest expenses for a wedding are:
Catering (i.e. food and beverage)
Transportation
Florals/Decor Elements
Band
From Marisa – "All of the above are traditionally expenses for the bride. Transportation is only a large expense if you plan on using shuttles for ALL guest transportation. If a bride is paying for the entire wedding and the groom's family wants to contribute, this is a good one to hand off."
Traditional expenses for the groom are:
The bride's engagement and wedding rings
Marriage license
Groomsmen gifts
Rehearsal dinner costs
Honeymoon costs
Most of the transportation for his own party and family
The officiant's fee
Liquor at the reception
Traditional expenses for the bride are:
Groom's wedding ring
Bridesmaid gifts
The wedding gown and accessories
Invitations, save the dates, place cards, etc. (all paper goods)
The bridal shower
Transportation for the bridal part and bride's guests
Ceremony and reception costs (this includes photography, videography, rentals, etc.)
Wedding planner
So Eventful even has a handy dandy worksheet for couples planning their wedding. While this is just a guide, and you don't have to follow it precisely, it does help to have a starting point for planning your wedding expenses.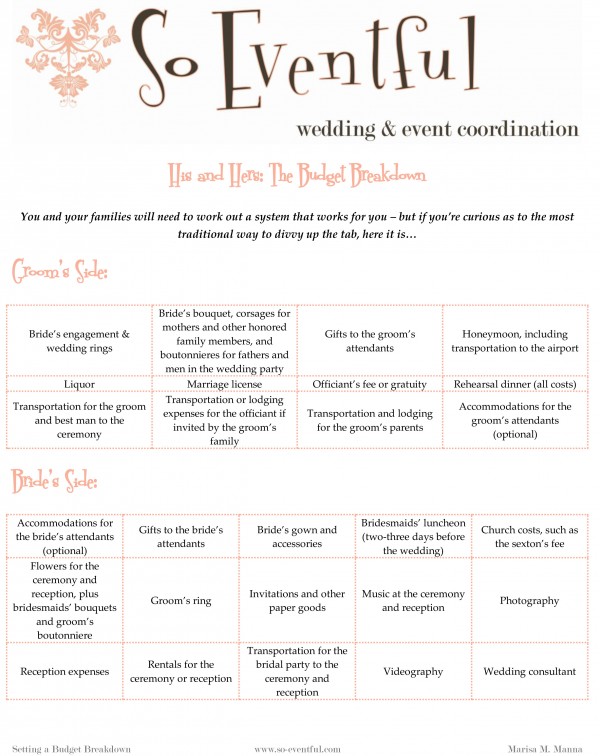 Marisa also mentions that flowers are a tricky element of the wedding. Traditionally, the groom pays for the bride's bouquet, corsages, and boutonnieres for the groom's side of the bridal party (including his father). The bride pays for the groom's boutonniere, bridesmaid's bouquets, and floral design surrounding the ceremony and reception spaces.
Once again, this is just an outline. Marisa says that people will offer to pay for certain costs of the wedding, and everyone's situation is vastly different. To find someone like Marisa, who knows what he/she is talking about when it comes to weddings, check out our 5 Reasons to Hire an Expert Wedding Planner.
Thanks so much to So Eventful for filling us in on some much needed advice!