We saw this adorable story and engagement session a few weeks ago on the blog of Laurel McConnell, one of our fabulous Junebug member photographers, and we just had to share it with all of you!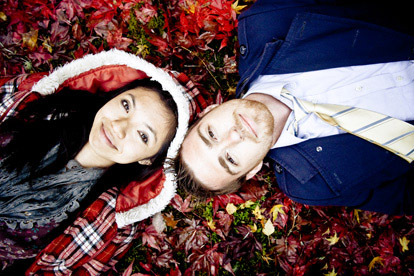 Laurel had been contacted by Nick, the soon-to-be groom-to-be, about shooting an engagement session while he and his girlfriend Danni were visiting Seattle. Nick was whisking Danni away from their sunny Southern California home for a surprise trip to a place where her favorite kind of weather (rain, of course) was an every day occurrence. Ahead of time he had filled Laurel in on all of his plans and then sent her a series of photos to be incorporated into one very special moment of the day. Just one of the many surprises he had in store!
I'll let Laurel tell the rest of the story…
"At 1pm, my friend Darrah and I boarded a ferry to Bainbridge Island, and found ourselves snapping pictures of each other on the windy deck while crossing Puget Sound. Okay, Fib #1. I was REALLY snapping pics of Danni and Nick, acting all cute-like in the background. Nick not only woke up his sleepy girlfriend from her short snooze on the relaxing ferry, but dragged her out to the violently blustery (um, understatement of the year) deck to watch the silly girls shooting pictures and take in the sea air. He gets an A+ for his mad setup skills- he kept pulling her into ideal spots for us to snag some shots no matter what her agenda was!
Nearly an hour later, we found ourselves in the gorgeous Bloedel Reserve, a historic, well kept, private park on the island. Waiting, waiting, waiting. I kept saying to Darrah, What if he changed his mind and hes not coming? What if they got lost in the 150 acres? What if we are the WRONG Waterfall Lookout By The Historic House? Sure enough, here they come, meandering down the path…. She was sightseeing and leading their self-guided tour, map in hand, having a grand ol time, mostly oblivious to Nicks scheming.
Enter Darrah, stage left. Laurel wanders off to check her cell phone and look busy with something else, while actually getting into position. Mini-fib #2. Oh my gosh! Hey! Werent you the guys on the ferry? chimes Darrah. Luckily, Danni totally remembered us as being the silly tourist girls on the deck getting blown over by the wind, and being all smiles, greeted us like old friends as Nick gave The Look to mean its Go Time. Darrah says, I saw you guys, and I took some really cute pictures of you. Wanna see? Fib #3. Danni and Nick agree in unison. Nick reaches into his pocket. Here it comes. Darrah flips through some of the cute (stalker-like!) images we snuck of them on the ferry. Then she gets to the first REAL image…."

"She turns around, and Nick is on his knee, holding the sweetest ring I ever saw, barely able to hold those four words in his mouth before they gushed out in the most beautiful sentence a girl ever wants to hear."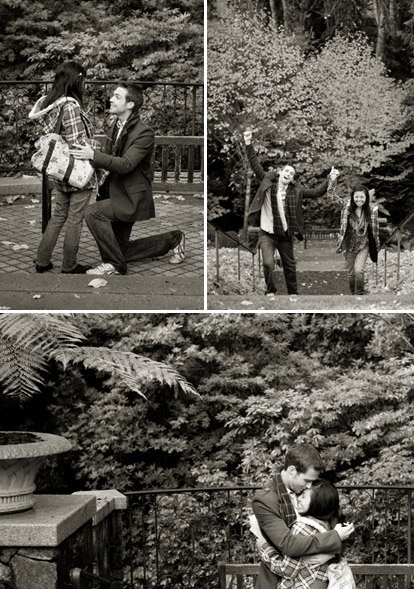 "And in case you were wondering how this story ends, she said yes."

(All images by Laurel McConnell Photography)
Thank you for sharing your amazing adventure and your beautiful engagement photos with us Danni, Nick and Laurel! We love it!