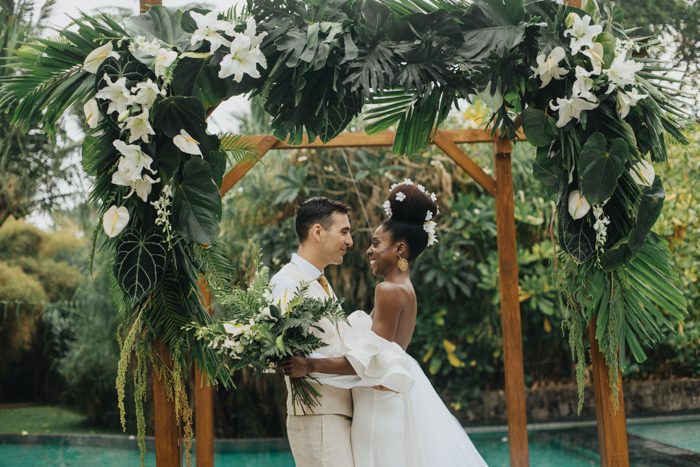 It's modern meets elegant in this Seseh Beach Villas wedding. Celia's glamorous bridal look is giving us major heart eyes with her self-designed wedding jumpsuit and gorgeous hair styling by Sami Knight. With flowers in her hair and an overgrown and lush bouquet by Wed in Bali Flowers, Celia walked down the aisle to meet her groom. After saying exchanging their Monili Jewelers rings, they kept on celebrating outside with plenty of dancing, food, and sparklers! Terralogical Photography and Aile Studio both beautifully captured the day.
The Couple:
Celia and Michael
The Wedding:
Seseh Beach Villas, Bali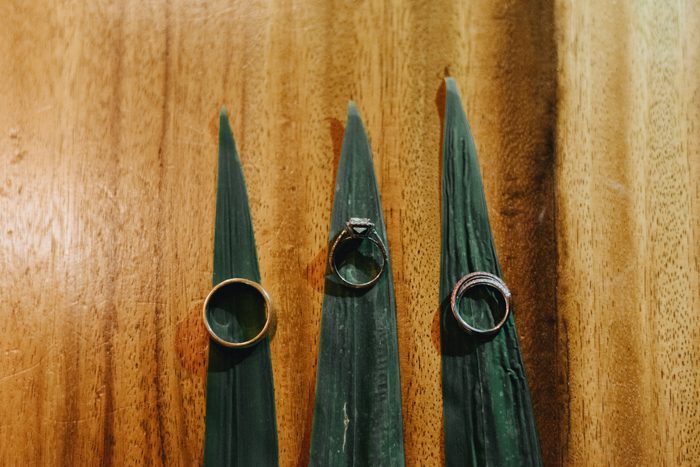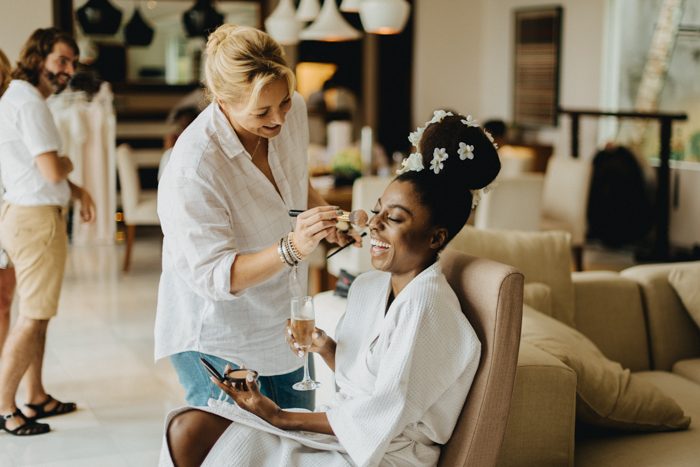 I am so lucky to have 2 world class make up artist and celebrity hair stylist as close friends so they were my glam squad that made me look beautiful on the day. I have never looked as beautiful as i did that day!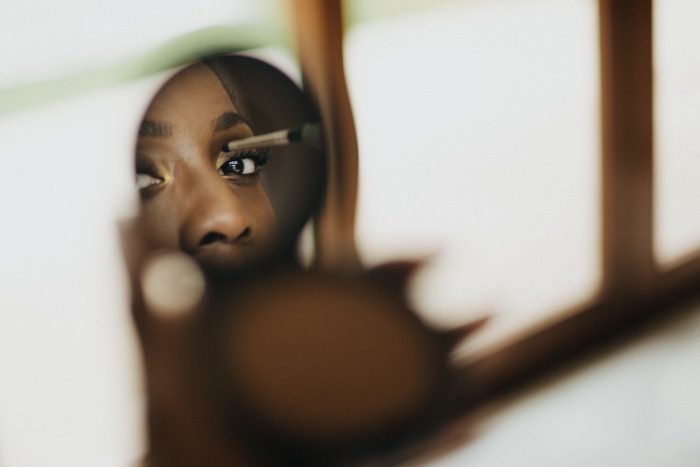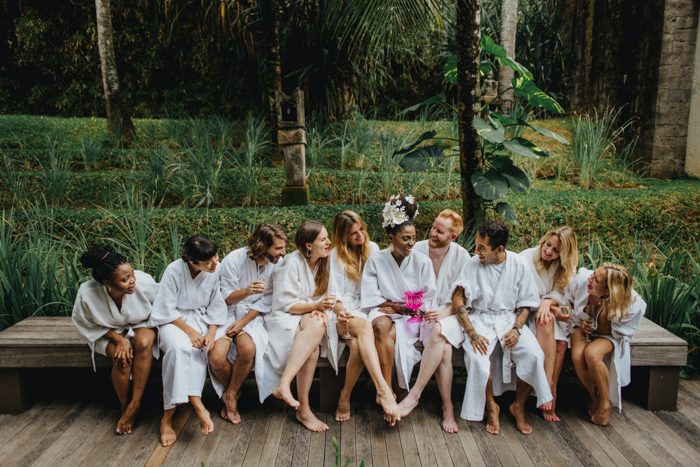 A friend had told me very early on when I had a mild panic about the pressures of certain traditions of weddings I didn't really want to uphold – and she told me "Its your wedding, you can do whatever you want. If you don't want to do it a certain way, don't". And this was singlehandedly the best advise i got!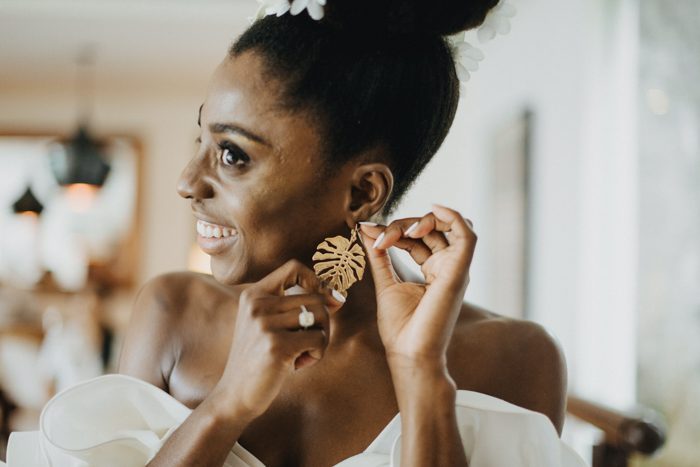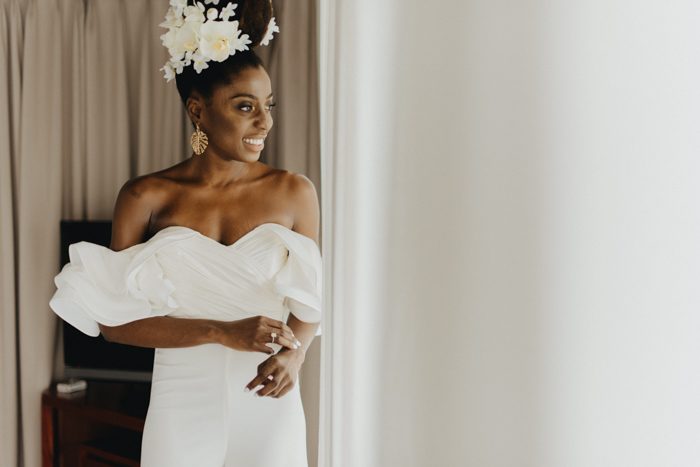 I hand designed my own wedding jumpsuit. I always knew i never wanted to wear a traditional wedding dress.It just wasn't me. I have so many jumpsuits and i am known for sporting a jumpsuit so it seemed fitting! I am a fashion stylist / fashion editor and I was inspired by a few designs i had seen on the catwalk and i took some ideas to my tailor and he did a fantastic job! It was exactly as i had wanted. I had always also fantasized about a princess diana train and had bought the train online as a joke – but when my best friend Tash came over to have a look at the dress once it was ready – i jokingly put the train on but instantly fell my heart skip a beat! I had to wear it.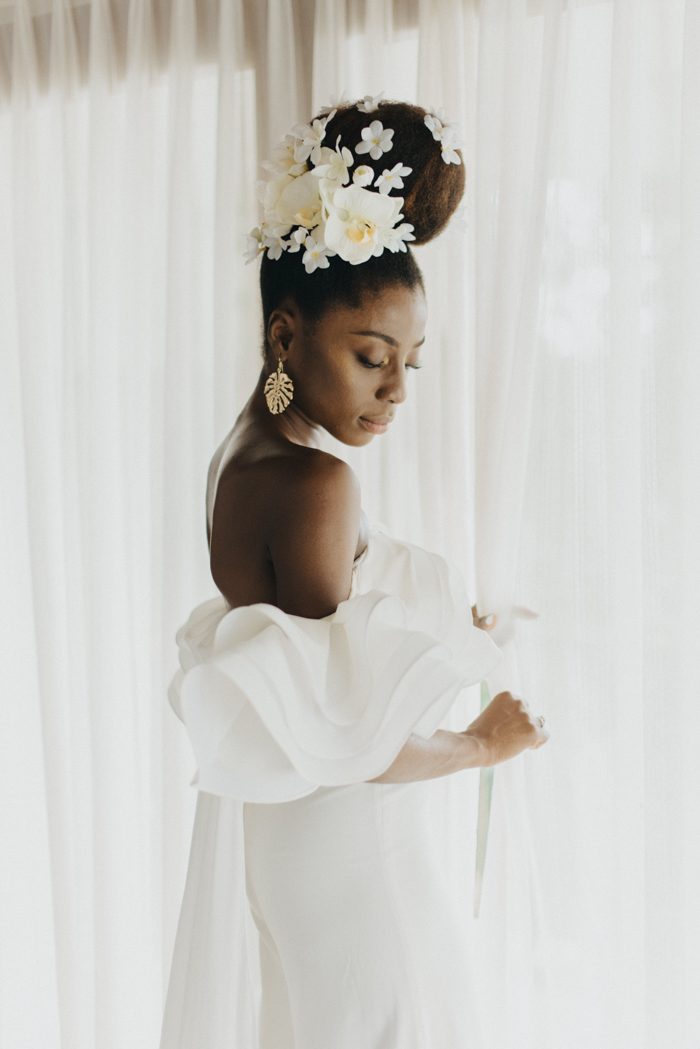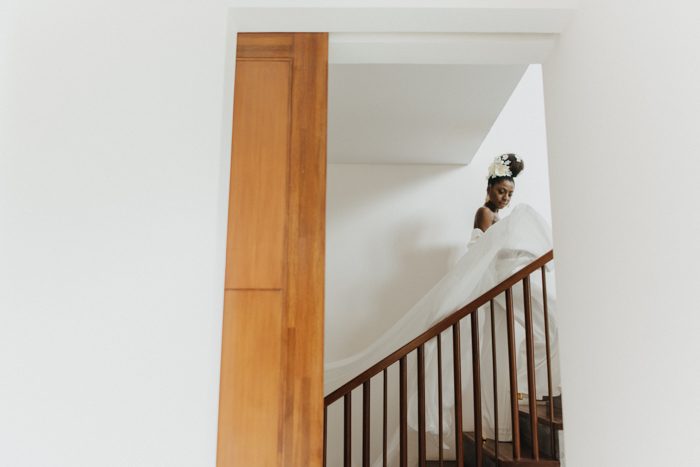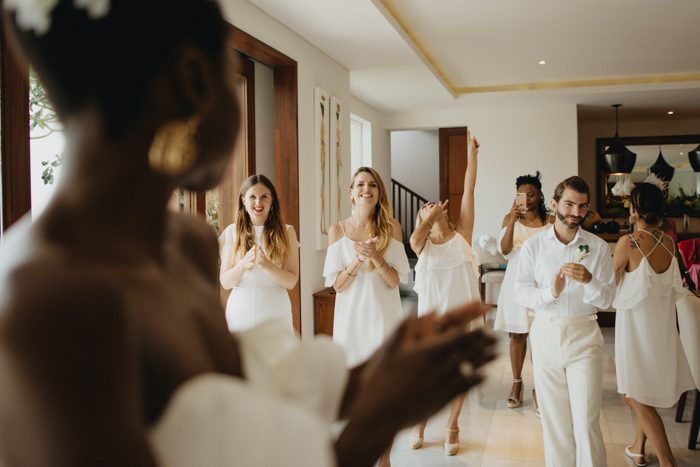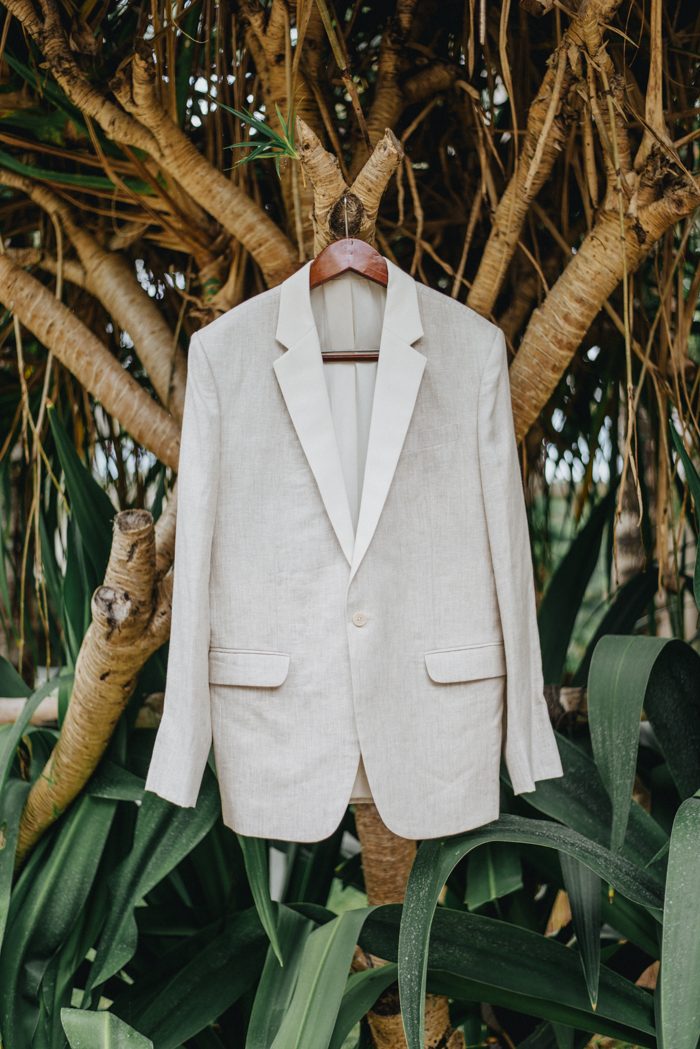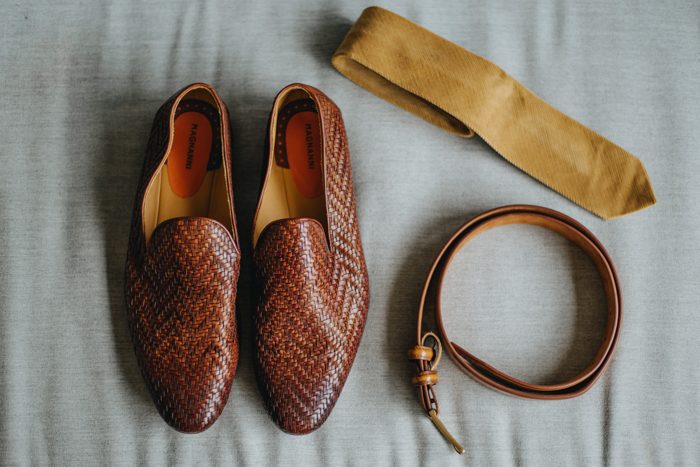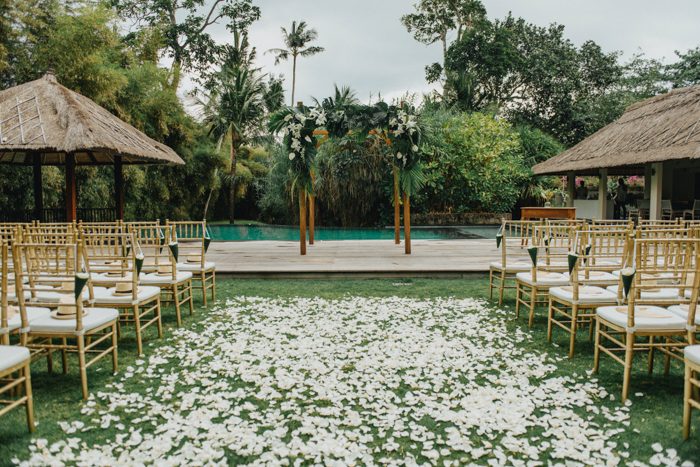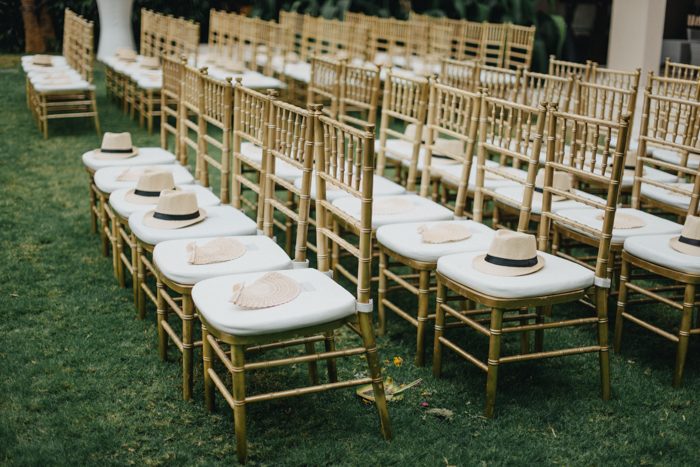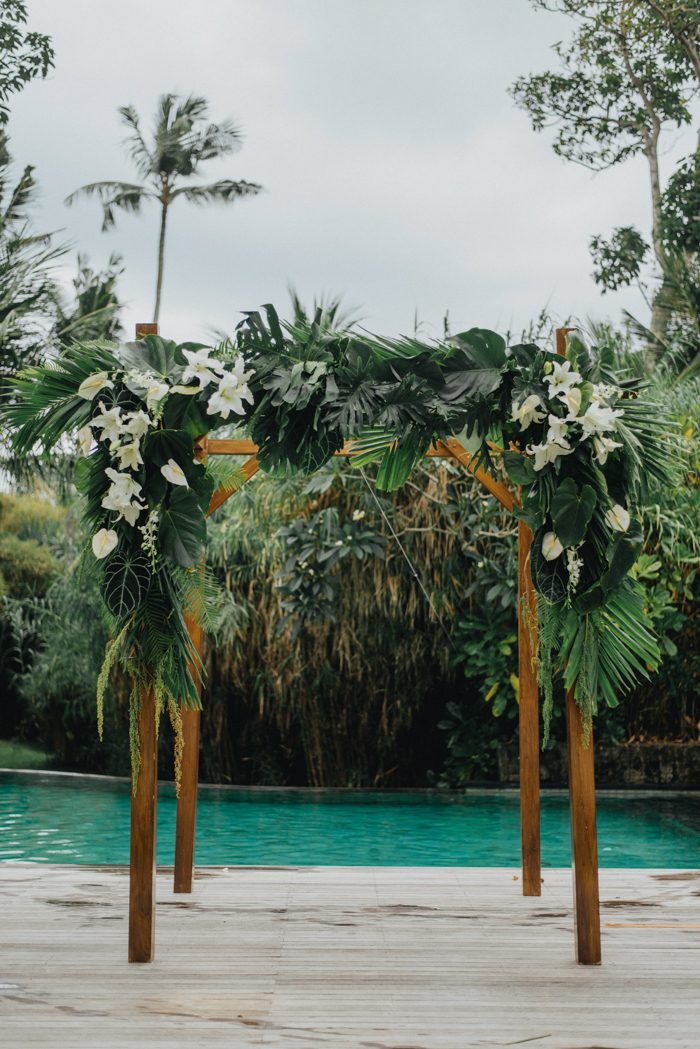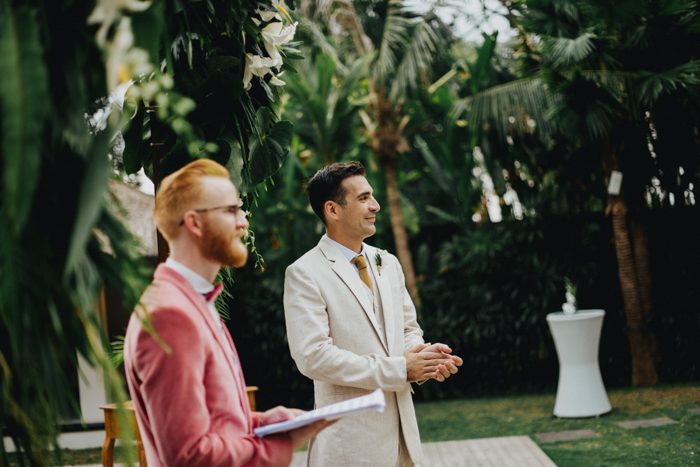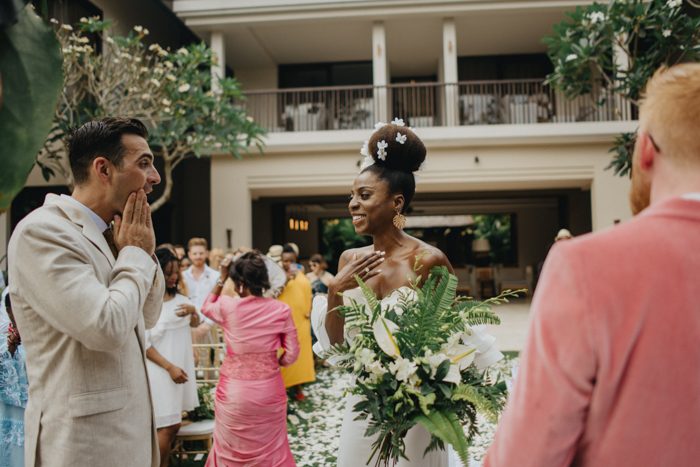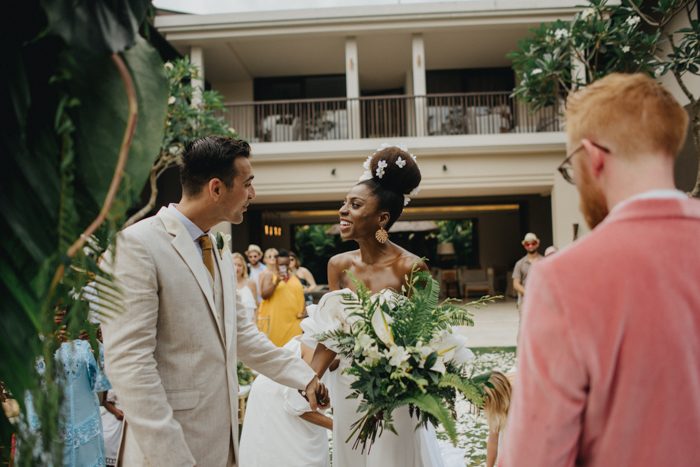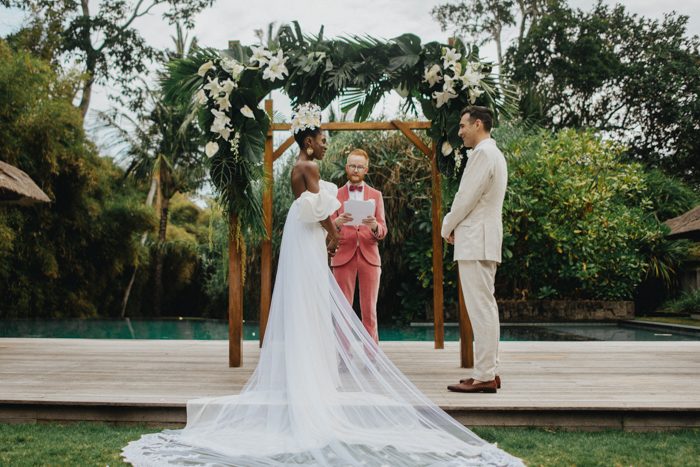 We had our close friend Joseph marry us as the officiant. He has a way with words and knows how to capture peoples attention and also he knew us well so this made it very personal. As soon as i got engaged i actually knew he would marry us – i was so nervous to ask him as i know it is a big ask but thankfully he said yes and actually was one of the best parts of the wedding – so funny and heartfelt. He also did the MC speech at the reception. We also selected and wrote our own vows and we wrote the liturgy to be personal to us. We really didn't want a cookie cutter wedding- we wanted everything to be personal to us.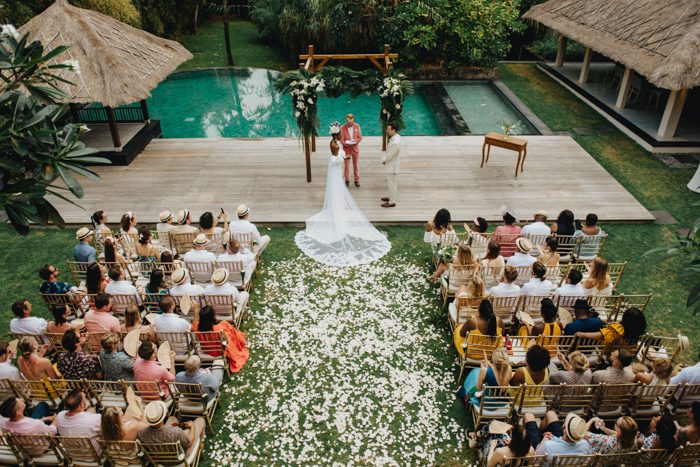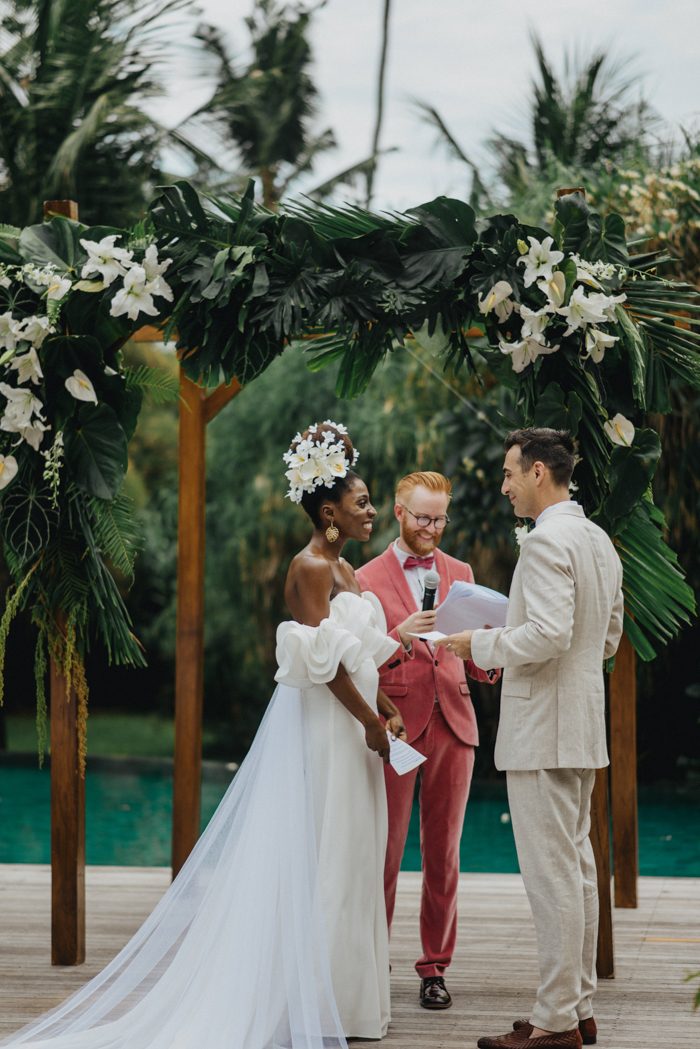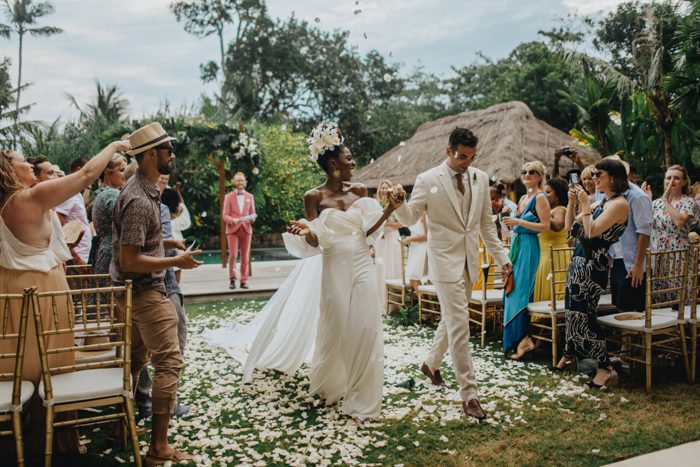 We actually had a rogue and mischievous monkey that obviously wanted to be part of the celebrations- he had appeared earlier in the week at the villa by the pool and certainly made his presence noticed with lots of monkeying around. We had joked that he wanted to walk me down the aisle and low and behold- after my make up and hair was done and just before i got changed her appeared on the Marquee. I see it now as a sign of good luck as he didn't cause any issue at all on the day. It was very amusing! Aside for this – the most memorable thing from the day was the magnetic connection between Mikey and myself felt suddenly stronger. With all the eyes and attention on us for the major part of the day – I really remember that we were together for a lot of it – like a team. The best team ever! The rest of the amazing day seems like such a blur of happiness.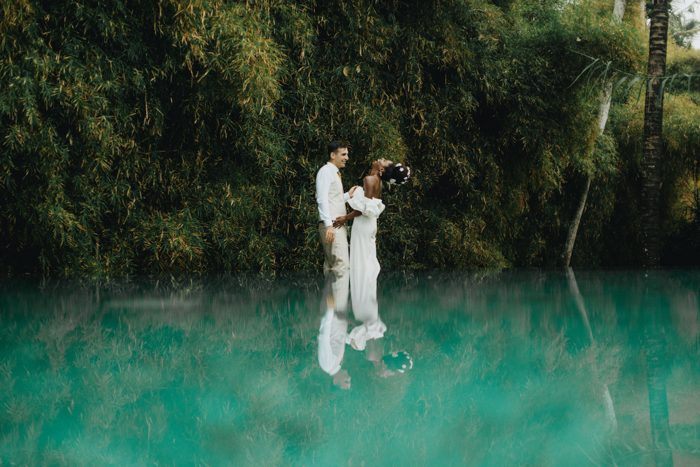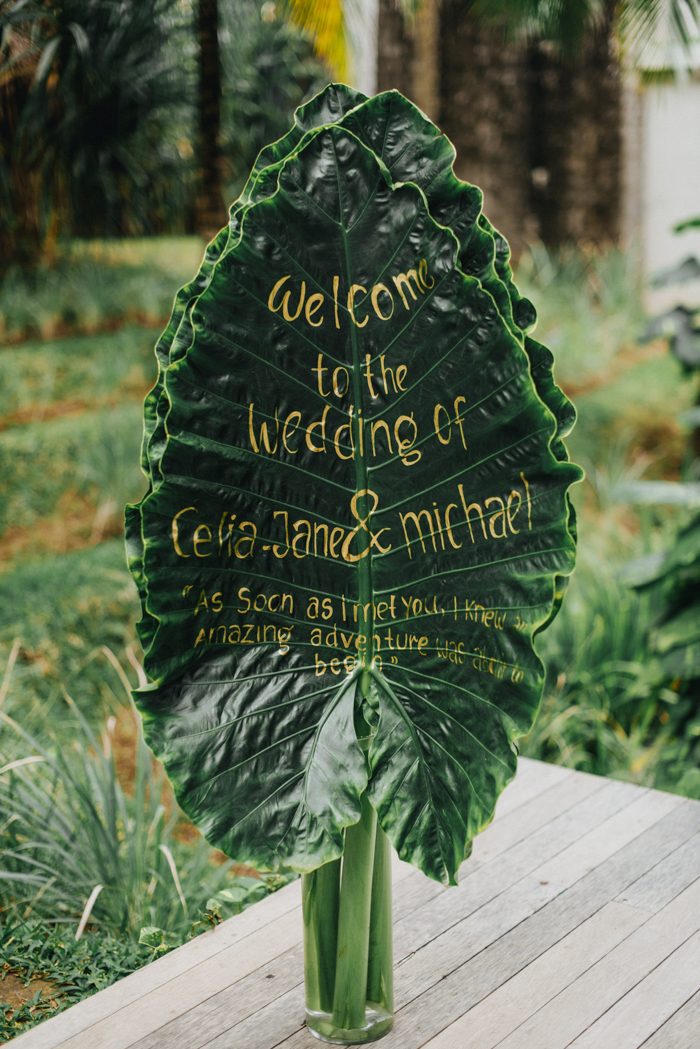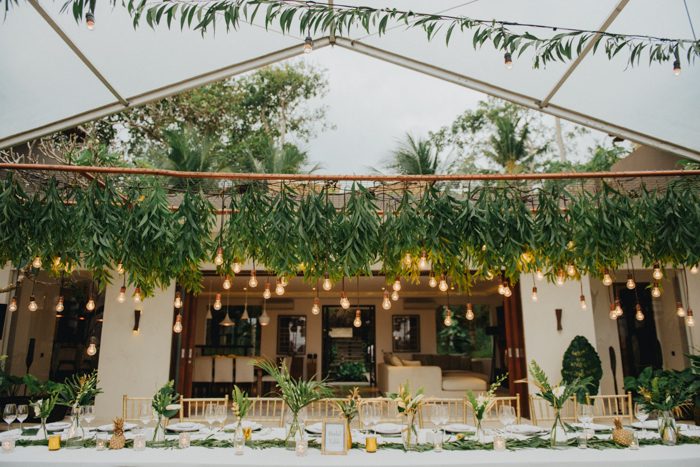 Our vibes was "tropical elegance" We wanted it to reflect the surroundings and have the barefoot luxury style we loved about our experience in Bali. Natural palm leaves and wild orchids with gold details and golden pineapples. We wanted something that was down to earth but also impressive and creative.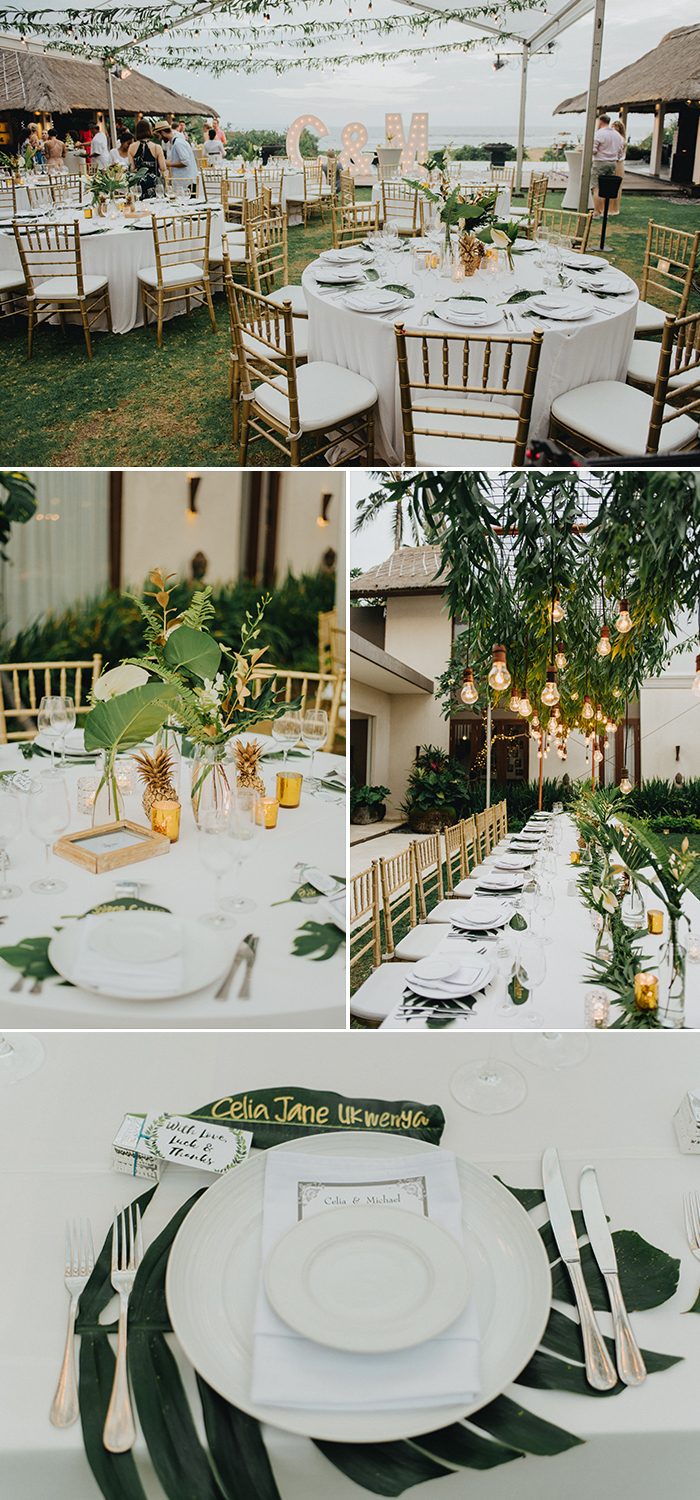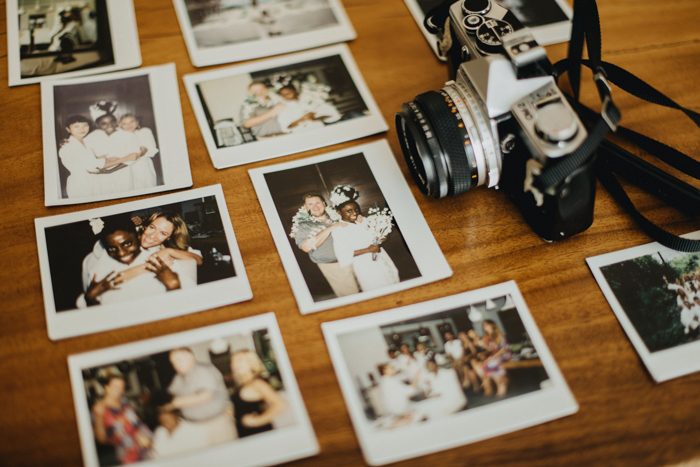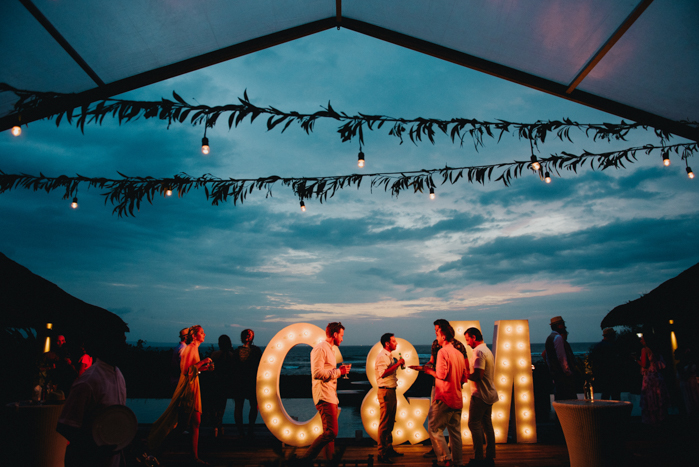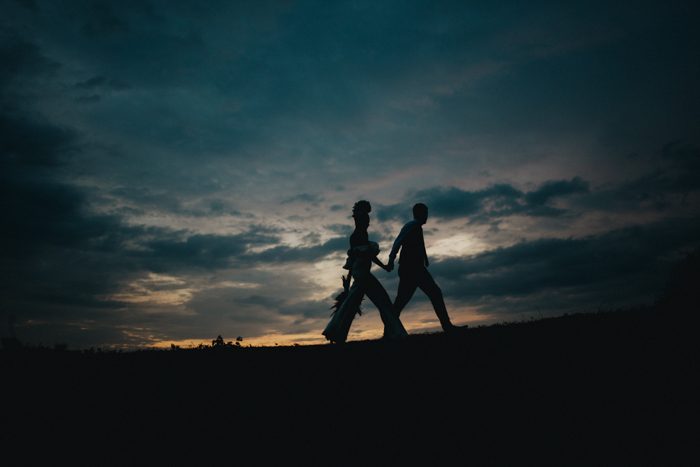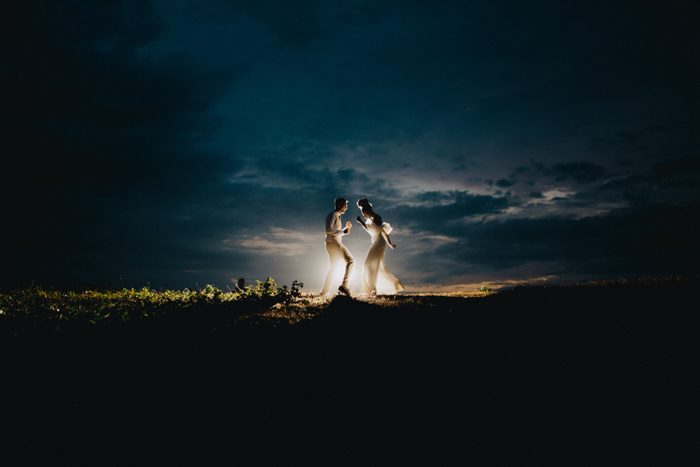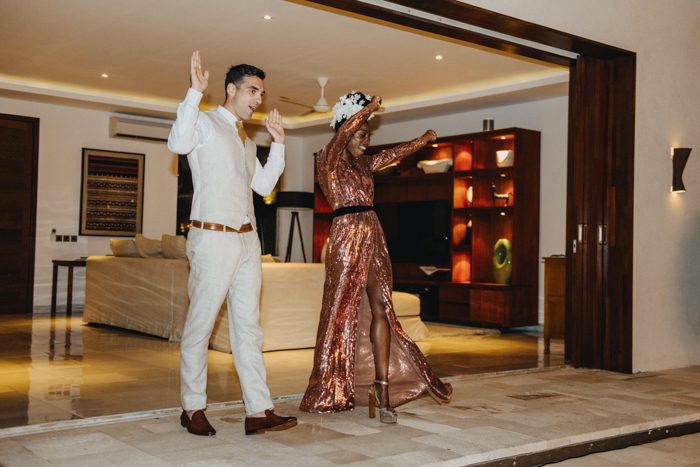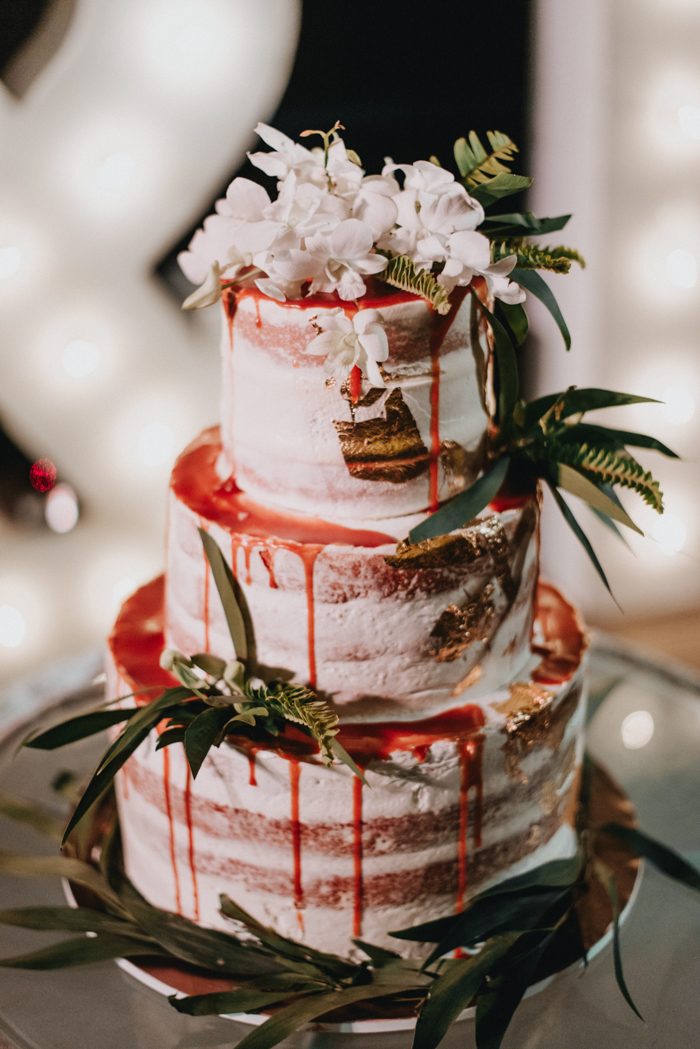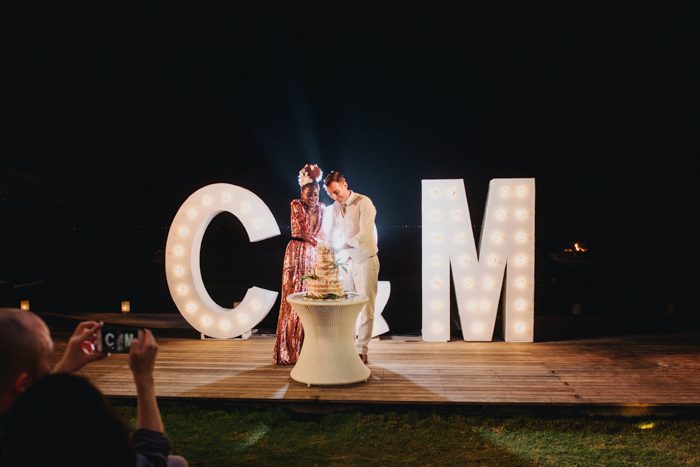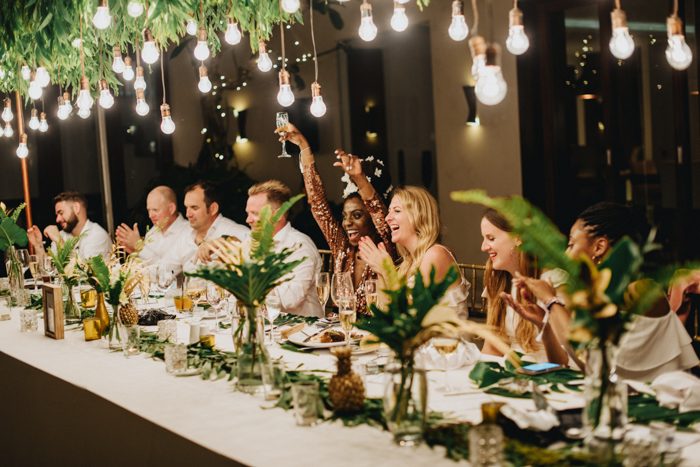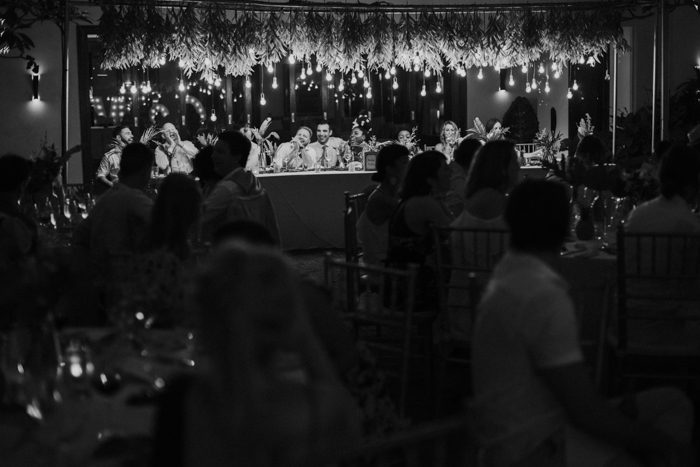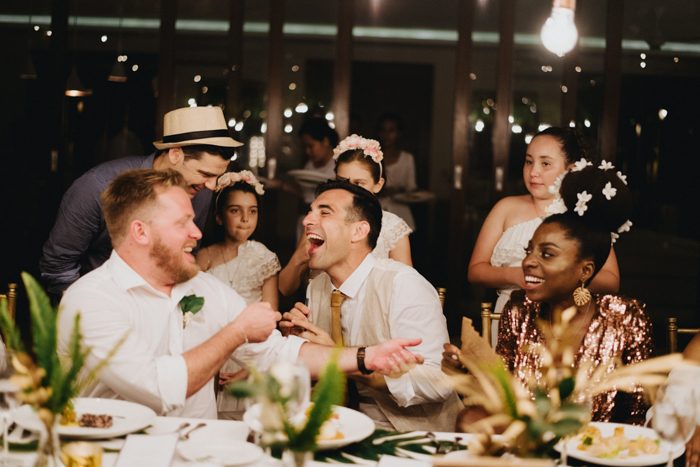 We chose Bali because we had spent an amazing Christmas there together back in 2014 and had a great time enjoying the culture, activities, nature and food and we wanted our friends and family to enjoy what we had loved also. Once we had Bali as our destination wedding – the aesthetics came naturally as we wanted it to reflect the surroundings and beauty of Bali that we loved. So local flowers and neutral colours. Food we had a fusion of western andIndonesian food as well as amazing entertainment home grown from Bali.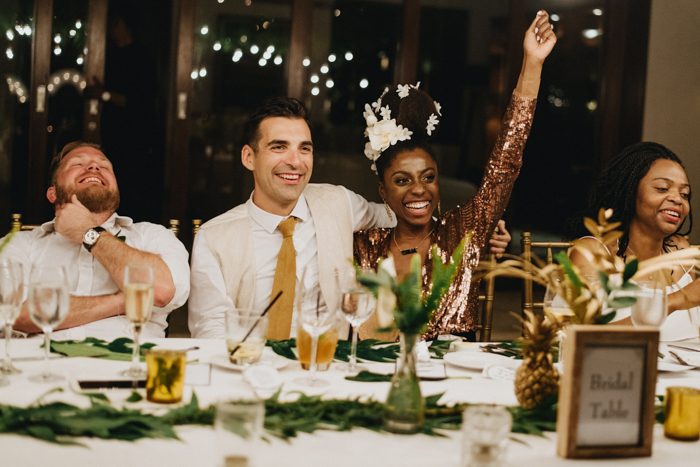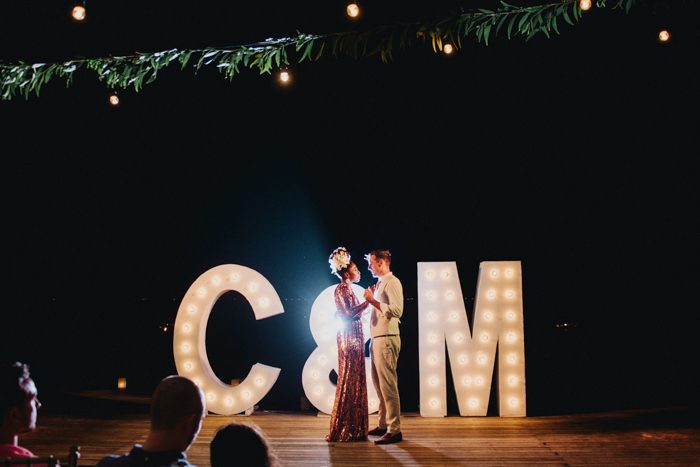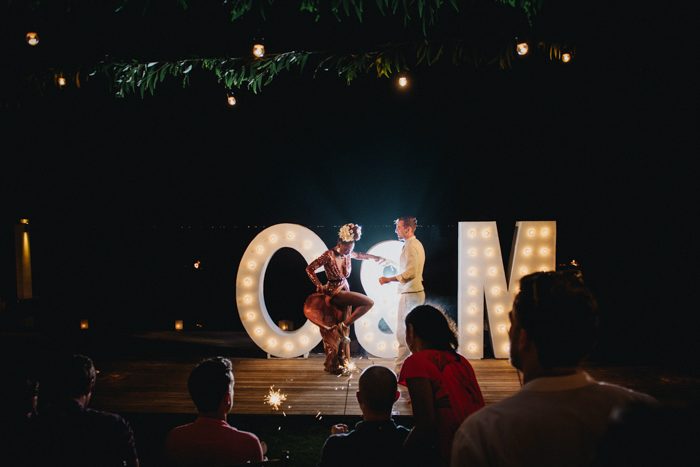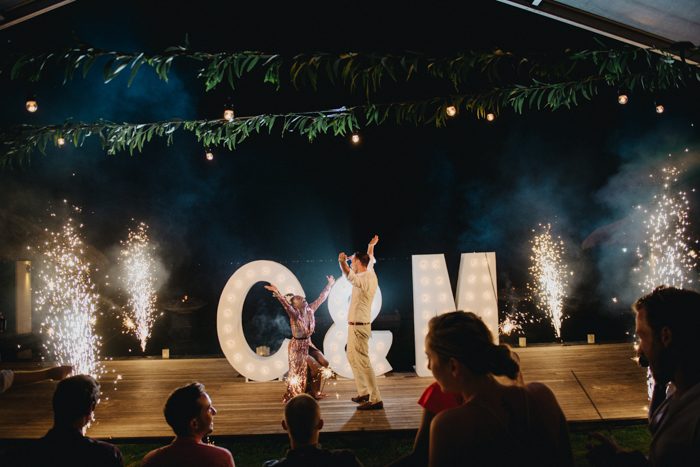 Remember what the wedding is all about and that is you and your lover. Nothing else matters, no one will remember the flower arrangements or what kind of knives were served. They will remember how you made them feel witnessing your love – so keep that in mind when things get stressful.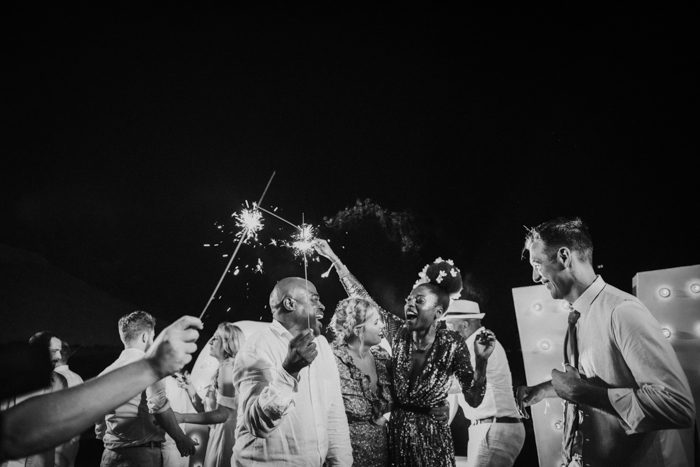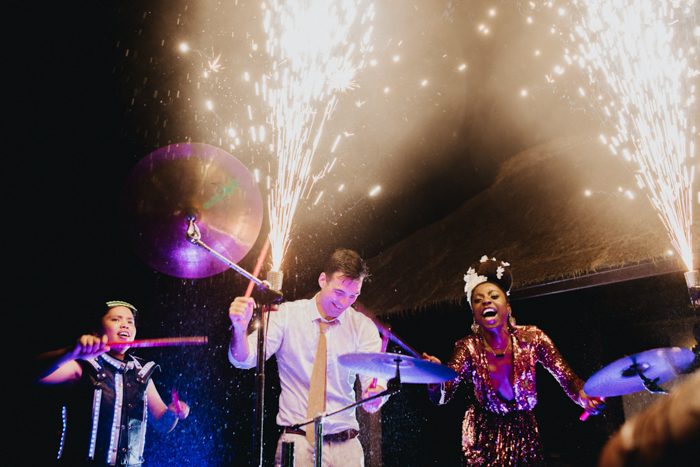 A big thanks to Junebug member Terralogical Photography for sharing this modern tropical wedding with us! For more Bali weddings, check out this colorful Villa at the Sanctuary Bali wedding that is a magically tropical wonderland.