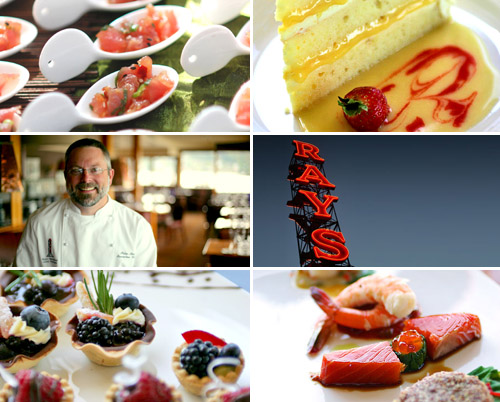 Here at Junebug, we LOVE good food, so anytime we can get our hands on a delicious and highly-coveted recipe from one of the incredible caterers we work with, we are right there waiting, with fork in hand! Recently we got a craving for something sweet, and asked Seattle Junebug members, Ray's Catering, for some help. As Seattle's premiere seafood restaurant, Ray's offers fresh Northwest menus that get our stomachs rumbling just thinking about them, and their Cafe's outdoor dining area with a stellar view of Puget Sound is one of our favorite summer dinner spots.
The talented chefs at Ray's kindly obliged our request and sent us this delectable recipe for Scharffen Berger Chocolate Indulgence with Chocolate Ganache and Chambord Sabayon – yum! Homemade date night dessert anyone? Preheat your oven now – you are going to love this!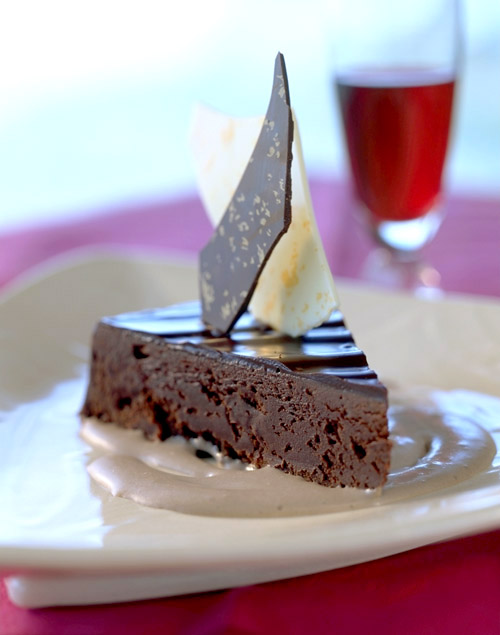 Sharffen Berger Chocolate Indulgence:
1 pound Scharffen Berger bittersweet chocolate (70% cacao solids), chopped
10 tablespoons unsalted butter
4 large eggs
1 tablespoon sugar
Fresh raspberries
Preheat oven to 350°F. Spray an 8-inch round cake pan with cooking spray and line the bottom with parchment paper.
In a double boiler, or in a stainless steel bowl set over a saucepan of simmering water (do not let bottom of the bowl touch the water), heat chocolate and butter until just melted. Remove from heat.
In the bowl of an electric mixer fitted with the whisk attachment, whip eggs and sugar until they reach maximum volume, about 15 minutes. Eggs will be frothy, pale in color and hold a stiff peak. Remove bowl from mixer and use a spatula to fold 1/3 of the egg mixture into the chocolate to lighten. Fold in the remaining egg mixture and stir just until combined. Do not overmix.
Pour batter into prepared cake pan and smooth the top with a spatula. Place cake pan in a large roasting pan and place in the oven. Pour enough hot water into roasting pan to come one inch up the sides of the cake pan. The water bath will help the cake bake evenly. Bake for 20 minutes, or until the top has a dry, matte appearance and tiny bubbles form. Remove from oven and let cool completely. Refrigerate for 6 hours or overnight (can also be frozen until ready to serve).
To remove cake from pan, run a knife along the sides of the cake pan. Dip pan into hot water for 5 to 10 seconds. Place serving platter over the top of the cake pan and turn over. Cake should slide out. The bottom is now the top. Pour Scharffen Berger Chocolate Ganache over the cake and spread evenly with a spatula, allowing it to drizzle down the sides. Serve with Chambord Sabayon and fresh raspberries.
Scharffen Berger Chocolate Ganache
1/2 cup heavy cream
5 ounces Scharffen Berger Bittersweet Chocolate (70% cacao), finely chopped
In a saucepan, bring heavy cream to a simmer. Place chocolate in a separate bowl and pour cream over chocolate. Stir until smooth.
Chambord Sabayon
3 egg yolks
1/2 teaspoon vanilla extract
1/4 cup sugar
2 tablespoons Chambord liqueur
1/2 cup heavy cream
Prepare a large bowl of ice water. In a small stainless steel bowl, whisk together egg yolks, vanilla, sugar and Chambord. Set the bowl over a saucepan of simmering water (do not let bottom of the bowl touch the water) and continue whisking until it has thickened to the consistency of pudding. Immediately place bowl in ice water and stir until cooled.
In a separate bowl, whip heavy cream to stiff peaks. Whisk into cooled egg mixture.
Enjoy!