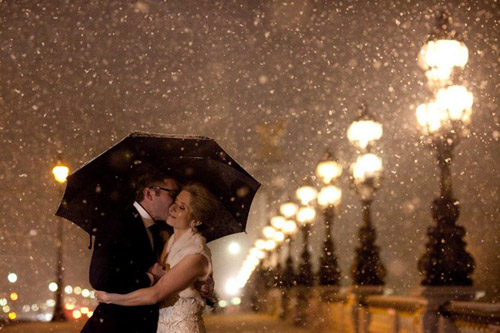 The Couple: Jane and Craig
The Wedding: La Maison France-Amériques, Paris, France

What three adjectives best describe your wedding? Personal, laid back, glamourous
What inspired your personal wedding style, and how did you incorporate your style and personalities into your big day? We both have quite a strong sense of style and hate to conform or go with convention. That said, we were both set on a classically beautiful venue which we then overlaid with little touches that made it both different and entirely befitting of us, e.g. The statues and busts wore hats (as did the male wedding party) as Craig is known for his hat wearing!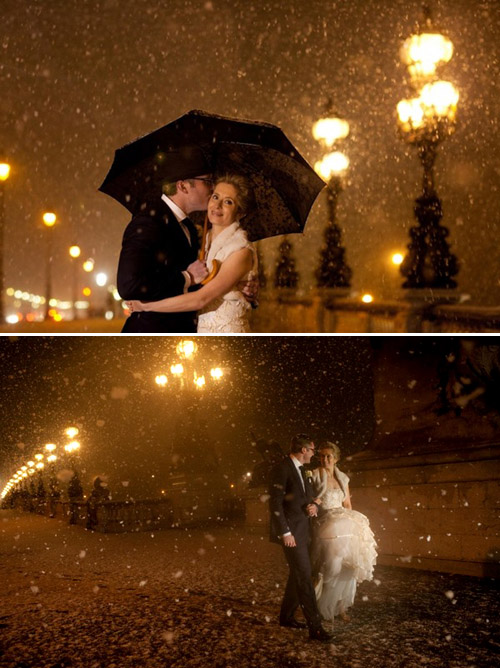 Looking back, what are the moments, decisions or memories that you love the most about your wedding? Deciding to have the ceremony on the grand staircase was bold but worked so well, our guests were fanned out above and below us. We also took advice to light the area which worked beautifully for the photos. We were so lucky that it started to snow during our vows which added an extra festive dimension and made for unique photos.
Wedding Color Palette: No strong colour theme as the venue was quite opulent but flowers were simple greens and whites, and our bridesmaids and groomsmen were in muted metallics to suit the season.


The Wedding Team:
Planner: Fête in France
Photography: Studio Cabrelli
Venue: La Maison France-Amériques
Catering: Studio Cabrelli
Celebrant: Fleur de Mets
Lighting: GND
Music: Artmonie Communications
Rentals: Options
Floral Design: Sol y Flor
Hair Stylist: Sonja Benhamou
Makeup Artist: Sophie France
Thank you so much for sharing your beautiful Parisian wedding with us Jane and Craig!
To find more inspiration for your our personal wedding style, don't miss our wedding photo inspiration gallery!