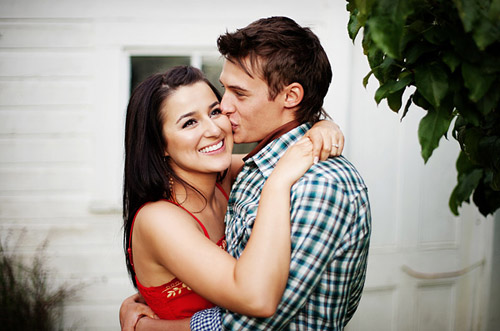 Tim and Yana's sweet love story spans several countries, a few continents and nearly their entire lives. In these images from their engagement session with Seattle-based photographer Daniel Usenko, it's easy to see how much these two simply enjoy being together, at long last.
Tim, Yana and Daniel set off for a day of shooting with no specific location in mind, hopping on a ferry from Seattle to Bainbridge Island, with only the idea that they wanted their images to have a "country" feel to them. Together they explored the island, and whenever they drove by a beautiful farm they would stop, knock on the door, and ask the owners if they could take pictures with their horses, barns, and orchards. The result was a fun and adventurous day, and tons of great engagement photos. Check them out!

Tim and Yana's families have been friends since the two were only four years old, but lost contact as Tim and Yana were growing up. When they were sixteen, the families were reunited, and Tim and Yana really began their journey to where they are today. Over the next several years, through long-distances between Seattle, Russia, Southern California, Italy and even Thailand, the two kept in touch. They wrote e-mails, chatted on the phone and every once in awhile, they actually saw one another in person.
Finally, in January of 2009, Tim called Yana and told her he had feelings for her. One month later, on Valentine's Day, he flew to Seattle and told a very surprised Yana, that he loved her. At long last, they were officially dating. Five months later, on a trip to Russia, Tim proposed and Yana accepted.

If you ask them, Tim will tell you that he loved Yana from the moment he first laid eyes on her cute smile and gorgeous eyes. Yana for her part, loves Tim's generous and caring nature. The lovebirds are getting hitched this weekend – best wishes you two! And thank you to Daniel Usenko for sharing these sweet images with us!