Your bridesmaids are your best girls. You've decided on a dress scheme that makes each of them feel amazing, while still being cohesive with the rest of your wedding. Because flowers hold such visible importance in a wedding style, choosing your bridesmaids' bouquets is just as important as their dresses. We're so excited to be joined today by Seattle wedding florist Kate Fadden of In Bloom Designs who is sharing 5 ideas for your bridesmaids bouquets that will be perfect for your unique day.
Before diving into the ideas, here's a little insight from Kate about how she approaches designing the bridesmaids bouquets for your wedding:
My approach when working with clients is to first decide on the look and style of the bride's bouquet and then work on how the bridesmaids will compliment her. Factors I always take into account when coming up with design ideas are the color and style of the bridesmaid dresses – will they all be wearing the same color/style or is there going to be a variety? What about accent colors? These things are all really important elements in coming up with an overall look that is going to be visually pleasing to the eye and reflective of the client's vision for their wedding day!
1. Same Colors, Different Flowers: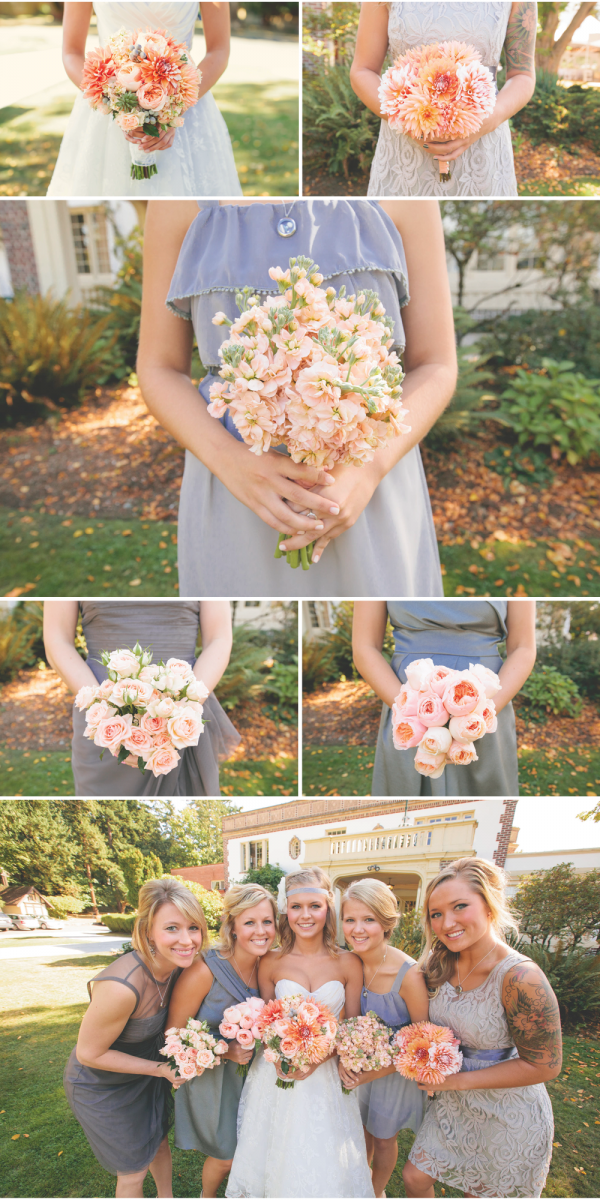 Image by Eldad Efendi Photography at Lairmont Manor
In Bloom Designs: Carli and Kyle used a monochromatic style color palette which lent itself really well to using a ton of different flowers for a super textured bridal bouquet. Since her bridesmaids were all wearing different dresses in different shades of grey, we chose a unique type of varying bridesmaid bouquet. Each bridesmaid's bouquet was compiled of just one type of flower from the bridal bouquet in the same super soft pale peach color. The result was four very different bouquets, each with their own unique texture and look but still consistent with the color palette.
2. Smaller Versions of the Bride's Bouquet: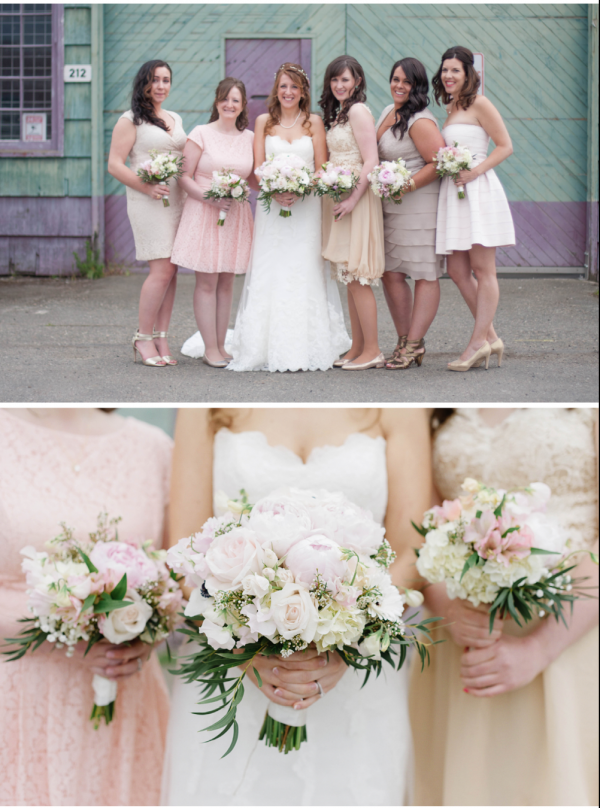 Image by Joe and Patience Photography
In Bloom Designs: This color palette was a very soft, romantic, semi-neutral combination of whites and ivory, blush and a few darker pink tones. The bridesmaids were all wearing different dresses in different shades and colors. So, to keep the bridal party looking visually balanced, we opted to do a smaller version of the bride's bouquet with the subtle difference of some darker pops of pink and saving the dark centered anemones for the bride's bouquet for a surprise pop of contrasting color. The touch of greenery was a great way to include a bit of whimsy to this romantic spring wedding.
3. Let Each Bridesmaid Stand Out: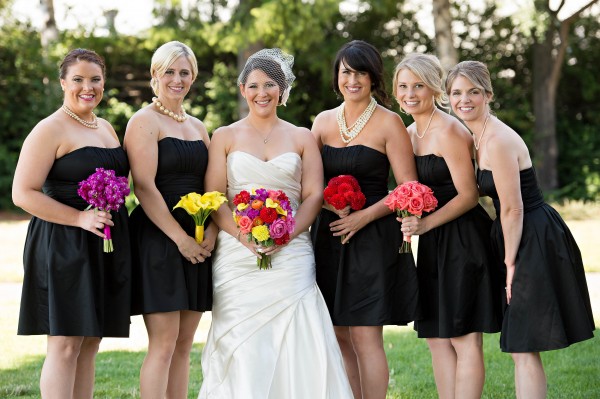 Image by Matt Priestman Photography
In Bloom Designs: When I first met with Lindsay and asked her about her color palette she told me she wanted to use the colors of a sunset – how gorgeous is that?! She knew her bridesmaids would all be wearing black so we decided on a unique approach to their bouquets. Each would be a made up of a single type of flower and each bouquet would be a different color. The bride's bouquet was a compilation of all those flowers and colors. The bright colors really stood out against the black dresses and gave a distinct look to each one.
4. Play With Texture: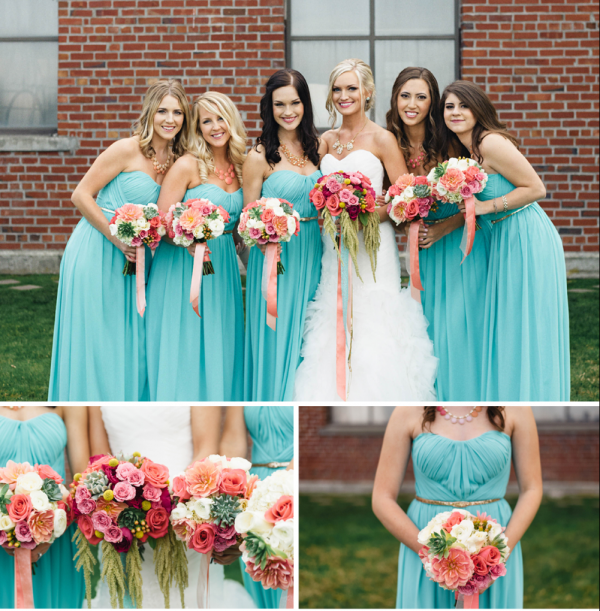 Images by Joe and Patience Photography
In Bloom Designs: This couple's color palate was so full of color and personality, just like the bride and groom! The groom is from Mexico and the bride from Canada and the two met in culinary school – so they had a lot of really great elements to incorporate into their wedding day design. Overall, they wanted a fun, festive feeling and I think the color palate they chose to work with really suited their vision.
All of the bridesmaids wore the same dress in the same color, so their bouquets needed to have some variety. Because their dresses were a really beautiful vibrant color, we softened their bouquets up with some hints of ivory which played really well off the bride's dress. In contrast, the bride's bouquet was more full of color and had some dramatic hanging amaranth to make it pop. The long ribbon streamers helped keep the look romantic and festive at the same time.
5. Simple Is Elegant: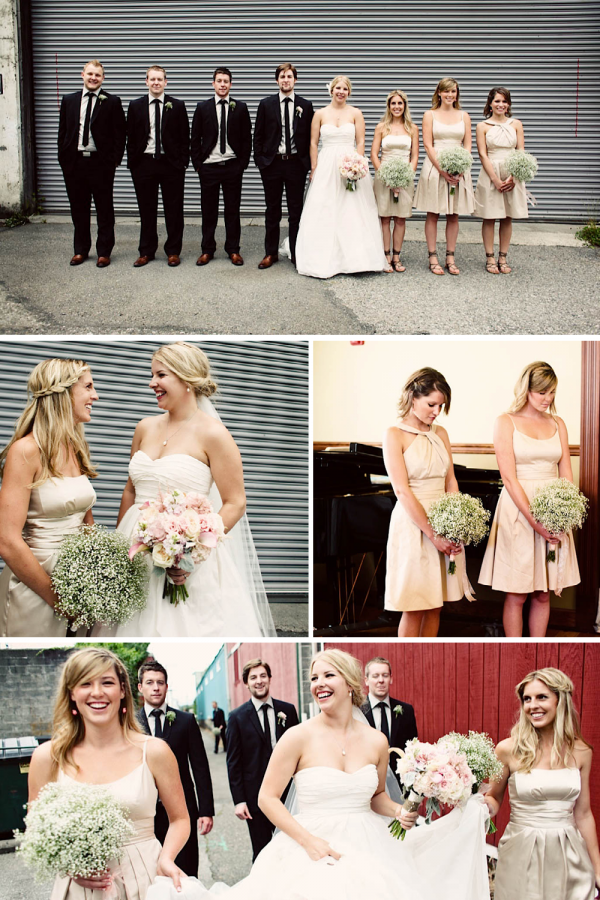 Image by J. Jackson Photography
In Bloom Designs: Rustic, vintage and simple: that's what Megan and Joel wanted their wedding to be. The color palette was light ivory and blush tones and champagne. Since the bridesmaids were all wearing the same color dress but in a different style, Megan wanted to do an all-baby's breath bouquet for them. The dainty and textured look of the baby's breath played really well off the blush/neutral tone dresses and also helped the bridal bouquet to really stand out. The bride's bouquet was filled with ivory and tones of blush hydrangeas, garden roses, stock, mini calla lilies and dusty miller. It was a perfect compliment to the bridesmaids dresses and the peak-a-boo pink tulle underneath the bride's dress!
A big thank you to Kate Fadden of In Bloom Designs for sharing these brilliant ideas for bridesmaids bouquets!