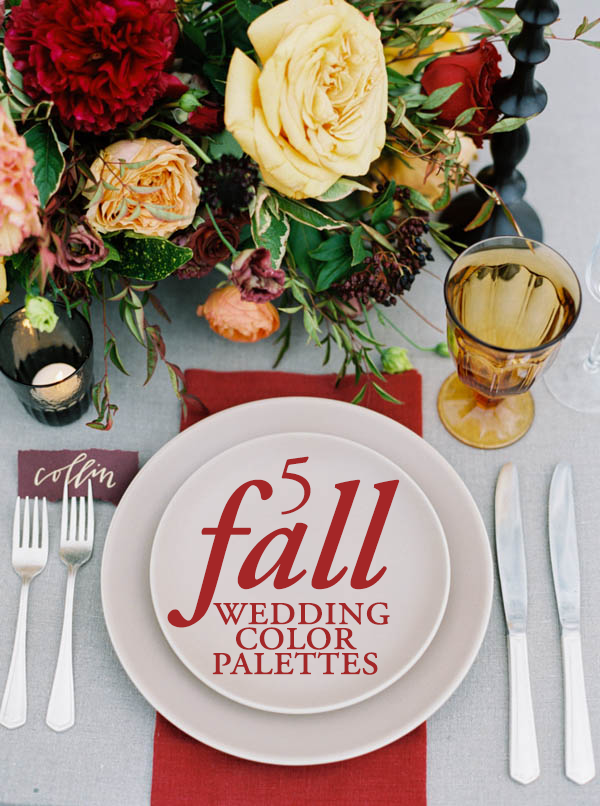 photo by Jenna McElroy
Autumnal hues are some of our favorites, so it's no wonder we're crazy about these fall wedding color palettes! Inspired by changing leaves, seasonal flowers, and fruits and veggies just waiting to be harvested, these palettes come straight from nature to decorate your fall wedding.
Apple Red, Gold, Light Yellow
When it comes to choosing colors for your fall wedding, look no further than the fruit of the season! Trees filled with apples and rows of pumpkins and squash are just waiting to inspire your fall wedding decor. We love the mix of bold linens, colored glassware, and seasonal florals to create this reception look.

photos by Jenna McElroy, event design by Wescott Weddings, floral design by Bristol Lane, hand lettering by Mint & Maple, rentals by Loot Vintage Rentals and Sweet Sunday Events, linens by La Tavola; see more from this beautiful wedding here!
Cognac, Yellow, Kelly Green, Cocoa
The Seventies are having a major comeback everywhere from fashion to design and, of course, weddings! Many '7os elements are influenced by the natural hues in the forest, making this palette of cognac, yellow, kelly green, and cocoa perfect for a storybook wedding in autumn.

photos by Artemis Photography, floral design by Flora of Door County by Helene Ingsten-Anderson, cake by FlourGirl Patissier, wedding dress by Free People, groom's apparel by Antique Sugar; see more from this wedding here!
Bright Red, Burgundy, Sage Green, Petal Pink
Planning a romantic rustic wedding for fall? This color palette is for you! Mixing beautiful botanicals with overflowing greenery is the perfect complement to wood elements, whether it be a farm table, DIY bar, or ceremony arch.

photos by Finch Photography, floral design by Samuel Franklin Floral Design, rentals by All Occasions Party Rentals, bridesmaids dresses by Bill Levkoff; see more from this wedding here!
Teal, Bold Orange, Raspberry, Dark Red
A festive fall fête calls for a parade of jewel tones throughout your wedding decor! Rich hues of teal, bold orange, raspberry, and dark red are luxe, warm, and always romantic. More is more with this color palette, so pile on the vintage dishes, candlesticks, fruit, flowers, and linens!

photos by Blest Studios, event planning by Penzi Weddings; see more of this wedding here!
Amber, Deep Sage, Pure White
If your closet and home take a minimalist approach to style, your wedding should too! A stark white backdrop like The White Sparrow in Quinlan, Texas calls for a few neutral pops of color, and amber and deep sage green couldn't be better picks. Search within nature to find these hues: magnolia leaves, agate slices, assorted berries and blooms, and even gold pears!

photos by Cassie Loree Photography, event design by Blooming House Creative, floral design by The Stalk Market, wedding dress by David's Bridal, hair & makeup by Kristy Rankin Hair & Makeup; see more from this wedding here!
Which palette is your favorite? Looking for even more fall wedding color inspiration? Check out these seven fall wedding color palette ideas!